On my recent trip to Bristol, I had the pleasure of checking into the luxurious Berkeley Suites Bristol. I was so excited to experience 5* living in the heart of one of my favourite cities in the South West!
The Berkeley Suites is not your average hotel. They are a series of stylish city apartments which have a homely feel but are under the umbrella of the famous Berkeley Square Hotel. So, you get all the benefits of a private living space but with all the facilities and service of a hotel.
Although I only spent one night here, I fell in love with my little home in Bristol. Having a suite felt so private, relaxing and personal. It gave a completely new edge to spending a night in the city.
Here's a complete review of my experience and the reasons why you should choose the Berkeley Suites Bristol for your visit!
What is there to do in Bristol?
Bristol is a huge bohemian capital of culture, bursting with history, art, shopping, unique attractions and independent spirit.
There is so much do to you may be spoilt for choice!
Isambard Kingdom Brunel with his incredible engineering achievements, the famous street art of Banksy, The Christmas Steps, Bristol Harbourside and the watering holes of Blackbeard the pirate all await you, if you're looking to explore.
I absolutely love all that Bristol has to offer and so I wrote a post all about how to spend two days in Bristol with the best things to do if you love art and history. Or, click here to see all the Instagram spots in Bristol.
How to reach Bristol in the UK and the Berkeley Suites Bristol
Bristol has road connections in the West Country from the M4 Motorway (from London) and the M5 (from the South West) if you're looking to drive.
It's also only a hop skip and a jump from Bath, so you can take a train or bus and be here within half an hour.
If you're heading here from London, then I would recommend the National Rail train services or National Express bus services which provide budget-friendly options.
The Berkeley Suites are located at the top of Park Street in Berkeley Crescent off Berkeley Square.
Close to the museum of Bristol. So, from Bristol Temple Meads it may be worth taking an uber, taxi or bus with your cases as Park Street can be a steep walk up!
Berkeley Suites Bristol Parking
The Berkeley Suites has a private security-protected parking area which is nearby and entry is by an access code.
So, you won't have to worry about your car being on the roadside.
Hotel parking spaces cost £12 which cannot be reserved, so when you get to reception ask for a permit. I definitely had peace of mind parking my car in here.
1. The suites are located in Berkeley Crescent inside a Grade II listed Georgian townhouse
I absolutely loved the location of these suites!
Berkeley Crescent is a series of six Grade II listed (meaning it's of exceptional interest) Georgian townhouses that are like stepping back through time.
It's also been home to famous residents such as John Dando Sedding, born in 1838, who was a church architect and figure in the Arts and Crafts movement.
Berkeley Crescent was designed by Thomas Paty in 1787 and was originally going to be part of Berkeley Square.
Berkeley Square was also home to famous residents such as the Lord Mayor of Bristol in 1910, Sir Frank William Wills Kt., whose family owned Wills Tobacco.
His old residence is now the Berkeley Square Hotel and his family business is now the Tobacco Factory a famous café, bar, theatre and art space in the city.
It seems like so many of Bristol's buildings have a history of stories to tell which I find fascinating! So, it felt even more special to know I was staying inside a protected building with a colourful past.
2. They are sumptuous suites with stunning decor
As soon as I walked in this apartment gave me the 'Wow' factor. The lounge area was spacious, with huge windows letting in lots of light which I find important.
There was a living area with an armchair and teal blue velvet chesterfield sofa which was calling me a reading nook.
A dining area is placed right by the window which was fabulous for people watching, a fireplace and a huge cupboard which opened up into a fully functioning kitchenette (more on that later).
It came with an adjoining bedroom and a huge double bed with fluffy pillows I couldn't wait to pounce on. I also loved the retro Roberts Radio and alarm clock on the bedside table!
The bathroom was open plan, with a monsoon shower and spacious bathtub. There were fresh white towels with robes to slip into and slippers to keep my feet warm.
The Elemis toiletries added a touch of indulgence, I especially loved the relaxing creams made of lavender which helped with sleep!
For an old Georgian house, the team have done so well to convert these into modern apartments which are fit for a queen.
3. You get a friendly welcome on arrival with lots of free goodies
Each room comes with a complimentary artisan hamper which was filled with all sorts of treats like Burt's crisps, chocolate covered peanuts and even my favourite chocolate Green and Blacks!
I was also given complimentary access to the minibar which had beer, wine, a quintessentially West Country cider, Fentiman's Botanical drinks and still and sparkling water.
There was also a curious decanter with an Alice in Wonderland type label saying 'Sip Me'. Naturally, I was curious and had to oblige.
It was utterly delicious, and I later found out it was Harvey's Bristol Cream Sherry. Famous in Bristol since the 17th century with the trade coming out of Bristol Harbour.
I know nothing about Sherry but I did find out that Bristol Milk Sherry is traditionally golden in colour but Bristol Cream Sherry was famous for being darker as it contained older Oloroso.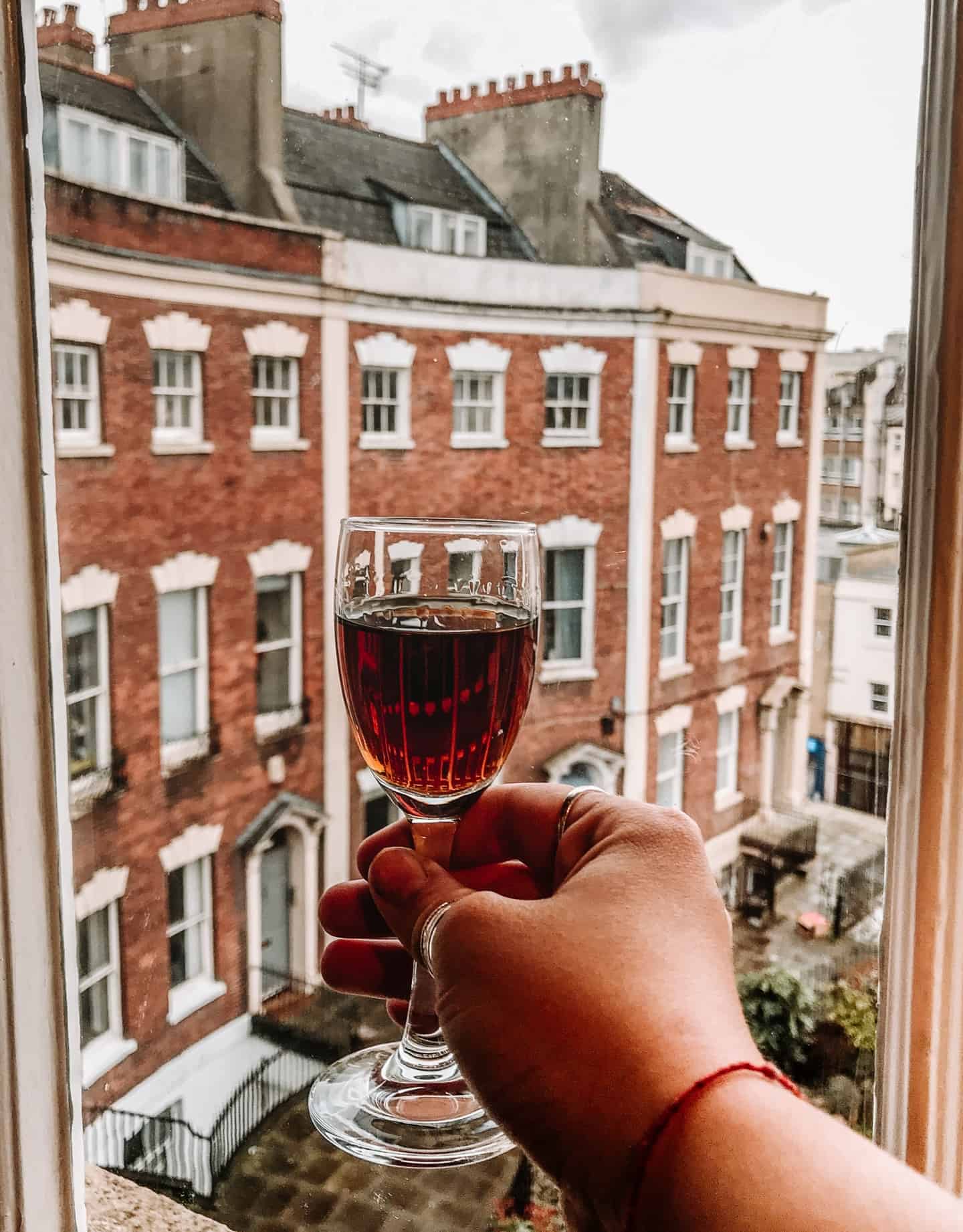 4. There is a kitchenette if you would rather cater for yourself
In true apartment living style, the Berkeley Suites all come with a hideaway kitchenette. So, if you didn't fancy going out for dinner, you can rustle something up here.
The kitchenette came with a sink, kettle, toaster, chopping board, microwave, hobs, pots, pans, cutlery, plates, mugs, wine glasses – the lot!
Also, there were teabags, a teapot, cafetiere and Delonghi espresso machine for those all-important tea and coffee moments.
5. Berkeley Square is Bristol's first art hotel and each room has a gallery
I loved the fact that Berkeley Square was Bristol's first art hotel and inside my suite, there were pieces from local painters on the walls and fireplace.
The hotel has also collaborated with the Open Gallery to bring video paintings to each room.
My suite had a projector inside and the TV remote had a video gallery button. On this channel, I could watch pieces from the Video Painting movement.
The Video Painting movement was founded in 2001 by Hilary Lawson and the principles of video paintings are;
"The camera is stationary. There can be no subsequent editing or manipulation of the image and there is no dialogue or sound to enforce meaning"
I'd never heard of it before my visit but it was really nice to watch the pieces in my room as I relaxed. There were a series of video paintings in the gallery including my favourite 'Electric Sea' by Sanchita Islam.
6. You can tuck into a fabulous breakfast to start your day in The Square
Breakfast has always been one of my favourite meals of the day and I was really looking forward to dining at The Square. You do have to come out of the Berkeley Suites building to reach the restaurant but it's just a minute around the corner.
There was a buffet table full of cold breakfast items like juices, cereals, fruit and yoghurt.
I then had a menu of hot breakfast items to choose such as a full English breakfast (perfect for the stormy weather outside) with toast, eggs Benedict and even avocado smash.
I also welcomed the bottomless coffee and tea that was on offer! There's always something so comforting about a hot drink as you watch the rain pour outside.
7. All guests have access to Berkeley Square hotel facilities
You may be separate to the Berkeley Square Hotel in the Berkeley Suites but you get all the same access as hotel guests to the facilities.
There is a private garden in Berkeley Crescent that you can relax in outside. Although it was a little drizzly in March, I'm sure in the summer months it would be fabulous to sit outside with a Gin & Tonic or Pimm's!
All guests can access the Nuffield Gym and Pool facilities which are only 300 meters away. This includes a sauna and steam rooms. You also get free access to the Square club and Exclusive access to the Lower deck cocktail bar.
There is also high-speed Wifi which is available for free in all suites and rooms are serviced daily.
8. It is 5* star luxury accommodation in the heart of Bristol
So, as you can see this is not your average stay in the city.
The Berkeley Suites Bristol are luxury 5* living spaces with welcoming hospitality, facilities and service.
I felt like I owned a little slice of Bristol for the night and it felt so much more comfortable than a hotel room.
The fact that these suites were centrally located meant I could reach the Christmas Steps, Bristol Cathedral, Park Street, Cabot Tower and the Bristol Museum in minutes.
Everything in Bristol was within walking distance. Clifton and the Clifton Suspension Bridge were also in easy reach. Even the harbour and the famous colourful houses.
I wouldn't hesitate to book in here again as it's such a unique experience and made my visit to Bristol a memorable one.
For more information on booking a room at The Berkeley Suites Bristol for the night, see their official website here!
Like it? Pin it!
Third Eye Traveller was kindly hosted by the Berkeley Suites and Visit Bristol but all thoughts, photos and opinions are completely my own.