Did you know that there's a whole town in the south of Wales that's completely dedicated to the written word? Yep, you read that right!
It's called Hay-on-Wye and it's officially the World's First Book Town with well over 20 book stores! It's any bibliophile's dream and I would highly recommend visiting.
However, it is perfectly normal to feel a little overwhelmed by the sheer amount of Hay-on-Wye bookshops to choose from.
So, to help you out, I've got a complete list of the very best bookshops in Hay-on-Wye to help you plan your visit.
There will be a wide range here, for all interests and budgets, as every bookshop is unique and will have its own specialties.
Here is my complete list of the very best Hay-on-Wye bookshops you must visit.
Firstly, how did Hay-on-Wye become the World's First Book Town?
Although nowadays Hay-on-Wye is known for being a bookish town. It wasn't always this way.
In fact, for years this sleepy countryside village on the English-Welsh border was little known. Aside from its rather turbulent Norman history in the fight for Welsh independence.
No, the journey of Hay-on-Wye becoming the World's First Book Town starts with Richard Booth in the 1960s. Also known as the self-proclaimed 'King of Hay' and leader of a Book Town Empire!
He could see that the rural economy here was struggling and the government was doing very little to help. So, he had the vision to transform the town into a literary destination!
After inheriting his uncle's estate, he opened his very first bookshop in 1961 called The Old Fire Station.
Soon after that, he realised that many of the libraries in the USA were closing down. So, he flew over to buy as many books as he could and decided to open up a dozen more secondhand bookshops!
But, what really put Hay-on-Wye on the map would happen in 1977. This is when Richard Booth rode down the High Street in a homemade crown and fake ermine robe declaring himself the King of Hay.
He made the town its own sovereign state and decided to place his throne inside Hay Castle. He even held cabinet meetings and gave people passports.
Although this move did seem bonkers to some, it turned out to be a spark of genius and it became an overnight media sensation. The word soon spread and tourism in Hay-on-Wye skyrocketed!
Nowadays, there are over 30 bookshops in Hay-on-Wye and bookworms arrive in their droves each year. This is also enhanced by the Hay Festival which sees over half a million visitors descend on the town.
Although Richard Booth is no longer with us today. He leaves behind a literary legacy and many towns around the world have now followed suit.
Click here to read the full story!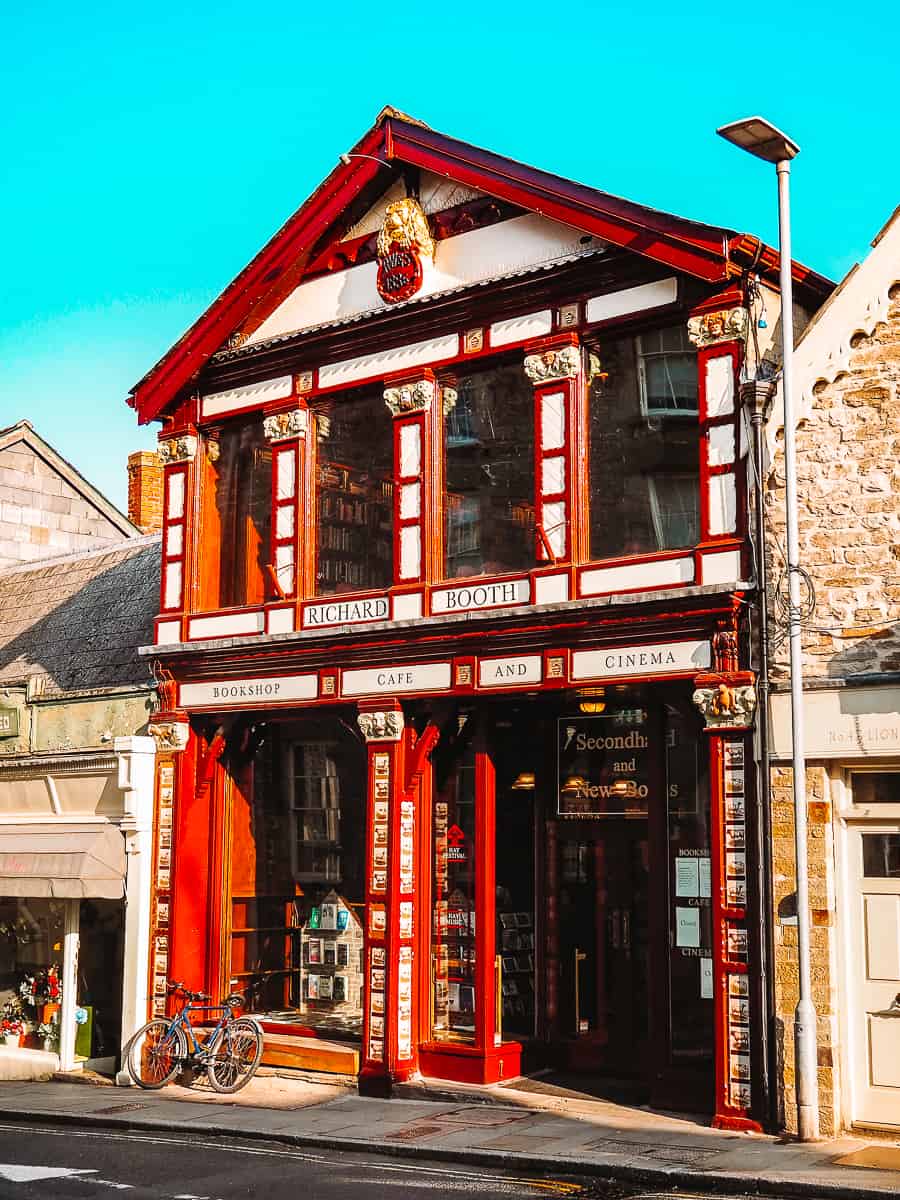 The very best Hay-on-Wye bookshops to visit
So, with a second-hand bookshop on nearly every street in Hay-on-Wye. It can be hard to choose what ones you'd like to visit!
I mean, you could visit all of them of course. There's nothing stopping you.
But, I always think it's best to have a plan and to know what sort of books the shops sell so you make the most of your time here.
Here is a complete list of the very best Hay-on-Wye bookshops you must prioritise while in town;
1. Richard Booth's Books
This is, without a doubt, one of the best Hay-on-Wye bookshops you have to visit while you're here!
This is really where the story of the World's First Book Town began but, beyond a first chapter, the store is absolutely gorgeous.
Imagine vintage wooden bookshelves and decor, creaking floorboards, every type of book you can imagine, and comfy seats to flick through pages!
Although Richard Booth did initially own over a dozen bookshops in the town, he ended up owning just this one on Lion Street. It's a stunning one at that.
When you first approach, the size can be deceiving. On first impression, it looks really tiny. But, when you walk inside, you'll see that the store stretches back for miles.
I spent way longer in here than I initially thought I would do. They sell all sorts of books from folios, history, children's books, classics, poetry. You could explore this place for hours.
As well as being a popular bookstore, this shop also has Richard Booth's Bookshop Café for a pick me up and the independent Richard Booth's Bookshop Cinema too.
So, there are many reasons to visit. Click here to read my complete post on this store!
Address: 44 Lion St, Hay-on-Wye, HR3 5AA
Opening times: 9.30am – 5.30pm Monday – Friday. 10.30am – 5pm on Sundays.
2. Murder and Mayhem
If I were to imagine my dream bookshop, I really think that Murder and Mayhem would be it.
I am a HUGE Agatha Christie collector and just slightly obsessed with armchair sleuthing and crime fiction novels. I also love a pinch of mystery and the macabre. So, it's safe to say I was in my element here.
It packs a punch with impression as soon as you walk in with its creative decor. Make sure to clock the body outline on the floor, police tape, bats, and quotes from famous authors.
This used to be an old residential dwelling and they've really transformed the space to make use of every nook and cranny.
As well as crime fiction and mystery novels starring the classic detectives like Poirot, Marple and Sherlock Holmes. You'll also find some true crime and newer sleuths like Vera or Enola Holmes.
It's almost a crime NOT to visit this incredible bookshop. Read more reasons why here!
Address: 5 Lion St, Hay-on-Wye, HR3 5AA
Opening times: 10.30am – 5.30pm Monday – Friday. 10.30am – 5pm on Sundays.
3. Addyman Books
You may be surprised to know that Murder and Mayhem is actually part of a chain of bookstores in the town that form part of Addyman Books. They now own three amazing Hay-on-Wye bookshops you can visit!
This bookish empire had its humble beginnings in a tiny corner of the Blue Boar Inn around 1987. It was a dinky, 10 foot by 10-foot room in which they crammed all their books!
It was extremely popular though and just six months later they were able to purchase a larger building on Lion Street with their success.
They still operate in the same place today and have built up a loyal fanbase with their stores!
Inside, you'll find a bit of everything here but they are known for their fair prices. So, come with a large bookbag as you'll struggle to pick just a few.
There are plenty of creative themed rooms to disappear into and, of course, their iconic corner of penguin classics is a must-see.
What I personally found a lovely touch was their Book Passage which leads you down the rabbit hole to their £1 book room!
Don't miss this one. It sits just opposite Murder and Mayhem on Lion Street.
Address: 39 Lion St, Hay-on-Wye, HR3 5AA
Opening times: 10am – 5.30pm Monday – Friday. 10.30am – 5.30pm on Sundays.
4. The Hay Castle Honesty Bookshop
Of course, it's all very well there being all these bookstores open during the day. But, what if you arrive after they close?
Well, not to fear, your bookish dreams are not lost! You can visit the Hay Castle Honesty Bookshop!
When Richard Booth was manifesting his vision of Hay-on-Wye as a book town. He wanted to create a 24-hour bookshop in the open air, where anyone could access a book at any time of day.
So, the Honesty Bookstore was born right on the ruins of Hay Castle. It's the 21st-century bookish convenience we never knew we needed! Perfect for a twilight read or late-night book haul.
How it works is that you pick up any book you want from the shelves and pop £1 per book in the coin box next to the bookshelves. Simple as that!
Click here for directions on how to find this amazing open-air bookshop
Address: Castle Street, Hay-on-Wye, HR3 5DF
Opening times: 24 hours a day, every day, always!
5. The Addyman Annexe
The last member of the Addyman triumvirate, as it were, is The Addyman Annexe.
The owners and staff call this bookshop the 'jewel in the crown' as their fanbase loves the exciting collections a little more here!
I have to admit, I agree. Although I did love the flagship Addyman store, this one seemed to have more books that appealed to me.
There were all sorts of novels on philosophy, art, poetry, and even the occult! I just felt quite inspired by the sheer amount of books and knowledge that was on offer.
It's one you cannot miss while you're here and has an honorary place as one of the best Hay-on-Wye bookshops.
Address: 27 Castle Street, Hay-on-Wye, HR3 5DF
Opening times: 10am – 5.30pm Monday – Friday. 10.30am – 5.30pm on Sundays.
6. Hay-on-Wye Booksellers
Another contender near Castle Street on High Town is the gorgeous Hay-on-Wye Booksellers.
This double bookshop is set in a stunning, black and white timber frame house which instantly grabbed my attention as it was just so adorable!
It was oozing with olde world charm and I knew I had to go inside. I'm pleased to report, I was not disappointed and had so much fun exploring this second-hand bookstore!
They have over forty years of experience and pride themselves on a reputation of high-quality books.
So, you're bound to find something that takes your eye. There are rare and hard-to-find books, antiquarian copies, fiction, non-fiction, classics as well as the latest releases.
Although they have extended to a double building, it's crammed floor to ceiling full of books that can be found almost anywhere! So, watch your step.
Address: 13-14 High Town, Hay-on-Wye, HR3 5DF
Opening times: 10 am – 5 pm, seven days a week.
7. Broad Street Book Centre
Situated in another delightful black and white timber frame building, Broad Street Book Centre is up there as one of the best Hay-on-Wye bookshops.
Although this is one building, it actually hosts over 20 independent booksellers who cover books in just about every genre!
Want to know about zoology or railways? Need some sheet music or some antiquarian reads? How about some books on natural history? It's all waiting for you inside.
No prizes for guessing what street this bookshop is on! It can easily be found by strolling up Broad Street next to the Three Tuns.
Address: 6 Broad St, Hay-on-Wye HR3 5DB
Opening times: 10 am – 5 pm, seven days a week.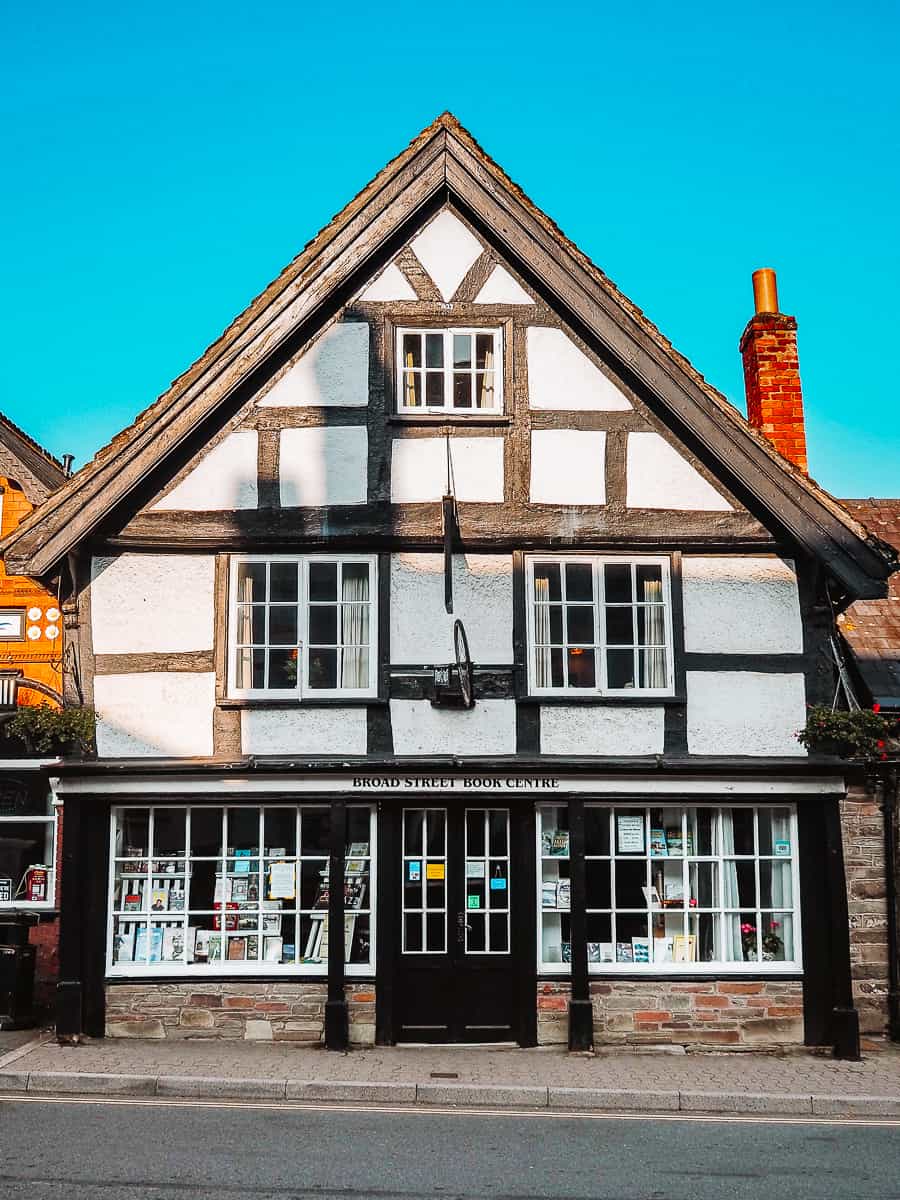 8. Clock Tower Books
In a similar fashion to the Broad Street Book Centre, Clock Tower Books is another bookshop that hosts a variety of independent booksellers.
I loved their exciting collections of classic fiction novels from Roald Dahl and Enid Blyton. Their books were some of my favourite stories growing up!
I still dream of the day when I will finally get my Toffee Shocks and Pop Biscuits from the Magic Faraway Tree.
As well as browsing through their oodles of amazing books, you'll also find some quirky and unique antiques to browse in the mix.
Despite the name of the shop, you'll find this nearer the pillared Thursday Market area rather than the Hay Clock Tower!
Address: Carlton House, Hay Market, The Pavement, Hay-on-Wye HR3 5BU
9. Haystacks Music and More
I have been collecting vinyl for a couple of years now! Although I don't dust it off as much as I would like, I still love to browse and collect some pre-loved LPs when I get the chance.
Haystacks Vinyl and More definitely piqued my interest on my visit. If only because their storefront was so unique and colourful!
It's a bright purple, funky sign with lots of flowers and jazz surrounding it. They have a gnome welcoming you in and there was even a King of Hay throne for a photo opportunity!
I couldn't help but pop in to check out their CDs and records but also to see what their 'more' section was all about. I should have known that it would be a collection of wonderful books to browse.
They have an incredible selection of plays here which brought something new to the bookshop spree. As a previous performing arts student, Shakespeare is a weakness of mine. I know, I'm a walking cliché.
This is a really great treasure trove of things to browse and I would definitely be prepared to lose yourself in its magic.
It's actually part of a range of Hay Castle Shops in The Backfold, so make sure to check out The Thoughtful Gardener too! Plus, there's a thrift store called 'Nan-tiques'. Genius!
Address: 2 Castle Wall, Backfold, Hay-on-Wye, HR3 5EQ
10. Children's Bookshop
This is obviously a great stop if you'd like to buy some books for children! As the name would suggest, this is a specialist store which only sells Children's books.
It's an Alladin's cave of books for little ones of all ages! In fact, there are over 20,000 options to choose from.
As well as new authors and educational reads they also stock some gorgeous classic illustrated books like Beatrix Potter as well.
I didn't get a chance to visit this shop as I have no need for a children's novel. But, reading was my favourite thing to do as a child and I'm pretty sure five-year-old me would have had an absolute field day in here!
Address: Toll Cottage Pontvaen, Hay-on-Wye HR3 5EW
Opening times: 9.30am-5.30pm Monday – Saturday. Closed Sundays.
11. Hay Cinema Bookshop
This second-hand bookstore is by far one of the biggest bookshops I think I've ever been to. It's absolutely humungous!
It's set inside an old cinema and it's hard to know where to start. You'll just find row upon row of books in an endless amount of aisles!
There's also not much by way of labelling and genre assortment. But, I think that's the fun part. My biggest tip is to just get stuck in and start exploring.
You're bound to find something here on the shelves as there are books from all the genres you could imagine.
It's incredible value as well if you're on a budget as they have containers filled to the brim of £1 books that you can rummage in.
Don't miss the Francis Edwards antiquarian section. They were established in 1855 in West London but have since branched out to other towns like Hay-on-Wye.
For the best experience, I'd plan at least 45 minutes to an hour to go shopping here. I cannot tell you just how big this bookworm cave is!
In good weather, there's also a lovely outdoor book section in their garden.
Address: Castle St, Hay-on-Wye, Hereford HR3 5DF
Opening times: 9am – 6pm Monday – Friday. 10am – 5.30pm on Sundays.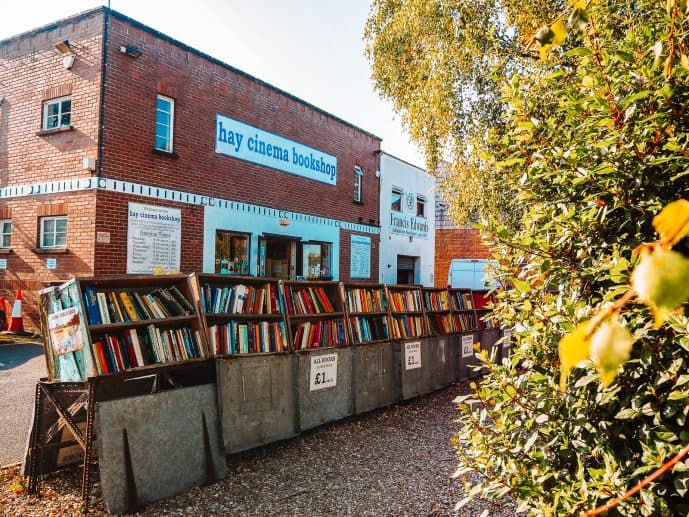 12. Poetry Bookshop
If you have ever wanted to expand your book collection or be inspired by someone else's interpretation of the world. I would always recommend absorbing poetry.
There's something so enlightening about how someone else uses language to describe events or emotions.
It's something that I love to get lost in as it makes you think of new ideas but it can also be a way to dramatically change the way you thought about the world before.
I have a particular weakness for Dante Gabriel Rossetti's work. This is probably from my absolute obsession with paintings and prose from the Pre-Raphaelite Brotherhood!
But, of course, classic poetry is just the tip of the iceberg here! You'll find any sort of poetry style you can think of inside.
It's wall-to-wall poetry. From romance to Shakespeare's sonnets, Poe's hauntings, haikus to the downright obscurity of Bukowski!
If you know a poet you're after, I can guarantee they will have heard of them and most likely stock their work.
Address: Cranbourne House The Pavement, Lion St, Hay-on-Wye HR3 5BU
Opening times: 10 am – 5 pm, seven days a week.
13. The Old Electric Bookshop
After receiving some lovely compliments on their book section, The Old Electric Store decided to give the books their very own home. Hence, The Old Electric Bookshop was born in 2019!
This is one of the most beautiful Hay-on-Wye bookshops I visited. It was fresh and vibrant with pale pink walls and some green plants on the shelves.
It was really lovingly laid out and made for a stunning ambience that left you excited to shop for books. No book dust to be found here.
Beyond the decor, the book collection was fab and I can definitely see where all the compliments came from!
There was a unique selection of philosophy, comedy, biographies, artsy books, poetry plus some quirky fun finds for your collections.
Of course, you can visit The Old Electric Store as well on Broad Street. They have a delightful boutique selling all sorts of great things including new and vintage products.
The great thing about these stores is that the products change all the time. You'll find textiles, vintage clothing, antiques, candles, home items, pottery, and more.
Plus, don't forget to visit The Old Electric Café. It's one of the most popular vegetarian eateries in town and is a communal space to relax for a while.
Address: Carlton House, The Pavement, Hay-on-Wye, HR3 5UR
Opening times: 10 am – 5 pm Thursday to Monday. Closed on Tuesdays and Wednesdays.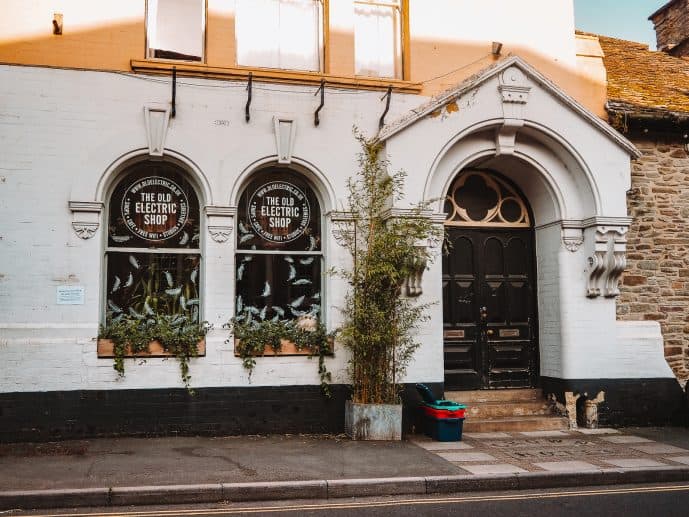 14. Green Ink Booksellers
This is another one of the newer additions that have been added to the list of Hay-on-Wye Bookshops. It opened up in 2014 and it never fails to charm passers-by.
I was initially drawn in by their gorgeous teal-green storefront at first! It's one of my favourite colours.
It's quality over quantity here and they have an impressive collection that leans towards the fictional side.
They have a huge collection of Ladybird books in their children's section downstairs as well as a variety of classics as well.
It may be newer than the more famous OG bookshops on Lion Street. But, I have a feeling this will be a popular shop for many years to come!
Address: Grove House, High Town, Hay-on-Wye, Hereford HR3 5AE
Opening times: 10 am – 5 pm Wednesday to Monday. Closed Tuesdays.
Why not visit for the annual Hay Festival?
If you're looking for the best time to visit Hay-on-Wye, I would definitely recommend planning your visit around late May or early June.
This is when the Hay Festival of Literature and Arts comes to town and it completely transforms the village. You'll find thousands of like-minded bookworms joined together!
Although this town only has a small residency of 1,500 people, the festival will see over half a million people visit.
So, although it's a busy time to be here it's full of inspiration on every corner. Even Bill Clinton called this event the 'Woodstock for the Mind'.
Over ten days, you'll find an infinite number of talks, workshops, readings, concerts, and even film previews.
There's even stuff for little ones with the annual "Hay Fever" children's festival running alongside it.
For more information, ticket bookings and to see even more worldwide Hay Festival literary events happening. Click here.
Non-bookish things to do in and around Hay-on-Wye
Aside from hunting down all the amazing Hay-on-Wye bookshops, you can go antique shopping too. There are a few beautiful boutiques dotted around.
Also, you can pop inside the many cafés and traditional pubs like The Granary and The Blue Boar.
As Hay-on-Wye is situated on the fringes of the Brecon Beacons National Park, you're on the gateway to the countryside. But, you could start with a short riverside walk down to The Warren at Hay. This is a riverside beach and is extremely popular in good weather!
If history is more your thing you could plan a visit to Hay Castle. It's planning on opening its doors in 2021 as a learning centre!
Or, why not make a journey up to Hay Bluff? Just nearby is the famous ancient English Welsh border; Offa's Dyke! This is where King Offa wanted to separate his kingdom of Mercia from Wales in the 8th century.
I was also really wowed by the ruins of Llanthony Priory. It's a monument that has over 900 years of history and is tucked away in the Vales of Ewyas. You'll find the backdrop of the Black Mountains truly spectacular.
Nearby is St Martin's Church of Cwmyoy that has the title of the Crookedest Church in Britain as it leans out more than the Tower of Pisa! Read more about that here.
The best places to stay in Hay-on-Wye
The Swan at Hay – The Swan at Hay is one of the top rated hotels in the town that is situated in a delightful Georgian building. It's had a recent refurbishment so it's the perfect mix of traditional architecture but with modern conveniences. You'll get great views of the countryside from their boutique rooms plus you have the added benefit of a top rated restaurant onsite. Click here to book your stay.
The Old Black Lion – This traditional coaching inn has been providing weary travellers with a rest stop since the 17th century and is almost an institution in Hay-on-Wye. It stands on one of the original entry gates of the walled town from the 13th century. A colourful chapter in its history even saw Oliver Cromwell stay here while the Roundheads besieged Hay Castle! Nowadays, it's a comfy traditional inn where you can sleep over or have a meal in its pub restaurant downstairs. Click here to book.
Where is Hay-on-Wye in Wales and how to get there
The easiest way to visit Hay-on-Wye would be to drive. This Book Town is located on the English-Welsh Border in Powys, South Wales.
It's on the fringes of the Brecon Beacons National Park and so it makes a fantastic addition to any road trip.
However, if driving is not an option, there are bus connections that can take you to the town from the nearby larger towns of Hereford and Brecon.
The nearest train station is also Hereford, so from here you can easily take a bus connection to Hay-on-Wye.
Hay-on-Wye Parking options: There is a huge car park that's located on Oxford Road. This is the preferred option as there is limited parking inside the town itself.
Heading to South Wales? Read these travel guides!
How to visit Yat Rock, the best views of Wye Valley!
A complete guide for the Monnow Bridge in Wye Valley
The very places to visit in Monmouth
How to find King Arthur's Cave in Wales
A complete guide for Crickhowell Bridge
Save this Best Hay-on-Wye Bookshops list for later!