Are you looking for a list of all the best London Christmas lights and displays you can visit during the festive season? Well, look no further.
London is arguably one of the best cities to visit in the world at Christmas time as nearly every shop and street is decorated for the holidays.
This magical list of lights, displays, and trails is sure to make you feel festive and beat some of the winter blues.
Here is a list of the most magical London Christmas lights and displays you can visit!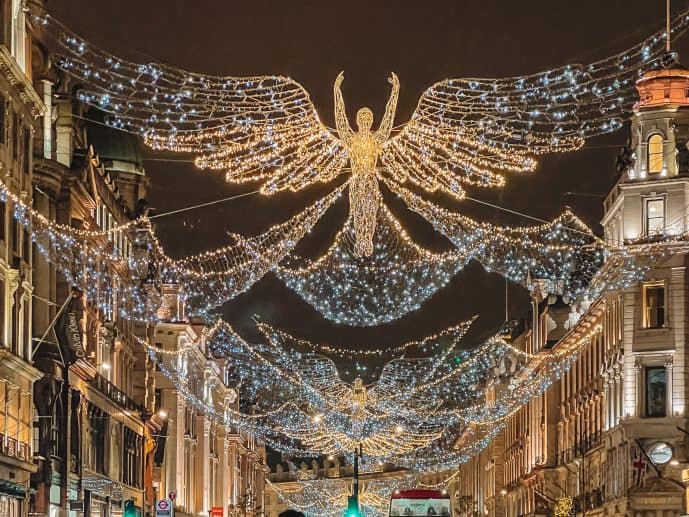 What date do the London Christmas lights go on?
The London Christmas lights dates are different for every shopping street and famous department store display. They don't all switch on at the same time!
Typically, the Christmas lights in London appear in early November and continue until the 2nd / 3rd of January.
Oxford Street is usually always the first to kick off the festive celebrations. They light up the streets in their Christmas lights as early as November 2nd!
A sure bet to ensure you get to see all the London Christmas lights and displays would be to visit from early December onwards.
By this time all of the lights and displays have been set up and switched on for you to enjoy.
When is the best time to see London Christmas lights?
The best time of day to see London Christmas lights would be around sunset at 4 pm. Yes, it gets dark that early this time of year!
This is when the sky descends into darkness and the lights really start to shine and twinkle on the streets of London.
Alternatively, if you wanted to see the Christmas lights a bit quieter, I would visit late in the evening after the shops close. There will be fewer crowds at this time.
Note: The London Christmas lights used to stay on all day and night but now they switch off around 11 pm-midnight to save energy!
What is the best way to see the London Christmas lights
It's easy enough to visit all the central lights on a London Christmas lights walk through the city.
You can visit all these displays in one to two hours if you're speedy but I would make sure to take your time and enjoy the atmosphere.
Most of these London Christmas lights are located on famous shopping streets and restaurant areas. So, you can easily do some shopping or sip on a mulled wine while admiring the lights.
Another great way to see the London Christmas lights would be by bus.
You can take a regular Transport For London (TFL) double-decker bus through these popular streets to see the lights. The traffic is usually so bad, you go slow enough to enjoy them.
But, if you wanted to do something special, you can take a Christmas Lights bus tour in London that will drive you through the highlights with a commentary.
Some bus tours even have the option of a festive afternoon tea!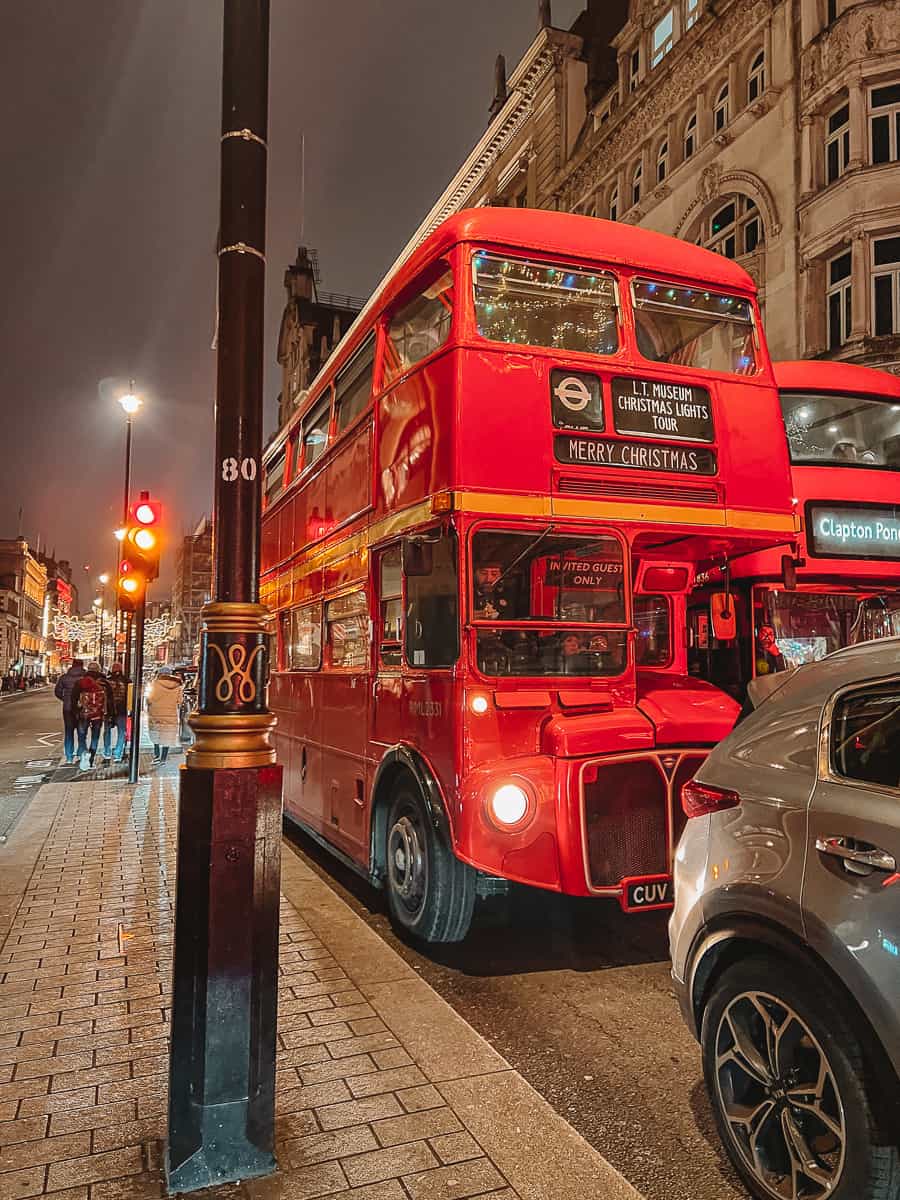 Where are the best London Christmas lights?
So, without further ado, this is a list of all the best London Christmas lights and displays you can visit!
There are quite a few of them so if you have limited time, I would concentrate on the central London locations first.
I've tried to put them in order so you can follow them on a trail plus I've provided a FREE London Christmas lights map you can download to bookmark each location at the end.
Here are the best London Christmas lights & displays that you must visit;
1. Covent Garden Christmas lights
8 November – 3 January
Covent Garden is always one of the best places to visit in London at Christmas time! It has plenty of boutiques, markets, restaurants, and theatres – it's all so festive.
You'll find the whole place decorated with twinkling lights and they put up some fabulous displays to take photos with. They even have fake snow or 'snoap' that goes off every hour!
A highlight for me was seeing Dolce & Gabbana's Christmas market which was really colourful. Plus, I loved seeing the huge mistletoe and baubles in Apple Market with all the Christmas trees.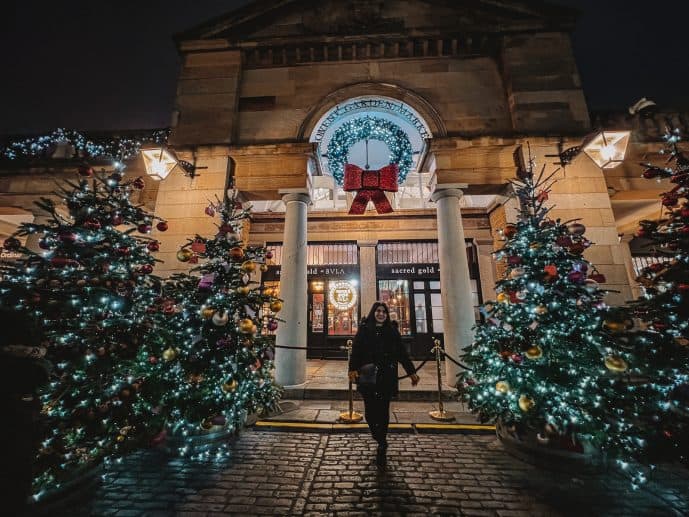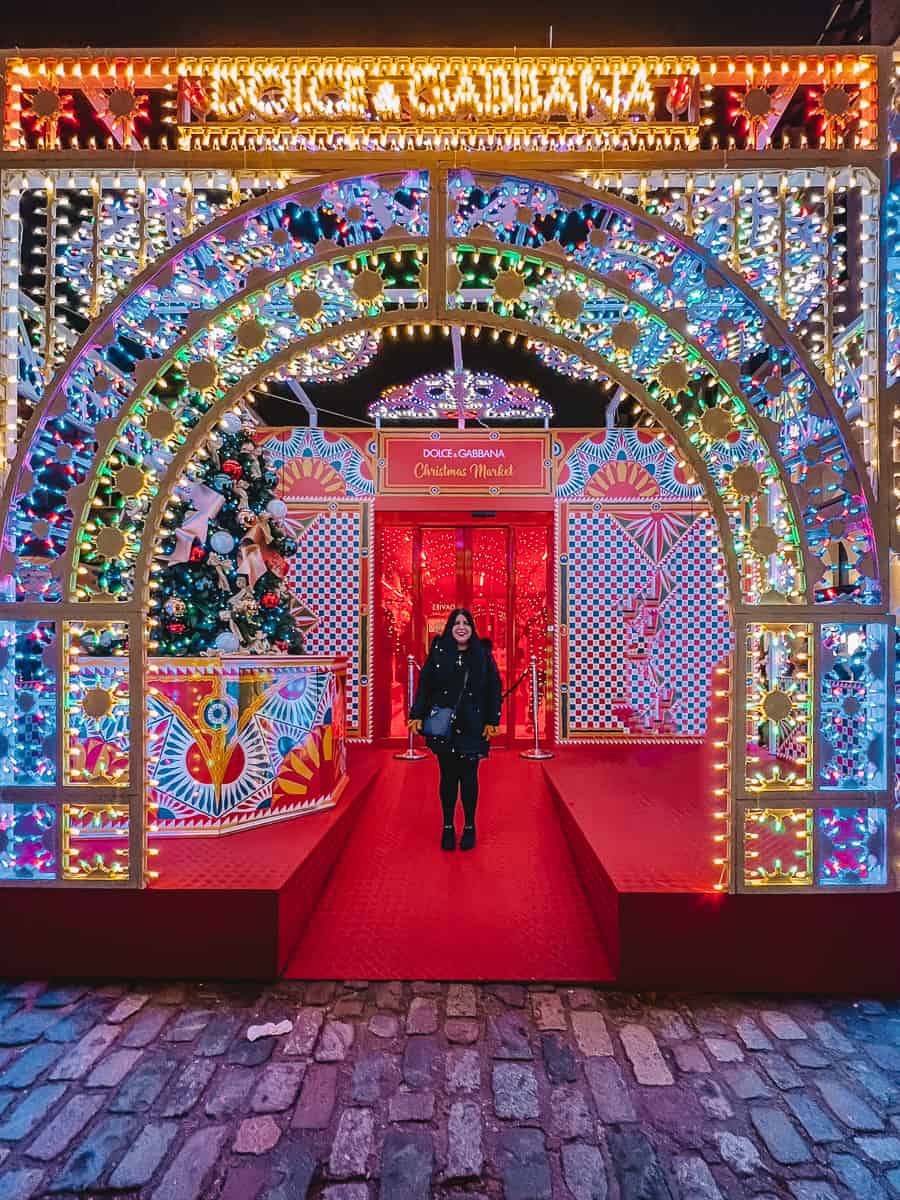 If you wanted photos, there are Instagrammable Christmas displays everywhere here. These usually change every year and this year the highlight was Santa's Sleigh!
There are plenty of places to grab festive street food, hot chocolate or mulled wine in the Christmas markets. But, if you wanted to dine in a restaurant make sure to reserve a table beforehand.
Also, be prepared for the crowds. Shops, stalls, and displays often have enormous queues at this time of year.
2. Seven Dials Christmas lights
17 November – 3 January
I'm going to be honest, I rarely visit Seven Dials in London but when I saw that they had decorated the area for Christmas I decided to pop along.
I absolutely loved their 'Seven Dials Christmas' signs along with their pink and gold lights that lit up the street!
The best part is at the Seven Dials Monument, the reason for the street name. This monument connects seven roads and you'll find seven sundials on the top of the statue!
You'll also find this whole junction filled with fuzzy gold lights that light up the night sky!
Tip: Don't forget to visit the Seven Dials Market that's located in a converted 19th-century warehouse. It serves up the most mouth-watering food from around the world!
3. St Martins Lane Christmas lights
9 November – 3 January
St Martin's Lane held their first ever Christmas lights switch on this year. So, although they are quite unknown right now they are sure to be a hit in future years as they are in London's West End.
They were designed by Art of London and you'll find theatre masks and tickets made up of LED lights. They twinkle from 3.30 pm – 11 pm each day.
Along here, you can enjoy a festive mulled wine at Mr. Fogg's Tavern whilst admiring some of the lights shining above you.
Although not Christmassy, one of my favourite streets in London can be found near here which is Goodwin's Court.
This was the inspiration for Diagon Alley in Harry Potter but it looks more like Knockturn Alley to me.
Click here to read more about Goodwin's Court and Mr. Fogg's Tavern!
4. Leicester Square Christmas lights and market
9 November – 8 January
Leicester Square is always a bustling place in London as here you have all sorts of popular shops and theatres. My favourites are the Lego Discovery Centre and the M&M store!
Of course, Leicester Square has its own set of amazing Christmas lights that you can find sparkling all over this area.
They had huge star garlands hanging over your head and lots of pretty snowflake lights hanging from the trees too. Don't forget to visit the Harry Potter and Mary Poppins statues.
In the center of the square, you can visit the Leicester Square Christmas Market to grab some food or a festive mulled wine.
You don't need a ticket to enter the market but you do have to buy tickets for the circus performances like La Clique.
5. Trafalgar Square Christmas Tree
2 December – 6 January
Another great place to visit at Christmas time would be Trafalgar Square which has its own contribution to the festive celebrations.
The highlight would be the Trafalgar Square Christmas tree that is gifted to London by Oslo in Norway each year since 1947.
In 1940 King Haakon VII was forced to flee Norway and seek sanctuary in Britain during the Nazi occupation. After he was returned safely, he sent a Christmas tree as a token of thanks.
It's usually cut down in a forest near Oslo and transported over 1000 miles by land and sea. So, it's very impressive to see it lit up each year!
Around the tree, you'll usually find more lights and a Christmas market selling gifts and foodie treats.
6. Piccadilly Circus Christmas lights
November 9 – 8 January
Piccadilly Circus always has such a great atmosphere in London. You'll find many colorful screens, shops, restaurants and street performers once the sun goes down.
At Christmas, you'll find plenty of festive lights here that light up the night sky!
Piccadilly Circus usually is outshined by the angels on Regent Street but this year they have joined together to bring even more Christmas Angels to London!
You'll find 45 golden angels in all different sizes called 'The Spirits of Christmas' along with stars!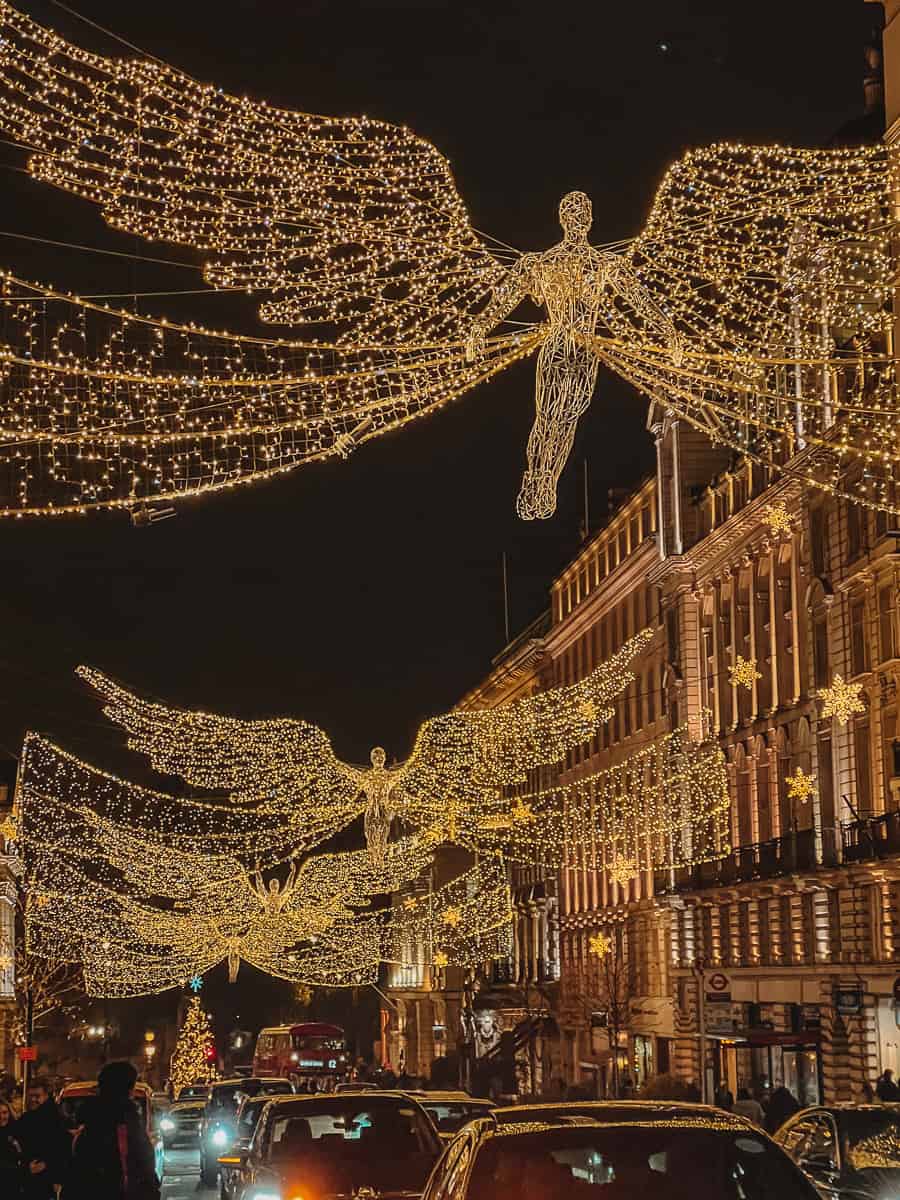 7. Regent Street Christmas lights
November 9 – 8 January
Regent Street is probably the most Christmassy Street in London and it's easiest to visit from Piccadilly Circus.
Regent Street is where you'll find most of the glittering London Christmas angels or the 'Spirits of Christmas' hanging over popular shops like Waterstones and Hamley's.
Fun fact – Regent Street was the first street to ever put up Christmas lights in London in 1954.
The angels are absolutely breathtaking and make a wonderful photo or video opportunity. You can stand in the middle of the road in between the traffic lights for the best angles!
If you wanted to take a bus to see some of the London Christmas lights, I would choose Regent Street to do it on.
You can take the 453 bus which will take you past all of London's top attractions and festive lights or the 139.
Note: to save energy, the London Christmas angels will only turn on from 2 pm – Midnight.
8. Hamley's London
188-196 Regent Street
Another fun department store to visit has to be Hamley's in London. It's a HUGE toy store that is filled with all sorts of fun!
It's sold the finest toys since William Hamley established this shop in 1760 and still continues to sell any toy you could think of today.
This place is especially fun to visit at Christmas time where they deck the halls and even have a festive Santa's Grotto!
Hamley's London is open from 10 am – 10 pm Monday to Saturday and 12 pm to 6 pm on Sundays.
9. Carnaby Street Christmas lights
9 November – 3 January
Carnaby Street always has the most quirky London Christmas lights and it's a delight to see what they put up every year.
This year, it was 'Carnaby Celebrates Christmas' in collaboration with the Choose Love charity raising much-needed funds for refugees.
So, Carnaby Street has its own colourful planetary system overhead that says 'Carnaby Welcomes the World'.
You'll also find giant snowmen, chubby robins, lyrics from Queen's Bohemian Rhapsody, the Rolling Stones tongue and lips logo, and a Union Jack!
This street is really popular for High Street shopping so it's easy to visit these decorations as part of your gift-buying rounds.
10. Liberty London
Just nearby Carnaby Street, you can visit one of London's famous department stores called Liberty London.
It looks like a giant Tudor house with its black and white paneling but is a designer department store selling luxury brands.
The best time to visit is at Christmas time when they open their enchanting Liberty Christmas Shop.
You'll find luxury baubles, statement tree toppers, beautiful decorations, and more for the season!
Liberty London opening times are 10 am – 8 pm Monday to Friday and 11.30 am – 6 pm on Sundays. Times may differ around the Christmas holiday period.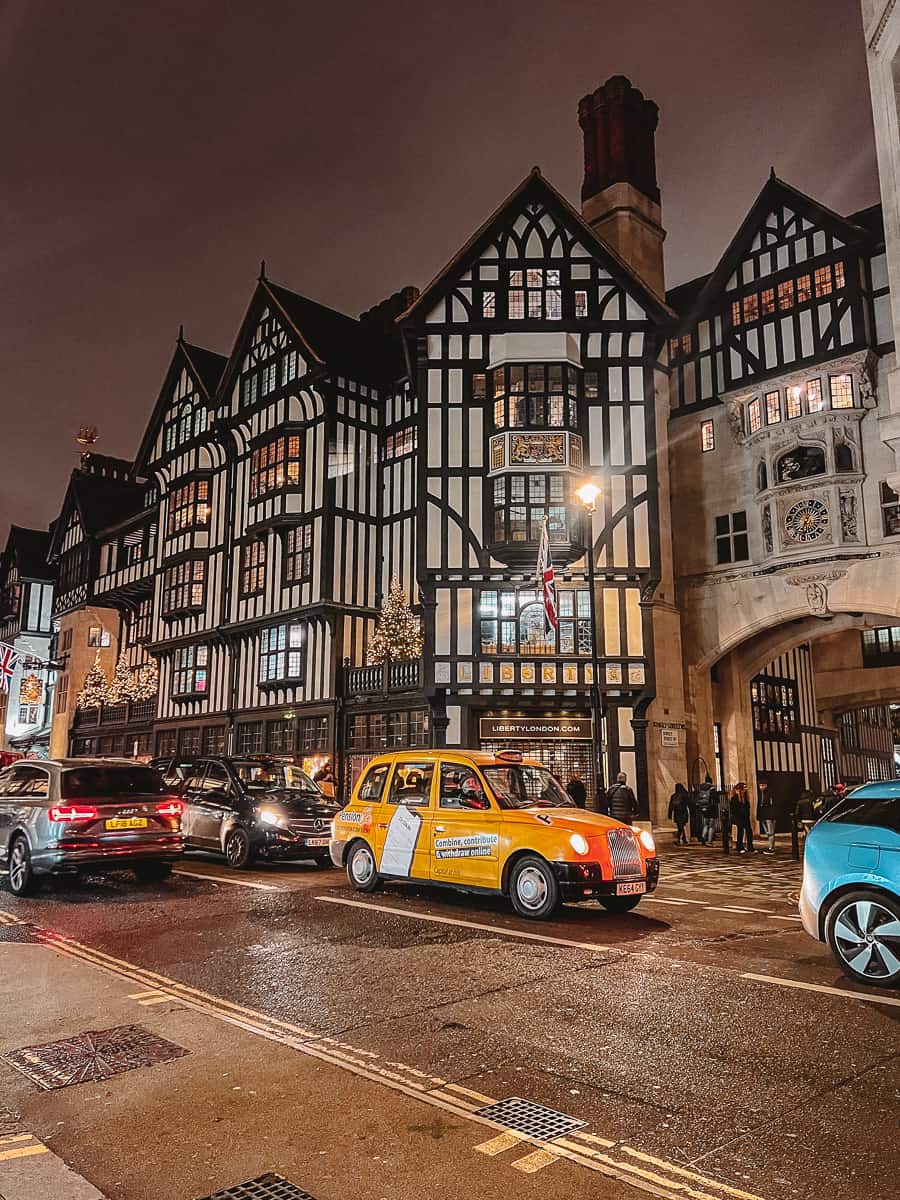 11. Oxford Street Christmas lights
2 November – 3 January
Oxford Street is London's busiest shopping street and you can expect to find it crowded all year, but especially at Christmas time.
All of the shops will have their Christmas displays in the windows and people will be rummaging through the shelves for gifts.
Although busy, I would still make sure that you visit to see their gorgeous Oxford Street Christmas lights!
You'll find 'A Sky Full of Stars' which is made up of thousands of twinkling stars in amongst the retail stores!
12. Selfridges Christmas display
400 Oxford Street
Harry Goodridge Selfridge opened the Selfridges London department store in 1909 and insisted on making it the best shop in the entire city.
He was an American businessman who brought over the tradition of dressing up shop windows for Christmas from there!
I loved the ITV series 'Mr. Selfridge' and remembered this part of the show very well.
Selfridges always put on amazing Christmas window displays every year in all their stores and it's always exciting to see what they will do each year.
Don't forget they also have an entire floor in their department store that is dedicated to Christmas!
The Selfridges Christmas Shop is decorated for the season and you can buy all sorts of glittering baubles, tree decorations and meet Santa and his Elf squad.
Selfridges London is open from 10 am – 10 pm on weekdays, 10.30 am – 7.30 pm on Saturdays, and 11.30 am – 6 pm on Sundays. Opening times will differ during the Christmas holidays.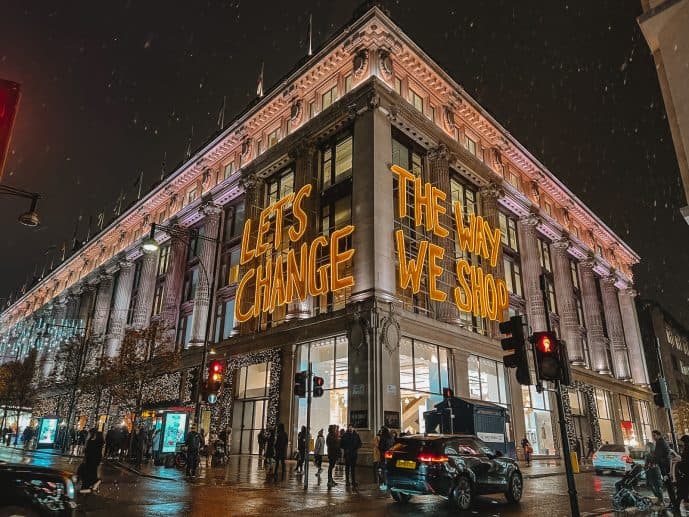 13. Fortnum & Mason advent calendar
181 Piccadilly
Fortnum & Mason is another department store in London that is more like an institution that was established all the way back in 1707.
It's an upmarket shop that sells luxury hampers, food, and gifts. It's the perfect place to buy gifts for Christmas.
There are a few dotted around London but the best is their flagship store in Piccadilly and it's all decorated for the season with wreaths and trees.
Even if you didn't want to go inside, it's always worth checking out their Christmas display and shop windows.
Usually, you can look forward to seeing the famous Fortnum and Mason advent calendar where they make the entire building a giant advent calendar!
They will light up the dates on the windows each day and change the year on the side of the building.
14. Piccadilly Arcade
Piccadilly Arcade, St. James's, London SW1Y 6NH
One of the hidden gem London Christmas light displays you can visit is the Piccadilly Arcade. It runs between Piccadilly and Jermyn Street and it opened in 1909.
It's always a delight to see the Piccadilly Arcade Christmas decorations that twinkle and light up the way.
You can walk through this arcade even after the shops have closed and I would actually recommend this as it will be quieter then!
15. The Ritz
150 Piccadilly
The Ritz is one of the finest hotels you can stay at in London and you can book a slap-up afternoon tea in their Palm Court tea room.
But, it's always worth popping over to the hotel at Christmas time to see their lights and decorations.
If you enter the lobby, you'll usually find one of the best Christmas trees in London with larger-than-life decorations.
But, if you don't fancy popping in, you'll usually find the arcade out front decorated with huge bows, wreaths, and lights!
16. South Molton Street Christmas lights
4 November – early January
South Molton Street always puts on an incredible Christmas lights display and you can find it near Oxford Street and Carnaby Street.
You'll find a 'Winter Wonderland' filled with huge blue arches and twinkling garlands made up of 63,000 lights!
If you wanted some photos without too many people I would try to visit this street after the shops have closed late in the evening.
Note: South Molton Street Christmas lights are switched on between 3 pm and Midnight.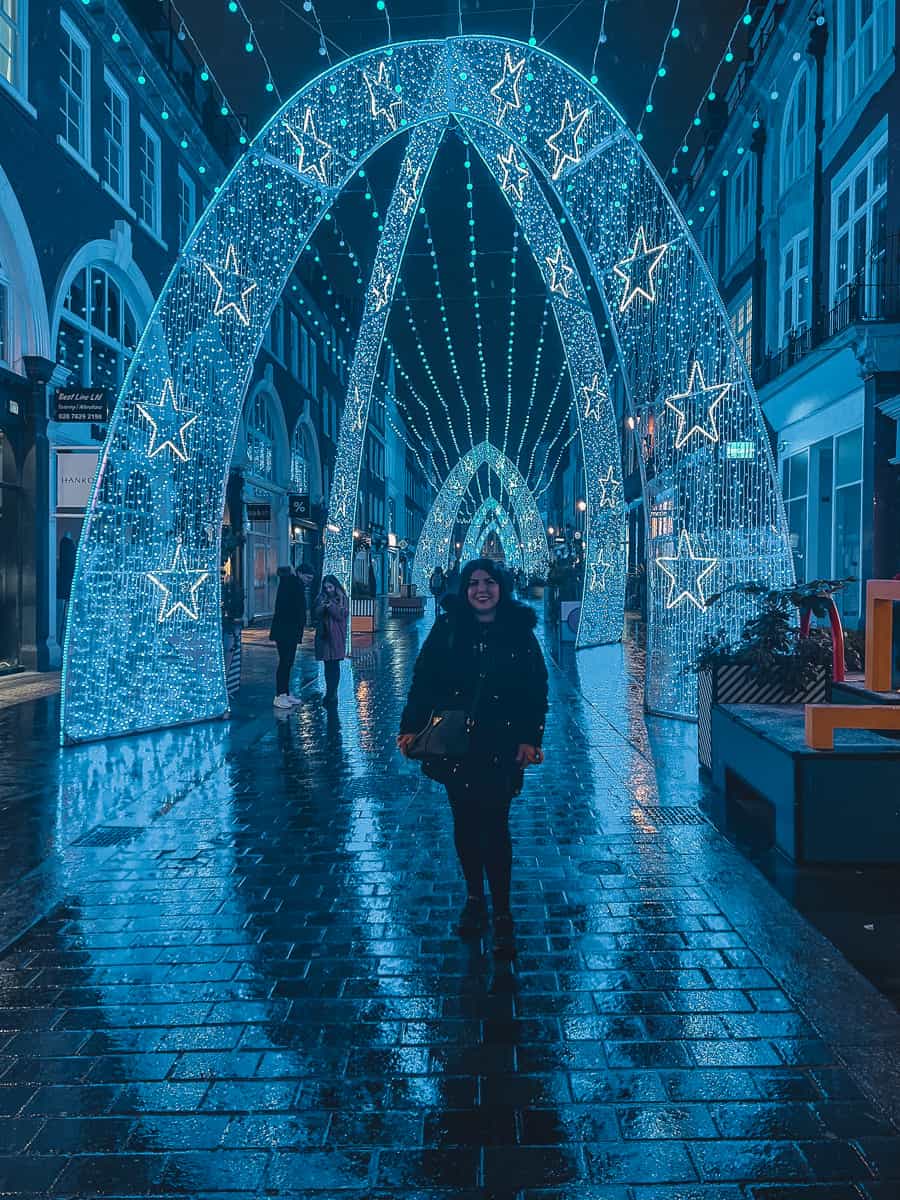 17. New Bond Street Christmas lights
17 November – 8 January
New Bond Street is another street that you must mark on your calendar to see London Christmas lights.
Not only does the street come alive with twinkling festive lights but all of the high-end designer stores have the most fabulous Christmas displays!
This year, instead of their iconic feathers, the Bond Street Christmas lights are a row of beautiful Imperial State Crowns and Royal Jewels made up of over 93,000 lights.
It was intended to celebrate the Queen's Platinum Jubilee but it is now a tribute to Elizabeth II.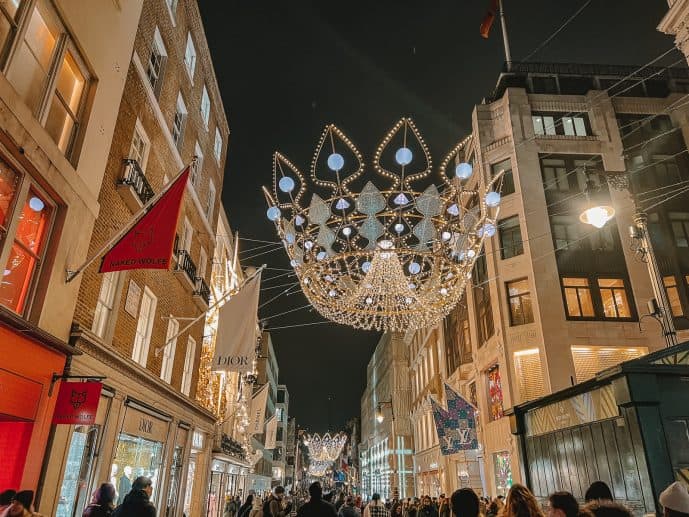 18. Cartier Christmas display
175-177 New Bond St
One of the best things about walking down New Bond Street at Christmas is all the famous displays in the high-end stores.
A statement display that never fails to impress here would be Cartier. It's a designer jewellery store that they 'wrap' to look like a giant Christmas present!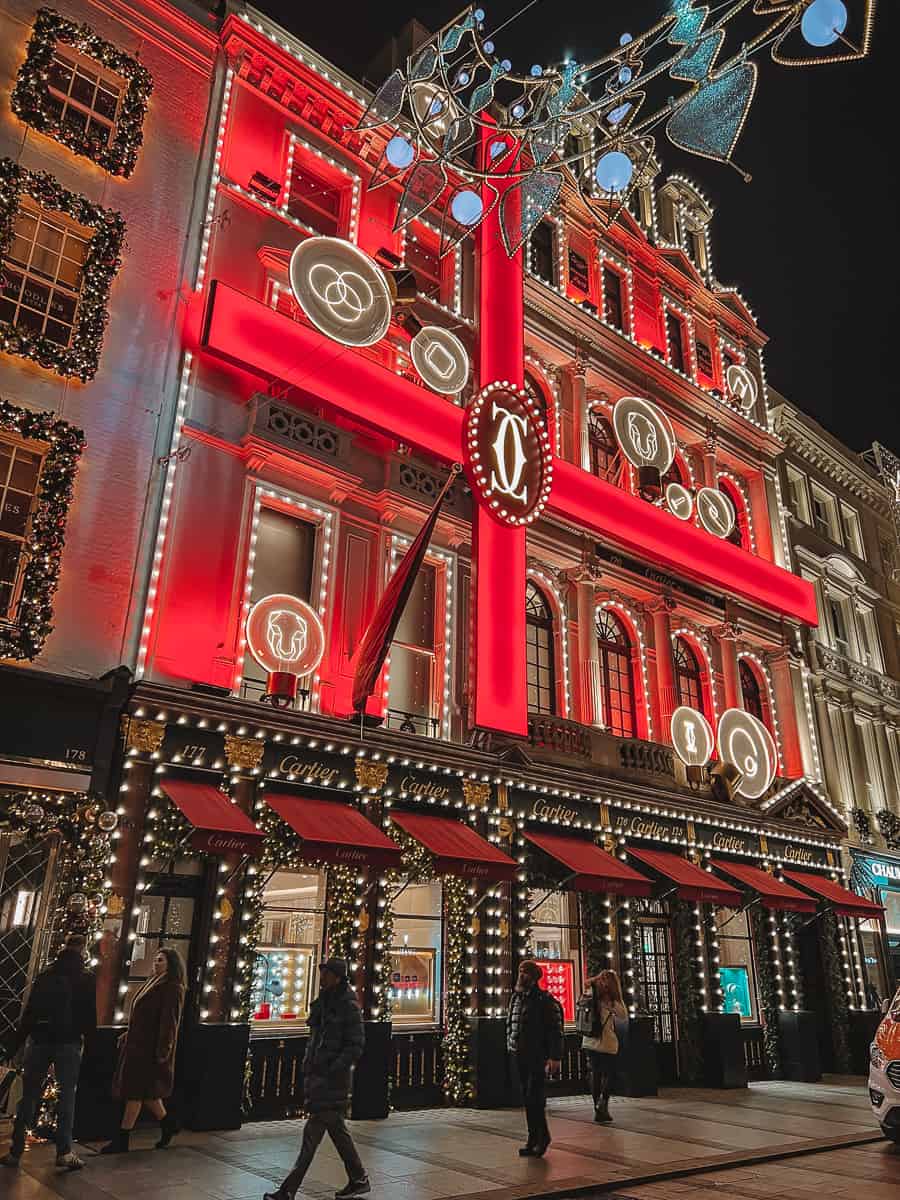 It makes a fabulous photo opportunity as it's right by a red telephone box that sits out the front. I mean, could you get any more London than that?!
A great place to admire this display would be Ralph's Coffee by Ralph Lauren which opens at 10 am. They have outdoor seating that overlooks the store.
Tip: make sure to stick around for the Cartier Christmas light show that takes place every hour in the evening!
19. Dior Christmas display
160-162 New Bond St
A little down the road from Cartier, you can admire the Dior Christmas display on New Bond Street.
I absolutely LOVED their display this year which was a facade fusion of heritage and inventiveness.
Harlequin Design collaborated with Dior to bring their Cruise collection along with Dior's statement compass rose, stars, and flowers!
At the top, it says 'Déploie tes aides et rêve d'infini' which translates to 'Deploy your aids and dream of infinity'.
At night time, you'll see these lights along with a world atlas and tall ships illuminate the street.
Tip: You can find a giant version of this with the Dior takeover at Harrods in Knightsbridge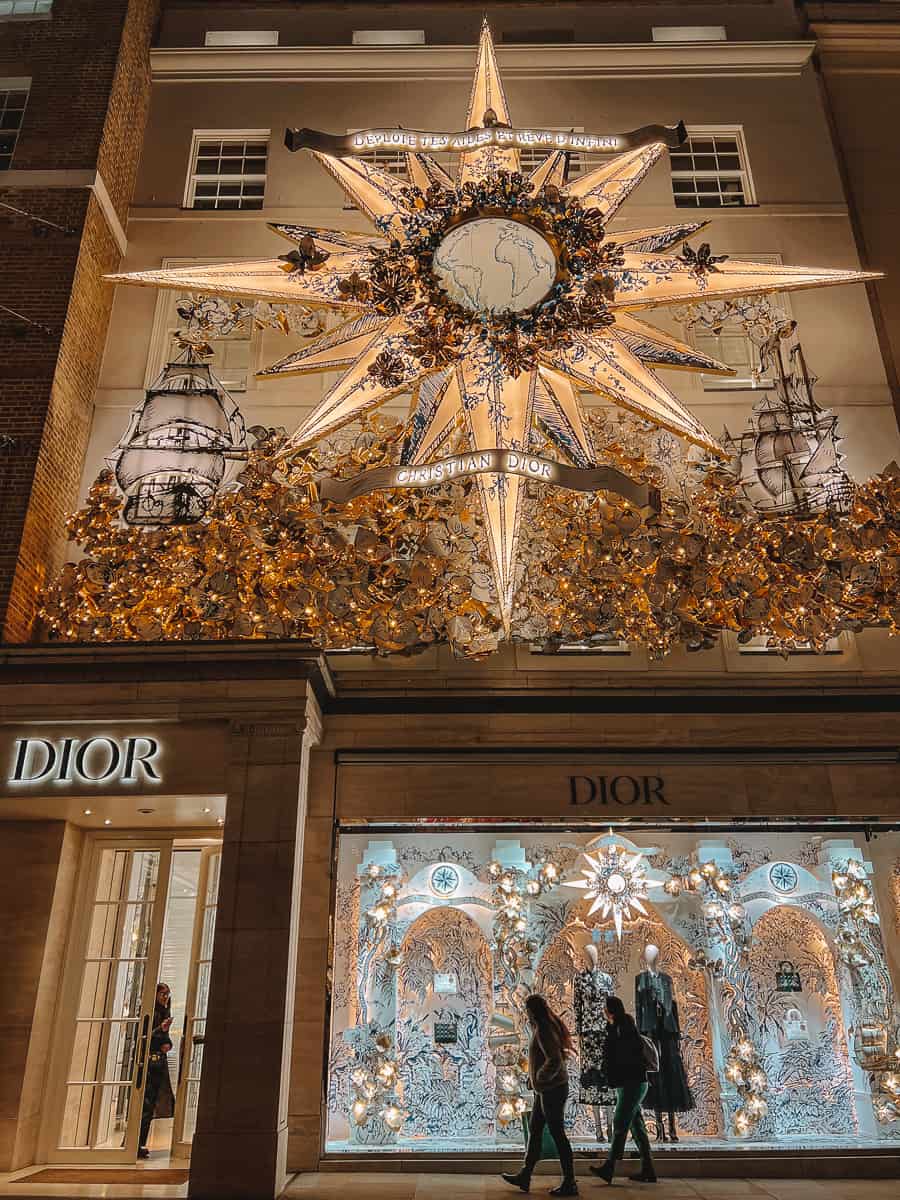 20. Chanel Christmas display
159 New Bond Street
Next door to Dior, you'll also find Chanel's Christmas display which was understated much like their brand.
In previous years, it's been a giant perfume bottle with stars made of lights but this year they have gone for something much more subtle.
It was a giant chain made up of the Chanel logo, bows, and baubles and there weren't many lights at night time.
Although it was nice, I didn't find it very impressive. Judging by the lack of crowds outside the store I think others thought the same.
21. Tiffany's Christmas display
25 Old Bond St
London's Tiffany & Co is another designer store that plans a Christmas display in London and it's always exciting to see what will be unveiled for the festive season.
They have had some pretty impressive displays throughout the years including a celestial display of stars, moons, and clouds which was gorgeous and I wish I got to see it.
This year, it was a teal blue display with a ring of colourful birds based on Andy Warhol sketches.
Although it was pretty, it wasn't very Christmassy in my opinion and kind of boring. Again, there were not many people outside this store taking photos.
22. Hyde Park Winter Wonderland
18 November – 2 January
Of all the Christmas events in London, you have to visit to Hyde Park Winter Wonderland.
It's an entire amusement park dedicated to all that is winter and Christmas. It has rides, Christmas markets, food stalls, an ice bar, Bavarian beer hall and even a circus.
It's no longer free to visit and you will need to book a ticket online to guarantee entry at a specific time slot.
If you go in the morning it's free, in off-peak it's usually £5 and at peak times it goes up to £7.50. But, if you pre-book your rides and food up to £25 you get entry included.
It takes over the whole of Hyde Park and it's absolutely massive. So, I would try to spend at least 3-4 hours here to make the most of it.
There are plenty of Christmas trees and lights to admire including a colourful rainbow row of tunnels!
23. Harrods Christmas display
87-135 Brompton Road
Harrods is another department store that is a joy to visit at Christmas time in Knightsbridge and was founded in 1849.
They usually light up their entire store in golden lights and this year they had a huge takeover by Christian Dior!
You'll find massive Dior motifs here with the compass rose, lucky stars, and scintillating flowers.
Don't forget to go inside Harrods to see their Christmas shop and The World of Dior which is open until early January.
24. Annabel's Christmas display
29 November – 4 January, 46 Berkeley Square
Every year, Annabel's has an amazing Christmas facade in Mayfair that you simply must visit if you're in London.
This year, it's 'A Carousel of Dreams' which was inspired by vintage fairgrounds. You can see the famous Pegasus horses with wings!
Annabel's is a Private Member's Club and entry is strictly members only I'm afraid. But, you can still admire the spectacular facade from outside and grab a few photos.
25. Leadenhall Market
Gracechurch Street
Leadenhall Market is one of my favourite places to visit in London as it featured in the very first Harry Potter movie, Harry Potter and the Philosopher's Stone.
This is where Hagrid takes Harry to the Leaky Cauldron to find Diagon Alley and shop for Hogwarts supplies!
In the muggle market, you'll find pubs, restaurants, boutiques, and specialty food shops here. As well as lots of history to uncover.
Every year, they decorate this Victorian market with Christmas trees and garlands filled with bushels, bows, and lights. You can't miss it.
Click here to see all the Leadenhall Market Harry Potter locations
26. The Churchill Arms Christmas lights
First Thursday of December – 6 January, 119 Kensington Church Street
The Churchill Arms in Kensington is London's most photographed pub and it's really easy to see why.
It's always a delight to visit this pub in London all year, especially in the summer when they decorate the whole place with in their vibrant flower display.
Once winter is here, they decorate the pub with hundreds of warm golden lights and which makes the place look so festive!
Apparently, every November the gardener spends weeks getting the pub ready for Christmas.
He tirelessly takes down the summer planters and replaces them with over 90 conifer trees and a record-breaking 135,000 lights!
Plus, there are twinkling stars, candy canes, snowmen, bows, and moons to finish. Totally worth it, don't you think?
Did you know? You can book a table inside to treat yourself to some tasty Thai food!
27. St Pancras Renaissance Hotel
Euston Road
The St Pancras Renaissance Hotel will always be a special place to me as it was featured in the Harry Potter movies.
If you needed a reminder, this is when Ron flies with Harry over King's Cross station in the Weasley's Blue Ford Anglia. They missed the Hogwarts Express in the Chamber of Secrets and so needed a way to get to school!
The outside of the hotel is stunning but it's well worth checking the inside of the hotel at Christmas time too as they deck the halls.
The St Pancras hotel staircase is one of the most breathtaking I've ever seen and is painted in bright red and gold. It's worthy of the Gryffindor Common Room!
At Christmas time, they also put up a giant Christmas tree here and decorate the banisters too. It's usually for hotel guests but you can stand at the bottom of the lobby to admire it.
Don't forget to visit the Harry Potter shop at King's Cross Station afterward. They always have a great selection of Wizarding World Christmas gifts.
28. Coal Drops Yard
9 November – early January
Another amazing place that you can visit near King's Cross Station at Christmas is Coal Drops Yard.
It was a building established in the 1850s to transport coal but has been repurposed into a modern shopping and foodie destination!
They have transformed the center into a winter wonderland with a festive Christmas market and ice rink.
You can also admire their impressive 47-foot Christmas tree and chase the neon lights on display.
29. Marylebone Village
10 November – early January
Marylebone Village usually has its Christmas lights switched on around the 10th of November.
You'll find the streets lined with garlands plus there will be mulled wine, wreaths, and trees.
Many of the independent shops on this street have Christmas display windows and you can expect fewer crowds than on the busier shopping streets.
My favourite shop in Marylebone has to be Daunt Books for travellers which is one of the prettiest bookshops in London!
Click here to read my complete guide for Daunt Books!
30. Lightopia at Crystal Palace Park
17 November – 2 January
Although seeing the London Christmas lights is amazing, nothing beats a festive light trail in the winter season to beat some of the winter blues.
Lightopia is a festive event that takes place at Crystal Palace Park every winter when the sun goes down.
It's a huge lantern trail where you can admire illuminated displays, water fountain projections, and twinkling lights in the park!
Tickets are £24.50 for an adult and £16.50 for a child. You can also pre-book rides and parking tickets online.
Click here to book tickets for Lightopia London
31. Kew Gardens Christmas trail
16 November – 8 January
Lastly, I would highly recommend visiting some of the royal parks and gardens at Christmas time when they are decorated for the season.
Christmas at Kew Gardens is always a highlight event in the London winter calendar and you can follow a festive Christmas trail there.
You can walk through twinkling tunnels of light, admire lakeside reflections and watch the endless trees decorated in vibrant lights! It's fun for all the family.
Standard tickets in off-peak are £21.50 for an adult and £28 for an adult at peak times.
Click here to book tickets for Christmas at Kew!
London Christmas lights map
Here is a map of all the London Christmas lights and displays that you can use to plan your trip.
Click the image below or click on this link to be taken to Google Maps! You can then save this map for later.
Most of the central London Christmas lights can be seen together on a walk through the city. It should only take you a few hours at a leisurely pace.
If you can I would recommend staying in London for a few days to soak up the Christmas atmosphere. It really is the best time to visit!
My top tips for visiting London Christmas lights
Prepare for things to be BUSY – London at Christmas time sees thousands of people descend on the city, locals and tourists alike. People are shopping, commuting, sightseeing, meeting friends, partying – it gets very very crowded!
Wrap up warm – London does see very cold winters and so you should wrap up warm at night time! Bring a brolly in case it starts to rain.
Book things in advance – If you plan on eating at a restaurant, seeing a show, or visiting Winter Wonderland, make sure to book everything in advance.
Visit off-peak – If you can, I would visit the Christmas lights during the week and earlier in the afternoon. Or, visit after shops close in the late evening. Weekends can get very crowded!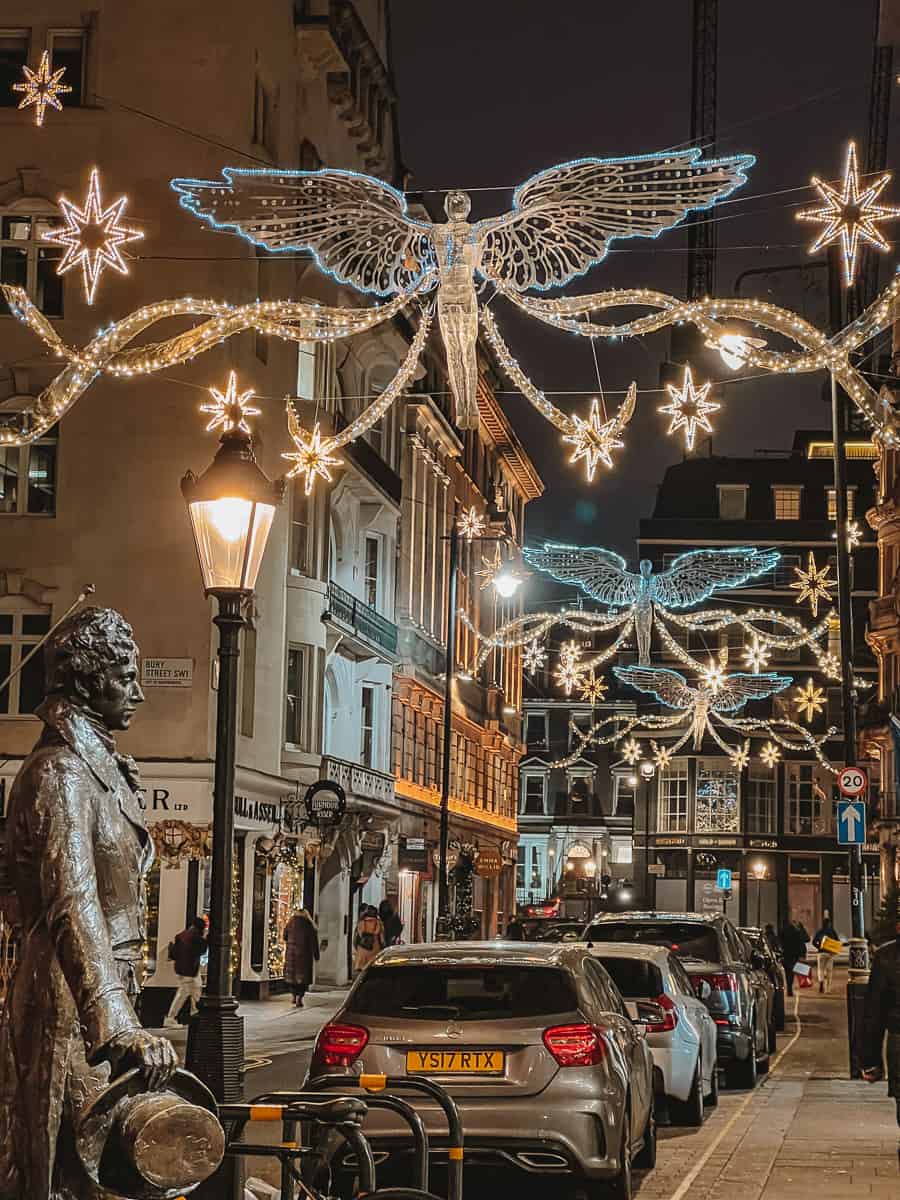 Looking for even more London Christmas activities?
Christmas is a wonderful time of year to visit London as there are so many festive things to do beyond the Christmas lights.
You can extend your Christmas lights trip by visiting some fantastic Christmas markets such as Christmas by the River and the markets at Battersea Power Station.
Ice Skating is always a popular thing to do this time of year and there are London ice skating rinks at Somerset House, Hampton Court Palace, Canary Wharf, and Battersea.
If you're looking for festive places to eat or drink you can head to Daphne's London or Miracle at Henrietta, the London Christmas cocktail bar.
You could book a swanky Christmas afternoon tea at The Savoy or you can even have afternoon tea on a double-decker bus with Brigit's Bus Tour. It's a great way to see the London Christmas lights!
If you're a fan of the movie Elf starring Will Ferrell you can usually find the live show on at the West End and the ever-popular Frozen the Musical.
Finally, if you're a fan of Harry Potter I would also recommend visiting the Harry Potter studios tour this time of year for their Hogwarts in the Snow event.
You can see many different magical Wizarding World Christmas trees and the whole place is decked up for the season.
You can see the Great Hall decorated for a Christmas banquet and the Yule Ball. Then, sip on festive Butterbeer and walk down a snow covered Diagon Alley. Even the Hogwarts Castle is sprinkled with snow!
Click here to read my Harry Potter Studios Hogwarts in the Snow review
London Christmas lights FAQs
Where is the most Christmassy place in London? Hyde Park Winter Wonderland! It's a whole theme park of Christmas fun!
How long do I need to see London Christmas lights? You can see most of the central lights in around one – two hours if you're speedy! But, take your time and soak up the festive atmosphere.
Which street in London has famous lights? Regent Street, Oxford Street, Carnaby Street, Bond Street – there are many!
What time do London Christmas lights turn off? They used to stay on all night but now some turn off around 11 pm – 12 am to save energy!
What time are the Covent Garden Christmas lights? 11 am-midnight until the 3rd of January.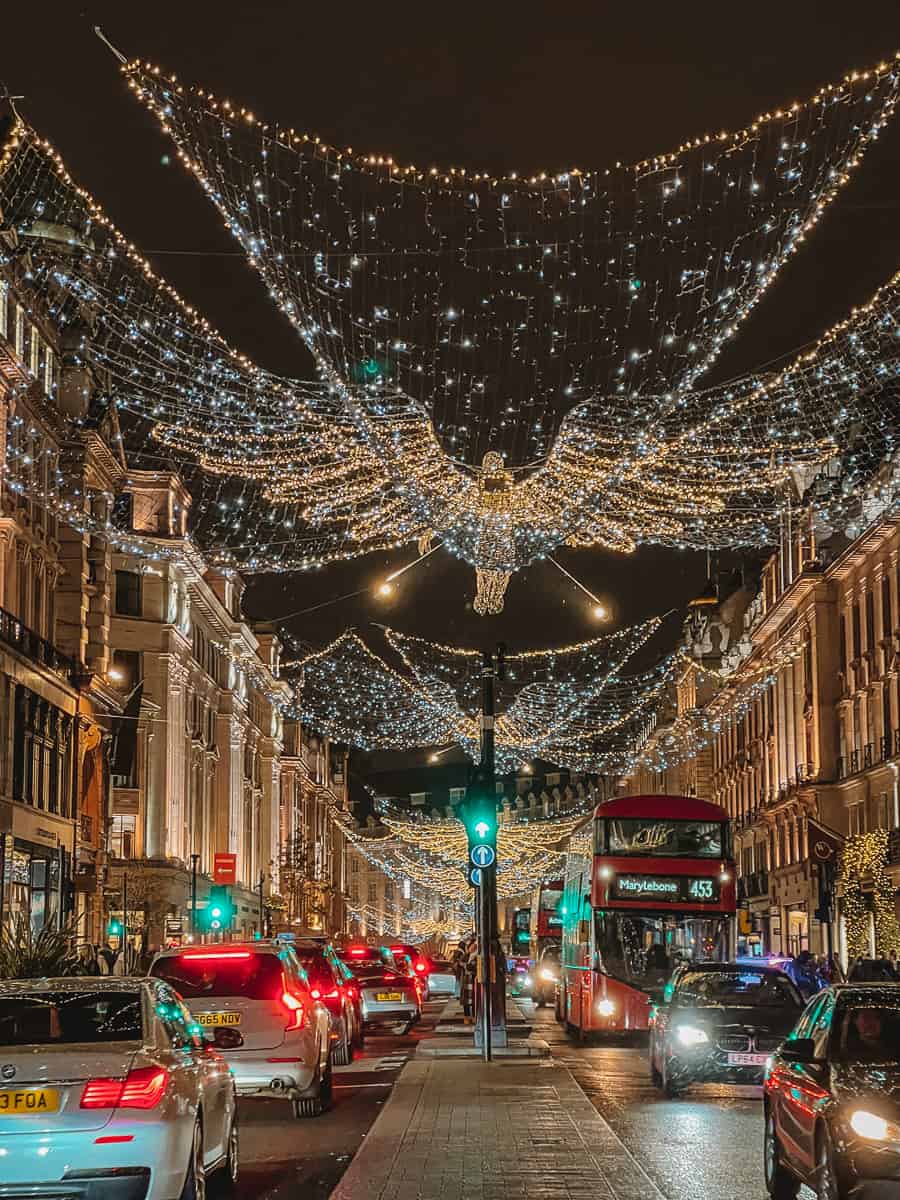 Read more of my London blog posts!
A complete guide to the Greenwich Foot Tunnel
Why you must visit God's Own Junkyard
The hidden gem of St Dunstan in the East Church Garden
FREE things to do in the London Bridge District
A Harry Potter guide for Leadenhall Market
Magical cocktails at The Cauldron
Why you must visit the Harry Potter Photographic Exhibition
How to visit Harry Potter's 12 Grimmauld Place
Why you must visit the House of MinaLima
Dark Arts at Harry Potter Studios London
The secret Anne Boleyn symbols at Hampton Court Palace
Visiting Hogwarts in the Snow at Harry Potter Studios
How to visit the Hogwarts Divination Stairwell at St Paul's Cathedral
A complete Mr. Fogg's Tavern review
Save the best London Christmas lights for later!