If you're looking for where Outlander was filmed, I have a whole list of the best Glasgow Outlander locations right here.
Although on the screen the actors were seen in the likes of Boston and Paris, you may be surprised to know that 95% of Outlander was filmed on location in Scotland!
So, you don't need to purchase any expensive flight tickets to walk through the chapters of your favourite time travel romance!
Some of these locations are easily accessible in the city centre and some are a little further afield. Here are the best Glasgow Outlander locations every fan must visit!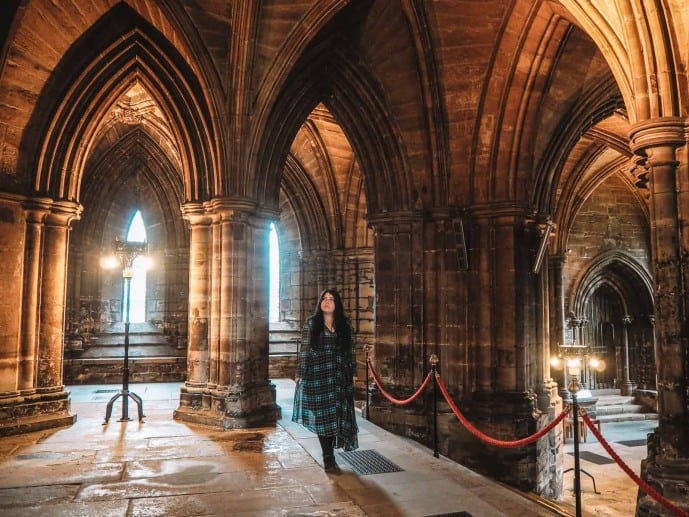 Where is Outlander filmed in Glasgow?
So, there are many places that you can easily walk to in the city centre of Glasgow where they filmed Outlander.
Big attractions like the Glasgow City Chambers, Glasgow University and even the High Kirk of Glasgow were all transformed into locations in the 18th century and present day.
If you go a little outside of the centre, you can also visit a few parks that featured in the series as well as the Liar's Spring where Dougal MacKenzie checks if Claire is telling the truth!
In each of the Glasgow Outlander locations, I'll briefly explain the location and provide you with a link to my guides.
Each of these guides have even more tips for visiting and how to find them!
Related post – visit all the Outlander locations in Scotland!
How to get around Glasgow
As soon as you've pulled up into George Square in Glasgow City Centre, most of the Glasgow Outlander locations you can access on foot.
The city centre is easily signposted and, if you save my Google map (below), you can find each of the locations easily on your phone.
But, Glasgow also has a great public transport option with buses and even an underground system.
Or, why not grab a hop on hop off bus tour to explore the city as you go? If you're thinking of heading out of the city on public transport, I love Travel Line Scotland for planning longer journeys.
The best Glasgow Outlander locations!
1. Glasgow Cathedral / L'Hopital Des Anges (The charity hospital in Paris)
Outlander series 2 location
One of my favourite Glasgow Outlander locations is the Glasgow Cathedral or High Kirk of Glasgow. It's a place that has over 1,000 years of history, built-in 1136AD!
This makes it the oldest church in mainland Scotland and the oldest building in Glasgow too.
It's seen as one of the finest examples of Gothic Architecture in the country and is also the location of the tomb of St Mungo.
He was an apostle of the Scottish Kingdom of Strathclyde in the 6th century who first brought Christianity to Scotland. So, as well as an Outlander film location, it's also a must-visit tourist attraction too.
In series 2 of Outlander, this cathedral played the charity hospital where Claire worked in Paris as a volunteer. This is known as L'Hopital Des Anges run by Mother Hildegarde.
The exact filming location of the inside of the hospital can be found in the Lower Crypt of the Cathedral.
The whole area was used during the series, including the area of the tomb of St Mungo, where Claire recovers after losing Faith. There is a small sign here explaining the production.
If you're curious as to where the exterior of the L'Hopital Des Anges is, it's in Prague and can be found at the Military Church of St. John of Nepomuk.
The Lower Crypt is FREE to visit but has restricted opening times due to worship.
Related post – A complete Glasgow Cathedral Outlander guide!
2. George Square / Where Claire and Frank get married
Outlander series 1 location
If you ever wondered what Westminster registry office Claire and Frank got married in, you may be surprised to know it wasn't in London at all. In fact, it's not even a registry office!
The Glasgow City Chambers in George Square has transformed into a street in 1940s London.
Plus, the offices located on John Street, a little behind the entrance of the city chambers, was made into a registry office for that scene!
So, if you're passing by Glasgow's busiest square, you definitely need to pop by to see it.
It's a gorgeous area with lots of beautiful historic architecture. The exact building and door that were used are located on 45 John Street.
It can be busy during the day, so I popped by on a Sunday when offices were closed.
Another cool thing to do in this area is to go on a FREE Glasgow City Chambers tour! You can't book this online so make sure you turn up around 30 minutes in advance of the tour. It's one of my favourite Glasgow Outlander locations!
Related post – Click here to see my complete George Square Outlander guide
3. Glasgow University / Havard University
Outlander series 3 location
Another one of my favourite Glasgow Outlander locations is Glasgow University, one of the oldest in the English-speaking world.
It almost looks like something straight out of the Harry Potter books and some of the buildings could totally pass off as Hogwarts too!
So, what does it have to do with Outlander? Well, when Frank gets a job at Harvard University, Claire and Frank both move to Boston.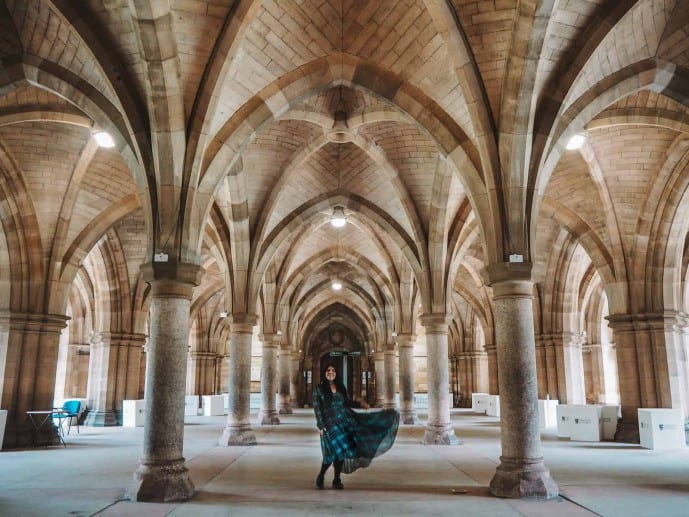 Glasgow University plays Harvard in the series. Although, if you've ever been there in real life (like me), you'll know it looks nothing like it.
The exact locations that were used are the Glasgow cloisters, the Main Building Campus, the Joseph Black building, and the Melville room.
Visitors are welcome to visit throughout the year and there is way more to do here than just Outlander stuff.
But, always check times for self-guided tours on their website. Some rooms will be restricted access during term times.
Check out my complete Glasgow University Outlander guide to find out more
4. Kelvingrove Park / Where Claire pushes Bree in her pram
Outlander series 3 location
This beautiful park in Glasgow was actually used twice to represent Boston in series 3.
Once, when Claire is walking to medical school and tips the Bagpipe player, and the other is when Claire is pushing Bree in her pram.
Although the park is scenic and well worth a walk around if you just wanted to visit this location it's located on the Prince of Wales Bridge in Kelvingrove Park although it isn't signposted.
My advice is to find the Kelvingrove bandstand that's signposted and head over from there. You'll notice Glasgow University in the background and the bridge where the Bagpipe player stood.
Kelvingrove Park is a FREE Glasgow Outlander filming location you can visit and is open 24 hours a day.
Read more – my complete Kelvingrove Park Outlander guide!
5. Dowanhill Street / Where Claire and Frank live in Boston
Outlander series 3 location
The beautiful Furey Street of red brick gothic houses that Claire and Frank move into in Boston, is another Glasgow Outlander location found in the bohemian West End of Glasgow.
The street was chosen as it was a good fit for Beacon Hill, found in Boston, Massachusetts.
124 Dowanhill street was the exact house used for the third series of Outlander.
Although you're more than welcome to look from the outside, don't disturb the neighbours or go knocking!
The production team spent weeks transforming this street to appear like the 1940s and 60s and they did a smashing job!
Normally, it's jam-packed with modern cars and looks nothing like it. It is just a house in a residential area.
But, there are plenty of things to get up to the West End such as Byre's Road and Argyle Street (Finnieston) with independent shops, cafés, and art galleries.
Click here to see my complete Dowanhill Street Outlander filming location guide
6. Pollok Country Park / Where Jamie duels Black Jack Randall
Outlander series 1, 2 & 4 location
Pollok Country park is a beautiful wide-open space just outside of Glasgow that makes a fabulous FREE day out in the countryside.
Here, you can visit Pollok House, have afternoon tea in their café, see the Burrel Collection museum, and even meet some fluffy Highland Cows in the fields too!
The Outlander team used this park for many scenes throughout the series;
Series 1 – The grounds of Castle Leoch for The Gathering, The Gypsy Camp
Series 2 – Where Claire rides in her carriage to the duel, where Jamie and Black Jack Randall duel, and where they hold up the Comte St. Germain
Series 4 – The grounds for the Scottish Festival in North Carolina
You can easily drive to this Glasgow Outlander location in around 20 minutes from the centre of the city. Or, get the train from Glasgow Central Station to Pollokshaws West station.
In my Pollok House location guide, I have made a complete map of all the locations and where to find them while you're here. So, make sure you check it out before your visit!
7. St Andrews in the Square / The Theatre in Wilmington
Outlander series 4 location
St Andrews in the Square is an 18th-century, A-listed church in Glasgow that is now a centre for Scottish Culture.
It was used as a Glasgow Outlander filming location in series 4. Firstly, for the theatre scenes when Claire and Jamie go to watch a performance at the Wilmington Theatre.
Secondly, when Frank talks to Brianna about moving back to England with him in the 1960s.
As a heads up, although Visit Scotland's Outlander map and Google say it is open daily. It's actually only open on Tuesdays from 11am – 1.30pm. Which is quite limited!
There is also a café called Café Source that is underneath the church open Wednesday – Saturday. Typical that I arrived on a Monday and both were closed!
If you want to see where the rest of Wilmington Theatre was filmed, check out my post on Arniston House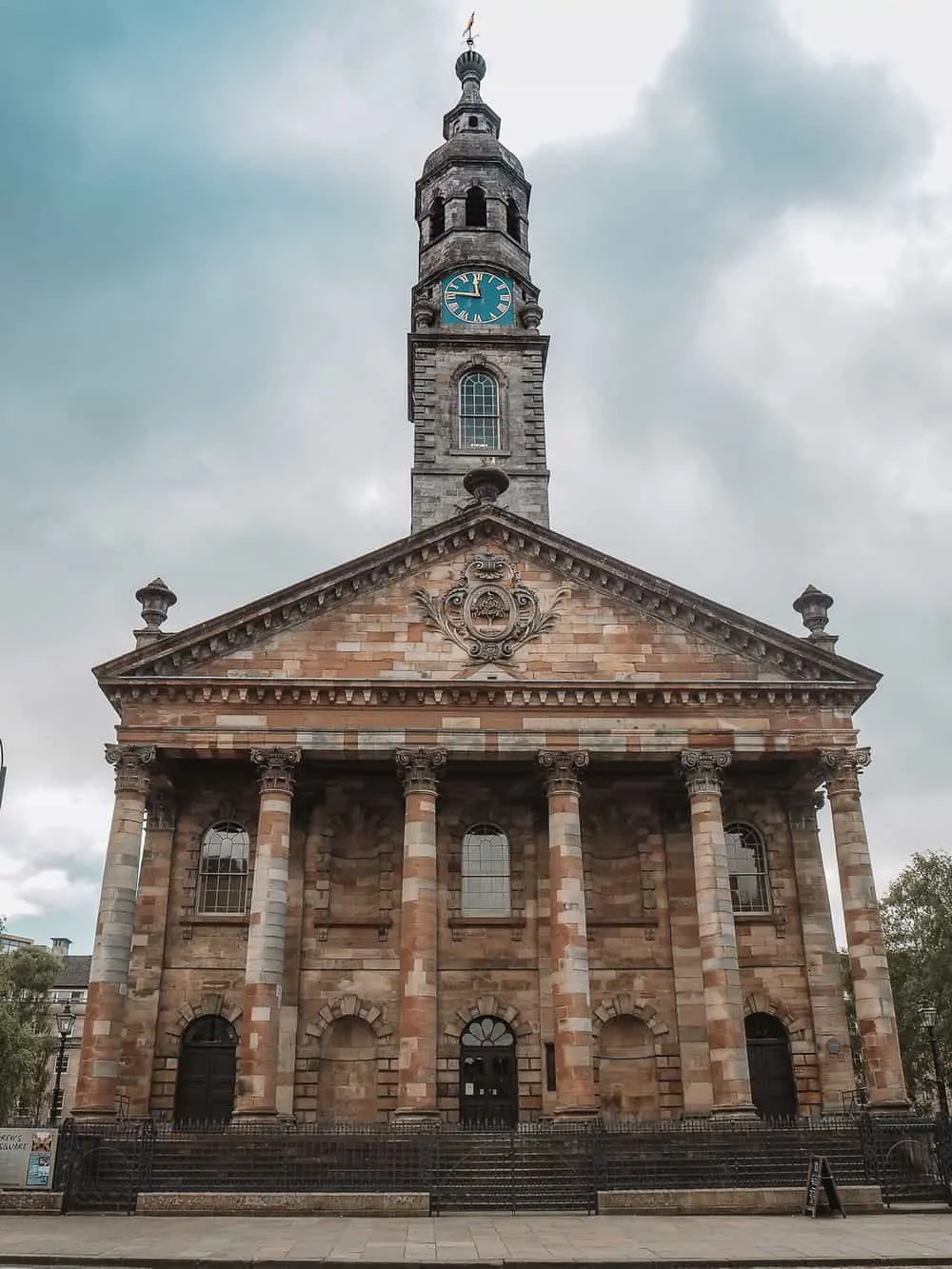 8. The Old Victoria Infirmary / Claire's medical practice
Outlander series 3 location
If you're wondering where Claire and Joe Abernathy's medical practice was filmed in Boston in series 3 it was at the Old Victoria Infirmary in Glasgow!
Unfortunately, this beautiful building on the south side of Glasgow has since been knocked down.
It used to be an unused hospital but has now been redeveloped and replaced with a newer hospital nearby. I thought it was still worth a mention though, to leave no stone unturned.
9. The Devil's Pulpit / Liar's Spring
Outlander series 1 location
Okay, now I can guarantee that fans will LOVE this film location as it looks like something from a fairytale. Although, I will warn you now that it's one of the riskier Outlander locations in Glasgow! So, make sure you're prepared for this hike before you go.
The Devil's Pulpit or the Finnich Glen near Glasgow is located down a 60-foot gorge in the countryside of Scotland.
It's an emerald green cavern with a ruby red flowing through it and pretty waterfalls. It's like something from a storybook!
In series 1, this Glasgow Outlander location was used as the Liar's Spring. Dougal makes Claire drink from the water to check if Claire is telling the truth about being an English or French spy.
To access the Devil's Pulpit you will need to walk down a rocky path called Jacobs Ladder. Parts of it are not there anymore and are like a rockslide, especially when wet!
Make sure you read my honest guide about how to find the Devil's Pulpit there so you're prepared!
Outlander tours from Glasgow
If you're looking for an Outlander tour that runs from Glasgow, there are plenty of adventures to choose from.
This is the perfect choice for those that don't have their own means of transport but wish to cover a couple of locations in one day;
Outlander locations outside of Glasgow
So, that's all the Glasgow Outlander locations in and around the city centre. But, there are also a couple of locations around Glasgow that are worth mentioning.
These locations make perfect day trips from the city, or can be included as part of your Outlander road trip through Scotland!
Many here are FREE to visit and don't have any restrictions on opening times, which makes it even better.
Again, all of these locations have a dedicated guidepost that will give you even more information about visiting and top travel tips.
10. Hunterston House / Reverend Wakefields home
Outlander series 1-4 location
The Reverend Wakefield's beautiful home appears many times throughout all 4 Outlander series.
Firstly, when Claire and Frank come to visit to find out his ancestry, then when Frank stays on to look for Claire.
When Claire returns through the stones, at the Reverend's wake, when Roger inherits the house and finally when he sells it to Fiona! Also, a few of the rooms were used to represent Mrs Baird's B&B in series 1 too.
I had the pleasure of staying at the real B&B, the Covenanter Hotel, you can read my review of that here.
Hunterston House is the home that played the Reverend Wakefields house which can be found in West Kilbride, around an hour out of Glasgow near the coast.
It is owned by Clan Hunter who has a history tracing back to David I of Scotland! They also own the famous Hunterston Castle.
A keep that was the seat of the lairds of Clan Hunter that sits on the grounds, dating back to the 15th century.
Tours are strictly on request, but they do have a collaboration with Highlander Tours.
They will make a stop here and you can be treated to an authentic 18th-century dinner. Made by the real chef who cooked the meals in the series!
Click here to read my full guide about the specific Hunterston House locations and how to get here
11. Dean Castle Country Park / Beaufort Castle
Outlander series 2 location
Another Outlander location near Glasgow is Dean Castle Country Park located in Ayrshire.
In Outlander series two 'Fox's Lair', Jamie visits his Grandfather Lord Lovat, or the Old Fox, at Beaufort Castle in the Highlands.
In the episode, the front of the castle and the inner courtyard features a number of times and is the location where Laoghaire confronts Claire. Unfortunately, the castle itself is shut off for renovations until further notice.
But, there are some tours you can organise that take place on the last Sunday of every month. The park is also beautiful with a number of walking trails to enjoy.
See my complete Dean Castle Outlander guide for more information and how to book a tour!
12. Troon beach / Cristabel location
Outlander series 1 location
At the end of series 1, Jamie recovers in an abbey after he is saved from being tortured in Wentworth Wentworth Prison. Claire, Jamie and Murtagh all decide to head off to Paris to escape the being caught by the British.
Murtagh secures his passage on the Cristabel and they say goodbye to Willie, Rupert and Angus on the shores of a beach in the Highlands.
This beach is actually Troon beach in South Ayrshire and you can visit for yourself.
Beyond an Outlander location, Troon is an extremely popular coastal town for holidays and days out to the seaside from Glasgow. So, it's well worth checking out!
You can have a look at more information on Troon Beach and where to find the Outlander spot here
13. Dunure / Silkies Island
Outlander series 3 & 4 location
One of my favourite Outlander film sites in this part of Scotland is the little village of Dunure. This sleepy coastal town shot to fame after the Outlander series and even has a sign to celebrate it.
While you're here there are a number of Outlander film locations you can check out.
Dunure Castle played the castle on the Silkies Island that Jamie and young Ian swim too in series 3.
But, luckily for us, we don't need an icy swim to reach it. It's a ruin that's located on the mainland!
You can pop inside here to see it and there is even the exact spot where Jamie finds the treasure, without the MacKenzie seal as this was made for the series.
Around the area, there is also the spot where Claire and Jamie watch young Ian swim out to shore. Then, the beach where they climb down to see where the boat is taking him.
A little further on is Dunure Harbour which featured in both season 3 & 4.
First, it was the harbour where Jamie and Claire board The Artemis to try and find young Ian in Jamaica in series 3.
Then it appeared in series 4 as the harbour where Brianna sails over to find her parents in Fraser's Ridge in Carolina. Later, Roger heads out from the same harbour to find Brianna.
Click here to read my complete Dunure Outlander guide and where to find all the film locations
14. Drumlanrig Castle / Bellhurst Manor
Outlander series 2 location
The last location, which is a little further out, is Drumlanrig Castle. This was home to the ancient Douglas Family and has a history dating back 600 years and connections to Robert the Bruce!
It featured in series 2 of Outlander in 'Vengeance is mine' where Claire is held captive by the Duke of Sandringham after she was 'rescued' by the redcoats.
It's also where Mary Hawkins is staying as she is his God Daughter.
In Bellhurst Manor, Claire tries to warn Jamie of a trap that the Duke has made to capture them by penning a letter in bad Gaelic.
On your tour of the castle, photos are strictly prohibited. But, you can see all the filming scenes and even the secret doorway that Claire sneaks out in the episode.
If you're wondering where the kitchens were filmed in the series, it was actually Callendar House.
Here, they have authentic Georgian kitchens and you can learn about cooking back then.
They also have some Outlander inspired activities you can check out my complete guide here.
Fun fact: Sam Heughan, who plays Jamie in Outlander, is from Dumfries and Galloway!
Click here to read my guide about all the Callendar film locations at Drumlanrig Castle and how to get there
Where to stay in Glasgow
If you're looking for a place to stay as a base for exploring the Outlander locations in Glasgow, then I would highly recommend Motel One in Glasgow City Centre.
Although it is right next to the Central Railway Station, the soundproofing is SO good I didn't hear a peep. Even on a Saturday night when people were out partying.
As well as having a modern and stylish design, it's an eco-hotel, which is great for the environment. No single-use plastics here!
I loved their One Lounge and their extensive buffet continental breakfast in the mornings. Click here to see my full review and how to book your stay!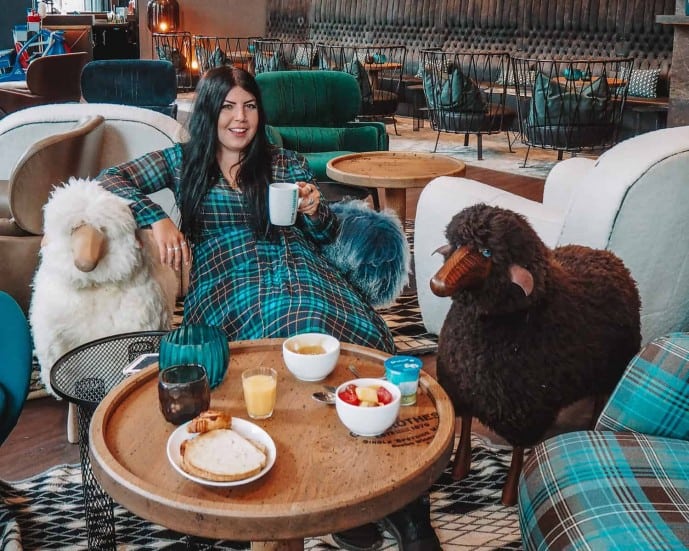 Outlander locations in and around Edinburgh
Glasgow is just the tip of the iceberg when it comes to Outlander locations. Another place I would recommend staying as a base to see some locations is in the capital of Edinburgh.
From here, you can visit many of the 'classic' Outlander locations such as Lallybroch, Cranesmuir, The Black Kirk, Fort William, Wentworth Prison, A. Malcolm's Print Shop, The Duke of Sandringham's home and more.
To make it easier for you, I've created my ultimate list of Outlander locations located in and around Edinburgh here that has over 30 places!
Click here to read my ultimate list of Outlander filming locations around Edinburgh
Some of my favourite locations Edinburgh:
The ultimate guide to Broch Turach (Lallybroch)
An Outlander guide to Culross (Cranesmuir)
How to visit Fort William from Outlander (Blackness castle)
Where is A. Malcolm's Print Shop?
Doune Castle the home of Castle Leoch!
Is Linlithgow Palace where they shot Wentworth Prison?
A self-guided Outlander walking tour of the Royal Mile
Where did Claire and Jamie get married
Is Craigh Na Dun real?
I'm sorry to be the one that tells you this, but no, Craigh Na Dun isn't real.
However, there are many pre-historic stone circles that look exactly like it in Scotland. For example, the Callanish Stones on the Isle of Lewis.
As that is quite inaccessible, the Clava Cairns stone circle near Inverness is well worth visiting if you're heading to the Highlands.
It's even thought to be the inspiration for Craigh Na Dun!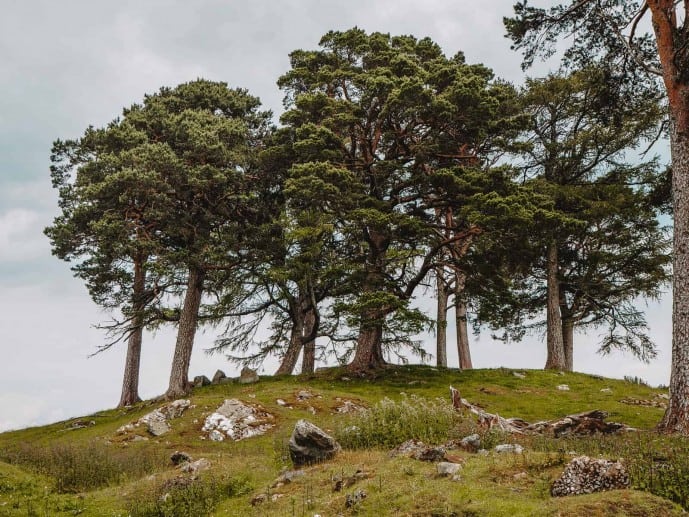 If you are wondering where they shot the scenes of the stone circle in Outlander, you can visit the filming location in Kinloch Rannoch, Perthshire.
Although the stones won't be there, the location is exactly like it is in the series.
I'll warn you now that it is private property. But, the owners kindly permit Outlander fans to visit the spot. Just follow their rules, respect their privacy and don't scare the animals!
Click here for more details and how to find Craigh Na Dun!
Looking for more Outlander locations in Scotland?
Last year, I went on an epic 'Outlander pilgrimage' of Scotland and visited over 50 filming locations.
My journey took me from East Lothian, to Edinburgh, The Highlands, the Isle of Skye, all of the Outlander locations in Glasgow and many more.
Having been to all of them myself, I can give you travel tips for each of them based on my personal experiences.
There is way too many to mention here, but I'll pick out some of my favourite articles for your to read below.
Click here to read my ultimate list of over 90 Outlander locations you can visit in real life!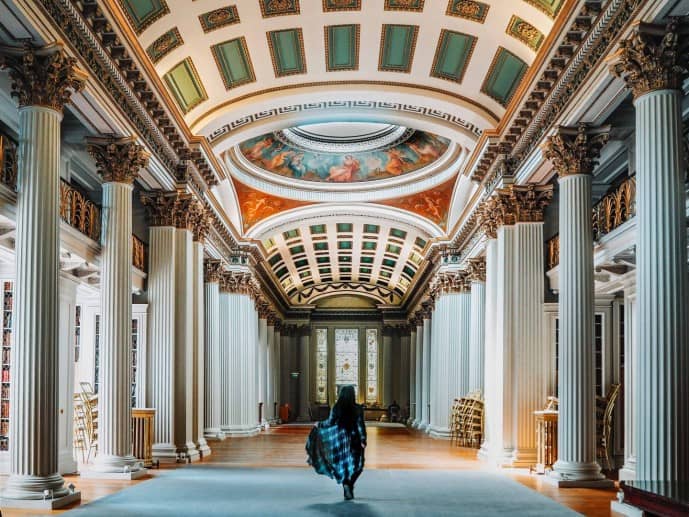 My favourite Outlander inspired articles:
Hopetoun House – An Outlander temple for fans!
Explore the Gardens of the Palace of Versailles
Why you need to visit Preston Mill to find Outlander
Why Culloden Moor is no place for selfies
An invite from the Governor and Jamaica to his mansion
World's End Pub – must-visit for Outlander fans!
How to find the Outlander Witness Trees from Fraser's Ridge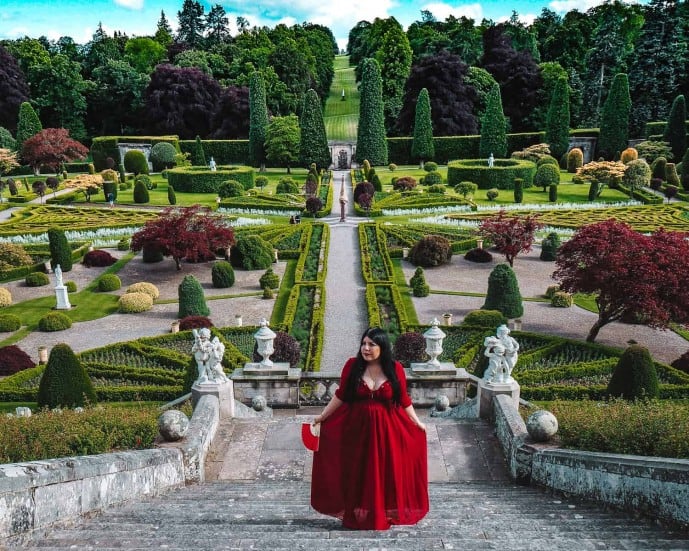 Save these Glasgow Outlander locations for later!
My Outlander pilgrimage to Scotland would not have been possible without my sponsors. With thanks to the National Trust for Scotland, Historic Environments Scotland, Motel One, and Clan Hunter of Hunterston House for sponsoring my visit.