It may surprise you to know that there are plenty of fascinating places to visit in Cairo that aren't just the Pyramids Necropolis in Giza.
Giza is just one small part of this incredible, bustling capital and it would be a shame to leave without experiencing more of the surprises it has to offer you.
You can go temple hopping, shop in one of the oldest markets in Egypt, and even find a natural oasis in this industrial metropolis.
A lot of people told me I would hate Cairo, but actually, I fell in love with it! Yes, it's polluted, a little dirty and chaotic but I'm never one to back away from a challenge. I live for culture shocks, crave them even, so this was just up my street.
Welcome to Cairo, let me show you around! These are the absolute best places to visit in Cairo that you don't want to miss…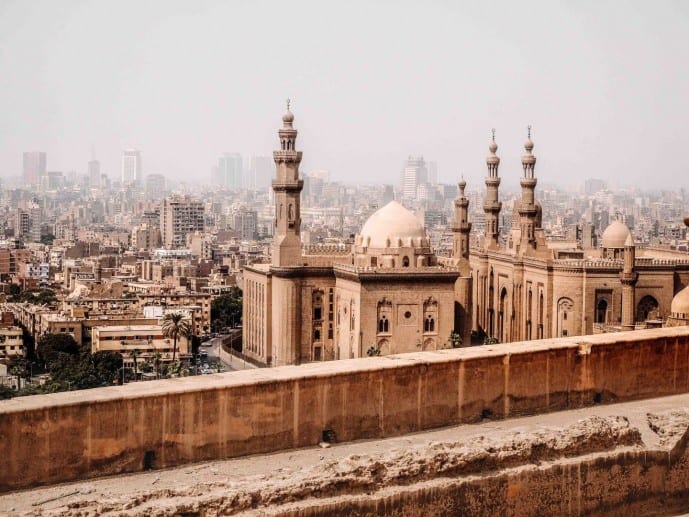 Essential things to know before you visit Egypt
Don't forget travel insurance in Egypt. It's quite easy to get sick here and you don't want it to cost you a fortune should you need medical treatment. I always use World Nomad's as they have competitive plans and prices.
The Egyptian currency is Egyptian Pounds. It's quite confusing as a Brit, especially when people tell you it's a couple of hundred pounds for a taxi. Don't worry, 22 Egyptian pounds equals 1 British Pound. Cards are widely taken but cash is very much king for attractions and shopping.
Egypt is a predominantly Islamic country and this makes it conservative. You will need to wear clothing that respects the culture, including men. I've made the ultimate packing list for Egypt here.
It's worth learning some of the local languages which is Arabic. Here are some basic phrases;
Hello = Salaam Alaikum
Hello back = Alaikum Salaam
How are you? = Kayf Halakum
How much? = Kam Althaman
Thank you = Shukraan
You're Welcome = Afwan
Inshallah = God willing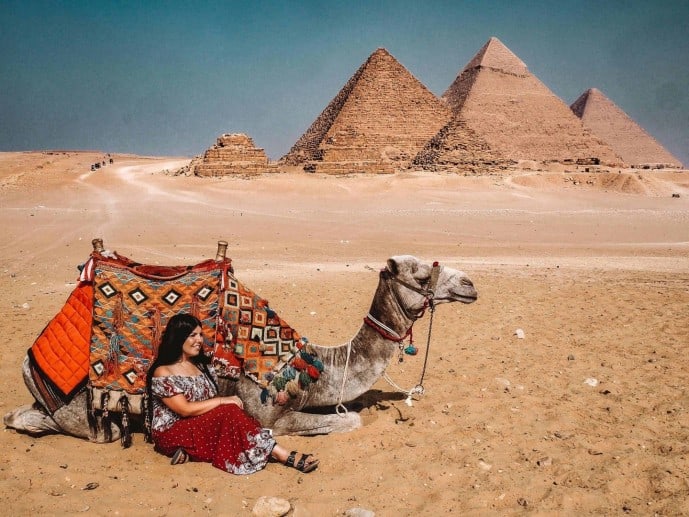 Travelling to Cairo
These days, there aren't as many direct flights to Egypt as there used to be from UK due to terrorist threats in the past. In fact, flights only fly directly into Cairo and Hurghada.
But, not to worry, Egypt is very much safe for tourists who are travelling here. In fact, it's more safe now then it used to be due to heightened security measures.
If you're looking for the shortest way to reach Cairo than you can catch a daily flight that runs with Egypt Air or British Airways have restarted their services from London Heathrow.
I flew with Egypt Air as it was the cheapest, It's around four hours long and is a surprisingly good flight. The service from the staff on Egypt Air couldn't be beat and, they had good movies and a meal, drinks and snacks included.
I always price compare my flights with Skyscanner to get the best deals.
How to get around Cairo
The cheapest and most convenient way to travel around Cairo is with Uber. You don't need to download a different app if you have it on your phone already.
It will just find your location and the taxi drivers in the area. Journey's can be super cheap this way as local taxis charge an absolute fortune.
Local taxis are like vultures in Cairo and will try to drain you for every last cent! Although the locals told me to get the meter turned on. It was impossible to do so.
Not to mention, once they have you in their grasp you will be hassled to go to other places with them or they will want to be your guide for the day. Some will even make you go to warehouses to buy souvenirs, which they will make a massive commission from!
With Uber, it takes away a lot of the headache. You will know the price of the taxi before you get in, you will be taken straight to your location without any diversion and it's safe as you're protected by Uber for the journey.
I've written a complete guide on using Uber in Egypt including tips on safety and scams to watch out for here.
What to wear in Cairo
Egypt is a conservative country but it's also really hot and so, you will need to make sure you pack clothing that is breathable but also covers you up!
As I was a woman travelling alone and not on any sort of tour, I was extremely conscious of attracting unwanted attention. Although cat calling is something that can't be avoided in Egypt, it's best to dress conservatively so as to not send the wrong message.
Men will also notice a lot of the local men don't wear shorts, so it may be worth investing in some trousers.
For the girls maxi dresses, maxi skirts and tops, jumpsuits, two pieces like mine below and trousers with a cotton blouse are perfect ideas!
For more outfit inspiration you can check out my ultimate packing guide to Egypt here. This is a comprehensive list which leaves nothing out!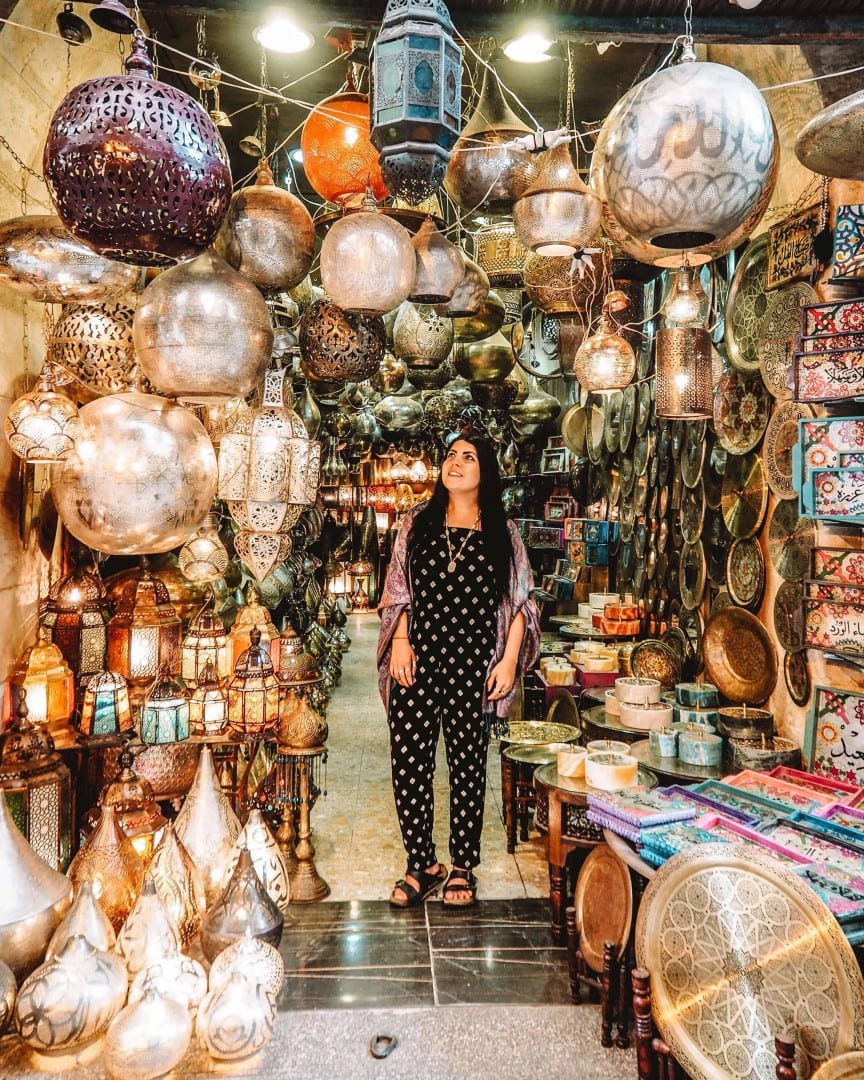 The best places to visit in Cairo
1. The Great Pyramids of Giza and Sphinx
This is the number one reason people pay a visit to Cairo, so let's start off with this first.
When I first saw the Pyramids of Giza, I lost it. I screamed and cried a little. I was so excited to finally tick something off I've wanted to do for years, since I was a little girl!
There is something so mysterious about the Pyramids, I'll never get over. It's an ancient wonder that will stay in your heart long after you've left.
You can marvel at the Great Sphinx, walk inside the last surviving ancient wonder of the Great Pyramid and take in every view you can think of!
But, although they are incredible to look at and experience. There are so many things that you need to prepare for before you pay a visit to the Pyramid Necropolis. Giza is a trade-off between an incredible wonder of the world and the mass tourism industry here.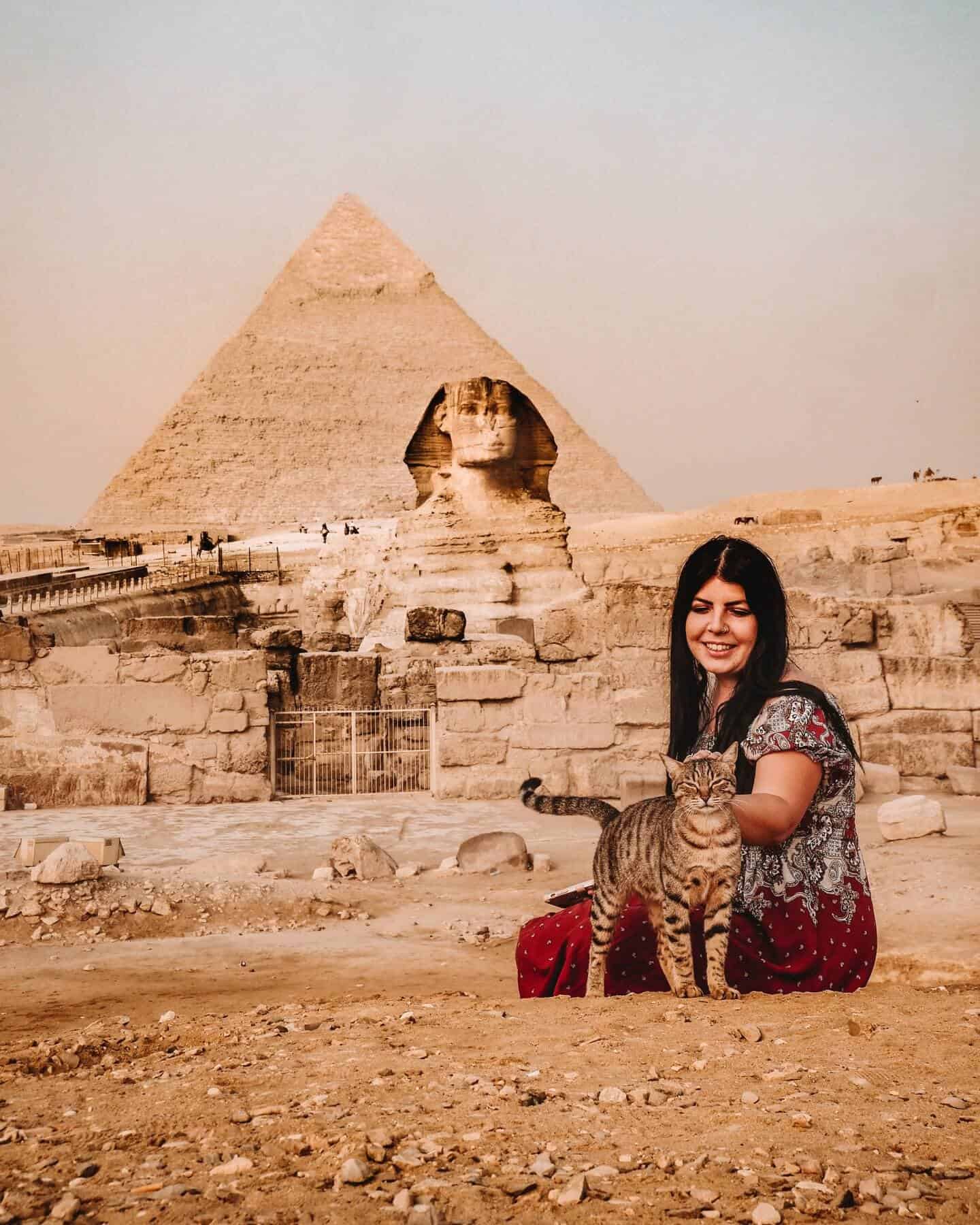 Some essential tips for visiting the Pyramids:
The Pyramids are located around an hour away from Cairo International Airport in Giza. As Egypt's bustling capital city, it's congested at all times of day but more so at rush hour in the afternoon until evening. So, factor this in if you're on a tight time schedule.
The Pyramids are open 8am-4pm from October – April and 7am-7pm from May – September. So, before or after those times, you can go for a desert tour in the Sahara. Go earlier rather than later to beat the crowds and heat.
You'll pay £160EGP (£7) to enter the complex then, if you'd like to enter the Great Pyramid, it's an extra £360EGP (£15). Then add an extra £100EGP (£4) to enter the second and third Pyramids.
Scams, hassling and pickpocketing are common, so I would come prepared with a guide. Otherwise you may not enjoy the visit. The guides can also tip the guards so you can climb a Pyramid!
Giza can be a total whirlwind of chaos! If you wanted to know more, you can read my survival guide for the Pyramids with 21 essential tips here.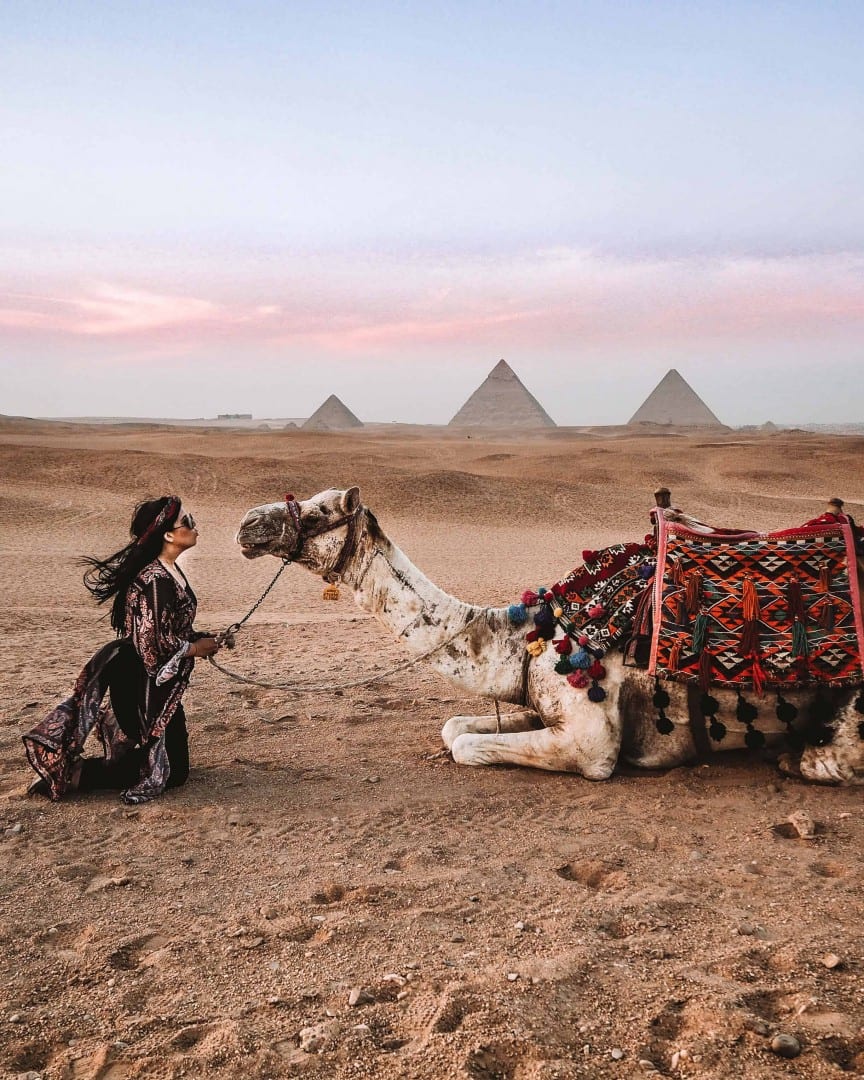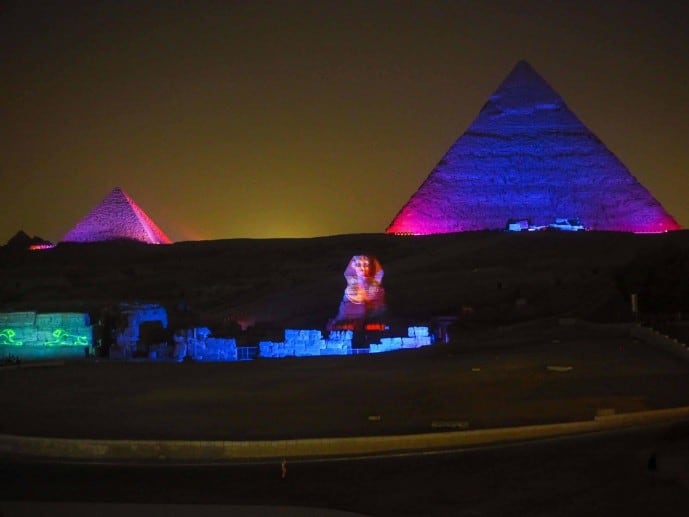 2. The Cairo Citadel of Saladin
As you're heading through Cairo from the airport, this towering ancient Citadel perched high on the hill can be seen from all over the city. It's like a siren luring you in, and makes you wonder what is inside.
The Cairo Citadel or the Citadel of Saladin is a medieval Islamic fortification on Mottakam Hill which is nowadays part of the UNESCO World Heritage site of Old Cairo.
It was originally built in the 12th century by Saladin who was the first Sultan of Egypt and Syria.
He was most famous for leading Islamic armies during The Crusades and this fort was part of Egypt's defence.
His full name is actually An-Nasir Salah ad-Din Yusuf ibn Ayyub which is a total mouthful! So I guess that's why he's just known in the history books as Saladin.
The jewel in the crown of this fort, and what most people visit for, is the Great Mosque of Muhammad Ali Pasha.
This was built between 1830 and 1848 and is a spectacular masterpiece. If you think the architecture looks impressive from the outside, just wait until you see what's inside!
3. Great Mosque of Muhammad Ali Pasha
As you walk inside, your jaw will drop.
The impressive central dome with stained glassed windows uses natural lighting to illuminate the building. I couldn't help but marvel at the Islamic interiors and was highly impressed by the hanging mosque lamps made of glass that shone throughout the day.
I didn't spend too long in here, but the positive energy of this place was worth the visit alone. It was crowded full of tourists and locals alike, but if you visit earlier in the morning it won't be as busy.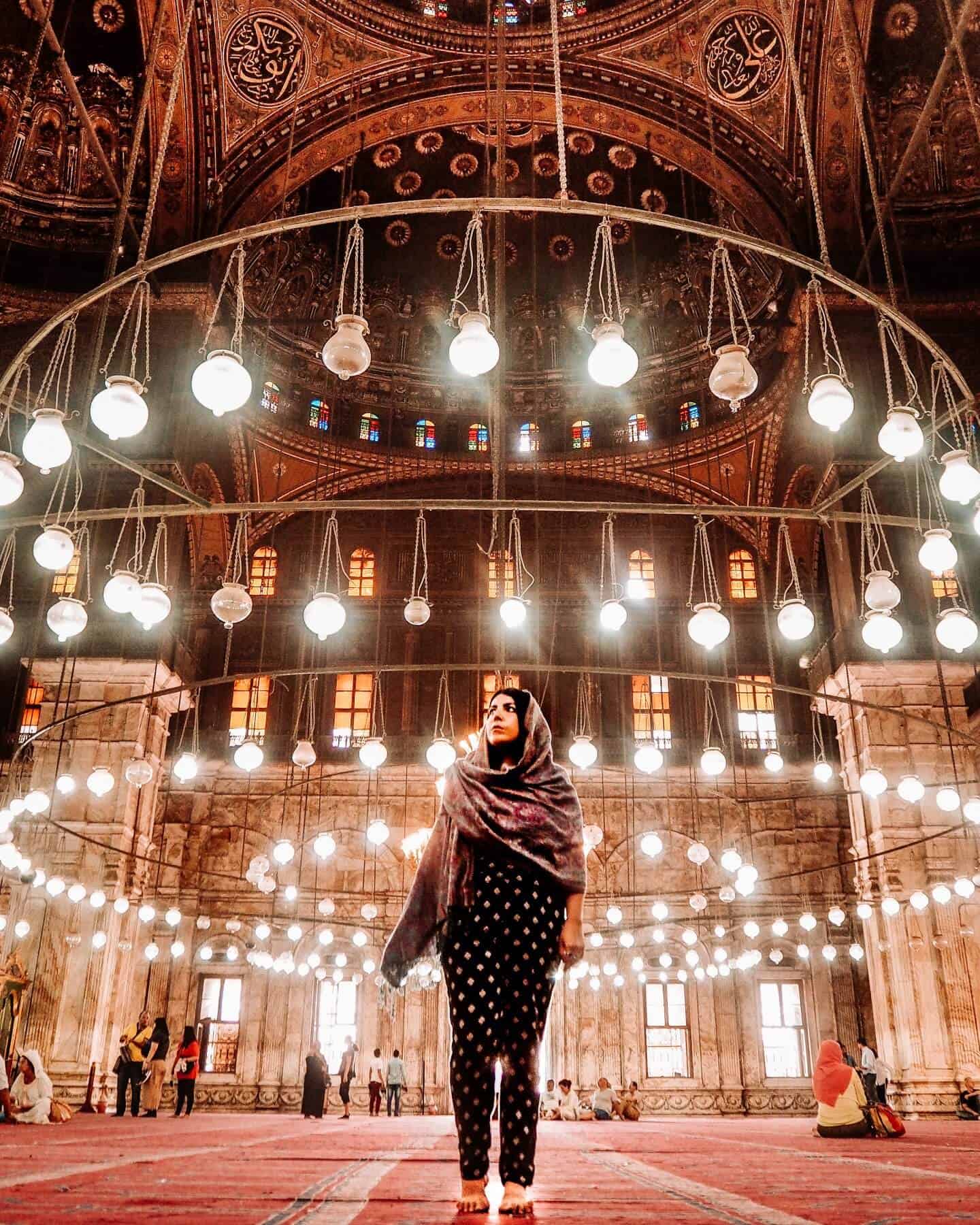 Tips for visiting the Citadel and Mosque of Muhammad Ali
The Citadel costs 100EGP per person to enter (£4) and this includes the mosque, military museum and a few other smaller attractions inside.
You can reach here by Taxi, I would recommend using Uber in Cairo. The taxi drivers here are quite a struggle to ensure you get a fair price.
You don't need a guide to explore here, I went solo and felt completely safe.
Shoes must be taken off to enter the mosque, you can leave these on the shoe stand outside, carry these with you or put them in your bag.
Although you won't be refused entry, ladies should cover their heads to enter the mosque and cover their shoulders and legs. Same goes for men wearing shorts.
Don't forget to take in the view of the city from here with an ice cream. As it's so high on the hill you can see all over Cairo!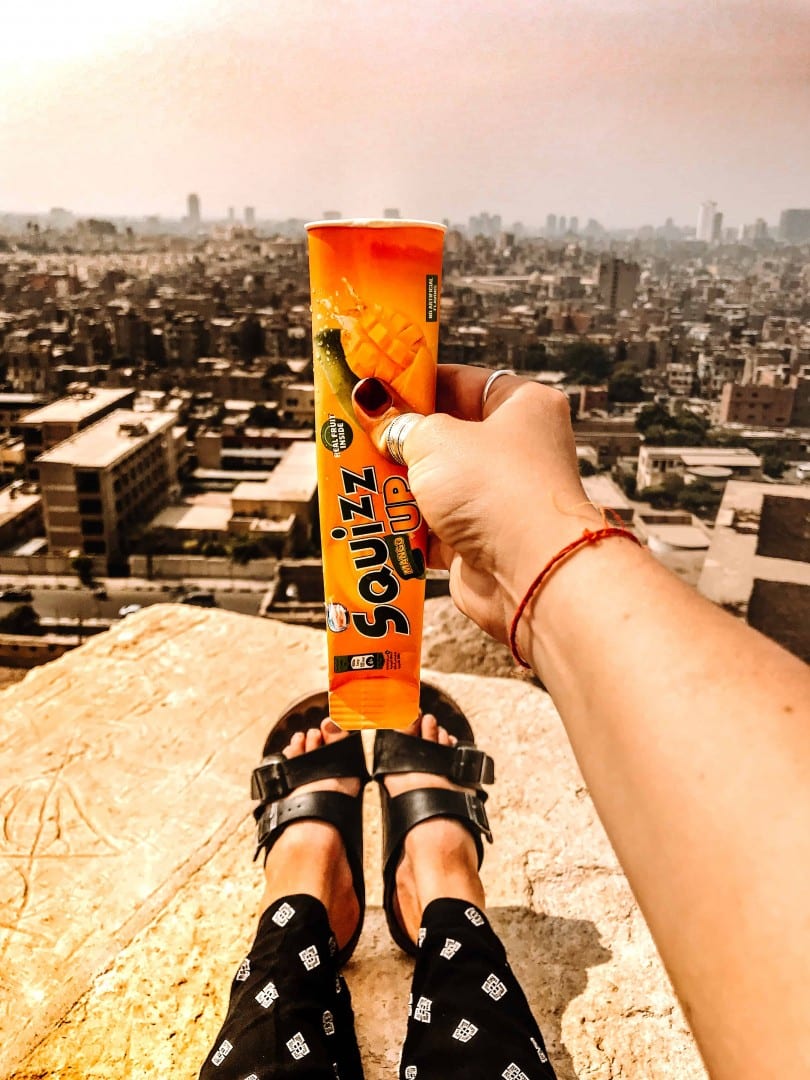 4. Khan El-Khalili Market Place
So many people told me not to go here, it was too touristy and all the souvenirs would be fake, blah blah not true.
I'm so glad I didn't listen to them as Khan El-Khalili market was one of my favourite places to visit in Cairo!
Khan El-Khalili is said to be one of the oldest souks of the Middle East and the main bazaar was built around 1511 as a place for local and foreign merchants to trade luxury goods.
Today, it's still a bustling market selling all sorts of souvenirs; perfumes, spices, leather goods, textiles and all the typical Egyptian souvenirs you can think of!
You may find that a lot of the stalls here are quite overpriced, that's where your haggling skills need to come into play!
The traders here are masters of ripping you off. Haggling is actually encouraged, so you need to keep your wits about you.
If you didn't fancy haggling and you want some bargains you need to visit the most famous fixed priced shop called Jordi.
Here they sell super cheap Egyptian souvenirs to take home and offer free Egyptian tea to their customers. I found this on my last day but wish I had found it sooner. I bought so many things in here all with peace of mind I was getting a fair deal!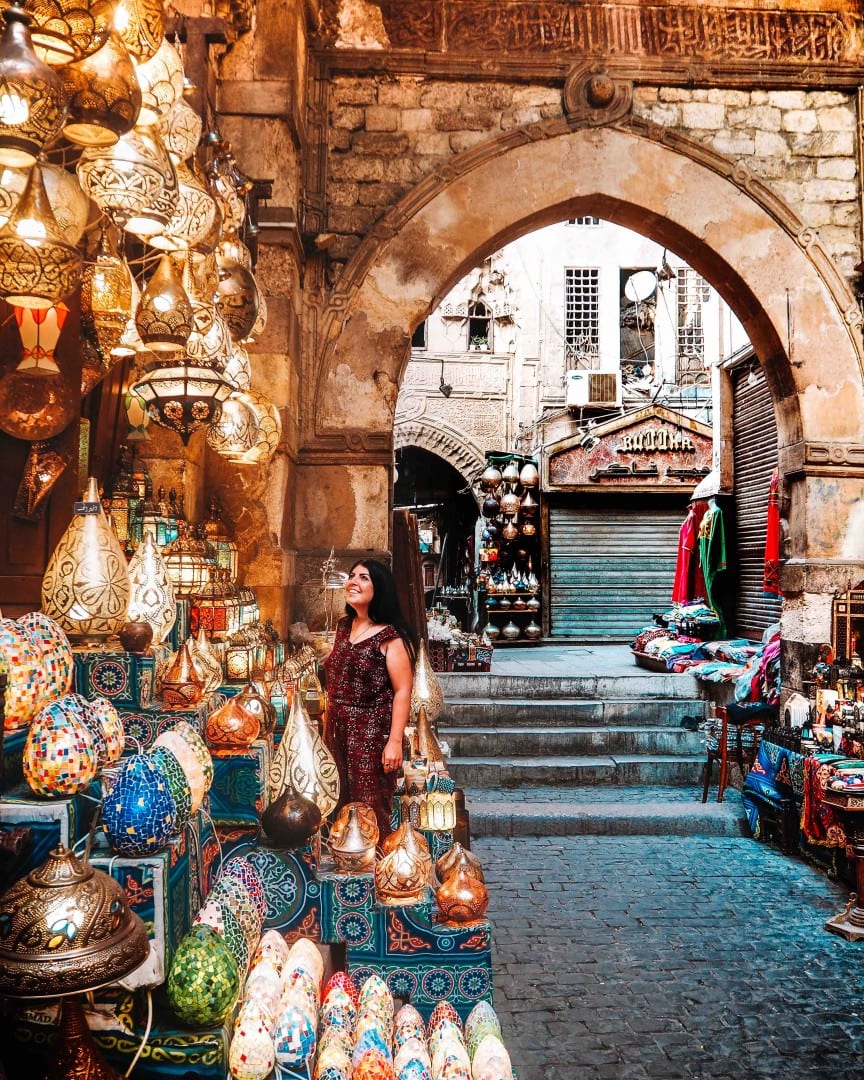 Top tips for visiting Khan El-Khalili Market
Make sure you bring cash with you here, most places will not accept cards as a form of payment. There is an ATM near the Khan El-Khalili restaurant. I used it and it was safe, but watch your pin and for prying eyes.
Haggle, haggle, haggle! Price compare at a few places first to ensure you're getting a fair deal.
Watch out for fakes, I wouldn't suggest buying anything over expensive here (i.e. gold) as it may be overpriced. If you're buying alabaster check the weight, papyrus check if it's hand painted.
Ladies, every man in here will ask to marry you (not kidding)! You'll be catcalled constantly, asked to take selfies and offered 'free gifts'. Be wary when being taken into shops and keep your wits about you. Stay tough and just ignore them.
I was here solo and didn't feel unsafe, but this place is huge and it's really easy to get lost! Don't panic, most locals are friendly and will help you out with directions.
5. Khan El Khalili Restaurant & Mahfouz Coffee shop
I actually stumbled across this place when I was heading through the market for some lunch. After the chaos of the market, I was so happy to find this absolute oasis for a pick me up!
The Khan El-Khalili Restaurant and Mahfouz coffee shop is famous around these parts. Naguib Mafouz was a famous Egyptian Writer who won a Nobel Prize for literature who wrote a book about the Khan. It's now owned by Oberoi hotels.
As you walk in you'll feast your eyes on the delightful Moorish architecture, be cooled by the powerful air conditioning and see all the waiters in traditional livery and tarboush hats!
Here you can sample some Egyptian food, I tried the Koshari, a traditional dish. It's made of macaroni, rice and lentils with a spicy tomato sauce. It was incredible. But the Baladi sandwiches are also delicious which I tried on my second visit. You can also buy juices, coffee, tea, coolers and even Shisha! It's quite cheap and my meal cost around £150EGP (£6).
I have to warn you there are no rules about not smoking inside in Egypt. People smoke everywhere here! But, the powerful air con helps and I couldn't smell anything.
Click here to read my complete guide with tips for visiting this café!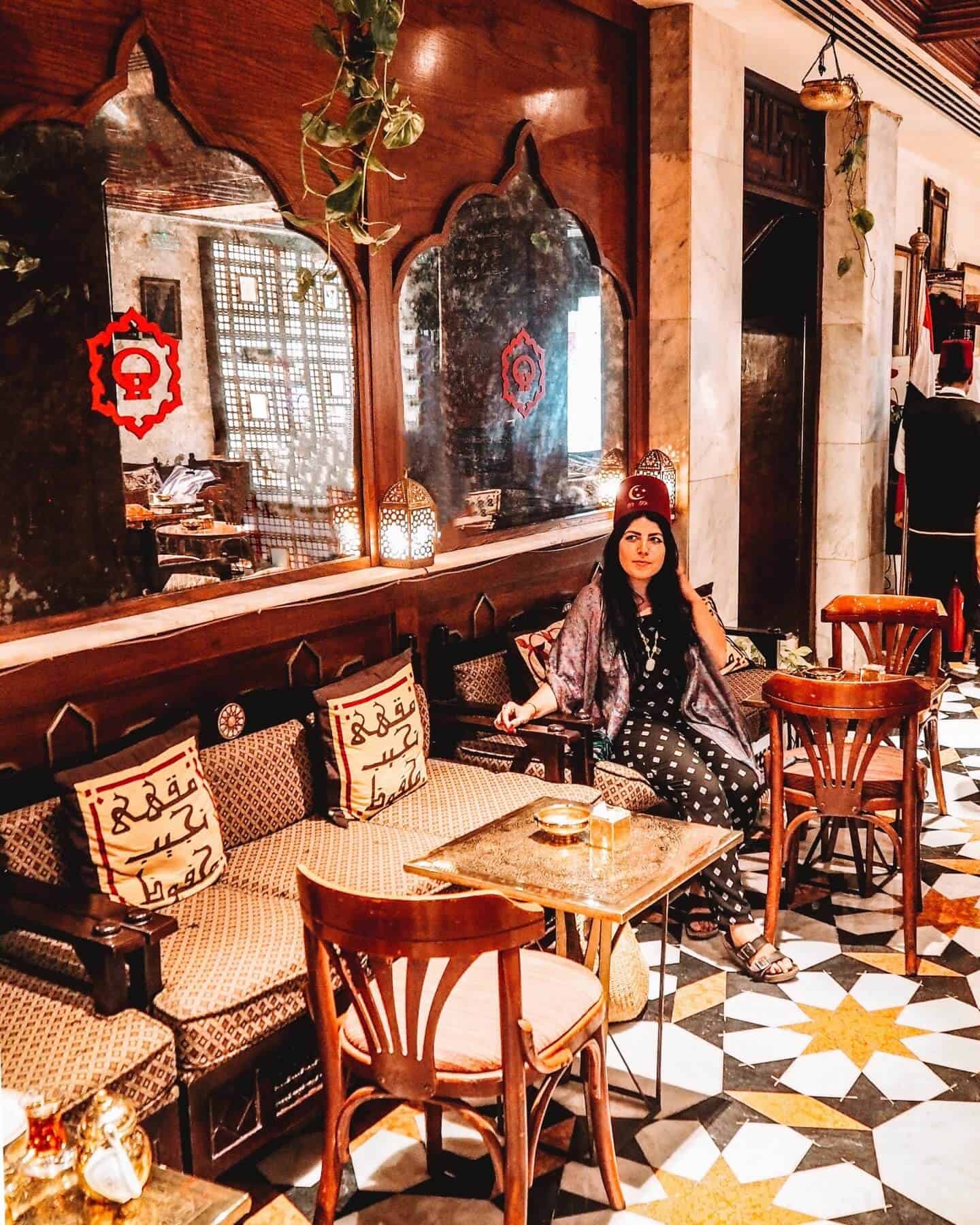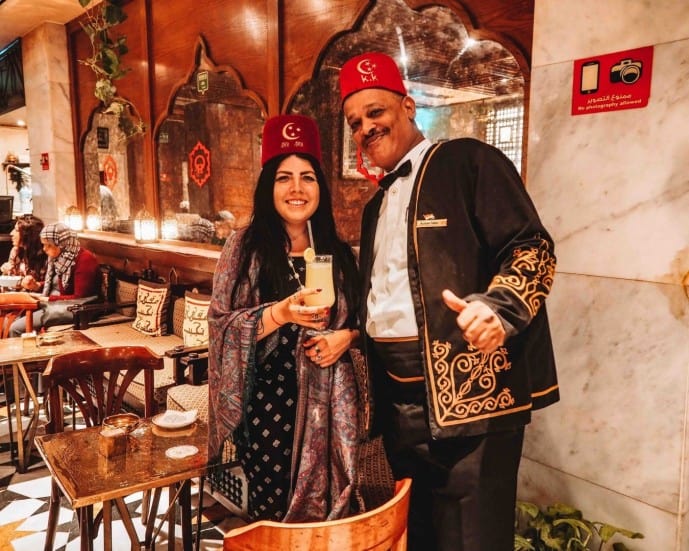 6. The Egyptian Museum
Ever since I've watched the Mummy, I've wanted to visit the Cairo Museum. I'm sorry to report, it simply isn't like the movie! But, that doesn't mean it's not worth a visit.
When I was a kid, I used to visit the British Museum in London a lot to see the Egyptian displays and exhibitions. So, I've had my fair share of seeing shabti statues, canopic jars, mummies and sarcophagi. But, there's one that I was dying to see. The mask and sarcophagus of Tutankhamun!
Now, King Tut's remains are actually in the Valley of the Kings. But his impressive gold mask, coffin, jewellery and some of his treasures buried inside with him are on display here. Ever since Howard Carter excavated it, it's been a marvel thousands have wanted to see.
It definitely lived up to the hype for me. He had around 20 layered coffins and the hand-painted details on the mask and Sarcophagi were insane. He had oodles of gold jewellery with all sorts of historic gems and amber. All so well preserved like it was discovered yesterday.
The exhibition was seriously impressive, but it's under extreme watch and if you hang around too long, you'll be asked to move on. No photos are allowed either, even with a photo pass. So, I bought a postcard as a keepsake.
Top tips for visiting the Egyptian Museum in Cairo
The museum is open from 9am – 5pm, but on a Friday it's open until 7pm. I've heard it's worth it to come on the late night evenings as it's empty. On my visit it was horribly crowded.
Standard entry tickets are £160EGP per person, then you can pay £30EGP for a photo pass and an extra £180EGP for the Royal Mummies Hall. I went to see this and didn't think it was worth it. Plus also you can just sneak photos lol.
You don't have to hire a guide here, but be warned there are hardly any signs telling you what anything is, save the Tutankhamun exhibit. Guides will be outside touting. I didn't hire one but kind of wished I did.
You'll spend around 2 hours here and it's HOT save a few fans. Bring water.
7. The Nile River
If you don't have time to experience a Nile cruise or visit Luxor and Aswan, I would highly recommend checking out the river Nile in Cairo.
Did you know that the Nile River used to flow near the Pyramids? Back in ancient times the Pharaoh's chose to build them on the West Bank of the Nile. But over the centuries and with the expansion of the city, it now flows 22 kilometres away from there! Mind-blowing.
Here, you can take a river ride by steam boat or falucca (traditional sail boat), gamble on casino ships, watch a show on the Nile with a dinner, or just simply walk along and enjoy. You can even stay on the Nile in a boat hotel, although reviews were shocking!
It's not as nice a view as the one in Luxor as you'll have industrial buildings either side, but you can still experience it and get a good view of the Cairo Tower.
8. Take a day trip to Memphis, Saqqara and Dashur
This is something I wish I had chance to do, but for me I didn't have time and it was out of my budget. If you're not done with experiencing the Pyramids, I would highly recommend taking a day tour to the likes of Memphis, Dashur and Saqqara which is around an hour from Cairo.
Saqqara is home to the step Pyramid and is the oldest Pyramid ever known. It served as the burial grounds for the ancient Egyptian capital of Memphis. It was built for King Djoser by the famous architect Imhotep (again, not like the Mummy movie lol). Entrance is £150EGP.
Dashur is famously home of the Bent and Red Pyramids constructed during the reign of Pharaoh Sneferu. It's the Royal Necropolis and so say, the bent pyramid was due to a failure in the construction. The Red pyramid is supposed to be the world's first smooth sided Pyramid. Entrance is £60EGP.
Memphis used to be the capital of ancient Egypt in the old kingdom, founded by Pharaoh Menes which makes it 5,000 years old. Menes was famous for uniting Upper and Lower Egypt. Today, it's classed as an open air museum and word heritage site. You can see the statues of Ramses II and another Sphinx made of Alabaster. Entrance is £80EGP.
Full-day tours are usually around $50-100USD and include lunch. If you're on a tour of Egypt this may come included in your package which is good value for money. As a solo traveller this was a little pricey for me.
9. Visit Zabbaleen Cave Church & Garbage City
Zabbaleen is one of the poorest areas of Cairo and is nicknamed Garbage City as it's the city of Garbage collectors. All of the garbage in Cairo is sent here and it's thirty thousand residents survive and make a living entirely out of trash.
Now, before you knock it. It's an extremely religious community that are Coptic Christians (a religious minority of Egypt) working towards a vision of peace and development. This includes creating numerous educational and medical centres for it's people.
The most impressive part to visit is the Cave Church. It's built in an amphitheatre style and carved inside the cave itself. If you're going to visit any part, let this be it. It's a fascinating piece of architecture.
I would make sure you hire a guide to take you around here.
10. Take a stroll in the gardens at Al-Azhar Park
If you're getting a bit suffocated by all the buildings, traffic and smoke, then a walk-in gardens of Al-Ahzar park maybe just the ticket. It's nicknamed 'the oasis in the urban desert' and for good reason.
What's suprising about these gardens is that they were created entirely from clearing a rubbish dump in 2005!
It made a miraculous transformation into the incredible gardens that we can enjoy today. There are gardens, fountains, cafés by the lake and a play park.
It's the ideal place to bring a picnic or dine in the beautiful Studio Masr restaurant with a panoramic view. It's only £20EGP (£1) to enter and is open from 9am to 10pm at night.
There are plenty more places to visit in Cairo
These are just a handful of the best places to visit in Cairo and there are plenty more things to see! Cairo is humungous and so you could travel around the city for a week and not see everything.
There is the City of the Dead, The mosque of Ibn-Tulun, the Pharaonic village, the Coptic Museum, Hanging Church, Abdeen Palace and plenty more.
I fell in love with Cairo and I'll definitely be back. There's so much life in this city and the fact that it's home to the Great Pyramids of Giza is the cherry on the cake that makes it even more special.
Don't miss out on the many adventures that Cairo has to offer you, you won't regret it!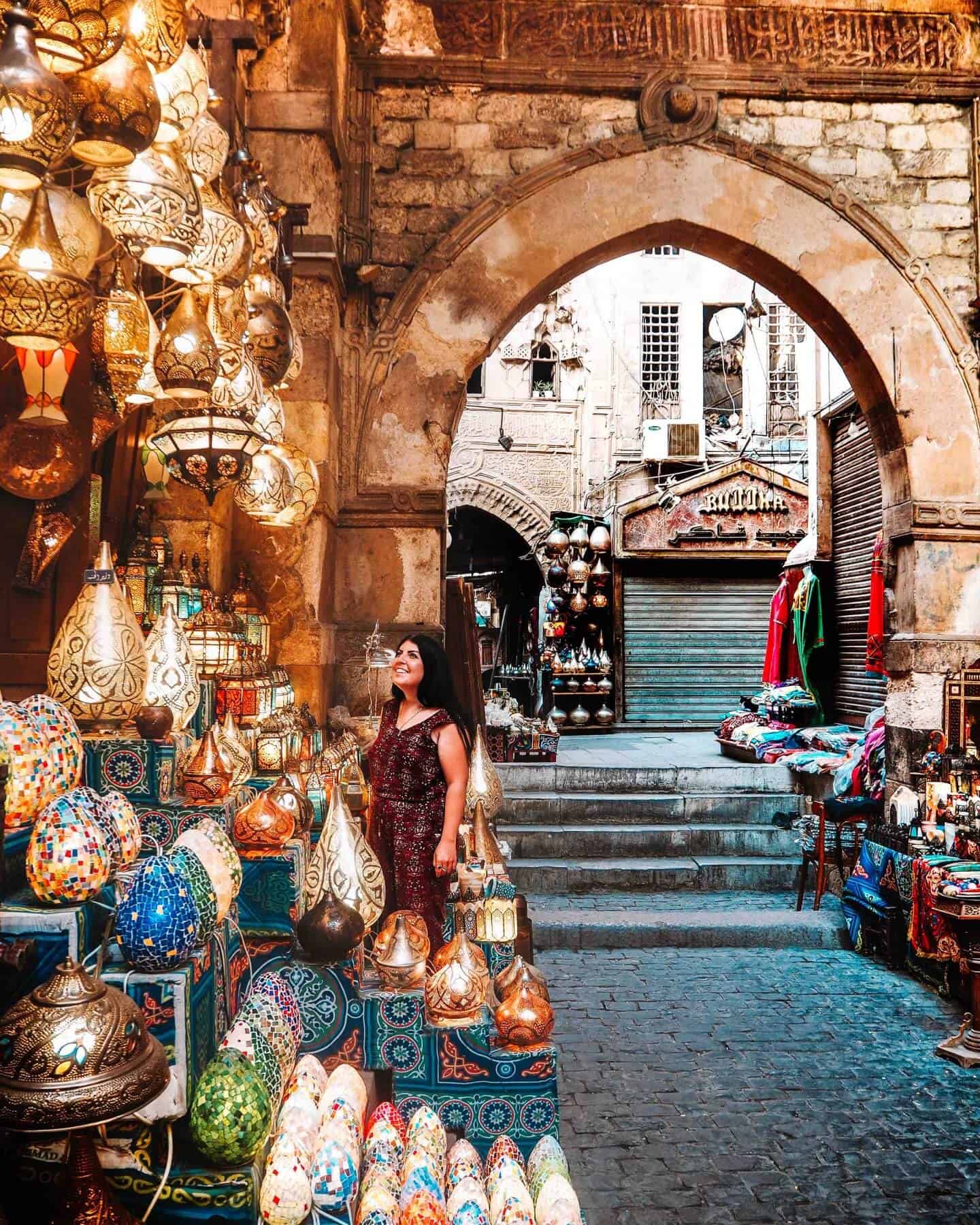 Where to stay in Cairo
Personally, I would recommend basing yourself in Giza as opposed to downtown Cairo or Tahrir Square. Giza is much quieter, you can find loads of cheap hotels and waking up to the Pyramids each morning just cannot be beat!
Here are some of the best hotels to stay in near the Pyramids:
Panorama Pyramids Inn
This hotel is serious value for money with staff who genuinely care about you having a good time! As soon as you walk in, their reception is full of notes and pictures of happy residents from all over the globe.
Here, I was offered a complimentary pick up from the airport, free soft drinks for the entire stay, a breakfast that could feed an army each morning and a free dinner each evening!
I had a super cute, clean room that had an epic view of the Pyramids and Sphinx from my window. Their rooftop also has spectacular front on view of the Pyramid Necropolis and so you can watch the Light and Sound show for free in the evenings with dinner.
They also provided competitively priced tours of the Pyramids, Cairo, and beyond.
If you were interested in booking, you can find dates and rates available for Panorama Pyramids Inn here.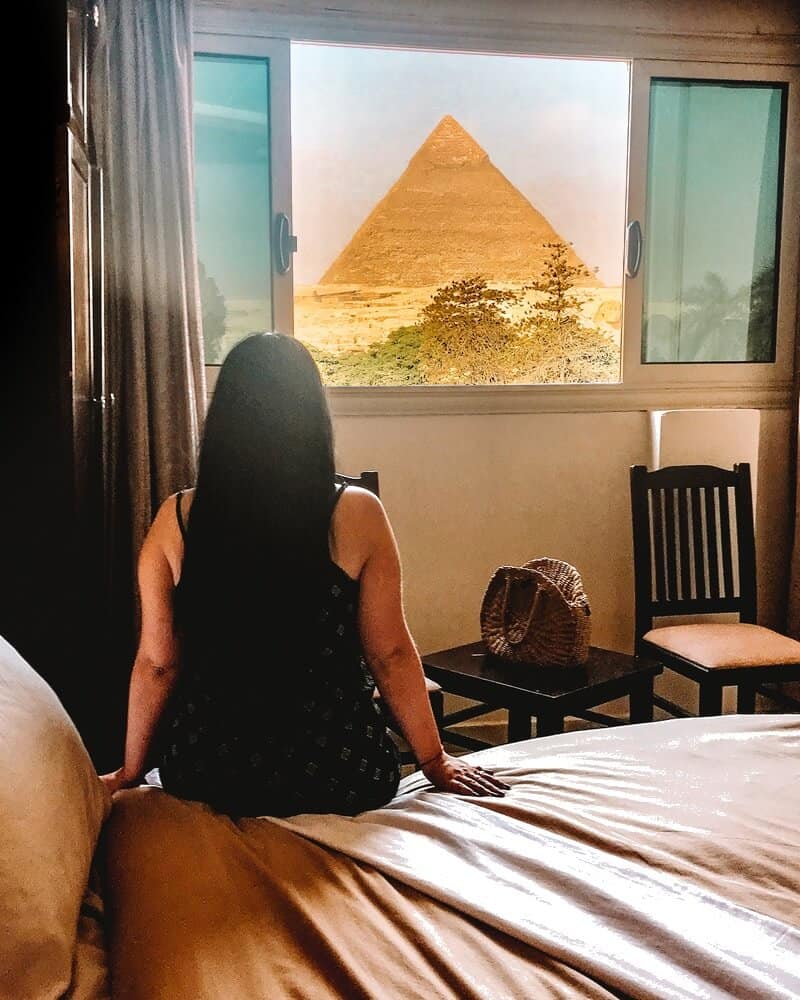 Pyramid Village Inn
A brand spanking new hotel in Giza with single, double and suite-style rooms with some overlooking the Pyramids. It's located in a quite street, so you won't hear much of the hustle and bustle each morning or at night.
I was the first guest who had the pleasure of staying here and when I got really sick in Cairo the staff were so sweet in looking after me. When I left I felt more like family!
Their rooftop is also incredible and offers a view of the Pyramids where you can eat your complimentary breakfast each morning or sip on the yummy Egyptian coffee and tea they offer for free.
A cracking find and the single rooms are perfect for solo travellers. For availability see here.
Marriott Mena House Cairo
This hotel is not just any hotel, it's a landmark in history. Ever since the turn of the 20th Century people have been taking residence at the Mena House Hotel. You'll be following in the footsteps of royalty and famous celebrities like Roger Moore and Winston Churchill. It's had many owners but now is the Marriott Mena House making it a 5* hideaway.
Waking up from your own private balcony and seeing the sunrise over the Pyramids is like a scene out of a movie set. You really won't believe your eyes. It's an oasis in Cairo, away from the traffic and chaos and is worth every penny if you can't sacrifice on comfort.
I wrote a full review of my stay at the Mena house here. You can check dates and rates available here.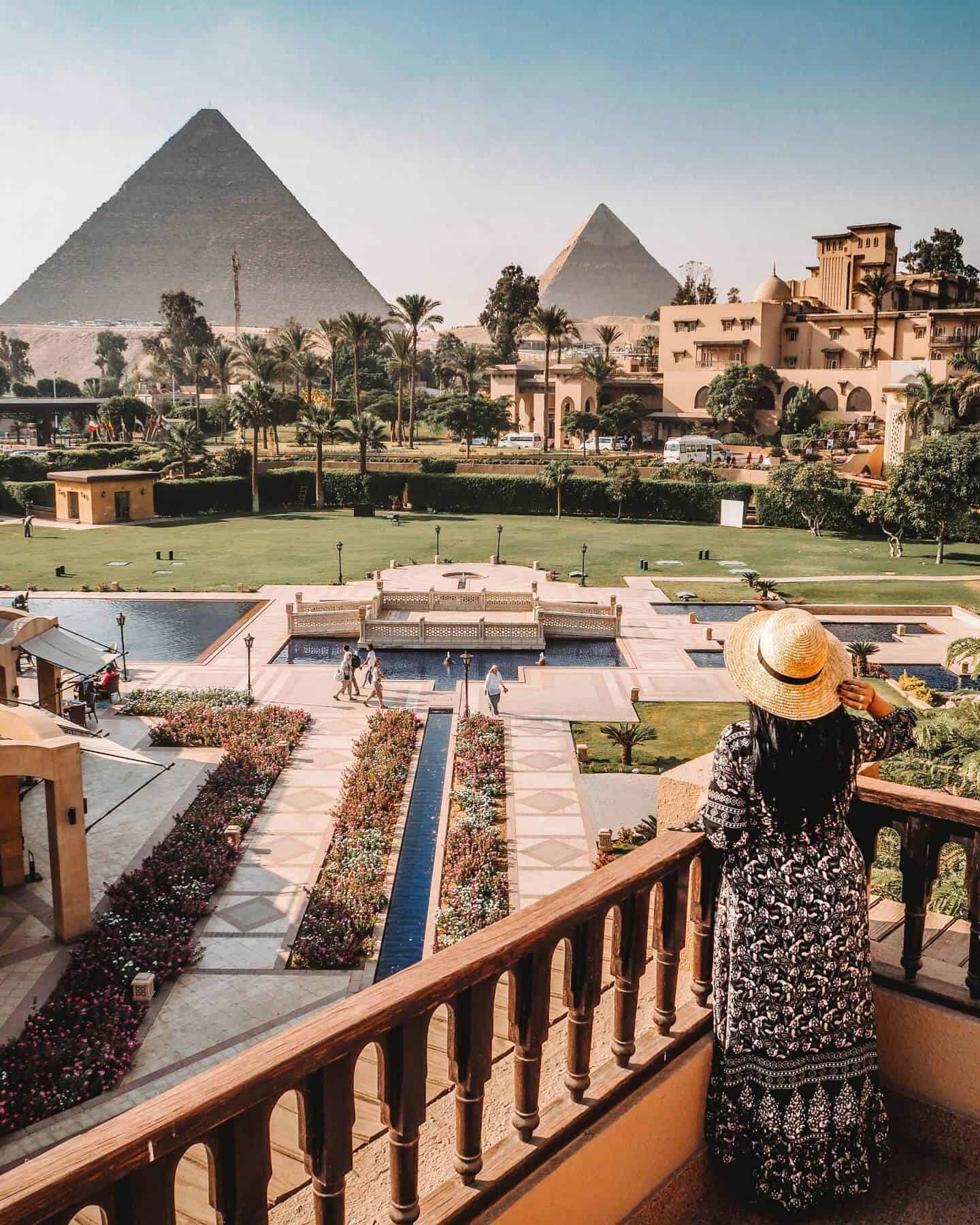 Read more of my Egypt articles
My perfect 2 week Egypt Itinerary
The perfect Egypt packing list
The most Instagrammable places in Egypt
My guide to the Valley of the Kings
The ultimate 4-day Nile Cruise
Top places to visit in Luxor at night
The perfect guide for Abu Simbel
My survival guide for the pyramids
Why you NEED to visit Alexandria
Top tips for riding a hot air balloon in Luxor
Save these Places to Visit in Cairo for later!