Robin Hood is a heroic outlaw who robbed from the rich and gave to the poor – but what does this have to do with the city of Nottingham?
Well, throughout the legendary tales, Robin Hood used to be in constant battles with his main adversary the Sheriff of Nottingham, and also escaped Nottingham Castle gaol more than once.
Although Robin Hood is thought to be a legend, there are plenty of Robin Hood Nottingham attractions that you can visit all over the city plus some walking tours and immersive experiences too.
So, whether you're a history lover, a fan of the many Robin Hood movies and TV shows, or just curious; there are plenty of places to discover the legend of Robin Hood.
Here is a complete list of ALL the Robin Hood Nottingham locations and attractions to put on your list!
Who was Robin Hood?
If you don't know who Robin Hood is, where have you been?! Let's change that right now!
Although Hollywood and Disney movies have pretty much taken over how we see Robin Hood today, he actually started out as a character in folktales.
Robin Hood is mentioned in books and songs as a legendary heroic outlaw who was a skilled archer and sword fighter.
In stories dating as far back as the 14th century, he is meant to have robbed from the rich and given back to the poor and downtrodden.
He was famous for protecting villages and fighting battles against tax-hungry nobleman like "Bad" King John and his arch-nemesis the Sheriff of Nottingham.
Was Robin Hood real?
Although the ballads are the only evidence of him existing, there are many theories that he was a real nobleman of Loxley born in 1160.
He eventually falls outside of the law, becomes an outlaw, and recruits a band of merry men.
There were thought to be over 150 in his army, but the main Merry Men we hear about in the tales are Little John, Will Scarlet, Friar Tuck, Much, Alan-a-Dale, and his sweetheart Maid Marian.
Together they plot to take money from the authorities in Nottingham, help villagers and hide out in Sherwood Forest. He's now one of the most popular stories ever told!
What is the Robin Hood Nottingham connection?
Well, they don't call Nottinghamshire 'Robin Hood country' for nothing! There are countless Robin Hood tales that mention the city of Nottingham and around the area too.
According to the legends, Robin fell out of the law when the "bad" King John took over as regent from Richard the Lion Heart. The Sheriff of Nottingham used Nottingham Castle as his stronghold.
Robin Hood was kept prisoner in the caves underneath Nottingham Castle where the castle gaol was at the time. He eventually managed to escape and ran to Sherwood Forest, using it as his hiding place.
He would often return to the city of Nottingham in disguise to fight the authorities, save some of his men from the noose and his steal from the rich – all the while outwitting his main adversary the Sheriff.
He would come dressed as a peasant, a market seller, and even a monk!
In one of the folk tales, the Golden Arrow competition was held here in the city by the Sheriff to lure Robin Hood out of hiding (yes, it was a real thing!).
Plus, he is meant to have visited some of the churches and pubs around the area too.
Although he may be just a legend, thousands of tourists visit Nottingham every year to see his stomping ground and follow in his footsteps!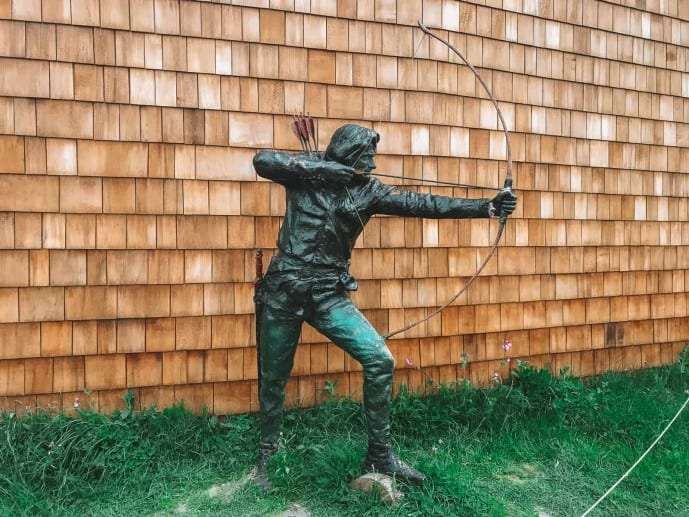 Is Robin Hood from Nottingham?
This is a widely debated topic and could open a can of worms! In fact, there's a heated dispute between Nottinghamshire and Yorkshire.
Many of the legendary tales place Robin Hood in Nottingham and Sherwood Forest throughout his life but in the earliest tales of Robin Hood was actually a Lord of Lockersley which is modern-day Loxley in South Yorkshire.
There are also some that say he is from Barnsdale Forest in West Yorkshire and he died in Kirklees Priory in Yorkshire too.
In fact, Yorkshire is mentioned in the ballads and tales more than in any other county.
But, Nottinghamshire definitely has the strongest claim with the most popular tales featuring their fair city and Sherwood Forest. Plus, nearly every film and TV show centre all the stories around Nottingham Castle!
The best Robin Hood Nottingham attractions and locations
When I walked into the Nottingham Tourist Information and asked for more details or a map with Robin Hood locations in the city, I was greeted with a blank stare.
She said that there was only the statue and that was pretty much it and replied 'you know he's not real, right?'.
I was pretty dumbfounded by this as, whether he is real or not, it's Nottingham's main source of tourism and is what makes them world-famous! Facepalm…
Maybe it was just simply a bad experience on the day I went but I definitely thought it was a lost opportunity. So, I did my own research and found out there are SO many places in Nottingham associated with Robin Hood.
I would also only really pop into the visitor centre if you wanted to buy some Robin Hood souvenirs. Here's my complete list of all the Robin Hood Nottingham locations.
1. Take The Robin Hood walking trail in Nottingham
There are a series of 12 Robin Hood Trail signs in Nottingham that take you around some of the significant locations in this list.
The trail starts off at Nottingham Castle on Castle Road and takes you along Castle Gate and ends at St Mary's Church.
These signs are great as they tell you a little bit more about Robin Hood's life and explain some of the tales associated with the landmarks too.
There doesn't seem to be much information about these on the Visit Nottingham website. But, I'll be writing a blog post shortly with all of them as I did the trail myself.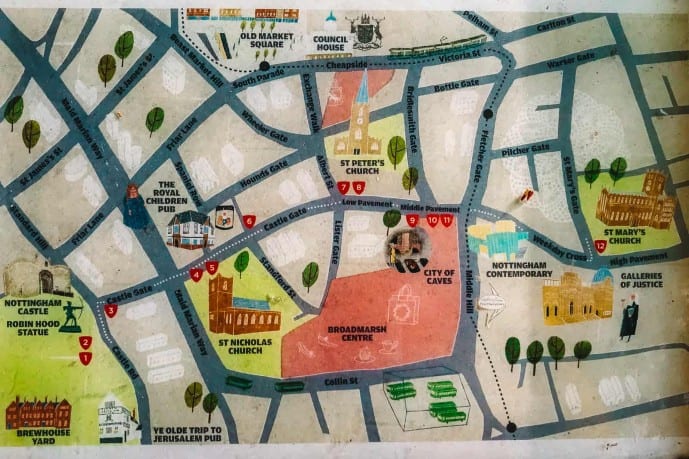 2. The Robin Hood Statue
No visit to Nottingham would be complete without visiting the statue of the famous outlaw and snapping a few photos!
It's easily the most photographed landmark in the whole city with tourists throughout the day stopping to take a snap with Robin Hood.
Although the main statue is the most famous, Castle Lawn actually has a series of statues and plaques associated with his merry men and notable events in his life.
The statue is now a Grade II listed building and was built in 1949. It weighs a half-ton and is meant to last for over 6,000 years!
It is quite a controversial statue due to the hat he is wearing! Many people want a pointed hat and feather from the movies. But, he is shown wearing a traditional medieval foresters cap. The council still receives complaints about this every year.
It was placed outside of the castle to keep in line with Robin's outlaw status and he is aiming his bow and arrow at the Castle gatehouse and the authorities.
Despite numerous attempts to keep the bow more solid, it suffers lots of vandalism each year, and sometimes people even steal the arrow to sell on the black market!
Related post – where is the Robin Hood Statue in Nottingham
3. Nottingham Castle and Caves
Robin Hood is famous for breaking in and out of the walls of Nottingham Castle.
He is meant to have been jailed here, escaped as an outlaw, and returned to save some of his best merry men from the gallows too!
So, you must pay a visit to this amazing historic castle which was once one of the most important royal residences in the whole of Britain.
Nottingham Castle was established in 1068 by William Peverel on orders of William the Conqueror as a Norman stronghold. This is how it got it got the original name of Peverel Castle. It's built on top of "Castle Rock" which is a 130-foot sandstone cliff.
In the middle ages, it was a royal stronghold for monarchs like Richard I, Henry II, Edward II & III.
The castle is such an amazing place to visit and I have in the past (around 10 years ago now!). It's recently opened after three years of closure with exciting exhibitions.
They have opened a brand new immersive Robin Hood exhibition. They are meant to be bringing Sherwood Forest to the city.
Plus, you can take a guided tour of the caves beneath and see the Gaol where he was kept and the secret tunnels he escaped from!
Click here for more information on visiting Nottingham Castle!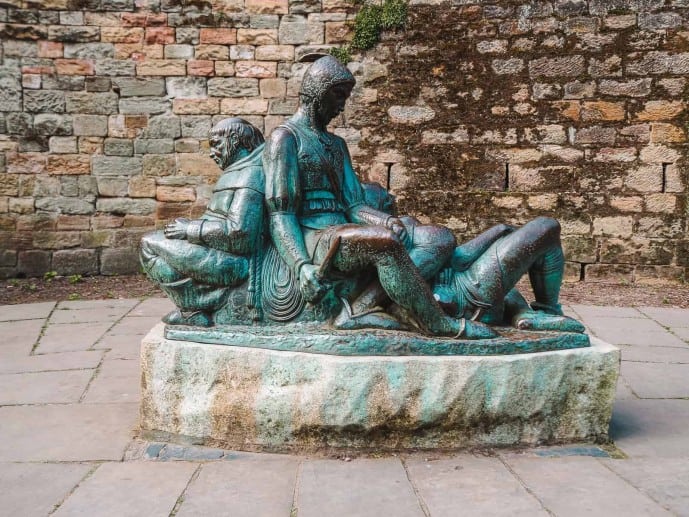 4.
The Robin Hood Experience

If you were looking for an attraction in the city to find out more about Robin Hood, then you should check out the Robin Hood Experience right next to the Castle.

This family fun attraction and museum has lots of hands-on experiences where you can put yourself in the shoes of Robin Hood.

You'll be transported back to medieval Nottingham and you can meet lots of his merry men too.

You can try your hand at arming a bow and arrow with Master Bowman and even stand trial before the Sheriff of Nottingham!

This immersive experience where you can discover the legend of Robin Hood is split across 3 floors. There is also a small gift shop with some awesome souvenirs too.

Click here for more information about visiting The Robin Hood Experience
5. Ye Olde Trip to Jerusalem
The Ye Olde Trip to Jerusalem dates all the way back to 1189 and claims to be England's oldest pub.
'Trip' or 'Trypp' in medieval terms used to mean a stop or halt on a journey. It's thought that crusaders would stop here on their way to Jerusalem, hence where the pub got its unusual name.
Richard the Lionheart was a commander in the Third Crusade and is thought to have drunk at the inn and gathered around a table with his men.
Some of these caves beneath the pub used to lead directly in and out of the castle (some say they still do). This is how Robin Hood escaped the gaol and hid out here away from the authorities.
There are many myths, legends, and even ghost stories to uncover here so it's almost like a living museum. You have to pop in and visit! Their Rock Lounge is set in an ancient cave.
Of course, they also have a tasty menu and choice of locally brewed ales like their own premium ale " Olde Trip".
Read more – secrets of the Ye Olde Trip to Jerusalem!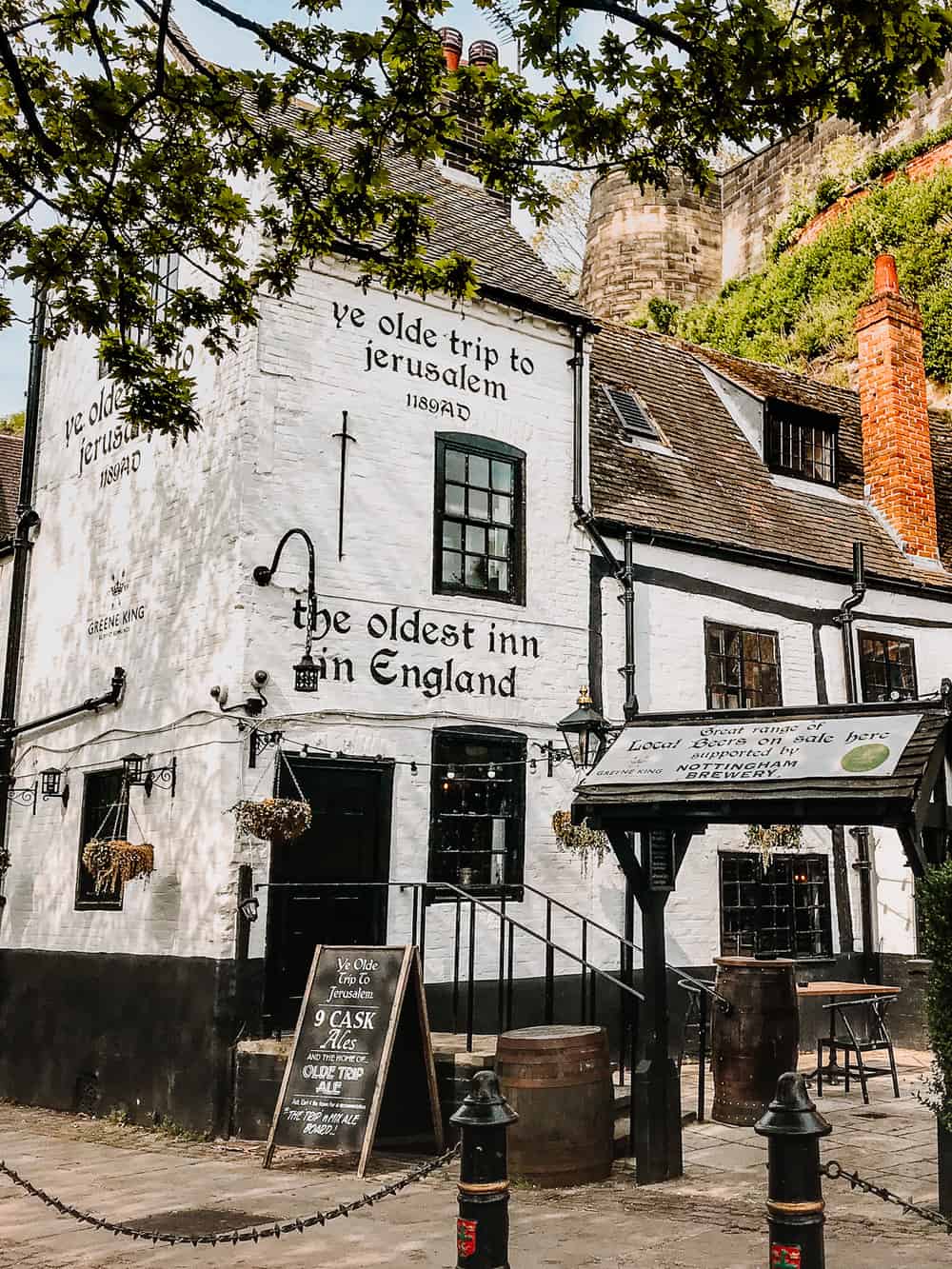 6.
Old Market Square

The Old Market Square in Nottingham is easily one of the busiest and most popular parts of the city.

It's the largest public space in the UK after Trafalgar Square in London and is nicknamed the beating heart of Nottingham.

Years ago, William Peveral who built Nottingham Castle established this area as a market of 5 acres. It was an attempt to build a 'neutral ground' between the Saxons and the Normans who lived (and fought) here.

Floggings, animal bating and even a Goose Fair's took place in the square. This is also the spot according to the Robin Hood legends where the Golden Arrow competition was held on orders by the Sheriff of Nottingham.

This was to lure Robin Hood out of hiding as he knew he wouldn't be able to resist showing off his archery skills!

The Old Market Square remained a market until 1928. Today, it's a meeting place of shopping streets and around the centre, there are plenty of stores and cafés to drop into.

The Nottingham Council House is the recognisable Neo-Baroque building and has a 200-foot high dome. Inside is the bell Little John who rings each day from the clock on the hour.

Every year Nottingham holds numerous events here in summer like the 'Riviera Beach' and it's also the location of the annual Nottingham Christmas Markets. So, you must drop by on your visit and see what's going on.
7. National Justice Museum
Crime and punishment go back centuries and are almost as old as time began!
Whereas nowadays you go to court and are 'innocent until proven guilty' in Robin Hood's time there was no such thing.
Robin Hood became an outlaw (which means he fell outside of the law) and so there were serious consequences for that. It usually meant death.
The National Justice Museum sits on the site of 'Sheriff's Hall' from the Norman era which was the Sheriff of Nottingham's high office.
He would have collected taxes, kept the peace, and carried out his 'justice' on prisoners here.
If you committed a crime, you were sent here and tortured, given your conviction, then hanged outside in public the next day.
Fun Fact: Gallows day used to be a public holiday in Nottingham and people who had houses around the Sheriff's Hall would rent out their rooms for a better view of the hanging!
There is a pit underneath the museum called the Oubliette which is a French term meaning "to forget". This spot is supposedly where Robin Hood was tortured and left to starve to death.
The museum here is truly fantastic and it takes you through the history of criminal justice, prisons, and eventually prison reforms.
Highlights of their collection include Oscar Wilde's cell door, the bath from the brides in the bath murders, and some of the force-feeding equipment used on the Suffragettes.
Click here to find out how to visit in Nottingham!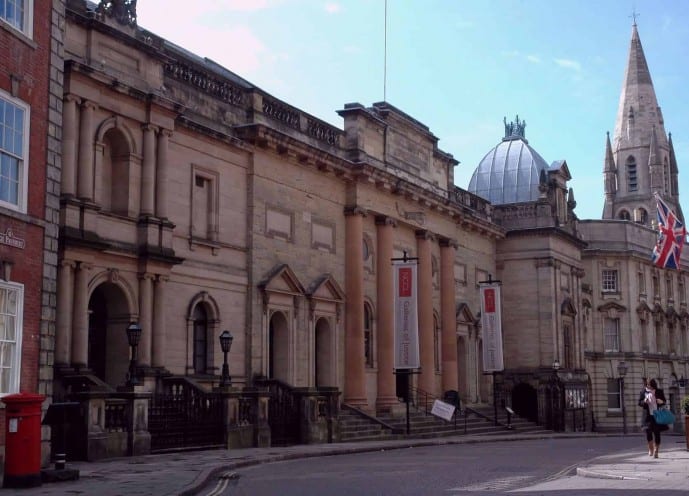 8. St Mary's Church
St Mary's Church nearby is another grisly spot associated with public hangings in Nottingham. This was where condemned prisoners were given their last rights.
Although Robin Hood declared the fact that his enemies were bishops, archbishops, and the Sheriff of Nottingham – he actually is meant to have prayed every day to the Virgin Mary!
In fact, he was so spiritual, he wouldn't attack any group that ventured through Sherwood Forest that had a lady in tow.
Robin Hood is said to have attended mass right here at St Mary's Church in the ballad of "Robin Hood and the Monk". He was recognised by one of the monks and they alerted the Sheriff of Nottingham.
A huge sword fight took place in the church and Robin Hood's sword broke in two. He eventually surrendered and was held captive. Later, he was rescued by Little John. After this, Robin Hood would only enter the city in disguise.
9. Weekday Cross & Hen Cross
Popular spots where Robin Hood would enter the city in disguise were at both Weekday Cross & Hen Cross. Two popular markets places in the medieval city.
Robin Hood is known to have wandered through the weekday market as a butcher and Hen Cross as a chicken vendor. This is so he could spy on people and events going on in the city undetected by the authorities.
You can still visit the olde weekday cross in Nottingham where they use to make announcements. Most people just sit on here for a rest or have a bite to eat!
Fun fact: Did you know that a long time ago Nottingham was referred to as Snottingham? If you were from here you were known as a Snot! No, not after bogeys, but after the Ango-Saxon Chieftain, Snot. If only he knew what it would mean today…poor guy.
10. St Nicholas' Church
Another church associated with Robin Hood is St Nicholas' Church on Maid Marian Way.
Although the current building dates back to the 17th century, there was a church that stood here before that.
According to the stories, Robin Hood is meant to have hidden out here from the authorities while in the city and prayed here too.
In Robin Hood's time, this was the Saxon part of town where many people had their land taken by the Norman Lords.
As Robin Hood was a Saxon Lord of Loxley, he would have felt safer here as his land was taken too and people were more sympathetic to his cause.
11. Take a Nottingham Robin Hood Tour with Ezekial Bone
If you'd rather be guided around the city by the very man himself, then you have to book onto a Nottingham Robin Hood Tour with Ezekial Bone.
The multi-award-winning storyteller is not only an ambassador for Visit England and Great Britain, he's the closest thing to Robin Hood you'll get.
He's also been featured on Discovery and History Channels. On your tour, Robin Hood will take you on a merry journey through some of Nottingham's most popular sites including the Castle, Lace Market, and caves under the city streets. Telling stories as he goes.
As well as the town tours he runs regular tours of Sherwood Forest and some bespoke tours throughout the month.
Also, there's a brand new show Robin Hood & The Monk for 2020 which is due to hit the stage most Saturdays at St Mary's Church.
The Robin Hood Town Tour takes place on most Saturdays throughout the summer and takes 2.5 hours. Click here to find out how to book!
12. Walk along the Robin Hood Way
The Robin Hood Way is a walk that opened up in the 1980s and runs 105 miles from Nottingham Castle to Southwell Minster.
The walk aimed to include many places that were associated with the outlaw, including Thieve's Wood, Friar Tuck's Well, King John's Palace, and Sherwood Forest.
I caught up with the Robin Hood's Way near Sherwood Forest at Robin Hood's Hill, where he is meant to have kept his treasure.
Of course, you're never going to make the 105-mile journey in one go, but you can cover some good ground on a route from Nottingham Castle on a circular walk.
There is a short route from Nottingham Castle to Wollaton Park (30 minutes). Or head up to Leen Valley (2 hours, 6 miles) or Newstead Abbey (3 hours, 11 miles).
You can find the whole route and more options on the official Robin Hood Way website or find out more on LDWA.
13. Take a day trip to Sherwood Forest
If you're following in the footsteps of Robin Hood, you must visit Sherwood Forest his old hideout and stomping ground.
Here he would camp out with his merry men, hunt in the forest, and also hide his loot here too.
The most famous place where he used to hide was in The Major Oak. This is the largest oak tree in Britain that's thought to be 800-1100 years old!
It still stands today and you can easily walk to see it from the Sherwood Forest Visitor Centre.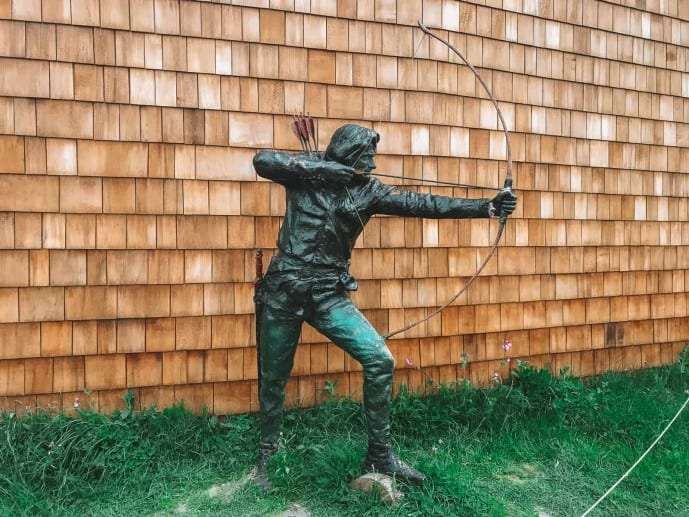 How to visit Sherwood Forest
Although in the movies it looks like Nottingham is really close to Sherwood Forest, it's actually around a 40-minute drive there. So, it would have taken a long time on horseback for Robin Hood!
Thankfully, there is car and bus travel now.
If you don't have a car, there is an Arrow Service that runs from the Victoria Bus Station daily to Sherwood Forest. It will take around an hour to reach.
Click here to find more Robin Hood things to do in Sherwood Forest
14. Stop by The Major Oak
The Major Oak has consistently been voted as Britain's favourite tree and is famous for being the hiding place of Robin Hood.
Apparently, his merry men used to sleep in the tree and Robin Hood would hide in its hollow trunk.
It weighs a massive 23 tons, has a trunk that's 33 feet wide and its branches stretch over 100 feet – that's a whopper of a tree!
It was named after Major Raymond Brooke who published a series of sketches about it and made it famous.
It used to be a popular Victorian tourist attraction and still brings in over 350,000 tourists to see it each year.
Read my guide with more amazing facts about the Major Oak
15. Visit St Mary's Parish Church in Edwinstowe
Edwinstowe is a small sleepy town on the outskirts of Sherwood Forest and is well worth a visit if you wanted to see some Robin Hood sights.
The Parish Church of St Mary's draws tourists here every year as this is the legendary spot where Robin Hood and Maid Marian were married!
In ancient tradition, if you were outside of the law, you were not allowed to enter the church. So, the ceremony took place just under the archway of the entrance door.
The church is a really quaint, peaceful place so its vast history may surprise you. Edwinstowe got its name from St Edwin of Northumbria who was killed in the Battle of Hatfield Chase around 633AD.
He was buried in a clearing of Sherwood Forest. Later, his remains were collected to be moved to York for a proper burial.
Many people still came to pay respects at the original site. So, a wooden chapel was built as a place of worship. St Edwin was one of the first rulers in England to convert to Christianity.
The stone church we see today was built in 1175 AD on orders of Henry II around the time Robin and Marian were wed. It hasn't changed much since then, so you can actually see their 'real' wedding location.
Inside the church is a lovely Robin Hood display with lots of history and information about his life.
It's a great replacement for the Sherwood Forest Visitor Centre which doesn't have much about him anymore.
Also, don't forget to check out the statues of them next to the Edwinstowe Library!
Read my guide on where Robin Hood and Maid Marian were married!
16. Attend the Robin Hood Festival
A place where the legend of Robin Hood is brought alive each year is the annual Robin Hood Festival at Sherwood Forest.
It's been running for well over 30 years now every August. It's a week of re-enactments of famous stories, jousting ballads, storytelling, sword fighting, dancing, and adventures with the Merry Men.
There are plenty of awesome food and drink stalls, craft centres, and places where you can join in the merrymaking and have some fun.
There is even a Robin Hood Live immersive show at Newstead Abbey, a Robin Hood Beer Festival, and Robin Hood Marathon that takes place in the city each year!
17. Escapologic – Robin Hood escape room
A more modern attraction that has recently opened up in the city by Escapologic is a unique Robin Hood escape room called 'Robin of Lockskey'.
A group of kidnappers has taken the Sheriff of Nottingham and they are demanding the Golden Arrow as ransom.
Your goal is to find the Golden Arrow and they have given you 24 hours to comply.
The game opens up with your team searching the Sheriff's office to crack the code, find the arrow and save the legend!
Having looked at their trailer, it actually looks super awesome and it's definitely a cool way of experiencing Robin Hood in the city. Book here.
18. Robin Hood Stories & Board Game Museum
If you are into your games, you should also hit up the Ludorati Café in town.
They are one of the world's leading board game cafés that have over 850 board and card games on site!
On certain weekdays, they have the world's only Robin Hood Stories & Board Game Museum that's a pop-up you can check out.
As well as games, this café serves up some craft beer with labels of Robin Hood, Maid Marian, and his merry men.
Are you taking the Robin Hood trail?
If you are on the Robin Hood Trail in Nottinghamshire, Nottingham is a great place to start.
The Robin Hood Trail is a road trip that you can take from here to hit up some of the top spots that relate to the legendary outlaw.
From Nottingham, you can continue up the country towards Sherwood Forest. This is and the area surrounding it has lots of places you can visit.
Firstly, I would head to Sherwood Forest. Here you can visit the Visitor Centre and visit The Major Oak.
After taking a quick walk into Edwinstowe nearby to see where Robin Hood and Maid Marian were wed at St Mary's Church.
You can also visit the ruined King John's palace, Robin Hood's Pot where he kept his treasure, Thieves Wood, and even gravestones of his merry men.
I recently went to visit Little John's Grave which is located in the Peak District. He is buried in his hometown of Hathersage.
Related post – visit all the spots on the Robin Hood Trail, see here.
Travelling to Nottingham
By Car: Nottingham is easily accessed from the North and South on the M1. The nearest car park to Nottingham Castle to start your Robin Hood adventure is the Nottingham Castle Canal Street Car Park in the castle zone.
By train: Nottingham has a central train station and it will only take you around 2 hours to reach from London. See the National Rail website for more train routes and options.
How to get around Nottingham
On Foot: Nottingham is really easy to navigate on foot. The castle is a 10-minute walk from the central railway station and 5 minutes from the Old Market Square.
The city is really well-signposted with directions to point you all over the city. There is even a Robin Hood walking trail that connects you with these main sights!
By Bus or Tram: Nottingham is also really well connected with public transport. There are both trams and buses that will take you all over the city. I got an all-day ticket to get around on the city buses.
With Uber: Yep, Nottingham does have Uber to connect you around the city if you didn't fancy walking or taking the bus.
Where to stay in Nottingham
Nottingham is a huge city with plenty of accommodation choices to suit a number of budgets and is just a few minutes away from Nottingham Castle and the Robin Hood Statue.
The St James Hotel is close by to Nottingham Castle that looks super cosy with a fabulous location in the centre.
If you're looking for a hostel or budget accommodation, The Igloo Hybrid is meant to be a great choice with a friendly vibe.
Save these Robin Hood Nottingham attractions for later!