Wells is England's smallest city due to its Gothic cathedral but don't let that put you off visiting!
As they say, quality is better than quantity and this tiny metropolis in the Mendips is a powerhouse of culture with oodles of history to discover.
As a place of Christian pilgrimage for over a millennia, you'll find that most of the attractions are around its spectacular cathedral at its heart. But, there are plenty of other amazing things to do in Wells beyond the church.
From historic palaces, planned gardens, markets, and coffee houses! It's easily one of my favourite places in Somerset and every time I visit I discover something new.
Here is a complete guide for visiting this compact cathedral city with all the unique things to do in Wells!
A brief history of Wells
So, what makes Wells so special? Well, today you only have to look at its legacy from the strong connections to the Roman Catholic Church and Holy See.
But, if you were to turn back the hands of time you'll find that this was a Roman settlement that eventually became an important city in the ancient Kingdom of Wessex. This is where King Ine founded a Minster church in 704 AD.
It was recorded in the Domesday books as Welle/Wella (Anglo-Saxon for Well) in 1086.
The city gets its rather apt name from three spring wells that bubble in the city dedicated to St Andrew. During medieval times, it was one of the most important bishoprics in Britain!
The construction of Wells Cathedral with its impressive West Front started in 1175 by Bishop Robert. It was one of the first in England to be constructed in the Gothic style.
This was made by master mason Adam Lock and Bishop Jocelin. Then, when Lock died, Thomas Norrey's took over to complete it with over 400 intricate medieval sculptures!
Later the Chapter House, Cloisters, and the famous Cathedral Clock were installed. Also, Vicar's Close was built nearby to house the Vicar's Choral.
This cathedral secured its city status in medieval times and was recently reaffirmed by Queen Elizabeth II, although they only have 12,000 residents!
During the Reformation, Wells Cathedral became embroiled in political warfare and King Edward VI blew up the Grand Chapel.
Later in the Civil War, during the 'Siege of Wells', Parliamentarian troops destroyed many of the statues using them for target practice!
However, after the Restoration of the Monarchy, the cathedral was at peace and has changed very little since.
Much of the cities heritage stems from this gorgeous building and can (thankfully) still be enjoyed today.
What is the best time to visit Wells in Somerset?
Wells is a compact city and very often sees masses of crowds due to its impressive cathedral. So, you may find in the summer months you'll be battling with tourists who swarm the place!
The best time to visit would be in the shoulder months of Spring or Autumn (March, April May, September, October) where there will be fewer crowds and also the weather will be cooler as well.
A top tip I have would be to not visit on a Sunday. This is because there will be services going on inside the cathedral throughout the day and entry times will be restricted. Also, some restaurants and attractions close.
During the week would be a lot better as then you can enjoy the attractions at any time during the day and with fewer crowds.
Must-see things to do in Wells
1. Be amazed by Wells Cathedral
The reason why travellers have been flocking to this city for centuries is to visit the magnificent cathedral.
Although it was originally founded by the Saxon King Ine as a minster, the structure we see today was built in the 12th century.
It was one of the first Gothic cathedrals to be built in England and is what made this area gain city status in medieval times. There is SO much to this monument inside and out!
From its astonishing West Front with over 300 carvings to the oldest working clock in the British Isles, the scissor archways, chapter house, and transepts.
It's certainly worth planning lots of time in your day to explore. Don't miss these highlights of the cathedral;
Admire the staggering West Front
I would recommend entering through the Penniless Porch to introduce yourself to the Cathedral first.
Here, you'll see the bedazzling West Front. This is the most impressive part and has the 'WOW' factor that will take your breath away.
Originally, this entrance had over 400 sculptures but over time this number has now fallen to around 300. It's one of the best-preserved examples of medieval architecture in Britain.
In the 12th century, the West Front would have been completely painted in colour.
It would have looked like a giant painting or picture book, something that was quite rare for a building of this magnitude in medieval times.
The other walls and towers of the cathedral pale in comparison to this mountain of work. You could spend hours admiring the architecture and carvings.
It's one of the best things to do in Wells. Get your camera ready as this is a moment worth capturing!
Be WOWed by the stunning scissor archways, cloisters and architecture
As you enter the cathedral, you will walk through the famous Scissor Arches which is known as the signature view of Wells.
Then, you can explore the amazing Chapter House that was built in 1286. This is one of the most impressive achievements in British architecture.
As you wander down the old steps, you can't help but notice the vaulted ceiling which is like an illusion.
It has a central pillar almost like an angel's trumpet with 'ribs' that flow out from it. Together, they almost look like ripples of water.
On a sunny day, you'll find that light shines through the cathedral and creates a rainbow of colour.
Plus, you can find some funny carvings of different heads on the stalls. Another feature is the elaborate carvings found in the South Transept where you'll see the 'Toothache man' who looks like he's pulling a funny face!
Entry is FREE for the cathedral but there is a suggested donation of £6 required for the upkeep. Free guided tours also take place during the week and on Saturdays. Click here for details.
2. Gather around to watch Wells Cathedral Clock strike
The ancient Wells Cathedral Clocks that are located inside and outside of the cathedral are incredibly impressive.
The interior astronomical clock was built in the 14th century and is thought to be the oldest working mechanical clock in the British Isles! Some say, the second oldest in Europe.
Every quarter of an hour, the Quarter Jack appears from inside the clock and strikes the bells twice with hammers. Then, he strikes again with his heels. Afterward a pair of Jousting Knights fight on top!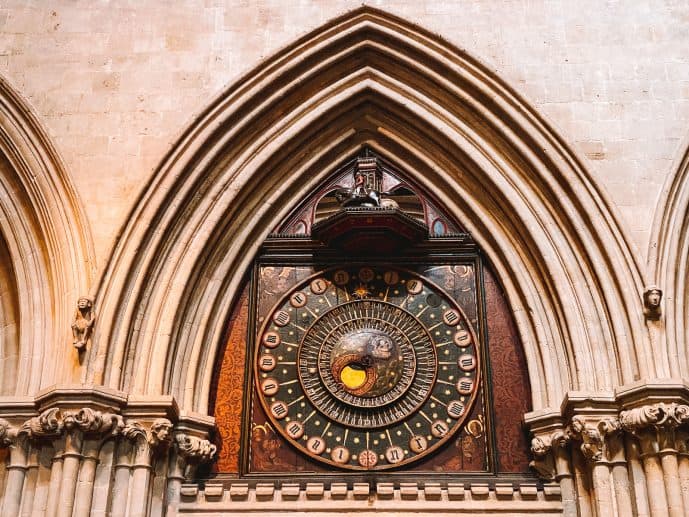 The clock face has a 24-hour dial, along with an astronomical face which includes the moon phases. It will tell you how many days it has been since the last full moon.
You'll also see the Earth at its centre with the sun and moon revolving around it. It's beautiful and many people gather around the clocks just to watch the show as it rings out. So, make sure you stick around for it.
There is also a second clock outside the cathedral as well which runs on the same mechanism. This has two knights that bang the bells.
Click here to read all about the Wells Cathedral Clock & How to see the show!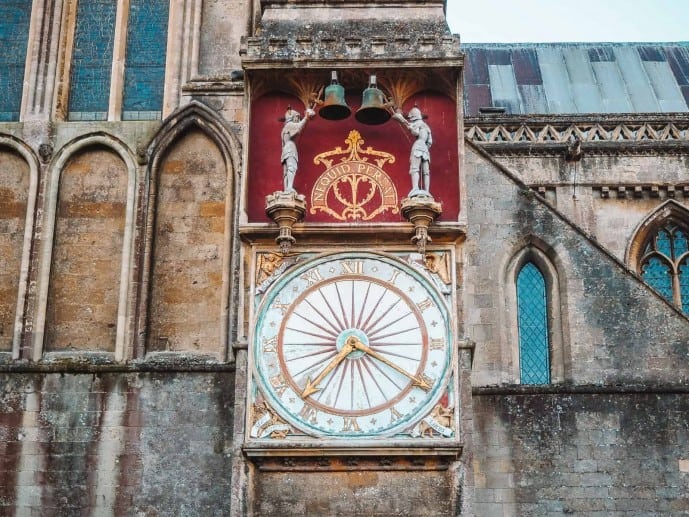 3. Pop inside Vicar's Close – the oldest residential street in Europe
Just adjacent to Wells Cathedral, underneath the Chained Gate Bridge, is the uber Instagrammable street of Vicar's Close.
This historic cul-de-sac was built in the 14th century and is thought to be the oldest residential street in Europe.
All of the medieval residences in the close are intact and have changed very little since they were first built. They were originally constructed by Bishop Ralph of Wells in 1348 to house the Vicar's Choral.
These are the sopranos, altos, and bassists of the cathedral that used to sing divine services eight times a day.
Before the houses were built, they lived in amongst the townsfolk and were succumbing to all sorts of worldly temptations.
Even nowadays, the street houses the Vicar's Choral who has been an integral part of the cathedral's heritage since the 1100s. There are also houses provided for cathedral staff like virgers, bellringers etc.
It's by far the most photogenic street in Wells, so make sure you bring a camera to capture it. I'd recommend stopping by early before the crowds do!
Click here to read more about the oldest residential street in Europe
4. Admire the Old Deanery herb garden
If you look around Wells Cathedral Green, you'll spot many historical houses and buildings dotted around Wells Cathedral.
Years ago, these all played an ecclesiastical role in the city but now have different purposes or have become residences over time.
One of these buildings is the Old Deanery which dates back to the 12th century.
Years ago, it played a part as the primary residence of 62 Deans. It proudly displays a plaque outside to say that Henry VII resided there as a guest of the Dean Gunthorpe in 1497.
Today, it's no longer the house of the Deans and for a short while, it was the offices for the Diocese of Bath and Wells.
Now, it's on the market for a new buyer if there are any takers?!
Although you cannot visit inside, there is a small Tudor herb garden that was designed by William Turner in the 16th century. This has been restored today and welcomes visitors seasonally.
Visitors are welcome to explore on Wednesday mornings from 10.30 am-12.30 pm in June, July, and August. It's completely FREE entry but donations are encouraged.
5. Walkthrough the Penniless Porch to Wells Market Place
There are a series of historic gates in Wells that will lead you around the town but are also attractions in their own right.
One is the Pauper's Gate or Penniless Porch in the Market Place.
This gate was specifically built as part of the walled precinct of the Liberty of St Andrew. Which, years ago, housed the cathedral, Vicar's Close, and Bishop's Palace.
It was built to provide alms to the poor and to provide a spot for beggars to work. It has stood here on this spot since 1450 and was originally constructed by Bishop Thomas Beckington.
As you make your way through the gate, you'll enter Wells Market Place. This is a focal point of the city and has a twice-weekly market on Wednesdays and Saturdays!
You'll also spot the Town Hall, a medieval conduit fountain, and the local Post Office.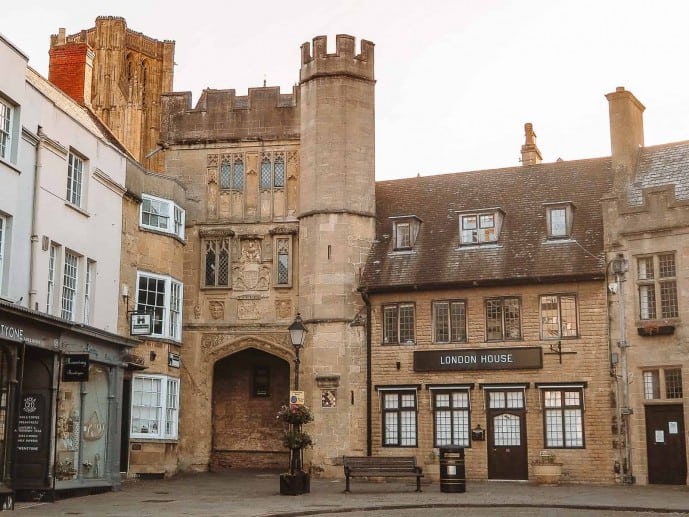 6. Go on a film location walking tour of Wells
As soon as you enter Wells Market Place, you may think that it looks strangely familiar somehow. That's because it's been featured in so many TV shows and Hollywood movies such as Hot Fuzz!
The team shot the cult movie in 2006, but it doesn't fail to bring in the crowds even today.
Many fans will be wandering around Wells Market Place following in the footsteps of Sergeant Nicholas Angel and PC Danny Butterman in the sleepy village of Sandford.
If you were interested in having an entertaining Hot Fuzz Tour of Wells, then you can book right here. Or, go self-guided here.
What else has been filmed in Wells?
There have been SO many films and TV shows shot in Wells as its medieval streets provide the perfect backdrop for historical dramas.
In 1972, Vicar's Close was used for the filming of The Canterbury Tales by Pier Paolo Pasolini.
The Huntsman: A Winter's Tale and also The Libertine, starring Johnny Depp were shot here. Plus, many BBC period dramas including Hollow Crown, Wolf Hall, Doctor Who, and Poldark.
Other productions film on-site includes The Golden Age, Bonekickers, Pillars of Earth, Jack the Giant Killer, New Worlds, and the White Princess by Starz.
You'll probably recognise a familiar scene from the big screen around every corner here!
7. Pass through the Bishop's Eye to the Bishop's Palace & Gardens
Another iconic gate which is a pair of the Penniless Porch is the Bishop's Eye. Another creation of Thomas Beckington in 1450.
As you walk through Bishop's Eye, you'll come across an impressive fortress with a moat surrounding it called the Bishop's Palace.
This impressive residence has acted as the home of the Bishops of the Diocese of Bath and Wells for the last 800 years!
It originally started its construction in 1210 by the Bishops Jocelin of Wells and Reginald Fitz Jocelin.
But was later extended by Bishop Robert Burnell in the 13th century, Bishop Ralph of Shrewsbury in the 14th century, and Bishop Thomas Beckington in the 15th century.
Although some of the building is still used by the current Bishop, most of the residence has been opened up as a tourist attraction you can explore!
Visiting the Bishop's Palace & Gardens is one of the top things to do in Wells.
Inside the Palace, you can see the impressive Bishop's Portrait Hall, The Great Hall, and the Chapel with an impressive vaulted ceiling.
Outside, you can explore the manicured gardens which include an arboretum, herb gardens, and one of the original spring wells where the city gets its name from. Also, the reflective pool is a highlight for a great shot of the cathedral!
If you didn't wish to go inside, you can still take a scenic stroll around the Defensive Moat. This was originally built to keep the poor at bay and to display the elaborate wealth and power of the Bishop.
You may be lucky and spot some of the royal swans and their cygnets swimming by.
Click here to see opening times and ticket prices for Bishop's Palace
8. Check out the Bishop's Barn
The Bishop's Barn can be found on Silver Street nearby the Bishop's Palace and was built as a tithe barn in the 15th century.
It's now a Grade I listed building and scheduled ancient monument – as it's one of only 200 remaining in the UK!
Originally, it formed part of the Bishop's Palace and it famously held Royalist troops who were quartered here during the Bloody Assizes.
In 1887, the barn was gifted to the city by Bishop Lord Arthur Hervey for recreation and amusement.
This is what it has functioned as ever since. Many events happen at the Bishop's Barn throughout the year, so you'll have to pop by and see if anything is going on!
9. Visit St Cuthbert's Church
This Anglican Parish Church is not as impressive as the main event of the cathedral but that doesn't mean it isn't worth checking out.
Many people mistake this church for the cathedral due to its grandeur architecture and size!
This gorgeous chapel, with its Somerset stone tower, is a Grade I listed building dedicated to St Cuthbert.
Although the stone church dates back to the 13th century, it's thought to have Anglo-Saxon origins and a Roman well was found nearby.
It's open every day of the week for visitors and you can explore its gorgeous architecture with a medieval porch, beamed roof, and rare stonework depicting the Tree of Jesse.
10. Go shopping
If you weren't into history or museums, there is still a great shopping scene in Wells that you can make the most of.
As well as the twice-weekly market that sells a range of things, there are plenty of stores dotted around on the High Street and the Artisan Quarter.
On the High Street, you'll find some recognisable chains as well as independent boutiques, art galleries, and homewares.
Also, around the Artisan Quarter, you'll find organic food shops, jewellery shops, and vintage stores as well.
A little further out of Wells is Clark's shopping village which is one of the premier shopping destinations in the country. It has all your designer brands at a discount price!
11. Admire the views from Stobery Gardens
Just a few miles from the city, you can visit a botanical paradise with the most spectacular views of Wells Cathedral and the Vale of Avalon.
Stobery Gardens provides six acres of land to explore and you can wander around their ponds filled with wildlife, water features, and sculptures.
There is also a sunken garden, lime walk, and a variety of flowers that bloom throughout the season.
Although you could easily mistake these planned gardens for being historical, they only started it in 1997.
Ever since, they have won awards, been featured in magazines, and have even featured on the BBC programme 'Gardens of Somerset'!
There is plenty of space to enjoy the vista as well. It's one of Somerset's best-kept secrets! Click here for more details.
12. Visit the Wells & Mendip Museum
Just nearby Wells Cathedral on the Green is the Wells & Mendip Museum which was founded by Herbert Balch in 1893.
He was a famous geologist who was a pioneer for many techniques used by cavers, even today!
Living in the Mendip Hills is perfect for a cave lover with the likes of Wookey Hole and Cheddar nearby.
His impressive collection of Victorian artifacts is now on display in the museum for all to enjoy.
As well as admiring his collection, you can see exhibits in the prehistoric area of the Mendips with its fascinating cave systems and geology.
Also, you can learn about the history and culture of the city with some local heroes who fought in the First World War.
Click here for museum opening times and ticket prices
13. Explore the Mendip Hospital Cemetery
This cemetery was established by a group of visitors who used to work at the 'Somerset and Bath Pauper Lunatic Asylum' which was founded in 1848.
They bought a section of land on Bath Road in Wells to use as a cemetery in 1873.
Some 2,900 people were buried here, many in anonymous graves due to having mental health issues.
These were things that were very much misunderstood when the cemetery first opened.
Later, it was called the Tone Vale Hospital then the Mendip Hospital and closed its doors in 1991. However, the cemetery has been preserved and has opened as a nature reserve that you can visit seasonally.
While you're here, you can explore the grounds with their chapel that has been sympathetically restored.
Also, you can find out more information on the hospital/asylum and what it was used for.
14. Hike to Glastonbury Tor & Abbey
Glastonbury Tor is one of the most iconic monuments in Somerset that's not only full of history but also legends, myth, and magic as well.
Some say that this hill is home to a Fairy King whilst others swear this is where King Arthur found the Holy Grail.
Click here for my complete guide for Glastonbury Tor!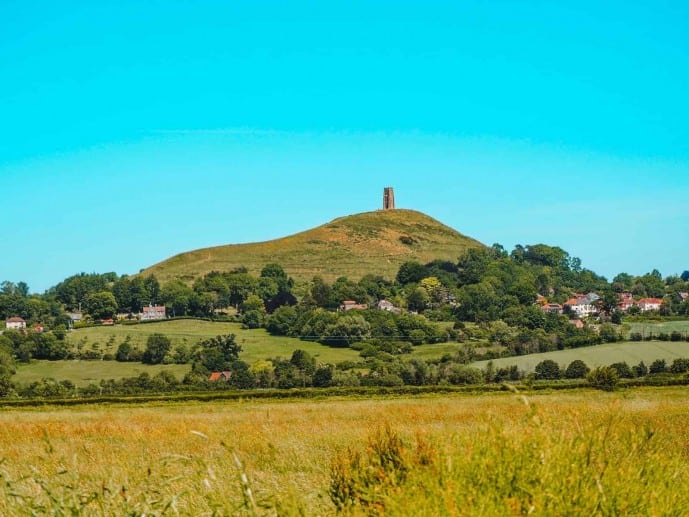 Either way, it's considered to be one of the most spiritual places in the entire country and falls on a Ley-Line that emits vibrational frequencies!
If you were feeling particularly active, you could walk over to Glastonbury Tor on the path located at the back of the Bishop's Palace! The distance is 8 miles and will take approximately two hours.
But, if you weren't up for that, you could easily drive over there instead and walk up from the town.
Glastonbury is way more than just the festival FYI. The whole town is bohemian all year with masses of heritage.
A highlight is the ruins of Glastonbury Abbey where you can see the final resting place of King Arthur!
If you didn't want to visit with the crowds, I would recommend the less touristy Burrow Mump nearby.
15. Fall in love with Milton Lodge Gardens
Another garden that is perched high up on the Mendip Hills is Milton Lodge.
Again, this has magnificent views of Wells Cathedral and the Vale of Avalon. It was first conceived in the year 1900 Mr. Charles Tudway, who is the present owner's great grandfather!
On your visit, you can explore this delightful garden that is located on the sloped lawn terraces of the Mendips. It includes a sundial, pool area, lily pond, and Combe with an upper terrace that provides sweeping panoramic views.
These gardens form part of the Historic Houses collection. They are open from April – September on Tuesdays, Wednesdays, Sundays, and Bank Holidays. Adults tickets are £5, children under 14 FREE.
Click here for more details about visiting Milton Lodge!
16. Take a day trip to Cheddar Gorge or Wookey Hole
Being in the Mendip Hills, you're never too far away from a prehistoric cave area and there are two major attractions nearby Wells.
Wookey Hole is the closest option, just a few miles away. A highlight is a visit to their show caves which are some of the largest in England.
On your guided tour, you'll explore the Witches Parlour, where you can see the "Witch of Wookey". Plus, the Cathedral Chamber and the Hyena's Den!
There is also a delightful range of attractions including a dinosaur park, fairy garden, vintage arcades, mirror mazes, museums, live shows, and plenty more.
Cheddar Gorge is the UK's largest gorge which is a whopping 3 miles long. A drive or walkthrough here is honestly jaw-dropping!
As well as exploring the gorge, the area beside has so much to see and do.
You can visit Gough's Caves, see the Lion Rock, visit the prehistoric museum, admire the Island gardens and walk up until Jacob's Ladder to the Cliff Top walk!
This is only a 30-minute drive away from the city of Wells.
Where to eat in Wells
Swan Hotel – one of the finest restaurant views you can get in Wells is from the private alfresco terrace of the Swan Hotel. There's even a sign that reads in 1869, they knocked down a Victorian coffee shop to create this viewpoint! In the summer, they often layout chairs so that you can dine outside, or have afternoon tea here. What a treat with this incredible backdrop! Click here to see their menu.
The City Arms – This pub now sits inside what used to be the Olde city jail. It's supposedly the most haunted place in the city! Residents over the centuries have sworn to see ghosts here. Nowadays, it's known for its amazing pub food and drinks! Click here for a menu.
Cafés in Wells – there are SO many cosy cafés to choose from if you would prefer just a pick me up or a light lunch. You can check out the popular Strangers with Coffee, or there are the tranquil cafés inside Wells Cathedral and the Bishop's Palace too!
Where is Wells in England?
This tiny cathedral city is located in the county of Somerset in the South West of England.
It's around 6 miles from Glastonbury, 20 miles from the city of Bath, and 22 miles from Bristol.
The easiest and most convenient way to reach it is to drive. You can easily locate Wells from the M5, using the A39 road. Or, the M4 using the A37.
Parking: There are plenty of visitor car parks in Wells. These are just a short walk to the cathedral and historic part of the city. As it's a small area, everything can be accessed on foot. I parked on Union Street which is the closest. These are pay and display.
How to visit Wells
By Train: There are no direct train services to Wells. However, you could get a train to Bristol Temple Meads, Bath Spa or Frome and switch to a bus from there.
By Bus: Wells has many bus services that connect the city with Bristol, Bath, Weston-Super-Mare, Shepton Mallet and Glastonbury. Click here to plan your journey.
Where to stay in Wells
Ancient Gatehouse Hotel – As the name would suggest, this historic hotel has been part of the Great West Gate where you can access Wells Cathedral since 1453. It overlooks the West Front and Cathedral Green. Although the hotel has many original features, the rooms are very much new and very cosy. Click here to book.
The Swan Hotel – The Swan Hotel is over 600 years old and has a stunning view of Wells Cathedral. They even have a private terrace overlooking the Cathedral Green and have outside seating for a drink or dinner. It has recently been sympathetically restored and has 48 boutique rooms. Click to book.
Beryl Country House – Just a mile out of Wells is this impressive country home that exudes English charm with elegant decor, classic furniture, open fireplaces, and porcelain china. It has several luxury rooms to rent, an award-winning breakfast to wake up to, and an outdoor pool! Click to enquire.
Read more of my Somerset posts
The incredible sugar lookout of Clevedon
The mysterious Rickford Chapel
The abandoned Victorian pier of Weston-super-Mare
How to visit SEE MONSTER in Weston-super-Mare
Like this post on the best things to do in Wells? Pin it for later!