The tombs in The Valley of the Kings are one of the most important excavation works of our time. The gateway to discovering knowledge of an ancient civilisation that had been buried thousands of years ago.
Whether you think it's a triumph or glorified grave robbing, it still cannot be argued that Howard Carter and his team had made a mark in history.
The Valley of the Kings had been on my bucket list for a long time. I'd heard the tales of the "Curse of the Pharaoh" and King Tut, watched documentaries in awe and seen enticing pictures in museums but nothing quite prepared me for this visit that's for sure.
If you're travelling here independently (i.e. without a tour group) it's not straightforward, in fact, I was downright confused!
When I arrived, I had no idea where to buy tickets, I was told I could only enter three tombs (of a possible 8) and had no clue what they looked like inside to choose.
I had to buy a super expensive photo pass and was harassed constantly for it by the guards whenever I got out my camera. Not to mention it's hotter than hell inside and full of tourists, who also don't have a clue what's going on!
So, in this guide, I'm going to demystify a visit to the tombs in the Valley of the Kings. How to reach here, how much tickets and photo passes are, what tombs are open at the valley of the kings at this time, the best tombs in the valley of the kings for photos and some tips to watch out for.
There will also be lots of photos in this post as I was determined to make the most of that photo pass ;)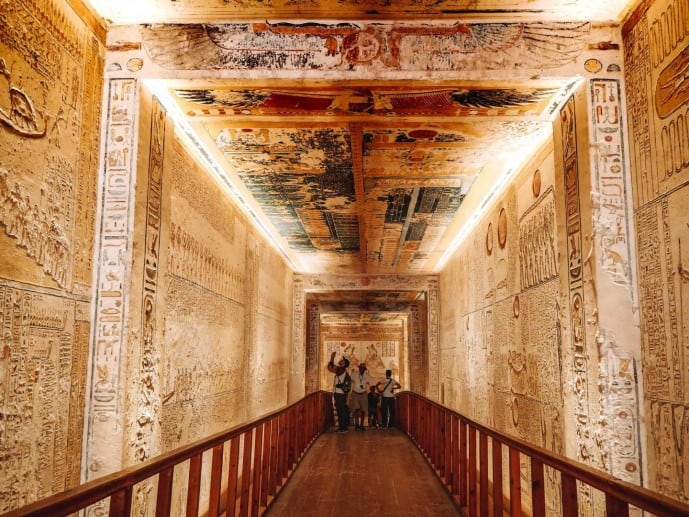 Things to know and prepare before you visit Egypt
Don't forget travel insurance for your trip, it's easy to get sick here! I always choose World Nomad's as they offer competitive plans and prices.
In Egypt they use the Egyptian Pound, I will be referring to prices in EGP. Many places like hotels and restaurants take card payments, but I would make sure you take cash out when you arrive for shopping and attractions.
History of the Valley of the Kings
The Old Kingdom of Egypt saw many kings wanting to be buried in Pyramid style tombs in the old capital of Memphis near Cairo. The most famous of this legacy can be seen today at the Pyramids of Giza.
But, the New Dynasty of kings favoured a different burial. The capital city for the New Kingdom had moved to Thebes (modern-day Luxor) and so the rulers wanted to be buried on the West Bank of the Nile in Luxor.
The West Bank, where the sun sets each day, represents the realm of the Dead. So, the Theban hills and the peak of Al-Qorn, which has a pyramid-like shape, was chosen as the perfect location.
Unlike the Pyramids, kings of the New Kingdom would build elaborate tombs. These would have colourful tales of their victorious reign and their passing into the underworld, which can be translated through the hieroglyphic markings inside.
They would also leave room for their treasures and bring weapons and statues to embody slaves to take with them to the afterlife. This was all part of preparing to enter the underworld, where they would be judged by the Gods.
In ancient Egypt, when you died your body would be mummified and your soul would enter the underworld to meet Osiris who judged your soul. This determined if your soul was worthy enough to enter the Kingdom of Osiris.
Your heart would be weighed on a scale against a feather. If it weighed lighter than the feather, it meant you were good and you would enter the Kingdom of Osiris. If not, your heart would be eaten by Goddess Ammut and your soul destroyed.
The tombs in the Valley of the Kings were created to transmit these kings to the underworld and the more elaborate the tomb, the more elaborate the send-off. Despite the name, there are 63 tombs that have been discovered and only twenty are kings. Some are noblemen and family members of royalty.
But, we wouldn't have known any of this or been able to visit today, if it wasn't for the incredible excavations by Egyptologists that brought these tombs to life.
Excavation of Valley of the Kings
The tombs in the Valley of the Kings has been of interest since Greek and Roman times when it was discovered for their treasure.
But, the biggest excavation works took place by Egyptologists in the 19th and 20th Century with the likes of Henry Salt, John Gardiner Wilkinson and most famously, Howard Carter.
When the tombs in the Valley of the Kings were excavated, they had no idea who the person was inside the tomb at that time so they labelled them as KV (standing for Kings Valley).
Although a lot of these excavations were a triumph, they were also a risky business.
Famously in the discovery of Tutankhamun's tomb, Lord Carnarvon died some months after. News spread like wildfire and the world was reading about the Curse of the Pharoah in the papers.
Howard Carter and nine others died within 10 years of opening the tomb and many blame the "Curse of King Tut".
Ever since scientists have had theories such as tomb toxins and bacteria, I mean, anything that's been locked in a tomb for 3,000 years has got to be mouldy right?
But, even today, many believe that the Curse of the Pharaoh does exist and these tombs are haunted with people seeing a ghost chariot. Spooky.
You can still visit Howard Carter's house which is now a museum near the Theban Necropolis.
How to reach the Valley of the Kings in Egypt
The Valley of the Kings is located around 30 kilometres away from the city of Luxor by road, around a 45-minute drive by car. Or, if you crossed the Nile by boat to the West Bank, it's a 15-minute drive from there.
If you're heading here on a guided tour from Luxor, A Nile Cruise, or Hurghada, you'll be taken to the Valley of the Kings by minibus or coach. But, if you're heading here solo or as an independent party, you will need to organise a private car.
Personally, I organised a private car to the Valley of the Kings, the Temple of Hatshepsut, the Colossi of Memnon and Madinet Habu.
I paid around £500EGP (£20) for a half-day morning tour by car.
This didn't include a guide to enter the tombs with me or any of the attraction tickets. I actually organised this with my cab driver who took me and my cases from the airport!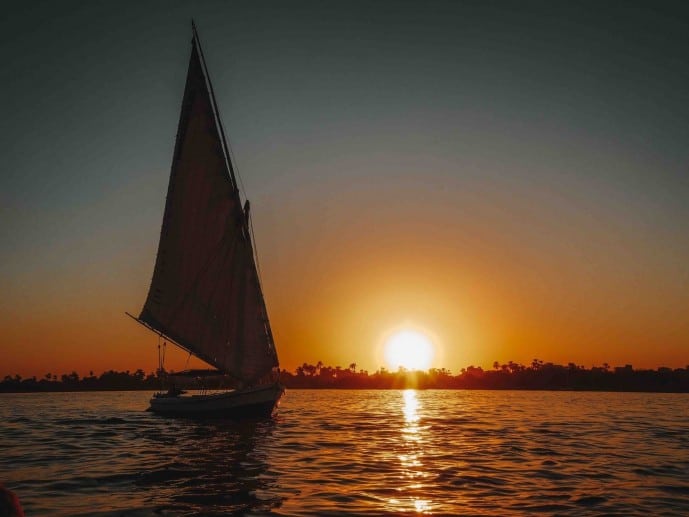 Where to stay in Luxor
It's definitely worth basing yourself in Luxor as there are plenty of day trips you can take from here for temple hopping.
If you're a history lover then you should stay at none other than the famous Winter Palace. Now a Sofitel, this hotel was built in 1866 by Thomas Cook & Sons and catered for famous residents like Lord Carnarvon.
He was a patron of Howard Carter and famously announced the discovery of Tutankhamun from the Winter Palace steps in 1922.
This hotel stands proud on the edge of the Nile with some of the rooms boasting fantastic views of the Theban Hills and you can even see the air balloons rising each day.
For Winter Palace dates and rates available see here.
How much are Valley of the Kings tickets and photo passes?
Buying tickets for the tombs in the Valley of the Kings was a stressful process on my own.
I didn't have a clue what to buy at all or where to buy it. Most people visit with tour groups and let their guide buy the tickets.
So, I'd have tour guides shoving money through the counter inches from my face as they were in a hurry. As a Brit, the honour of queueing is a sacred ritual, so I wasn't best pleased and quickly told them to wait their turn.
There are two counters to buy tickets. One for normal tickets and one for extra tombs and photo passes.
A regular ticket for the tombs in the Valley of the Kings which allows you into three tombs is £200EGP (£10). This includes the options of 8 standard tombs that are open to the public.
The tombs in the Valley of the Kings extra tickets and photo passes
Seti I (KV17) – £1000EGP (£43) – This is said to be the most impressive and well preserved tomb here with magnificent colour.
Tutankhamun (KV62) – £200EGP (£8) – the most famous, has King Tuts mummified remains on display and well worth a visit in my opinion.
Ramses V & VI (KV9) – £80EGP (£4) – a steal and my personal favourite, the double Goddess Nut ceiling was out of this world!
Photo passes are £300EGP (£15) which allows photos in three tombs. I'll go into more about the rules and top tips for using them below! Tripods are strictly prohibited.
You are now allowed to take mobile phone photos for FREE. But, if you wish to take it with a DSLR camera you must buy a photo pass.
The tram ride to get to the Valley of the Kings is £4EGP each way. I didn't know at the time (and wasn't told this) but you need to buy your ticket at the counter.
I tipped the driver in the end as I was too hot and couldn't be bothered to get back in the queue :P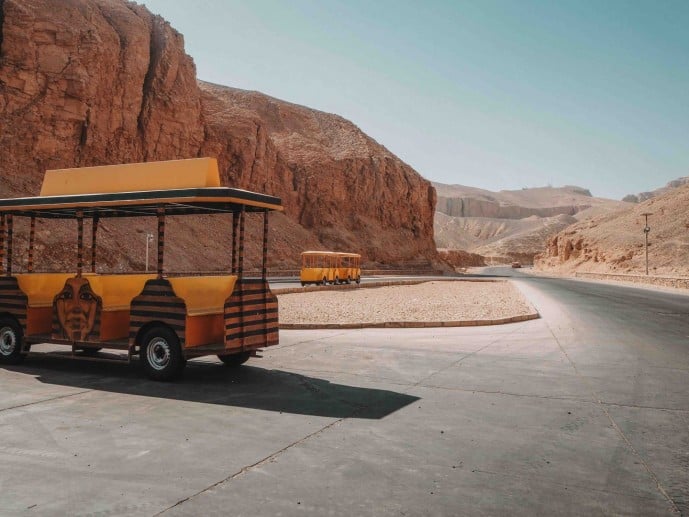 What tombs are currently open to the public at Valley of the Kings in 2021?
At the moment out of the 63 tombs, there are eleven tombs in the Valley of the Kings open to the public. Eight of them are included in your standard ticket and you can choose three out of the below;
KV1 – Ramses VII
KV2 – Ramses IV
KV6 – Ramses IX
KV8 – Merenptah
KV11 – Ramses III
KV14 – Tausert – Setnakht
KV15 – Seti II
KV47 – Siptah
Then the three that require extra tickets are;
KV9 – Ramses V & VI
KV17 – Seti the First
KV62 – King Tutankhamun
It's probably a good time to say that tour guides are not allowed to enter the tombs with you out of respect for the dead, so you're on your own inside. If you did want more information about them you can read the signs outside the tombs or ask questions separately.
Photography at Valley of the Kings
Update: it is no longer required to buy a photo pass to take photos on your mobile phone. You only need to buy a pass if you wish to take photos with a digital camera.
For many years there was a photography ban in the tombs in the Valley of the Kings but recently, they have lifted this and so you can now take personal photos and videos on your visit. However, there's a catch.
You will need to buy a photography permit in order to take photos. This is £300EGP (£15) and allows photography inside 3 tombs. This is for both mobile phones and digital/DSLR cameras. You must buy this at the entrance when you buy your normal tickets. There will be no chance to buy one inside.
Sometimes, you can just pass a tip or baksheesh to the guards if you're caught, but often they confiscate your camera. I saw many tourists get their cameras taken away from them and were ordered to go store them in the photography kiosk.
If you don't have a photo pass, you will be asked to hand your camera into the photography kiosk in a locker that is guarded by a staff member. If you don't feel comfortable leaving your camera there, I'd keep it in your bag but just don't get it out.
Make sure you have your entrance tickets and photo pass to hand at all times. You will need to present them at the entrance of each tomb you enter and they will be hole-punched each time you wish to use them. Three times and you're out! Also, if you are using your camera prepare to be ambushed about your photo pass often.
Remember you only get to photograph 3 tombs. So, even if you pay extra to see Ramses V & VI (KV9), you won't get to photograph it if it you've used up your three turns.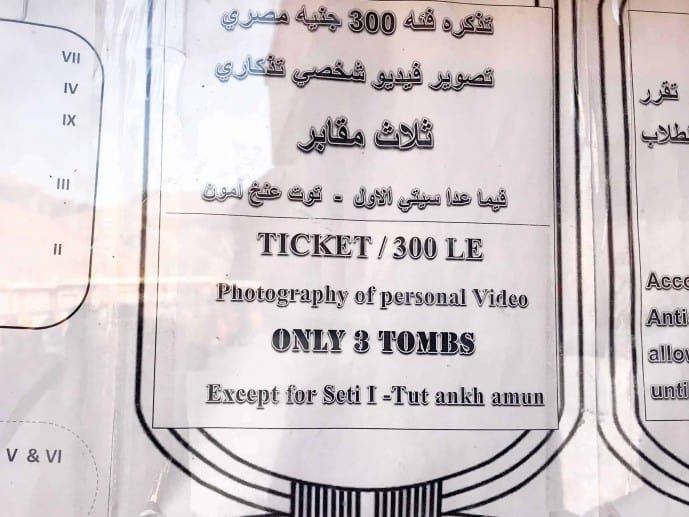 The best tombs in the Valley of the Kings for photos (or just to oggle at!)
As you can only choose three tombs, it's important to choose the best ones for photos that are big with lots of photo opportunities and colours!
The most annoying thing about online photos is that people caption them incorrectly a lot. Here are my personal recommendations.
I ended up visiting twice as I didn't realise it was included in my Nile cruise the second time round..so I went in a few more tombs than most.
Here are the best tombs in the Valley of the Kings.
Tomb of Ramses IV – KV2
By far, the prettiest and one of the best tombs in the Valley of the Kings included in the standard entry price is Ramses IV. It's quite a short tomb but the vibrancy of the hieroglyphics more than makeup for it!
As you walk down the corridor, you'll end up at the burial room which is filled with yellow paint on the walls, beautiful paintings of ancient Egyptian scenes and Goddess Nut on the ceiling representing the night sky.
The very end of the tomb is blocked off and guarded but the guards will go in there for you and take photos for a tip.
This was my second favourite tomb of all of them as the preservation was spectacular.
Tomb of Ramses III – KV11
This tomb is massive with wide long corridors full of hieroglyphics. Although not as colourful as Ramses IV, the paintings and murals on the walls here are very impressive.
As you make your way around and down to the burial chamber room, you will feel the room heating up!
There's usually a queue to head down there and it can get stifling. Unfortunately, the chamber below is very much empty and not much to write home about but the decoration on either side is glorious.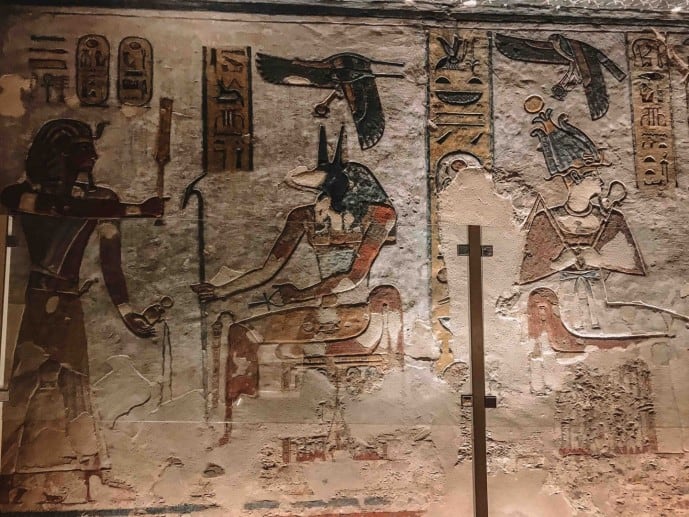 Tomb of Ramses IX – KV6
KV6 is quite plain on the corridor walls compared to the other tombs as you walk in, the carvings are there but there's not much-preserved paint.
The highlight here is the impressive burial chamber that can be found at the end of the tomb. Decorations in Ramses IX are from the Book of the Day, The Litany of Ra, Book of the Night, opening mouth ceremony, Book of Caverns and Book of the Dead.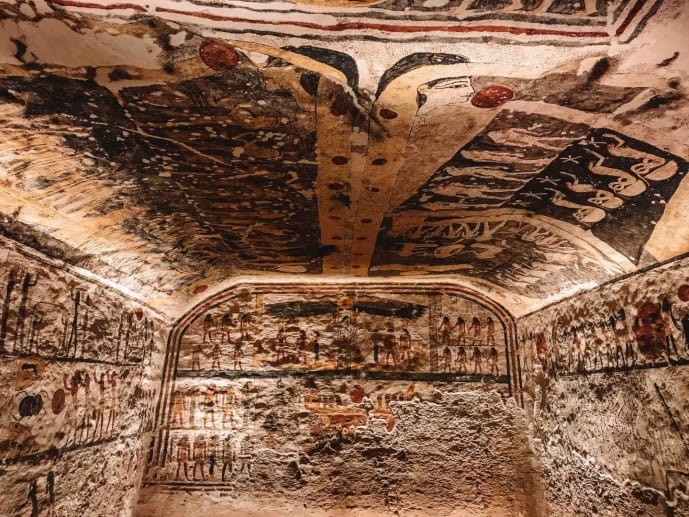 Ramses V & VI – KV9 (Requires an extra ticket)
My favourite tomb in all of Valley of the Kings was KV9 – Ramses V & VI. It's only £80EGP extra to enter (£4) which is a total bargain. The paintings here will blow your mind and the burial chamber at the end is pure magic.
Goddess Nut (pronounced Noot), the sky goddess, appears regularly in the rooftops of many tombs and temples throughout Egypt. This particular painting shows the night and day journey of the sun.
I was so impressed by the double Goddess Nut painting on the rooftop of the tomb that I bought it on a Papyrus scroll in a shop in Luxor. It's hand-painted by a local painter in blue and gold and it made such a good souvenir to remember this trip!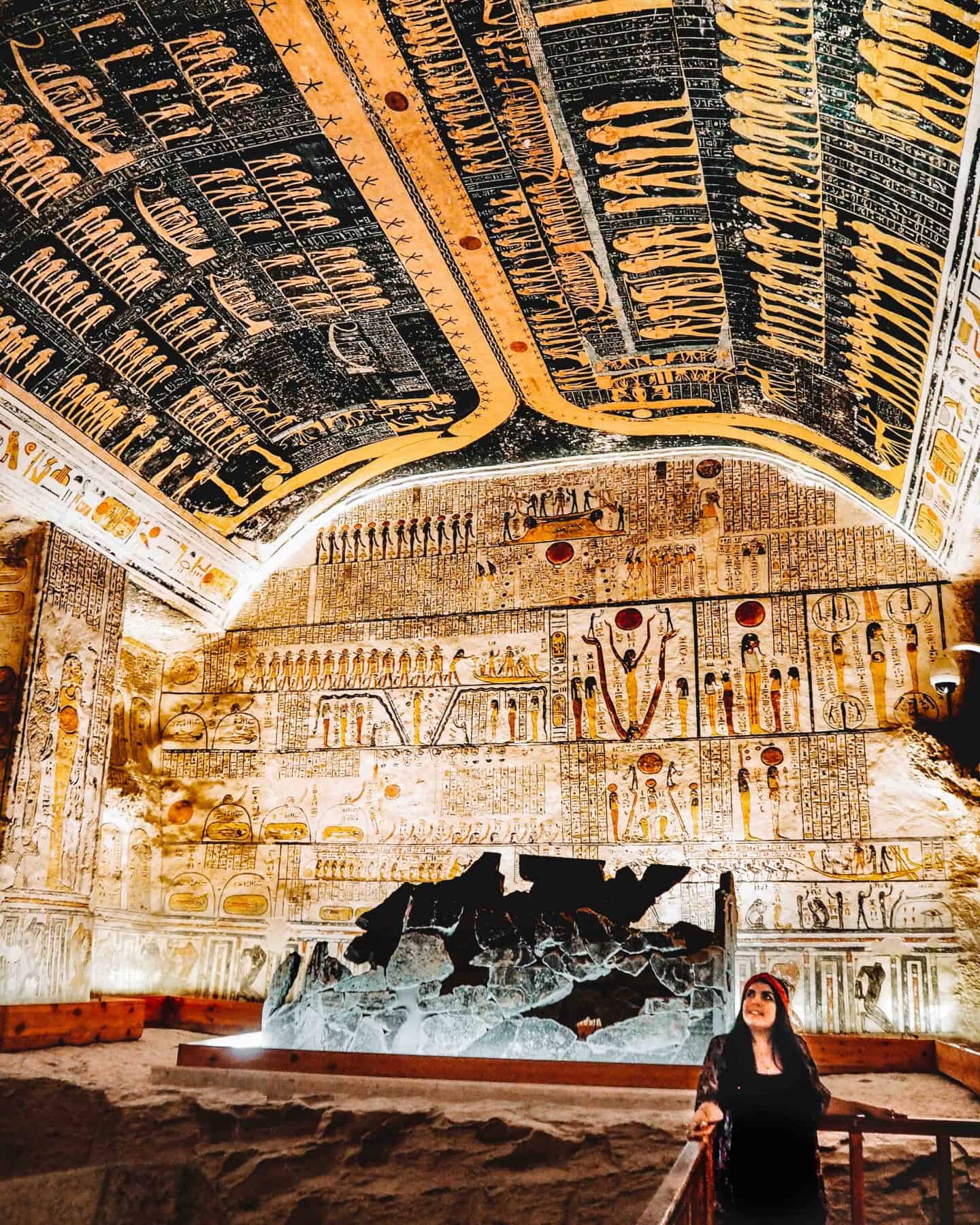 Is it worth entering King Tutankhamun's tomb?
YES, this is the tomb that put Valley of the Kings on the map and made it world-famous! You'll be following the steps of Howard Carter and his excavation team.
You can't take photos inside, but the legends and fame that surround King Tut's death and discovery are well worth every penny to take a peek.
This tomb is small but deep underground. Having laid eyes on his gold mask and sarcophagi in the Egyptian Museum in Cairo, I knew it was going to contain some incredible pieces.
But, it was actually less impressive than the others in terms of decoration. All of the treasure is gone but what's inside more than makes up for it.
Today, you can see his gold sarcophagus in one display cabinet and his mummified remains in another. In 2007, Egyptologists removed him from his sarcophagus for testing as he died in mysterious circumstances 3,000 years ago.
As dark tourist as it sounds, I thought it was well worth the money. I mean, you're only here once right?!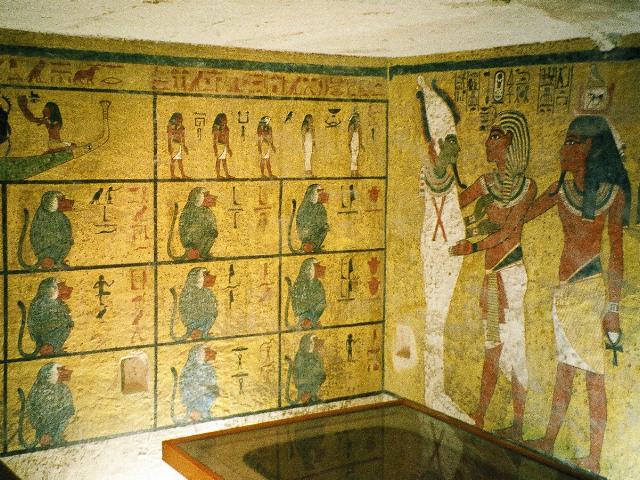 The things they don't tell you about visiting the tombs in the Valley of the Kings – that could actually be useful
1. You enter and exit through a rather aggressive gift shop
My, my! What a way to start. Most Egyptian tourist sites will have a massive market to walk through when you enter and/or exit. Prepare to be ambushed! Luxor was the most aggressive sales city in Egypt.
There will be people coming at you from each side from their stalls and people approaching you with little statues, postcards, maps of Egypt etc.
They'll entice you in with an unbelievably good price, then when you get inside the shop it will be bumped up to 10x what they said! If it sounds too good to be true, it probably is.
If you're not in the mood to buy, just simply ignore it. Or say 'La Shukran' which means NO!
Don't feel guilty or forced to buy, these guys are masters of their craft. They really won't be upset or angry, it's business. Five minutes later they'll be hawking the next group.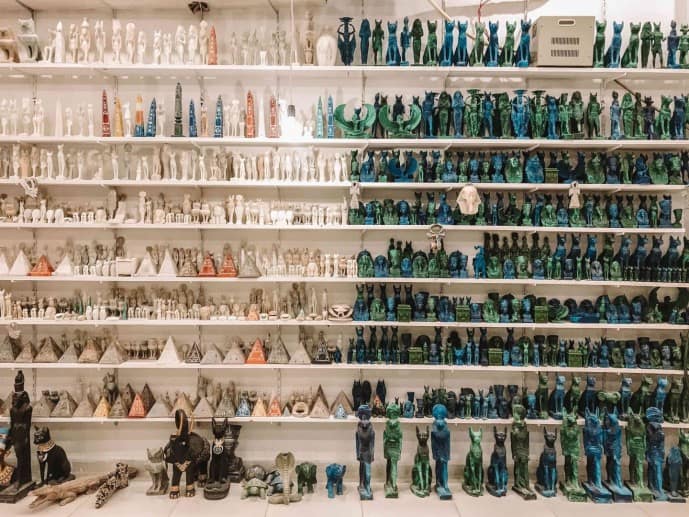 2. No tour groups buy tickets, so it can be confusing for independent travellers
You will definitely be a minority if you're travelling to Egypt on your own (i.e. without a tour group) and it really shows at Valley of the Kings.
When I got here, all the tour groups were standing around and not buying tickets. So, I was searching for the ticket counter, waiting for my turn, then tour guides would push in to buy tickets and shove money through the window as I was trying to buy!
Not to mention the fact there are two ticket counters and so I had to wait twice.
I had no tour guide to explain the process or what tickets I needed. So, I fumbled my way through. Super stressful in the heat!
When you've walked through the massive tourist market and through security, you'll then walk through the information centre.
With a super cool model of the whole complex by the way, including all the tombs underground! Walk to the exit and turn right. There will be two ticket counters. One for normal tickets and one for extra tickets.
3. No one ever knows if you have to buy a ticket for the tram
I felt a sense of triumph when I finally bought my tickets, I made it!
I sat on the tram with a massive tour group waiting to take off. The tour group weren't showing tickets for it, so I assumed it was included in the price. Then the driver approached me and asked for my ticket for the tram and I should have bought a ticket at the counter!
There's no sign to tell you to buy tickets for the tram. There's no way of getting to the Valley of the Kings without it either unless you take a long sweaty walk in the heat.
In the end, I tipped the tram driver so I didn't have to wait in the queue again. On the way back, I joined another tour group and didn't end up paying.
I left very confused and wasn't really sure what I was meant to do. But, my tour guide on my second visit said it's £4EGP one way usually. So buy your tickets at the counter.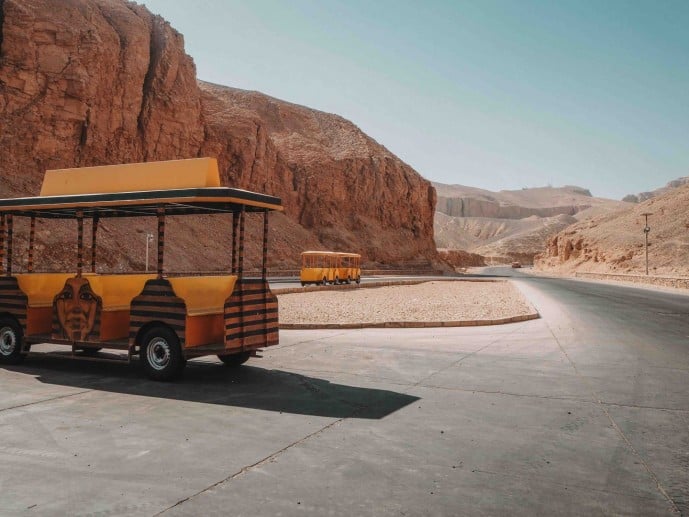 4. If you don't have a photo pass, you must hand your camera in
When buying tickets for Valley of the Kings, if you plan on taking photos, you must buy a photo pass at the ticket counter. There's no option to buy later after you've left on the tram.
If not, you'll be told to hand your camera in at the luggage storage kiosk. My advice? Just keep it in your bag and don't get it out.
You can sneak in photos and pay a tip but buying a photo pass allows you more freedom to shoot.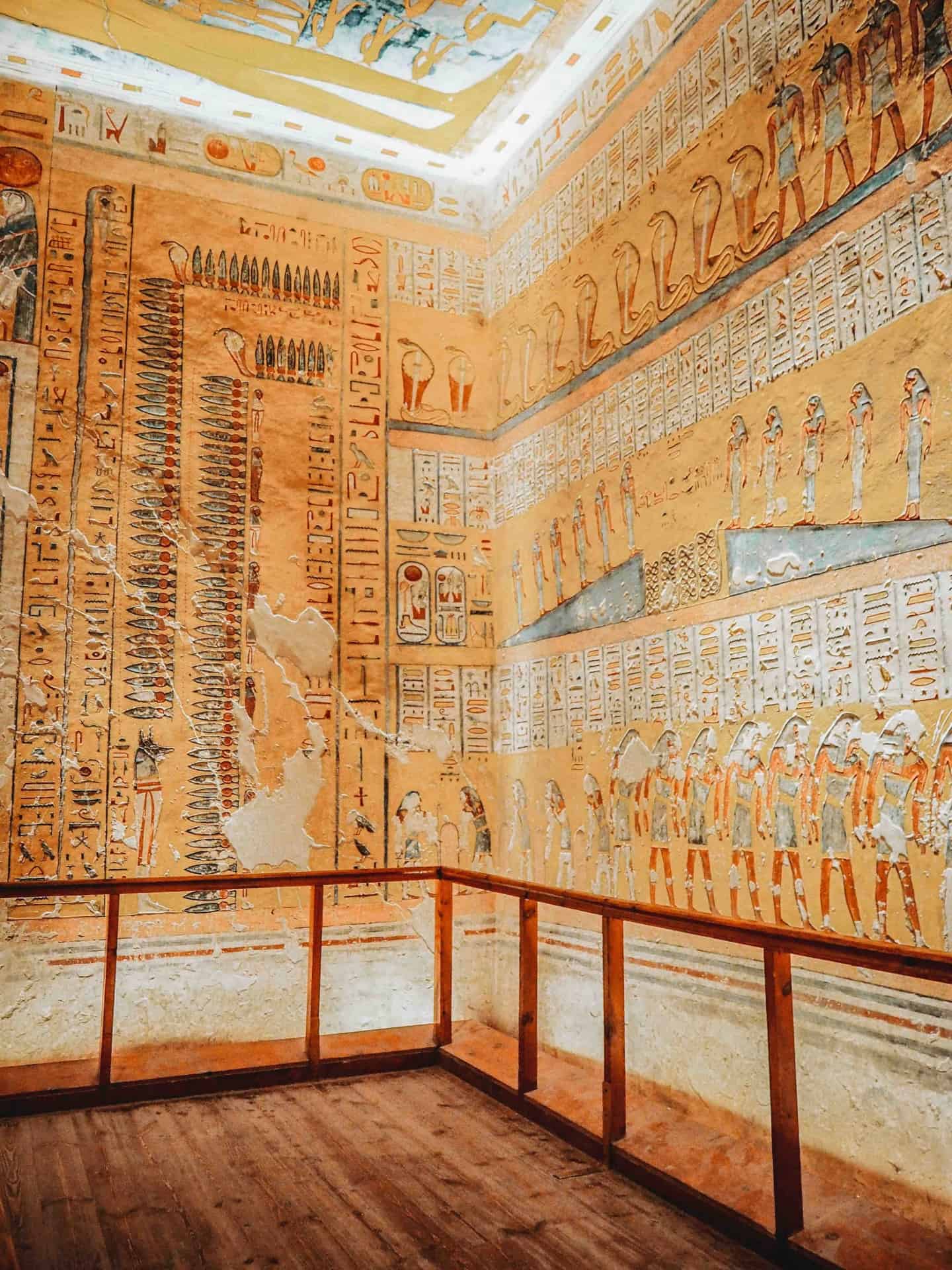 5. The guards here are guardians of royal tombs and they take their job very seriously
The guards here are really strict on a lot of things. There will be one or two at the entrance to the tombs hole punching tickets.
There will also be guards walking through the tombs keeping an eye out for people taking photos without a photo pass.
They confiscate cameras and also keep an eye out for people being too noisy. Remember, this is a place of the dead and it's important to be respectful.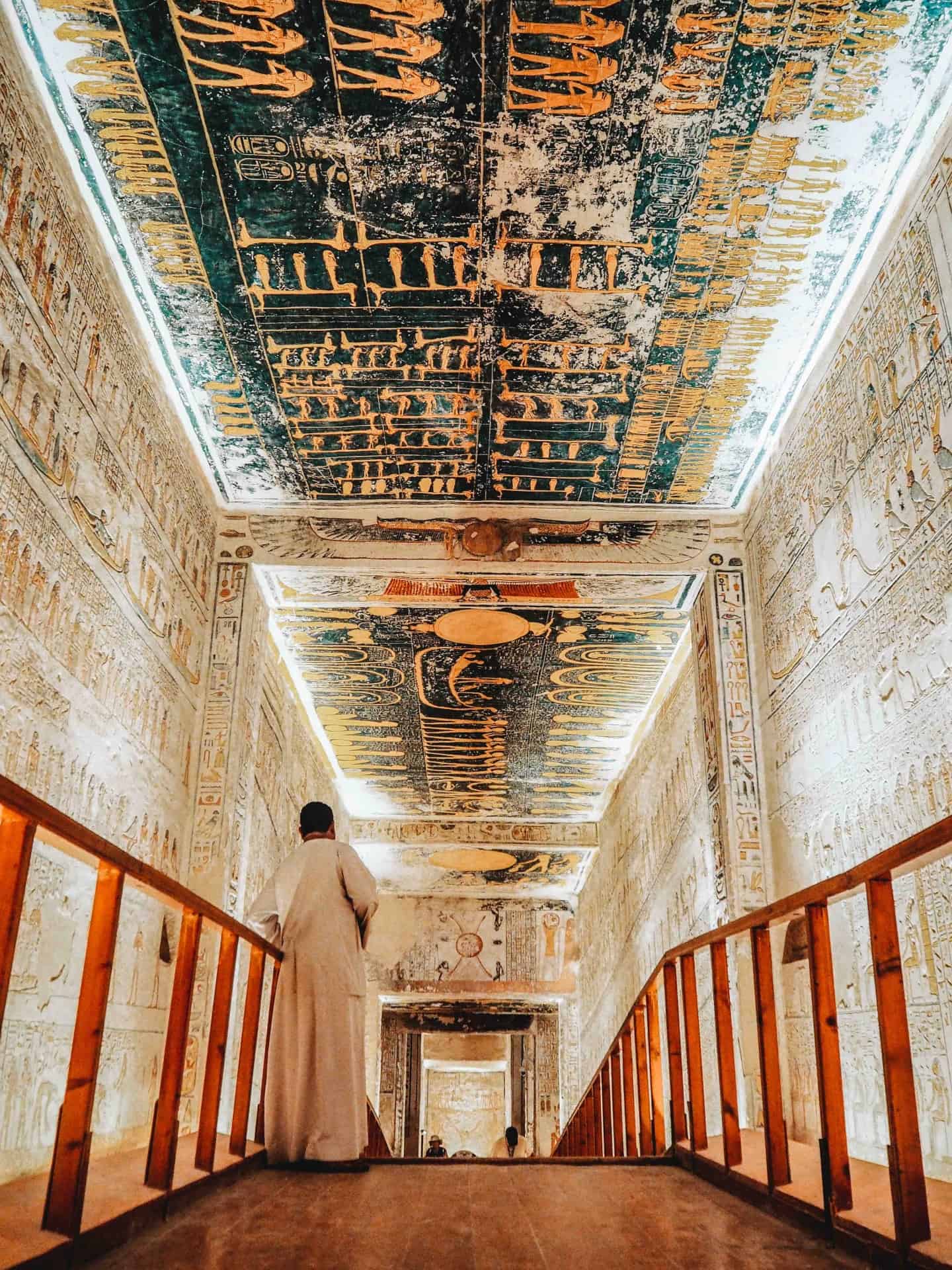 6. It's extremely hot inside and hard work to walk up and down the tombs
A lot of people were surprised when I told them how hot it was inside the tombs. You'd assume it would be cold right? Wrong.
Going inside these tombs is hot and sweaty work. There are no fans and some, like Tutankhamun, are climate controlled. Add in body heat from all the tourists and it's like a sauna.
The Valley of the Kings also have walkways that are like chicken pens, there aren't any stairs and some are extremely steep.
I saw lots of people with walking sticks to assist them. Walking up and down here can be tough, especially when it's like an oven inside.
I was actually really out of breath when I was going up!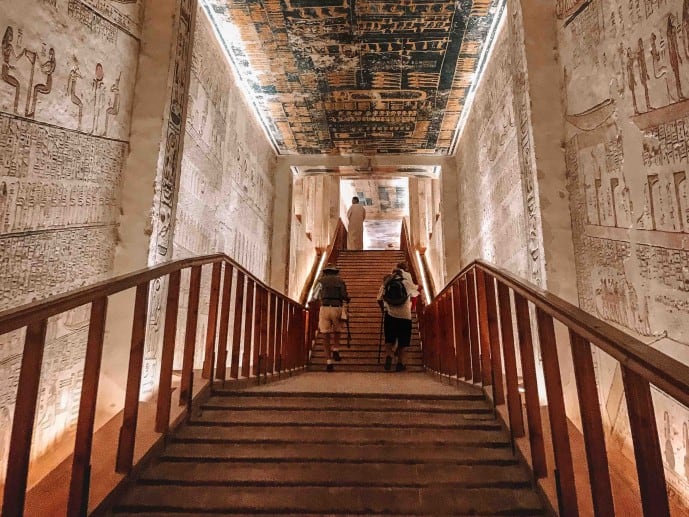 7. The Valley of the Kings gets crowded after 10am
The Valley of the Kings is a really popular tourist destination. Lots of tour buses turn up each day with crowds and crowds of tour groups.
This makes the tombs really busy, hot and means lots of queueing which can make it a bit of an unpleasant experience.
I would definitely suggest getting here before 9 am to beat the heat and the crowds.
It actually opens at 6 am so if you really wanted it to yourself, the earlier the better. It closes at 5 pm each day.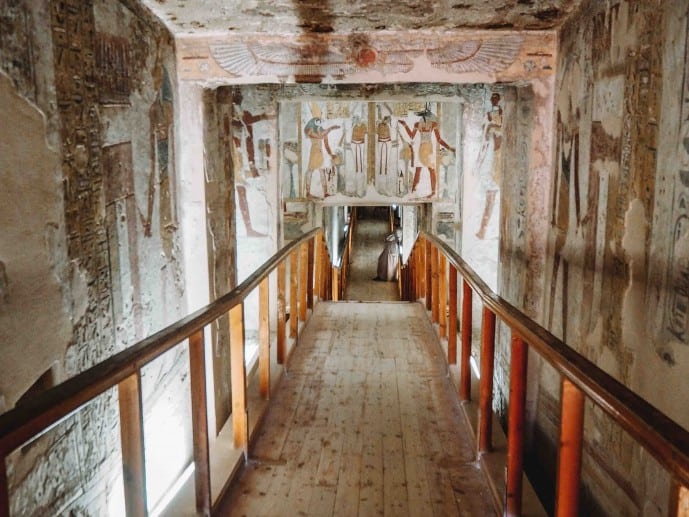 8. You can tip the guards to sneak a photo or enter an extra tomb (sometimes)
A baksheesh or tip can get you a long way in Egypt. You can sneak in photos, ask the guards to take photos for you of places guarded off to the public and even enter an extra tomb.
Although, I tried this and failed lol. It all depends on the time of day and how many people are around.
One of the guards asked me to follow him.
He brought me to one of the new tombs they were excavating and showed me pretty much just a hole in the ground. Then, wanted a tip for it. Again, I was really confused.
9. There aren't any shops when you're here, so buy or bring water before you take the tram
You'll be spending at least an hour or two at Valley of the Kings, so I would make sure you keep water on you.
I felt like I was cooking in October at the West Bank when I was temple hopping. It's very dry and deserted so you'll need a hat, sunglasses and water!
There are no vendors here after you've left on the tram, so make sure you bring some before you leave or at the market stalls. On most tours, they'll provide water for you.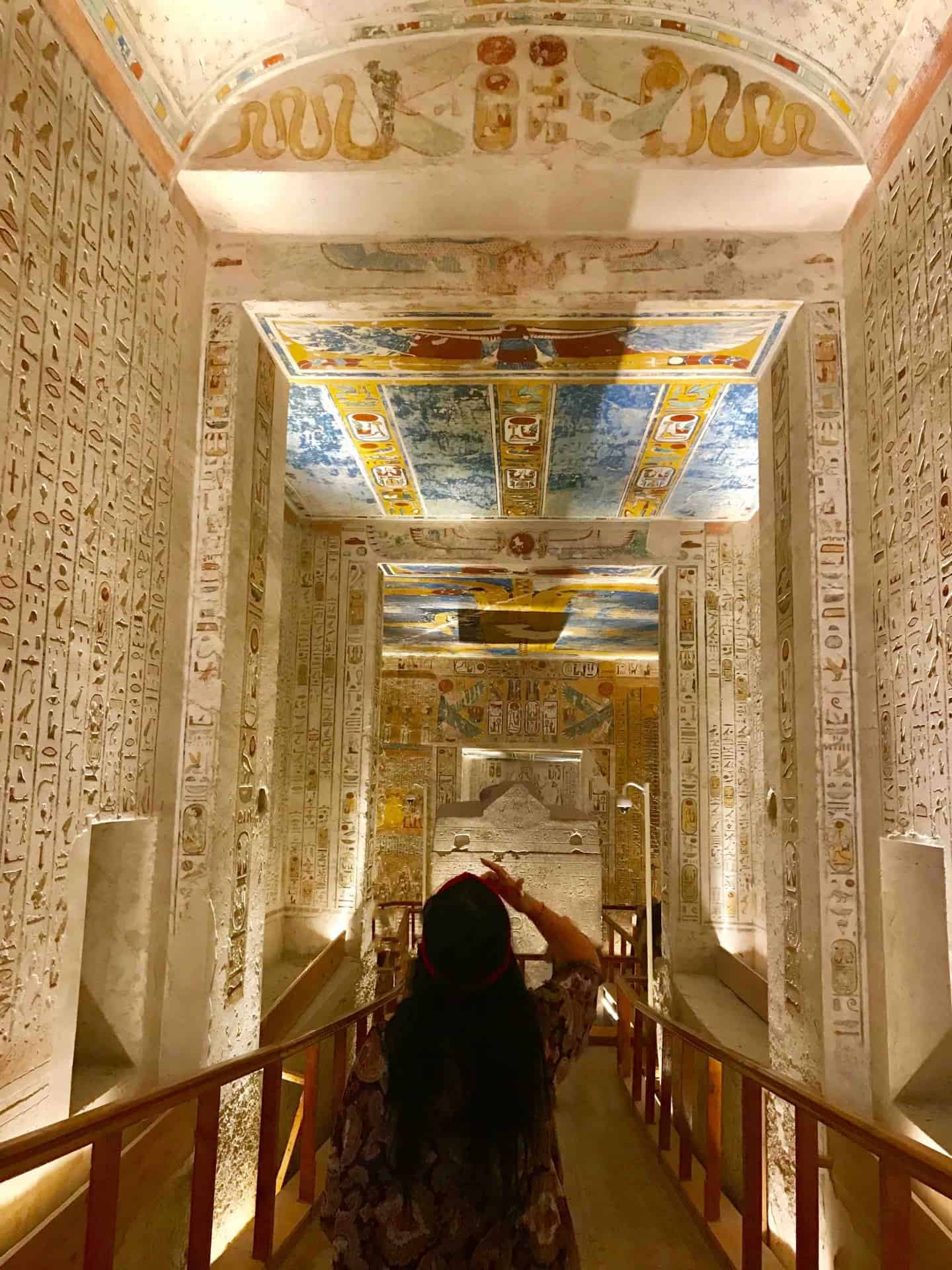 10. They are currently excavating newly discovered tombs
What I loved about Luxor was it was like an open-air museum and every day they're still making new discoveries.
In December 2018, they uncovered a new tomb of a woman dating back 3,000 years. When I was here, some of the tombs were blocked off for Egyptologists for scientific study.
There are so many mysteries buried underneath that sand. Who knows what they'll find next? They still haven't found Cleopatra VII's tomb, so I guess we'll have to wait and see.
11. Guides cannot enter the tombs with you
Whether you're on your own, or with a tour group, guides are not allowed to enter any tombs due to respect for the dead.
So, the tour guide will wait outside for you. There's a waiting area and here you'll see lot's of tour groups getting an explanation of the tombs before they go inside or after.
This can be both a blessing and a curse. On one hand, it's nice to explore on your own and take your time. But, on the other, it would have been nice to have a translation of all the scenes etc.
If you were interested, the signs outside of each tomb do a good job of explaining the significance of each tomb, who's buried there, the history and the decoration inside.
Enjoy the timeless mystery of the Valley of the Kings
Beyond all the trials of my visit, I still think that the Valley of the Kings was one of the most incredible places I visited in Egypt. It had been on my bucket list for a long time, so I was happy to tick it off and have some epic photos to show for it.
While you're in Luxor, I would highly recommend a visit to the Temple of Hatshepsut, the Valley of the Queens, Madinet Habu, the Colossi of Memnon, Karnak temple, Luxor temple and a hot air balloon ride for sunrise over the West Bank.
If you're thinking of seeing Luxor independently, you can check out my 3-day itinerary here which will make sure you see the best of the city. Also, if you're stuck for things to do in the evening, I have a whole post about things to do in Luxor at night here.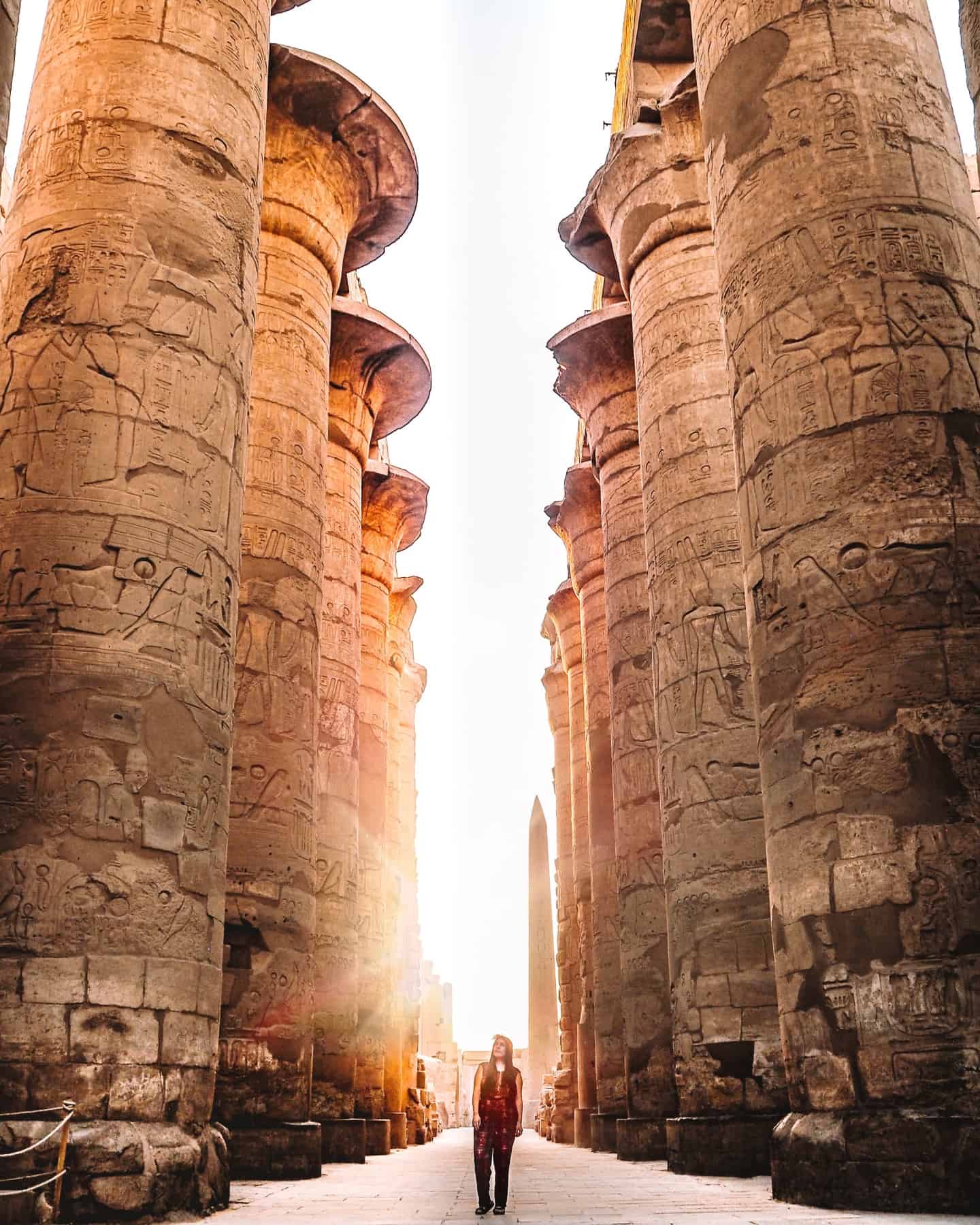 Read more of my blog posts on Egypt
Things to do in Luxor at night
Top tips for taking an air balloon ride
How to score the best Nile cruise
The best things to see in Aswan
My top tips for visiting the Pyramids
The best things to see in Cairo
My complete photography guide for Egypt
Why you need to visit Alexandria in Egypt
Like this post on the best tombs in Valley of the Kings? Pin it!