Are you ready for your wildest adventure yet?
Morocco is an incredibly diverse and exhilarating country that is an attack on the senses and will dumbfound you with its beauty and charm.
As you travel from the colourful souks to the shores of the Atlantic, from the Berber desert camps in the Sahara to the heights of the Atlas mountains, and from mosque to madrassa it will be like a siren calling you in and you'll never want to leave!
Two weeks in Morocco is the perfect amount of time to spend in this country without overdosing on mint tea and tagine and will ensure that you get to see the very best it has to offer you.
So get ready to steal this 2 week Morocco itinerary for your next trip. Yalla!
First things first, let's talk about some practical tips & information before your visit
Important stuff to know before you go;
A Visa is not required for Morocco for UK, EU or US citizens that are visiting for less than 90 days. Your passport must be 3 months valid from point of entry. For full details and to check requirements for your country, see here.
I always use Skyscanner to find competitive prices for flights from UK. Ryanair, Easyjet and a number of cheap airlines fly here daily.
Booking.com is a great travel resource to find beautiful riads, including hostels, according to your budget. Although you don't need to book in advance, it's recommend in peak season.
Morocco is a closed currency country and they use Moroccan Dirhams. Cash is king here so make sure you get enough out at the ATM when you land.
Popular public transport options are the government train system (check out the man in seat 61 for more info) and bus services. The CTM bus is one I would highly recommend and services travel all over Morocco. Alternatively, you can hire private taxis.
Although relatively safe to travel here the main complaints from tourists are scams and pickpocketing. You will need to remain vigilant at all times when you're out and about (especially in Fes). See here for the essential travel tips every traveller should know before travelling to Morocco.
Follow this 2 week Morocco Itinerary for your trip
Fly into & spend 4 days in colourful Marrakesh
So, the first place where you should kick off your 2 week Morocco itinerary is Marrakesh! It's my favourite city in all of Morocco and I guess you could say that it's the more glamorous side of Moroccan travel.
It holds a special place in my heart as this was the first city I landed in as a solo female traveller! Instantly, I fell in love with the sights and sounds of the colourful marketplace, the detail in the architecture, the mouth-watering food, and the exotic gardens.
It's often called the red city due to the buildings and ramparts that surround it that are made of clay and have a red hue. The lively Jamaa el-Fnaa square sits at the heart of this metropolis and you will be carried away by the energy this place emits.
As one of the most popular tourist destinations in Morocco, it has a huge international airport Marrakesh Menara which is around 5 kilometres from the main square. Here, you can catch a private taxi or catch the local bus (Bus 19) for 30 Dirhams one way (£2.50) to the centre.
Where to stay in Marrakesh
Staying in a boutique Riad in Morocco is a must! There are so many places to stay in Marrakesh to suit all types of budgets, from the downright luxurious to the more budget hostels.
Here's some I think you will love;
Luxury riads: Riad BE Marrakesh, Riad Yasmine
Medium budget riads: Riad Yakimour
Budget Hostels: Equity point hostel. I've outgrown hostels now but this is where I stayed when I first went and, I have to say, you'd never believe it was a hostel (Apart from the word hostel in the pool of course)!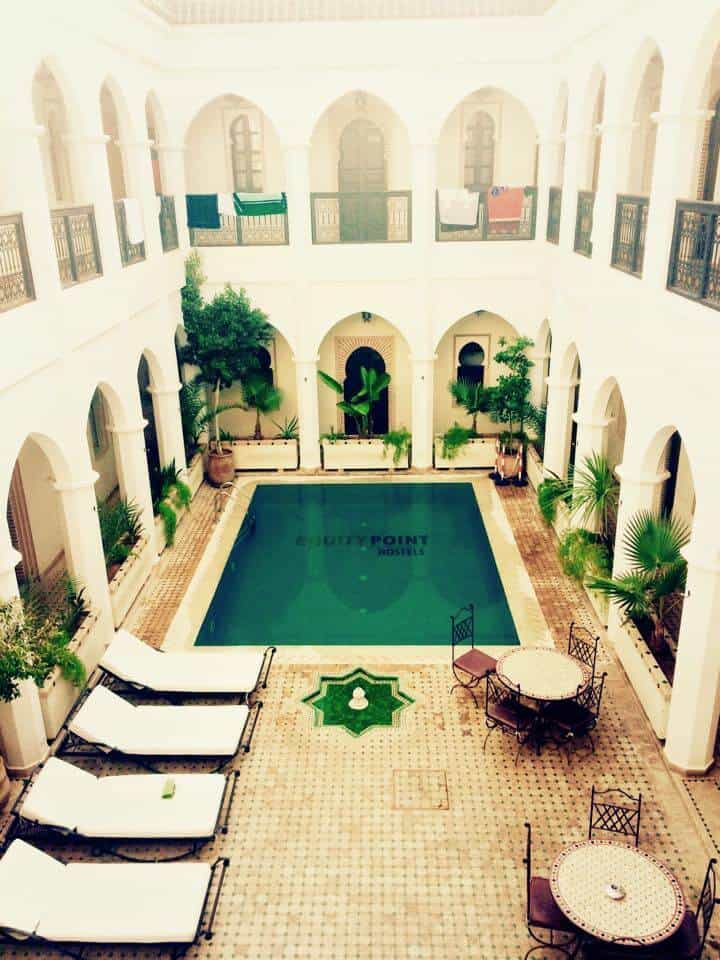 What to do in Marrakesh
This city really has it all! From exotic gardens to the beautiful madrassa's, markets, hammams, and more. I'll list out some of my top favourites;
La Garden Majorelle: these gardens which were owned by Yves Saint Laurent are a must see. The vibrant electric colours, the tropical cacti and the calming fountains are like an oasis compared to the busy city outside! You will need to get a taxi or bus here as it's away from the old Medina. The price is 30 MAD (£2.50)
Katoubia Mosque: Not necessarily an attraction to go inside (many mosques in Morocco won't allow non-muslims to enter) but it's a beautiful attraction just outside of the medina. It's the largest mosque in Marrakesh and sends out the positive energy of the call to prayer five times a day.
Bahia Palace: this palace is an eighteenth century masterpiece which is spread across eight hectares. It's mostly empty rooms but the Moroccan architecture is still there to admire. It's open for visitors today and costs just 10 Dirhams (82p).
Saadin tombs: These tombs in Marrakesh are located next to the Kasbah mosque and are the only remains of the Saadin dynasty that reigned over Marrakesh in the late 15th century. Sultan Ahmed Al Mansour Ed Dahbi died in 1603 but shortly after his predecessor decided to hide his grave from view. They were then rediscovered, excavated in 1917 and renovated for us to see today for only 10 MAD (87p).
Ben Youssef Madrassa: the Madrassa's of Morocco are historic learning centres and Ben Youssef was the largest Islamic college of its time. Today, it's marked as an historic attraction in the city and wall to wall Instagram gold! The details and architecture is stunning. The price of a ticket is 60MAD (around £5).
Jamaa El-Fna and the famous night street food market: This market always filled me with so much excitement and energy. Here you'll find street performers, dancers, henna tattoos (make sure it's not black henna) and people selling all sorts of things to you. This is the epicentre of the city so don't miss out!
Some friends and I from the hostel visited the market at night to try some of the weird and wonderful street foods on offer here. You can find snails (from the French influence), shwarma, fresh fish dinner, tagine, all kinds of olives and even goats head! Yes, my friends and I bought half a goat head to try. As expected, it tasted really gross! I ate the eye and a piece of brain. Blugh!
Three day trip to the Sahara Desert
Probably the most incredible experience in Morocco is a trip to the Sahara desert.
What this usually includes is;
Transport in a van/bus with sightseeing to the Atlas mountains, Aït Benhaddou and Oasis valley.
A camel ride to your Berber camp in the desert
Dinner in your camp with some entertainment in the evening
Accommodation in a campsite overnight
A camel ride back in the morning to your van to head back to Marrakesh.
Although it sounds a lot, it doesn't have to be extensive; there are plenty of tours to suit your budget and your needs.
The deeper into the Sahara desert you go, the longer it will take you with the minimum time you require being two days (1 night).
In two days you will get to Zagora. The dunes won't be as high but I took this tour and still felt it was a 'real' desert experience! Plus, more than one-night camping wouldn't be for me.
The recommended time is 3 days and you'll get to head to Merzouga which is deeper into the Sahara and has higher sand dunes.
My overnight tour to the Sahara desert was a backpacker's budget-style tour and cost me around 350 MAD (£30) with Marrkesh Desert Trips. It's gone up in recent years but I would personally negotiate a tour while you're there in Marrakesh and not before.
If you don't have two days and would like a desert experience then Scarabeo Camp may be for you. Situated only 2 hours from Marrakesh you can head into the desert for the day!
You can read more about what to expect on a Sahara desert trip in more detail here.
Spend two days in beach town of Essouaira
Essaouira is nicknamed Africa's windy city on the coast and you can tell why as soon as you get here, it will blow you away with the breeze.
Getting here is a smooth and easy 3-hour bus ride from Marrakesh (look out for the goats sitting in the trees on the drive down).
I personally booked my bus on the day with Supratours from the main bus station. Make sure that you book your return ticket at the same time or you may find you'll be stuck without a way back!
I only stayed for the day here but wish I had for two. Here, you can take a stroll on the beach, visit the pretty boats in their port on the harbour, shop in the beautiful market, and try some fresh fish from ocean to table.
For some more information on what to get up to in Essaouira see here.
Take the overnight train and spend three days in busy city of Fes
Marrakesh and Fes are around a 5-hour drive away from each other, but if you don't have the cash for the one-hour flight or a private taxi you should opt for the overnight train service. This will take approximately 7 hours as you sleep!
You can look up how to get tickets at the ONCF website or turn up to the station with cash in hand to book your seats (in fact, you get private cabins this way!). Don't count on them taking credit cards for your booking. Cash is definitely king in Morocco.
When you alight on the platform and make your way to the medina, you should prepare yourself for your wildest adventure yet! Fes is definitely the busiest and most chaotic city in Morocco and you'll be in for a hell of a ride. For a complete guide to Fes, see here.
Remember to keep your wits about you and remain vigilant, for more tips see the '19 essential things I wish I knew before travelling to Morocco'.
Where to stay in Fes
Although Fes doesn't have as many glamorous 5* riads compared to the likes of Marrakesh, it does have plenty of them to offer amongst the busy old medina and beyond. These will be like an oasis for your stay in Fes, so choose wisely.
Here are some riads I think you will love;
Dar Seffarine
this Riad is a converted palace that is wall-to-wall grandeur but with a homely feel. You'll wonder how you got so lucky when you enter your room; they're all spectacular.
The owners will welcome you with mint tea and give you plenty of directions to help you find your way around. Make sure you head up to their rooftop at sunset for a view of the whole city and join them for a scrumptious dinner.
Click here to read my full review or see some dates and rates available.
Riad Fes
If you don't want to sacrifice any home comforts, Riad Fes is the place for you.
It's a 5* oasis in the centre of the Medina, with a pool, gym, rooftop bar, fine dining restaurant, and a luxurious feel everywhere you go.
Click here to read my honest review and to see some dates and rates available here.
Places to visit in Fes
With over 9,000 streets in this medina, it's inevitable you will get lost at some point. But, don't worry, it's more fun that way! There are plenty of surprises to find in the marketplace and top attractions you can't miss out on…
Fes Tanneries – you'll probably smell these before you see them, but these are so worth a peek. Let's just say it's a mix of poop and pee to make those gorgeous leather products you see in the marketplace. People will approach you for a 'free' tour. A tip is customary but I wouldn't overpay! 10 MAD should suffice.
Click here to read my complete Fes travel guide
Bou Inania Madrassa – As the mosques in Fes are strictly for those who practice Islam, the Madrassa's here are a great alternative. These are historic learning colleges but most people visit to admire the architecture. The most impressive is Bou Inania Madrassa. Cost 20 MAD.
Royal Palace Fes – Although you can't breach the palace gates, you can admire them for their beauty outside. Here you'll find the most beautiful gold doors with azure tiles. It's free to visit but it's located around an hour out of the city. Grab a petite taxi for 10 MAD.
Click here for my complete Fes Royal Palace guide!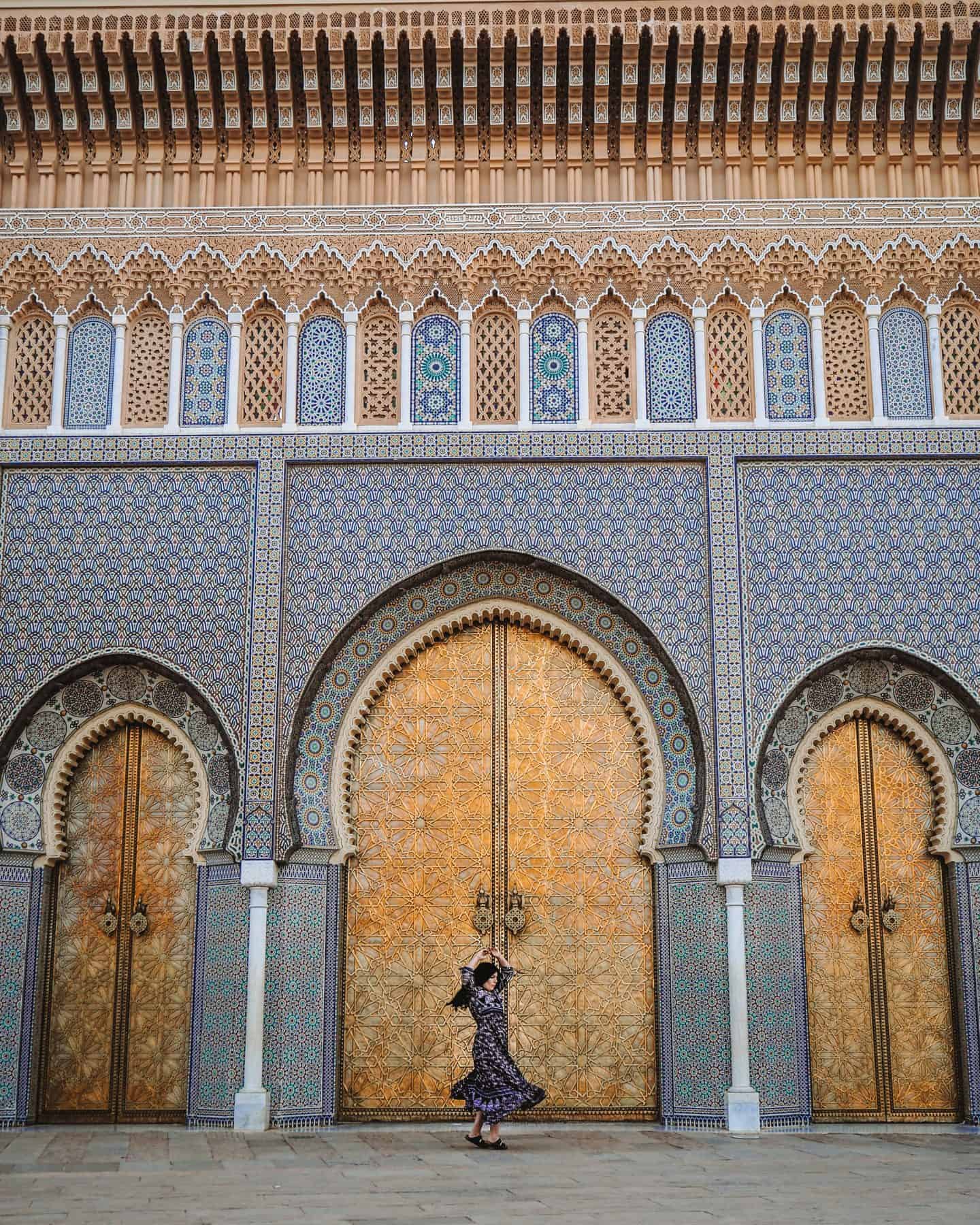 Try a camel burger at Café Clock : You can't miss a visit to the trendiest café in Fes! This place has four levels including a open rooftop with a laid back atmosphere and good eats. The most famous dish is their camel burger. Don't panic, it was actually super tasty and is their most popular dish. If you'd rather not, you can grab their healthier salads and avocado smoothies!
Click here to read about trying a Camel Burger in Morocco
Get lost in the Medina – the best part! Make sure you leave time and take a good look around. You can find pretty much anything in here including souvenirs to take home. This was the best place for haggling and getting a good price, so make sure you go shopping.
Get the CTM bus and spend two days in the Pinterest-worthy Chefchaouen
The jewel in the crown of Morocco has to be the blue town of Chefchaouen, nicknamed the blue pearl. It quite literally looks like something out of your Pinterest board. Every house in the old medina has been licked in blue paint and it's as pretty as a postcard.
As you meander around, you won't find a corner that isn't stunning and you want to snap with your camera. It's a small place, but you'll want at least two days here to take it all in.
For my ultimate guide to Chefchaouen, see here.
Getting here can be a little confusing as there isn't an airport or train that stops by. So, there are a few options;
You can grab a private taxi from the city of Fes or Rabat. This is a popular option but can be quite expensive. These can be a return journey or one way.
The most popular option, and one I prefer for safety, is the CTM bus. It's a plush air-conditioned service that runs four times daily back and forth from Fes to Chefchaouen. The cost is 75 MAD (approx £5) and the journey will take you around 3 hours. Make sure you book your ticket in advance via their website or as soon as you can when you get here. Make sure to also book a return at the same time to ensure your seat!
Where to stay in Chefchaouen
Location is key in Chefchaouen, so choose wisely! You can stay in the blue medina itself which is closer to the action, but as it's a car-free city prepare to drag your luggage through the maze. Or, you can stay on the outskirts of the bazaar and walk in each day.
Each has its pros and cons in terms of noise and price but I personally chose to stay on the outskirts.
Hotel Tedar is a gorgeous new property that has an epic view of the Rif mountains from their rooftop. The owners are really friendly with plenty of advice on what to do here and prepare a yummy breakfast each morning for you. To see their availability, click here.
Here are some other riads that may take your fancy: Lina Ryad and Spa, Riad Gharnata, Riad Rifalandus, La Petite Chefchaouen.
Things to do in Chefchaouen
Chefchaouen isn't just the blue houses, in fact, there are plenty of things to do that will grab your attention.
Sipping orange juice on a waterfall (yep you read that right), trekking in the Rif mountains, watching the buskers in the main square in the evenings, and visiting a cannabis plantation or two is what's in store.
I'll list the main highlights below but for a full list of unique and fun things to do in Chefchaouen, see here.
Explore and shop in the Blue medina – an attraction in itself! This is where the magic happens and what most people visit for. Here you can shop for bags, spices and textiles, visit the juice stalls, sip mint tea in the cafés or munch on Moroccan cuisine. If you're a photographer I can't stress enough about getting here early! I was here at sunrise and still joined by tonnes of people. But the earlier you visit, the less tour groups you'll encounter.
Hike up to the Spanish mosque for sunset – You'll be joined by 90% of the tourists in Chefchaouen but a visit here cannot be missed. It's an easy 15 minute uphill hike to the sunset point and you'll be greeted by a stunning view of the blue city, Rif mountains and (hopefully) a colourful sunset. Photo tip: photo locations are actually prettier on the way up rather than the viewpoint itself, plus it will be less busy.
Climb to the top of the Kasbah – In the centre of Chefchaouen lies the Kasbah, the old jail and the first building that was constructed hereafter it was founded in the 15th century. Although today there is a museum (that's nothing to write home about), what you're paying for is the spectacular view from their tower! Price 60 MAD.
So, that ends you 2 week Morocco Itinerary – Here are some other Moroccan locations if you have time
These are the places I would visit if I went to Morocco again;
Casablanca: Sorry to disappoint you but this is not the filming location of the famous movie! This is the considered the business capital of Morocco. Most people only visit for the Hassan II mosque, the largest mosque in Africa.
Meknès: a close distance from Fes, Meknès is an imperial city full of historic sites and boasts a UNESCO world heritage site medina. It's less touristy but that adds to its charm.
Tangier: Another coastal city that meets the Mediterranean sea. Sitting on the strait of Gibraltar a lot of tourists arrive here by Ferry. You'll find beaches, a medina, tombs and more.
Rabat: Morocco's capital. Located by the Atlantic ocean, it's another one of Morocco's imperial cities and it's medina is a UNESCO site.
Mad for Morocco? Here's some related articles you may like!
Is this 2 week Morocco itinerary not enough? Here are some of my favourite articles on Morocco;
15 unique and fun things to do in Chefchaouen (that people don't really talk about)
A complete guide to Chefchaouen
19 essential tips I wish I knew before I travelled to Morocco
14 important safety tips for solo female travel in Morocco
What to wear as a woman in Morocco
Like it? Pin it!