Although you can see the magical Matterhorn mountain all over Zermatt, it can be difficult to find an epic photography location that captures the beauty of this alpine village in the Swiss Alps.
By far the best Zermatt Matterhorn Viewpoint would be Mürini Hill which is located in an area called Le Petit Village.
Up here, you get spectacular panoramic views of the Matterhorn and the entire valley below. It's the view you see on all the postcards and magazines.
What's even better is that this viewpoint is free, open 24 hours a day and is easily accessed from the village on a short and easy (albeit steep) hike.
I visited this viewpoint twice a day every day I was in Zermatt in winter. I loved it during the daytime but the best views were at sunset when the sky changes colour and the Swiss chalet lights started to switch on. It was magical.
Here is a complete guide on how to find the best Zermatt Matterhorn viewpoint at Mürini Hill!
How to find the best Zermatt Matterhorn viewpoint
So, the best Zermatt Matterhorn viewpoint is located at the top of Mürini Hill. This is just a short but steep 15-minute walk from the centre of the village.
Although this viewpoint is easy enough to locate in Zermatt, I did go the wrong way the first time I attempted it and got lost. I ended up hiking into a forest and it didn't even have a view.
So this doesn't happen to you, I'll provide some detailed walking instructions below and a Google pin to help you locate the Mürini viewpoint.
The Zermatt Matterhorn viewpoint address is Mürini, 3920, Zermatt. Click here for a Google Pin!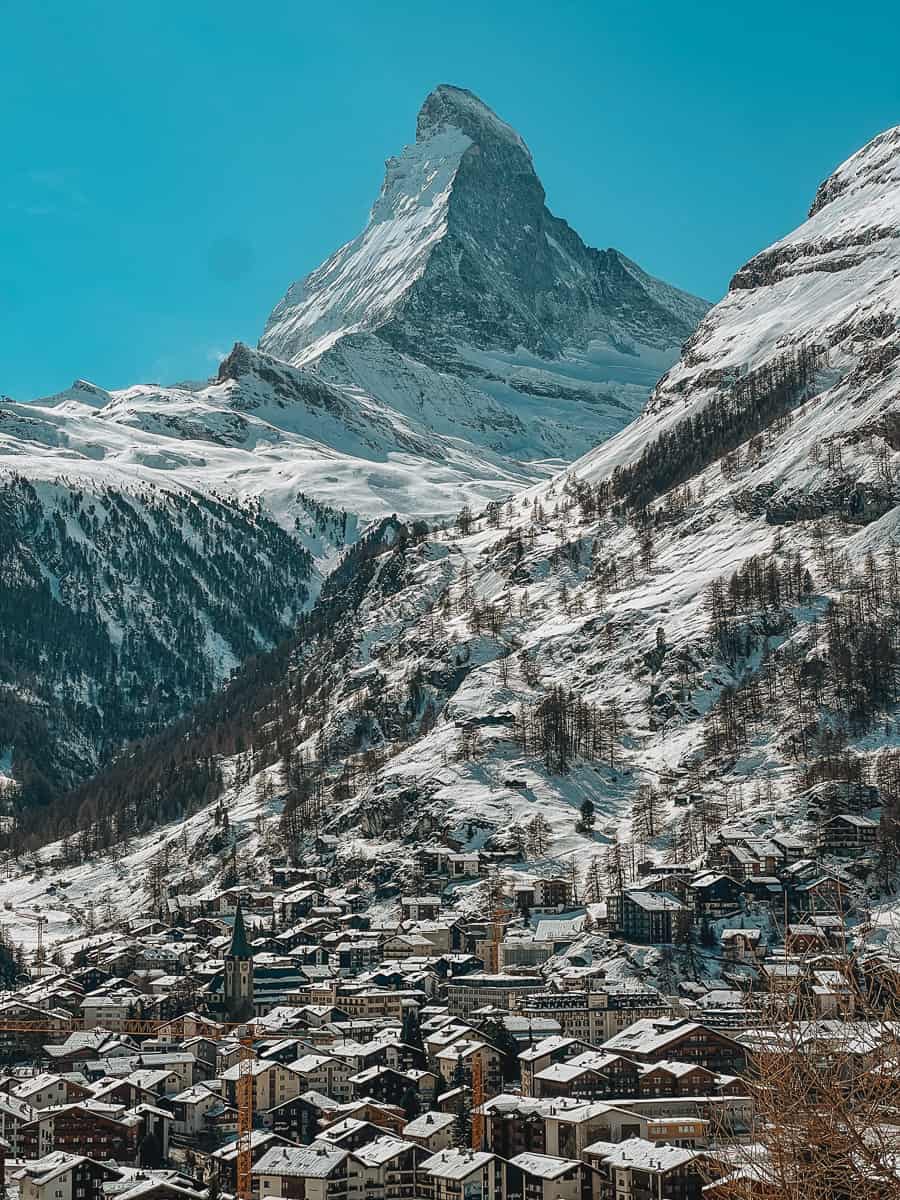 1. Start off at Zermatt Station on Bahnhoffstrasse
Although there are many ways that you can access this viewpoint, it's probably best to start off at an easy-to-find landmark. So, I've picked Zermatt train station.
This is located at the bottom of the main shopping street called Bahnhofstrasse.
From Zermatt station, head past the Gornergrat Bahn station on Getwingstrasse and then turn left towards the Sunnegga funicular entrance.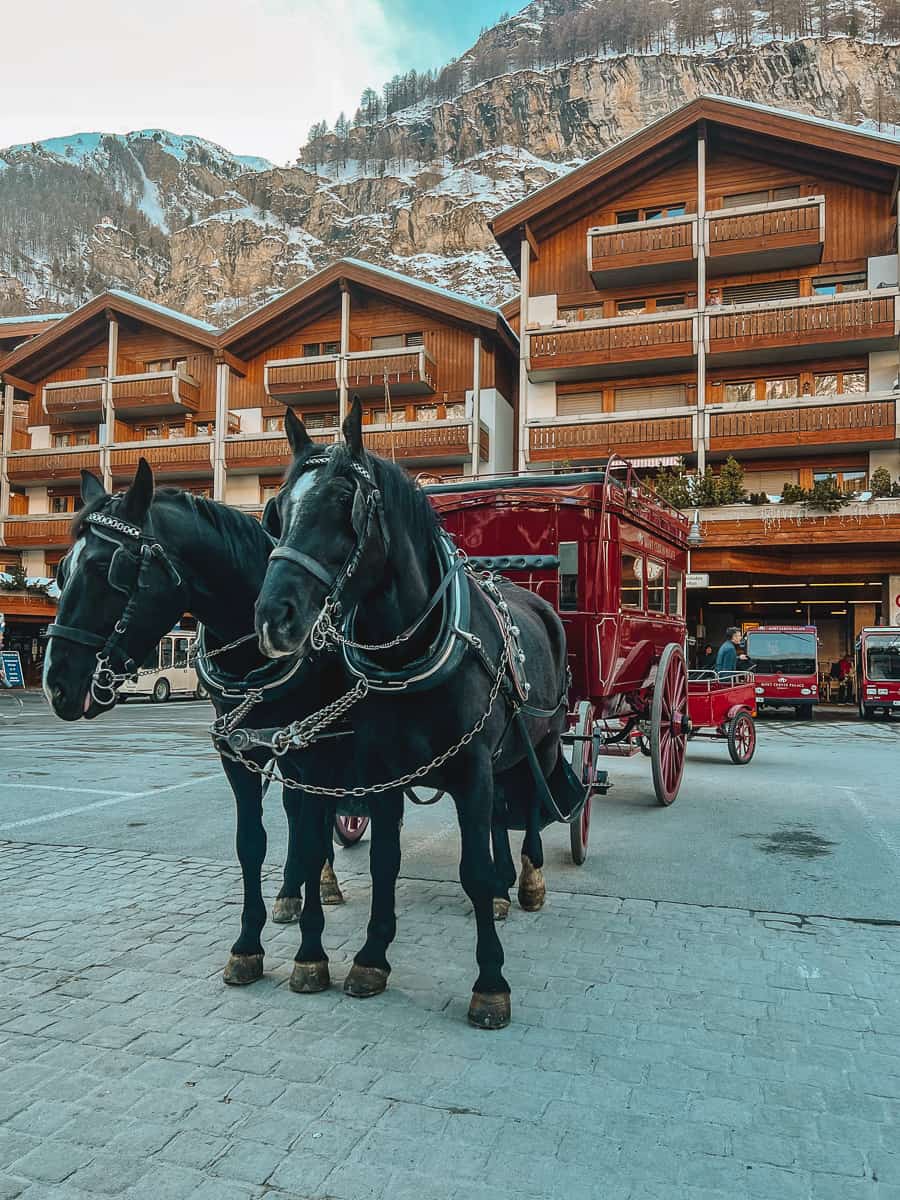 2. Walk up Wiestistrasse above Sunnegga station
You will need to cross the street over the bridge/crossroad that spans the Matter Vispa river and then head up to Wiestistrasse road.
This is when the path starts to get steeper and it's pretty much all uphill from this point onwards.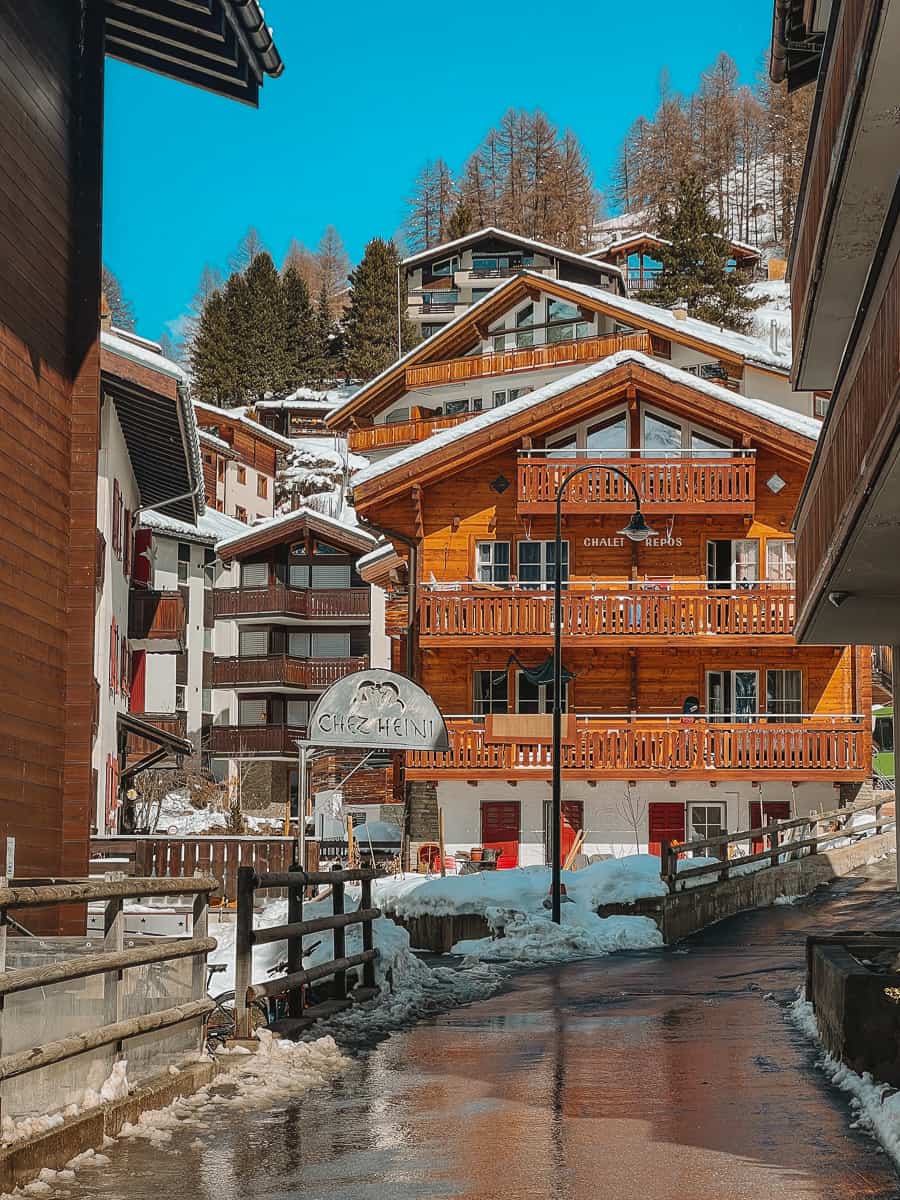 Keep walking straight ahead past the many cross sections up the streets. You'll pass both Chez Heini and Hotel Carina on your way up.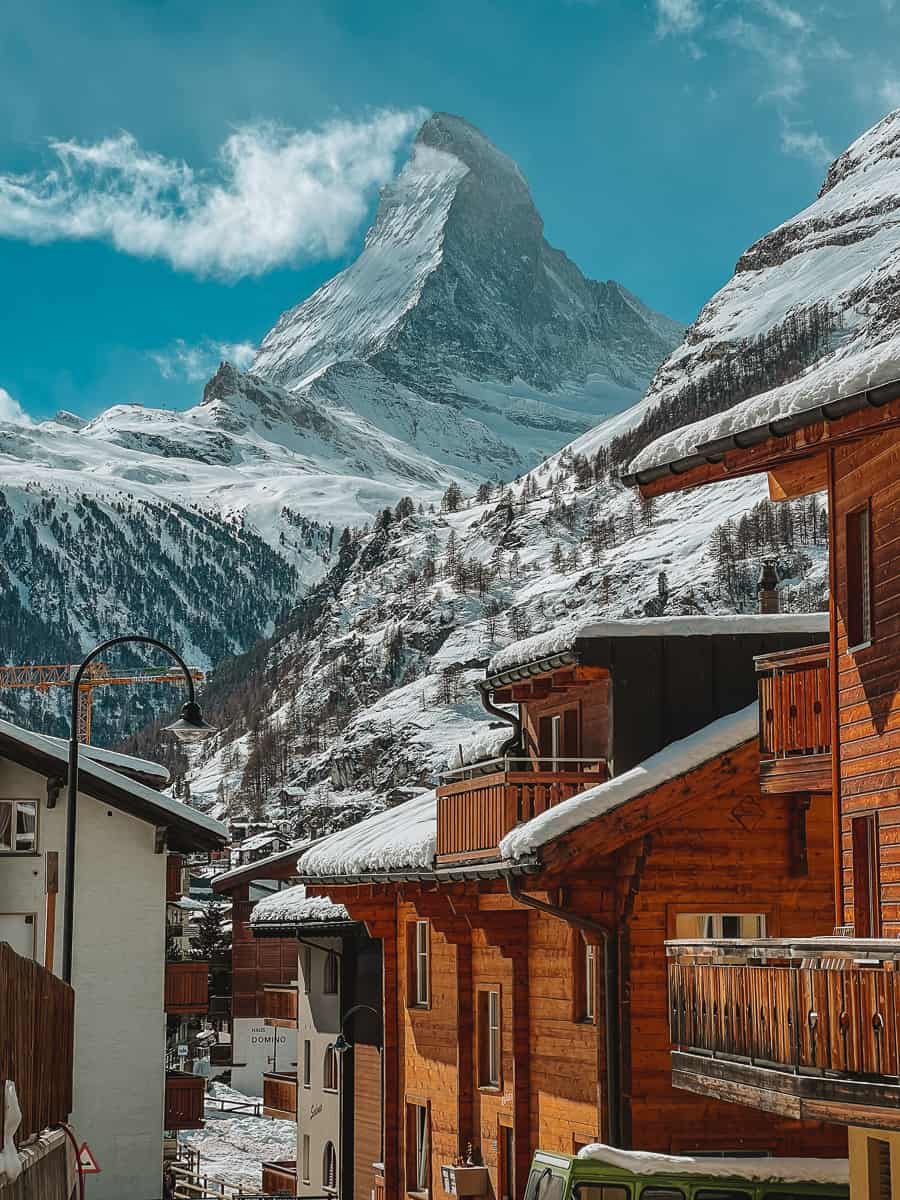 3. Turn a corner and walk up Mürini Hill
Once you're at the top of Wiestistrasse you'll turn a corner that veers off to the left.
After this corner, you'll almost immediately see a slope leading upwards to a set of steps with a sign that says 'Mürini' on your right.
This is the pathway and steps you'll need to follow upwards to the Zermatt Matterhorn viewpoint.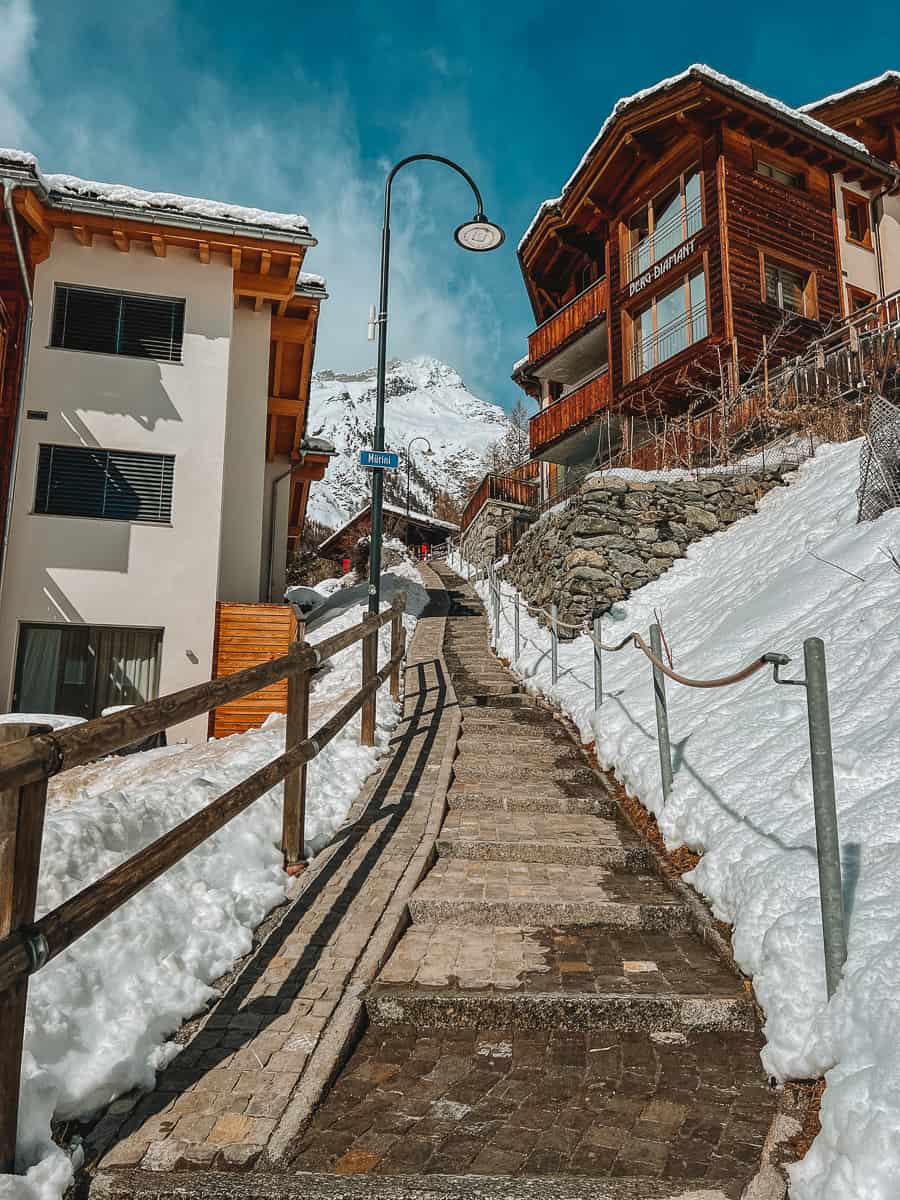 4. Keep walking up the steps to the top!
You'll traverse many, many steps to get to the top of Mürini Hill but there are ropes on the side of the stairs and some breakpoints if you need a breather.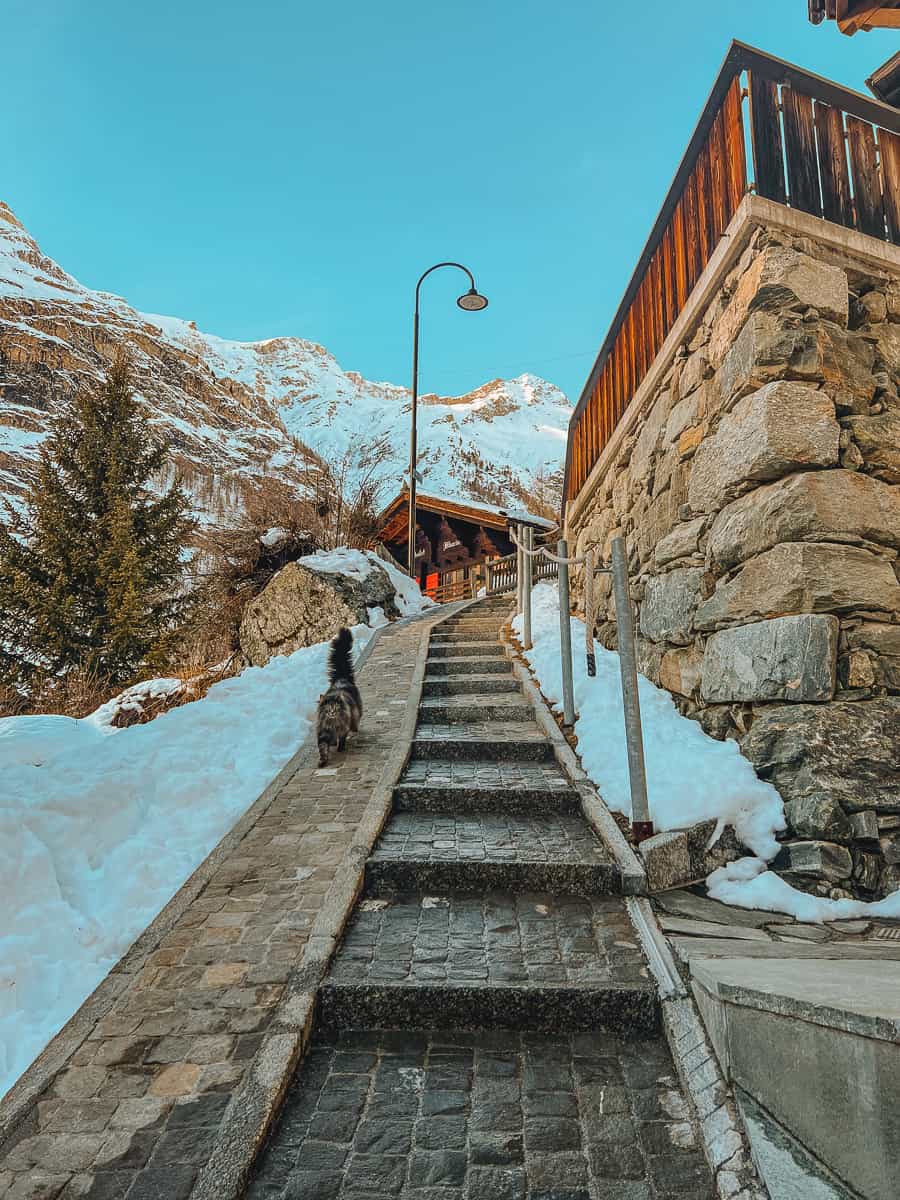 Don't be surprised if you feel more out of breath than usual. You are 1600 metres above sea level and the altitude does make this walk a lot harder!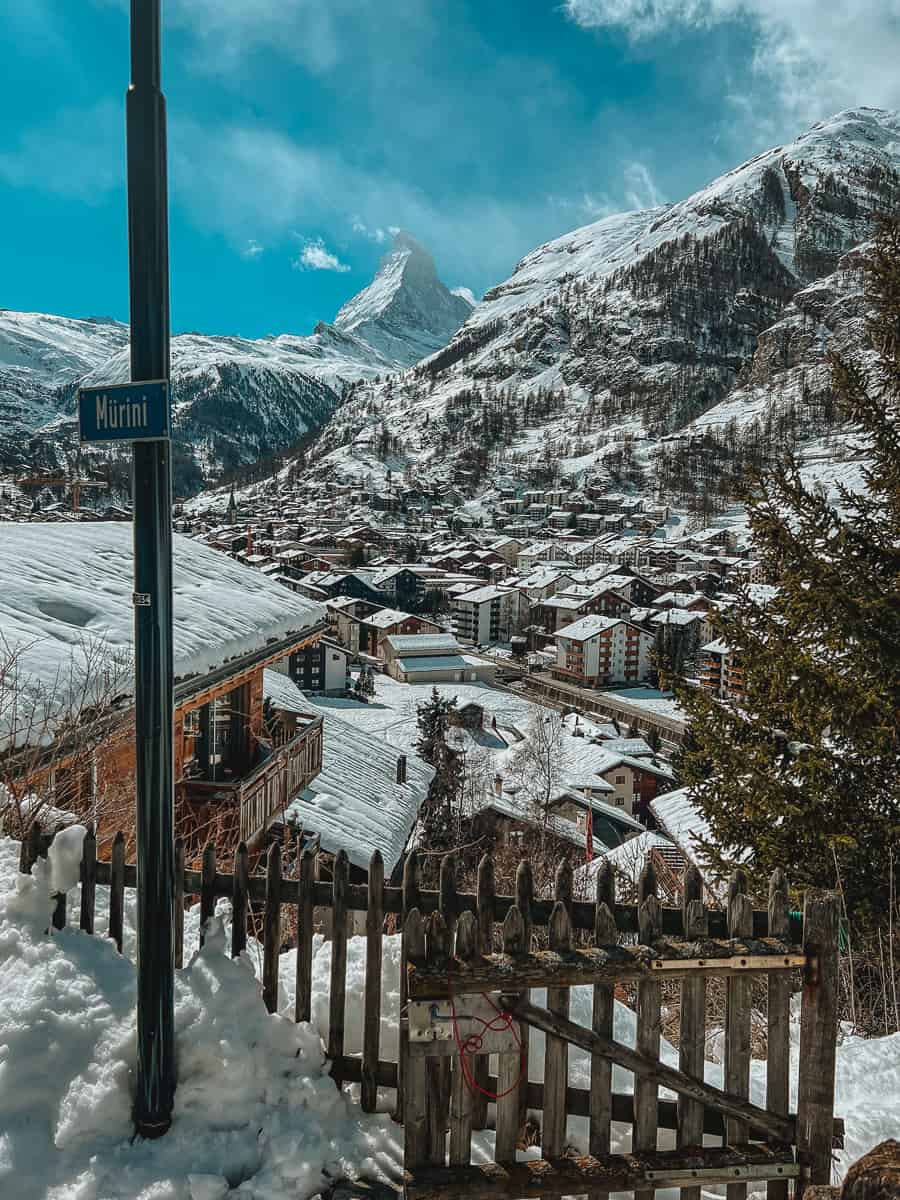 Most of the steps are sloped but at the very end, you'll find a metal staircase that will lead you up to the very top.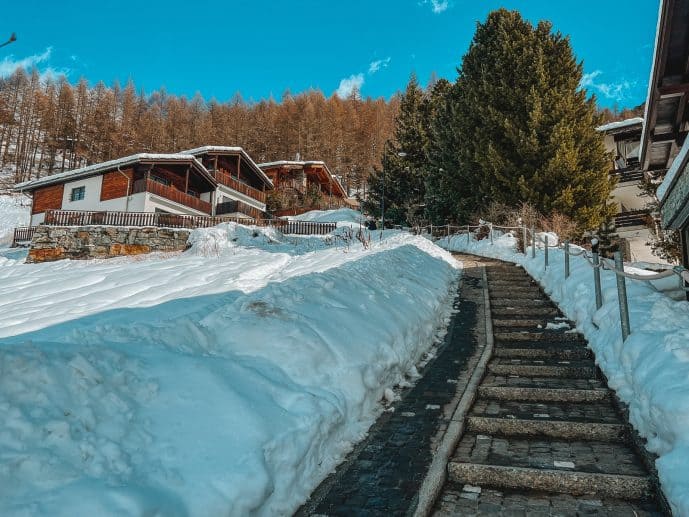 You've made it to the Zermatt Matterhorn viewpoint!
So, you'll probably be completely out of breath when you reach the top with slightly aching legs but it will all be worth it for the panoramic views.
As you're so high up, you get to see the Matterhorn mountain towering over the peaks with the gingerbread houses below and some notable sights like the parish church of St Mauritius.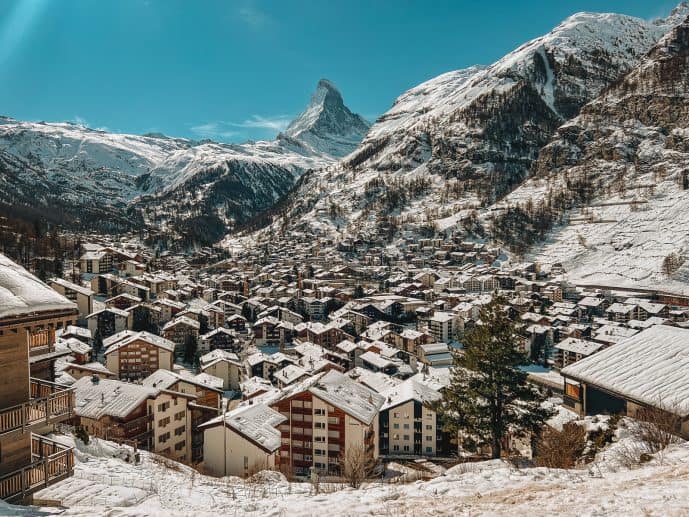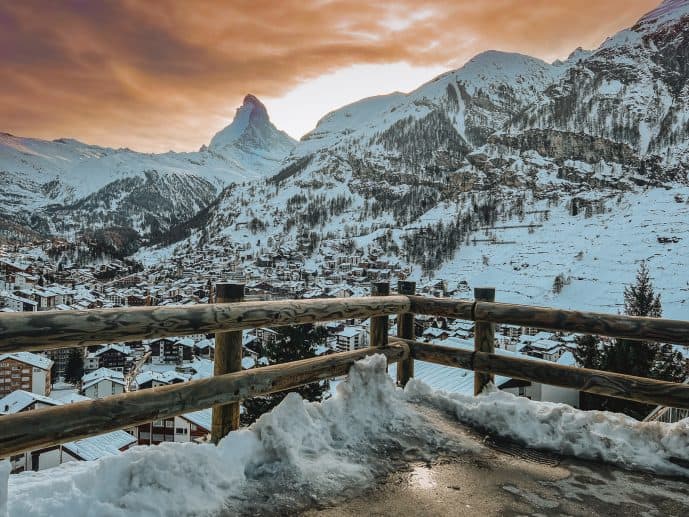 There is a small plateau area at the top with a chalet hut behind it and this is the most popular place to take photos. In the evening, this is where most people will gather.
But, if this area is busy you can follow the small lane to the left of the platform to see other perspectives of this viewpoint too.
The path doesn't lead anywhere but it's a good alternative option if it's a busy evening up here!
The best time to visit the Zermatt Matterhorn viewpoint
The Mürini Hill viewpoint is free and open 24 hours a day so you can visit at any point to take some photos whilst you're in Zermatt.
But, the best time would be to visit at either sunrise or sunset on a clear day when you can see the Matterhorn completely.
If you decide to visit after sunrise in the morning, it may be best to wait until around 10 am – 11 am for the sun to rise over the valley. Before this, part of the vista may be in shadow.
The worst time to visit would be in the mid-late afternoon as the sun will be directly behind the Matterhorn and the lighting will be too harsh.
In my opinion, the very best time to visit this viewpoint will always be at sunset. The sun sets behind the Matterhorn but when it starts to set behind the mountains it looks spectacular.
The sky will change colours to oranges, pinks and even purples if you visit on a clear evening. In winter, these rosy skies with the snow on the rooftops were magical.
Zermatt Matterhorn viewpoint at night time
An iconic view of Zermatt would be the village at night time. This is when you can see all the Swiss chalets in the village light up in the valley beneath the Matterhorn.
That's why I would recommend staying a little bit longer after sunset as it really is a sight to behold! It looks like something from a fairytale.
If you plan to take pictures here in the evening, I would definitely bring a tripod for crisper photos as there is limited lighting.
Although it can be quite cold and tiring, it will all be worth it to see and capture Zermatt twinkling under starry skies!
My top tips for visiting the Zermatt Matterhorn viewpoint
Not every day is clear – many people always see photos of the Matterhorn in Zermatt but it's not always a clear sky. When it's snowing, cloudy, or raining the Matterhorn could be covered up! Wait for a clear day/evening if possible.
Use Zermatt webcams – You can check the Zermatt webcams online to keep an eye on the weather. I used these even before my trip to check the best lighting times in the valley etc. They take a snap every ten minutes and there's even an archive to check back on previous days.
Wrap up warm – I would recommend wrapping up warm up here, especially in winter. Once the sun goes down it's freezing as you're standing on a plateau that is exposed to the elements.
Get here early to grab your spot – although there are many places to get photos up here, it can get very busy on a clear evening. So, get here earlier than sunset to secure your place if you wanted a particular angle for your photos. I got here around 90 minutes before sunset and people were already there.
A tripod is recommended – once the sun goes down, it's best to have a tripod for clearer photos.
Wear sensible shoes – getting up here is very steep and hilly with many steps. Wear a sturdy pair of walking boots for the hike.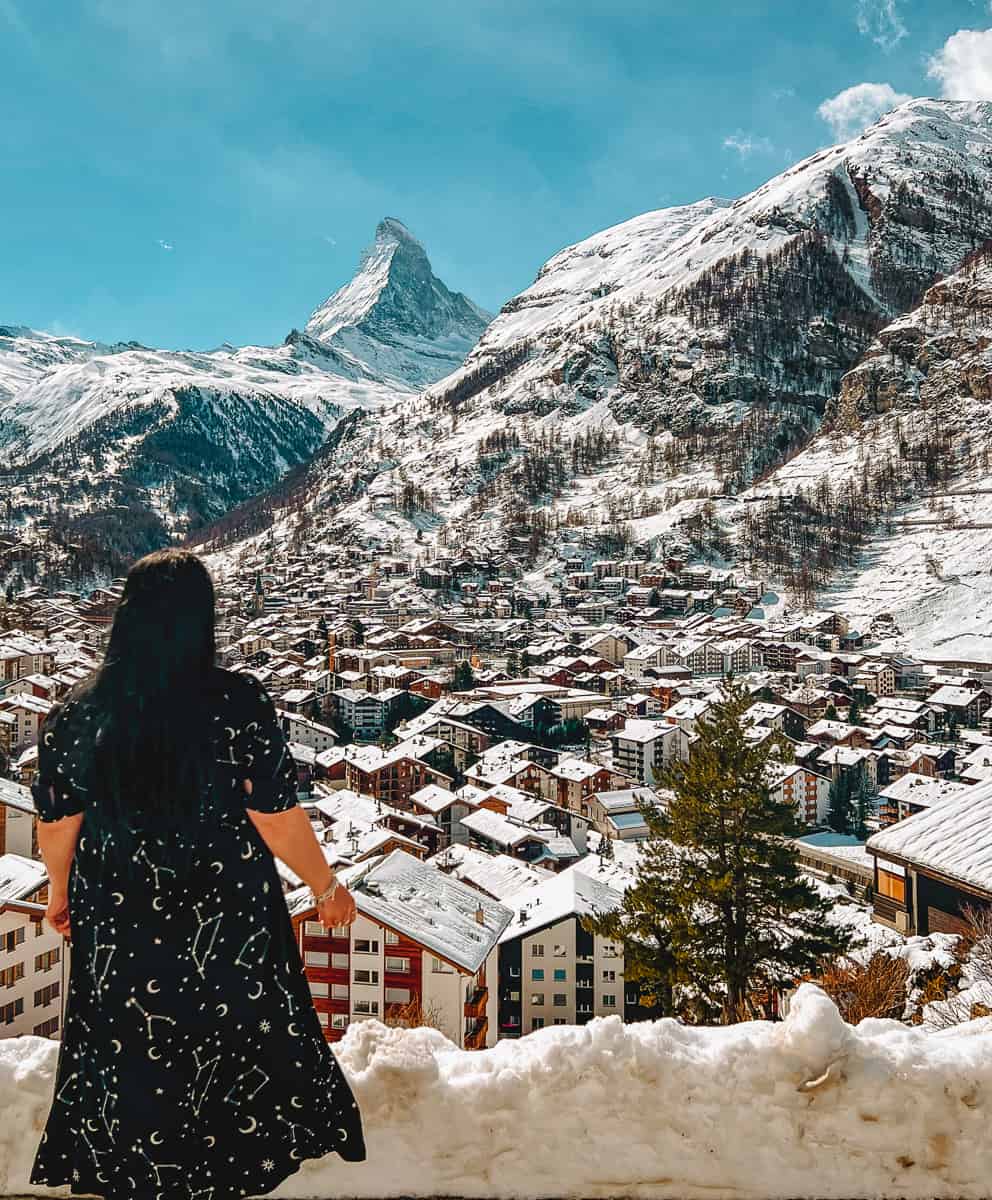 The 'non-steps' route to Mürini Hill – Zer Bännu
If you wanted to avoid the steps and steep hill route for any reason, you may prefer to walk up the Zer Bännu road route instead.
Instead of heading right up the steps to Mürini Hill, you can carry on straight ahead on Wiestistrasse and follow this flat road that curves all the way around and it will lead you to the same viewpoint.
Although it's still pretty steep, it's more of a gradual climb up the hill on a flat road and doesn't have any steps so it's easier on the knees.
It will take a bit longer to get there than the steps route but a flatter path is sometimes the better option for many.
Riedweg & Gourmetweg
Although the views from this area are spectacular, there is the option to hike Riedweg and Gourmetweg for even higher and better views.
On the Gourmetweg route (Gourmet Trail), there are restaurants and even a Champagne Bar for you to have some great food/drinks with a view.
I did attempt to travel up to this route but it was even steeper than Mürini Hill and very snowy/slippy. So, I decided to give it a miss in winter.
But, I bet in summer and autumn this hiking trail would be perfect if you were looking for an even better photography location of Zermatt.
Can you get a taxi to the Zermatt Matterhorn viewpoint?
YES, if you would prefer, you can take a taxi up to the top of Mürini Hill to the Zermatt Matterhorn viewpoint.
Zermatt is a car-free village and so you'll find little electric taxis that can take you around the town.
This wouldn't be the cheapest option as the average taxi price in Zermatt is anything from 20 – 40 CHF.
But, if you were in a hurry or couldn't walk up this would be worth paying to see the epic views. You could always split the cost between a few of you.
If you head to the Zermatt train station, you can hire an electric taxi from there to take you to the top of Mürini Hill. Or, you could ask your hotel to book it for you.
Looking for more things to do in Zermatt?
Most people visit Zermatt in winter to ski but there are many things to do here for non-skiers as well!
Wandering around the town is always a delight and you can see the High Street or pop into the Matterhorn Museum.
One of my favourite places was the Zermatt Old Town called 'Hinterdorf' many of the structures here are stables and huts built in the 16th century.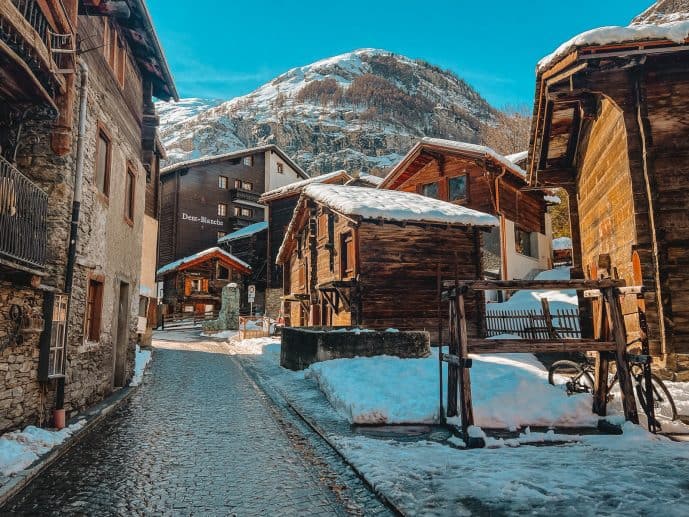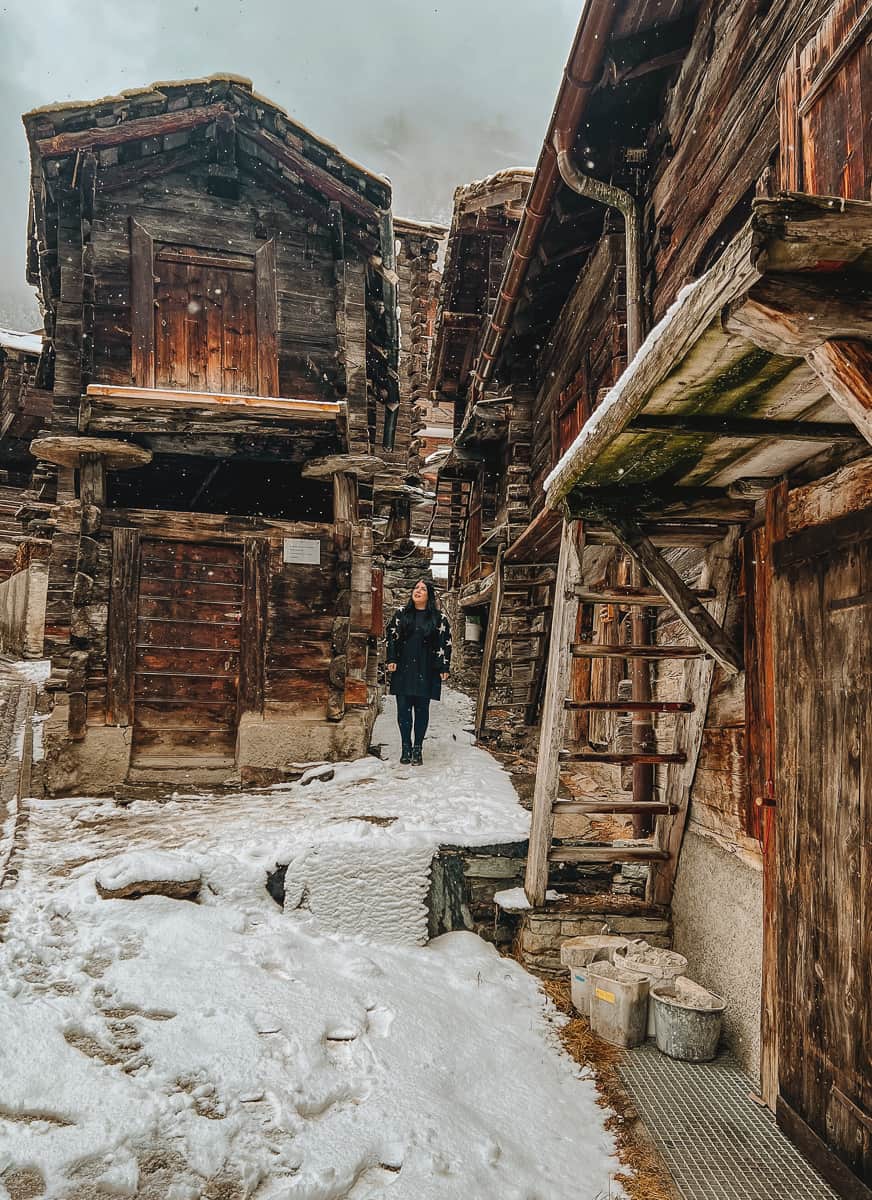 The Gornergrat is another one of my favourite things to do in Zermatt. It's a cog train that travels to over 3,100 metres above sea level just over 10,000 feet.
Up here, you get incredible views of the Matterhorn, there's also an observatory, restaurant, museum and ski routes.
Sunnegga funicular is also nice and leads you to a café and ski resort area that overlooks the Matterhorn. The journey takes 4.5 minutes and you'll ascend to 2,288 metres.
Matterhorn Glacier Paradise is also popular and a relatively new attraction. You'll travel by gondola at an altitude of 3883 metres above sea level. Up the top, there are amazing views, an ice palace and restaurants.
Click here to read all the best things to do in Zermatt!
Where to stay in Zermatt
Chalet Hotel Schönegg has one of the best views of the village and Matterhorn in Zermatt and many rooms have a panoramic view of the mountains from their balconies.
There is also an infinity terrace bar, luxury restaurant and spa & jacuzzi onsite to enjoy.
Although it is located on a hillside, the Chalet Hotel Schonegg have a lift down to a tunnel where you can access attractions like the Sunnegga funicular, the high street and the Gornegrat cog train in just a few minutes walk.
This is where I stayed and I would highly recommend booking it. It was wonderful and the staff were very friendly.
Click here to book your stay at the Chalet Hotel Schonegg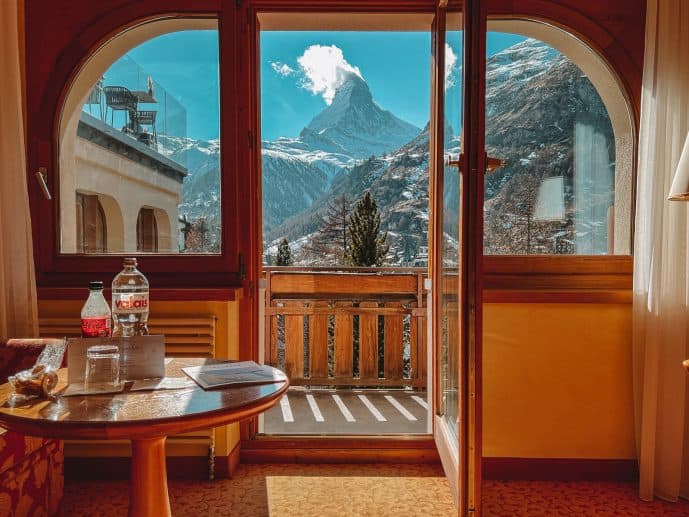 Read more of my Switzerland guides
Is Zermatt Velaris from ACOTAR?
Glacier Express Excellence Class review
B2 Wine Hotel Library in Zurich
Secret Giacometti murals in Zurich
Heading up to Jungfraujoch – Top of Europe
How to see the Matterhorn in Zermatt
Männlichen to Kleine Scheidegg walking guide
The famous Kapellbrücke Bridge
A Sherlock Holmes guide for Meiringen
The best afternoon tea in Interlaken
A 007 guide for Schilthorn Piz Gloria!
Save the best Matterhorn Viewpoint for later!