If there is one stop you must make in Mcleodganj it's Bhagsunag waterfall. These falls are dedicated to Shiva, in the holy village of Bhagsunag and it's located high in the hills of Dharamshala.
At 6,960 feet above sea level, it's a gorgeous emerald paradise waiting for you to discover its beauty.
Here you can see rolling hills, cascading waterfalls, temples, and cafés so it's a great way to spend a morning, afternoon, or even a whole day.
When the never-ending heat of summer and muggy days of monsoon in India come to town, people flock to these waterfalls to cool off. So, it would be rude not to join them.
The Bhagsunag waterfall is not far from the main hub of Mcleodganj and is easily accessible on foot which is a good job as there aren't many tuk-tuks that run here I'm afraid!
I fell in love with this little oasis in the mountains. It was so fresh and clean compared to the cities in mainland India too. As I was here in the monsoon, it was nice to relax and cool off here in the clouds.
Here's all you need to know about Bhagsunag Waterfall Mcleodganj!
Entrance Fees for Bhagsunag Waterfall Mcleodganj
The great thing about Bhagsunag waterfall is FREE to visit, so it's a great budget activity!
How to reach Bhaghsunag Waterfall Mcleodganj
You can catch a bus from Delhi or Rishikesh to Dharamshala. The HRTC runs a great government-run bus services. These are more expensive but the buses are of great quality.
Bhagsunag waterfall and village are located around a 30-45 minute walk away from the main hub of Mcleodganj.
Of course, this all depends on where you're staying! The walk is relatively easy and flat along the main road, so you won't have to trek extensively to reach it.
If you're staying in Dharamkot, the walk is a steep 20-minute walk down.
A great way to reach Bhagsunag is to take a sharing taxi up the hill to Dharamkot for the views then hike back down to Bhagsunag.
Of course, if you don't fancy walking you can take a taxi. There is a taxi association in central Mcleodganj that runs private or sharing taxis. You'll need to bargain for your life! These guys know how to rip people off. We paid 20 rupees each for a sharing taxi ride up to Dharamkot.
If you're walking you can stop off at the many chai stalls on the way or cafés for some thukpa too to break up the journey!
What to wear at the Bhagsunag Waterfall for women
If you've been travelling in India for a while now, you're probably well aware that women need to cover up when wandering about and in Mcleodganj it's no different.
You will see boys stripped down to their pants swimming but for girls, this is very much a BIG no. A lot of the women and girls will be fully clothed in their kurta and pants to swim in the water. Yes, women go in fully dressed!
I decided to wear a black maxi dress with leggings underneath with waterproof Birkenstock sandals (haha, I'm not an avid hiker!). I actually only had my shoulders out for the photo and covered straight after.
For me, the water was too cold to swim in the waterfall and there were quite a few boys in there splashing about which I wasn't prepared to deal with. But, I have to admit I was tempted!
Things to do at Bhagsunag Waterfall Mcleodganj
Bhagsunag Temple / Bhagsunag Shiv Mandir
Before you head into the Bhagsunag waterfall, you may want to stop by the Bhagsunag temple.
A Hindu temple dedicated to Lord Shiva, who the holy village of Bhagsunag honours. This is the main reason why a lot of Hindu pilgrims visit as well as walk up to the waterfall.
You will need to take your shoes off before you enter the temple and there are some shoe shelves outside. Unlike some temples, there is no one manning the shoes. So, you don't pay here.
It's a small white mandir temple with a bell at the front. You'll see Hindus ringing this bell to let the gods know they are in their house.
People leave offerings to Shiva and you'll smell incense around the temple too. You can wander around to have a look at their idols and relics and sit on their veranda to relax. It's a beautiful and peaceful place to visit. Donations are always welcome.
Bhagsunag hot springs
These 'hot springs' sound romantic and mysterious, but please don't get your hopes up! It's literally like a lido swimming pool set up but outside.
I'm also not sure where the word 'hot' comes into it either as when I felt the water it was freezing! Maybe at certain points in the year/day? I'm not sure.
It was a monsoon on my visit and was pouring with rain, so that's probably why it was quite empty. Usually, it's packed in the summer season!
There are two separate baths, one for men and one for women. Women usually go inside fully dressed.
These are free to swim in. You'll need to bring your own towels and there is a changing room onsite.
Explore Bhagsunag Waterfall
The main highlight is the waterfall itself with the Bhagsunag waterfall height being 30 feet and 6,960 metres above sea level!
You could spend a whole day here discovering every cascade, cave, hill, and crystal clear water pool it has to offer.
Once you reach the entrance and walk past the temple, it's really easy to get to the top as the path has been made accessible. They even had safety barriers which I was shocked and pleased by! I mean, this is India after all.
It's a really busy walkway with people walking either way, but there's room enough for both.
You can take the direct route up to the top of the falls or veer off to see the bottom of it too! I would highly recommend exploring the area as the waterfall is huge!
The bottom of the falls was incredibly pretty and really gave perspective to the sheer height and size! Here you could hop over the cascading rocks, skim stones in the river, and just relax by the water. It was paradise.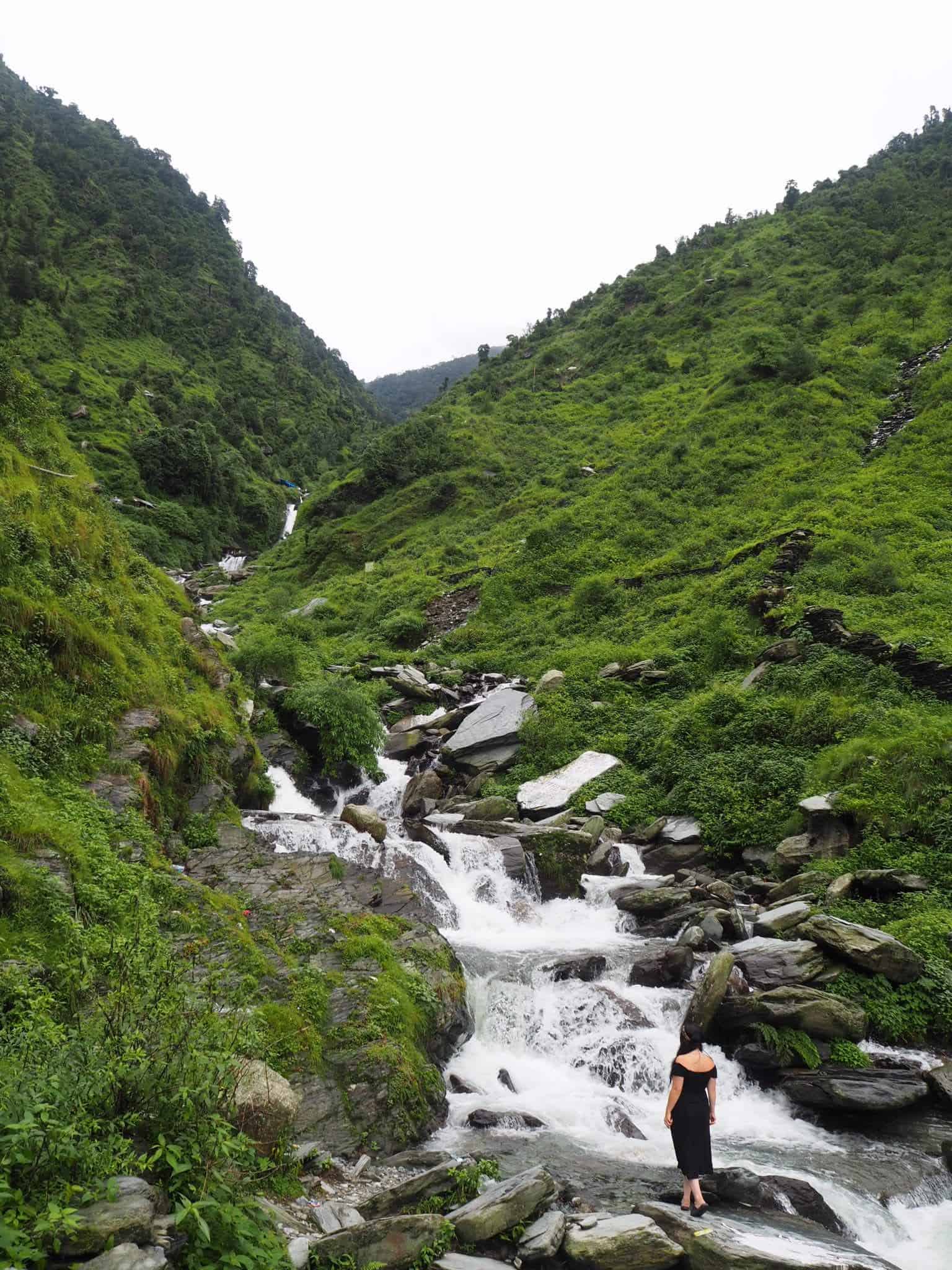 Swim in Bhagsunag Waterfall
Once you reach the top of Bhagsunag waterfall, there's a beautiful pool waiting for you there with the waterfall crashing right into it! It's so refreshing with the heat and you will definitely want to jump right in, especially if it's a hot day.
In July, Dharamshala and Mcleoadganj were freezing as it's up in the mountains and it rained every day I was there.
The water was ice cold too so I really didn't fancy jumping in it! I was getting soaked already with the power of the waterfall.
As a woman in India, I also get a little off-put by the number of boys that swim in their underwear and splash about. In India, it's expected for women to cover up and although I was prepared to go in fully dressed, I wouldn't do it unless there were other girls doing it too.
It's not that the boys are lecherous at all, but they mess about by splashing everywhere, hitting people, and are quite noisy, making me feel uncomfortable! It's quite a small area too.
Shiva Café & No Name Café at Bhagsunag Waterfall
There are quite a few Cafés that are set up around the falls to enjoy some fresh chai or fast food.
No, it's not Mcdonald's, but omlettes and Maggi Noodles, the perfect Himachal Pradesh backpacker treat!
Shiva Café you can access over the waterfall at the top. The access is by some dodgy plank that quite literally looks like you're going to fall in, but it's easy enough to cross.
This café gets quite busy so you may be waiting for a seat. I mean, it's not every day you can say you drank tea at the top of a waterfall!
The No Name Café is located at the bottom of the falls. When I visited here in the monsoon it was closed for the off-season. But, you can visit this beautiful art installation we stumbled up with art created from the rocks and pebbles on the waterfall.
Bhagsunag waterfall shopping
I mean it wouldn't be a tourist attraction if you didn't enter and exit through the gift shop right?
Every waterfall or hotspot in Himachal Pradesh always has a tonne of shops next to them and Bhagsunag waterfall is no different! In fact, it's almost hard to find the entrance as it's a labyrinth of gift shops.
Here they sell all sorts of things, clothes, swimming costumes, sunglasses, ponchos, umbrellas, pashminas, Buddhist statues, all of it! So, take a look around if you choose.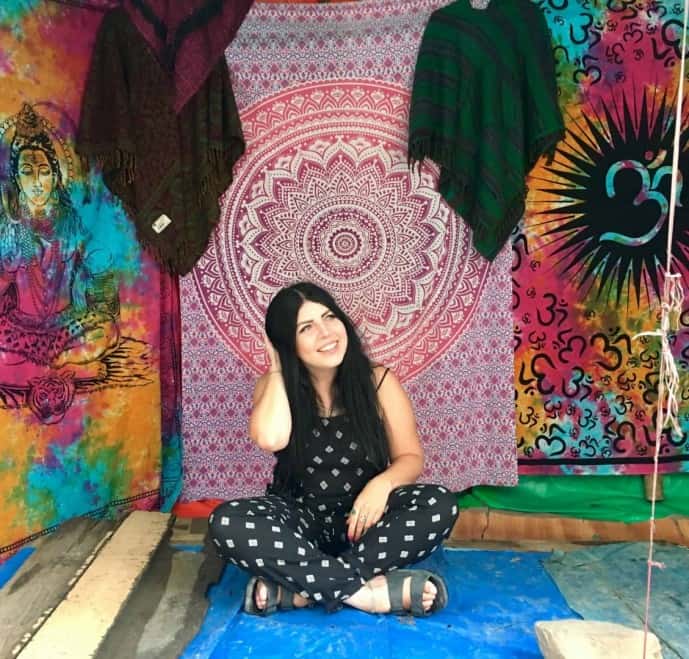 Restaurants near Bhagsunag Waterfall
If you're feeling peckish after your swim in Bhagsunag waterfall, there are loads of restaurants open around the area serving up steaming bowls of thukpa, spicy momos, and sugary apple treats!
We decided to eat at one of the restaurants just outside of the temple complex on the roadside called Baby Bear café & lounge.
It was raining (again), so we decided to take cover and eat some thukpa! I honestly, would give my soul to have that thukpa right now. It was my favourite dish in India.
Where to stay in Mcleodganj
Most people visit Dharamshala for a month or so to study meditation, retreat into the mountains or explore. So, many of the apartments will be booked up with long-term renters. But, there are some options if you're planning to stay for a short stay;
HosteLaVie – a relatively new hostel and part of an upmarket hostel chain in India. It's frequently sold out so book early!
The Bunker Hostel – a lot of backpackers choose to stay in Dharamkot for those clean mountain views. This has a friendly vibe.
Looking for some things to do in Dharamshala?
There is honestly so much to do in Mcleodganj that you could stay here for weeks in this paradise in the mountains.
You can learn about life from the Dalai Llama, learn about Tibetan refugees at the museum, take a meditation retreat, hike up to Dharamkot or enjoy apple pie at the many cafés!
If you're looking for a list of things to do in Dharamshala, I have the perfect one here with all the things to get up to in and near Mcleodganj!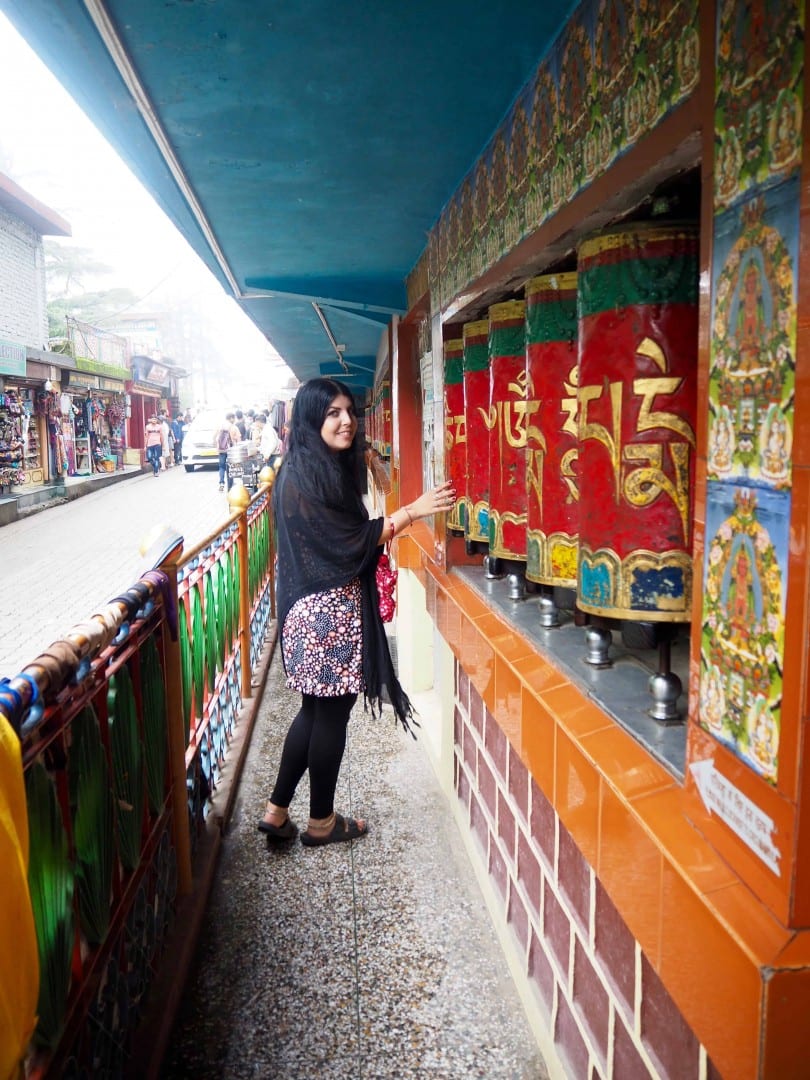 Read more of my North India blog posts
My complete Rishikesh travel guide
Visiting the Beatles Ashram in Rishikesh
The ultimate Rajasthan itinerary
Like it? Pin it!