Did you know that the biggest Primark in the world is in Birmingham and they have a Primark Disney Café? Neither did I!
It's a magical restaurant that is completely Mickey and Minnie themed and they even have some of the iconic Mickey Waffles & Mickey Pancakes on the menu.
As I have a Disney trip coming up, I was looking to buy some Disney bits and pieces to take to the parks and I was so glad I stumbled on this gem.
It's the perfect place to visit in-between Disney trips or if you're wanting to experience some Disney magic.
Here is a complete Primark Disney Café in Birmingham review with where to find it, what to expect, opening times, and how to get your hands on those yummy Mickey Waffles!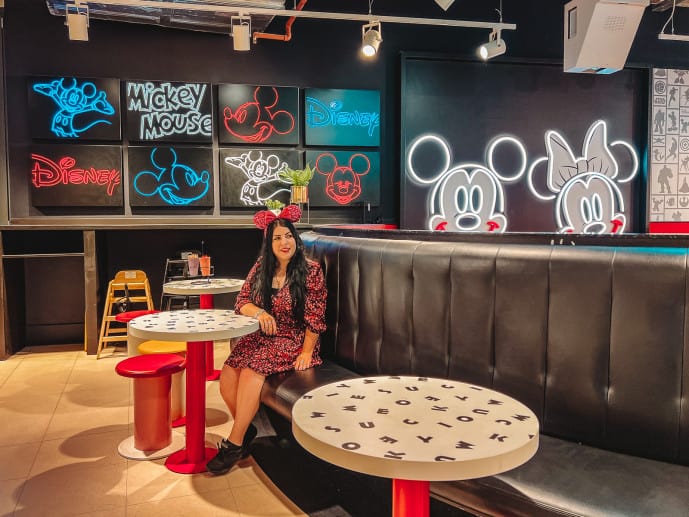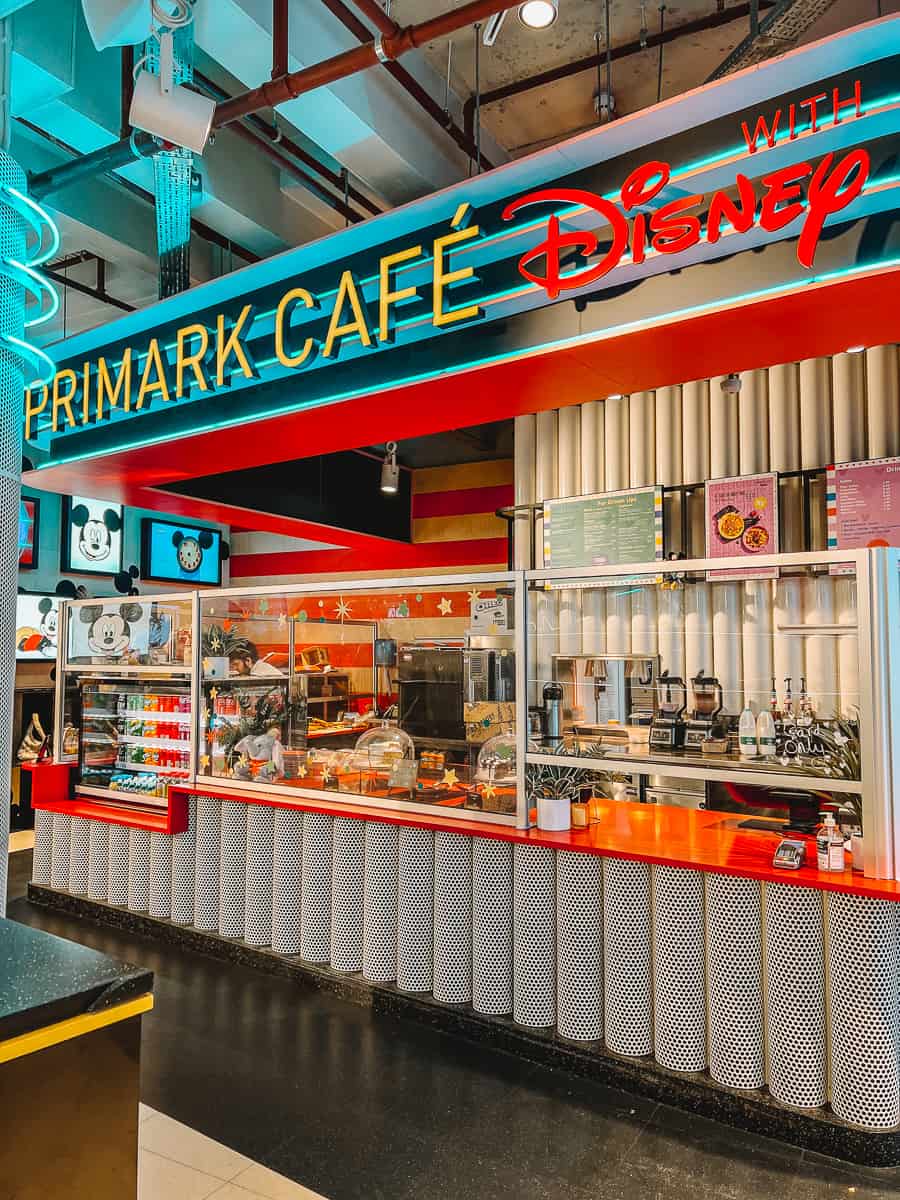 What is the Birmingham Primark Disney Café?
Primark Café with Disney is a magical eatery in the heart of Birmingham located on the High Street.
It's entirely Disney-themed with Mickey and Minnie faces everywhere, familiar Disney characters, colourful booths, and even Mickey Mouse tables.
They serve up a diverse range of savoury food including vegetarian options and, of course, lots of Mickey-shaped sweet treats too.
It's the perfect place for kids or bigger kids that want to experience some Disney magic in the UK.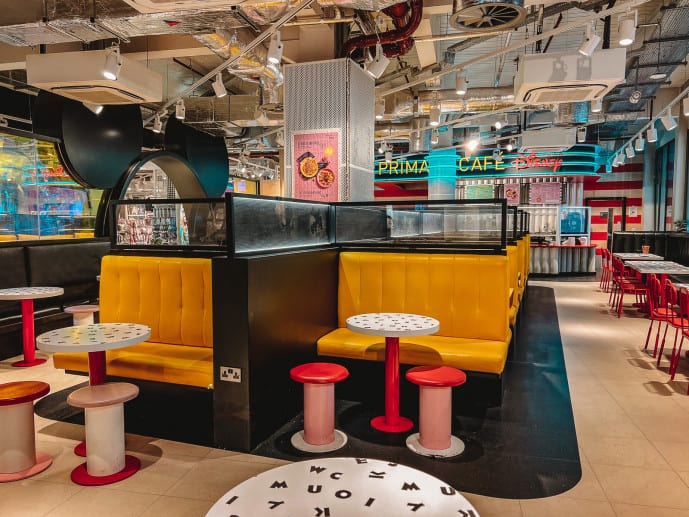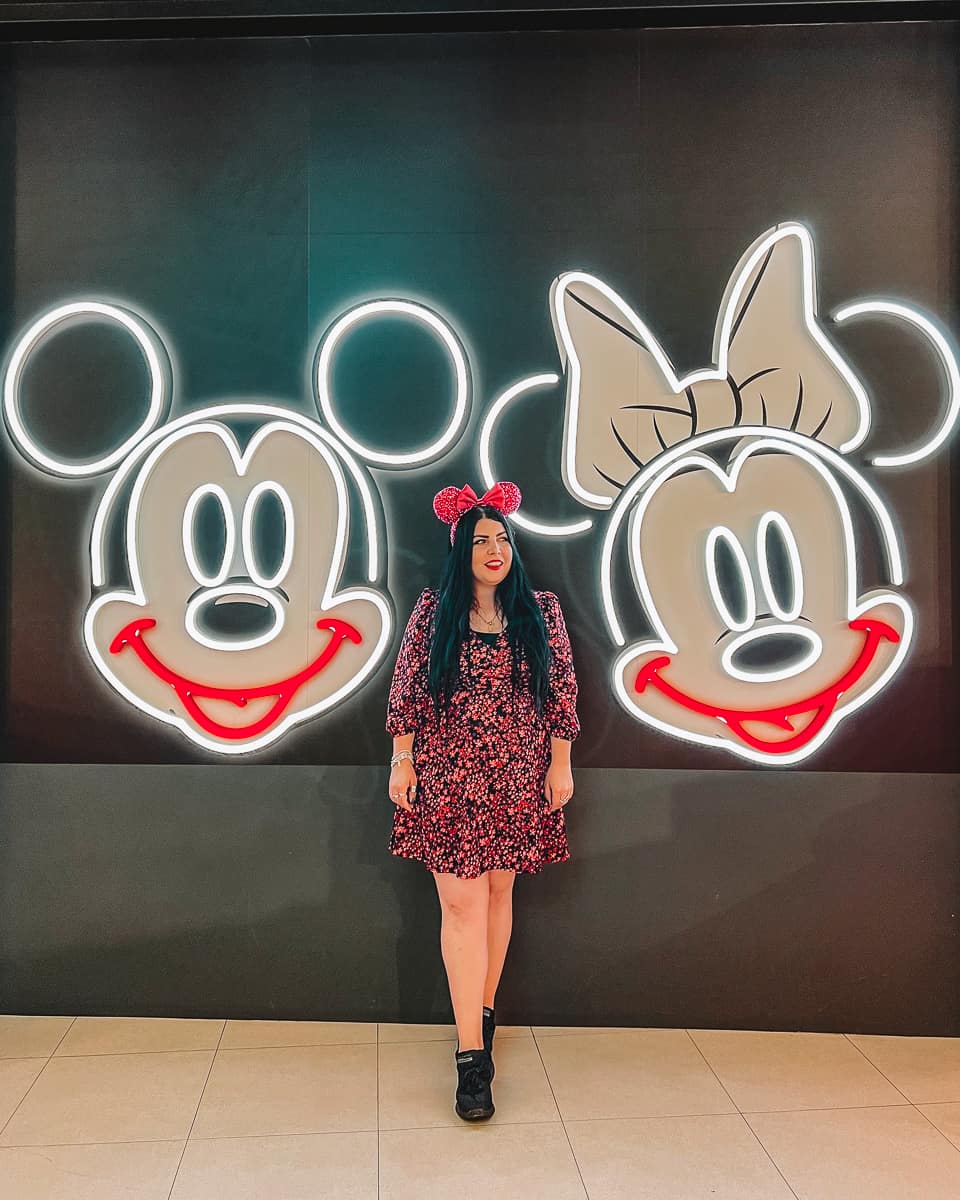 What to expect at the Primark Disney Café
Birmingham's Disney Café opens at 11 am but I would make sure you're here a bit before that to guarantee a table. There can be big queues here on weekends or later in the day.
Once you arrive at the front of the queue, you'll enter the café through one of their giant Mickey head doors. There are even mini Mickey head doors for kiddies (or big kids if you can't resist).
A host will greet you and show you to your table. Make sure to scan the QR code on the desk as that's how you will see the menu – they don't have a physical menu!
We sat in one of their colourful yellow booths and it was so fun in here as they had Disney soundtracks playing. It even smelled like Disney as it was so sweet (if that's even a thing).
When you're ready, a server will come and take your food order and the payment straight away which is preferably contactless.
We were a bit worried about ordering our waffles with our mains as we didn't want them to go cold.
But, don't worry, the Disney café will arrange for your waffles or pancakes to be served to you after you've eaten your main meal!
What's on the Primark Disney Café menu?
So, there is a kid's menu of cheese and tomato pizzas, burgers, veggie pasta, and a cod dog plus some cute Mickey fruit salad skewers, jelly pots, and Mickey waffles or pancakes for dessert (more on this below).
Naturally, as we were a little older, we ordered off the 'For Grown Ups' menu which is a lot more extensive.
They have savoury appetisers like a Buttermilk Chicken Burger, Beef Burger, Beetroot Burger, Veggie flatbread, and Jack wings that are around £6 a piece.
But, it's good to note that these burgers and mains don't come with any sides included. They serve up some dirty fries (£4) that were skin on that you can pair with your main that had bacon and BBQ sauce or you can get their loaded nachos (£4) which were incredible!
You can order a single serving of the nachos, order them for two or even four people. They came with a generous serving of melted cheese, sour cream, guacamole, and salsa.
I'm going tob e honest, we weren't a fan of the burgers really. They were meant to be served with brioche buns but they were quite dry and fell apart. The skin-on dirty fries were quite good but went a little cold due to the powerful air-con.
However, the loaded nachos were really, really tasty and we both said that we'd order them again.
Mickey Waffles & Mickey Pancakes
The main reason why I wanted to visit the Disney Café in Birmingham was the get one of their famous Mickey Waffles!
If you have ever been to the Disney Parks then you'll know how good these taste at breakfast. Sometimes it could be months after a trip and I still get cravings for a Mickey Waffle haha.
So, it was great that they have them here in the UK to get a magical fix. I was surprised at how cheap they were at £3.45 with generous toppings.
You could get a Mickey Waffle with chocolate sauce and Oreo crumbs or a waffle with golden syrup and banana slices. We ordered both to try.
They don't taste exactly like they do in the parks but they were really tasty and fluffy! I would definitely order one of them again.
If you didn't fancy a waffle they also sell Mickey pancakes too. Again, these are £3.45 with the same choice of toppings.
Magical hot & iced drinks
If you wanted to grab a drink with your meal or Mickey Waffle the Disney Café has a large selection of hot drinks available like coffees, lattes, cappuccinos etc.
Sometimes they put a little Mickey head in cocoa powder on top!
As it was quite a hot day, we decided to order one of their iced lattes and an iced Americano.
I also decided to order one of their super cute hot chocolates later. The one I got was for kids but it came in the cutest Primark Café with Disney cup. It was really chocolately with whipped cream, cocoa poweder and marshmallows on top.
If you weren't after coffee, they do have a selection of cold drinks like water and fizzy cans of pop too.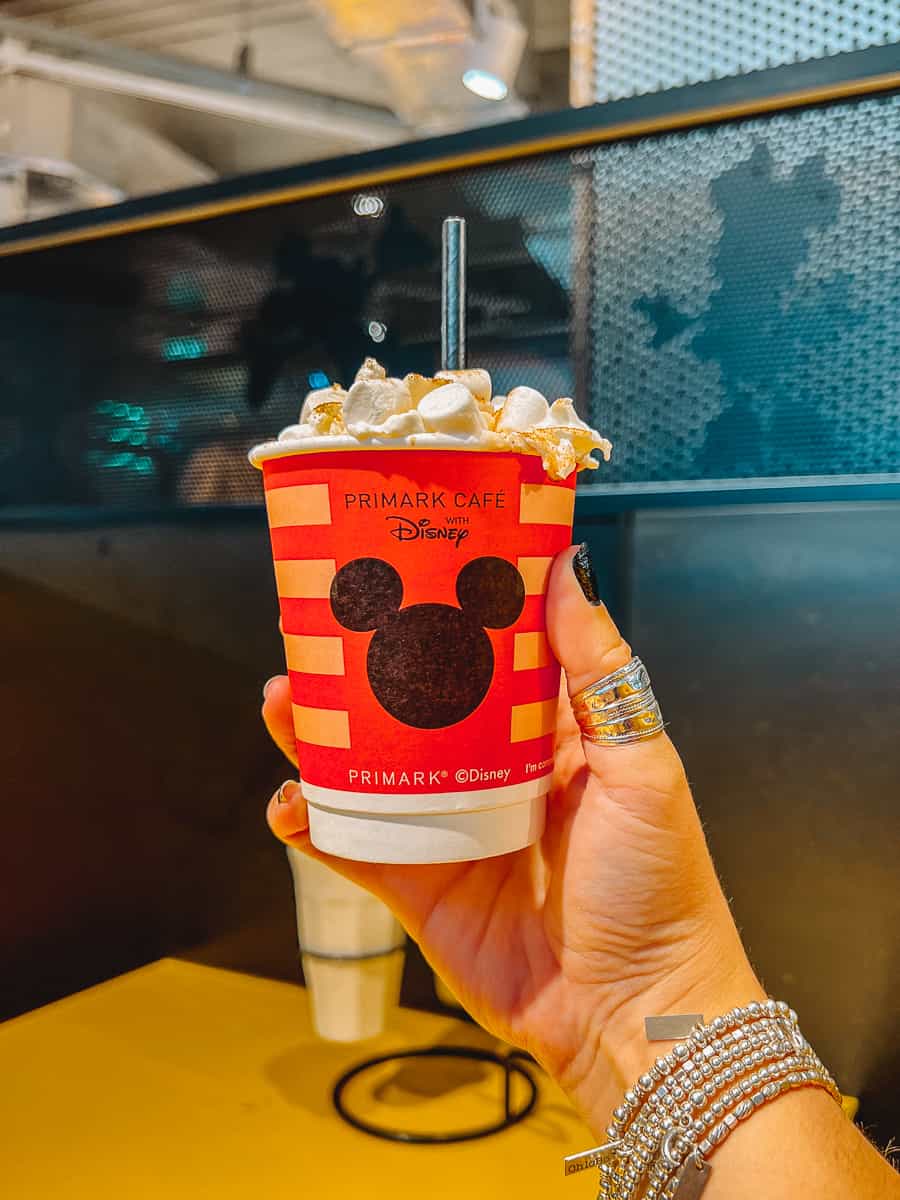 Disney games and animation extras!
Okay, so something cool about the Primark Disney Café is that a lot of the booths have touch screens on the tables where you can play games!
But, these are VERY popular tables so make sure you get here early if you want to play on them.
The staff says that things can get quite heated and fights to break out over these booths. Totally not passing the Disney vibe check.
We purposely avoided these booths so that the kiddies could play the games. We weren't really interested.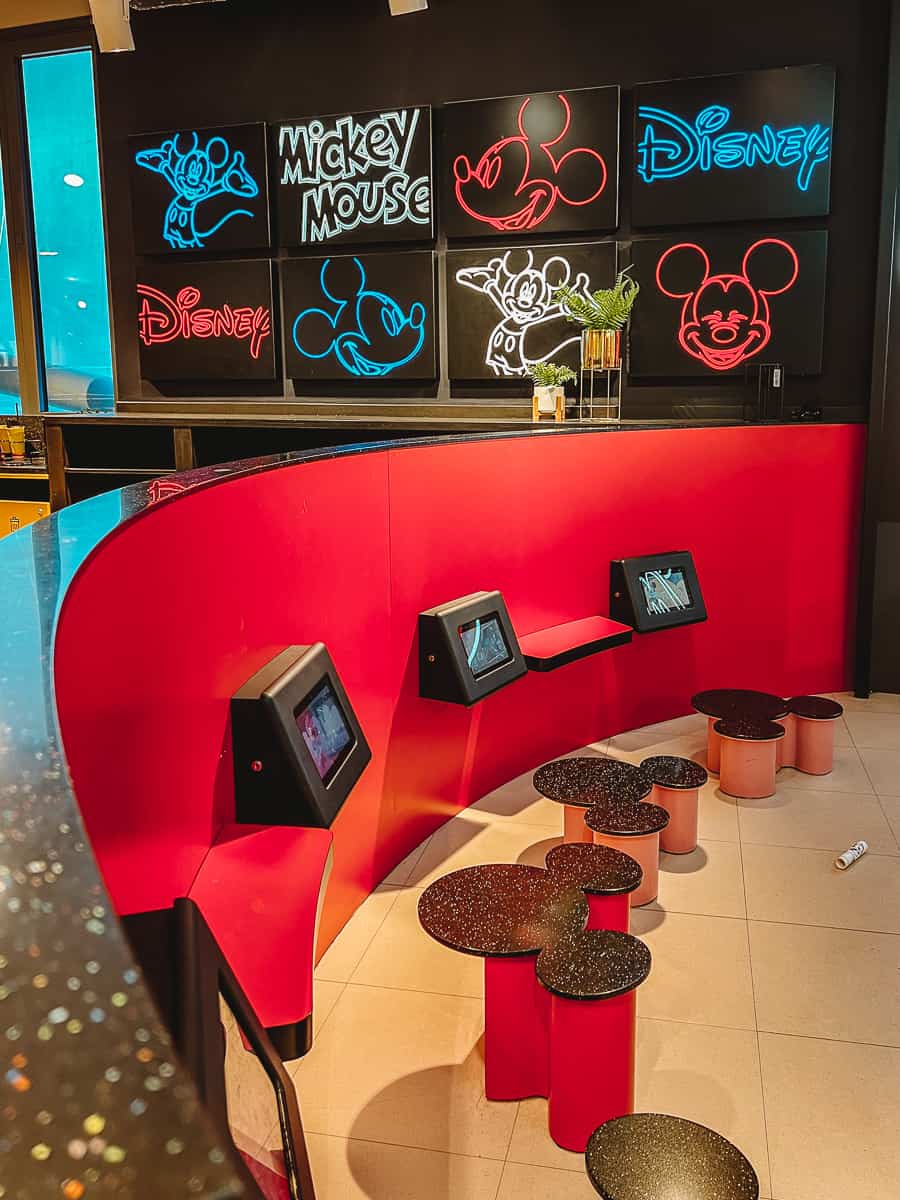 If you're not lucky with a game booth this time, there is a pretty cool iPad section at the back for little ones which have little Mickey head stools.
Or, you can find a large TV that has a camera and motion sensor that detects you and you can play some games like that too!
If you head towards the luggage/shopping storage, you'll find some framed television screens with cartoons and animations on.
The whole café was designed and felt so typically Disney Parks. It really was a magical way to spend an hour or so on a Birmingham shopping trip.
Disney photo opportunities
Before you leave the Primark Disney Café, don't forget to get your photo taken against the Mickey and Minnie Wall at the back.
It's near the iPad and games section so it can get busy but it's such a cool photo against the neon lights!
There are lots of similar photo opportunities here like walking through the Mickey face doors and they did have some Disney figures but these have gone now.
When they first opened, they had some of the Disney characters come into the store for the celebrations.
They often do this for Christmas so make sure to keep an eye out for any Disney Character meet and greet events!
Is visiting the Birmingham Primark Disney Café worth it?
100% YES! I actually thought it was a lovely thing to do if you've booked a Disney trip or are looking for some Disney magic.
If you have ever been to the parks, the cravings for Mickey Waffles can be real when you return home. So, it's nice to have somewhere in the UK to get a fix between trips!
I wanted to grab some Disney pieces anyway so where better than the world's biggest Primark? They had so many lovely things to buy in-store that are a fraction of the cost of the park shops.
It's definitely somewhere I would visit again if only to enjoy some of their sweet Mickey-shaped treats and a coffee!
Where is the Primark Disney Café in Birmingham?
There are two Primark stores in Birmingham, and the Primark Café with Disney is in the Birmingham High Street branch.
As the biggest Primark in the world, you really can't miss it. It's just a minute's walk from the Bullring Shopping Centre.
The easiest way to arrive would be on foot. Birmingham has strict anti-congestion zones and you can't drive anywhere near the store as it's in the bus lanes.
If you're heading here by public transport, the nearest train station and bus stops can be found on Moor Street. Primark is directly opposite the Birmingham Moor Street Station.
If you're looking for Birmingham Primark parking the closest would be Birmingham Selfridges or the Bull Ring car park but this isn't the cheapest at £3.50 an hour.
We found some cheaper parking on Thorpe Road which was a 10-minute walk away in the China Quarter.
Birmingham Disney Café address is Level 2 Primark, 38 High Street, the Bull Ring, Birmingham B4 7SL. Click here for a Google Pin.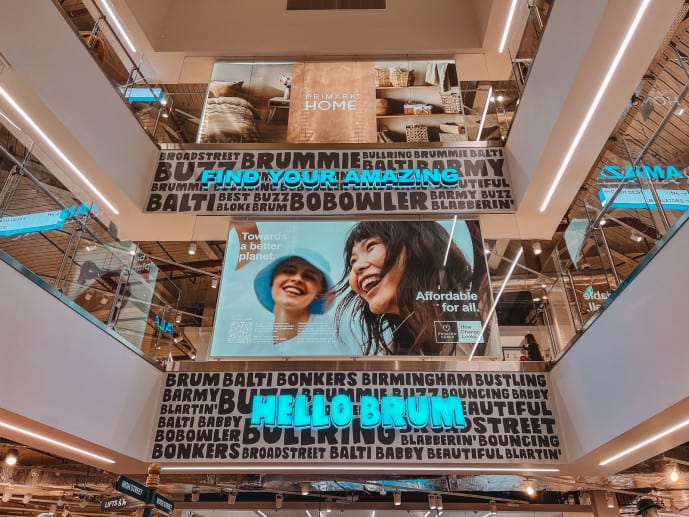 Primark Disney Café opening times
Birmingham Primark opens from 8 am – 9 pm from Monday – Saturday and 10.30 am – 5 pm on Sundays.
But, the Birmingham Primark Disney Café doesn't open until 11 am. So, you could always do some shopping while you're waiting for it to open.
It also closes at 4 pm. I would make sure you're sat down by the latest 3 pm if you want to get your food orders in!
On Fridays, the café is open from 11 am – 5 pm. On Saturdays, the Primark Café with Disney is open from 10.30 am – 6.30 pm so there's more time but it's their busiest day.
My top tips for visiting the Primark Disney Café in Birmingham
Get here early, there can be massive queues for this café on the weekends and afternoons! I'd be here around 10.45 am to queue up.
Getting here early is especially important if you have your heart set on one of the digital tables with the touch screen games! These are very popular booths and are highly sought after. We avoided these tables for the kids to enjoy.
Wear your Mickey ears, this is probably the one place in the UK where it makes sense to wear them!
The café is table service and you won't be handed a physical menu. Make sure to scan the QR code at the front desk before you sit down. You'll then be greeted by a kind server who'll take your order.
It's contactless payments only and your bill is taken before food, straight after your order is taken.
Don't miss getting a photo with Mickey and Minnie Wall in the iPad / games section at the back. It's a must!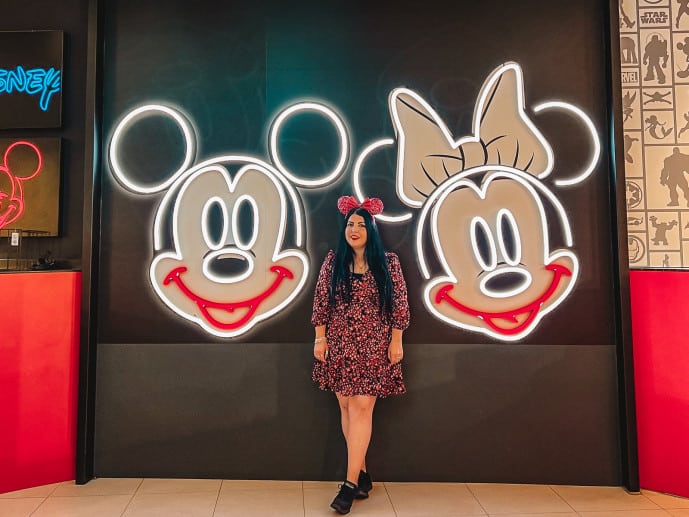 Birmingham Primark Disney shopping
As well as a Disney Café, Birmingham Primark has lots of Disney clothes, accessories, beauty products and homeware to purchase in-store.
As I have an upcoming Disney trip, it was the perfect place to pick up some Disney-themed travel items before I went.
Plus, you'll find plenty of Disney park gear in the form of Mickey backpacks, Disney clothes, hats, accessories, jewellery and shoes.
I even saw a Mickey Waffle maker in their home section. It would be so cool to make some yourself at home!
Other things to do in the world's biggest Primark!
Birmingham Primark is the largest in the UK and the entire world. It has five floors, three cafés, a beauty salon, and a barbers.
There is so much to do here that you could spend hours shopping and looking around at all the amazing things to buy.
One of my favourite places to go was their Primark Greggs Café. As well as serving up their pastries and sausage rolls they had lots of bakery-inspired furniture and even a Doughnut Swing to pose on!
We spent way more time in Birmingham's Primark than we originally planned to. So, make sure to prepare for the fact you'll be sucked into their discount retail labyrinth.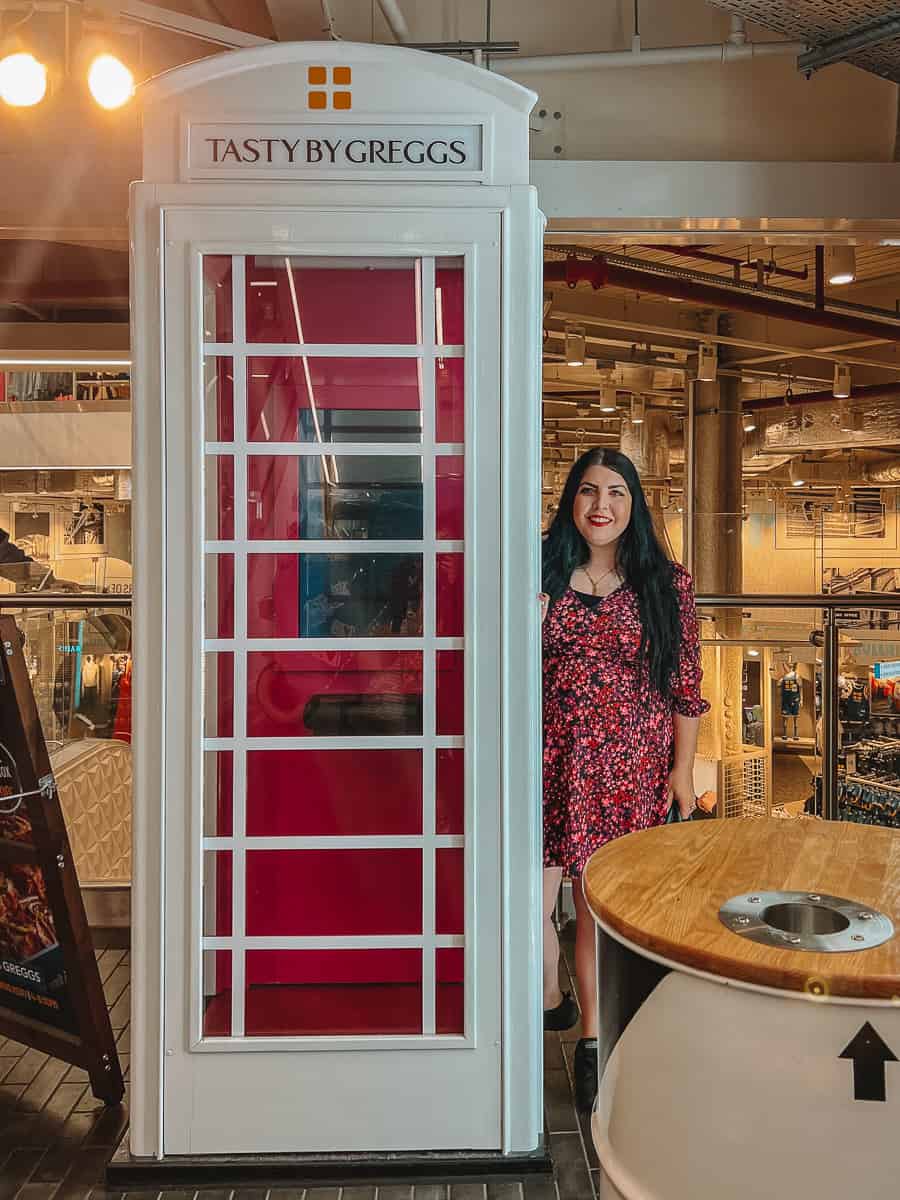 Looking for more things to do in Birmingham?
I've been visiting Birmingham regularly since I was a kid to see long-distance friends so I know this city pretty well.
Despite what people say, I actually think it's an amazing place to visit with great culture and a vibrant music and art scene. Ozzy Osbourne came from here and you can see his plaque on the Birmingham Walk of Stars.
If you're looking for more shops, I would head into the Birmingham Bullring. The Bullring Selfridges is again massive and you'll find some incredible shops, boutiques and foodie places inside the mall.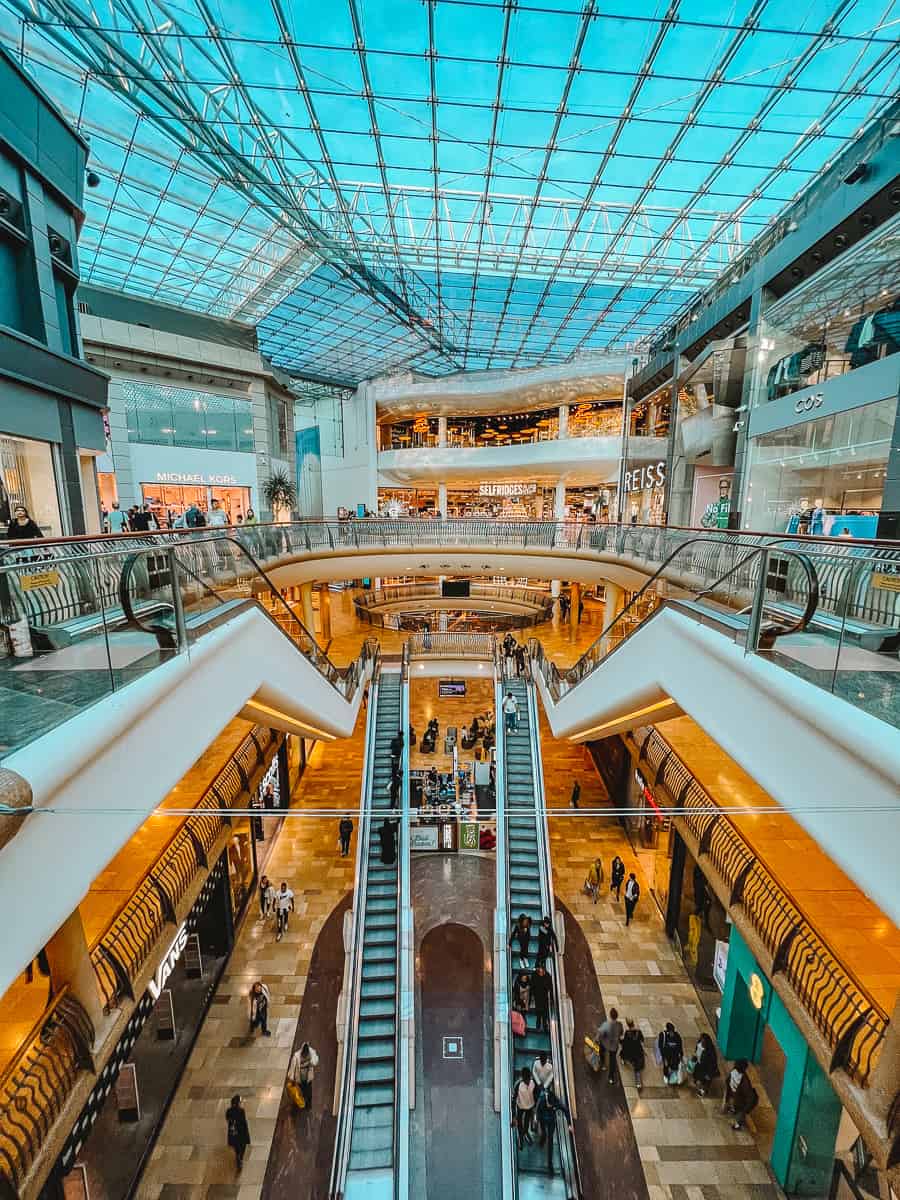 If you wanted vintage shops, I would recommend Digbeth which has an Old Custard Factory and lots of street art. We are Cow Vintage is my favourite warehouse. Or, you can head into the Oasis Underground which is a large alternative market.
There are some wonderful Birmingham shopping arcades like the Great Western Arcade which is SO pretty or the Picadilly Arcade – make sure to look up at the clever artwork on the ceiling there!
In terms of attractions, you can visit the National Trust Birmingham Back to Backs to travel back in time. Or, visit the Birmingham Museum and Art Gallery and the Gas Street Basin Canal area.
You can head to the Birmingham Library for an incredible view from their rooftop and just outside is the brand new Commonwealth Games Bull.
If you like football, Aston Villa regularly holds stadium tours (I would mention other teams but my dad would kill me as a Villa fan haha).
If you're looking for historic places nearby I would recommend the Black Country Living Museum where they filmed Peaky Blinders.
Or, you can head to Shakespeare's country of Stratford upon Avon. The historic Warwick Castle is only a 45-minute drive away and Alton Towers is a popular family theme park just 90 minutes drive from the city centre.
Primark Café with Disney FAQs
Which Primark has the Disney Cafe? There are two Primark Disney Cafés locations now. They are in Birmingham and Lakeside Shopping Centre in Essex!
When did the Birmingham Primark Disney Café open? In April 2019 with the launch of the world's biggest Primark store!
Where is the biggest Primark in the UK? Birmingham and it's actually the biggest in the WORLD!
Read more of my Midlands articles
Why you should visit Anne Hathaway's Cottage
Things to do in Honington Cotswolds
My complete Warwick Castle review
Dragon Slayer review at Warwick Castle
Robin Hood locations in Nottingham
Sherwood Forest – home of Robin Hood
Amazing facts about Ye Olde Trip to Jerusalem pub
How to find Nanny Rock in Kinver Edge
A Harry Potter guide for Hardwick Hall
A complete guide for Lud's Church
Save the Birmingham Primark Disney Café for later!