One of the more unique experiences in Weston-super-Mare is a stroll over to the abandoned Birnbeck Pier.
It was Weston's first pier and, in its heyday, it was a Victorian superstar attraction.
It welcomed visitors to the town who arrived by steamer boats and it used to bring joy to all with its amusements and endless views over the Bristol Channel.
Tragically, it's a shadow of what it was today and this once great promenade has been altogether abandoned slowly falling into decay. Until now.
Finally, after decades of locals petitioning for Birnbeck, it seems that there are plans to bring this pier back to life.
Here's the sad story of Birnbeck Pier with the history, why it was abandoned and future plans!
Important: Birnbeck Pier is closed permanently. Please do not attempt to climb over the scaffolding and walk on the delicate structure as it's dangerous.
The history of Birnbeck Pier in its heyday!
Before the pier opened, Birnbeck Island could be accessed via a causeway at low tide. Eventually, plans were made for a suspension bridge to be built to connect the island to Worlebury Hill.
A strike by stonemasons and a terrible storm destroyed this bridge and a petition was made for a pier to be built in its place.
It was constructed on the orders of Cecil Hugh Smyth Pigott and when the first foundation stone was laid down in 1864, a public holiday was declared in Weston-super-Mare with a celebratory dinner in the town hall! The same thing happened on its grand opening day in 1867.
Birnbeck Pier was built by Eugenius Birch and the gothic toll house and pier head buildings were built by Hans Price.
The toll to walk over the pier was 2d (old pennies) and it was originally 351 metres long. The promenade took visitors on a stroll out to sea over to Birnbeck Island.
The pier head had a cafe, a licensed bar, pavilion, amusements and a funfair to enjoy! You could look through mutoscopes, ride the merry-go-round and spin around on swings.
Victorian day-trippers who arrived by steamer boat over the Bristol Channel were dropped off at the jetty.
Even with the "Grand Pier" opening in the centre of Weston in 1904, tourists rarely left this pier as there was so much to see.
However, after World War II business declined due to competition with the Grand Pier's amusement arcades.
What happened to Birnbeck Pier and when did Birnbeck Pier close?
During the 1960s, the pier switched hands many times to various steamer boat operators.
However, ferries ceased operations in the 1970s and the last steamer boat made its way out of Birnbeck in 1979.
A few years later, millions of pounds worth of damage were made to the pier during engineering works in 1984 and storms made further damage in the 1990s.
Eventually, Birnbeck Pier was closed to the public for safety reasons in 1994.
As it's a Grade II listed protected monument, Historic England has had Birnbeck on its Heritage at Risk Register since 1999.
A lifeboat station that was used by the RNLI was installed there shortly afterwards. They created a safe pathway over the pier but it has since been shut down for safety reasons.
A road to recovery
Birnbeck has been owned by multiple private investors over the years who have suggested plans to turn the island into luxury hotels and apartments buildings.
But, these plans have been hollow and resulted in nothing being done to protect the old pier at all.
In fact, the pier fell even further into decline. By 2015, huge parts of the promenade collapsed during a storm and a fire set some of the buildings ablaze including the clock tower.
Locals and the Friends of Birnbeck Pier have been petitioning for this part of Weston's heritage to be revived to its former glory. They would like it to be renovated as a pier to be enjoyed by all!
Finally, it seems that there may be a glimmer of hope for this Victorian gem after all.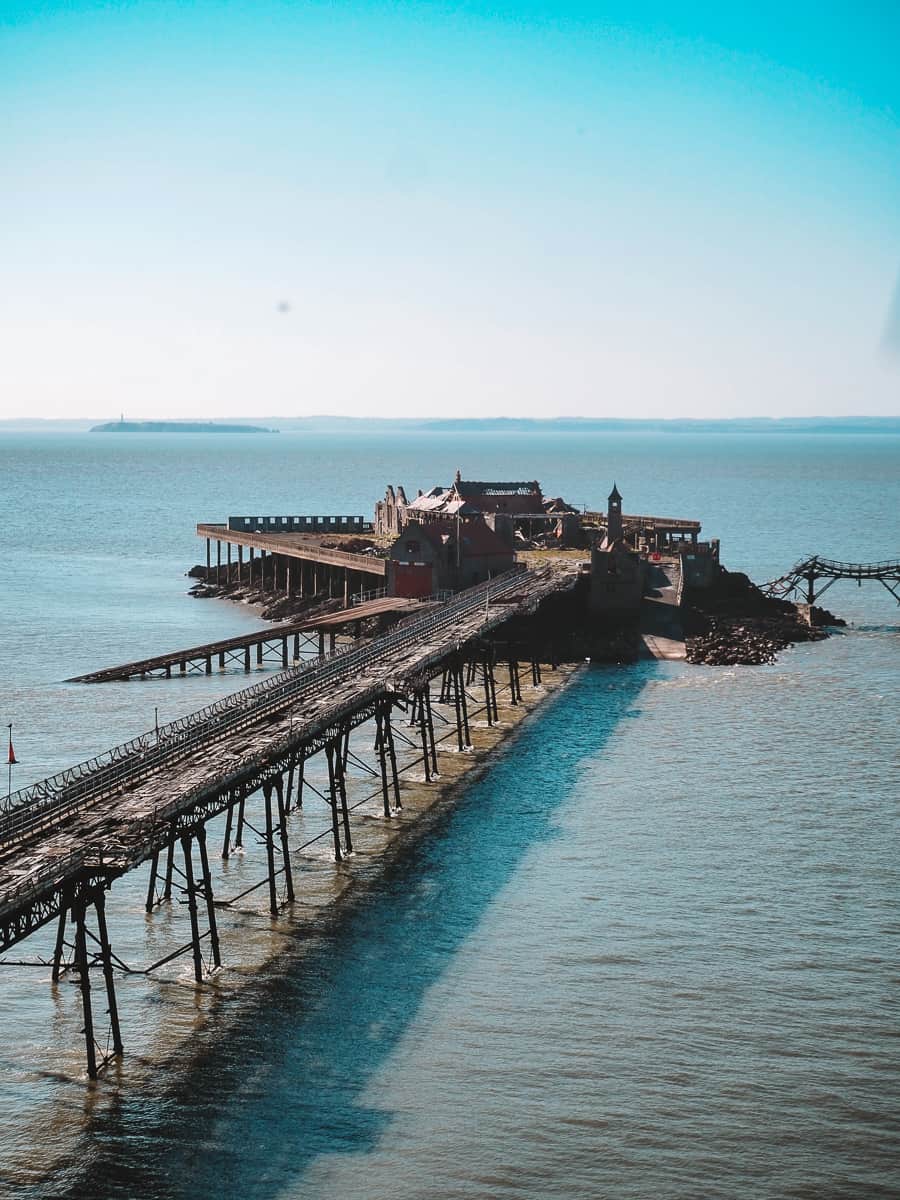 Who owns Birnbeck Pier today?
In February 2020, the North Somerset Council started a compulsory purchase order of the pier with the assistance of Historic England.
This was due to the fact that the current owners of the pier, CNM Estates, had failed to carry out the required repairs to salvage it.
It seems that the RNLI may step in as the new owners of Birnbeck and re-open a lifeboat station on the island.
The big question remains, will this new development lead to further renovations being made to Birnbeck Pier so it can re-open as a tourist attraction? We shall have to wait and see!
The council's compulsory purchase order is definitely a step in the right direction.
Hopefully, the North Somerset Council will take it out of control from greedy investors and do what is needed to save this abandoned pier.
If it were to re-open, it would bring much-needed tourism to this part of Weston and restore some of its heritage.
Where is Birnbeck Pier in Weston-super-Mare?
I used to live in Weston-super-Mare on Madeira Cove seafront back in my uni days and a walk over to Birnbeck Pier was one of my favourite things to do.
Back then, I got involved in a few charity campaigns for the RNLI. Not to mention I probably signed upwards of 10 petitions to save Birnbeck while I was here – and that was over a decade ago!
Birnbeck Pier can be found near Worlebury Hill in Weston-super-Mare.
It's a little far out of the centre of the seafront but you can easily find it by heading to Madeira Cove, a Marine Lake by Knightstone Island.
Once you're at the lake, you can carry on the pathway nearest the seafront and walk up through the historic Anchor Head.
The walk should take you around 10 minutes from Madeira Cove. All the way along, you'll get spectacular views of Birnbeck Pier in the distance.
On this pathway, you'll find colourful street art which brings some colour to the gloomy seafront walls!
The Birnbeck Pier postcode is Birnbeck Road, Weston-super-Mare BS23 2EP.
What can you see from here?
Once you reach the promenade nearest to Birnbeck Pier, you can take a good look around the area and see the old pier up close!
It's quite sad to see it in its current state. You can see all the broken wooden floorboards and parts of the pier have fallen into the sea.
At the front of the pier, you can see the old gothic toll house boarded up that used to take visitors pennies! Also, you'll notice that some of the pier head buildings are hollow and burned out.
Despite not being able to walk over the pier at the moment, I think it's well worth visiting as it's a quiet place where you avoid the crowds!
Also, there are a few things that you can do around the area as well.
Visit the Birnbeck Pier Information Centre
Just above Birnbeck Pier is a Pier Welcome Centre which is a base for the Friends of the Old Pier Society or the Birnbeck Regeneration Trust.
Inside, you can have a chat with one of their lovely team about the current situation of the pier and discover some of the histories too!
You'll also find some old pictures of Birnbeck Pier in its heyday which are sold as postcards amongst other things.
They are sold for charity and all the proceeds go towards the campaign to bring back Birnbeck!
Enjoy the colourful street art!
The thing that really caught my eye whilst in the area was all the colourful street art that's around here.
I thought it was a great addition to the area and really brought some life to the place.
I particularly enjoyed the rainbow angel wings, they are a great chance for a photo so have your camera ready!
The rainbow angel was set up by Chris Vickery to raise funds for more murals to be made around the Weston-super-Mare area. You can also find a Cheshire Cat by him behind the RNLI cafe. To donate to his GoFundMe fundraiser, click here.
Head down to the rocky beach below
If the tide is out, you can head below Birnbeck Pier to the rocky beach below on the cliffs.
Although it's not very sandy, it's a bit of a sun trap and so you'll often find locals sunbathing on the huge rocks here!
As it's far away from the main beach, it doesn't see a fraction of the crowds and so it's perfect if you wanted some peace and quiet.
Just be careful as you make your way down and check that the tide isn't due to come in!
Visit the Prince's Consort Gardens
Another one of Weston's historic gems is the Prince's Consort Gardens.
These used to be a popular attraction for tourists that overlooked Birnbeck Pier. They were first planted in the 1860s to remember Prince Albert.
Over the years, it fell into decline like the neighbouring pier. But, the Friend's of the Prince's Consort Garden have renovated parts of it!
Today, it is worth a quick pitstop as there are a few benches that look over Birnbeck Pier. On a sunny day, the park is perfect for a picnic.
You can also walk around the old pond that is full of wildlife and flora! In the springtime, there is plenty of wildflowers, bluebells, snakeshead fritillary and wild garlic to be seen.
Read more of my Somerset travel guides
How to visit SEE MONSTER in Weston-super-Mare
Visiting Vicar's Close in Wells
Clifftop Cheddar Gorge walk guide
See the oldest working astronomical clock
The history of the sugar lookout in Clevedon
A walking guide for Glastonbury Tor
Visiting the Hill Hill of Somerset Levels
The history of the forgotten Rickford Chapel
Save this abandoned Birnbeck Pier post for later!