Black Rock Gorge is a dramatic rapids waterfall that flows down a mysterious and deep sandstone cavern in the Highlands of Scotland.
It can be found in the magical setting of Evanton Community Wood that is filled with gorgeous burns, trees, and wildlife that looks straight out of a fairytale.
It's also famous with Potterheads as this scenic gorge featured as a filming location in Harry Potter and the Goblet of Fire.
If you were a Harry Potter fan and wanted to visit this location for yourself, you can do so on a short and scenic walk from Evanton Village near Dingwall.
Here is a complete guide with directions for the Black Rock Gorge walk and how to find the Black Rock Gorge Harry Potter filming location!
What is Black Rock Gorge?
Black Rock Gorge is a deep and narrow Old Red Sandstone cavern with a waterfall that is located in Scotland. The water that flows through this gorge comes from 'Allt Graad' or the River Glass.
The water rapids are caused by the narrow and crooked shape of the cavern and the water carries sediment that creates the curious colour on the gorge walls.
It's approximately 1.5 kilometres long, 5 metres wide, and is around 40 metres deep (120 feet)! On your visit, you'll be looking down at the waterfall from two suspended gorge footbridges.
It's quite a unique location and certainly has a magical fantasy feel to it! That's probably why they chose this spot for the Harry Potter movies!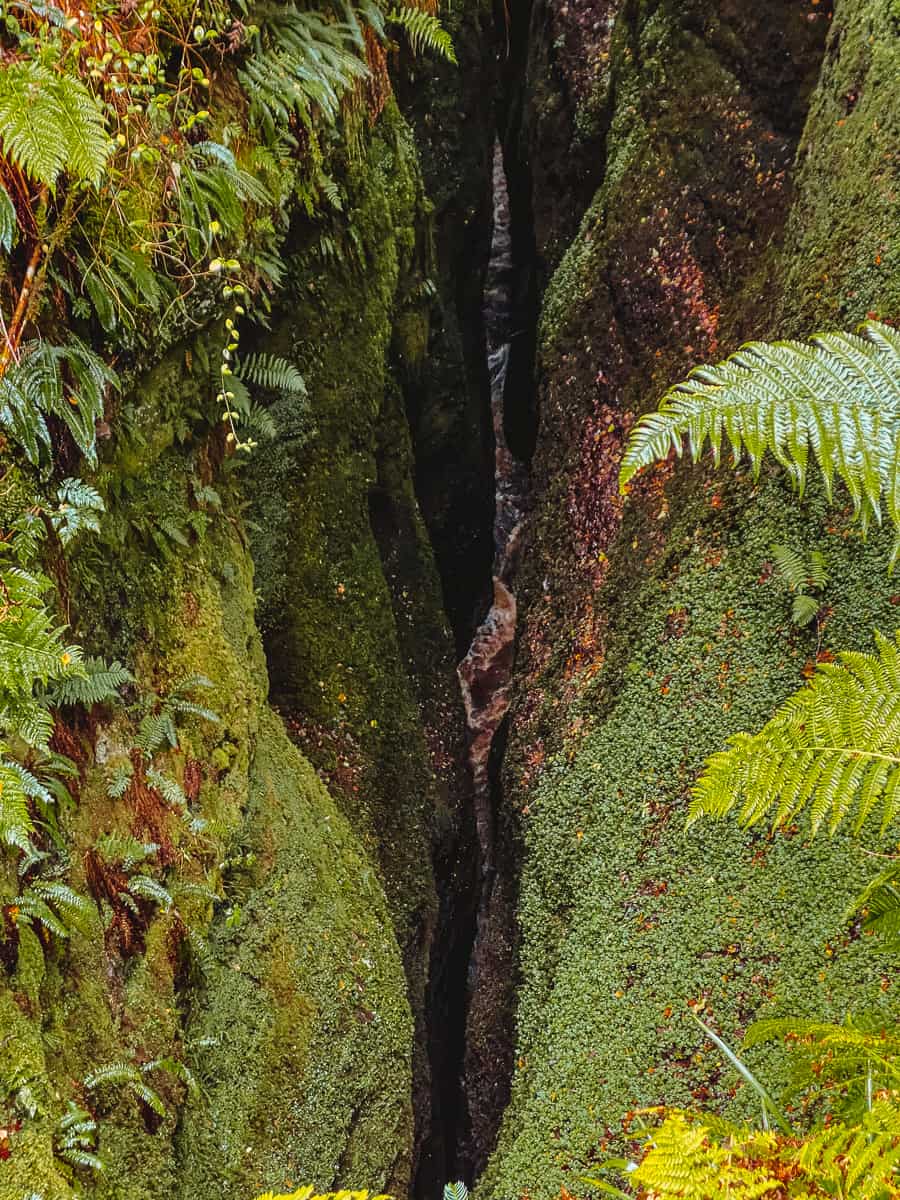 Black Rock Gorge history
The spectacular Black Rock Gorge formed over 10,000 years ago during Scotland's Ice Age. The melting glaciers moved down glens such as Glen Glass.
The land rose as the weight of the ice was removed and the water resulted in erosion of the rock. Over many years, the result is this dramatic 40-metre deep gorge we see here today!
Ever since, this mysterious cavern has attracted artists, ramblers, and antiquarians alike! In 1762, Bishop Forbes commented that it was 'one of the greatest Wonders of Nature' he had ever seen.
In the 18th-century, a smuggler was chased by the excise men through these woods and is rumoured to have leaped over the gorge!
The footbridges that allow you to cross over the gorge have been here since the 19th-century with the rise of tourism. But, you'll be happy to know they have been renovated since.
This gorge still attracts many tourists here today and some eager Harry Potter fans who want to experience some of the magic from the movies!
Black Rock Gorge legends and ghosts!
In typical Gaelic fashion, this mysterious gorge in the wilderness is also associated with a few legends of ghosts too!
According to local folklore, the Lady of Balconie of the nearby Balconie Castle met a mysterious 'dark-looking man, in green' somewhere in these woods.
He is thought to have been the Devil in disguise that wooed her with his charm to this very gorge. He led her right over the edge and Lady Balconie fell into the depths of the gorge to her untimely death!
As she did so, she dropped her house keys that left an impression on the rock face. Apparently, you can still see this today.
It is said that if you listen very closely, you can still hear her cries from the top. So, make sure to listen out on your visit. Don't come here at night!
What is the Black Rock Gorge Harry Potter connection?
So, Black Rock Gorge is also popular with Potterheads as this is a Harry Potter filming location in Harry Potter and the Goblet of Fire!
It only featured briefly but this fairytale cavern was chosen as the location where the Hungarian Horntail Dragon chases Harry Potter during the Triwizard Tournament.
If you remember, the first task in the Triwizard Tournament is to get take the golden egg from a dragon that the participants select at random.
Harry chooses the worst and most ferocious dragon of the lot that results in a chaotic and turbulent chase around the arena.
The Horntail eventually breaks loose out of his chains and then chases Harry around Hogwarts Castle grounds. That's where Black Rock Gorge features in the film.
The production team visited Black Rock Gorge in April 2004 and ten days of filming took place in this area for just one tiny scene!
Watch the Black Rock Gorge Harry Potter scene in the Goblet of Fire – Harry Potter escapes the Horntail dragon in the Triwizard Tournament!
Where is Black Rock Gorge?
If you wanted to see this Harry Potter filming location for yourself, Black Rock Gorge is hidden away in the Evanton Community Wood.
This is a 1.5 kilometre walk from the beautiful village of Evanton in Dingwall that is in the Highlands of Scotlands. Evanton is around 15 miles north of Inverness.
For context, this is around a 2.5-hour drive from Fort William, 2.5 hours from John O' Groats, and a 4/5 hour drive from either Edinburgh and Glasgow.
Black Rock Gorge postcode is Evanton, Dingwall, Ross-shire, Scotland, IV16 9UN.
How to get to Black Rock Gorge
So, to start this walk you'll need to make your way over to the village of Evanton in Dingwall.
If you're taking the NC500 road trip, this would make a perfect stop as Evanton isn't too far off the trail. It's one mile from the A9 route and Evanton is well signposted with a brown tourist sign.
On that note, the easiest way to access Evanton in Scotland would be to drive. The nearest train station is Alness that is around 90 minutes walk away from Evanton.
There is a regular Stagecoach bus service from Inverness to Evanton on the number 25. Click here to plan your bus journey.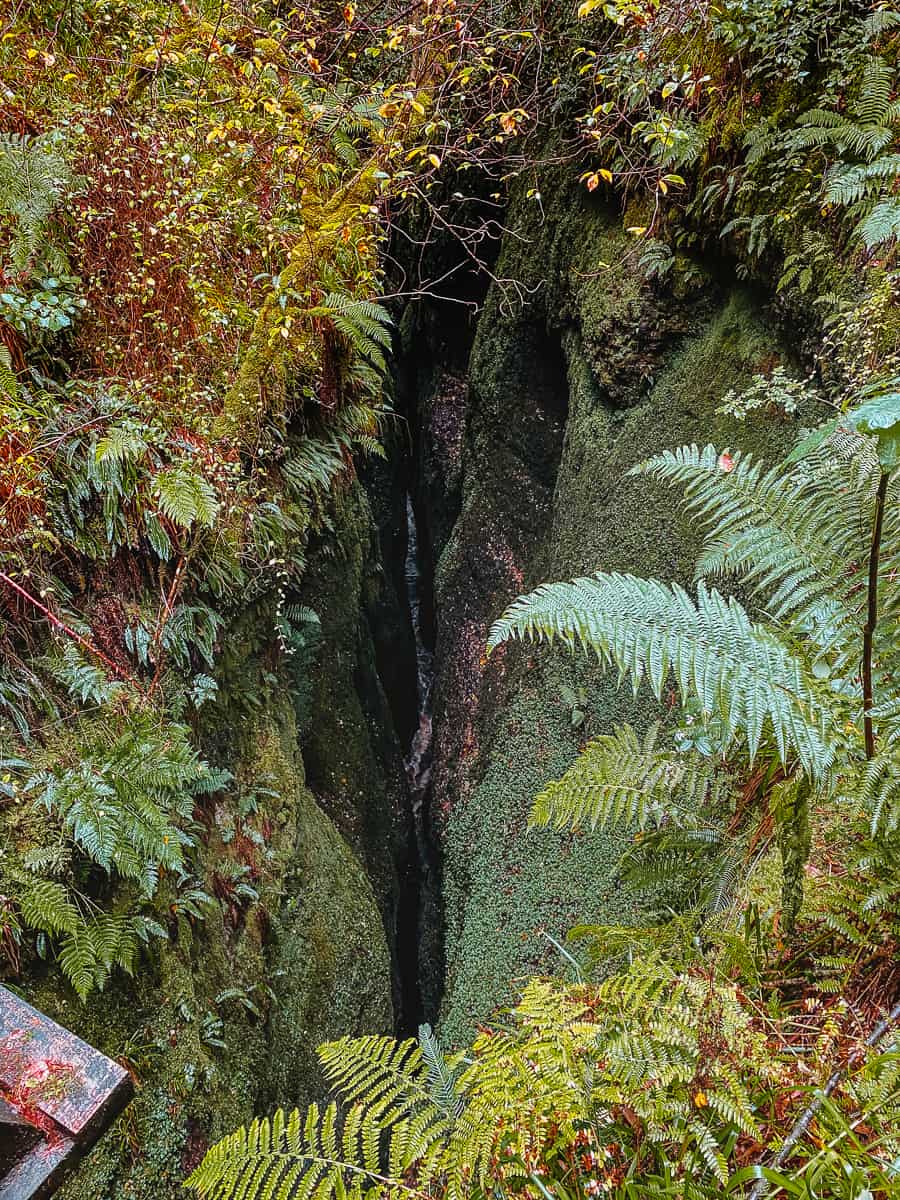 How long is the Black Rock Gorge walk from Evanton?
The Black Rock Gorge walk from Evanton will take you around 30 minutes one way on the route I'm going to suggest below.
However, I would plan around 90 minutes to two hours to complete the circuit. That way, you can take it at a leisurely pace and have time to explore the woods and gorge area too.
I read reviews saying that this walk was well sign-posted but I didn't find this to be the case. There aren't many obvious signs on this trail and it's easy to lose your way, or it was for me anyway.
The Evanton Community Wood also has lots more to see beyond Black Rock Gorge. There's a play area for children and lots of other wildlife trails to explore too.
Black Rock Gorge walk directions
Okay, so here are my walking directions to Black Rock Gorge so you don't waste any time!
I got lost a little bit but eventually found the right route. There are a couple of signs dotted about in the most notable places but I'll give you some detailed directions with photos to follow below.
Here are the Black Rock Gorge directions from Evanton;
1. Firstly park up in the village of Evanton
So, you'll first need to park up in the village of Evanton that is in Dingwall. It's located just off the A9 road that is part of the NC500 trail.
Once you've made the turning you'll be driving around a mile until you reach the village. When you get here, you will need to find parking in the Evanton Village Car Park.
You'll be parking right by the Cornerstone Café and a local bookshop. The Evanton Cornerstone Café is a community project run by Kiltearn Parish Church of Scotland volunteers.
Cornerstone Cafe Evanton opening times are Tuesday to Friday 10 am – 3 pm if you fancied a pick me up before your walk! Click here for more information.
2. Walk up Chapel Road and turn right at the sign
Once you've parked your car, you'll need to find Chapel Road. You need to walk all the way to the top and this is deceivingly steep.
At the end of the road, you'll find the Old Evanton Chapel. Although it is a beautiful building, it's no longer a working church. It's a private residence so unfortunately, you can't go inside.
To the right of the Old Chapel, you'll see a sign pointing you towards Evanton Community Wood and Black Rock Gorge. Follow this pathway into the woodland.
FYI – this is the only metal sign you will see like this for the walk. Once you get into the wood, all the other signs are hand-made.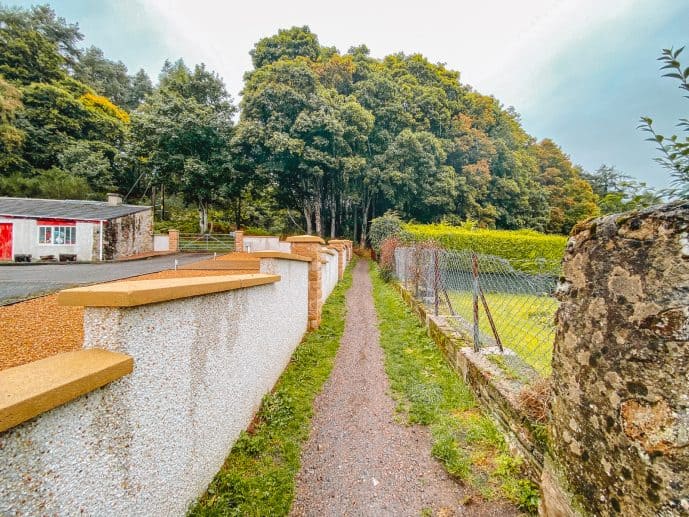 3. Continue walking in the Evanton Community Wood until you see a cabin and play park
Once you've entered the woodland, you'll see a sign to welcome you inside the Evanton Community Wood.
Walk past this sign and follow the path until you reach the 'centre' of the wood that has a tourist information board.
You'll also see a large empty cabin or bothy and a play park. I was here entirely alone here and I didn't see anyone else in the wood at all so this part totally creeped me out.
I'm sure on a busier day it would look a lot friendlier but this was not that day. Hello, over-active imagination!
There are many paths that lead off from this point as well. You'll need to take the path by the play park.
You'll see a small sign on a tree made with a marker pen that says 'Black Rock Gorge – 1km'.
4. You'll arrive at a small footbridge over a stream
Take this path and keep going straight until you reach a small footbridge that allows you to cross over a tiny stream.
There's a cute hedgehog bench there. Alas, it was too wet for me to sit and get a photo with it haha!
Head over the footbridge and then carry on upwards into the woodland.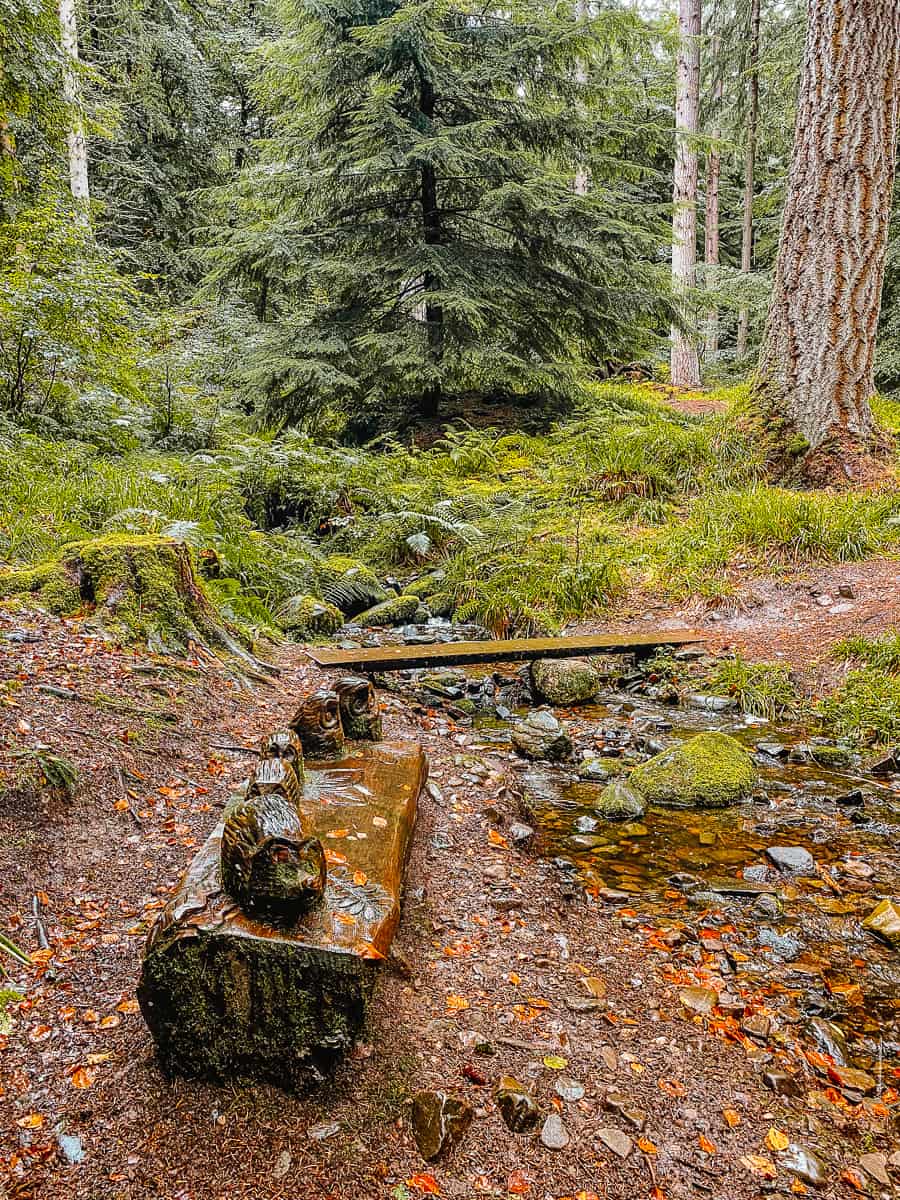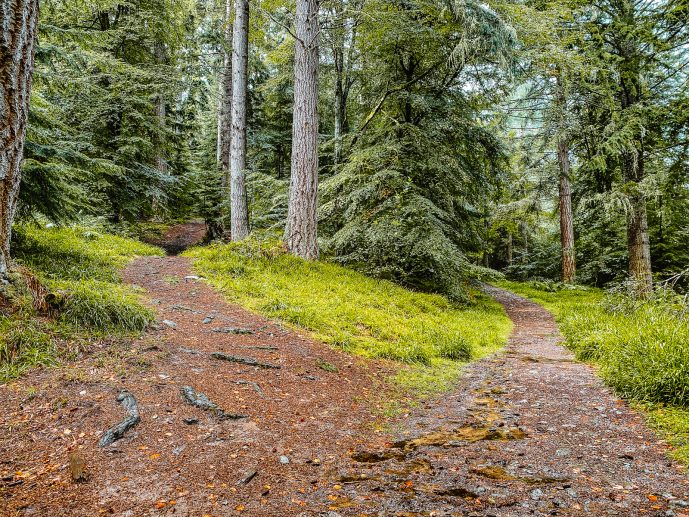 5. Keep walking up the hillside until you see a sign for 'Gorge Bridges'
The path here forks. So, you'll need to take the path furthest right and carry on straight into the woods. You'll be walking uphill for a while.
I actually took the left pathway initially but this made the walk much harder. This is where I got lost. So, take the right path straight up.
Eventually, you'll come across another picket sign that says 'Gorge Bridges' and points downwards into the woods.
6. Walk down this pathway until you've found Black Rock Gorge!
Follow the path all the way down until you reach Black Rock Gorge! You'll know you've found it as you'll find a tourist information board that has been set up here.
The board is worth reading as it tells you a bit about how the gorge was formed, some of the history, and some ghost stories too!
You'll also be able to hear the waterfall before you see it as it really roars through the gorge.
Exploring Black Rock Gorge
Once you've read some background information, you can then turn around and walk over the first footbridge to see the gorge and rapids waterfall.
The reasons why Black Rock Gorge falls are so dramatic and magical is the fact that they are located down a 40-metre deep cavern. So, you'll see the water splashing and crashing against the walls below.
It causes a racket in the woods and it's actually quite thrilling to watch it travel so fiercely under the bridge. As you lean over the railings, it's quite scary to look down as you'll be staring deep into the ravine below!
There's so much greenery and moss that grows around this gorge so it gives it a bit of a magical fairytale vibe.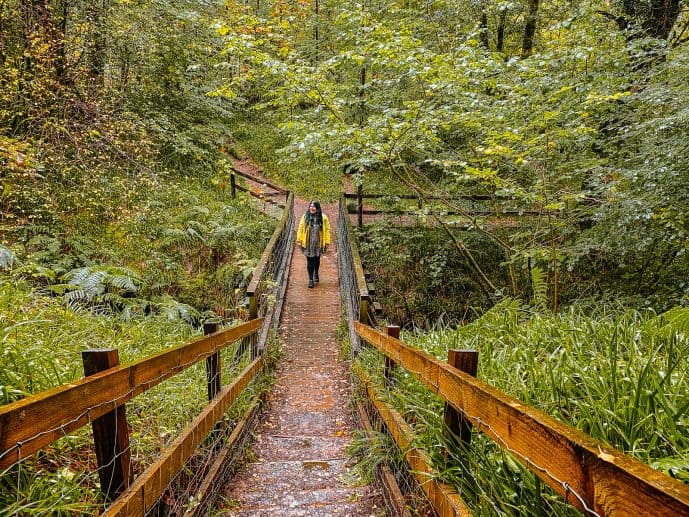 Make sure to cross the second Black Rock Gorge footbridge too!
When you reach the Black Gorge Sign, it's easy to think that there is just one bridge on this walk to see the gorge.
But, if you head left from the first bridge and follow the pathway along the gorge through the woodlands, you'll find a second gorge bridge.
This second bridge is far higher and provides a much more dramatic view of the waterfall through Black Rock Gorge.
This bridge is a lot longer too, so you'll find that it bounces a little as you walk over it. It is a little concerning but, it's quite safe and the views are well worth it.
This is also a great place to see where the gorge gets its name as you'll see lots of black sediment on the sandstone rock face.
The water is filled with red sediment from the River Glass and it causes this phenomenon. Add in the foliage that grows all over it and you get this magical and mysterious location. Perfect for Hogwarts!
It's easy to see why the production team picked this location for the Triwizard Tournament in Harry Potter and the Goblet of Fire!
I'm not sure if Daniel Radcliffe did visit here for the scenes on his Firebolt at this location. It looks quite dangerous. I believe they just took some footage at Black Rock Gorge to edit both Harry and the Horntail Dragon in for the Triwizard Tournament scenes.
But, it is really cool to see the Black Rock Gorge Harry Potter location for yourself in Scotland, I would highly recommend it for Potterheads!
Heading back to Evanton
So, once you've seen Black Rock Gorge you could continue on into the woods if you wanted an extended adventure here. It's beautiful and there are plenty of trails to enjoy.
But, it's just as easy to turn back the way you came and head to the play park and visitor area at the centre of Evanton Community Wood.
Again, I ended up getting lost on the way back to the village as there aren't many signs, whoops! But, Evanton is a small place so it wasn't too difficult to find my car haha!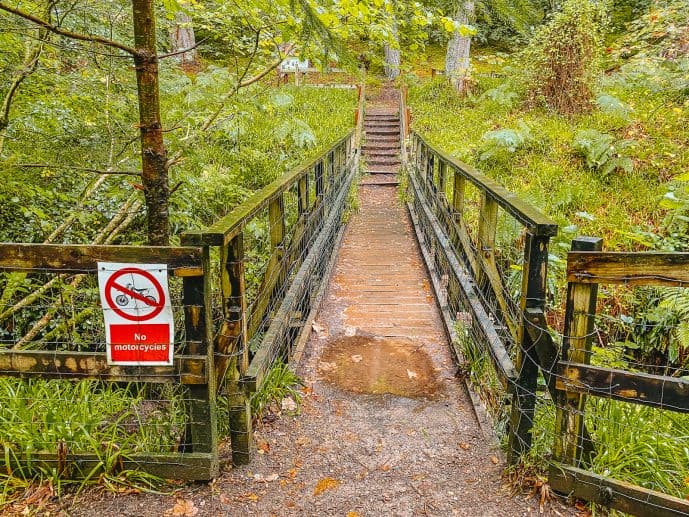 My top tips for the Black Rock Gorge walk
Wear a good pair of shoes. This wood can get awfully muddy as it's undercover and Scottish Highlands have a lot of rain.
That being said, bring a spare layer or waterproof jacket with you just in case it gets chilly!
There are some Black Rock Gorge toilets by the cabin in the Evanton Community Wood. It's an all access composting toilet and open 24/7 should you need it.
There is a small supermarket in the Evanton Post Office to buy some snacks and bottled water. There are also picnic benches in Evanton Community Wood too if you've brought a picnic.
Evanton woods are dog friendly but keep dogs on a lead at all times.
It shouldn't have to be said but Black Rock Gorge is 40 metres deep. Stick to the designated pathways and foot bridges at all times. Don't veer too close to the edges of this gorge as you could fall and hurt yourself or worse.
Black Rock Gorge opening times and ticket prices
Black Rock Gorge and the community wood are open 24 hours a day, all year. But, I would always recommend visiting with enough daylight for this walk.
There is no artificial lighting in the woodland and you don't want to visit here when you can't see anything.
Not to mention there are lots of steep and unexpected drops around the gorge, so having enough daylight means you can stay safe.
Evanton Community Wood and Black Rock Gorge are also completely FREE to visit so it makes a great budget day out.
Where to eat in Evanton
If the Cornerstone Cafe is closed on your visit and you wanted to stop off for a place to eat, I would recommend the Eco-Friendly Highland Farm Shop & Café that is open in Dingwall.
It's around a 10-minute drive away from Evanton and it's very popular. You'll find them at Mountgerald and they serve up a menu of locally inspired dishes using organic ingredients.
Their café also has stunning views as it overlooks the bonnie Black Isle.
The Highland Farm Shop is open from 9 am – 5 pm, Monday to Sunday. Click here for more details.
Visit Culzie Lodge aka The Pink House next
Just up the road from the Black Rock Gorge is Loch Glass which is home to the prettiest pink house.
It's called Culzie Lodge and is abandoned today but doesn't look dreamy. It makes an awesome photo opportunity.
You can drive up Glenglass Road from Evanton, park up and then walk to Loch Glass in around 30 minutes.
It's a beautiful walk through the forest, then by a loch with views of Ben Wyvis. You can even get the chance to see wild boar.
Click here to read my complete guide on the Loch Glass Pink House!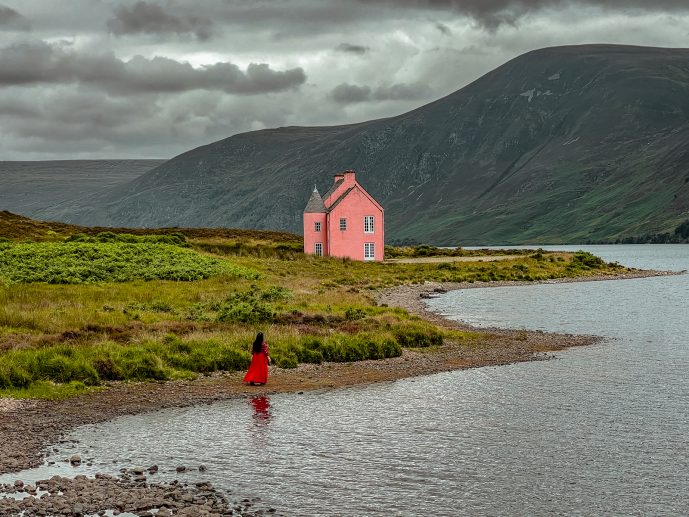 Find even more Harry Potter filming locations in Scotland
Did you know that there are plenty of other Harry Potter filming locations in Scotland that you can visit?
Most are located around Fort William though, so you will need to drive further down in order to find them all.
If you only have time for one location, it has to be a trip to Glenfinnan. Here, you can catch a view of The Jacobite steam train heading over the Glenfinnan Viaduct. This is the place where they filmed the Hogwarts Express.
Click here to read my complete guide on how to visit the Glenfinnan Viaduct to see the Harry Potter train bridge!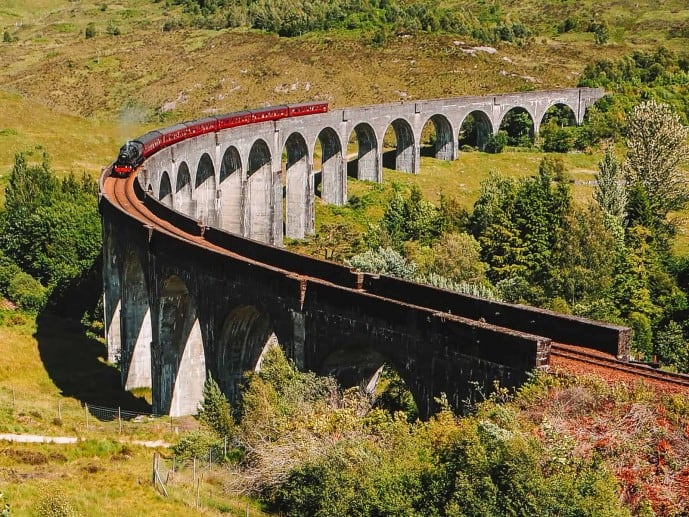 Afterward, make sure you head down to the Glenfinnan Monument and to Loch Shiel which stood in for Hogwarts Lake scenery.
Then, you could drive onto Eliean Na Moine on Loch Eilt to see where Dumbledore is buried. Loch Morar is another location and its Silver Sands beach is also featured in Highlander.
If you're up for a hike you can head on up to Steall Waterfall near Glen Nevis that is featured in the Goblet of Fire or you can head to the remote Loch Arkaig to see where they digitally imposed this island (this one is only for dedicated fans as the drive is a challenge).
In Glencoe, you can visit Rannoch Moor Viewpoint, Loch Etive, and Clachaig Gully which is where they filmed Hagrid's Hut!
Finally, who could forget Edinburgh? Although there were no filming locations here it's the city that started it all. Click here to read my complete list of Harry Potter locations in Edinburgh .
You can visit a real-life Diagon Alley on Victoria Street with Museum Context. Try Butter Beer, find Tom Riddle's Grave, and find Wizard Chess pieces.
Click here for my complete list of Harry Potter filming locations in Scotland
Are you a Potterhead? Read my Harry Potter guides
Harry Potter locations in Lacock
Harry Potter filming locations in Oxford
Harry Potter filming locations in Alnwick Castle
How to spend a night in Hagrid's Hut
Where to find Harry Potter in York
A complete Forbidden Forest Experience Review
How to find the Harry Potter Tree at Blenheim Palace
The Shop That Must Not Be Named Review
How to find Dobby's Grave in Wales
Harry Potter filming locations in Gloucester Cathedral
How to see the Hogwarts Express in Scotland
Visiting Malfoy Manor in Real life!
Where to find Tom Riddle's grave in Edinburgh
Visiting the Quidditch Town of Tutshill Tornados
Harry Potter locations in Exeter along with Gandy Street and the Room of Requirement
Virginia Water – the Other Hogwarts Lake
Instagram locations at the Wizarding World of Harry Potter
Is this a real-life Knockturn Alley and Diagon Alley in London?
Leadenhall Market – home of the Leaky Cauldron
London's only Butterbeer Bar review
How to find the Malham Cove Harry Potter Deathly Hallows filming location
Harry Potter filming locations at Durham Cathedral
Save this Black Rock Gorge Harry Potter guide for later!