If you're heading on an Outlander adventure around Scotland then you must add the dramatic Blackness Castle Outlander location to your list.
An historic mysterious fortress standing proud on the edge of the Firth of Forth coast.
Outlander fans will recognise this place as Fort William and we were first introduced to it when we watched those gut-wrenching scenes of Jamie Fraser being flogged by Black Jack Randall.
I always find ruined castles ridiculously romantic and enjoy imagining and listening to the stories through the walls. So, I knew that this place had a braw tale to tell.
Here's a complete guide to the Blackness Castle Outlander location, let me show you around the infamous Fort William.
Where is Blackness Castle in Scotland?
Blackness Castle is located in South Queensferry near Edinburgh. It's placed right on the rocks of the bay on the Firth of Forth coastline. In fact, you can see the famous bridge from the castle too!
It's near the village of Blackness in Scotland and you have to cross a bridge over to an island to access it.
The address is: Blackness, Linlithgow, West Lothian, EH49 7NH
How to get to Blackness Castle from Edinburgh?
Blackness Castle is relatively easy to access from Edinburgh and is only a 40-minute drive away depending on traffic.
The good news is that there are lots of Outlander locations in the area to make the journey worth your while;
Blackness Castle by car/taxi: there are three routes you can take to Blackness Castle. Either take the A90 and A904 roads, the M9, or the M8 and M9. As it's a famous castle, it's well signposted. There are many Edinburgh taxis in the area that will make the journey, see City Cabs to arrange a transfer.
Blackness Castle by bus: You can catch the Bo'ness Community Service C19 from Waterloo to the Square in Blackness. It's a two-minute walk from there. It will take around 45 minutes. See here for details and bus times.
Blackness Castle walks: From Blackness Castle you can walk to more Outlander locations like Abercorn Church, Midhope Castle (Lallybroch), and Hopetoun House that can be accessed via St Ninian's Way.
Outlander tours that include Blackness: If you're not planning on driving but want to see many Outlander locations while you're here. It may be worth booking a tour from Edinburgh that includes many of the sites including Lallybroch, Castle Leoch, Wentworth Prison, and more. See here for details.
Blackness Castle opening times and prices
Blackness Castle is open throughout the year but changes opening times depending on the season. As it's pretty windy out there on the Castle coast, those cold winter months must be freezing! Always check for unexpected closures.
The castle is open on the following dates and times:
1st April – 30th September: 9.30am – 5.30pm (last entry 5pm)
1st October – 31st March: 10am – 4pm (last entry 3.30pm)
Ticket prices for Blackness Castle:
Adults: £6
Child: £3.60
Concessions: £4.80
Did you know that Blackness Castle is part of Historic Environment Scotland? They also own Doune Castle (Castle Leoch), Craigmillar Castle (Ardsmuir Prison), Linlithgow Palace (Wentworth Prison). So, it may be worth getting an explorer pass for your time here, it may save you a good chunk of money!
Blackness Castle Parking
There is limited parking available outside the castle itself and this is reserved for those needing accessibility.
But, before you enter the bridge over to Blackness Castle, there is a small area of parking spaces available that are free of charge.
If you're visiting later in the day, this may be a better option as they close off the bridge after closing time and you don't want to get locked in!
Blackness Castle History
There is evidence to suggest that Blackness Castle fort was constructed as early as 1440.
It was built on the coast in the port that used to serve the royal borough of Linlithgow in the medieval era.
It's often referred to as the 'ship that never sailed' and if you look at it from the sea, it really does look like a ship that has run aground onto shore!
The towers also add to this illusion with the stem tower at the prow, the central mast tower, and the stern tower at the back.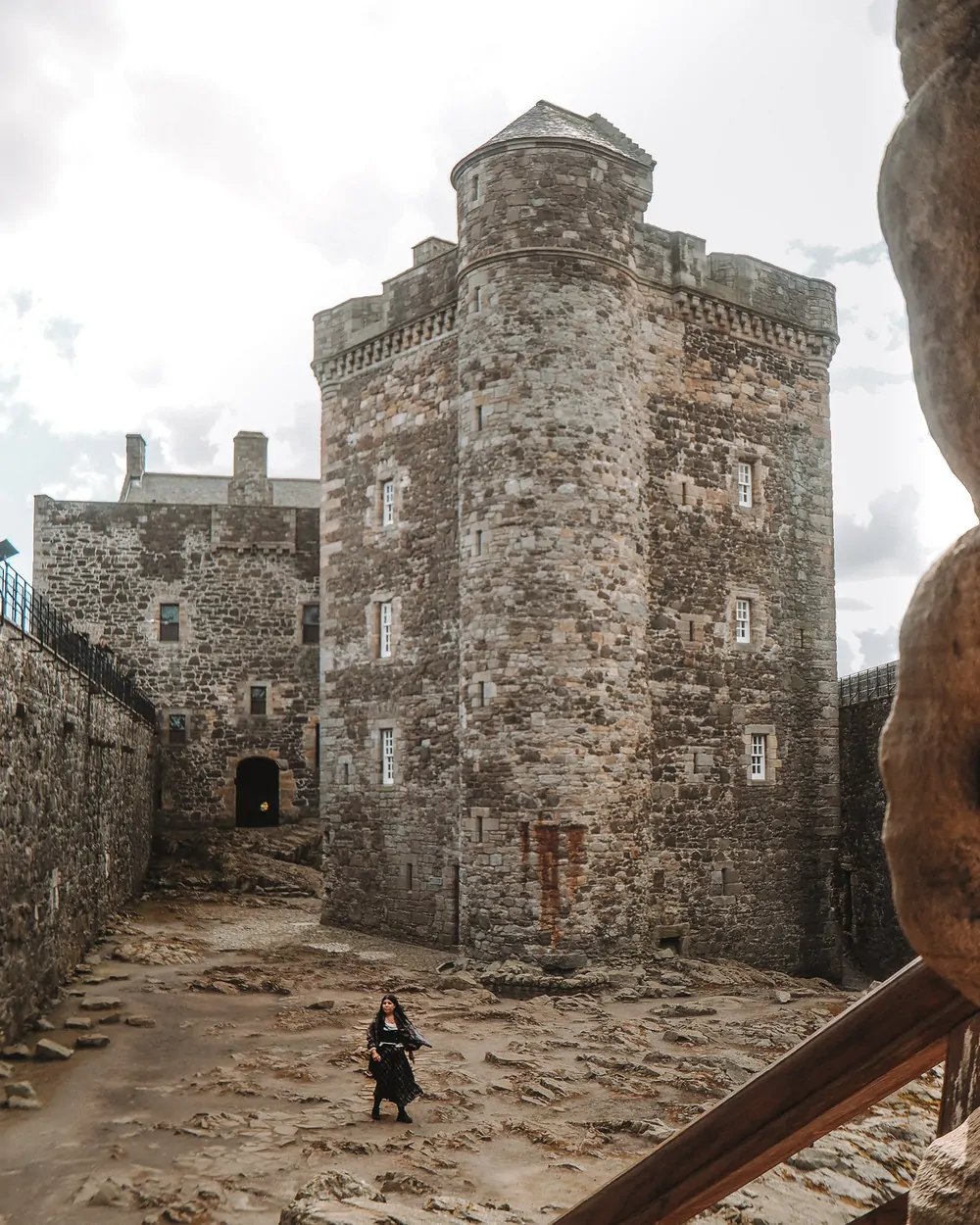 When was Blackness Castle built and who for?
Originally, Blackness Castle was built as a residence for Sir George Crichton who held the Barony at that time in the mid-1440s.
The Crichton's were the most powerful political family in Scotland at that time and were close to King James II.
As well as George's residence, it also acted as a state prison. As a castle that stood on the edge of the sea, the high tide was often used to make prison conditions worse for those incarcerated!
What was Blackness Castle used for?
Over the centuries, Blackness Castle took on many transformations.
In 1453, George Crichton handed over the lands of Blackness to James II, and so Blackness Castle became a Royal castle, fortress, and state prison.
In 1537, James V transformed the castle into a Garrison artillery fortification under the threat of Henry VIII and his protestant regime. This fort withstood many attacks and their enemies were met with mass gunfire and Canons!
In 1650, Oliver Cromwell devastated the castle walls and forced it to surrender. You can still see the hole he made with his canons today.
In the 1700s Charles II imprisoned many Covenanters here and captured many foreign sailors on the opposing sides of the war with Britain.
In the 19th century, it was an ammunition depot and then after the First World War, it was decommissioned. It then passed into state care so that we can visit today!
5 Blackness Castle Outlander locations / Fort William
We see Fort William or er, Blackness Castle should I say, many times in Outlander series 1&2.
Although in the series, there is a pillory in the middle of the rocky courtyard. This isn't there now. But, much of the castle remains exactly the same!
While I was here, I had a brief tour with the manager who informed me that they actually made a latex wall to cover the modern parts of the castle. This was to make sure that it remained true to the time period.
The time and effort the TV production crew spend to make sure that the show is historically accurate are just amazing.
Here are all the Blackness Castle Outlander locations to see while you're here!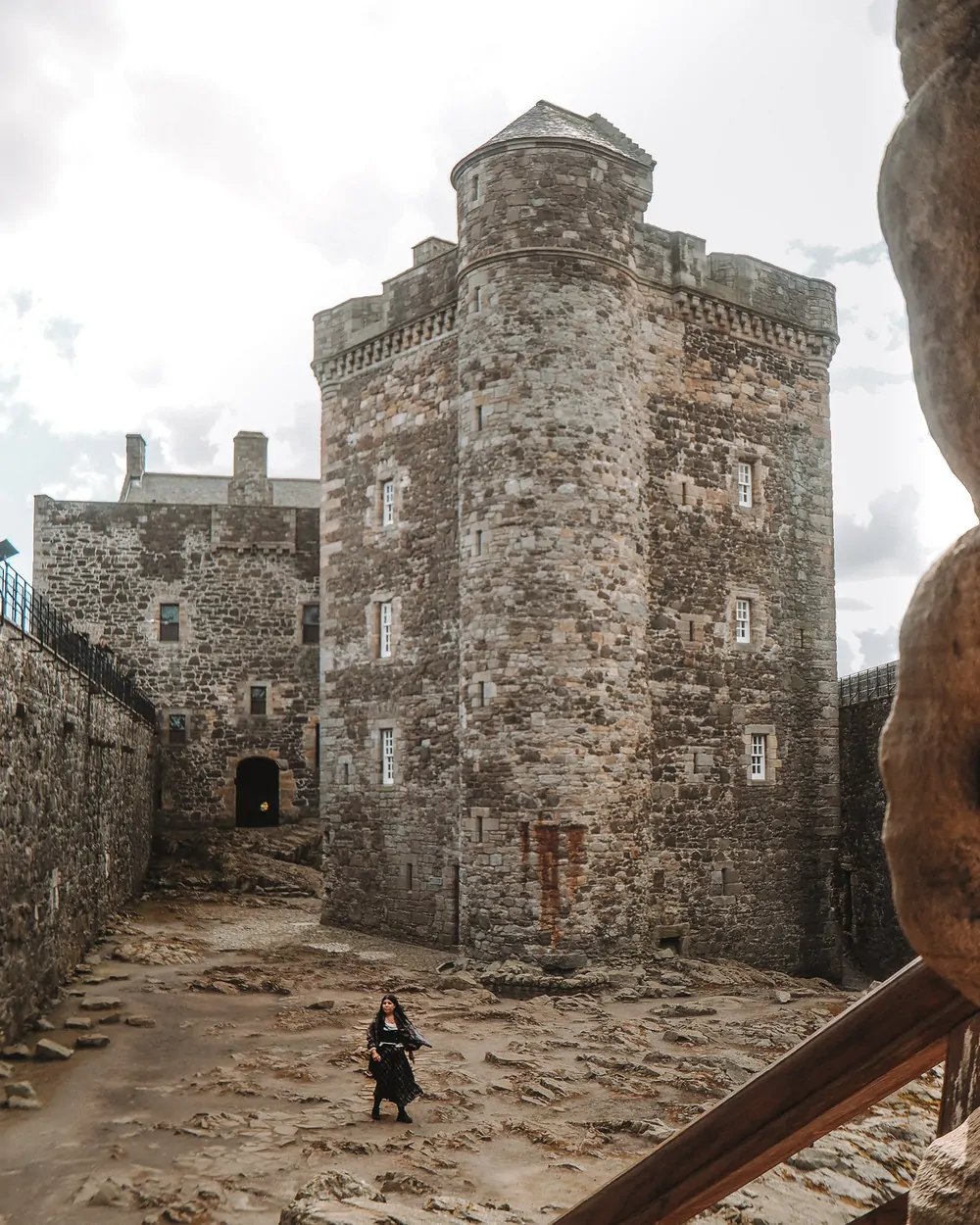 1. The entrance where Jamie and Murtagh knock out the redcoat
Series 1 location
As soon as you walk through the entrance gate of the Castle, you'll walk through a tunnel archway, with a staircase to your right.
In series 1, episode 'The Reckoning', Jamie breaks into Fort William to rescue Claire from Black Jack Randall. They capture a redcoat and force him to tell them where Claire is being held and eventually knock him out.
In the episode, this looks like it's on the edge of the sea. But, in fact, it's as soon as you walk in. So, remember to take a few photos!
2. The courtyard where Jamie was flogged by Black Jack Randall
Series 1 location
I'm afraid so, this is the place where we could only watch through our hands, or turn away at the sight. The grim place where Jamie was given 100 lashes over 100 lashes.
I don't know about you but, the scenes were so gruesome, it made me feel quite queasy!
As soon as you enter the main courtyard of the castle you'll find the area, where the onlookers from the Highlands were forced to watch and Jamie's dad dies in shock from the sight.
The best view of this area is from the fortification walls, where you can see the whole castle and the area beyond!
3. The inspiration for the window Jamie climbs through
Series 1 location
The interiors of the castle were all shot in a studio in Glasgow. But, to keep it in line with the reality of the castle, they did take some inspiration from the windows from the towers.
While visiting, I heard some Behind the Scenes gossip that Sam Heughan was far too large to fit into the windows in the actual castle. He is a braw lad after all.
So, they took inspiration from the windows here and the room within the castle and recreated them in the studio. Seriously, clever stuff.
4. The doorway where Jamie and Claire escape
Series 1 location
After Jamie and Claire overthrow Black Jack Randall and attempt to escape Fort William.
They run out onto the fortification walls and then jump off into the sea. You can see this door and the wall they both run along on the landward side of the castle.
The TV crew made sure that the metal railings were replaced with wooden ones and it was transformed to keep in line with the time period. So, it may look a little different from the episode.
5. The wall where Jamie and Claire jump from Fort William
Series 1 location
Before you head into the entrance of Blackness Castle, look at the wall to your right. This was actually the wall where Jamie and Claire jumped into the sea from in the series.
The staff, when they took me on my tour, said that there were some big stunt landing mats on the ground to shoot the scenes. Although, I'm sure it would be stunt doubles and not Sam and Caitriona doing it!
6. When Brianna and Roger visit Fort William
Season 2 location
In the finale of Outlander season 2, we see that Brianna and Roger visit Fort William or 'The Black Garrison' near Inverness in the 1960s.
The gate where they walk through is the same one where you enter the castle.
Again, in the TV show, they keep a pillory in the centre of the courtyard for tourists to see. But, this won't be there on your visit.
I did ask the staff whether they would consider it for tourism, but they have to keep the place in line for all tourists. Not just Outlander fans (sigh).
The winding staircase in Fort William
Now, I'm not sure if this is a location or not, but it did look awfully similar. When Jamie and Claire escape Black Jack Randall's room, they walk down a winding staircase in Fort William to escape.
There is a staircase just like this in Blackness Castle too, but don't quote me on it!
Blackness Castle and Mary Queen of Scots
You're probably wondering how Blackness Castle relates to Mary Queen of Scots based on the new movie being shot here!
Well, in the movie, Blackness Castle doubles up as Linlithgow Palace where Mary Queen of Scots was born.
Although originally, there was a plan to keep Mary at Blackness Castle for her own protection. A change in the tide of politics meant the plan was abandoned and she didn't actually ever visit.
It's also been featured in Netflix's Outlaw King too! So, plenty of reasons to visit if you're a film buff.
Where to eat near Blackness Castle
Unfortunately, like many Historic Environment Scotland properties, there isn't a tea room cafe on site. But, there is a gift shop selling snacks, drinks, and souvenirs!
But, if you are heading to the area for the day, there are some great places near Blackness Castle that are ideal for lunch.
You can check out Mannerstons Café in Linlithgow. Only a mile away from Blackness Castle you can pop in for a bite to eat, homemade ice cream, or afternoon tea.
The Ship Inn in Limekilns is only 2 miles away and serves up some amazing pub grub.
Where to stay near Blackness Castle
There are plenty of places to stay nearby in Queensferry if you didn't fancy a commute from Edinburgh;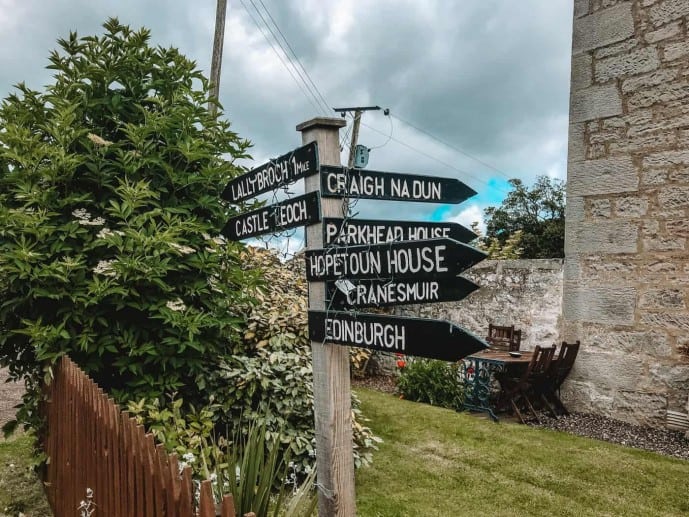 Looking for more Outlander locations in Edinburgh?
There are many Outlander locations around Queensferry that you can visit after Fort William. You can head to Linlithgow Palace which was the birthplace of Mary Queen of Scots but also doubled up as Wentworth Prison.
Hopetoun Estate has over 20 Outlander locations including those at Hopetoun House and grounds including that red room and Abercorn Church nearby. Who can forget Lallybroch, the ancestral home of Laird Broch Turarach?!
Read my complete list of over 90 Outlander film sites in Scotland and around the world here. Or, my complete city lists for Outlander fans in Edinburgh and Glasgow here.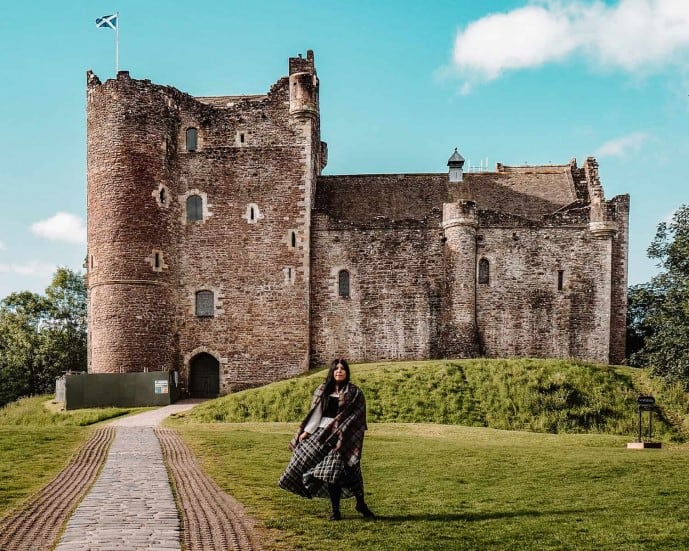 Culross featured as the village of Cranesmuir and the West Kirk nearby playing the Black Kirk. Gosford House in East Lothian played Helwater Estate and Preston Mill has Lallybroch Mill.
Bo'ness is also nearby that featured as the vintage railway station where Claire and Frank said their goodbyes and Doune Castle played the seat of clan MacKenzie, Castle Leoch. Or, visit Deanston Distillery in the area to see Jared's wine store in La Havre and Drummond Castle Gardens to find the Royal Gardens of Versailles.
Nearby Edinburgh you can visit the place where Jamie and Claire were wed at Glencorse Old Kirk or Roslin Glen Country Park and its gunpowder mills featured in a heartfelt argument right after the scenes at Fort William.
In the city centre you can visit Craigmillar Castle featured as Ardsmuir Prison and Summerhall which has a lecture room where Claire met Joe Abernathy in Boston.
A trip down the Royal Mile will take you to Bakehouse Close that featured as the Alexander Malcolm Printshop, Tweeddale Court where Claire and Fergus were reunited, Word's End Tavern where they saved Mr Willoughby or The Colonnades that doubled up as the Governor's Mansion in Jamaica.
Read more: Outlander walking tour of the Royal Mile.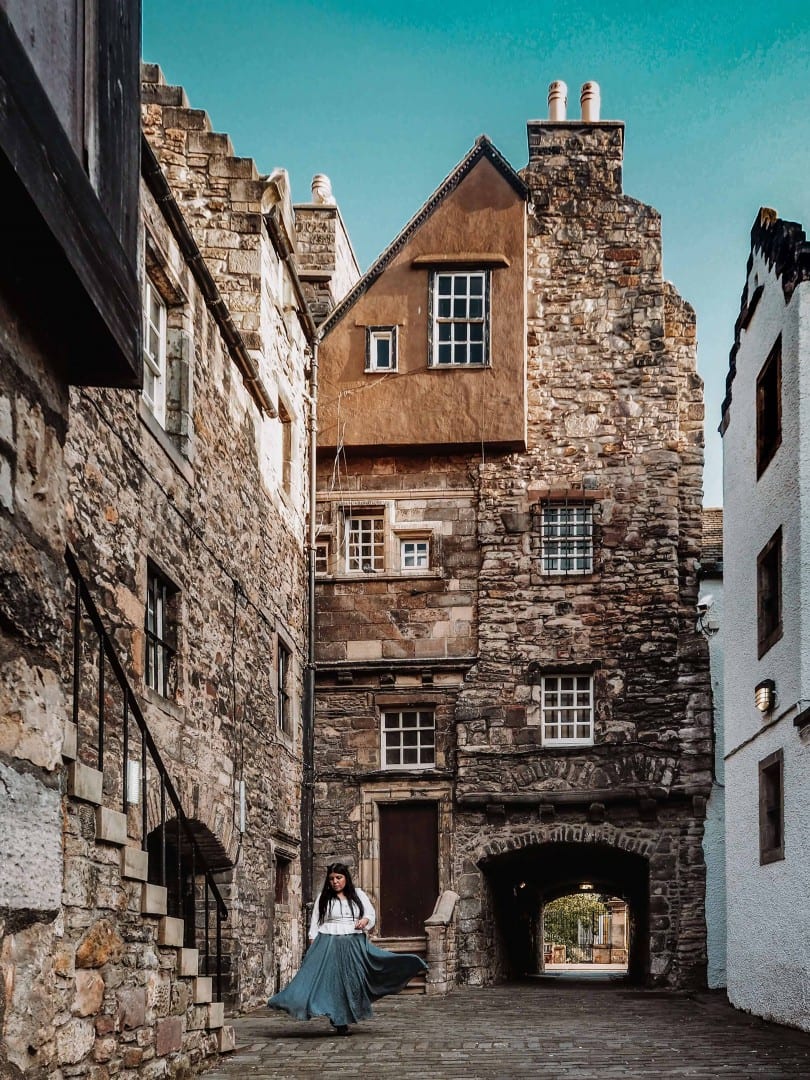 East Lothian will bring you to Gosford House that featured as Helwater Estate or Preston Mill that featured as Lallybroch Mill.
Or head North up to Falkland where you can visit 1945 Inverness and stay the night in the same hotel as Claire and Frank. Culross also featured as Cranesmuir and its West Kirk played the Black Kirk.
Save this Blackness Castle Outlander guide for later!
With thanks to the Historic Environment Scotland team for hosting my visit. I loved exploring your beautiful castle on the sea. Although I was a guest all photos and opinions are my own.