Strictly Come Dancing fans, did you know that you can visit the famous Blackpool Tower Ballroom that features in the series each year?
Not only that but you can enjoy a sumptuous afternoon tea in their opulent ballroom while you're serenaded by the iconic Blackpool Wurlitzer Organ.
While you dine, professional dancing couples take to the floor to perform routines and you can even practice some ballroom dancing moves for yourself.
Here is a complete guide on how to visit Strictly's Blackpool Tower Ballroom and an honest Blackpool Tower afternoon tea review!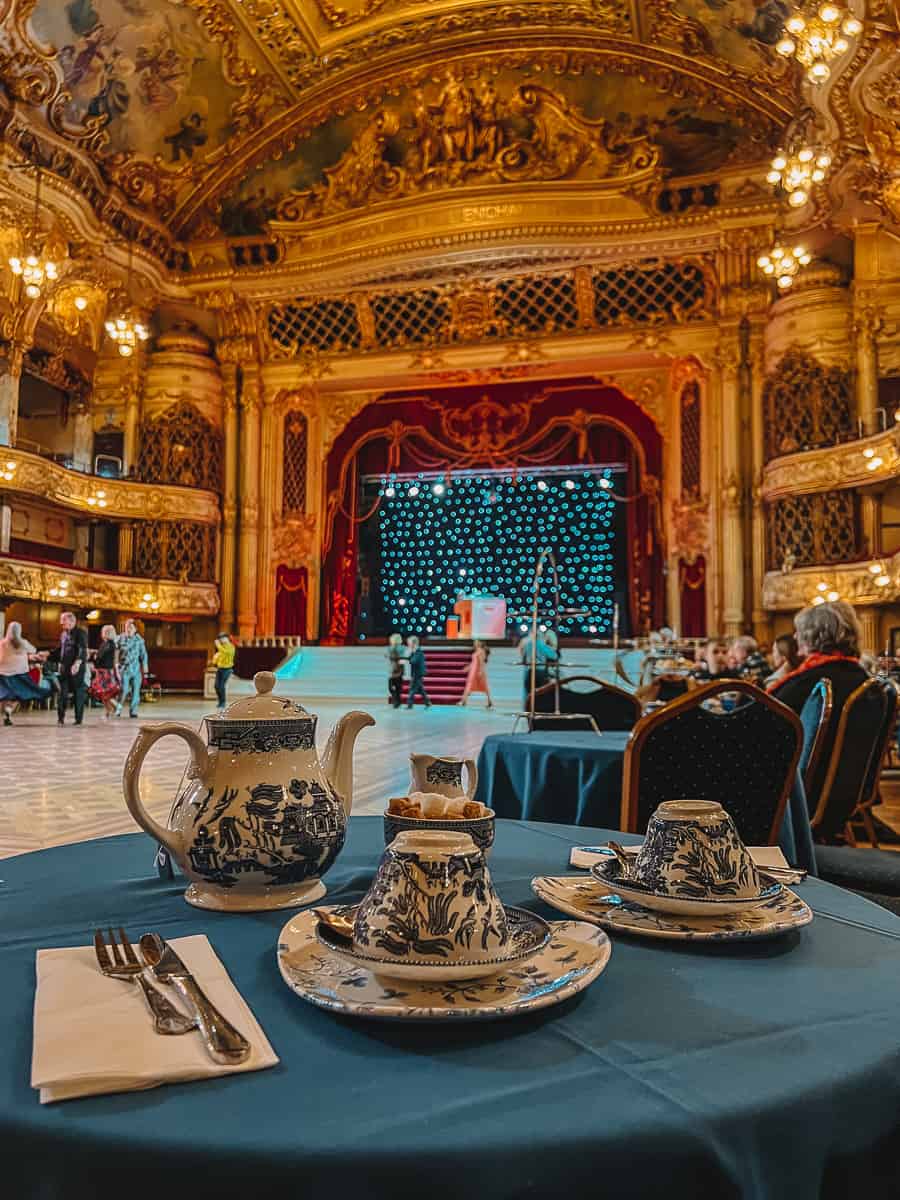 Blackpool Tower Ballroom history
The Blackpool Tower is one of the UK's best-loved landmarks that opened in 1894, back then the original Blackpool Tower Ballroom was a lot smaller.
The present Ballroom that we see today was designed by Frank Matcham and opened in 1899.
It measures 120 x 102 feet and is made of over 30,000 separate blocks of mahogany, oak, and walnut. It's also lavishly painted in gold with red velvet seats.
Above the stage, you'll see the Shakespearean quote "Bid me discourse, I will enchant thine ear" from the sonnet Venus and Adonis plus the names of 16 composers around the room.
It's now world-famous and is a dream for any professional dancer to perform in with its uniquely sprung dance floor.
Blackpool Ballroom has also become popular in recent years with fans of Strictly Come Dancing as it features in the talent show.
Sometimes, it's hard to remember that Strictly Come Dancing isn't the BBC's first rodeo of a ballroom dancing show.
This new popular TV show, which started in 2004, is a remake of BBC's Come Dancing talent show which ran on and off from 1949 to 1998. It was hosted in regional ballrooms across the country including Blackpool Ballroom!
Today, Blackpool has become synonymous with the new Strictly Come Dancing series, and fans of the show all want to visit this spectacular theatre.
Blackpool Ballroom in Strictly Come Dancing
Blackpool has been a world-famous dancing destination for over a century but it has had a resurgence of popularity in recent years due to BBC's annual Strictly Come Dancing TV Show!
This is when celebrities join up with professional dancers to practice routines like the Cha-cha-cha, Jive, Rumba, and Quickstep and participate in a sparkling 13-week competition!
Strictly Come Dancing visit Blackpool Ballroom every year as part of the show, usually mid-way through around late November.
It's always a special episode in the season and seeing the dancers perform in this opulent theatre is a treat for the senses.
So, Strictly fans will absolutely love visiting the Blackpool Tower Ballroom to see where the stars take to the uniquely sprung dance floor and perform their expert routines in front of the judge's panel!
How to visit Blackpool Tower Ballroom in Blackpool
The great news for Strictly Come Dancing fans is that the Blackpool Ballroom is open to the public and so you can visit when in Blackpool throughout the year.
Blackpool Tower is a really easy attraction to spot for miles around as it (quite literally) towers over the town at 158 metres high or 518 feet! It even lights up like a beacon at night time.
You can head to the central Blackpool Promenade to visit the Blackpool Tower and you'll find it near the Comedy Carpet, Coral Island, and the Central Pier.
It's also around a 1.5-mile or 30-minute walk from Blackpool Pleasure Beach if you were visiting the theme park too. You may see it from The Big One!
Blackpool is located in the North West of England in the county of Lancashire. You can drive there via the M6 or take a direct train from either Manchester Picadilly or Liverpool Lime Street.
There is no dedicated Blackpool Tower car park but there is plenty of paid parking nearby.
The closest would be Houndshill Multi-Storey (4-minute walk), or you have Central Car Park and West Street Car Park.
Blackpool Tower Ballroom address is Promenade, Blackpool FY1 4BJ. Click here for a Google Pin!
Blackpool Ballroom ticket prices
A common question that people ask when visiting the Blackpool Tower is if you have to pay to go inside the Blackpool Ballroom and the simple answer is yes.
The Blackpool Tower has five attractions inside, including the famous Blackpool Tower Eye, but you can pay for attractions separately on your visit.
You do have to pay to enter the Blackpool Tower Ballroom and tickets are £9 an adult. Children (3 – 14 years) are FREE to enter and one paying adult can bring up to two children with them free of charge.
You can either book tickets online before you arrive or on the day at the ticket desk.
Booking online may give you a slight discount and will avoid waiting in long queues, especially in summer.
Remember, if you're a Merlin Annual Pass holder you get to enter most of the Blackpool Tower attractions for free or with a discount.
But, if you really wanted to visit the Blackpool Ballroom in style then I would book the Blackpool Tower afternoon tea experience.
Click here to book your visit to the Blackpool Tower Ballroom!
How much is the Blackpool Tower afternoon tea?
The Blackpool Tower afternoon tea is £50 for two people (£25 each) and that includes your ballroom entry tickets which are usually £9 a person.
So, if you subtract the £18 from the £50, the afternoon tea is technically only £32 for two which is a bargain in my opinion!
There are slight discounts if you wanted to book for more people. You can book up to 8 people per sitting.
For example, if you book for 8 people the price is £160 in total. That's only £20 per person for an afternoon tea and Blackpool Ballroom entry ticket. Not bad at all.
Merlin annual pass holders get their afternoon tea slightly cheaper at £14.95 per person.
Personally, I would highly recommend booking your time slot online and in advance of your arrival to guarantee a seat!
You can book 15-minute slots from 12 pm – 2.30 / 2.45 pm daily for the afternoon tea experience.
Your table is reserved for 90 minutes but you're free to explore the ballroom afterward for as long as you want.
Note: You don't get access to the Blackpool Tower Eye with a Blackpool Ballroom ticket or Afternoon Tea experience, you would need to purchase this ticket separately.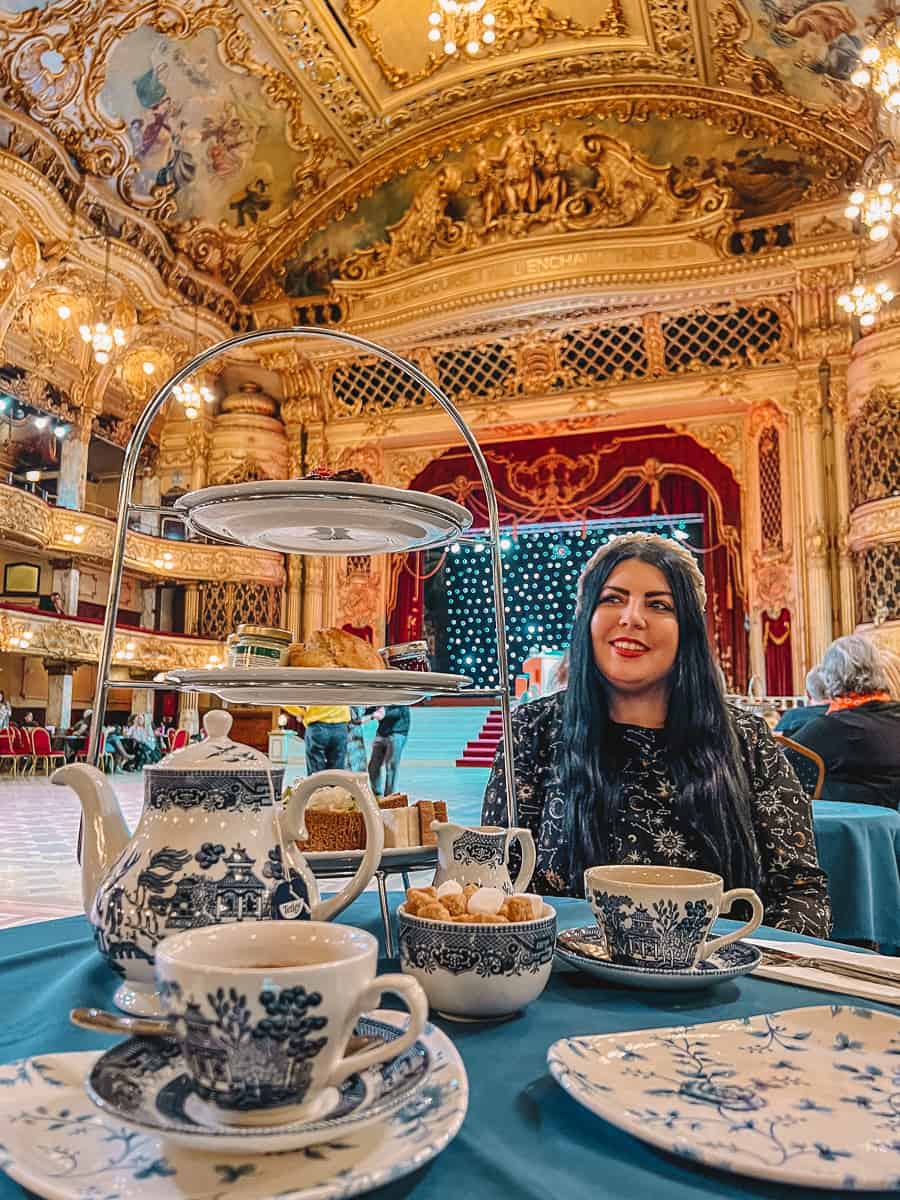 Blackpool Tower afternoon tea review
So, what's included in the Blackpool Tower afternoon tea? Well, you get entry to the Blackpool Ballroom, a pot of loose-leaf tea or coffee, and a three-layered cake tier of High Tea treats!
We both went for the loose-leaf English Breakfast tea to go with our afternoon teas and we loved the fact that it came on matching Blue Willow crockery.
The first tier will contain your finger sandwiches which included ham & cheese, tuna mayo, egg mayo & cress, and cream cheese & cucumber. These were all served on white or rye bread.
Then on the second tier, you get a set of two scones which included jars of clotted cream and strawberry jam. Ours were plain but we would have preferred fruit!
Then, you get a selection of mini cakes and treats including a macaron, chocolate brownie, and mini cheesecakes.
Again, I think we were meant to be given a choice of raspberry, lemon, chocolate, or vanilla but we were given a randomly selected cheesecake! It still tasted good.
While we were eating our tea we got to hear ballroom music and see couples dancing on the dance floor! As the floor was so springy our crockery kept shaking which was funny.
It's good to note that there are three to four rows of afternoon tea tables. So, if you'd like a front-row seat for the dancing, I'd try to book early or put in a request. You don't want to be shoved in at the back.
Overall, we really enjoyed the afternoon tea and thought it was well worth the money. It was such a special experience to dine in the Strictly Blackpool Ballroom!
Watch couples dancing to the Wurlitzer Organ or join in
While you're dining on your Blackpool Ballroom afternoon tea or visiting the ballroom for a tour, you can watch professional couples dancing on the ballroom floor!
You'll be serenaded by live music by organists including the famous Blackpool Wurlitzer Organ.
Blackpool Tower's first Wurlitzer Organ was installed in 1929 before it was replaced by the current organ that dates back to 1935.
It has 154 keys and 120 speaking stops to control 14 pipes! It's a mighty instrument and makes such a great sound with the acoustics inside.
At certain times, you'll find professional dance couples taking to the ballroom floor and waltzing around while you dine. It was just like experiencing Strictly Come Dancing!
If you wanted to have a go at ballroom dancing yourself, you'll get the chance to be taught by some of their instructors.
But, if you're too shy for complex steps they also play the Hokey-Cokey which is quite an easy number to join in on!
Blackpool Ballroom tour
Whilst the couples are dancing, you can take a self-guided Blackpool Ballroom tour and explore the theatre and its three floors.
You can't enter the top floor (also known as 'the gods') but you can sit on the first-floor seats to get a great view of the dancing below.
Once the couples have finished dancing or taking a well-deserved break, you can get a photo on the famous Blackpool Ballroom steps!
I saw so many couples doing the Strictly Come Dancing pose and saying 'Keeeep Dancing' it was so sweet.
Blackpool Tower Ballroom bar / café
If you didn't fancy splashing out on a Blackpool Ballroom afternoon tea, there is a small bar at the back of the ballroom.
They sell hot drinks and snacks to purchase throughout the day as well as alcoholic drinks.
It's a great place to relax whilst you watch the Blackpool Ballroom dancing and listen to the Wurlitzer Organ!
There is a selection of tables that can be found surrounding the ballroom floor and it provides great views.
Blackpool Ballroom opening times
The Blackpool Ballroom is usually open all year but in winter you can only access the Tower Ballroom on select dates.
Typically, the Blackpool Ballroom is open from 10 am – 5 pm in the summer season (April – October) and then open from 11 am – 4 pm in the off-season. It shuts earlier at 2 pm on Fridays.
It's always best to check the Blackpool Tower calendar for opening times on their website to make sure it's going to be open on your visit.
If you wanted to see the Wurlitzer Organ, they also have a calendar for who will be playing on the day you can access here.
Blackpool Ballroom FAQs
Can you go in the Blackpool ballroom? Yes, you can go inside the Blackpool Tower Ballroom for afternoon tea, to watch ballroom dancing, or just to look around.
Do you have to pay to go in the ballroom at Blackpool Tower? Yes, you pay an admission charge of £9 per adult to go inside, and children 3-14 go in FREE (up to 2 per paying adult). Or, pay more for a slap-up afternoon tea with entry included. It was £50 for two.
Is the Blackpool ballroom at the top of the tower? No, it's on Level 3 of the Blackpool tower. There is a lift if you can't take the stairs.
Is Blackpool Tower Ballroom open to the public? Yes, you can visit as a tourist attraction whilst in Blackpool.
Is there a dress code for Blackpool Ballroom? There is no strict dress code, no. But, they say you should dress smart casual. We wore dresses but I saw many in jeans and a nice top!
Why is Blackpool famous for ballroom dancing? Because of the Blackpool Ballroom built in 1894. It has a sprung floor and spectacular architecture. It was already world-famous but now is more popular due to BBC's Strictly Come Dancing TV show.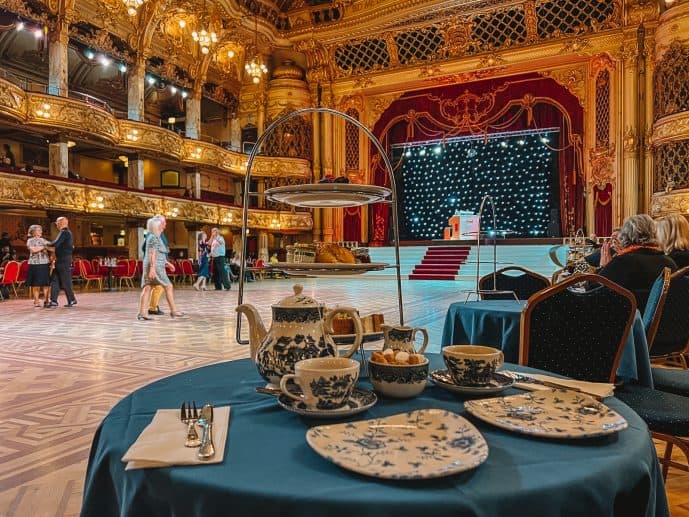 Explore more of the Blackpool Tower!
Did you know that the Blackpool Tower has more attractions than just the famous Blackpool Ballroom?
It opened in 1894 but is now owned by the Merlin Group and so you'll find 11 different rooms inside and 5 attractions to enjoy.
You have the Blackpool Tower Circus, Blackpool Dungeons, and Dino Mini Golf.
Strictly Fans will love to visit the Blackpool Madame Tussaud's and enjoy their Strictly Come Dancing Experience.
My favourite was the Blackpool Tower Eye where you could travel up over 380 feet to the top of the Blackpool Tower to experience their Skywalk.
They had a glass walkway that allowed you to look vertically down the tower to the Blackpool Promenade below. It was pretty scary but also super fun!
Then, you can head up even further to the very top of the Blackpool Tower in their observatory.
On a clear day, you can see the North and Central Pier, Blackpool Pleasure Beach, and even over the Irish Sea to the Isle of Man.
Click here to book tickets to the Blackpool Tower!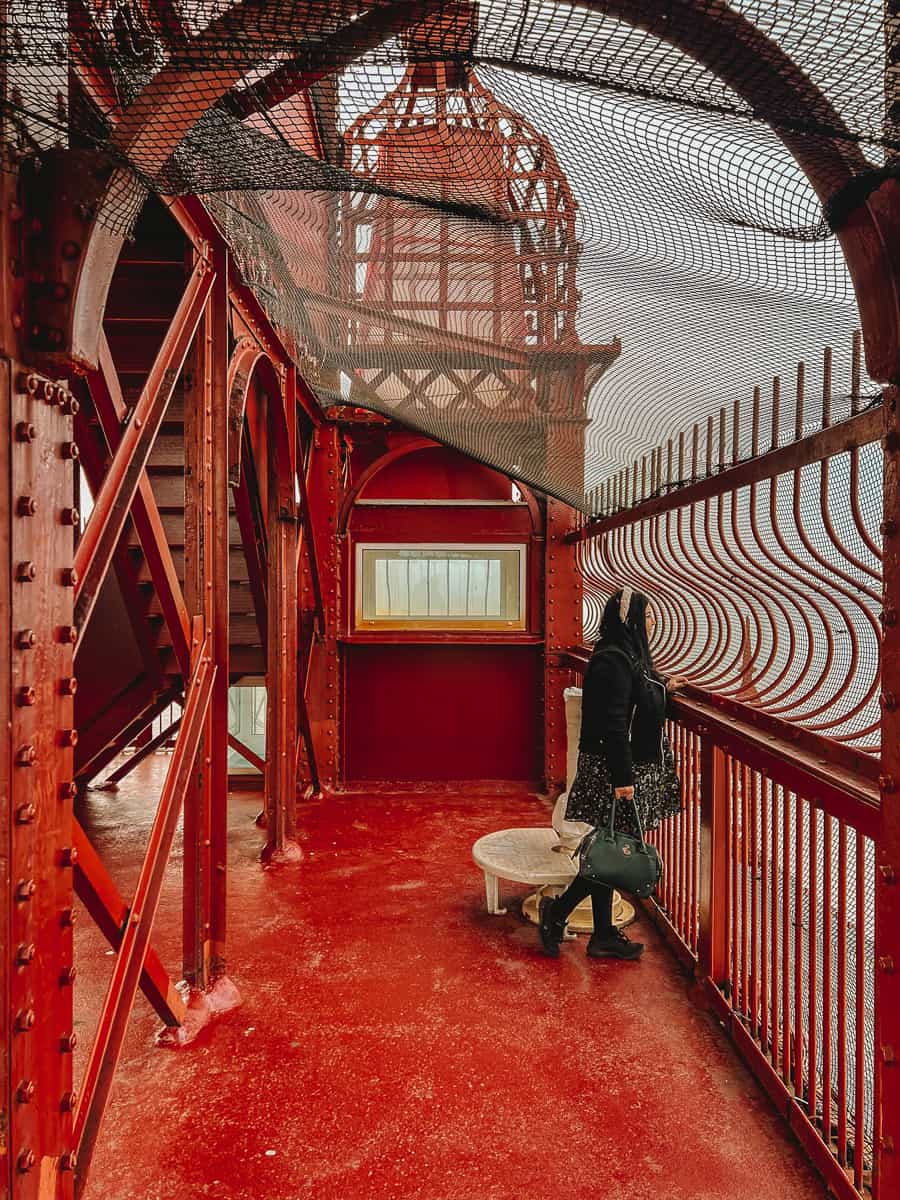 Blackpool Illuminations
My friend Tilly and I visited the Blackpool Ballroom as part of our visit to see the famous Blackpool Illuminations.
Its foundations date back to 1879 and today it's known as the greatest free light show on Earth.
You can experience over 6 miles of colourful lights on the Blackpool seafront including hanging lights, tableaus, water shows, and screens.
You'll find characters from Nickelodeon, Sooty and Sweep, and Circus Performers as part of the trail.
You can either walk, drive or take one of their illuminated trams along the promenade to enjoy the twinkling lights.
We visited at the end of November so we could also enjoy their Christmas By The Sea event which had a lively Christmas Market, colourful light projections, and more.
Looking for more things to do in Blackpool?
Blackpool is a popular seaside town to visit all year and there is a wealth of distractions to enjoy.
You can visit the world-famous Blackpool Pleasure Beach family theme park, explore the arcades on the Central Pier, or discover where Sooty was born on North Pier.
There is also Coral Island, a pirate-themed amusement park that is perfect for a rainy day. They have bars, restaurants, rides, and games.
I particularly enjoyed their Pirate Flyer ride that takes you above the whole arcade.
You can play games to win tickets and exchange them for prizes. I ended up winning over 60 tickets in one go on the 2p machines!
Or, why not relax on Blackpool Promenade when the sun is shining? You can buy candy-floss, ice-creams, and Fish n' Chips on the Prom!
There's always a good reason to keep coming back to Blackpool.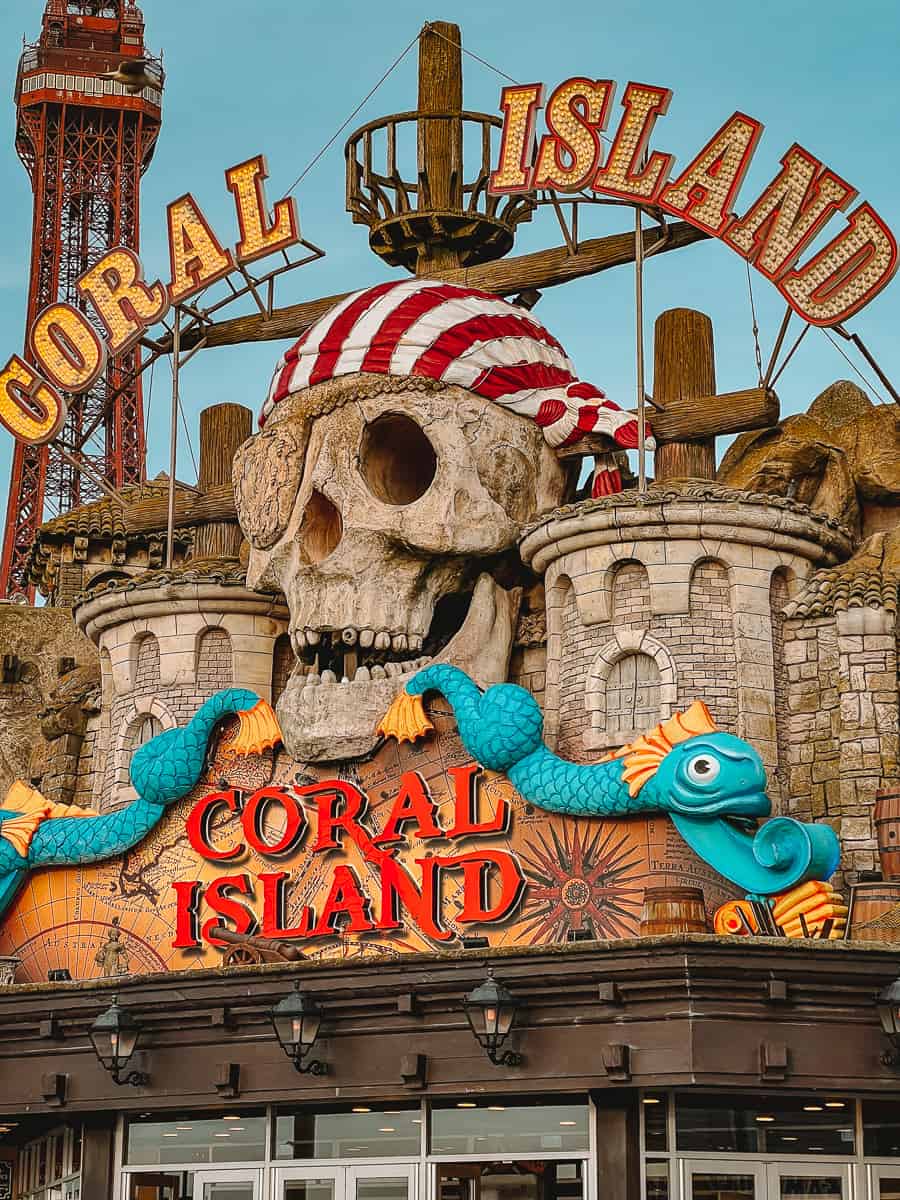 Read more of my North West England posts
Harry Potter – a Forbidden Forest Experience Review
Dunham Massey Christmas Lights Trail Review
Liverpool Fantastic Beasts filming locations
John Rylands Library Harry Potter guide
How to visit Rydall Hall Waterfall
Discover the Bridge House in Ambleside
Stock Ghyll Force waterfall walk
The Witcher filming locations in the Lake District
How to visit Cathedral Cave in the Lake District
Save how to visit the Blackpool Tower Ballroom for later!