Hidden away in Bristol lies the charming Blaise Hamlet of Henbury. A gorgeous collection of nine fairytale cottages surrounding a lush green.
As you step inside this miniature village, you'd be forgiven for thinking that you've just stumbled into the pages of a storybook. It's a world away from the modern busy streets outside.
These twee cottages were all built in the 19th century for retired employees of the Blaise Castle Estate just a few yards away. Now, they are owned and protected by the National Trust.
Here's a complete guide for the fairytale cottages of Blaise Hamlet with the history and how to visit near Bristol!
Please note: although this Hamlet is owned by the National Trust and visitors are permitted, the cottages are occupied. So, respect the resident's privacy!
The history of Blaise Hamlet
Years ago, the Blaise Castle Estate was owned by John Scandrett Harford. He was the one that bought the estate for £13,000 in 1795.
He was a wealthy Quaker, banker, and philanthropist and lived in Blaise Castle House which is now a museum.
John Harford asked John Nash to design this hamlet in 1809. He was best known for designing the Brighton Pavilion!
John Nash was asked to design Blaise Hamlet in the Picturesque style. This was an aesthetic that was described by artist William Gilpin as 'that peculiar kind of beauty which is agreeable in a picture'.
The hamlet was designed to house those employees who retired from Blaise Castle Estate as part of their pension.
Using Nash's sketches, the landscape architect Humphry Repton built the cottages and transformed this area into a mini-village within the estate!
All nine cottage designs were unique. Some had thatched roofs while others were made of brick. Some had dovecote gables with holes to let birds nest inside!
All of them have elaborate brick chimneys, dolmer windows, and a private Victorian cottage garden.
They were all built surrounding a green which is still here today and there is a small sundial and village pump in the centre. John Harford's son built the pump a while later as a memorial to his father.
In 1943, Blaise Hamlet was gifted to the National Trust and it has been protected by them ever since!
Who lives in Blaise Hamlet today?
Although the hamlet is protected by the National Trust, the cottages are still occupied by residents today.
Whether the houses were passed down through the families who worked for the Blaise Castle Estate generations ago or they are still homes for retired pensioners, I'm not sure. But, the cottages are occupied either way.
The National Trust has made many improvements to the interiors of the properties to make them fit for modern living. However, the exteriors remain exactly the same.
All of the buildings on the green, including the village pump, are Grade I listed.
Things to do in Blaise Hamlet
Although you cannot enter any of the cottages in Blaise Hamlet, it is still worth stopping by and taking a look around!
You'll enter through a small gate with a National Trust plaque. Visitors are welcome to explore but are asked to remain on the green.
This adorable area has lots to see and I would recommend bringing your camera as there are so many photo opportunities to be had.
Just remember that people do live here so you cannot walk inside any of the private cottage gardens. Also, it's impolite to stick your nose in the windows!
There are no picnics allowed here either and dogs must be kept on a lead at all times.
Walk around the green
All the cottages here at Blaise Hamlet are located in a ring around a small green space. There is a tiny footpath that allows you to walk all the way around and right next to the cottages.
On your rounds, you'll see lots of trees and flowers which were gorgeous and colourful in the springtime!
The whole walk will only take you around five minutes but seeing all these cottages was like strolling through a painting. I actually ended up walking around twice as I was so starstruck by them.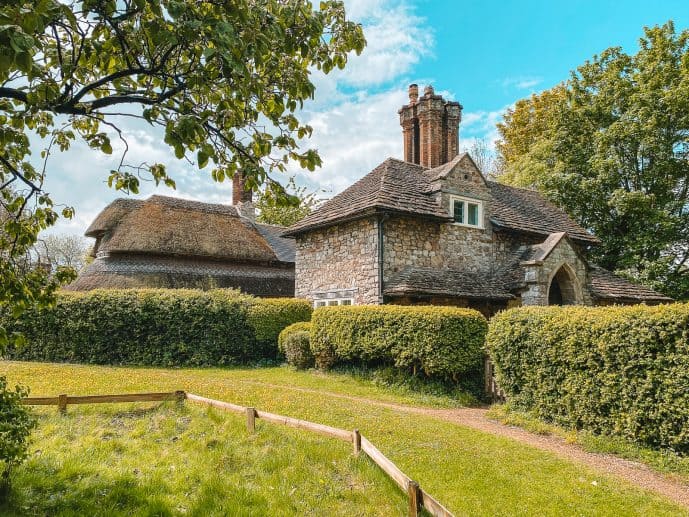 Admire the gorgeous fairytale cottages
What I loved about Blaise Hamlet is that each cottage had its own character. They were all unique dwellings in different shapes and sizes!
Many of them had thatched rooftops but others had dovecots. Although it's a tiny space, all the cottages were well spread out and had a pretty fence and hedge boundaries. There were also some lovely cottage gardens with veggies and growing.
I loved the fact that many of them had wisteria and flowers creeping on the walls and doors. It really was like a fairytale.
The thing that is most curious about these cottages is the incredible stone chimneys.
Again, all of them are unique with different patterns and some of the cottages had as many as six chimneys on their rooftops!
List of Blaise Hamlet cottages
Here's a complete list of all the beautiful cottages you can find in this hamlet. They have the most adorable names;
Circular Cottage
Dial Cottage
Diamond Cottage
Double Cottage
Dutch Cottage
Oak Cottage
Rose Cottage (holiday home)
Sweetbriar cottage
Vine Cottage
See the village pump & sundial
The Grade I listed village pump was installed by John Harford's son as a memorial to his father who died in 1866.
As well as providing water for the mini-village it doubles up as a sundial which can be found at the top. It's very ornate and has a gold flag with the letter H on it for the Harford name with a small coat of arms.
The pump part at the bottom has a lion's head with a tap coming out of its mouth!
It does make the place look a lot older than it is! It's hard to believe that the hamlet was established just over 200 years ago.
Much of this place looks like it dates back to the 16th or 17th century. I guess this comes from Nash's designs in the Picturesque style which was inspired by the Renaissance.
Can you stay in Blaise Hamlet?
YES, you can! So, if you ever had a dream of living in one of these fairytale houses, you're in luck.
Although the occupied cottages are not open to view, there is one cottage that the National Trust rents it out as holiday accommodation!
Rose Cottage is the one open for rentals for a limited time period each year and usually comes with a minimum stay of 2 days or more.
You can book your holiday with the National Trust here!
How to visit Blaise Hamlet in Bristol
Blaise Hamlet is located in the Henbury district of Bristol, a city in the South West of England.
This is just a few miles from the popular shopping centre Cribbs Causeway off the M5 motorway and just a few yards from the Blaise Castle Estate country park.
The postcode is Hallen Road, BS10 7QY.
The easiest way to visit Blaise Hamlet would be to drive as it's nowhere near either of the main Bristol train stations.
The nearest train stations to Blaise Castle would be Sea Mills or Shirehampton on a connecting service from Bristol Temple Meads. From Sea Mills, you can walk to Blaise Castle or take a bus.
Bus to Blaise Castle: From Bristol Temple Meads station, there is a FirstBus service to Blaise Castle Estate and it will take around an hour. From Kings Weston Road car park, the walk to Blaise Hamlet is less than 5 minutes.
Blaise Hamlet Parking
There is no dedicated car park for Blaise Hamlet. But, there are some free roadside parking spaces that are located just outside the gate that leads onto the green. These are not time-restricted in any way but there is limited space.
If these are full, there is the option of parking at Blaise Castle Estate that has a large FREE car park on Kings Weston Road.
From the parking area, the walk to Blaise Hamlet is only 150 yards. It will take less than 5 minutes.
How much does it cost to visit Blaise Hamlet & when is it open?
Although it's owned by the National Trust, Blaise Hamlet is completely FREE to visit. So, it makes a great budget activity when you're in Bristol.
Blaise Hamlet is also open to visit 24 hours a day, 7 days a week.
However, in order to respect the resident's privacy, it's best to visit during the day and at reasonable hours!
Why not visit Blaise Castle Estate next?
These houses were originally designed by John Nash for the people who worked at Blaise Castle Estate just a few metres away from here!
Today, the estate is a huge FREE park that you can visit where you can step back in time.
You can enjoy walks around Henbury alongside the river and you can head over to Coombe Dingle through the Avon Gorge!
Around the area, there are also plenty of caves to explore, lakes, and forgotten mills that used to provide for the estate. Plus, spectacular viewpoints like Goram's Chair and Lover's Leap!
The jewel in Blaise Castle Estate's crown has to be the Victorian sham Castle Folly that is hidden away on top of Castle Hill! From here, you can get fabulous views all over Bristol and beyond.
There is a free museum in Blaise Castle House which is currently under renovations that has a model version of this hamlet inside.
Also, you'll find a park café and a huge play area for children. It's the perfect place to spend a day in nature!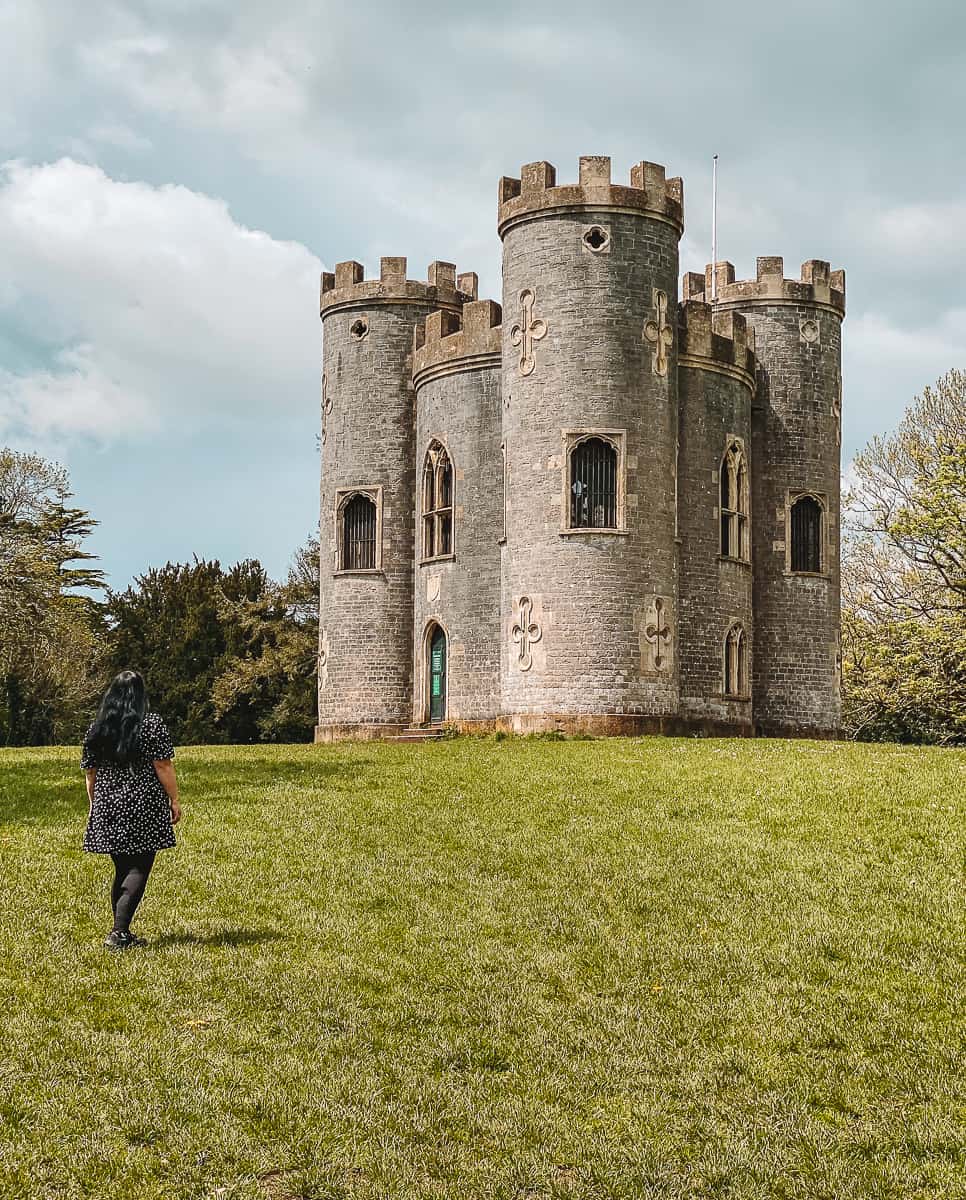 Read more of my Bristol travel guides
The most photoworthy places in Bristol!
How to find the colourful houses in Bristol
How to spend the perfect weekend in Bristol
How to visit the Christmas Steps in Bristol
The history of Foster's Almshouses
A complete guide to visiting Cabot Tower viewpoint
How to walk under the Severn Bridge in Bristol
Save Blaise Hamlet for later!