Did you know that you can visit a fairytale church in Slovakia? It's called the Church of St Elizabeth of Hungary but most people know it as the Blue Church Bratislava.
The entire chapel looks like it belongs in a Disney movie due to its beautiful Art Nouveau design and glazed ceramic details that look like an icing sugar cookie.
It's one of the most popular attractions in the city and you must plan a visit. But, it's good to know that opening times are limited.
Here is how to visit the Blue Church Bratislava, an enchanting chapel in Slovakia.
What is the Blue Church Bratislava?
This chapel has many nicknames that have formed over the years. Some call it a cake chapel, others a Smurf chapel but many simply call it the Blue Church in Bratislava.
The whimsical architecture, which looks like blue and white icing sugar, is an Art Nouveau style that is often called Hungarian Succession.
Its official name is the Church of St. Elizabeth of Hungary (Kostol sv Alžbety) and it was created at the turn of the 20th century.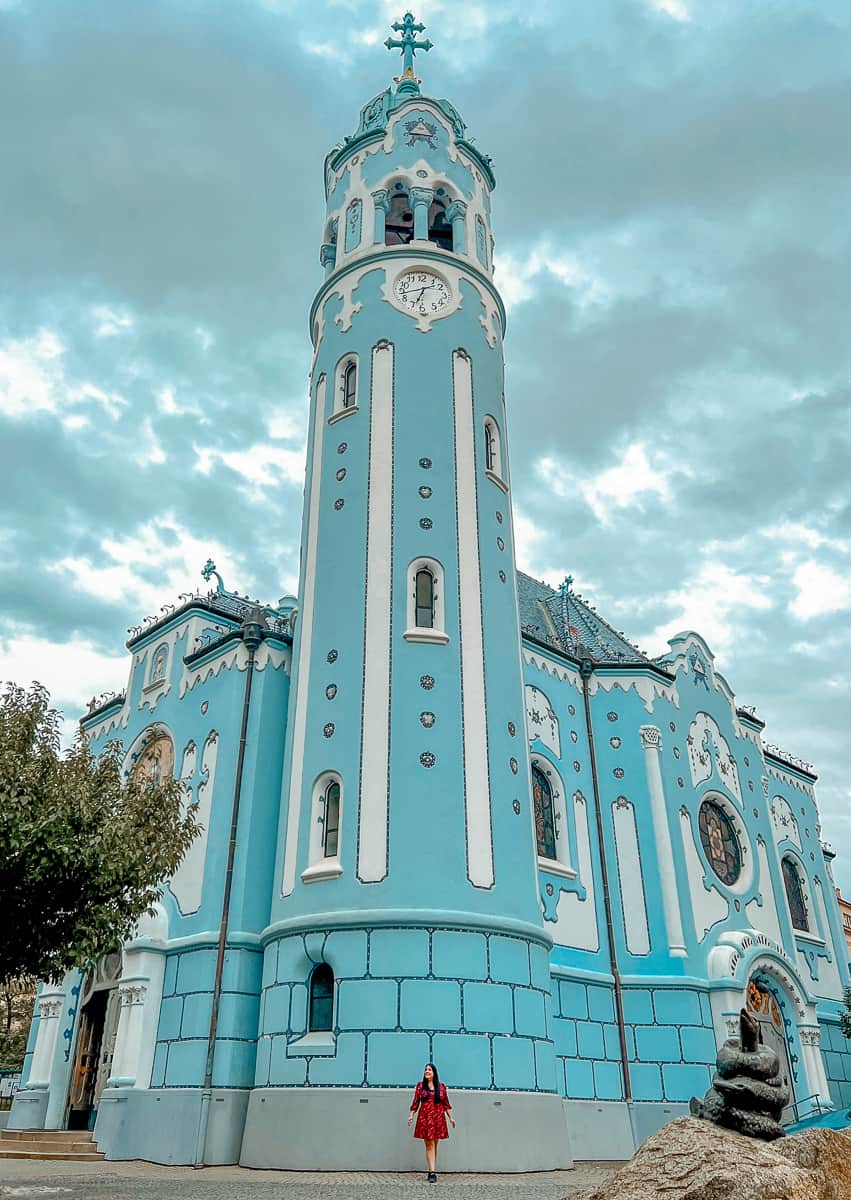 What is the history of the Blue Church Bratislava?
According to legend St Elizabeth, or Elizabeth of Thuringia, was a princess and the daughter of King Endre II of Hungary.
She was born in 1207 and was married at just 14 years old. Unfortunately, she was widowed at 20 but she used her dowry to create a hospital for the sick where she worked herself.
Tragically, Elizabeth died at just 24 years old. But, she became a symbol of Christian Charity and later became canonised as a saint.
On the 700th anniversary of Elizabeth's birth, Ödön Lechner was commissioned to design a church in Bratislava to honour her. Lechner is known as the 'father of Hungarian Art Nouveau'.
After the Austro-Hungarian alliance, Franz Joseph I approved the construction plans of the church. A marble relief of Sisi, Empress of Austria, was placed outside although it's been moved to the parish office these days.
The church was made of concrete with a round clock tower but was covered in blue and white paint with glazed ceramics and her rose motif.
Inside, you will find a portrait of Saint Elizabeth above the altar by Hungarian painter Gyula Tory. She is shown giving alms to the poor outside Wartburg Castle in Thuringia (part of Germany).
The Blue Church was officially consecrated on 11th October 1913 and is now one of the most popular churches in Bratislava.
Not only for pilgrims who worship here but also for tourists and couples hoping to get married in this fairytale location!
What is the Blue Church famous for?
The Blue Church is now one of the most recognised landmarks in Slovakia and one of the most famous chapels in the world due to its unique sapphire appearance.
Even the interiors are dreamy with the baby blue pews, ornate cream patterns, chandeliers, and gold stars.
It looks like it belongs in a fantasy land with its sugar cookie design and it draws thousands of visitors every year.
It almost seems like it's fake and was built for a film set but it is still an active church that holds services almost every day.
How much does it cost to go to the Blue Church?
Visiting the Blue Church in Bratislava is completely free of charge. Both, to see the outside and inside.
Unlike other churches in Bratislava, this chapel doesn't open as a tourist attraction throughout the day.
It's only open for services early in the morning and later in the evening. A thing to keep in mind is that opening times can be unreliable, especially in the winter season.
Blue Church opening times
The Blue Church opens for services from 6.30 – 7.30 am and then from 5.30 pm – 7 pm in the evening. In winter, these opening times may vary.
I say the church is 'open' but really it's open for mass and these services are very popular with the local congregation. So, sometimes pews can be quite full.
If you want to visit the church interiors without attending a service, it's best to show up around 30 minutes beforehand. That way, you may get a chance to capture the interiors without people inside.
There is also a very small window of opportunity after the mass has finished.
But, fair warning, the gatekeeper likes to lock up pretty quickly after the service so he'll be shaking his keys at you if you're taking too long!
Watching a service at the Blue Church
I was lucky enough to catch a service at the Blue Church on my visit for a short while and it was beautiful as there was singing and prayer.
I'm not religious at all and couldn't understand much as it was in Slovakian. But, I do feel like religion and belief are a universal language. So, it was easy to pick up what was being said and required of you during the mass.
It's also such a beautiful venue to attend a service and I was so captivated by the interiors. You could see stars painted on the ceiling and so many pretty details.
Always remember to be respectful and sensitive to where you are, especially about other people's beliefs.
Where is the Blue Church in Bratislava?
Most of the main attractions are in the Old Town of Bratislava but you'll find the fabulous sapphire church to the east of the city.
It's around a 10-minute walk from Hlavné Námestie (Main Square) or the Slovak National Theatre.
Something I loved about Bratislava was how compact the city was so you rarely had to take trams or buses to get around.
However, if you were using public transport, the nearest stop would be Šafárikovo námeste on the 1, 3, or 4 service.
Blue Church address is Alžbety, Bezručova, Bratislava. Here's a Google Pin!
What is the best time to visit?
The best time to visit the Blue Church in Bratislava would be just before the evening service around 5 – 5.30 pm. That way you get a chance to see the wonderful artwork inside.
Although the exterior of this whimsical chapel is a great photo spot, the interiors are honestly breathtaking. I wouldn't miss out.
Alternatively, you could visit for the early morning service as there would be far fewer people but it would be quite an early wake-up call.
Bratislava Blue Church photography tips
Although this building is completely stunning, it's actually quite a hard building to capture with your camera.
The clock tower is so tall and it's surrounded by roads on a busy junction. There's also a car park just in front of it which is full most of the time.
The best place to capture the building would be from across the road outside. Or, make sure to have your wide-angle lens on to capture this fairytale chapel up close.
As it's so popular, you'll find this place busy with walking tours and tourists visiting throughout the day. There will also be lots of congregation around the church before and after services.
If you want to visit with fewer crowds, it's best to come early in the morning. Or, later in the evening is a good time after the evening mass.
Is the Blue Church worth visiting in Bratislava?
Yes, in fact, I would bump this gorgeous attraction to the top of your list in Bratislava. It is truly a magical location.
Although it is a little further out of the Old Town, it's well worth the effort to see this cerulean chapel.
This dreamy place has been on my travel bucket list for years and it was one of the highlights of my trip to Slovakia.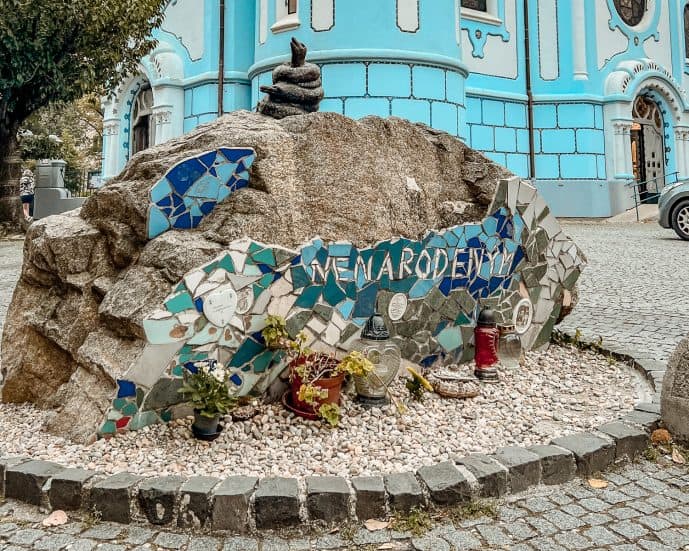 Looking for more things to do in Bratislava?
After you've spent some time admiring the fairytale Blue Church in Bratislava, there are plenty more beautiful places to visit in the city.
I would recommend heading back to the Old Town to Hlavné námestie aka "Main Square" where there are many statues dotted around like Napoleon's Army Soldier, Schone Naci, and Čumil, man at work.
Just nearby are the Old Town Hall and Apponyi Palace. They make great museums to visit and you can head up to a unique rooftop terrace.
Primate Palace is a gorgeous pink building that is the residence of the Mayor of Bratislava as well as a museum.
You can visit to see the gorgeous Hall of Mirrors or simply wander around the courtyards to see the St George Fountain.
Bratislava Castle is well worth a visit for its panoramic terrace. From here, you can see the incredible UFO tower over the Danube River.
I would recommend heading up the UFO tower for some amazing views over the city, especially at sunset. They even have a bar for cocktails and a swanky restaurant inside.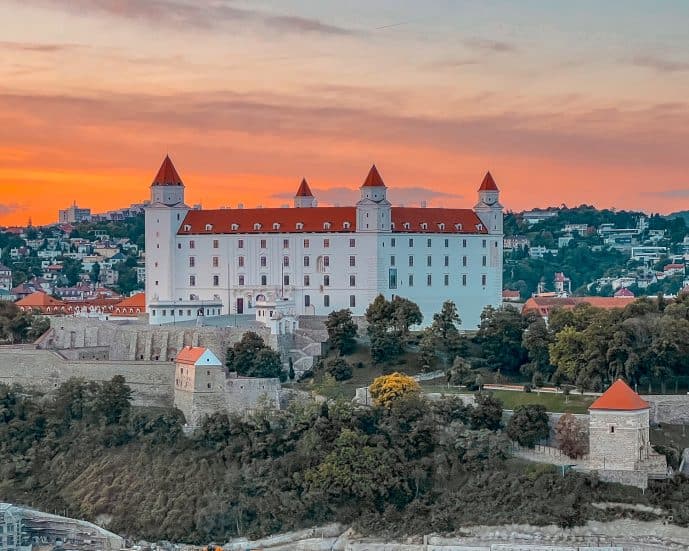 Read more of my Slovakia guides
Why you must visit Primate Palace
Čachtice Castle – How to visit Elizabeth Bathory's Castle
Save the Blue Church Bratislava Slovakia for later!