One of the most magical places in Ireland has to be Ballinastoe Woods. A fairytale place that looks like you're walking into the world of the Lord of the Rings.
It's easy to access in Wicklow Mountains National Park which is a short drive from Dublin but it's best to do some research before you arrive.
Most people want to visit the Ballinastoe Boardwalk which is the mystical location for photography and videos. But, finding it can be a bit of a challenge if you start off in the wrong place.
Luckily, I was able to find a way to access the boardwalk in less than 10 minutes and I'll show you how in this post.
Here is a complete guide for the magical Ballinastoe Woods and how to easily find the Ballinastoe Boardwalk in Wicklow!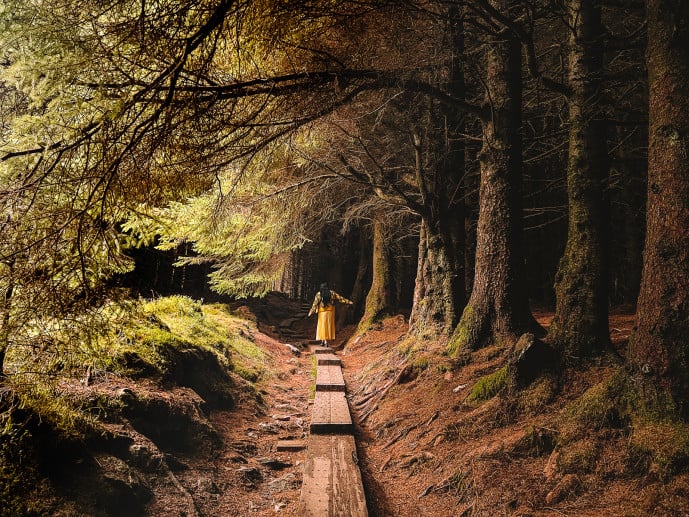 The Ballinastoe Boardwalk
Most people recognise the dense Ballinastoe Woods from the magical pictures taken of the Ballinastoe Boardwalk.
This part of the woods looks like an Elven forest and you've been transported to Middle Earth in the Lord of the Rings.
It's such a magical place to take photos and videos and if you catch it in the right lighting it looks surreal.
I'm going to be honest, this boardwalk is why I visited the Ballinastoe Woods and I was quite lucky as I managed to find this boardwalk in less than 10 minutes just on Google Pins and instinct.
So, I'm going to share detailed directions with you below about how to find the Ballinastoe Boardwalk easily and quickly!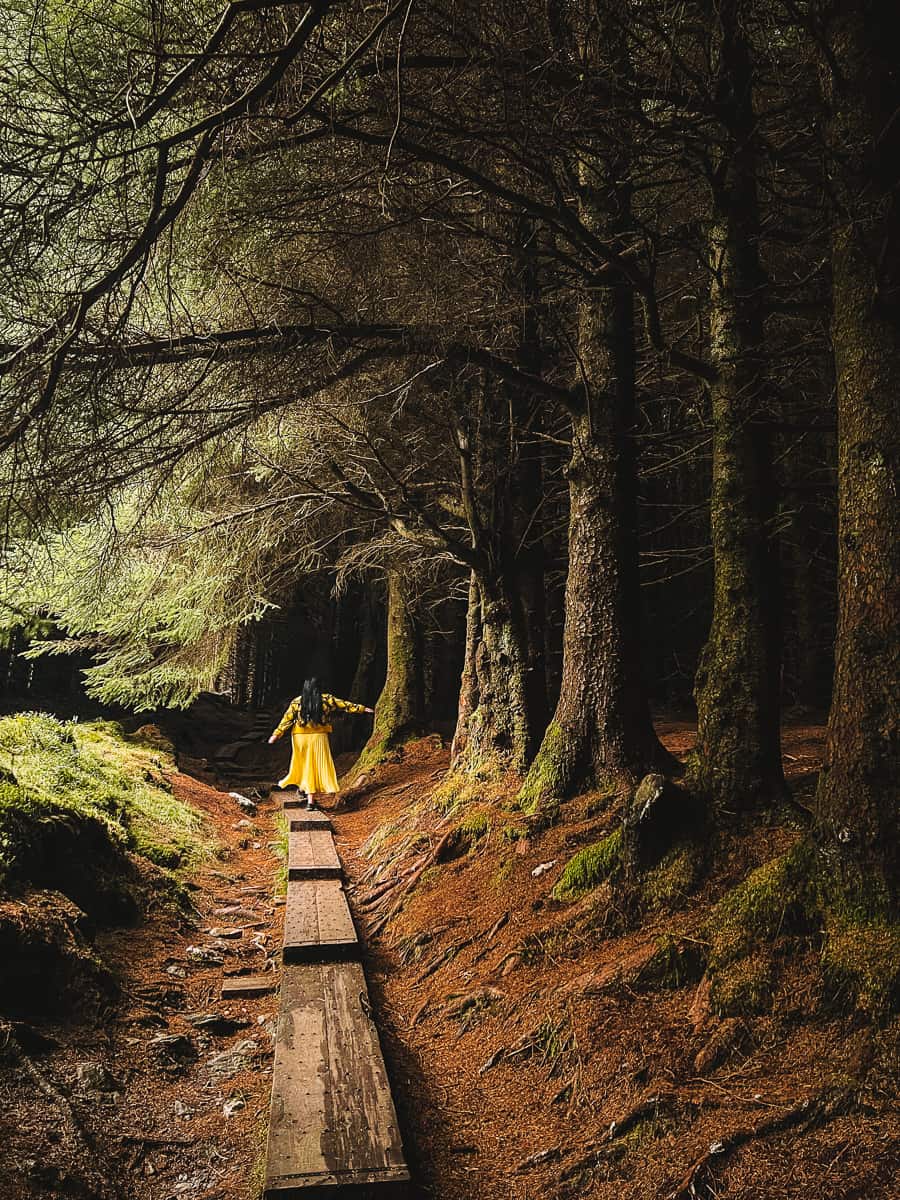 Where is Ballinastoe Woods in Ireland?
Ballinastoe Woods can be found in the Wicklow Mountains National Park in County Wicklow, near Sraghmore, Oldtown.
Now, that might not mean a lot to most tourists visiting Ireland. But, it's basically an hour's drive from Dublin or around 2 and a half hours drive from Belfast.
It's a great place to add on with a trip to the Sally Gap drive, Lough Tay, and the Djouce Mountain Walk.
Or, many people visit here to hike the Wicklow Way. A 128-kilometre national trail that stretches from Rathfarnham to Clonegal.
Ballinastoe Woods address is Oldtown, Co. Wicklow, Ireland. Click here for a Google Pin!
How to get to Ballinastoe Boardwalk in Ireland
So, most people who visit Ballinastoe Woods will probably want to visit the mystical looking Ballinastoe Boardwalk.
Finding the Ballinastoe Boardwalk is very easy to do depending on where you park when you reach Wicklow Way.
Most people will suggest parking up in the J B Malone car park. But, in my opinion, this is quite far for the Ballinastoe Boardwalk and you may end up losing your way.
The easiest way to access the Ballinastoe Boardwalk would be to park up around half way up Wicklow Way hill in a small lay-by and use a mid-way entrance nearby to enter the wood.
Alternatively, if this is full, you can park up in the free Ballinastoe Car Park at the top of the hill and walk down the main road to the same mid-way entrance.
From these car parks, the walk to the Ballinastoe Boardwalk will be around 10-20 minutes. I'll provide Google Pins and photos to direct you below.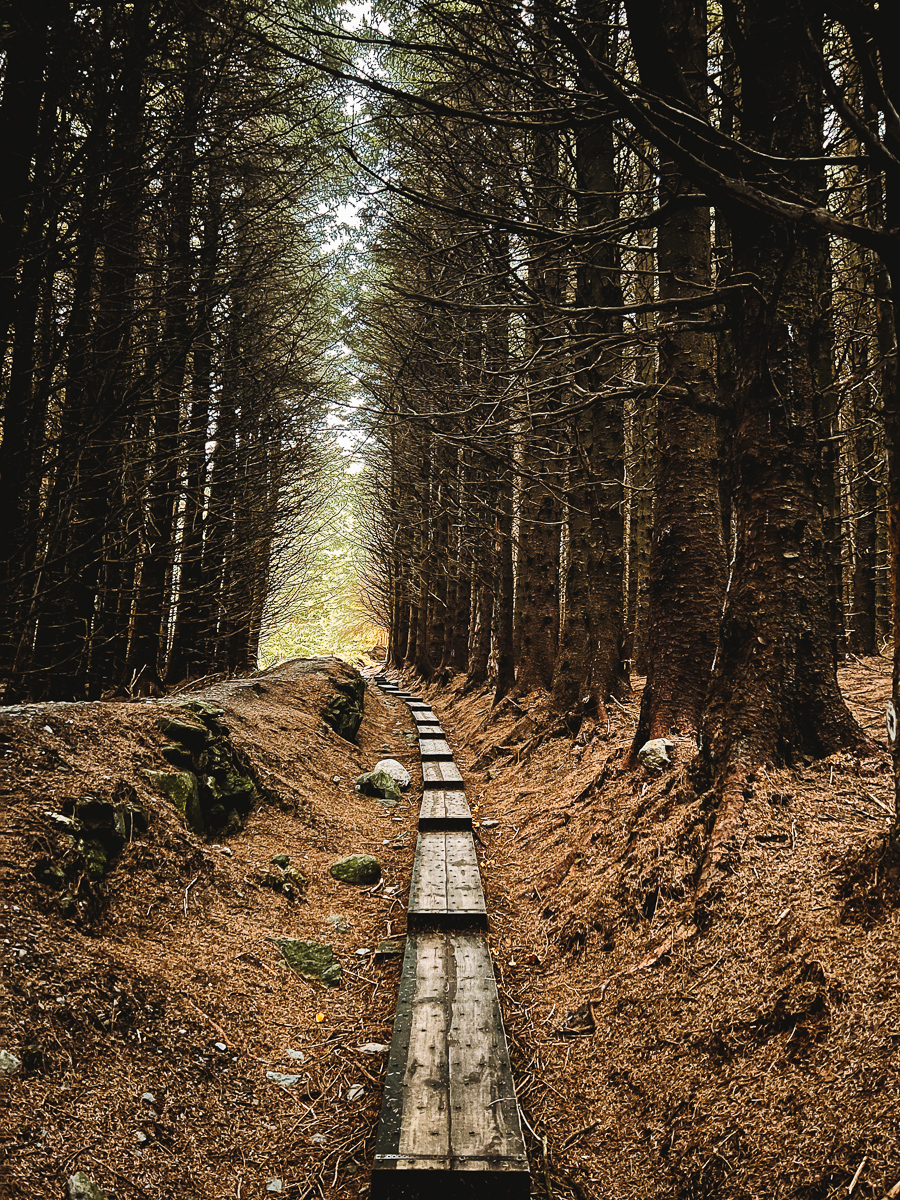 Ballinastoe Woods parking
There are many choices for parking in Ballinastoe Woods. Some paid, some free, and some allow a lengthier walk.
I'm going to put them in order of my preference and ease for the Ballinastoe Boardwalk parking;
Small lay-by next to Ballinastoe Woods on Wicklow Way – the most convenient parking option is this small lay-by on the hillside. It holds around two cars so it's very limited. Also, it's extremely pot-holey. But, it will get you to the Ballinastoe Boardwalk in less than 10 minutes Click here for a Google Pin!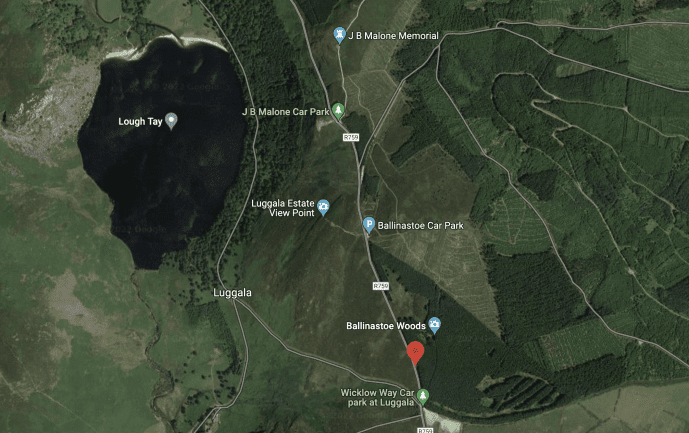 Ballinastoe car park – if the small lay-by is full, this is a bigger off-road car park opposite the Lough Tay/Luggala estate viewpoint. It's free but spaces are again limited. There is a path that leads you into the woods from above. But, for the easiest access to the Ballinastoe Boardwalk, I'd walk down the main road and enter the woods around halfway through. This will take you around 15 minutes to the boardwalk. Click here for a Google Pin!
Wicklow Way car park at Luggala – this is popular paid parking at the bottom of Wicklow Way hill that has a port-a-loo toilet and refreshments. But, it has opening times (9 am – 7.30 pm) and locks in the early evening. It's also further away from the boardwalk around 20-30 minutes.
J B Malone car park – this is also an option on busier days like weekends when the other car parks fill up. But, again, it's further from the Ballinastoe Boardwalk. I would only choose this if you want a longer walk.
Ballinastoe Mountain Bike trail car park – this doesn't include the boardwalk at all and is on the opposite side of the wood. So, avoid! Unless you're a mountain biker of course…
How to get to Ballinastoe Boardwalk
For me, as it was getting late in the day near sunset, I opted to do the shortest walk to find the Ballinastoe Boardwalk. I parked up in the small lay-by on the hillside (look above for my Google Pin).
If you've managed to park up in the smaller lay-by like me you can then walk up the hill on the main road until you see the entrance into the Ballinastoe woods on your right.
There will be two wooden entry barriers and a walking trail marker there (pictured below).
If this lay-by is already full there is a bigger free off-road car park at the top of the hill. Park up here and then walk down the main road for around 5 minutes to the mid-way woods entrance that will be on your left.
Once you enter the woods, keep walking down this straight path into the heart of the forest.
Fair warning: if you're visiting earlier or later in the day for photography, I cannot tell you how dark these woods get!
Although the camera brightens these photos up, it actually felt like nighttime and was giving me all the Twilight vibes.
It was quite creepy and I could barely see in front of me. So, make sure to have a torch with you and a tripod if you want sharp photos. Luckily, the iPhone has a low light setting.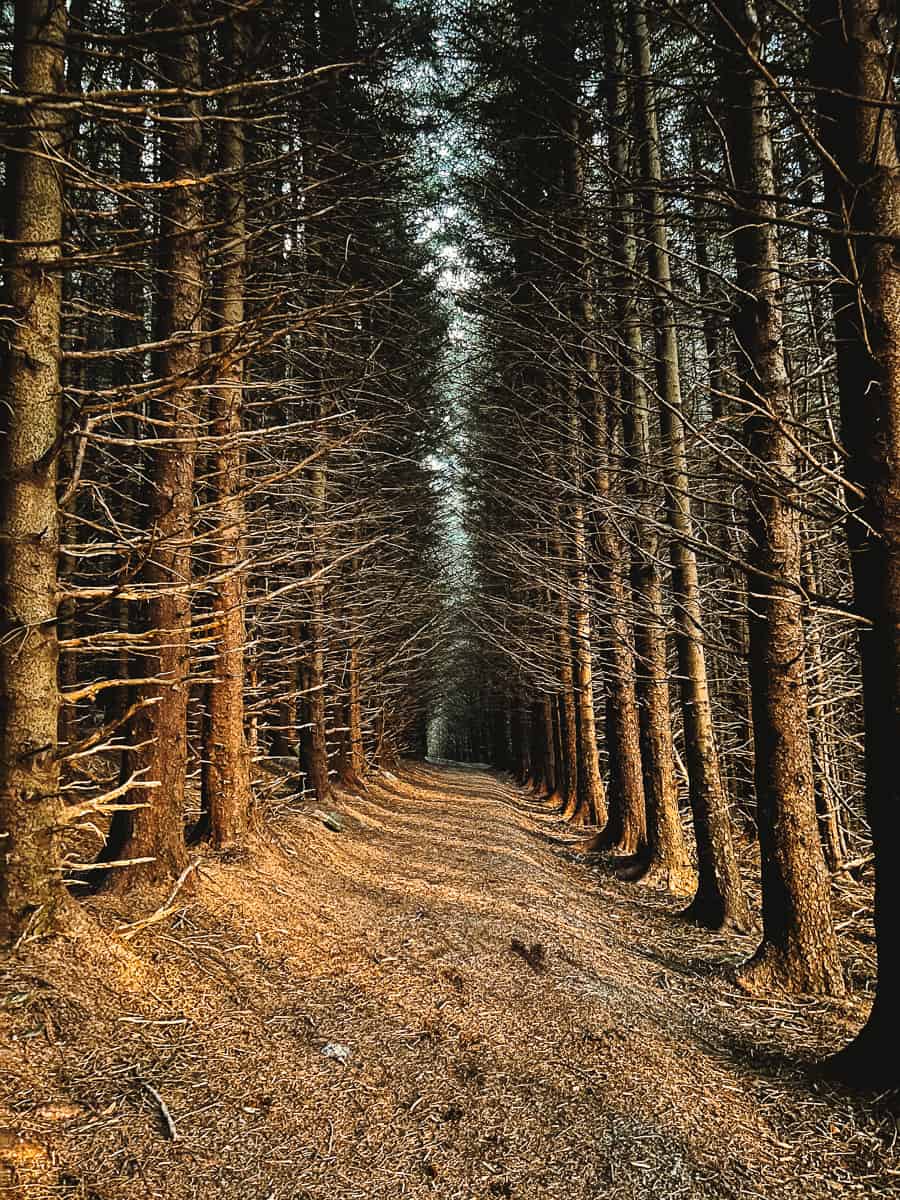 Head into the forest and straight down this path until the very end. You'll see the Ballinastoe boardwalk hiding behind a small mound.
Hop over the mound and turn left and you'll find the Ballinastoe Boardwalk. It shouldn't take you more than 10 minutes to find it this way.
You'll then be walking upwards through the forest along the boardwalk to the photography spot.
I actually didn't do any research before I visited these woods, I just had a Google Pin for the Ballinastoe Woods photography point saved on my maps.
So, I felt pretty lucky I found it so fast especially as I was losing light and it was getting dark.
Feel like you're in Lord of the Rings!
So, to find the Ballinastoe Boardwalk location that you see on Instagram and Pinterest, you'll need to keep heading up the hill until the path turns a corner.
Before this, the Ballinastoe Boardwalk is very dark. Don't get me wrong, it looks really atmospheric but it's not great conditions for photography as there is little light.
You'll eventually reach a small glade opening on your left that was very green in September. This lets some light in which is great for photos.
Then, you'll see tree branches straight ahead that almost curve in on themselves making a tree branch tunnel, if you will. It honestly looks like something from a fairytale or Middle Earth!
The Boardwalk then curves upwards through the woods and this is the spot that looks like you're in Lord Of The Rings.
This is the most popular spot for photography in Ballinastoe Woods. The ideal conditions would be soft lighting as the sun shining through the glade does tend to blow the scene if it's too sunny. I actually think a rainy or cloudy day is best to capture this spot.
Once you've captured a million photos of this Middle Earth forest, I would then walk a little further upwards into the woods as well.
I got some great photos of the Ballinastoe Boardwalk with the setting sun in the distance. It turned the trees ahead orange which gave it even more of a magical, fairytale feel! It felt like I was heading into a portal to another fantasy world.
Make sure to wear a good pair of shoes as these boardwalks are pretty uneven. I kept tripping over the bolts and losing my footing. It can also get pretty slippy in the rain.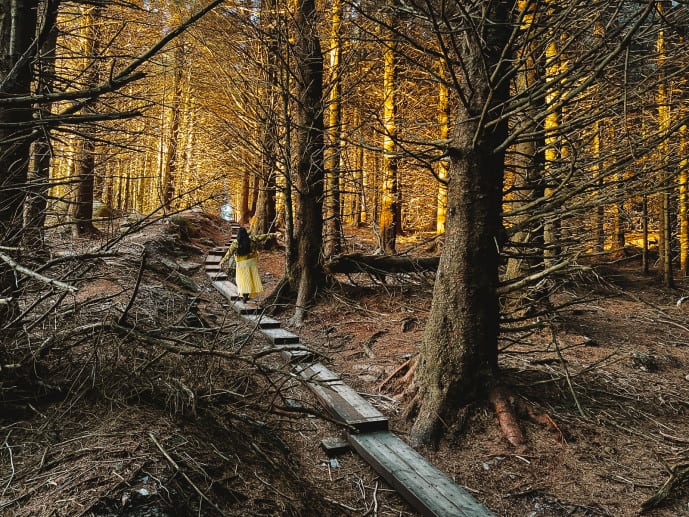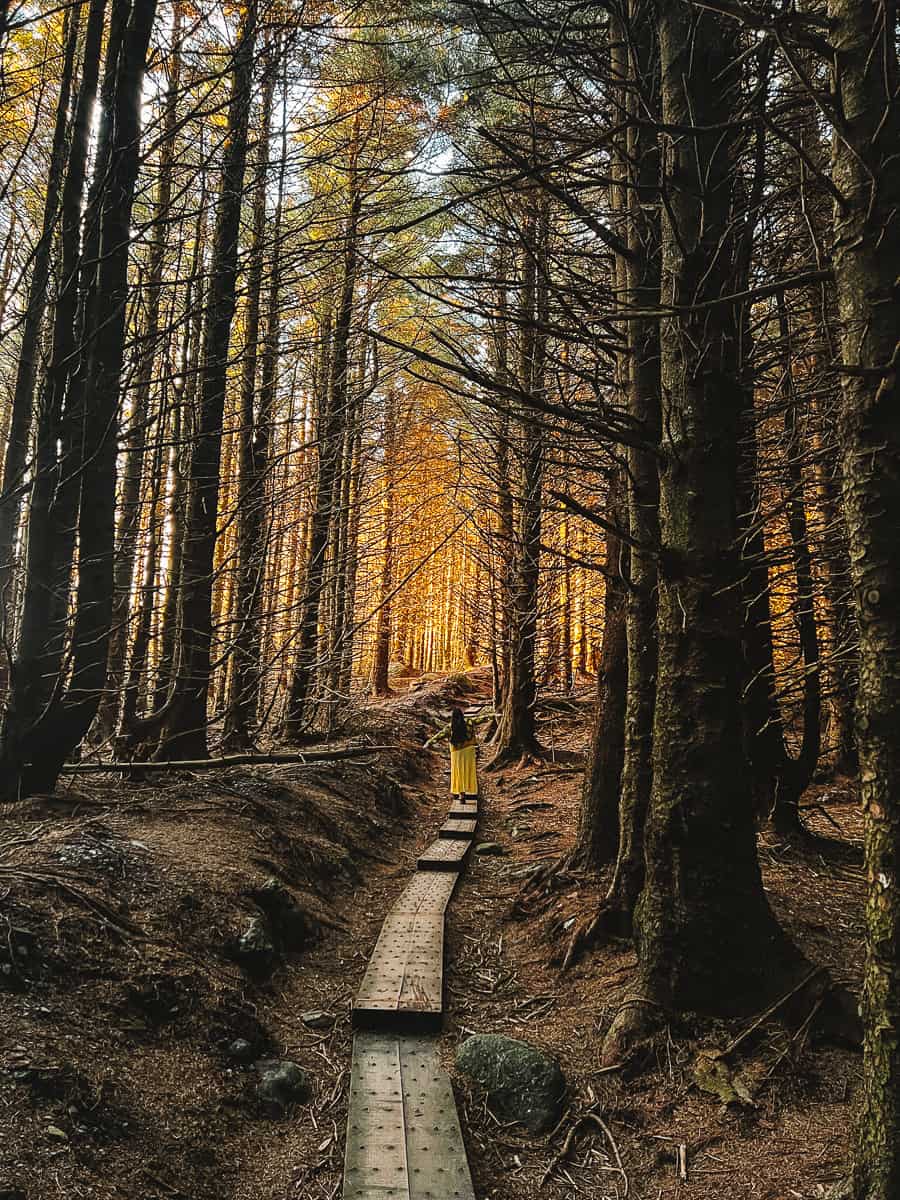 Ballinastoe Woods walk options
If you wanted to make your trip to Ballinastoe more of an extended walk, there is a trail you can do through the woods that's around 3.5 kilometres.
It starts at the J B Malone Memorial and takes around an hour to head down into the forest via the Ballinastoe Boardwalk.
If you're parking in the Wicklow Way car park at Luggala, this will start at the bottom of the woods. You'll be walking up to the memorial and then head back the way you came.
There are longer walks that you can take that are around 5 kilometres and 10 kilometres along the Mountain Bike trails. These are nice but can be a bit dodgy with the fast bikes if you're not careful.
I would say the prettiest parts of this Ballinastoe Woods walk are from the J B Malone Memorial to the Luggala car park and back via the Ballinastoe Boardwalk. But, it's up to you.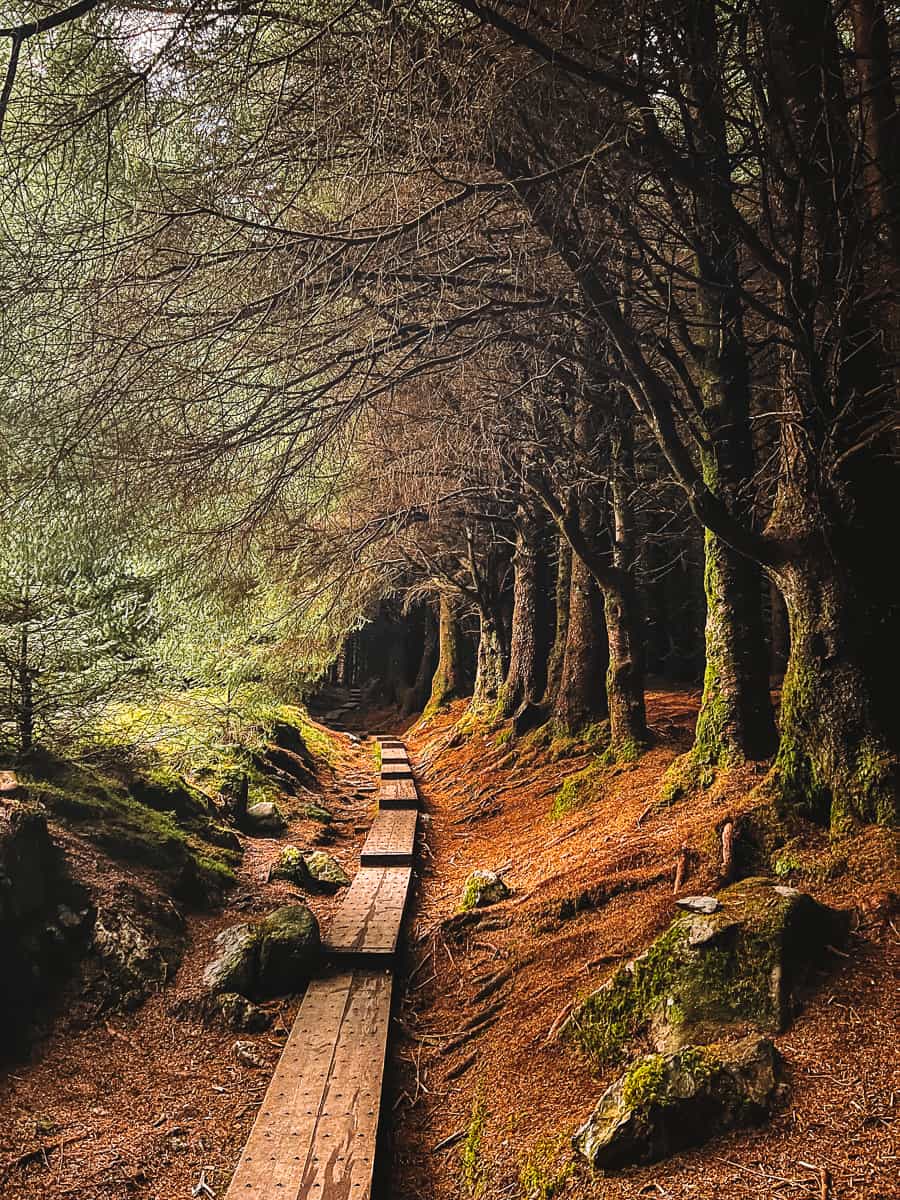 How long is the Ballinastoe Woods walk?
If you're heading on the shortest walk to just see the Ballinastoe Boardwalk I would say it could take as little as 10-15 minutes from the directions above. 30 minutes for the round trip.
If you're taking lots of photos and wanted to explore more of the boardwalk and woods, I'd plan an hour or so.
If you're planning to do the longer Ballinastoe Woods walk aka the 3.5 kilometres walk from J B Malone memorial I would leave around 60- 90 minutes.
But, there's no need to rush. Take your time in this magical forest and soak up the mystical atmosphere. It felt like walking through a fantasy film set.
Ballinastoe opening times and prices
The Ballinastoe Boardwalk is open 24 hours a day so you're not restricted on when you visit. This is perfect for early morning or sunset photography sessions.
There are lots of free car parks to park in around here to access the woods.
It's also completely FREE to visit the Ballinastoe Boardwalk so it makes a great budget activity on an Irish road trip through Wicklow.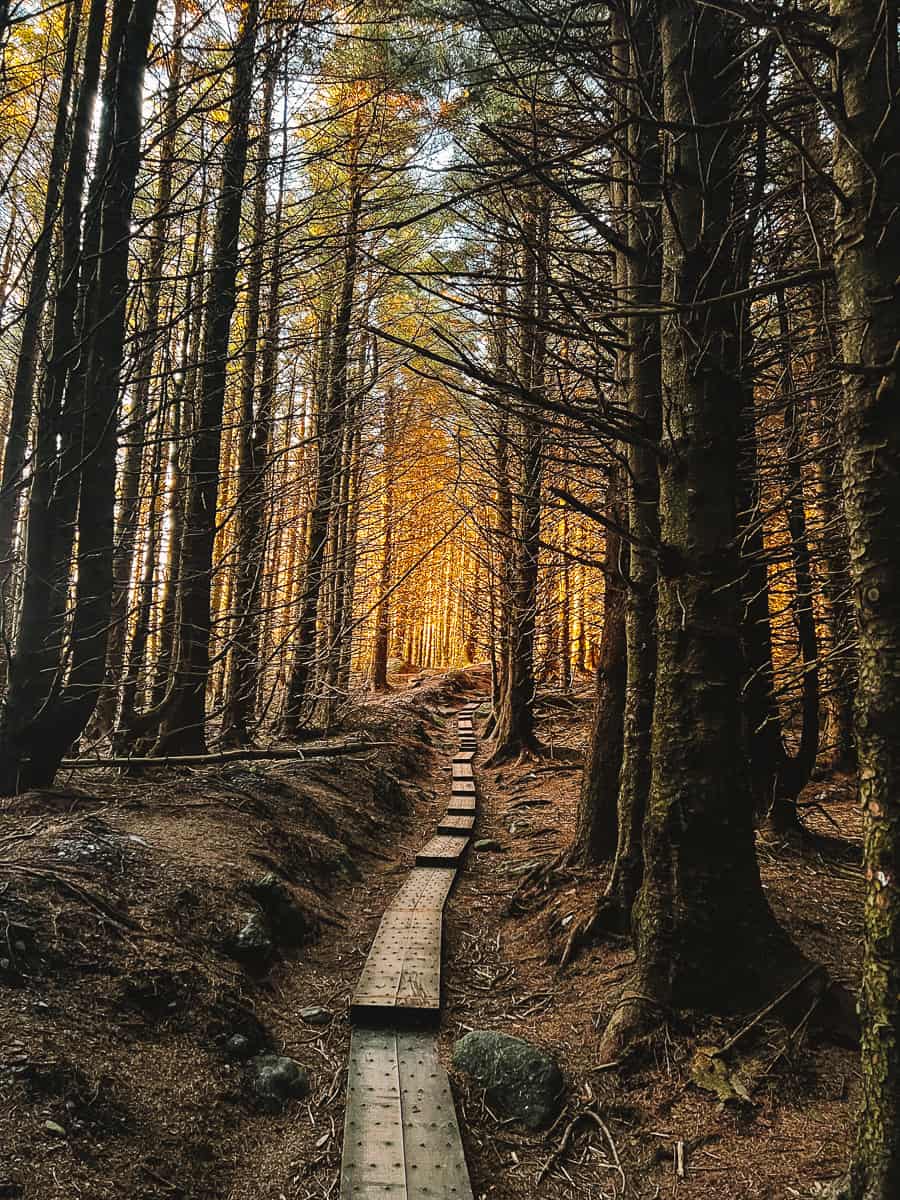 My top tips for the Ballinastoe Woods walk
Get here early or late and avoid weekends – although it looks empty in photos most of the time, this area packs out on weekends as Lough Tay is nearby.
Wear a good pair of shoes – The woods are dry in summer but can get quite boggy in winter. Also, the Ballinastoe Boardwalk can get slippy in the rain.
Bring a torch (or your phone light) – these woods are so dark when you walk inside later in the afternoon. By sunset, I could barely see. So, bring a torch or your phone light.
Bring water and snacks (but take rubbish with you) – there is a small refreshment van at the Wicklow Way car park. But, I would bring some water and snacks with you. Remember to take rubbish away with you and respect these beautiful places!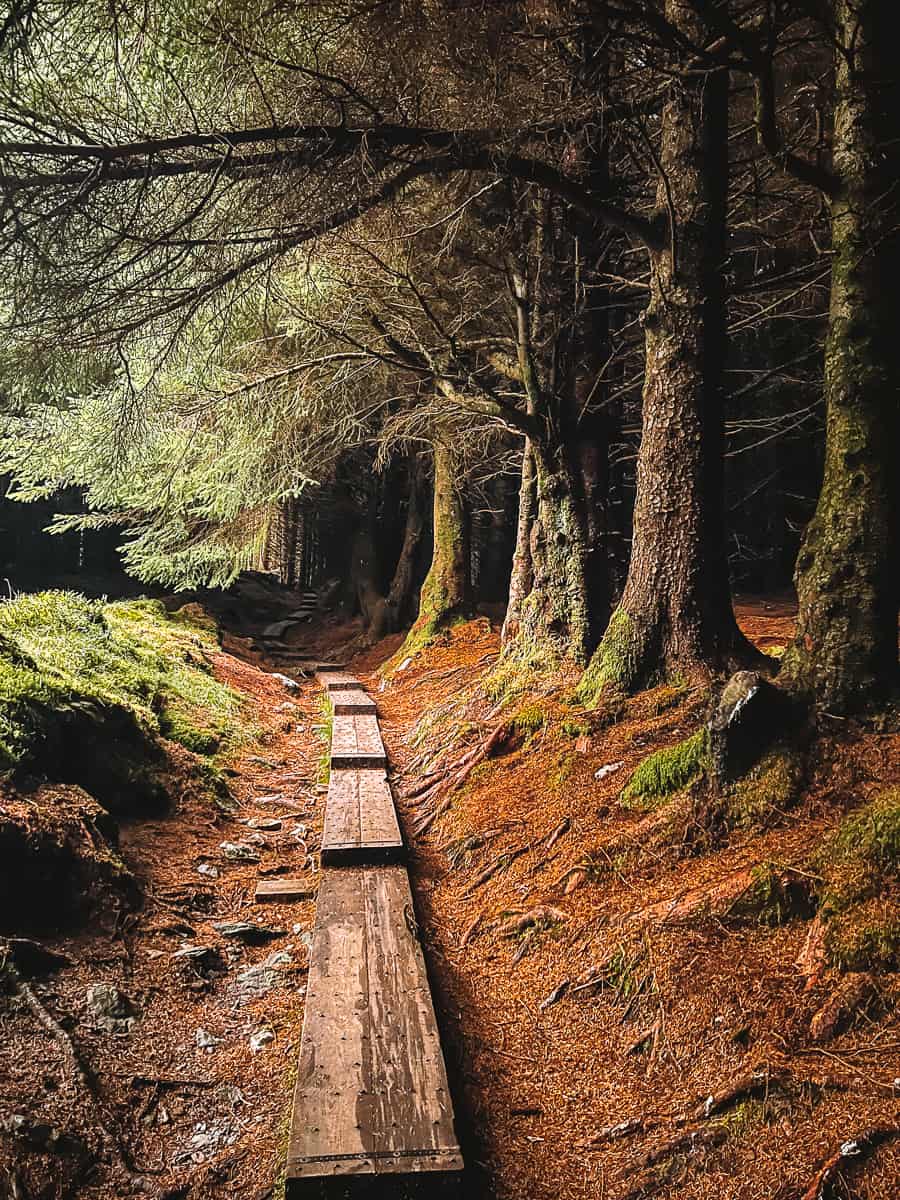 Make sure to stop at Lough Tay viewpoint aka the Guinness Lake!
If you want to add something extra magical to your Ballinastoe Woods walk, you must make a stop at the Lough Tay viewpoint.
It's known as the Guinness Lake not only due to the way it looks like a dry stout with the froth on the bay but as the land used to be owned by Arthur Guinness. It used to be part of the former Guinness estate.
Also, fun fact, Lough Tay is where they filmed Kattegat in the Vikings TV show. Although, naturally there will be no Viking settlement there on the beach during your visit.
I loved the original show and the newer sequel Vikings of Valhalla on Netflix. So, finally getting to visit this location felt surreal. You could almost see longships sailing towards the bay.
On a clear day, the views from this area are spectacular of Lough Tay. There are plenty of viewpoints along the road to take photos. So, don't miss out!
Click here to read my complete guide for the real Kattegat location in Vikings
Ballinastoe Woods FAQs
How far is Ballinastoe Woods from Dublin? It's around a 60 – 90 minute drive from Dublin depending on if you take the toll roads or not!
What is the best time to visit Ballinastoe? I would say on a cloudy or rainy day and avoid weekends! Earlier or later in the day is also good for photography to avoid other walkers.
Are Ballinastoe Woods free? YES! It's completely free to visit Ballinastoe woods and there is free parking nearby.
Are there toilets at Ballinastoe? No. There are some port-a-loos in the paid Wicklow Way car park though.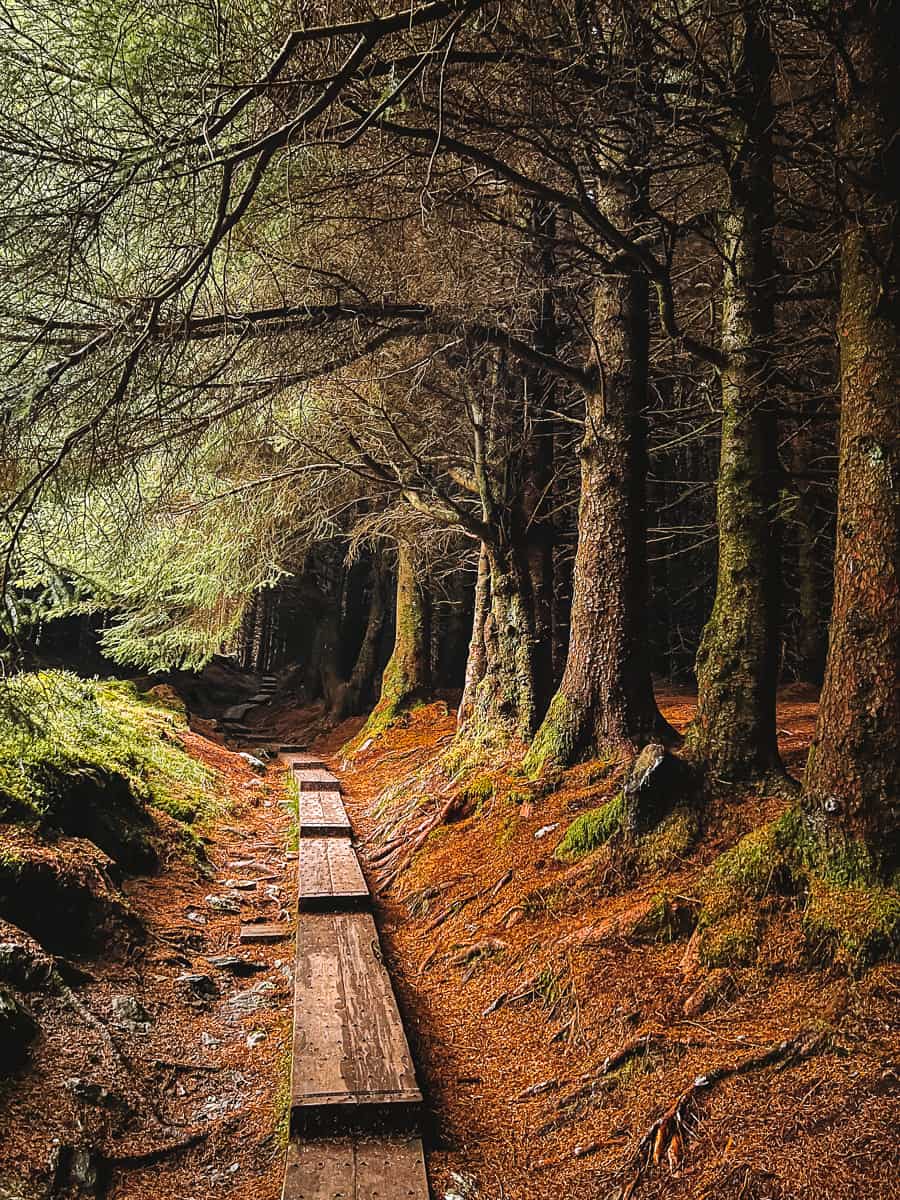 Save time and book a tour!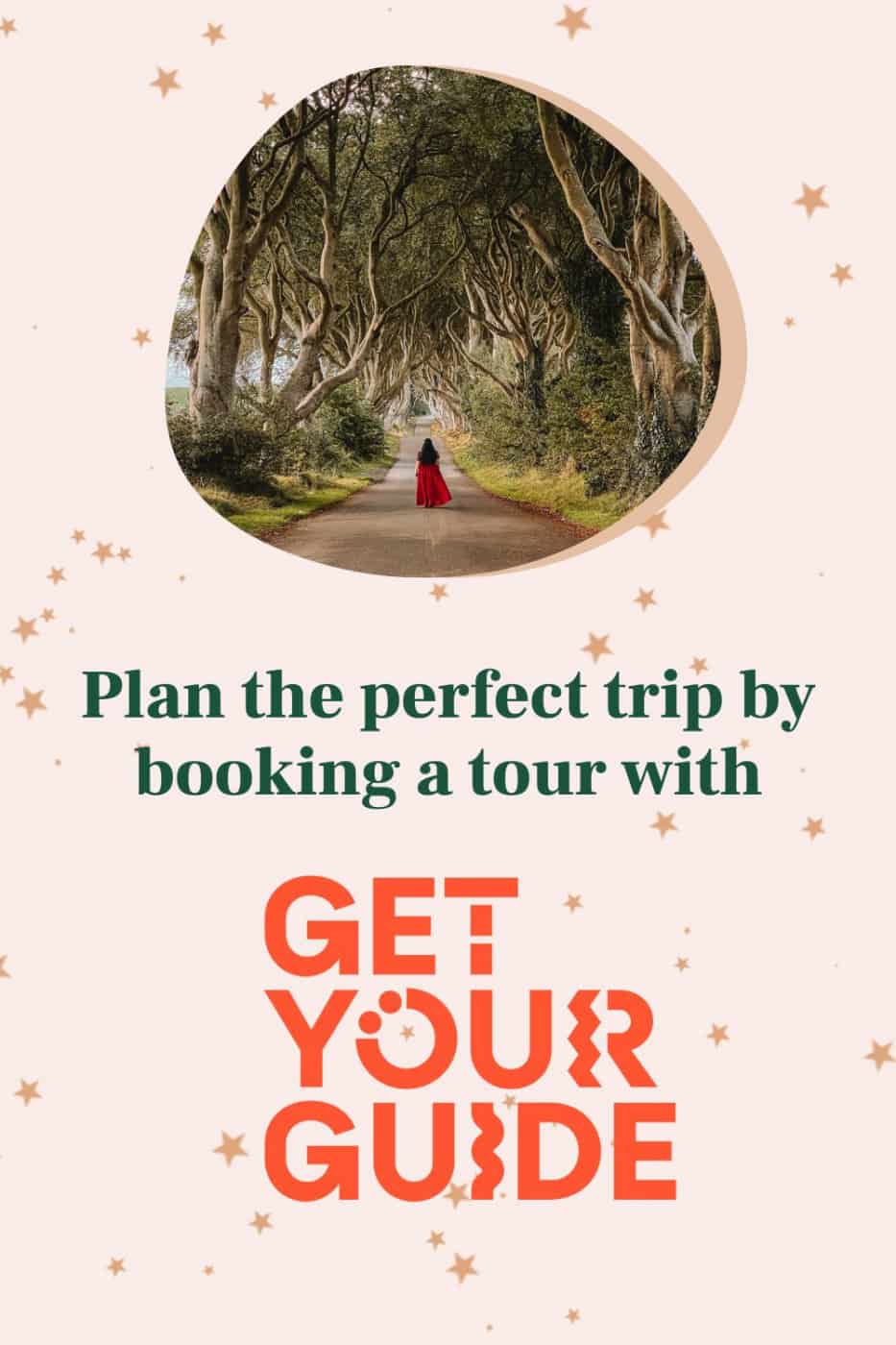 Book tours & tickets for Ireland!
Read more of my Ireland posts
How to visit Powerscourt Waterfall Ireland
Visit the magical Muckross Abbey ruins & yew tree
How to visit Torc Waterfall in Ireland
How to visit Ballysaggartmore Towers Ireland
Marsh's Library – visit the oldest public library in Ireland
Visit Trinity College Long Room Library in Dublin
10 Game of Thrones doors to find in Northern Ireland
How to visit the Dark Hedges in Northern Ireland
How to find Umbrella Street Dublin
Visit the Cliffs of Moher Harry Potter Cave
Why you must visit Kinbane Castle
How to cross Carrick-a-Rede Rope Bridge
Was Dunluce Castle used in Game of Thrones?
Visit Ballintoy Harbour aka the Iron Islands in Game of Thrones
Magical Tollymore Forest Park Game of Thrones filming locations
How to visit Inch Abbey aka Riverrun in Game of Thrones
How to visit Cushenden Caves in County Antrim
How to see the Game of Thrones Tapestry in Belfast
Why you must visit the Guinness Storehouse in Dublin
How to visit and capture Deck of Cards Cobh
Save how to find the Ballinastoe Boardwalk for later!