Did you know that there is a Bodnant Garden Laburnum Arch that you can visit in North Wales? It's the most anticipated event of the year for these gardens.
When it blooms in late spring, you can walk through a magical canopy of golden flowers that look like something from a fairytale.
Laburnum flowers only blossom for around three weeks a year from the end of May to early June so you'll need to be very quick if you wanted to catch it.
I've been trying to visit this spectacle for years and never managed as it's so far away from me. But, this year, the stars finally aligned and I got to see these gorgeous blossoms at their peak!
This citrine flower tunnel looked like something from a storybook and I was honestly enraptured. You must go if you get the chance.
Here is how to visit the magical National Trust Bodnant Garden Laburnum Arch in Wales.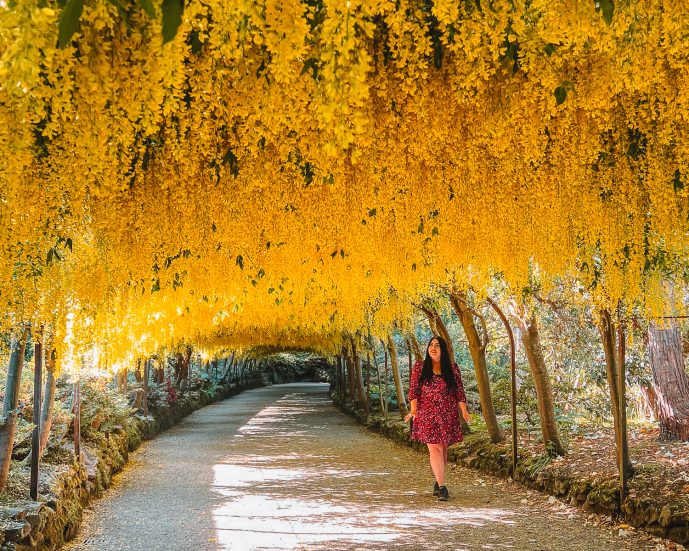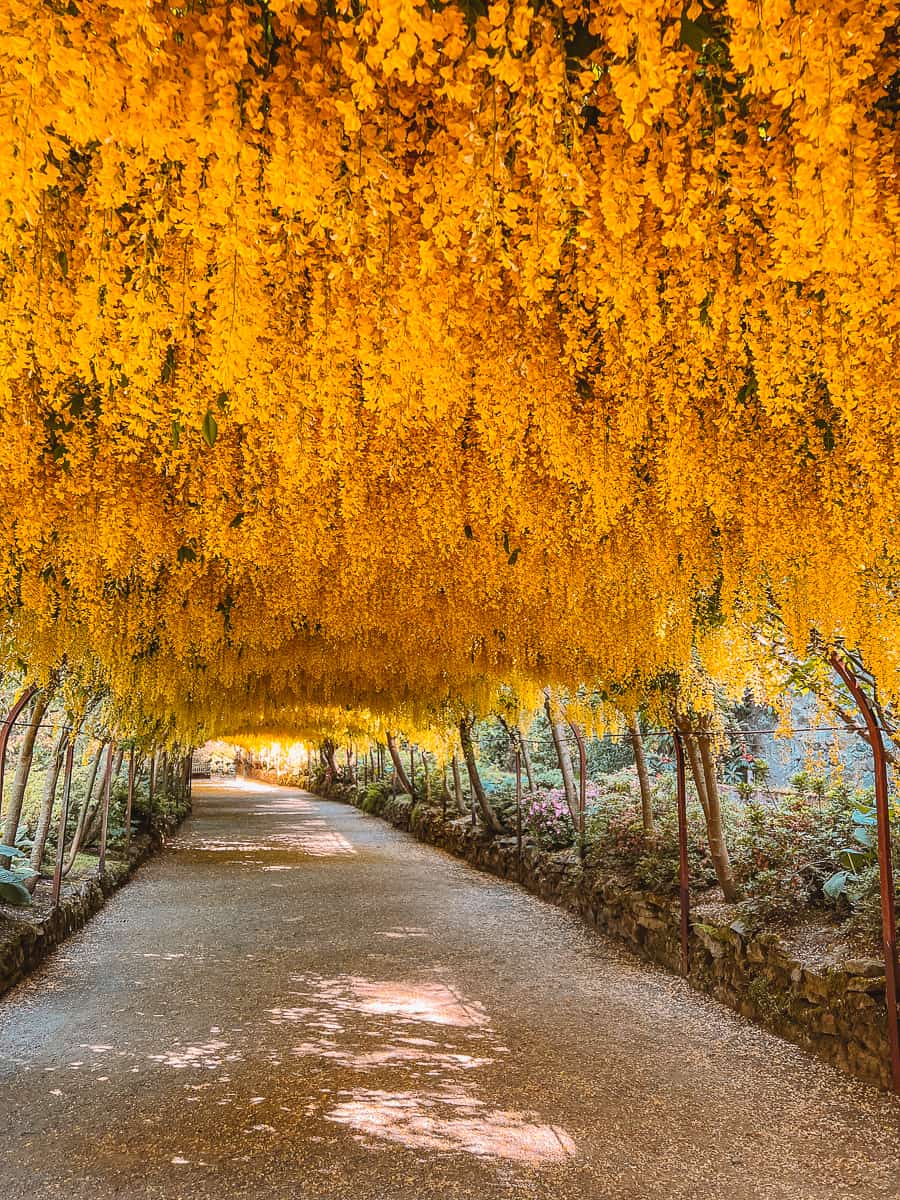 What is the Laburnum Arch at the Bodnant Garden?
The Laburnum Arch is a 55-meter-long canopy of golden flowers that blooms in the world-famous Bodnant Garden in North Wales.
It's thought to be the longest, oldest, and largest Laburnum tunnel in Britain and thousands of visitors from all over the UK flock to see the archway when it's in season.
These perennials only bloom once a year for just a few weeks and so you will need to hurry to catch it while it lasts.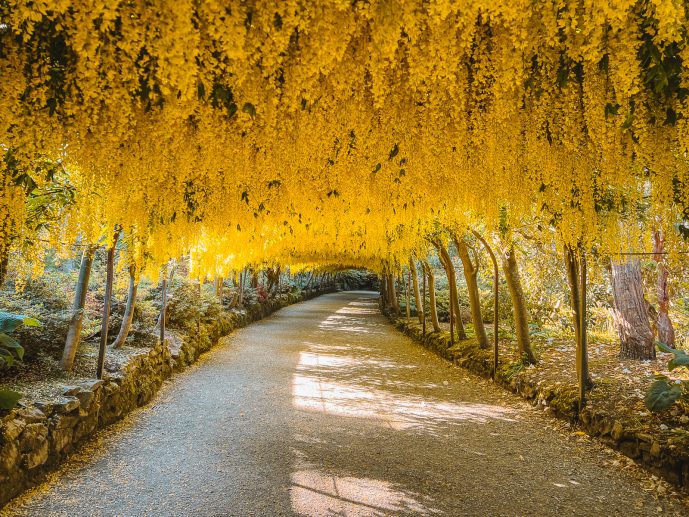 Bodnant Garden Laburnum Arch history
The Laburnum Arch was the brainchild of Henry Pochin who founded the gardens in 1880.
He had a vision to design a formal garden around Bodnant Hall and part of his plan was to create a canopy of Laburnum flowers.
He hired Edward Milner, who was an apprentice to Joseph Paxton at the time, to help him build the gardens which were inspired by the pergola walkways of Italy that were in vogue during the 17th century.
The Laburnum tunnel is still here after 140 years and is pruned for months by the talented Bodnant gardeners in preparation for the most anticipated event of the season.
During the three 'Laburnum weeks', it's estimated that over 50,000 people will visit the gardens to walk through this floral tunnel!
When can I see Laburnum Arch at Bodnant?
It's quite tricky to plan a visit to see this gorgeous tunnel of Laburnum flowers as they only bloom for a few weeks every year from late May to early June.
The exact date of when this flower tunnel will bloom changes every year as it depends on a variety of different factors like the previous winter weather, current temperatures, pruning, conditions etc.
So, you will have to keep an eye out on the National Trust website for updates on when the Laburnum blooms.
Also, they run a Laburnum Watch on their social media channels. Follow the hashtag #LaburnumWatch to see the progress.
I luckily managed to catch it towards the end of the cycle and, to me, it still looked absolutely stunning! But, it's best to visit the Laburnum in peak bloom if you can.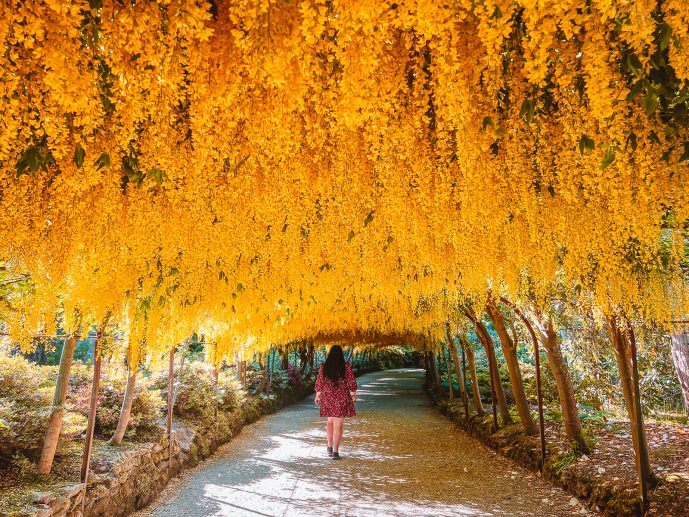 How long does the Laburnum Arch last?
Laburnum flowers are perennials and so they only bloom for around two to three weeks every year!
After, their petals wilt and the yellow flowers fade away for another year. So, it's best to catch these beautiful blooms when you can.
The National Trust knows that people love to visit the Bodnant during Laburnum season and so they have special late-night openings to accommodate the mass crowds.
How to visit the Bodnant Garden in North Wales
The Bodnant Gardens are located in North Wales on the fringes of Snowdonia National Park.
It's very close to the gorgeous market town of Conwy and the popular Victorian seaside resort of Llandudno.
The easiest way to access the gardens is by car and there is a large car park that is included in the price of your ticket.
If you're not driving the nearest train station is Llandudno Junction, you can then switch to the number 25 Arriva Wales bus service that stops right outside the Bodnant Garden gates.
Bodnant Garden's address is Tal-y-Cafn, near Colwyn Bay, Conwy, LL28 5RE. Click here for a Google Pin!
Bodnant Garden opening times & ticket prices
During Laburnum season, the Bodnant Garden has special opening times including late evenings so that everyone has a chance to enjoy the archway when it blooms.
It opens on Monday – Thursday from 9 am – 8 pm and then 9 am – 6 pm Friday to Sunday.
But, this is only for the Laburnum season. Outside of this, the Bodnant Garden is normally open from 9 am – 5.30 pm.
If you want to visit during the Laburnum mania, it is strongly advised to book your tickets in advance to guarantee a parking space and entry.
The Laburnum Arch is included in the price of your ticket which is £15 for an adult and £7.50 for a child (5-17). National Trust members visit for FREE.
What to expect when you walk through the Bodnant Garden Laburnum Arch
It's very easy to find the Laburnum Arch in the Bodnant Garden as it's located right next to the visitor centre entrance. It's fully accessible by wheelchair and pushchair.
As soon as you enter the gardens, you'll see yellow 'Laburnum Arch' signs guiding you to the tunnel and then you're in!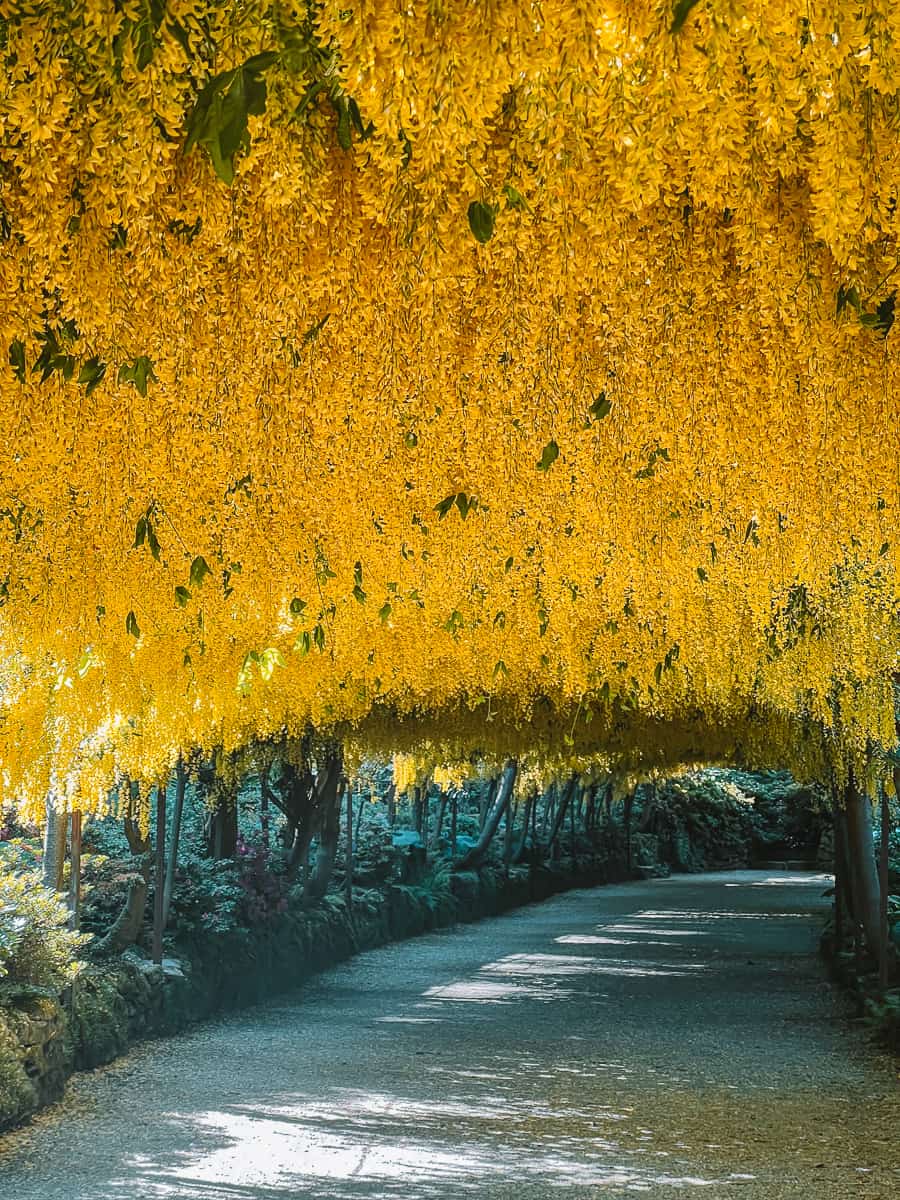 I was utterly blown away by this flower tunnel and the thousands of citrine flowers looked like something from a fairytale.
If you look very closely at the low-hanging blooms, you may see some bees munching on the crop. They were buzzing around and having a wonderful time.
It's thought to be the oldest and longest Laburnum Arch in Britain and so you can enjoy a leisurely stroll and appreciate this rare and spectacular sight.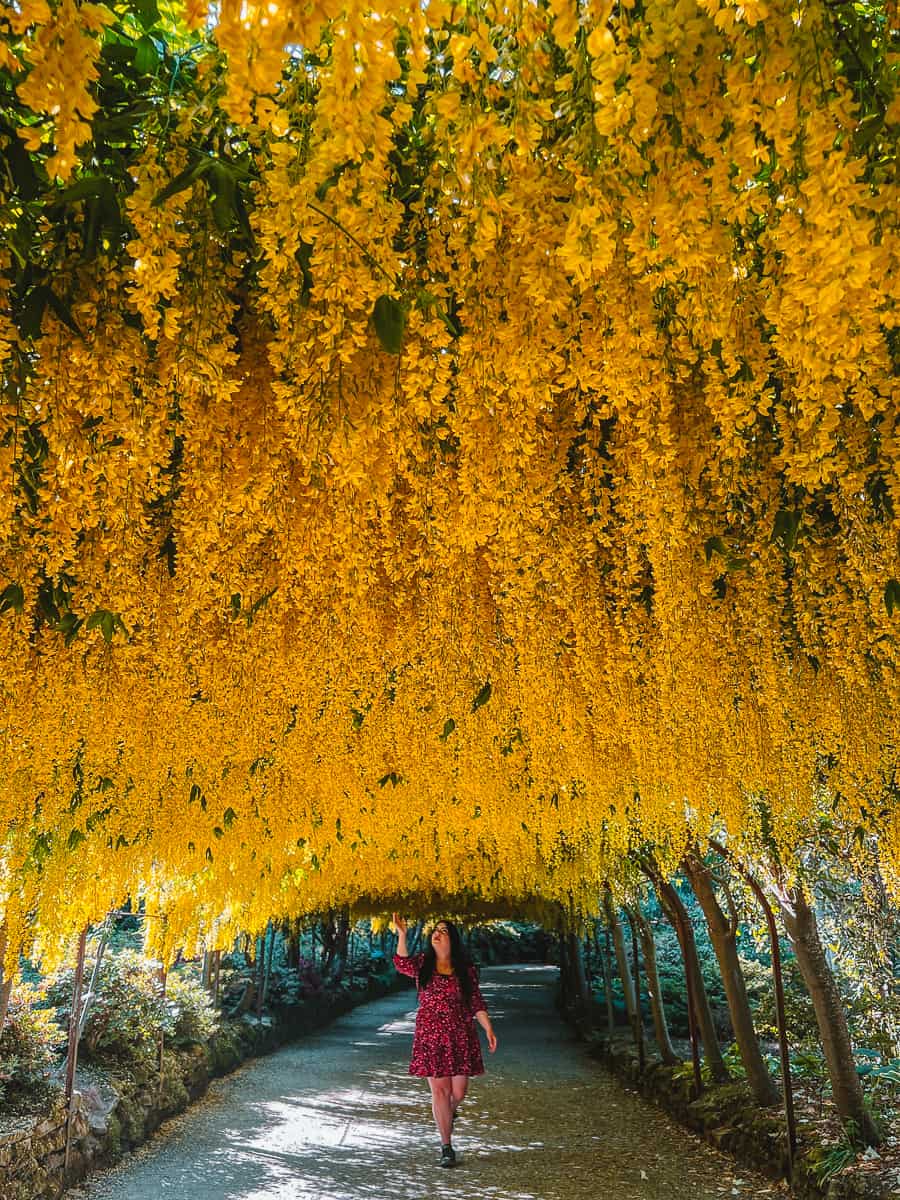 Laburnum Arch photography tips
When the Laburnum Arch is in bloom in Bodnant, you can expect this flower tunnel and the gardens to be packed throughout the day. Especially if it's a sunny day like it was on my visit.
So, if you wanted to take some photographs without loads of people in the Laburnum tunnel, it's best to visit the gardens earlier in the morning or later in the evening.
If this isn't possible, a little bit of patience goes a long way! When I arrived first thing in the morning it was absolute chaos and pretty busy.
But, I waited 15-20 minutes and the archway cleared after that. It's a challenge but not impossible to catch this gorgeous flower tunnel without crowds of people inside it.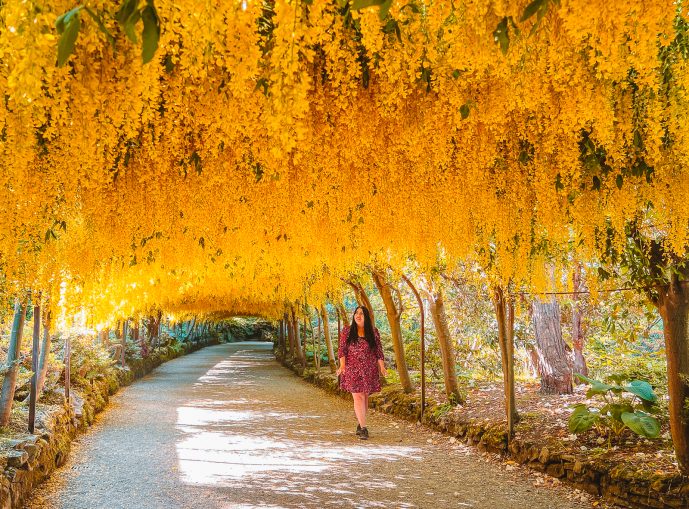 What else is there to see at the Bodnant Garden in spring?
After you've finished admiring the Laburnum Arch in the Bodnant Garden, there are plenty more treasures that await you here in the spring/summer. There are 80 acres of grounds to explore.
The Bodnant Gardens are world famous and are home to National Collections and Champion Trees.
You can find the famous rose trellises, pink water lilies, honeysuckle, dragonflies, waterfalls, and many more colourful flowers that bloom at this time of year.
The whole garden seemed to be perfumed with a floral scent and it was one of the highlights of my trip to North Wales.
I'm also a huge fan of the Sarah J. Maas A Court of Thorns and Roses (ACOTAR) fantasy book series and if there is one place that looks like how I imagined Tamlin's Spring Court – this would be it!
Here are all the things you can expect to see on your visit;
Bodnant Garden Rose Trellises
Another reason why visitors flock to the Bodnant Garden is to see the spectacular rose trellises that grow around Bodnant Hall.
You'll see hundreds of roses, in all different shapes and colours, growing all over the gardens. These have been trained to grow in many different directions and over all sorts of archways.
The five grand trellises at Bodnant are a passion project that has a history that spans several generations and it's now one of the best rose gardens to visit in the UK.
The roses last a lot longer than the Laburnum does so if you wanted a quieter visit to see the roses, I'd visit after the Laburnum season finishes.
Pin Mill, water lilies & dragonflies
One of the prettiest buildings in the Bodnant Garden is a lodge that was built in 1730 called Pin Mill. It was originally located in Woodchester in Gloucestershire.
Henry McLaren bought Pin Mill in 1938 and it was then dismantled and transported to these gardens in Wales!
It's now a grade II listed building and you can usually go inside but sometimes they shut it off to visitors.
In front of the Pin Mill is a small canal that has a gorgeous collection of waterlilies growing there. If you look really closely, you can often spot a blue dragonfly or two!
Old Mill
If you start heading downwards towards the Dell, you'll find the Old Mill here that sits by the river.
You can visit for a quick tea break and there is plenty of outdoor seating to enjoy if it's nice weather.
I would highly recommend stopping at The Dell Kiosk for their homemade ice cream. I had a cone of rum and raisin and it was delicious!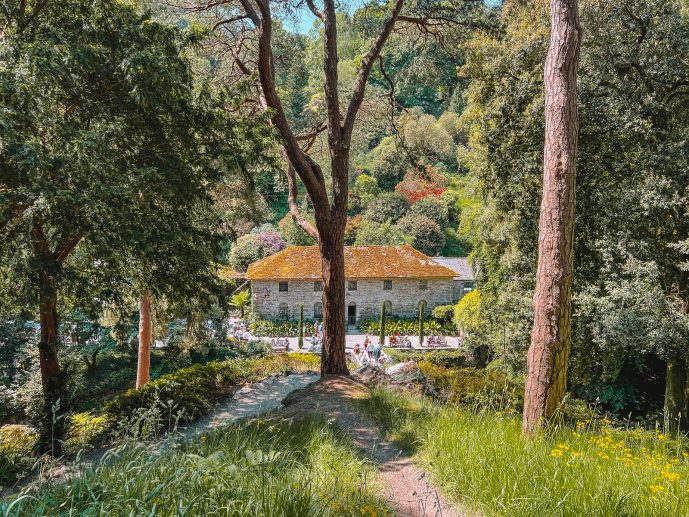 Waterfall Bridge & The Poem
If you walk beyond the Old Mill, you can take a loop around the river to explore more of the gardens.
You can head towards the Victorian mausoleum called 'The Poem' that stands high on the hill. It was founded by Henry Davis Pochin.
Don't forget to stop by the stunning Waterfall Bridge and admire the views over the lakeside.
There are over 80 acres of land to explore here at Bodnant and it's a great way to spend a day in North Wales. The entire place felt like a fairytale.
What has been filmed at the Bodnant Garden?
You may recognise the Laburnum Arch from The Secret Garden filmed here recently.
The movie is based on the 1910 classic novel written by Frances Hodgson Burnett and was adapted for the screen by Sky Originals. They set the movie in post World War II England.
During the movie, you can see the canopy of yellow flowers after the children discover a neglected garden and start to bring it back to life.
They transformed the gardens for filming such as creating a deeper river for swimming and using the Laburnum tunnel.
They also used filming locations such as Fountains Abbey and Osterley Park for the production.
My top tips for visiting the Bodnant Laburnum Arch
Book your tickets in advance to guarantee entry and parking
Dogs are allowed in the gardens every day in autumn and winter but only from Thursday – Sunday in spring/summer. They must be kept on a short lead at all times.
Visit first thing in the morning or later in the evening for a quieter visit to the Laburnum Arch
Wear sensible shoes to explore the gardens, there's lots of hills and uneven ground
Don't leave without exploring everything these gardens have to offer, there are lots of floral things to see!
Read more of my North Wales travel guides
How to visit Dinorwic Quarry Wales
Visit Anglesey Barracks – Snowdonia's Forgotten Street
How to visit the Aber Falls walk
Look inside the Smallest House in Great Britain!
A complete guide for the Cwm Idwal walk
Penmachno Roman Bridge photography location
Why is the Ugly House called Ugly?
When does Tu Hwnt I'r Bont turn red?
The legend of Gelert & how to visit his grave
The top places to visit in Beddgelert
Visiting the Cauldron Waterfall of Pont-y-Pair
How to find Sappers Suspension Bridge
A complete Swallow Falls guide
Why you MUST visit the Fairy Glen Gorge
A complete Conwy Falls & cafe guide
A complete guide for the Dinas Emrys Walk & Dragon legend
How to visit Pistyll Rhaeadr Waterfall
Gladstone's Library – Stay in the UK's only residential library
Save the Bodnant Garden Laburnum Arch for later!