Okay, so I have a wee confession about my visit to the Bo'ness and Kinneil Railway. I may have… kind of…most definitely…crashed a train party by accident!
As an Outlander fan, I was dying to see the railway station where Claire and Frank say goodbye in World War II in season one. But, as it was a weekday, the steam trains weren't running.
However, I knew there was a museum, so I presumed that the platform was part of it. How wrong I was! I ended up unknowingly entering a doorway into the party…that I didn't know was a party at this point!
A man looked at me dumbfounded… "can I help you, are you here for the event?!" he said. I dumbly replied, "I'd like to take some photos of the platform, I'm a big fan of Outlander and—". "Aah," he smiled "hmmm" he paused and looked like he was considering it. "Okay go on then". So, off I went, confused…
However, I soon found out what I'd walked into….But, it did work out for the best which I'll reveal below. Here's the ultimate Bo'ness and Kinneil Railway guide for Outlander fans!
What is Bo'ness and Kinneil Railway?
The Bo'ness and Kinneil Railway is a heritage railway that runs out of Bo'ness and It's managed by the Scottish Railways Preservation Society.
The railway runs vintage train rides across a 5-mile track. From Bo'ness to Manuel Junction, via Kinneil and BirkhillIn.
It's also home to the Scottish Railway Museum which has the largest collection of Scottish railway artefacts.
In Outlander this is the London station in season one, episode 3 where Claire and Frank bid farewell to each other. Claire takes the train to the front line and Frank stays behind.
The History of the Bo'ness and Kinneil Railway
This railway is based on the Slamannan and Borrowstounness Railway that was created in 1848.
It connected Borrowstounness (now Bo'ness in Falkirk) with the Slamannan Railway and then onto Edinburgh and Glasgow Railway.
In 1865, it was absorbed by the Northern British Railway. It wasn't the most popular railway back in the day but continued to take passengers until 1956.
In 1979, it developed into a preserved railway. The Scottish Railway Museum opened in 1995 and today, we can ride steam locomotive trains down the track and travel back in history!
Where is the Bo'ness Station in Scotland & how to get there?
Bo'ness Station is in the town centre of Bo'ness in Falkirk. There are lots of tourist signs pointing to the station way before you arrive so you should have no problem locating it.
Bo'ness by Car: From Edinburgh, you can take the M9 motorway over to Junction 3 or 5 and follow the signs to Bo'ness & Kinneil Railway from there. I travelled from Linlithgow and it was a short and easy journey too.
Bo'ness by bus: There is a community bus service from Edinburgh that runs to Bo'ness. See here for more details.
Bo'ness by train: If you're heading here by train, you can arrive at Linlithgow station and make a connection by bus to Bo'ness. Plan your journey here.
Bo'ness Station parking
There is lots of free parking outside of the Bo'ness station for customers and in the town centre itself.
I arrived on a weekday and had no troubles parking. But, on a weekend you may struggle for space.
Bo'ness and Kinneil Railway Opening times & prices
This is the important bit and is what I would recommend looking at before you plan your journey. Don't be like me and accidentally gatecrash a party!
The steam railway runs daily throughout the summer, but in spring, autumn and winter the railways only run on selected days and weekends.
Train prices are fixed at £10 per adult and £6 per child but the schedule depends on the season, these are colour coded on the calendar.
The museum is open all year round at a fixed price of £5 for adults and children are free all year round and is open from 11.00 am – 4.30 pm. See their calendar for more details.
Bo'ness Station in Outlander series one
Remember when I said it all worked out for the best? This is why! When I arrived on the platform and around the party.
I saw THE steam train from Outlander on the platform. The one where Claire and Frank say goodbye to each other and Claire goes to the front line.
Usually, the Bo'ness and Kinneil Railway only put out their red and white hauling, nicknamed 'jam and cream' (or custard, I can't remember).
But, that day I arrived, they had the exact train featured in Outlander. The locomotive Morayshire hauling in teak wood from the 1930s which are reserved!
I couldn't believe my luck as these don't come onto the station that often. Even better, as it was a vintage event, they even had staff dressed up in 1940s costumes for the soiree.
There was no one else about so I had to steal the opportunity to take a few photos.
I considered myself quite lucky as usually with steam events photographers are scratching at each other for photos but there she was, with not a soul about.
I also got to see the steam locomotive making its way up the platform. It was a surreal moment on my Outlander adventures and I think the universe truly had my back with this one.
Thank you to the Bo'ness team for letting me in to see it!
Ride a steam train from Bo'ness station
If you would like to ride a steam train like Claire, they do run steam trains daily throughout the summer season and on specially selected days throughout the year.
All trains are steam hauled but, the carriages and timetables change. To have a look at the trains you may be riding at Bo'ness see the full fleet here.
Where to eat around Bo'ness
Bo'ness station does have the option for an Afternoon Tea aboard one of their steam trains on most weekends and through the week from March to October.
It's £22 per person that includes your train travel. See here to book. It's extremely popular so I would advise booking well in advance.
Or, if you would rather grab some lunch at the station, there is The Station Buffet at Bo'ness that serves up locally sourced produce.
They have breakfast, lunch and afternoon tea options for adults and something for mini passengers too! But, note that it is only open when trains are running.
Where to stay near Bo'ness
Bo'ness is easily accessible from Edinburgh and Glasgow, but if you did want to stay closer to Bo'ness station there are a few hotels in the area;
Outlander Locations around Bo'ness
If you're looking for more Outlander locations around Bo'ness Stations there is plenty that is nearby.
You can head to Linlithgow Palace that featured as Wentworth Prison or visit Blackness Castle where Jamie received 100 lashes upon 100 lashes (shudders).
You can read my ULTIMATE list of Outlander locations in Scotland here, or read my Outlander in Edinburgh & Outlander in Glasgow guides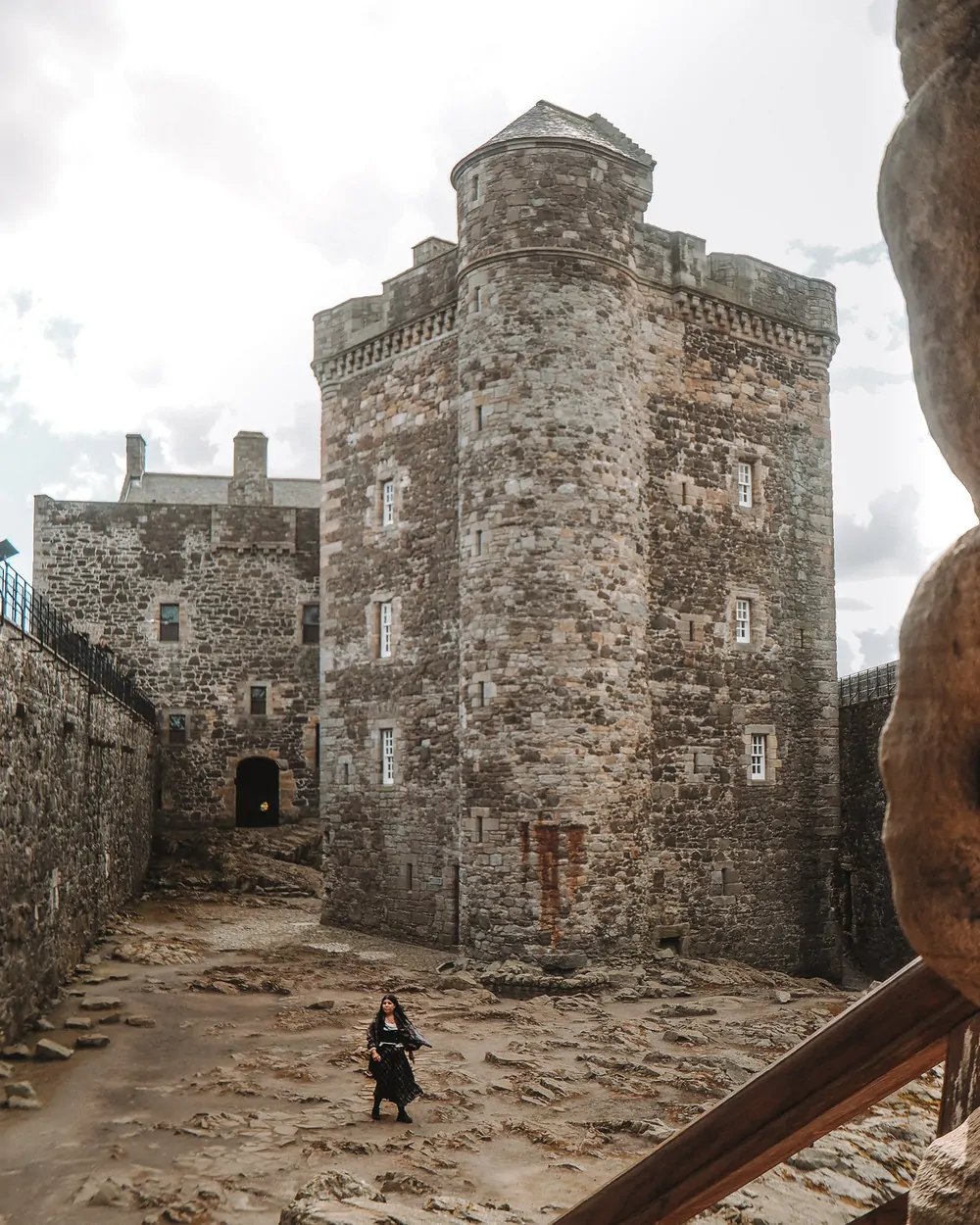 The Hopetoun Estate in Queensferry has many Outlander locations including over 17 at Hopetoun House itself like the Duke of Sandringham's red drawing-room.
Or, you can visit the ancestral home of Broch Tuarach or Lallybroch at Midhope Castle. The 12th century Abercorn Church that featured in season 4 is nearby.
Or, head up to Doune Castle to find the seat of Clan MacKenzie, Castle Leoch, Deanston Distillery to find Jamie's uncle Jared's wine store in La Havre or Drummond Castle Gardens that doubled up as the Royal Gardens of Versailles.
Culross featured as the village of Cranesmuir with the exterior of Geillis Duncan's house and it's palace featured as her rooms.
You'll recognise the gardens in Culross Palace as those of Castle Leoch and its West Kirk is the Black Kirk or St Nick's Kirkyard.
Falkland village also played the iconic scenes of 1945 Inverness and you can stay in the same hotel as Claire and Frank did in Mrs Baird's B&B.
Click here to see my full list of Outlander filming sites throughout Scotland here!
Outlander locations in Edinburgh
There are so many Outlander film sites dotted in and around Edinburgh I've made a full list. Plus, one for Glasgow here.
In Roslin, you'll find some Gunpowder mills that featured in season one and Glencorse Old Kirk is where Jamie and Claire we Wed.
In East Lothian, you can visit Gosford House that played the Helwater Estate and Preston Mill that was Lallybroch Mill.
In Edinburgh, you can visit Craigmillar Castle that was Ardsmuir Prison or visit Summerhall in the centre of town to find a lecture room where Claire met Joe Abernathy in series 3.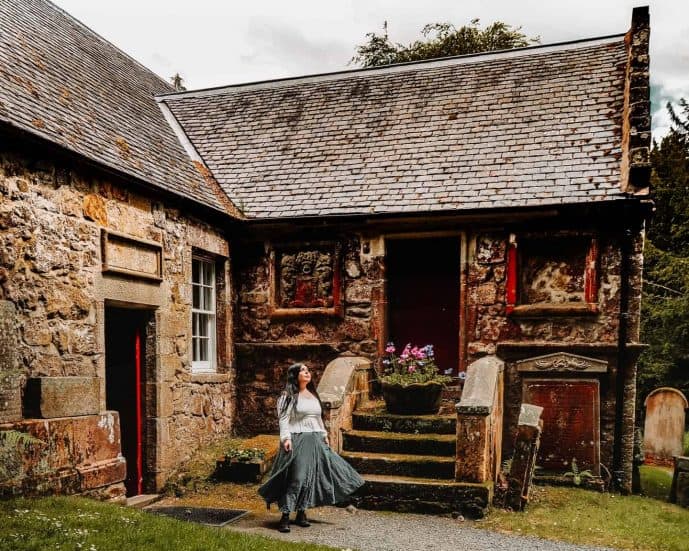 The Royal Mile in Edinburgh has many Outlander locations, including Bakehouse Close that was the Outlander print shop of Alexander Malcolm.
Tweeddale Court was the place where Claire and Fergus reunited and you can follow in their footsteps to the Worlds End Tavern where they saved Mr Willoughby. Or, treat yourself to afternoon tea at the Colonnades to find yourself inside the Governor's Mansion in Jamaica.
Read more: a self-guided Outlander Walking tour of the Royal Mile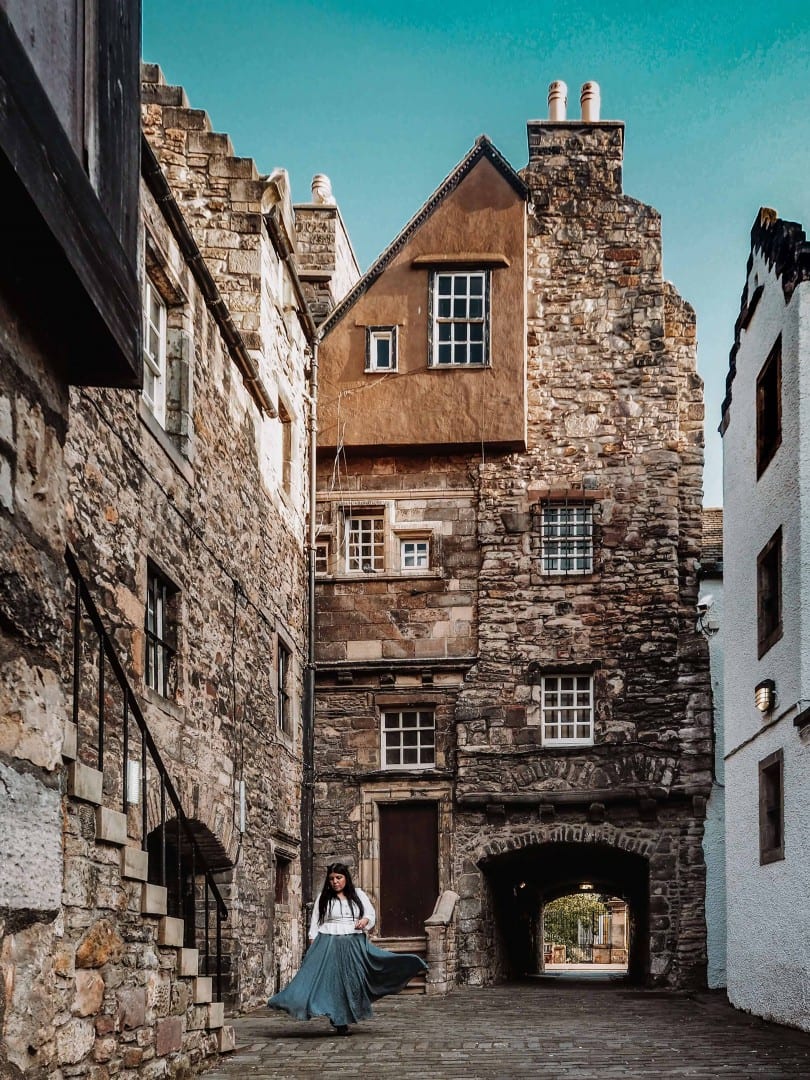 With Thanks to the Bo'ness and Kinneil Railways for letting me crash your party (I swear it wasn't on purpose), I loved my visit and will be back to ride a train for myself
Save this Bo'ness Outlander Location guide for later!