Boswell's Court Edinburgh has an air of effortless mystery about it. A historic courtyard on Castlehill just inches away from Edinburgh Castle.
You'll see The Witchery by the Castle sign welcoming travellers inside their restaurant but this historic close is also worth exploring.
The Witchery sign always sparks curiosity and, as you walk down the alleyway, you'll be itching to discover what lies within this sixteenth-century close on the Royal Mile.
The best time to visit would be during the spooky season when they decorate this court with lots of colourful pumpkins for Halloween.
Here is a complete guide to the magical Boswell's Court Edinburgh and why you must visit!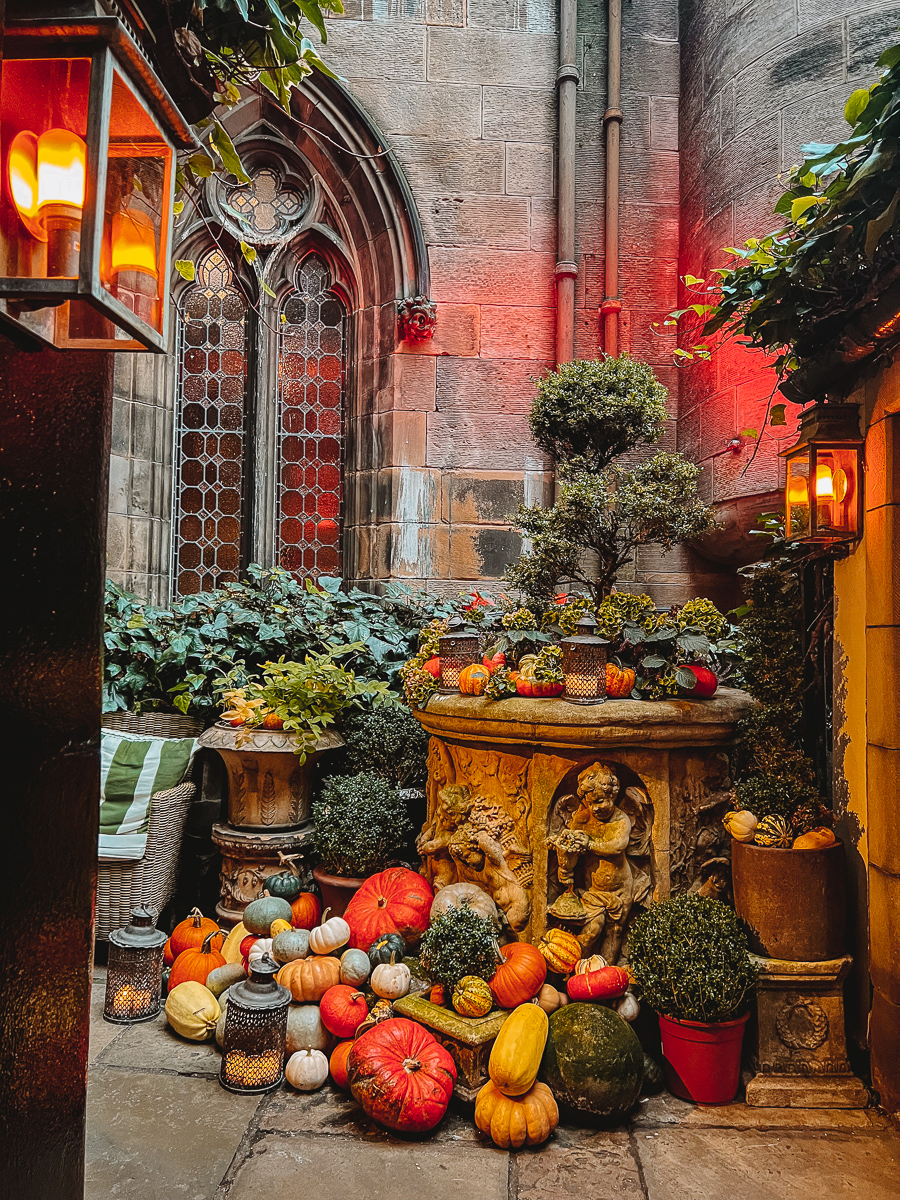 Boswell's Court history
Although most who visit Boswell's Court are making their way to The Witchery restaurant, you may be curious to know how this curious court on Edinburgh's Royal Mile got its name.
Well, this court is taken up by a large sixteenth-century building and the area is named after James Boswell who was a former resident and Dr. Samuel Johnston's Biographer in the 18th century.
The building has been occupied continuously over the centuries and lies on Castlehill just inches away from Edinburgh Castle.
This historic fortress on Castle Rock has a wealth of history with Scottish monarchs including Mary Queen of Scots.
Nearby, on the Castle Esplanade, you'll find The Witches Well which is an ode to the horrible history and persecution of witches during the reign of James VI.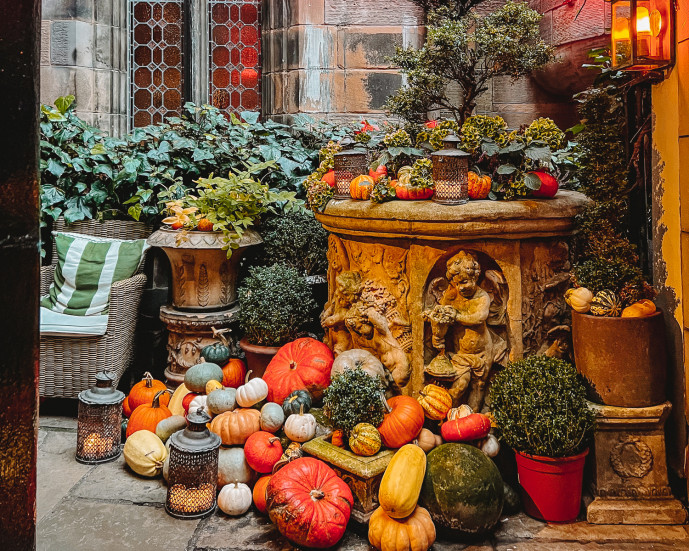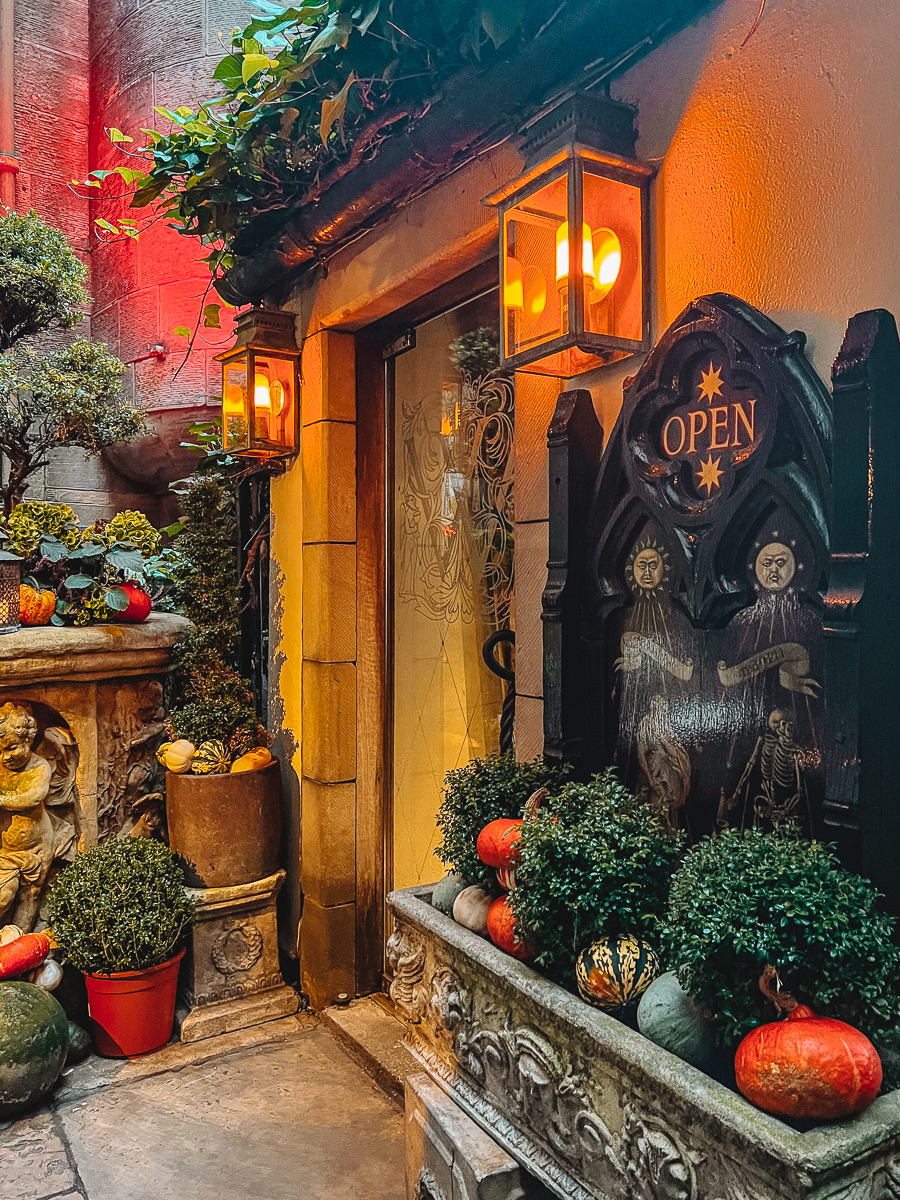 King James VI and Witchcraft
King James VI of Scotland and I of England is reputed to have sentenced more men, women, and children to death for witchcraft than any other monarch throughout Scottish history.
At first, he had little interest in magic and was even skeptical about the existence of witches and supernatural powers.
But in 1590, after his marriage to Anne of Denmark, a terrible storm battered his ship on his return from Scandinavia.
His advisors claimed that Dark Arts were at work and it was the fault of the North Berwick witches that he almost died at sea.
They were questioned (some even by King James himself) and tortured making forced confessions. Over 60 people were sentenced to die.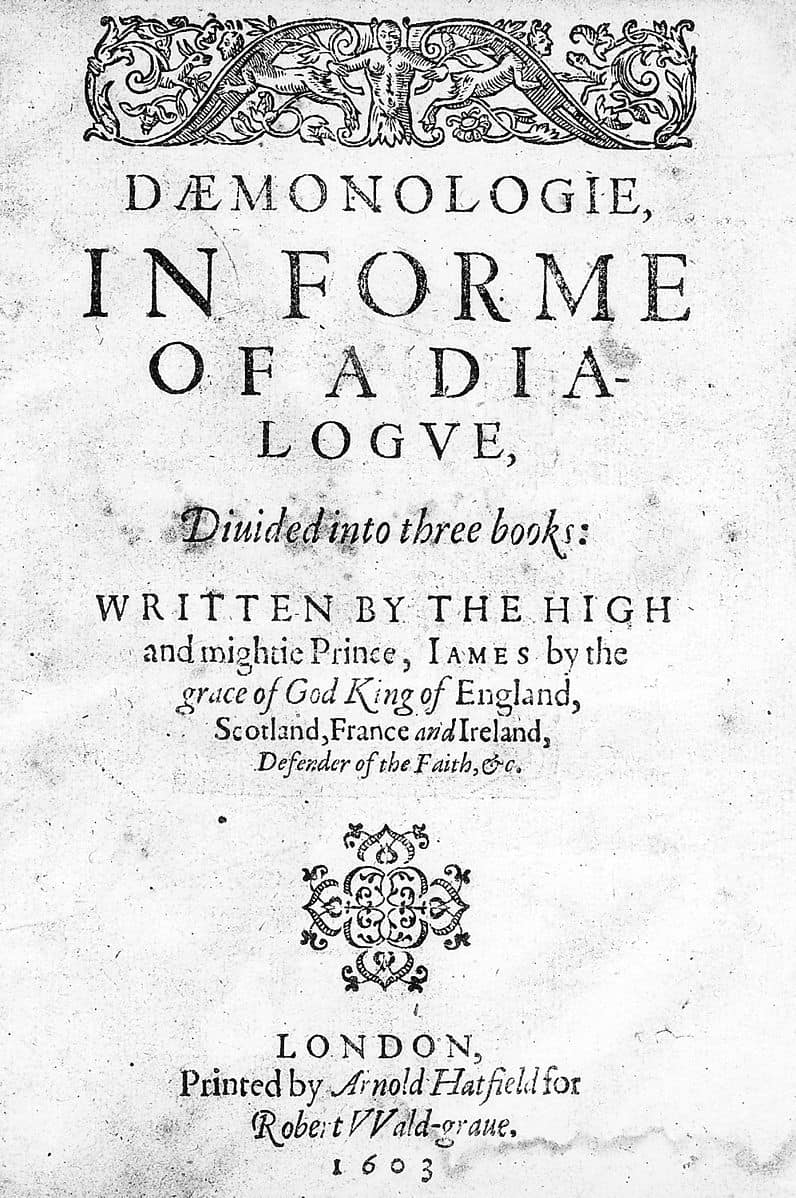 This witch hunt caused James to write his 'Daemonologie' and he made it his life's mission to rid the world of witches and the devil from the country.
He was obsessed with black magic and his sanction of witch trials caused national panic.
People were worried that witchcraft was to blame for all manner of things like failed crops and livestock dying. Fingers were pointed at neighbours and accusations ran ablaze.
Thousands of men, women, and children were tortured and burned at the stake during James I's reign of terror. 85% of the accused were women.
This era of Satanic panic is what the current restaurant in residence, The Witchery by the Castle, takes its name from today.
Boswell's Court today
Nowadays, Boswell's Court is famous for housing The Witchery by the Castle, an award-winning fine-dining restaurant.
It was established over 50 years ago and is one of the best places to eat in Edinburgh. It's a unique dining experience you will never forget.
You can choose to eat in their original baroque dining room with tapestries, dark wood, leather seats, and candlelight.
Or, dine in elegant The Secret Garden Restaurant that is located below, decorated with vines, flowers, and a hand-painted ceiling.
I've eaten in both and it's hard to choose between them! But, wherever you choose to eat, you can guarantee the food and ambience will be spectacular.
Click here to book your table at The Witchery by the Castle
How to visit Boswell's Court Edinburgh
Boswell's Court can be found on Castlehill as you approach Edinburgh Castle on the Royal Mile.
The entrance can be found almost opposite the Edinburgh Atlas Obscura and you won't miss it due to the huge Witchery sign hanging above the courtyard entrance.
It's easiest to walk to Boswell's Court in the city as most of the Royal Mile is car-free.
If you're arriving by train, you can take a very short and steep walk from Edinburgh's Waverley station over Waverley Bridge, North Bank Street, and Ramsay Lane.
Or, you can take one of the Lothian bus services that stop at George IV Bridge and walk from there.
You can also take a taxi to the roundabout on Castlehill just beside Tolbooth Kirk. It's less than a minute's walk from there.
Boswell's Court address is 352 Castlehill, Edinburgh EH1 2NF. Click here for a Google Pin!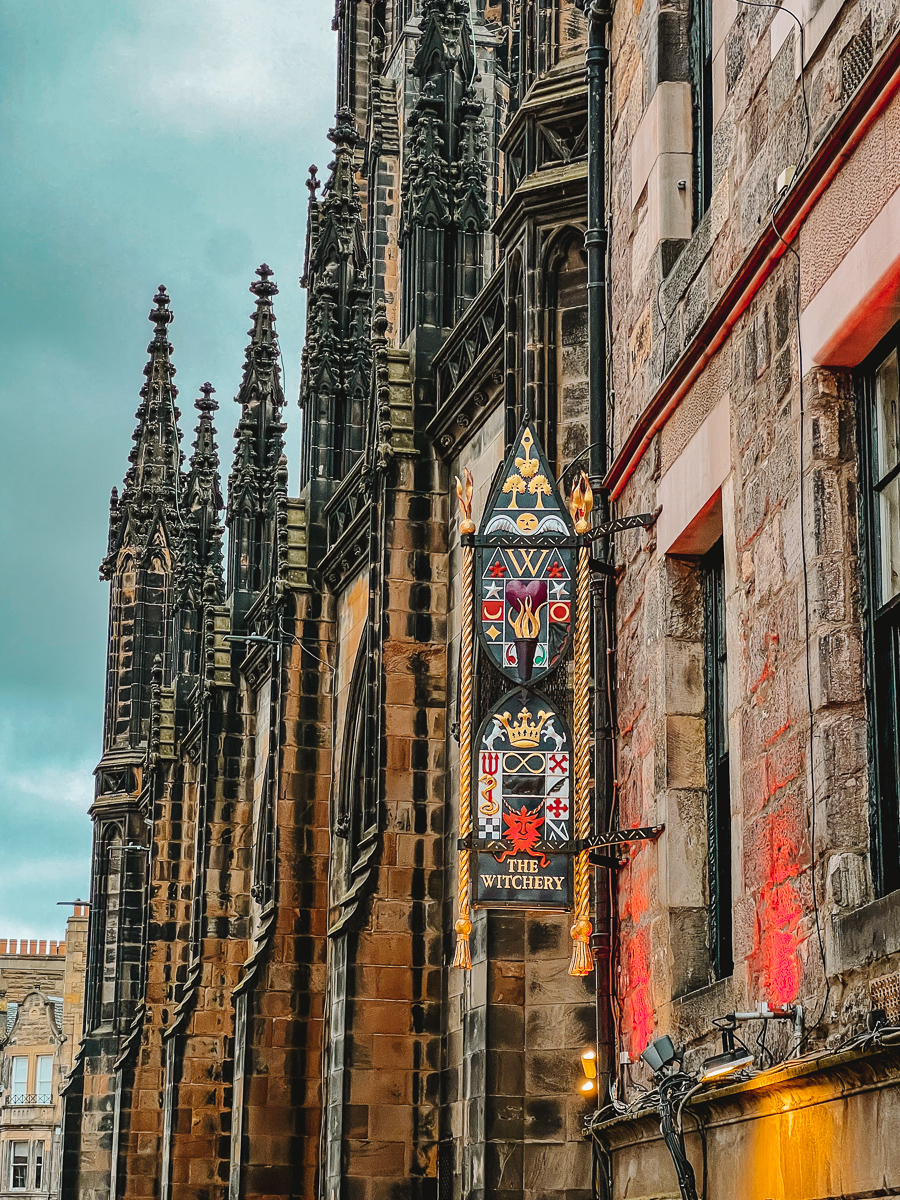 What you'll find in Boswell's Court
When you reach Boswell's Court on the Royal Mile, you can walk inside even if you don't plan to eat at The Witchery Restaurant.
You'll find an entrance to your right that is the original dining room of The Witchery and also an entrance to The Secret Garden restaurant straight ahead of you.
This is the prettiest part of the courtyard as it opens up to a great view of the sixteenth-century building.
A great time to visit would be on the build-up to Samhain (Halloween) as you can see the famous Boswell's Court Pumpkin display!
Boswell's Court Pumpkins
Boswell's Court is a beautiful place to visit all year but especially during the spooky season when they create their magical pumpkin display.
The Boswell's Court pumpkins appear at the end of September or the beginning of October and remain until Halloween.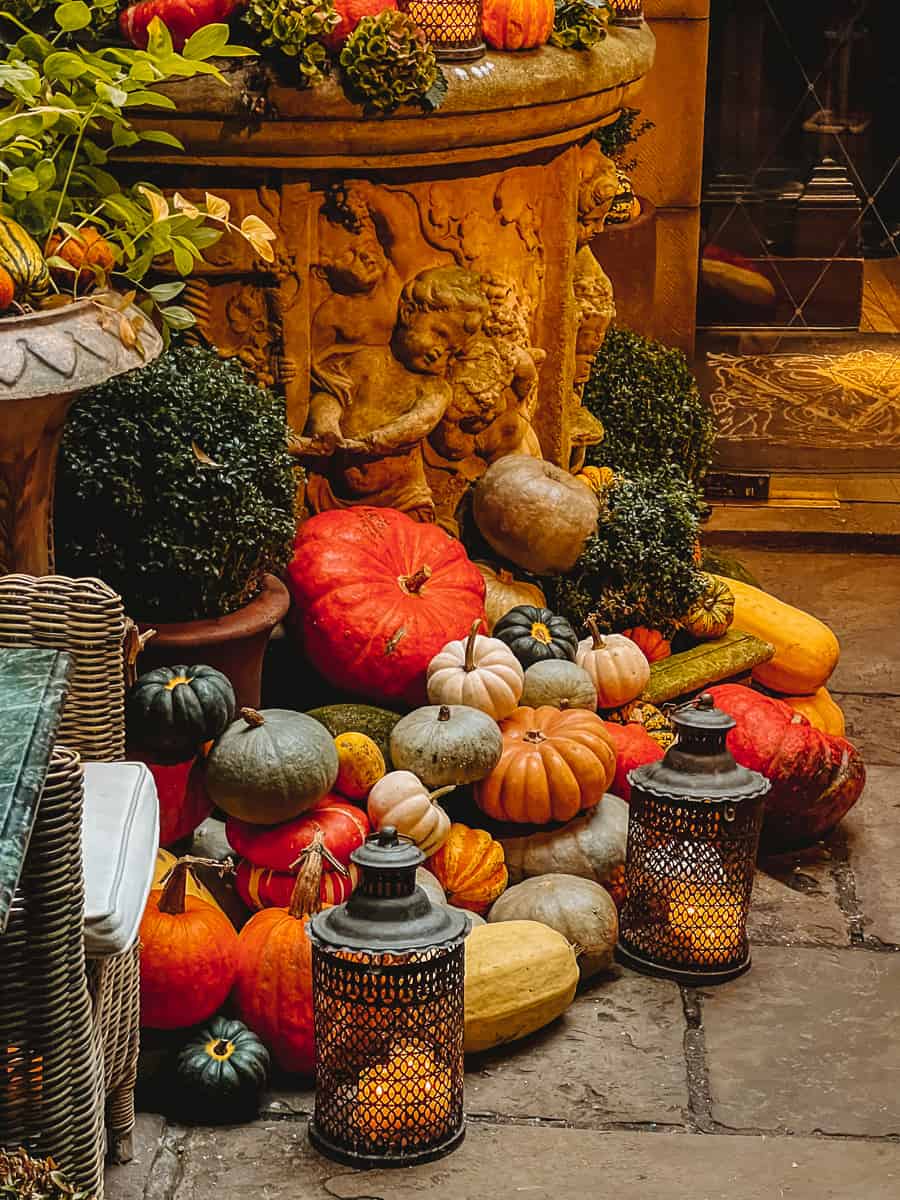 You'll find hundreds of real pumpkins in all shapes, colours, and sizes that decorate this space and it's so magical with the entrance to The Witchery restaurant just beside it.
They had a chair to pose with, plus some cute lanterns that made it look extra eerie for Halloween.
If you're spending Halloween in Edinburgh, it's worth adding Boswell's Court to your list of places to visit!
Dining at the Witchery by the Castle
No spooky season would be complete without booking to dine at The Witchery by the Castle.
It's a bespoke dining experience where you'll be lit by candlelight and can indulge in exquisite food.
As before, you can eat in either the original dining room or the Secret Garden Restaurant and I've eaten in both. They are equally spectacular and have such a magical atmosphere.
If you're looking to save some money, I would highly recommend booking for their light lunch special where you can get two courses for £27.95! It's a bargain compared to the evening prices and is available from 12 pm to 4.30 pm.
The set menu includes their famous Witchery fish pie, pork belly, or gnocchi. I went for their ham hock terrine to start and fish pie and it was delicious washed down with a few cocktails.
Click here to read my complete Witchery by the Castle review!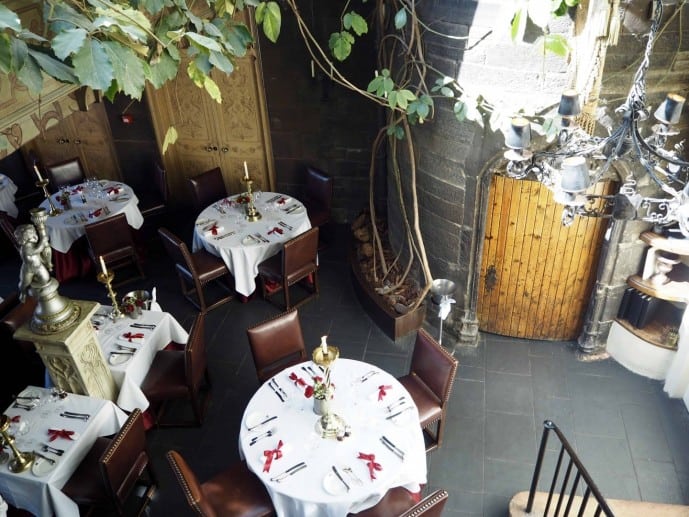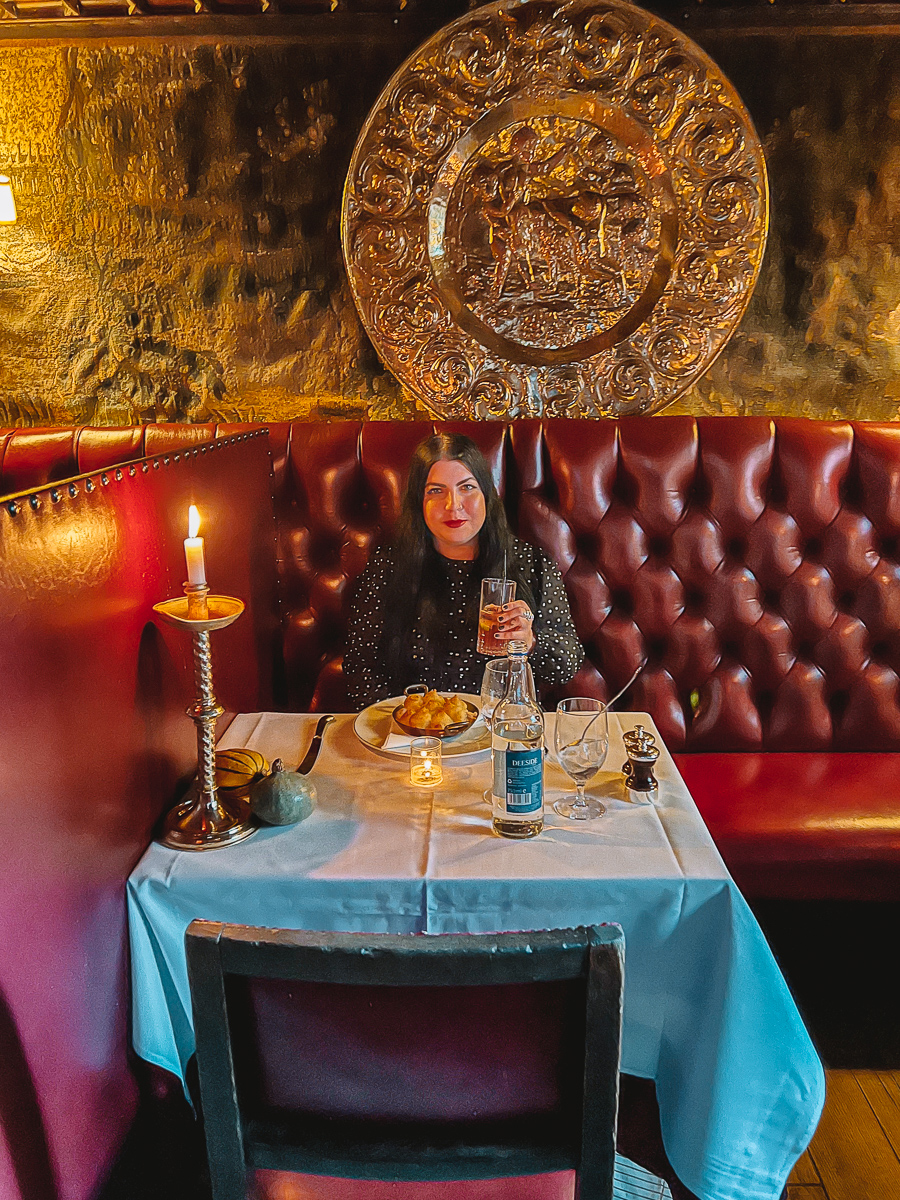 Things to do near Boswell's Court Edinburgh
If you were looking for more spooky things to do nearby, Edinburgh has plenty!
You can find more attractions associated with witches, ghosts, magic, the body snatchers of Burke & Hare and so much more.
The Witches Well
If you're visiting Boswell's Court, don't forget to visit the Witches Well on the Castle Esplanade.
It was erected in 1902 and was built to remember the thousands of people burned at the stake for witchcraft in the 15th to 18th centuries.
There is a wicked head and a serene head symbolising that some used their extensive knowledge for evil purposes.
The serpent has a dual meaning of evil and wisdom and the foxglove represents the dual purpose of common objects.
The Edinburgh Castle area is always busy so make sure to keep your eyes peeled. It's quite hidden away but look out for the Tartan Weaving Mill & Exhibition and it will be right there.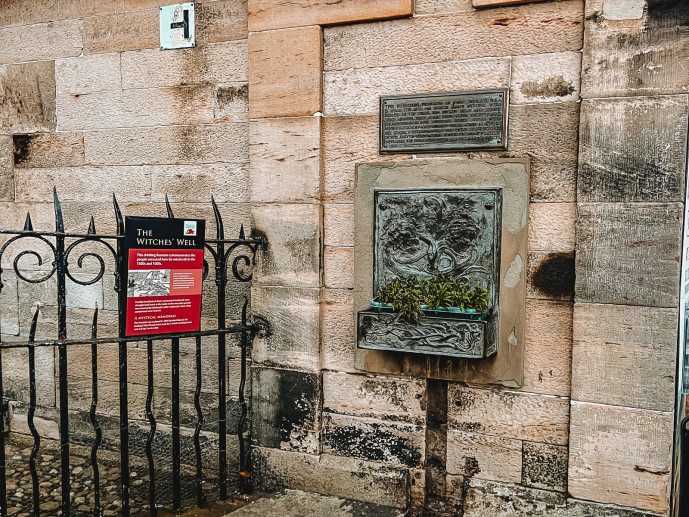 Edinburgh Castle
Edinburgh Castle sits proudly on Castle Rock and is one of the oldest fortified castles in Europe.
It's long been the seat of Scottish Royalty including monarchs like Mary de Guise, Mary Queen of Scots, and James VI.
You can visit the Great Hall, Royal Palace, and St Margaret's Tower. Wander the Argyll Batteries and see the Honours of Scotland. You could easily spend half a day here, there's so much to see.
It's always ridiculously busy and has very long lines for tickets, so I would recommend booking tickets in advance to save time and money!
The Cadies & The Witchery Tours
The Cadies & The Witchery Tours run award-winning walking tours of the city that are guaranteed to spook.
You can join them for a Ghosts & Gour Tour or a Greyfriars Cemetry tour. Make sure to check their website for availability.
Even if you didn't want to join a ghost tour, it's well worth exploring their small store on Victoria Street.
You can see the William Burke Museum which is the smallest museum in the world. It has one exhibit and that's of a small calling card case made with William Burke's skin!
If you were after more William & Burke tourism, I would visit the National Museum to see the Burke and Hare dolls or the Scottish National Portrait Gallery to see their life and death masks.
Deacon Brodie's Tavern
Did you know that Deacon Brodie's Tavern was the inspiration for Dr. Jekyll & Mr. Hyde?
William Brodie was an upstanding member of society by day but he had a terrible habit of gambling and drinking.
To pay off his debts, he would rob the wealthy! He was a cabinet maker by trade and so he would make wax impressions of door keys to steal from his client's houses.
He was caught when one of his assistants provided King's evidence against him. He was tried and hanged on the gallows that very same day.
Robert Louis Stevenson used this story to write his novel, Dr. Jekyll & Mr. Hyde and you can visit Deacon Brodie's Tavern to learn all about this story.
The site of the gallows where he was hanged is just outside of the pub. You can see a brass tribute on the pavement in Lawnmarket.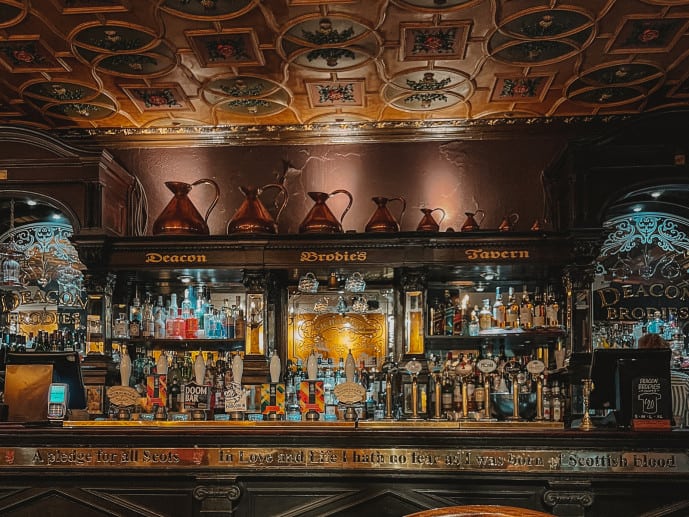 Looking for more spooky places to visit in Edinburgh?
Edinburgh is one of the best places to visit in Autumn and Halloween and there are plenty of things to do in the spooky season.
There are many parks in the city that are vibrant with Autumn colours like Prince's Street Gardens and St Cuthbert's Kirkyard.
Liberton Kirk is especially beautiful with its blanket of red ivy leaves and Carlowrie Castle has red vines creeping on its turrets and towers.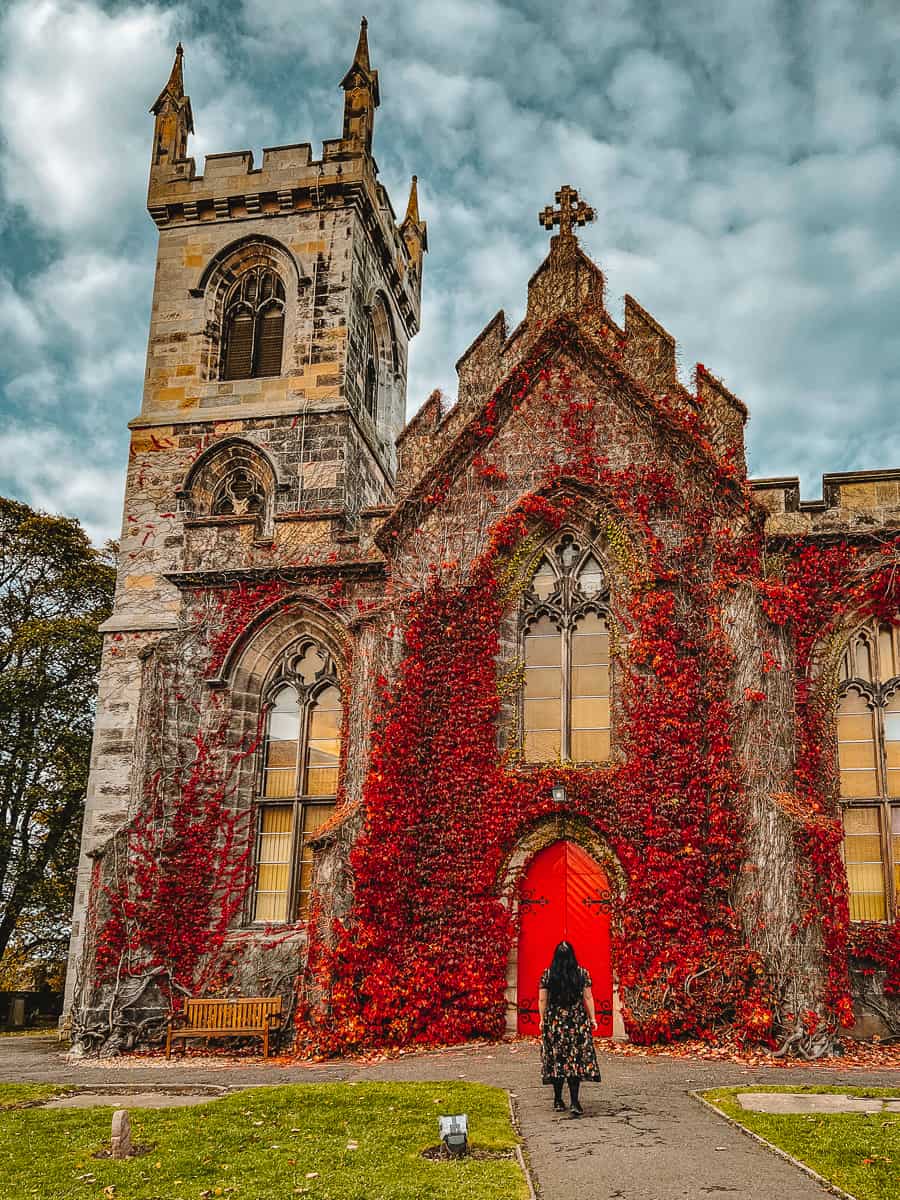 If you wanted to see some more Halloween displays like the Boswell Court pumpkins, I would highly recommend The Ivy which regularly that have an Autumn display.
As Edinburgh is one of the most haunted cities in the UK, there is no end of spooky things to do. You could organise a trip to see some Burke & Hare attractions.
You can visit Greyfriars Kirkyard to learn about mortsafes or see the William Burke Museum in Cadies & The Witchery Tours.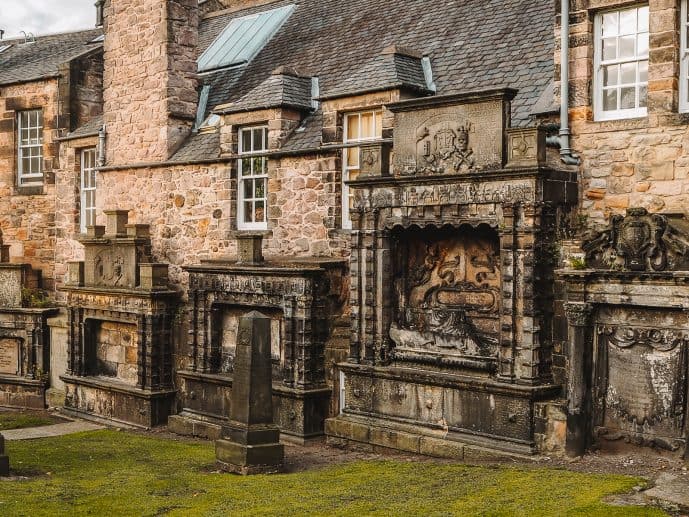 You can visit the National Portrait Gallery on Queen's Street to see the Life and Death masks of Burke and Hare or you can visit the National Museum of Edinburgh to see the Burke and Hare Dolls.
There is no end of Harry Potter sites and experiences in Edinburgh. You must visit Museum Context Harry Potter Shop and Victoria Street which is a real-life Diagon Alley or visit Tom Riddle's Grave.
Click here to read my complete guide of Harry Potter locations to visit in Edinburgh!
Save time and book a tour!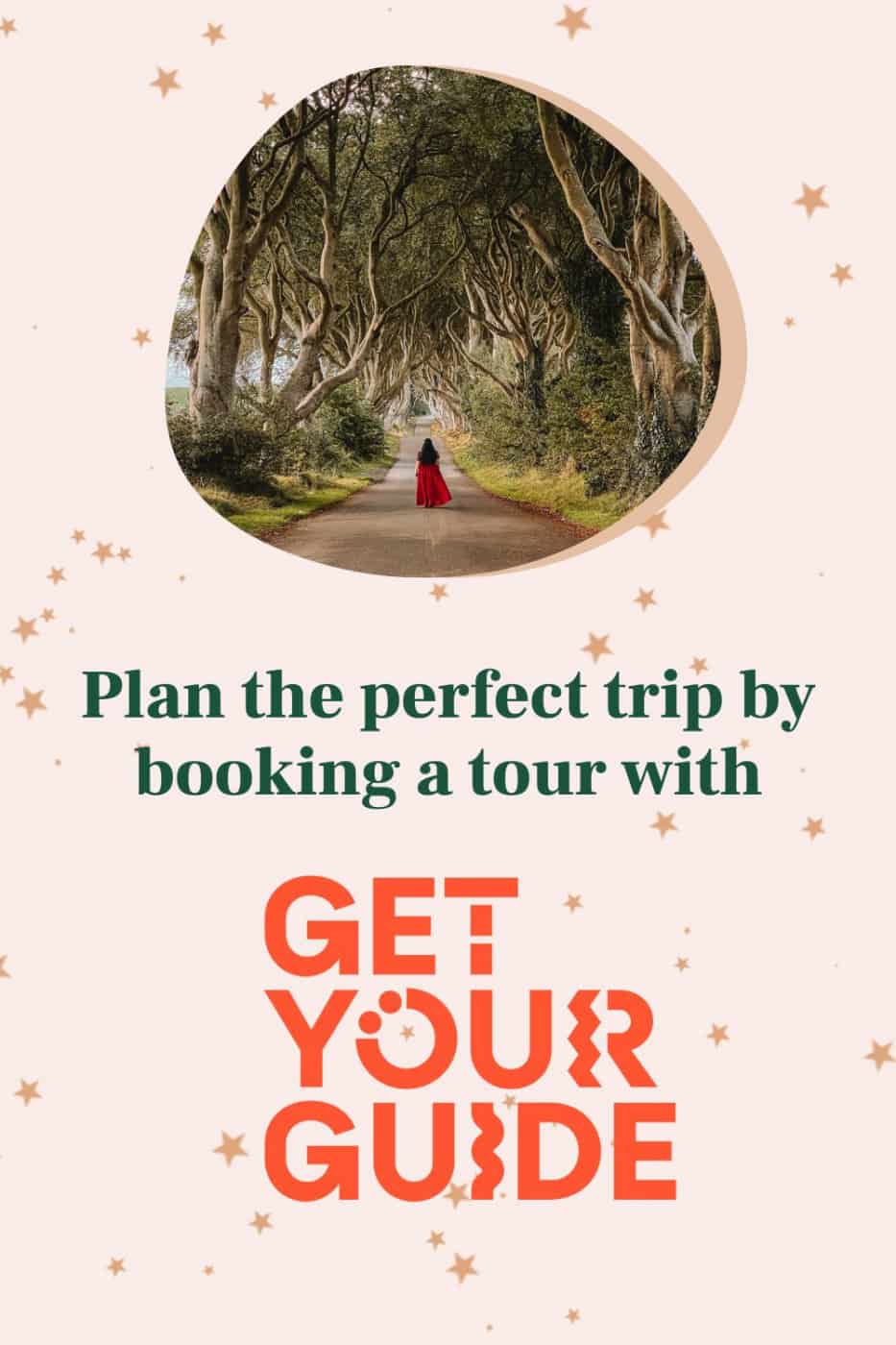 Read more of my Edinburgh guides
My ultimate Edinburgh Bucket List
A complete guide for The Vennel viewpoint
A complete guide for Dean Village
Why you must visit Circus Lane
How to find the Old Stockbridge Market Arch
Why you must visit Craigmillar Castle
Afternoon tea at the Signet Library
The most Instagrammable places in Edinburgh
Did Mary Queen of Scots bath in wine here?
Department of Magic cocktails review
Outlander locations in Edinburgh
Topping & Company Booksellers Edinburgh review
Lady Stair's Close & The Writers' Museum in Edinburgh
How to visit the Ross Fountain
Save Boswell's Court Edinburgh for later!