One of the best attractions that you can visit in the Cotswolds is the gorgeous Bourton on the Water model village.
It's an exact replica of the Venice of the Cotswolds which is 1/9th of the size! It has everything from the latest shops, churches, and even a tiny River Windrush with footbridges.
You will be amazed at how accurate these petite buildings are and the effort goes down to the finest of details.
Here's the ultimate guide on how to visit the Bourton on the Water Model Village and all the things that you can see and do on your visit!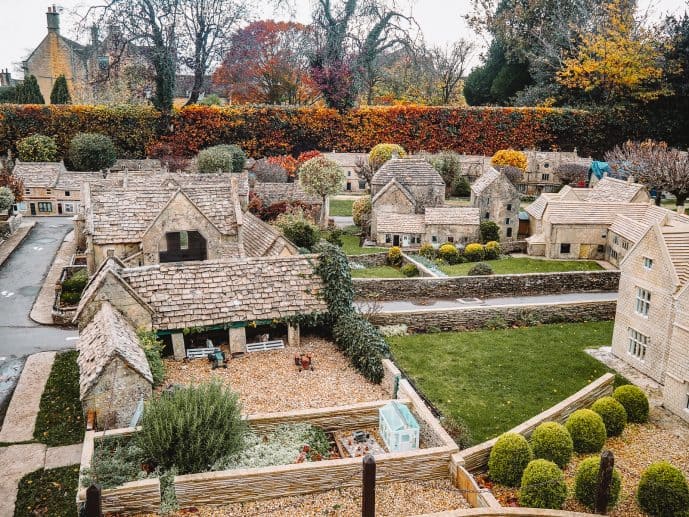 Bourton on the Water model village history
So, how did such a cute miniature of the village come to be? Well, the idea was formed in the 1930s by Mr. C. A. Morris.
He was the owner of The Old New Inn at the time and built the model village with his wife in their garden.
It was no easy feat as firstly he had to measure the whole village before he even began constructing it! Then, he built the model village with the help of some local craftsmen.
The model was constructed with authentic materials such as quarried stone for the limestone walls and Cotswolds slate which was cut down to size for the tiled rooftops.
For the foliage, there were small Bonsai trees brought in. Today, they are regularly pruned to keep it to scale.
It took over five years to build and it finally opened to the public on the 13th of May 1937. This coincided with the celebration of the coronation of King George VI.
Today, it's the only Grade II listed model village in the country and has become the most popular attractions in all of the Cotswolds.
Is the Bourton Model Village worth visiting?
Definitely. It's one of the most popular attractions in the Cotswolds for a very good reason which is that it's absolutely adorable!
It's an exact copy of Bourton on the Water but it's one-ninth of the size. So, you can experience looking at everything from above.
As it's a replica of the village, you'll see many of Bourton's most notable buildings like St Lawrence's Church in miniature. It even has music playing inside the church with little people holding hymn sheets!
Although much of the village does look like it did in 1937, you will see the current shops on the High Street and even a mini River Windrush with its gorgeous bridges.
It's well worth the money and to explore this pretty pint-size village for an hour or so.
What to expect on your visit
It does make you feel a bit like Godzilla when you're walking around all these pint-size buildings. Or, Alice in Wonderland when she eats the cake, grows in size, and fills up the house!
I'm only a tiny 5 foot and, for once, I felt stupidly tall towering over these miniature buildings. It was so funny.
There are very narrow pathways that have been placed here for you to explore. They have just enough room for you to shuffle through and see everything in the model village.
Note that there is a one-way system in place for you to walk around to ensure your safety, the safety of others and to protect the model buildings too.
You'll see arrows on the ground guiding you through so, make sure to stick to them!
Things to do at the Bourton Model Village
So, what is there to see and do here? Although it is incredibly small, it packs a lot in for your visit.
Of course there is the model of the village but there is also a small museum, landscape display and so much more to look out for here.
Here are all the things to do at Bourton Model Village.
Explore the Bourton village and the River Windrush in miniature
As soon as I entered this place I squealed with excitement! It was so adorable seeing all these teeny tiny buildings which are true to life.
Each building has the most minute details like glass windows with shutters, tiny doors with knockers, potted plants and even washing lines.
Many of the buildings have people inside them as well, for example, St Lawrence's Church has a choir singing and organ music playing.
You'll also find minuscule shop display windows with tiny t-shirts or flower arrangements. There are even tractors, drains, piping, greenhouses. As well as horses in stables, cats, and dogs.
You could spend hours here taking in the details. It's great to make a visit here then compare the model village to the buildings outside!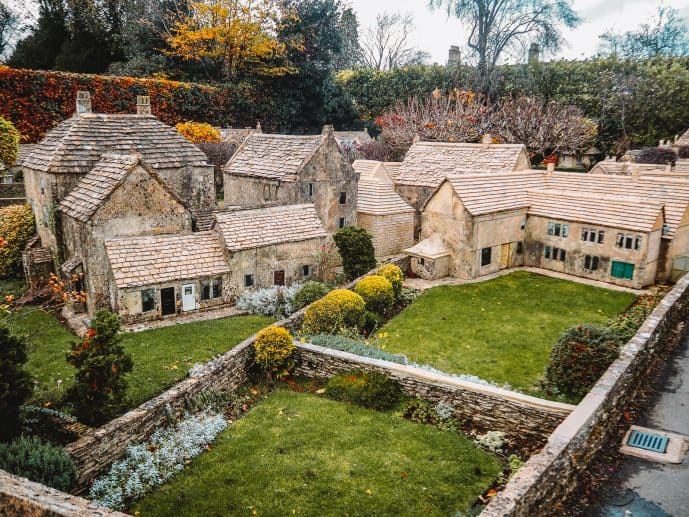 Take in the model village from the viewing platform
The best place to get photos of the model village would be from the viewing platform that allows you to get a birds-eye view!
From this spot, you can see the whole model village and you can get a feel on just much effort went into the craftwork and construction.
You may only have a moment up here if it's a busy day but make the most of it and have your camera or phone at the ready to capture it.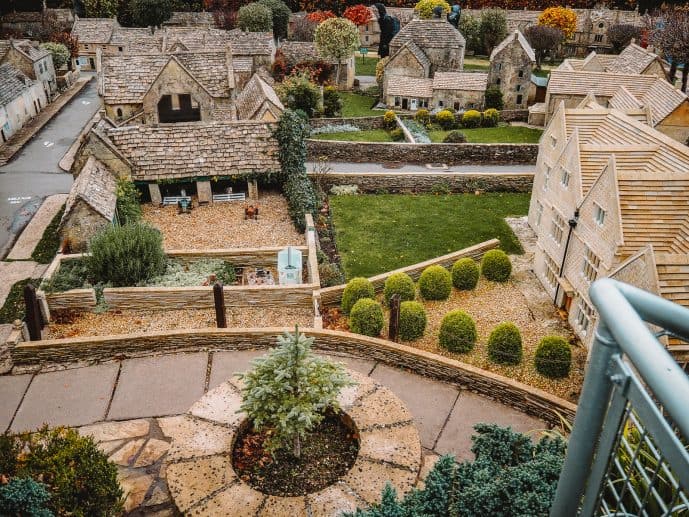 Check out the model village, within a model village, within a model village!
Of course, it wouldn't be an exact replica of Bourton on the Water if it didn't have a tinier version of the model village within the model village itself.
In fact, that smaller model village has its very own model village too.
So, essentially, you're looking at a model village, within a model village, within a model village! Funny, isn't it?
The tiniest of the model villages is absolutely minuscule and must have been so fiddly to put together.
It comes complete with a mini ticket stand, gift shop, and a replica of The Old New Inn, and again each one is 1/9th in scale!
Visit the museum for more information
If you were curious to find out more about the construction of the model village, then look out for the museum notice boards found at the back.
They have lots of vintage photographs printed during the construction as well as photos of Mr. C. A. Morris.
You can discover how long each building took and how they were able to imitate the finer details in the carving work.
These buildings are an exact scale and used local Cotswolds stone to build. Even the rooms and glass shop windows were exact. It was fascinating to find out the process.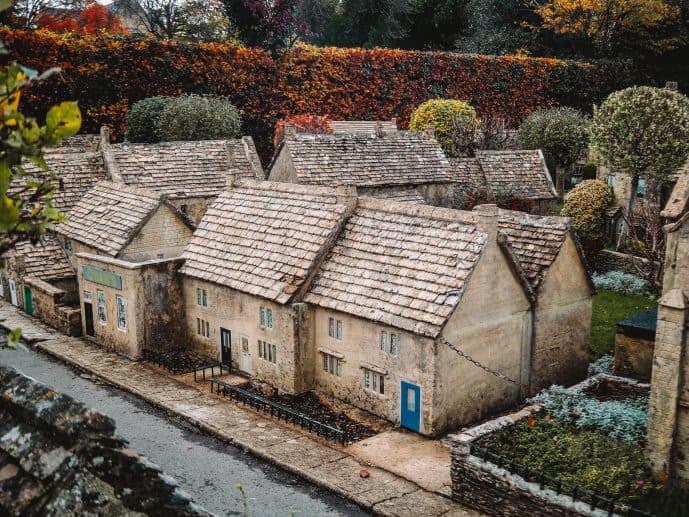 Check out the miniature landscapes display
As well as seeing Bourton on the Water in miniature, the model village often has displays that showcase other works by miniature artists.
One of those is the Miniature Landscapes Display. It was created by a miniature specialist, John Constable from Langport in Somerset.
He made a series of seven miniature historic cottages that were 32 times smaller than their true size.
Each miniature cottage was constructed to precise proportions and it took him over 12 months to build them! But, he also made 25 years of detailed research.
The collection includes a replica of Willy Lott's Cottage from a famous painting The Hay Wain by the painter John Constable in 1821.
Other works include Thomas Hardy's birthplace in Dorset, where he wrote Far From The Madding Crowd.
He even has a book published 'Landscapes in Miniature' which is sold in the Model Village Gift Shop.
See the miniature historic cottages exhibition
Another exhibition held here is a display of miniature scenes and rooms that showcase the work of over 100 miniature specialists.
They explore a range of subjects from traditional English life like markets, classrooms and there are even moving rooms as well.
This exhibition is undercover and can be found at the back of the model village, you will need to pay £1 extra to visit.
Do they update the Bourton on the Water Model Village regularly?
Actually yes, despite it being a Grade II listed model village it is regularly updated to reflect when shops in the village change.
So, you may find that the shop signs are replaced if a business shuts down and a new business starts up in that residence. Also, shop window displays are updated.
They also regularly close some areas off for renovations to update the structures and add new buildings every now and again.
It's honestly great as the model village is a living reflection of Bourton on the Water at that present moment.
How long do you need to visit?
This completely depends on you, but I would definitely recommend at least 45 minutes to an hour to explore the model village.
Just remember that Bourton on the Water is one of the busiest villages in all of the Cotswolds and this is one of the most popular attractions here too.
The village can see thousands of visitors descend on it in summer. So, prepare for crowds in the holidays and weekends.
I would always recommend a visit in the shoulder seasons of spring or autumn and even winter. These months see far fewer crowds and it's a little easier to enjoy the village that way.
There is lots to do at the model village and the pathways are really narrow. So, you may have to wait for others who are visiting in front of you. Make sure to leave enough time to be able to see everything that's here.
Important information for visiting Bourton on the Water model village
Here is some practical information about visiting this amazing model village including how to find it, where to park, opening times, and prices!
Where is the model village in Bourton on the Water?
The Model Village in Bourton on the Water can be found inside The Old New Inn on Rissington Road.
It's easy to find if you're walking around the village and is on the road heading towards the Dragonfly Maze and Birdland.
If you're driving here, plugin in the postcode GL54 2AF and you'll easily find parking nearby to the attraction.
Parking for the Bourton on the Water Model Village
There is some chargeable parking for the model village which is just outside of the Old New Inn in Bourton on the Water.
But, this car park is tiny and spaces are extremely hard to come by as they fill up quick. I had trouble parking here even in winter.
There is plenty of free off-road parking in Bourton High Street which is free for two hours. It will be a short walk to the model village from there. Or, there are some free off-road spaces in a lay-by off on Station Road which are timed.
Alternatively, you can park up in the Burton Vale car park which is £2.50 for two hours. It will be a 5 minute walk to the model village.
Rissington Road is £3.30 for two hours near to Birdland. It will be a 10 minute walk to the model village from there.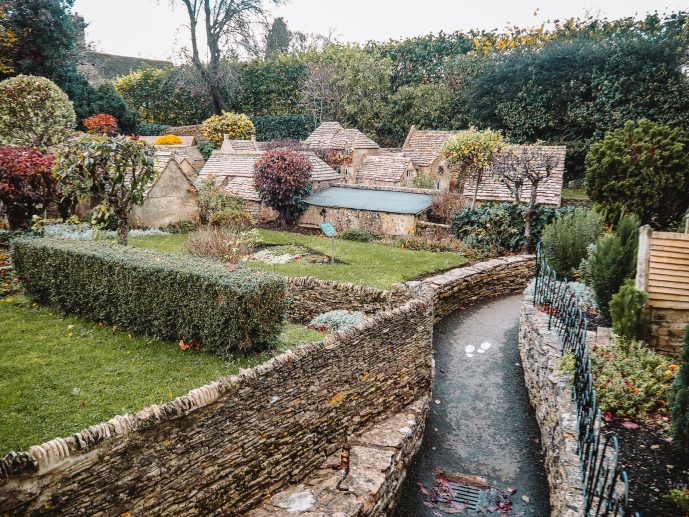 Bourton Model Village opening times and prices
The Bourton Model village is open every day all year except Christmas Day! Its open daily from 10am – 6pm in summer and 10am – 4pm in winter.
Ticket prices are £4.50 an adult and £3.50 for children. There is a small discount for senior citizens.
At the moment, the village only accepts card payments. So, make sure that you have a card to pay with you! They also take Apple Pay on mobiles.
Click here for the latest opening times and visitor information
FAQs about Bourton Model Village
Is the Bourton on the Water model village dog friendly? Unfortunately, dogs are not permitted. Only guide dogs are allowed.
Was Bourton on the Water Model Village in Hot Fuzz? No, but it definitely was an inspiration for the model of Sandford made in the film. Although it wasn't this location, it will definitely be a Hot Fuzz moment for fans.
How many model villages are there in the UK? There are approximately 35 model villages in the UK that are open to the public to enjoy. But, Bourton on the Water's model village is the only graded one in the country! It currently holds a Grade II listed status.
Are you looking for more places to visit in Bourton on the Water?
Bourton on the Water is often referred to as the Venice of the Cotswolds and it's effortlessly picturesque.
Although it does get extremely busy, there is enough room to enjoy the views over the River Windrush and all around you.
If you were looking for more tourist attractions, Bourton also has a Miniature Railway, Birdland and a Dragonfly Maze to visit after this.
Or, you could pop over to the famous Bourton Motor Museum which is full of vintage cars and vehicles through time. They even have Brum inside which is showing my age!
Personally, my favourite thing to do is to take a relaxing stroll by the river and cross over the footbridges. You can browse the independent shops and stop for a cream tea at one of the many cafés!
A perfect ending to any day here would be to grab some Fish & Chips or an ice cream and sit on the green by the river. It's just perfect at sunset.
If you were looking for a great walk, I would recommend paying a visit to the Greystones Nature Reserve and Farm. They have a wonderful replica of an Iron Age hut and lots of heritage trails around Salmonsbury Camp Hillfort!
Read more of my Cotswolds travel guides
A complete guide to Bibury and Arlington Row
Things to do in Lower Slaughter and Upper Slaughter
Did this pub in Moreton in Marsh inspire Tolkien?
The best things to do in Stow on the Wold
Visiting a real life Moria from LOTR in the Cotswolds!
How to visit Cotswold Lavender
The best things to do in Castle Combe Cotswolds
All the best places to visit in Lacock and the Harry Potter locations
Places to visit in Tetbury and the Chipping Steps
Top things to do in Painswick and the legend of the 99 yew trees
The best things to do in Corsham and a visit to Great Chalfield Manor
Why you must visit the hidden gem of Minster Lovell
What to do at Gloucester Docks
Save how to visit Bourton on the Water model village for later!