The first thing you'll see as you approach the Transylvanian city of Brasov in Romania is a huge Brasov Hollywood Sign that gleams on top of Tampa Mountain!
It can be seen for miles around the Carpathian Mountains and it has been coined the 'Hollywood of Eastern Europe'.
Beyond snapping photos of this quirky landmark, it may surprise you to know that you can actually visit this sign as well. It's easy to do and provides some of the best views in the area.
Here is a complete guide for how to visit the Brasov Hollywood Sign and the Tampa Mountain Cable Car in Transylvania, Romania!
The history of Tampa Mountain & The Brasov Hollywood Sign
Tâmpa Mountain in the Carpathian Mountains of Brasov had a long history before it was coined the Hollywood of Eastern Europe!
It was a city founded by Teutonic Knights from Germany who were protecting trade routes to Hungary. At this time, they built a stone citadel up here.
This fortification had a church and defense towers that were eventually linked to the base of the mountain. You can still see the ruins of this citadel today.
Much later in the 19th century, this mountain became popular with tourists and so there was a restaurant, firing range and a bowling area installed!
After the Russians took over Romania, Brasov was called Orașul Stalin or 'Stalin City'. The trees of Tampa Mountain were re-arranged to spell out 'S-T-A-L-I-N' on the hillside.
Of course, once it was returned to Romania and renamed Brasov once more the trees were chopped down and replaced with what we see today.
The cable car was placed on Tampa Mountain in a bid to impress international artists that were attending the Cerbul de Aur singing contest.
It was built and opened in 1971 and it has been carrying thousands of people up the hillside each year ever since.
The Brasov Hollywood sign was installed in 2004. It is now the symbol of Brasov and gives the city the nickname 'Hollywood of Eastern Europe'!
You can also see a similar sign on top of Rasnov Fortress which can be found just a few kilometres from Brasov in Transylvania.
How to visit the Brasov Hollywood Sign
Did you know that, beyond seeing the Brasov Hollywood Sign from below, you can actually head up Tampa Mountain to visit the sign itself?!
Yep, you'll be standing right behind it and it's a fairly easy and popular thing to do. Plus, the views of Brasov and the Carpathian Mountains from this sign are spectacular!
There are two ways to visit the Brasov Hollywood Sign depending on how much time, money, and energy you have to spend.
You can either hike up Tampa Mountain from the bottom or you can grab the Brasov Tampa Mountain Cable Car!
1. Walk up Tampa Mountain in Brasov
If the weather is nice and you're feeling energised, you can hike up Tampa Mountain from Brasov to see the sign.
Tampa Mountain is elevated at 960 metres and stands around 400 metres above the city so it will be a steep hike.
This walk can be quite tiring but it only takes around an hour or so from Council Square and you'll get to see a lot more views while you traverse the hill.
The trail up Tampa Mountain starts from near the Tampa Mountain Cable Car station near to the fortification walls.
From the base of the mountain, you'll wind up a serpentine path through the trees and up to the very top.
Another bonus of doing the hike over the cable car is that it's completely free so if you're backpacking it will save you some money too!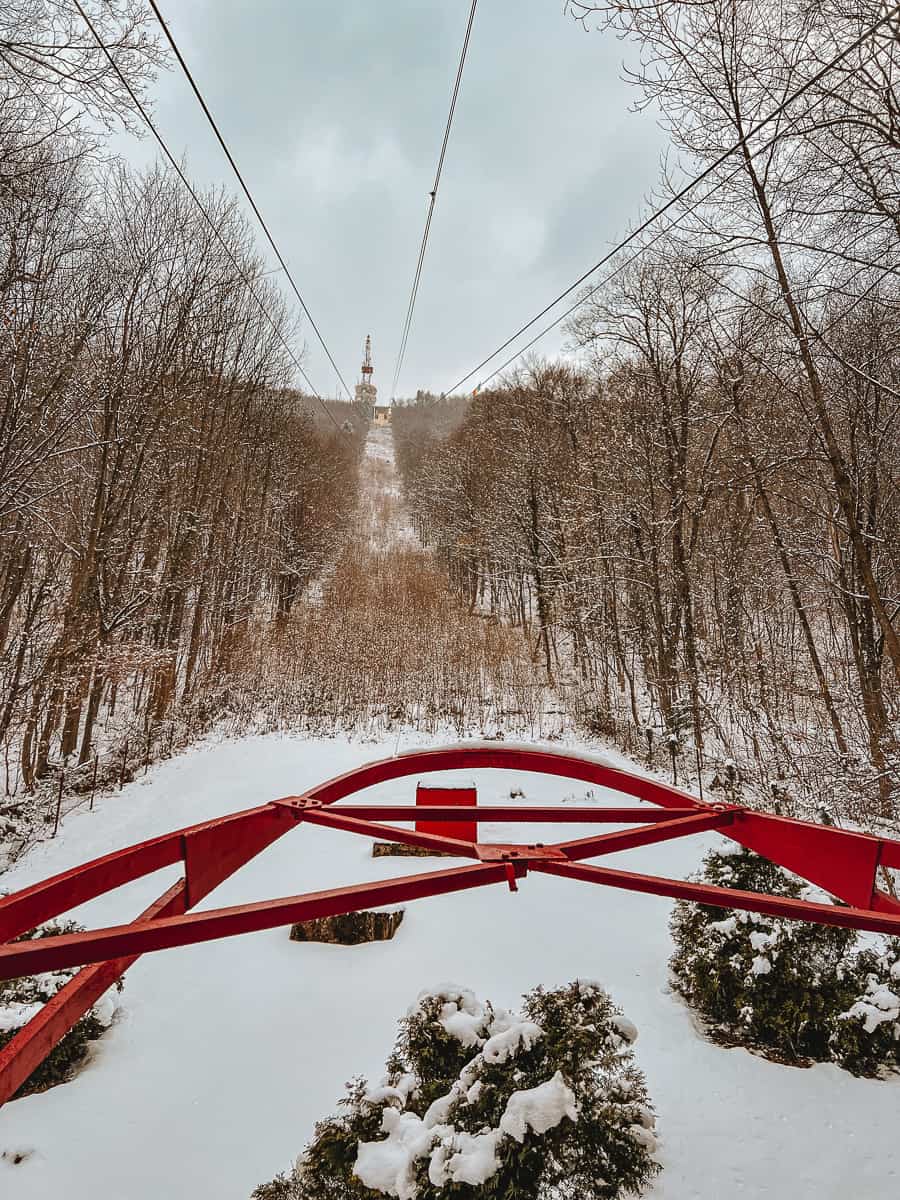 2. Take the Tampa Mountain Cable Car!
As it was snowing heavily while I was in Transylvania, the obvious option for me was to catch the cable car up Tampa Mountain.
The cable car station can be found just beyond the Spinner's Bastion on the Brasov Fortification Walls which can be accessed from Aleea Tiberiu Brediceanu.
Click here for a Google Pin to find the Tampa Mountain Cable Car station
I will warn you that the walk from Council Square in Brasov to this cable car station itself is very steep and there are a series of ramps/stairs to access the entrance.
But, once you're here, the cable car journey up the hill is amazing. It takes around 5 minutes to reach the top and you'll see some of the best views in all of Transylvania!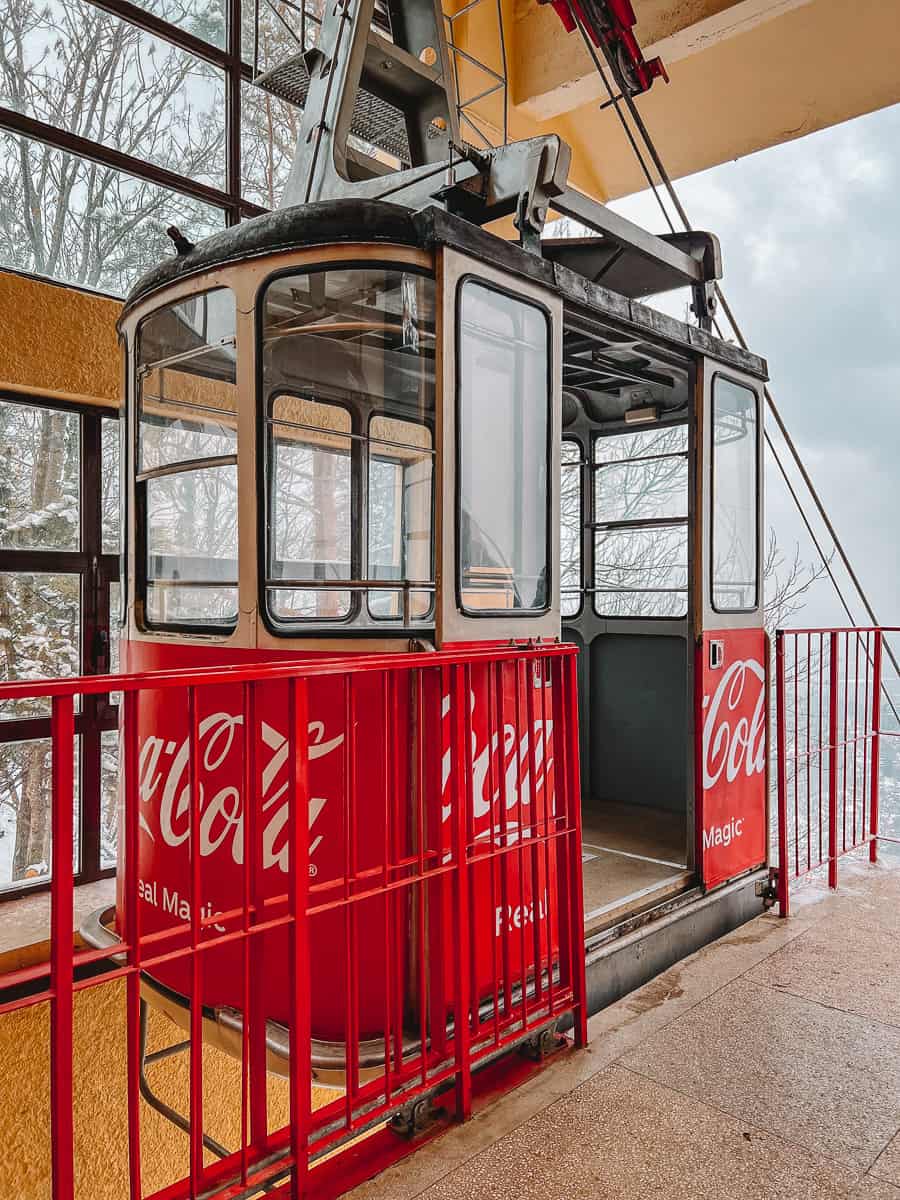 Tampa Mountain Cable Car opening times
Opening times for the Tampa Mountain cable car seem to vary by season! But, typically, the cable car runs from 9.30/10 am – 4 pm/5 pm from Tuesday – Sundays. It's closed on Mondays.
I would always advise getting the cable car during the week as the weekends can be busy, especially in summer!
In the winter, the cable car will stop running if the weather is bad or there are heavy snowstorms as it would be too dangerous.
How much is the Tampa Mountain Cable Car?
The Tampa Mountain Cable Car is very cheap at 10 Lei (RON) one way which is around £1.70/$2.20 USD. You can then hike either up or down if you choose to.
I got a return ticket up the mountain which cost me 20 Lei (RON) which converts to around £3.50/$4.50USD.
There are discounts for younger children and students. Students must show their ID cards at the ticket counter.
It's not a huge stretch to your budget and it saves you lots of time while you're here!
What to expect on your journey
The Tampa Mountain cable cars typically leave every 20-30 minutes in winter as there are fewer people heading up the mountain. But, in the summer, you'll find that they head up and down the hill continuously!
Once you have bought your ticket, you'll stand in a waiting area to board the cable car. The cabins are quite small and have bright red 'Coca-Cola' branding on them.
It feels a bit like you're heading up in a rinky-dink coke can. Although this cable car was made in 1971, it has been upgraded since and is electric, so it has a safety mechanism if something were to go wrong. You're quite safe!
As soon as everyone is inside, you'll then head up Tampa Mountain. If you're lucky enough to get a spot by the window, you'll see some of the best views of Brasov and the Carpathian Mountains as you ascend.
The whole journey takes around 5 minutes and then you'll arrive at the top cable car station! Here, there is a bar/café and there are plenty of Tampa Mountain walks to enjoy in the area.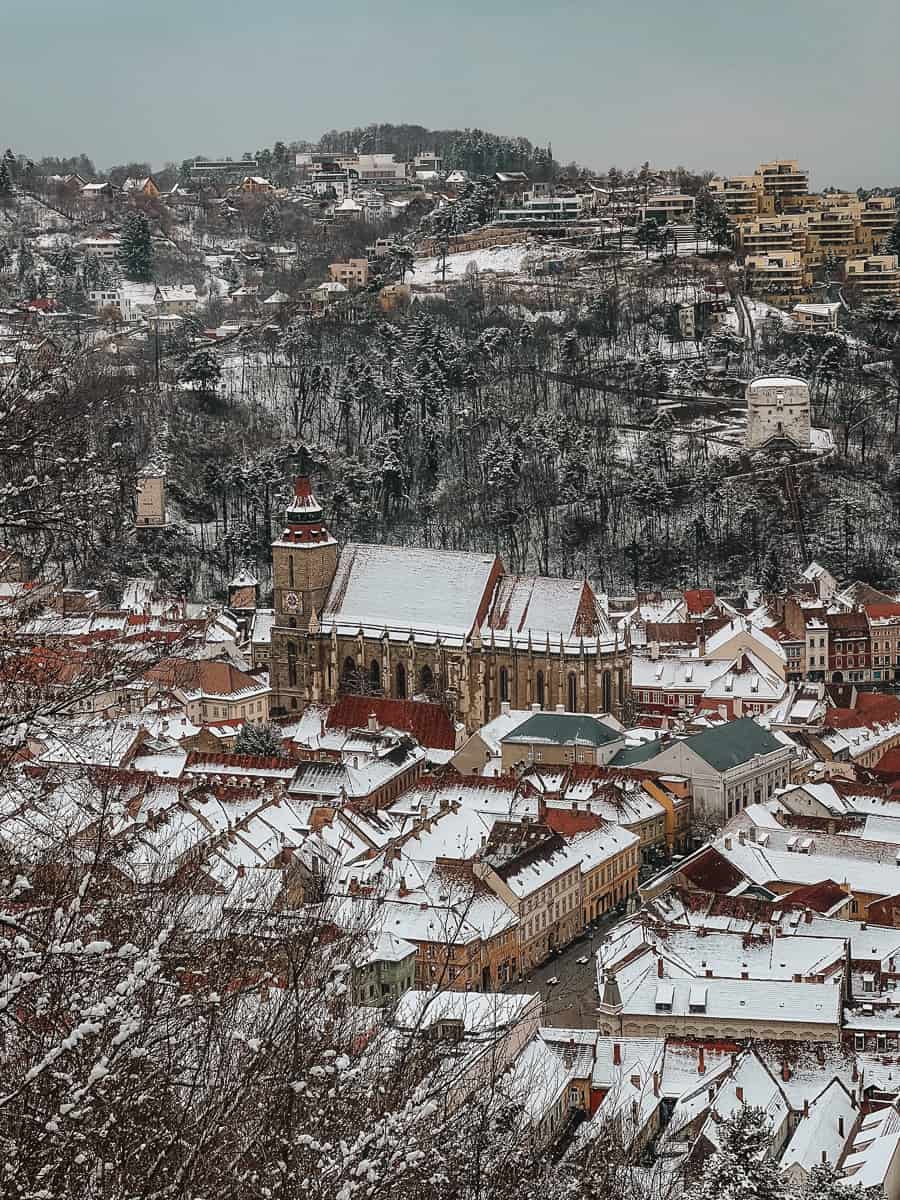 Brasov Hollywood Sign walk
If you only have time for one walk on Tampa Mountain, I would recommend heading over to see the Brasov Hollywood Sign!
This is a very short walk from the cable car station and provides amazing views over Brasov and the Carpathian Mountains from the viewing platform.
It's only around 500 metres from the station but the walk is quite uneven and rocky. So, make sure you're prepared with a good pair of shoes!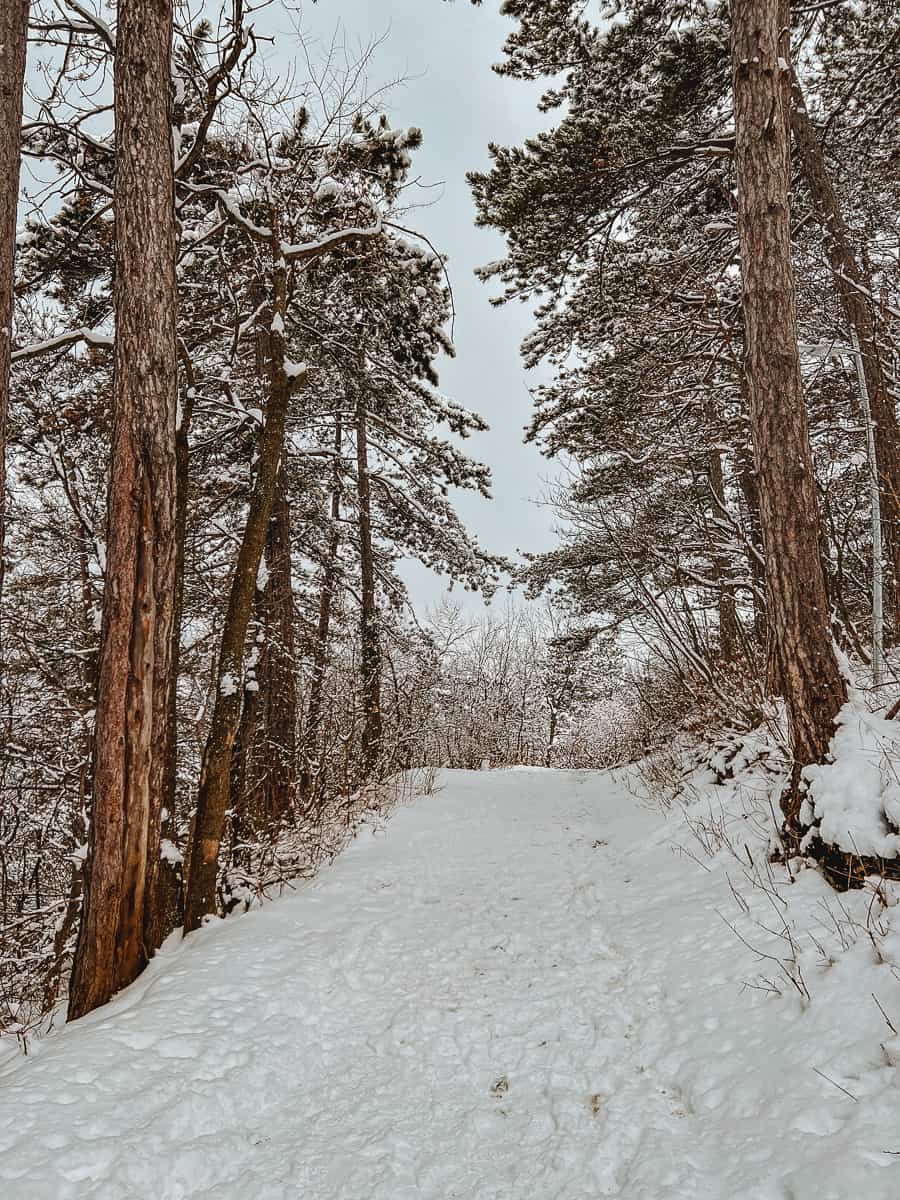 On my visit, the walk was in heavy snow and I did a terrible job of making my way over there.
There were quite a few slippy hills and I was falling all over the place. I almost turned back but a local firefighter called Stefanel offered to help me down.
Although it was a bit embarrassing, I finally made it to the platform and the views from here were breathtaking.
It felt strange to stand behind the Brasov Hollywood Sign which is HUGE when you're standing right next to it.
It's a small platform area to explore but there are plenty of other walks you can take after your visit!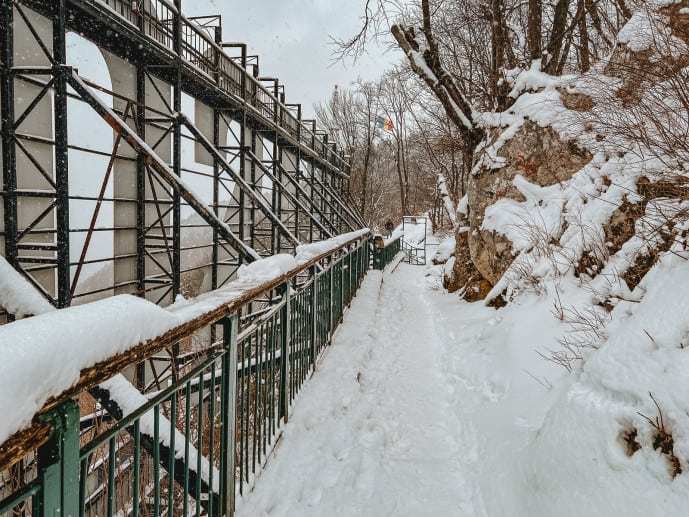 Tampa Mountain walks & things to do
So, once you're on Mount Tampa, there are plenty of things to do other than visit the Brasov Hollywood Sign.
If you hike for around another 10-15 minutes above the sign, you'll eventually reach the very top of Tampa Moutain.
Here, you get to see the 'Instagrammable' viewing platform that is quite popular here. You sit on a wooden ledge overlooking the city and it's a photo opportunity you won't want to miss!
You can also head over to Postavarul Peak if you wanted a longer adventure. The Tampa to Postavarul Massif walk will take you all day (around 8 hours) and you can ascend up the 1799 metres to the summit.
In the winter, many people visit the popular Poiana Brasov ski resort which is located deep in the Carpathians. But, in summer, you can walk over to this too!
Visit the Tampa Mountain bar
If you're looking for a place to eat on Tampa Mountain, your options are limited up here so I would recommend packing a lunch if you plan on exploring for the day.
But, there is a small Tampa Mountain bar at the cable car station that serves up snacks and drinks. I had much-needed mulled wine which was just the ticket in the freezing cold snow!
In the summer, there is a small seating area outside and you can relax with a beer or cold drink after your hike.
At the bottom of the hill, near to Tampa mountain cable car station, there is a traditional Transylvanian restaurant called Sub Tampa which is highly recommended.
Are there bears on Mount Tampa?
Yes, there are brown bears that make a home here on Mount Tampa but they are timid and won't come near the popular hiking routes.
In the summer, which is popular for walks, the bears avoid this area altogether as they want to protect themselves/their young.
A lot of people get scared to do this walk due to the rumours of bear attacks but it's very rare you will even see a bear up here let alone be approached by one.
However, it's always good to remember that you are entering a wildlife area and there have been sightings of brown bears, Eurasian lynx, grey wolves, wild boar, adders/vipers, and foxes.
I would remain alert but also respectful of where you're exploring too. This is their home, not yours. I personally think it would be amazing to see some of these beautiful creatures in the wild!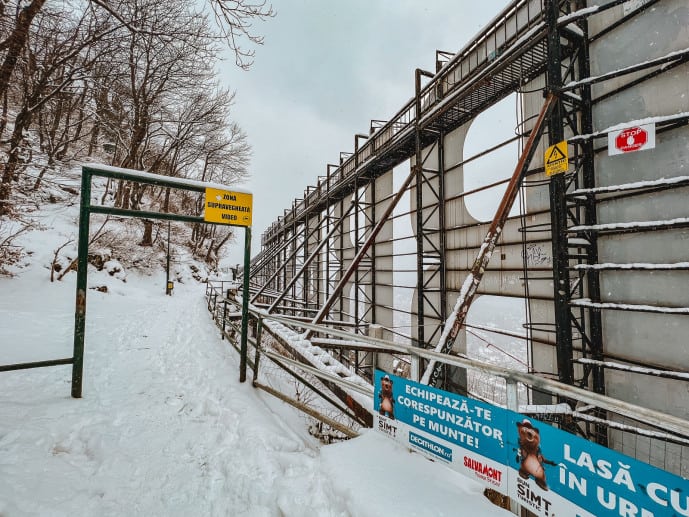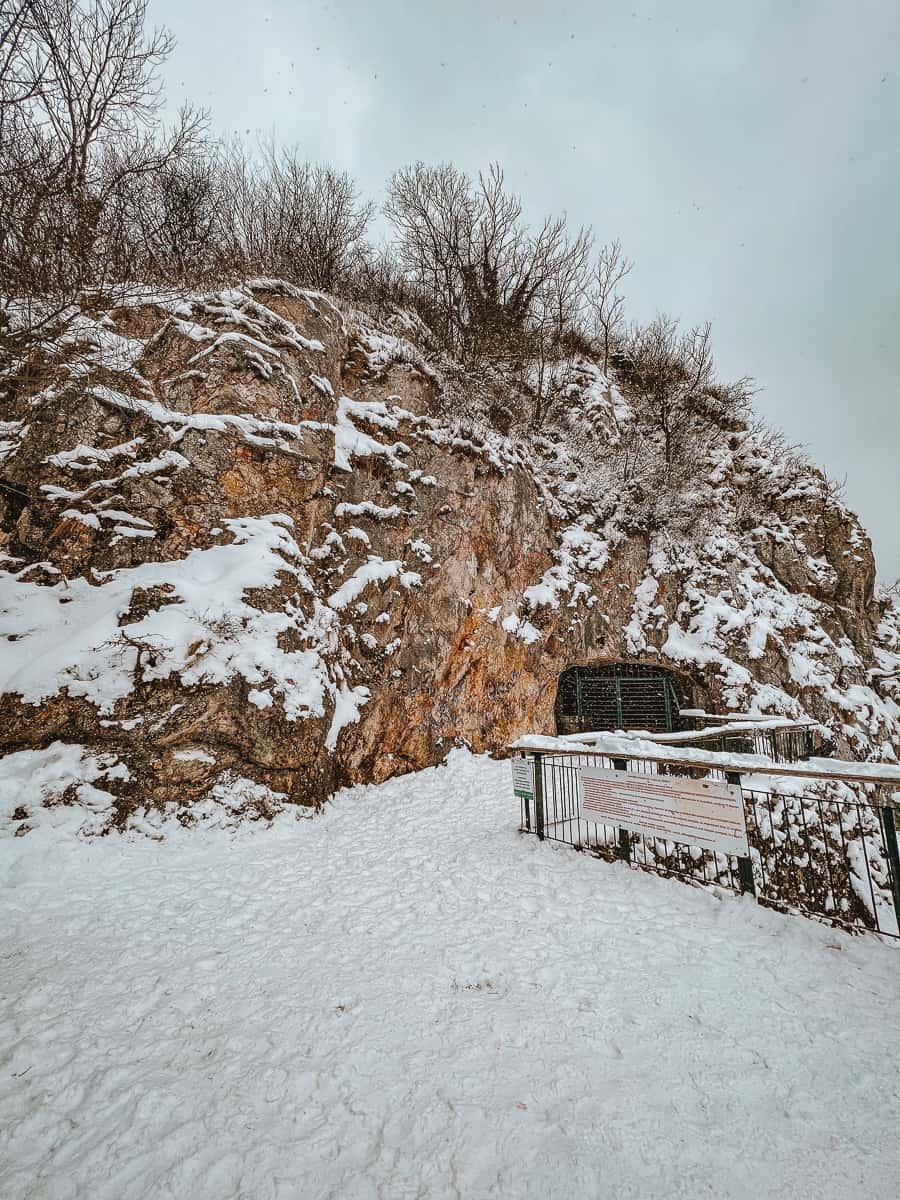 Looking for more things to do in Brasov?
Brasov is a quaint historic city built by Teutonic Knights that is tucked in-between the heights of the majestic Carpathian Mountains making it a fabulous tourist destination to visit in Romania.
There is plenty to do around here to keep you occupied for a few days within the city itself and around on a day trip.
You can explore the Piața Sfatului or Council Square with the City Hall Museum. Or, you can visit the imposing Biserica Neagră or Black Church.
As a medieval city, you'll find that it is surrounded by fortification walls, gates, and towers you can explore like the Catherine Gate.
The views from both the White Tower and the Black Tower are outstanding but expect a bit of a climb!
You can also explore the narrowest street in Eastern Europe which is Rope Street! It's a tiny medieval lane that is 111 centimetres at its narrowest.
Or, why not visit the Schei district to visit the First Romanian School Museum and 16th-century St. Nicholas Church?
Click here to read my complete guide of what to do in Brasov!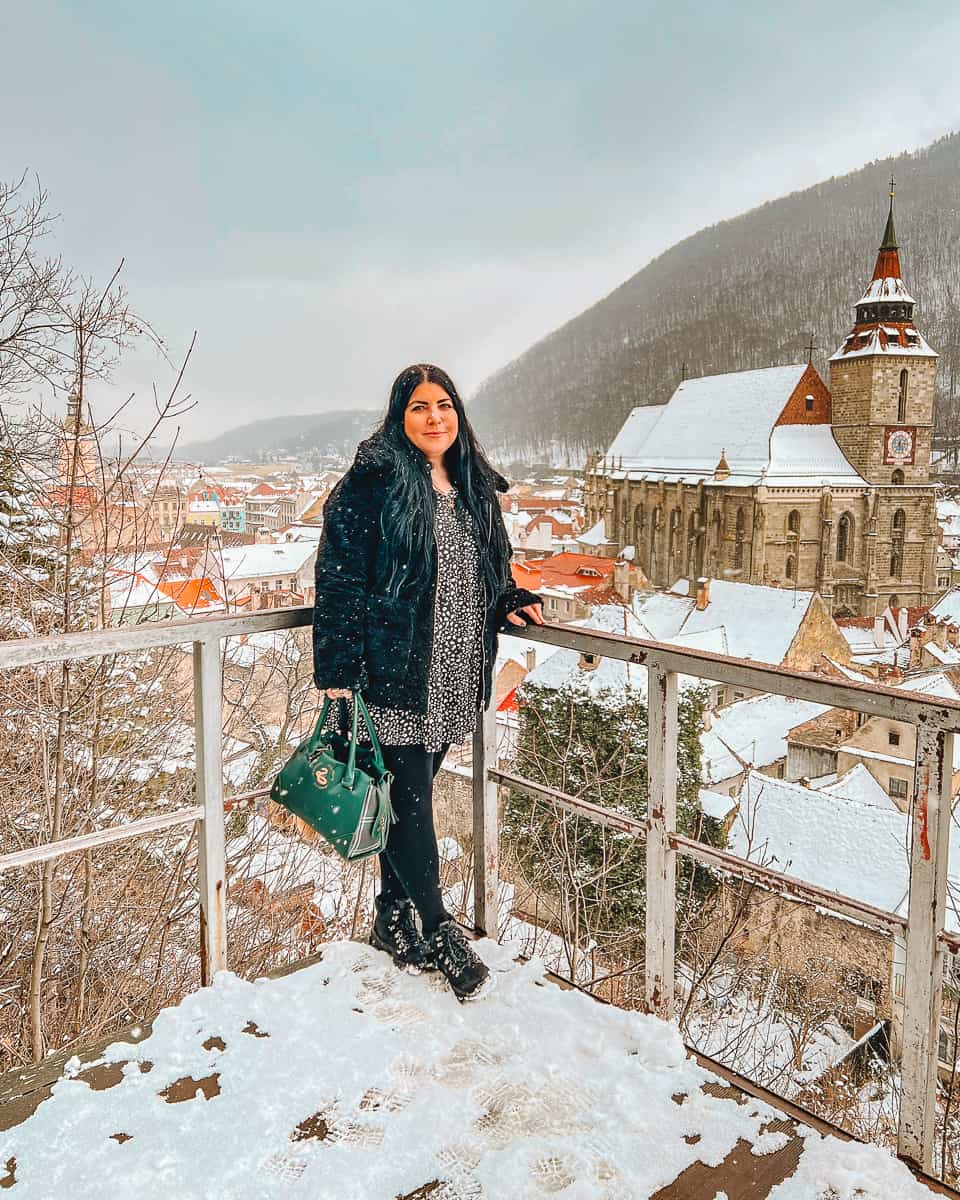 Visit Dracula's Castle in Transylvania!
Of course, no visit to Romania would be complete without a trip to the famous Bran Castle that inspired Bram Stoker's Dracula. You are now in Transylvania after all!
It's only a short drive from Brasov itself, so you must try to make a day trip there if you're in the area by bus.
If you wanted to visit on a guided tour, you can book this Bran Castle, Peles Castle and Rasnov Fortress tour from Brasov here.
Bran Castle was the famous home of the 15th-century ruler Vlad the Impaler who is referred to as the 'real Dracula' due to his bloodthirsty torture habits!
Although Bram Stoker never visited, he used Prince Vlad's infamous stories, dramatic fortress, and the dark legends surrounding Transylvania to create the world for his 1897 novel 'Dracula'.
So, as well as learning about the history of this castle, you'll also learn about werewolves, Strigoi's, ghosts, and dragons myths too!
Related post – How to visit Dracula's Castle in Romania & my top tips!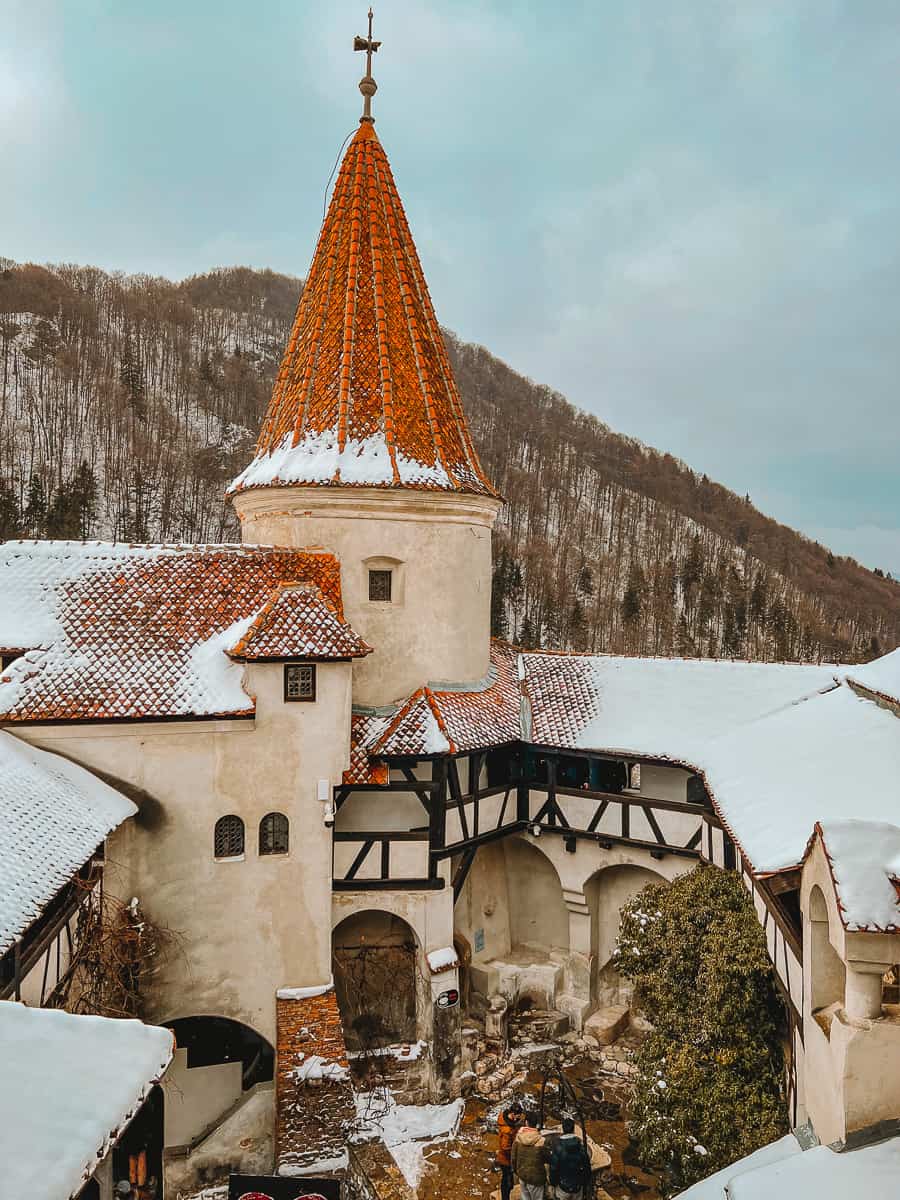 Read more of my Romania travel guides
Carturesti Carusel Bookshop – the prettiest in Romania
How to visit Peles Castle from A Christmas Prince
Save the Brasov Hollywood Sign for later!