No visit to the North Cotswolds would be complete with out a visit to the iconic Broadway Tower.
This Saxon style folly is also known as 'Cotswolds Highest Castle' and it's perched on top of the Cotswold Escarpment.
It was designed by Capability Brown who was known as England's greatest gardener and would soon become famous as the holiday home of William Morris.
Today, it's a fabulous tourist attraction that is tucked away in 50 acres of the Broadway Tower Country Park. The panorama from the top is one of the best views in all of The Cotswolds.
It's an amazing place to visit and has so much history to offer. Here's a complete guide for visiting with all the amazing things to do at Broadway Tower Cotswolds!
What is Broadway Tower?
Broadway Tower is a 65-metre Gothic folly that was designed as a 'Saxon Tower' by Capability Brown.
It's perched on Fish Hill (also known as Middle Hill and Beacon Hill) which is part of the wider Cotswold Escarpment and, from the top, you can see for miles.
The six-sided central tower has three turrets surrounding it and there are four floors inside with three ornate rooms. Plus, there are also lots of portholes, windows and gargoyles too!
It's famous for being a regular haunt of Pre-Raphaelite Artists such as William Morris and the estate is even home to a secret Cold War bunker.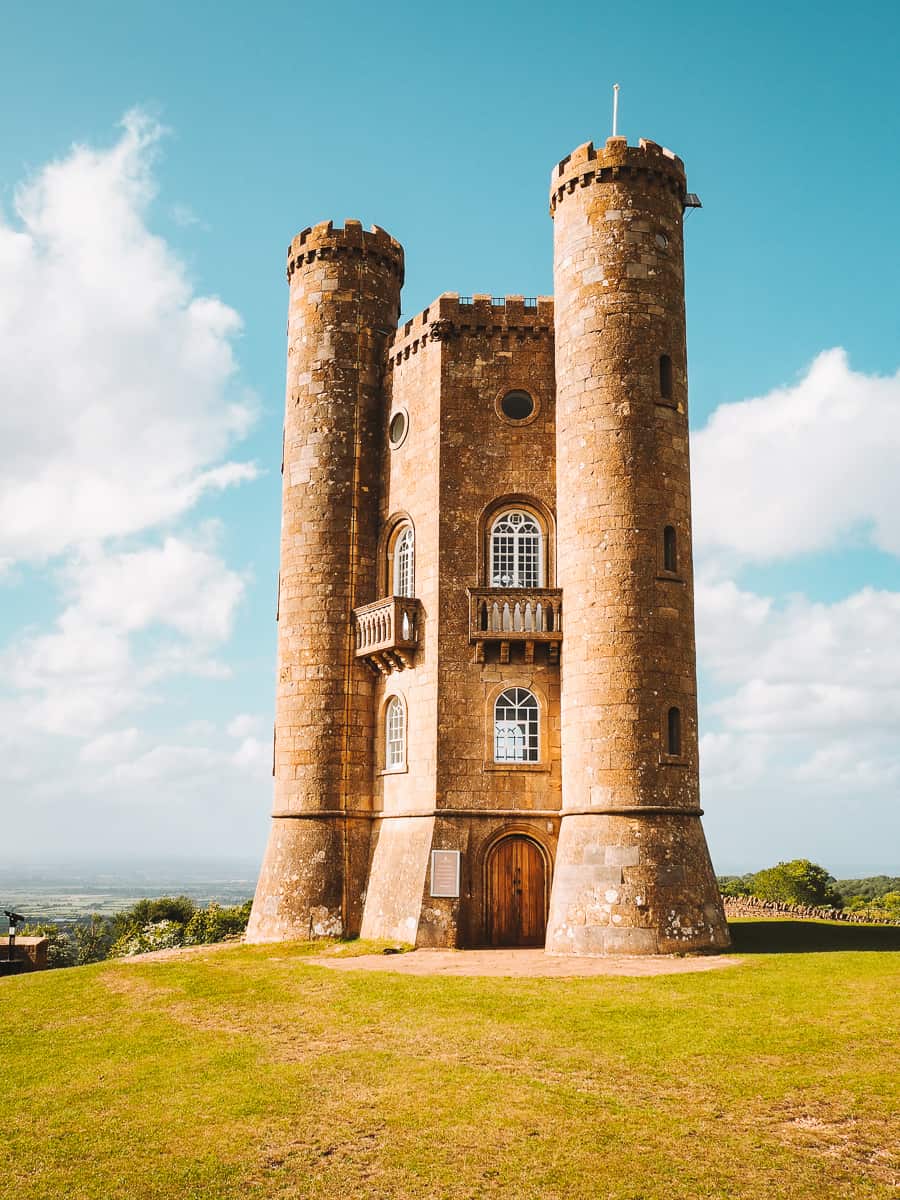 Broadway Tower history
Although there has been a history on Beacon Hill since time immemorial the story of Broadway Tower begins with William George, the 6th Earl of Coventry.
He inherited Croome Court in Worcestershire in 1751 and ten years later came into possession of Middle Hill. So, he decided to remodel his grand residence and the landscape surrounding it.
The Earl's second wife, Barbara St. John became Lady Coventry in 1765 and took great interest in the project.
She loved the countryside and asked the Earl if she would be able to see a beacon on Fish Hill twenty miles away from their estate.
As the Earl loved her dearly, he asked 'England's greatest gardener' Capability Brown to help him build a tower for her. This was to be Brown's first big commission.
In 1794, plans were drawn up by Capability Brown for the tower. But, it would not be completed by him.
Tragically he died on the way home from dinner with the Earl and so James Wyatt took over and built the tower in 1798.
It became a Gothic folly castle in the 'Saxon' design which was fashionable in the Romantic Era. It was solely built for pleasure and a beacon was placed on top.
Although it was built by the Earl for his wife, neither of them actually visited! However, Lady Coventry did enjoy the fact that she could see the striking tower and beacon from their estate some 20 miles away.
After that, Sir Thomas Phillips established a private printing press in the tower called "Middle Hill Press". Here he would copy transcripts and historic documents.
He would often entertain guests here and introduce them to his enormous collection of over 50,000 printed books and 60,000 manuscripts!
Broadway Tower and William Morris
Today, Broadway Tower is synonymous with William Morris, a leader in the Arts and Crafts movement.
After Sir Thomas Phillip's departure, an undergraduate at Oxford University rented the property. His name was Cromwell Price and he was part of a group who identified as the Pre-Raphaelite Brotherhood!
Amongst that group were famous artists like Dante Gabriel-Rossetti, Edward Burne-Jones and of course William Morris.
The brotherhood's art movement focused on the medieval era and renaissance and they subsequently fell in love with 'Crom's Tower'.
William Morris wrote in a letter in 1876 'I am up at Crom Price's Tower among the winds and the clouds'.
This tower would influence much of his work as an artist, poet, socialist and craftsman. He later established 'The Firm' (Morris & Co.), a decorating company that was built and inspired by medieval guild practices.
He also would often visit the Broadway Tower as a holiday home throughout his life and have baths on the rooftop whilst admiring the views! But, he would lose his temper when the soap blew away.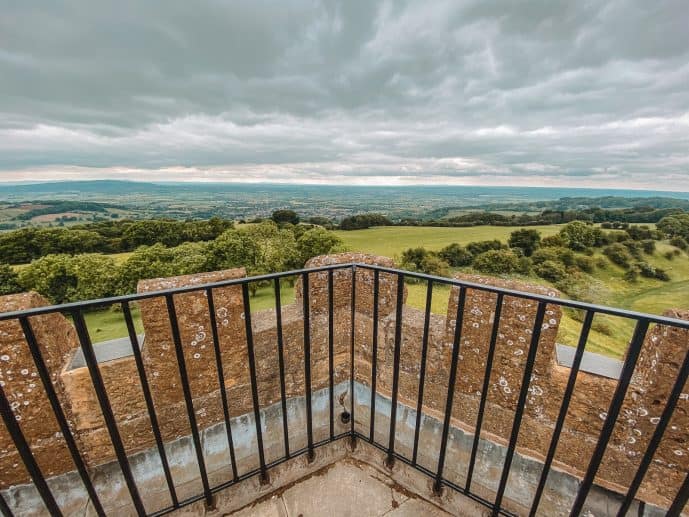 The Nuclear Bunker
By the 20th century, the tower turned full circle. It went from housing bohemian, free-thinking artists to regiments of the Royal Observation Corps!
It was firstly a farmhouse and then transformed into an observer post during the Second World War. It was home to an Aircraft Observation building known as Orlit A.
A tragic plane accident happened when a Whitley plane crash-landed near the tower in 1943. Unfortunately, all the airmen died. Today, a small memorial stone stands at the site.
Later, in the 1950s, a nuclear bunker was established here to monitor nuclear fallout in England. It was located underground some 50 yards away from the tower itself and was used in the Cold War.
It remained in use until 1991 when the Royal Observation Corps stood down. Today, it has been preserved and is an exhibition of what it would have looked like in the 1980s. You can visit on select weekends throughout the year.
Who owns Broadway Tower today?
In 1949, the land was up for sale and the National Trust were offered the tower as a gift but had to decline at the time. Soon after, Anthony Wills later Lord Dulverton bought the Middle Hill estate.
The family then restored the tower and opened the Broadway Tower Country Park to the public in 1974.
It briefly switched hands in the 1980s and then came up at auction again. So, Hans-Eugan Will decided to buy the tower for his wife Renate. Similar to how the story of the tower first began!
Today, the tower is still privately owned and ran by their daughter Annette Will who continues to run the site a country park and tourist attraction.
The Will family conserve and showcase its history whilst making it an amazing place for all to enjoy today!
Is Broadway Tower worth visiting?
100% YES. Broadway Tower is totally worth a visit if you're making a road trip around The North Cotswolds.
Firstly, it's the second highest point in The Cotswolds, so it provides incredible views and panoramas for miles.
It's also a historical monument which has a wealth of history to uncover but there are also plenty of things to do at Broadway Tower too.
It's a great way to spend an afternoon and there are activities and walks for the whole family!
Things to do at Broadway Tower
So, what are the top things to do at Broadway Tower? Well, beyond the folly, there is over 50 acres of country parkland to enjoy.
Amongst that, you'll find cafés, shops, nuclear bunkers, red deer and many walks to enjoy!
Here are the top things to do at Broadway Tower, 'the highest little castle in the Cotswolds'.
1. See the Saxon Tower from the park grounds
Even if you didn't want to go inside the tower, admiring it from the grounds is still a lovely thing to do.
It stands on Beacon Hill and is incredibly impressive. Don't forget to look out for the amazing gargoyles on the tower roof!
You can take a lovely stroll through the park grounds with the tower in view. It's relatively flat and photos of the castle from here are excellent. Make sure to bring your camera.
Don't forget to stop by the small War Memorial stone. People are welcome to pay respects to the airmen who lost their lives whilst on a training mission.
Beyond that, walk towards the tower to find an amazing viewing platform where you can take in spectacular panoramas of the area!
The viewpoint has a sign which lets you know what you can see in each direction. Spot the vintage coin-operated binoculars if you wanted to get a closer look.
2. Climb up Broadway Tower & see the ornate rooms
They have made a lot of changes and renovations to the rooms inside the Broadway Tower for this year.
Each floor used to have museum exhibitions about William Morris and the various owners. But, now they have transformed them into colourful Georgian recreations. So, you can see what it would have looked like when it was first built.
Instead of reading information signs, visitors will now be given an informative and glossy visitor guidebook as part of their tower entry ticket. This contains lots of information about the history and William Morris etc.
You'll see three rooms on your visit inside the tower across three floors. These are an ornate Georgian dining room, a traditional women's sitting room/tea parlour and a gentleman's study at the very top!
Each room was more spectacular than the last and I loved looking through the windows and portholes at the views.
The study was amazing but I couldn't help but wonder how incredible it would be to have tea in that sitting room!
How many steps are there in Broadway Tower? There are 4 floors at the Broadway Tower if you count the very top. Each of the three rooms and rooftop can be accessed in around 12-15 stairs. So, it's approximately, 60 steps to the top! There are actually two sets of staircases on each side. One to go up and the other to go down. It's not very high but the steps are winding. So, when you're heading back down the whole way it's quite dizzying.
3. Admire the incredible views from the top!
So, once you've stopped gawping at all the splendour in those rooms, you can make your way up to the rooftop to enjoy the breathtaking views.
On a clear day, you can see for miles all around you. There are four sides to the tower and each sides provides panoramic views of the area.
So, you're probably wondering, what can you see from Broadway Tower? Well, you can see as far as 62 miles! The tower walls each have signposts which tells you what you can see in the distance.
The views take you over to counties like Worcester and its famous cathedral and monuments like Warwick Castle near Stratford-upon-Avon – home of William Shakespeare. Plus, you can see the peaks of the Brecon Beacons and the Malvern Hills.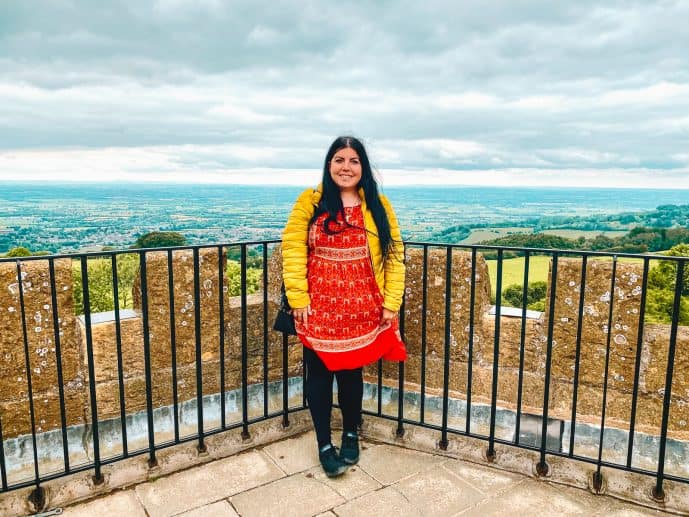 One of the most interesting parts of this rooftop was the bathtub that had been placed inside the turret of the tower!
Apparently, William Morris himself used a bathtub up here while admiring the views. He would often stay here as a holiday home and would express rage when the wind would blow away his soap!
Even on a warm day, this escarpment is windy and freezing. So, I don't imagine a hot bath would have lasted very long.
On that note, make sure to have a jacket or something warm with you! It gets incredibly windy up here.
What counties can you see from Broadway Tower? You can see over 16 counties from the top of the Broadway Tower on a sunny day! These are Buckinghamshire, Dyfed, Gwent, Gloucestershire, Herefordshire, Leicestershire, Monmouthshire, Northamptonshire, Oxfordshire, Powys, Shropshire, Staffordshire, Warwickshire, West Midlands, Wiltshire and Worcestershire!
Is Broadway Tower the best viewpoint in the Cotswolds? I would definitely say it's one of the best, yes! It's the second-highest point in the Cotswolds and you can see for miles around you. The highest point in the Cotswolds is Cleve Hill which would require a bit of a walk! So, I would say that Broadway Tower is the best as it's far more accessible.
4. Take a Broadway Tower Nuclear Bunker tour
For many years, Broadway Tower was used as a base to monitor nuclear activity in England. The bunker was based 15 metres below the ground and formed part of a network of other bunkers across the UK.
They were built during the 1950s to study and report the effects of nuclear explosions and radioactive fallout. It was used heavily during the Cold War in the 1980s.
It was manned by both men and women in the Royal Observer Corps. It wasn't an easy job as they had to spend 3 weeks underground to study the fallout.
It closed in 1991 but now is open as a museum which you can visit. They have renovated it to look like it would have done at the height of the Cold War and how we would have prepared if the country was under threat.
Tours are available on selected dates only. Make sure to check the website to avoid disappointment. Access to the bunker is via a vertical ladder so prepare for that on your visit!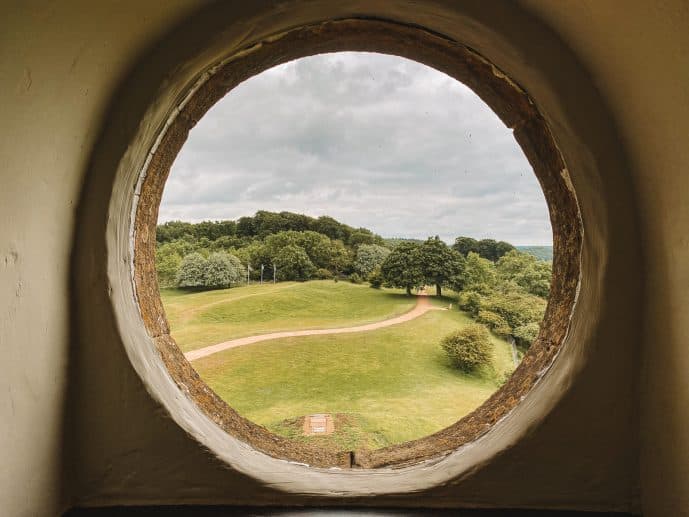 5. Have lunch in the Morris & Brown Café
A great place to start or end your visit at the Broadway Tower would be at the Morris & Brown Café which is right by the main car park.
It's both a gorgeous eatery and shopping centre that has plenty of indoor and outdoor seating. So, you can relax and unwind on your visit.
Why not enjoy a coffee or tea with a hearty piece of homemade cake. Or, you could have breakfast by the log fire and lunch on the terrace with a glass of wine!
Everything is made using local produce and the menu changes throughout the seasons.
6. Shop for Capability Brown & William Morris souvenirs
I absolutely adored the Broadway Tower shops while I was here, it's perfect if you're a fan of the Arts and Crafts movement.
In the Tower, they had a delightful display of William Morris souvenirs. There were all sorts of bags, cushions and mugs with his statement patterns on them.
In the visitor centre by the Morris & Brown café, there were even more Cotswolds and Capability Brown inspired souvenirs to browse too!
You'll find pottery, handicrafts, clothes, scarves, bags – you name it! You could get lost for hours shopping here, so make sure to bring some change.
7. Visit the Morris & Brownie Shepherds Hut
If it's busy at the café, there are some foodie vans that open just outside. They are called Morris & Brownie and based in Shepherds huts!
These food vans serve up coffee and light bites that you can take away throughout the day. It's perfect if you're in a hurry.
They are only available in the summer season and on select weekends. Opening times are from 9am – 4pm.
8. Stop by the Broadway Tower Barn Espresso Bar and Shop
If you take a short walk from the Morris & Brown Café through the deer park you'll eventually end up at another Broadway Tower Café, The Tower Barn.
This is both an Espresso Bar and Shop that also holds many workshops and events throughout the year!
As well as getting your caffeine fix in the espresso bar, the restaurant also has a seasonal menu of brunches and lunches on offer.
So, you can relax with good food while taking in the panoramic views over the Cotswolds!
9. Hire an e-bike
If you wanted to do some cycling in the country park then the Broadway Tower does have some e-bikes that you can hire!
They partner with a company called Moustache and you can hire one from their Tower Barn. If you've never ridden an e-bike before don't worry, their staff will explain everything and why it's a great experience!
You can hire an e-bike from 10am – 4pm daily and the charge is £35 for the day or £18 for two hours.
10. Spot some Red Deer at Broadway Tower
The resident Red Deer at Broadway Tower were established by Hans-Eugen Will in the early 1980s.
Today, there is a huge herd of red deers and the numbers continue to grow with breeding season each year.
There is even a stag called William after William Morris. You'll see him in the deer park with his huge antlers on display!
Lewis Potter, an expert in the field, looks after the herd today and has done for the last decade. He has a wealth of knowledge on red deers and often runs some encounter experiences throughout the year.
11. Take one of the Broadway Tower walks
There is a Broadway Tower circular walk that is included in your grounds ticket and takes you on a loop around the country park. There are over 50 acres here to enjoy!
On your way you can see the Red Deer herd which can usually be seen in the area! Then, you'll pass by The Barn Espresso Bar and shop, round towards the tower and then back to the Morris and Brown Café.
It's very well signposted and will take you around twenty minutes. It's on a reasonably flat path but, there is grassy terrain which may require good footwear and wellies if it's been raining.
These amazing Broadway tower walks are all included in your tower and/or grounds ticket. Those who have not paid for a ticket are asked not to walk on the grounds.
If you wanted to take a free Broadway Tower walk via one of the permissive pathways, it's easiest to follow walking signs for the Cotswolds Way.
12. Hike the Cotswold Way
The Broadway Tower actually crosses path with two public pathways on the Cotswold Way. So, it makes this place a very popular stop with walkers.
You can take the Cotswold Way back to Broadway village from here. Or, you could head out towards Clump Farm near Snowshill and then over to Dovers Hill which 3 miles away. This area is owned by the National Trust.
The Cotswold Way is a huge walking trail that starts off at Chipping Campden, another pretty Cotswolds town near Broadway.
If you wanted to plan a longer hike from Broadway to Chipping Campden you can do so or the Broadway to Winchcombe walk is very popular!
13. Learn about the Tolkien Broadway Tower connection
As Tolkien was a professor at Oxford University, many believe he was heavily inspired by Oxfordshire, the Berkshire Downs (as it was then called) and The Cotswolds in his legendarium.
His brother Hilary lived in nearby Evesham, a small market town in Worcestershire. The two of them used to meet at The Bell Inn Moreton in Marsh. Many believed this pub inspired the Prancing Pony at Bree!
There is also a Tolkien Broadway Tower connection. It is rumoured to be the inspiration for The Seat of Amon Hen tower in the Lord Of The Rings.
This is where The Company make camp until they are attached by the Uruk-Hai which results in a skirmish. Boromir falls and Frodo and Sam are forced make the journey with the ring alone.
The books portray this tower to be far more grand than in the movies. I have to admit a dark, creepy tower is not how I imagined it as a child!
Amon Hen has 'The Seat of Seeing' on top. An ancient chair and observation point which allows it to see all. This is much like the Broadway Tower where you can see for miles!
Another connection is that Tolkien admired William Morris' fantasy stories and drew inspiration from 'The Well at the World's End'. This includes characters like Gondolf along with kings, elves and dwarves who go on a journey during a fantasy middle ages!
14. Spot the Broadway Tower Father Brown filming location!
More recently, a lot of people have loved this tower for being a Father Brown filming location!
If you haven't seen Father Brown yet, it's a 'Marple-esque' BBC detective series which stars Mark Williams.
He plays a Roman Catholic priest and amateur detective that investigates murder in the prettiest of places. It's based on a series of short stories published between 1910 and 1936.
In series 8, episode 10 'The Tower of the Lost Souls', Father Brown was taken to the Helmsley Tower. Which was in fact Broadway Tower!
As usual, he's there to investigate some peculiar family deaths that happened there but there is only one issue…he's afraid of heights!
The pretty country park, rooms inside the tower and tower rooftop feature heavily in the programme.
What else has been filmed at Broadway Tower? It featured in series such as Interceptor (1989), Sherlock Holmes (1970), The Gemini Factor (1987) and Crush (2001)!
Important information about visiting Broadway Tower
How to get to Broadway Tower in the Cotswolds
The easiest way to access Broadway Tower would be to drive to it. It can easily be accessed from the A44 Road by Fish Hill.
You can follow signs towards the Broadway Tower from there which is near to Snowshill village.
Broadway Tower postcode is WR12 7LB
There is also a number 608 bus from Chipping Campden that stops off at the country park. Alternatively, you can walk up to the tower from Broadway Village or Snowshill.
The Cotswold Way is a permissive pathway that crosses the tower. So, you can incorporate a stop here on one of the many scenic walks in the area.
Can you walk from Broadway to Broadway tower?
YES and it's a very popular walk that you can enjoy. But, just note that it may be quite a steep and energetic hike.
As the tower is on the Cotswolds Escarpment high above the village, it's some 1024 feet or 312 metres above sea level!
The walk is around a mile one way and should take you around 30 minutes, maybe more.
You can walk straight there from the village and back on the shortest route. There are signs in the village pointing you towards the tower.
Alternatively, you take the Broadway to the Tower circular walk on the Cotswolds Way. This is 4 miles and will take around 2-3 hours but is far more scenic.
Click here for a map of this walk with directions.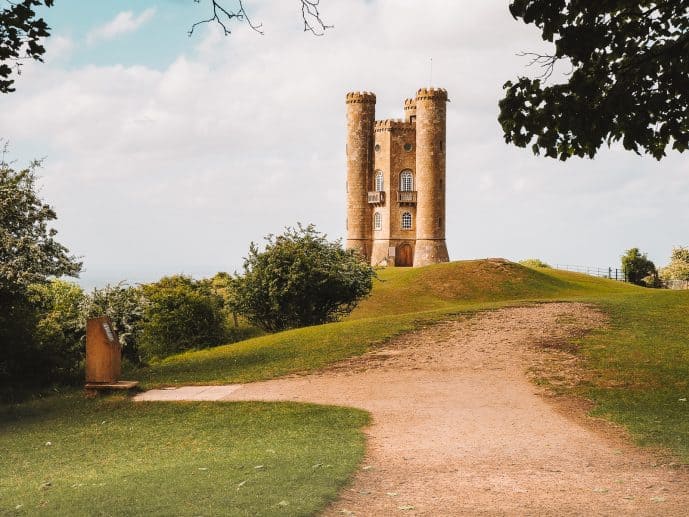 Broadway Tower opening times and ticket prices
The Country Park, Tower, Car Park and Facilities are open daily for visitors;
The Tower is open from 10am – 5pm
The Morris & Brown Cafe is open from 9am – 5pm
The Tower Barn Espresso Bar is 9.30am – 5pm.
Nuclear bunker tours are open only on selected dates
There are two types of Broadway Tower tickets that you can purchase:
1. The Broadway Tower, Grounds and Picnic Ticket (£12 an adult) – this includes access to the tower, deer park, walks and picnic area. You also get a guide book included.
2. Grounds and Picnic Ticket (£4 an adult) – this includes access to the grounds, deer park and picnic area only.
Parking is not included in any of those ticket prices. This will be an added £3 for 4 hours or £6 for all day.
Annual Members get free entry and parking plus discounts in the shops and cafés.
Note: in inclement weather, opening times may change! Also, entry to the tower rooftop will be closed off if deemed too dangerous. Always check the website for announcements and opening times first.
Broadway Tower Parking
Even if you have bought either one of the Broadway Tower tickets, all visitors who are in a car need to pay for parking at the site as well.
Broadway Tower parking costs £3 for a maximum of 4 hours or £6 for an all day charge. An Annual member 'perk' is that you get to park for free.
The car parks are open from 8am and the gates close at 5.15pm sharp. So, if you're parked at the Morris & Brown Café you have to collect your car by 5.15pm or the gates will be locked.
The overflow field car park stays open a lot later which is open at peak times (same price). So, if you plan to go walking or arrive later in the afternoon, I would recommend parking there instead.
A little tip, the parking at the Broadway Tower Barn Café is free. So, you could park up there for a coffee, then walk up to the tower!
Visitors are asked not to park on the roadside next to the tower grounds as it's a single track lane and emergency vehicles need access.
Can you see Broadway Tower free?
Yes and no. So, you can easily see the tower from the roadside without an issue and drive by it.
But, if you wanted to explore the grounds and country park, you're meant to pay for a grounds ticket which is £4 an adult. As well paying for a £3 parking charge.
I'm local to the area and even I didn't realise this. I don't think it's very well advertised. No one scans tickets for the walk on the grounds so it's a bit confusing.
I've always thought that visiting the tower grounds was free, you just pay to go inside the Broadway Tower and for parking. But, it says the admission helps towards the upkeep of the site.
Alternatively, there are two public footpaths that cross Broadway Tower on The Cotswold Way.
This is a free National walking trail and provides amazing views of the tower from the Cotswolds Escarpment.
FAQs about Broadway Tower
Why was Broadway Tower built? It was built by the Earl of Coventry as a present for his wife. But, Lady Coventry never visited! She just wanted to see if she could see it from her home in Worcester, some 20 miles away. She would point to it and say 'That's my tower'!
What was Broadway Tower used for? At first the 'Saxon Tower' was a folly for the Conventry's then it became the home of a printing press. Later, it was rented out and became a popular stop for the Pre-Raphaelite Brotherhood artists and William Morris of the Arts and Crafts movement as he lived nearby. Then, it became a monitor of nuclear fall out in England. Today, it's a tourist attraction.
How high is Broadway Tower? It stands some 65 feet or 20 metres high! The Cotswolds Escarpment by Fish Hill that it stands on is 1024 feet above sea level. That makes it the second highest point in the Cotswolds.
Can you picnic at Broadway Tower? Yes, your grounds ticket includes access to designated picnic areas located in the country park. You can't picnic in front of the tower. Remember to take all your rubbish home with you.
Is Broadway tower free? Not to enter, you will pay a £12 ticket charge to climb up. They also offer a grounds only ticket which costs £4 if you just want to see the tower from the outside. Either way, you will still need to pay a £3 parking charge. You can see it for free from the Cotswold Way or after the site closes at 5pm.
Is Broadway Tower National Trust? No. They actually were offered Broadway Tower as a gift but could not accept it at the time. It's now privately owned by the Will family.
Is Broadway Tower dog friendly? Dogs are allowed on the tower grounds on a lead to protect the deer herd. There are doggy agility courses and there is also dog friendly seating areas at the Morris & Brown cafe. But, you have to carry your dog inside the tower until you reach the top! I saw someone do this with a small dog. So, hopefully your dog is not too heavy! Guide dogs are an exception.
Can I fly a drone at Broadway Tower? Yes, but it needs prior permission from the owners. You'll have to contact them at least 7 days in advance at office@broadwaytower.co.uk.
Things to do near Broadway Tower
After your visit to Broadway Tower, it makes sense to travel over to the delightful Broadway Village.
This was popular with William Morris and members of the Arts and Crafts Movement like Gordon Russel. He set up a workshop here and now you can visit the museum.
There is also Snowshill village (a Bridget Jones filming location!) which is home to the delightful Snowshill Manor. This was renovated by Charles Wade who was an avid collector.
Or, you could head on over to Cotswold Lavender Fields if you're visiting in summer. Around July you can wander around in their ocean of purple fields!
Chipping Campden is often called one of the prettiest towns of the Cotswolds where every house looks like it's been dipped in honey. Hidecote Gardens are a highlight attraction.
Or you can head towards Moreton-in-Marsh, Stow-on-the-Wold with it's famous yew tree door and Bourton-on-the-Water to see the Model Village amongst other pretty things!
Lower Slaughter and Upper Slaughter are perfect villages to escape some of the crowds if you're finding it too busy.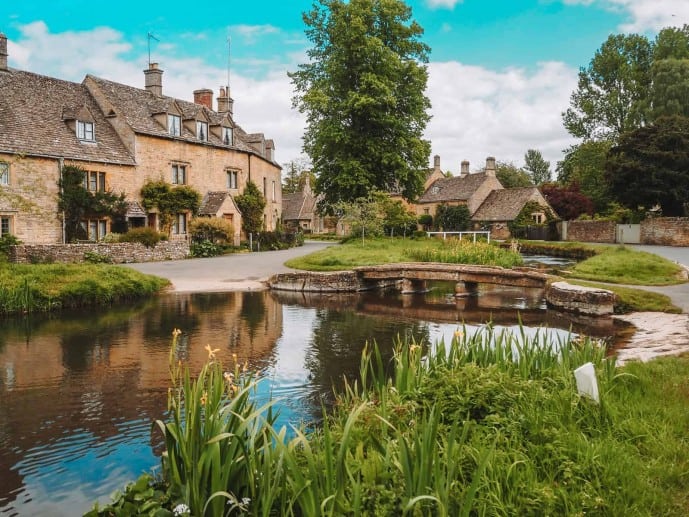 Read even more of my Cotswolds travel guides
A complete guide for Honington village
How to visit the Cotswolds Confetti Fields
The top things to do in Castle Combe
The best places to visit in Burford
The best places to visit in Lacock and all the Harry Potter filming locations
A complete guide to Bibury and Arlington Row
The top things to do in Painswick and the 99 yew trees
Why you must visit Tetbury and the Chipping Steps
Why you have to visit Corsham, Poldark filming location!
Harry Potter filming locations in Gloucester Cathedral
What to do at Gloucester Docks
How to find the Harry Potter tree at Blenheim Palace
The hidden gem of Minster Lovell Hall ruins
Save these things to do at Broadway Tower Cotswolds for later!