If you are a fan of Emily Brontë's novel Wuthering Heights or any of the Brontë sister's works then you must visit the Brontë Waterfall on Haworth Moor.
The Brontë sisters used to live in Haworth village and would regularly visit this waterfall from their Parsonage.
It is also said that this moorland and a ruined farmhouse called Top Withens inspired the famous Gothic novel Wuthering Heights.
Today, you can access this cascade on a popular Brontë Trail through the moor. In fact, this entire area is known as Brontë Country in honour of all three sisters!
Here is a complete guide for the Brontë Waterfall walk on Haworth Moor in 2023.
What is the Bronte Waterfall?
The Brontë waterfall is a small cascade that lies in the moorland of West Yorkshire near the village of Haworth.
The Brontë sisters, Charlotte, Emily, and Anne, used to live in Haworth in what is known today as the Brontë Parsonage Museum.
All three sisters would all regularly take walks on Haworth moor to this waterfall from the village.
Charlotte Brontë wrote in her diary in 1854;
"I intended to have written a line yesterday, but just as I was sitting down for that purpose, Arthur called to me to take a walk. We set off, not intending to go far; but though wild and cloudy it was fine in the morning; when we got about half-a-mile on the moors, Arthur suggested the idea of the waterfall; after the melted snow, he said it would be fine. I had often wished to see it in its winter power, so we walked on. It was fine indeed; a perfect torrent racing over the rocks, white and beautiful!"
Today, this waterfall can be accessed on a popular walk called the Brontë trail.
Haworth and the surrounding areas are now known as Brontë country and this scenic cascade has been renamed the Brontë waterfall in honour of the three accomplished sisters.
Brontë Waterfall Wuthering Heights inspiration
It's thought that the moorland here and the ruined farmhouse of Top Withens inspired Emily Brontë's famous novel Wuthering Heights (1847).
A Gothic tale that explores two gentry families living in West Yorkshire moors, the Earnshaw's and the Linton's. Cathy Earnshaw and Heathcliff are two wild children of the moors, living free with little regard for society.
But, as they grow up, conventions and a division of circumstance tear them apart. It's a tale of love, revenge, heartbreak, brooding, and passion.
Although it is regarded as a classic of English Literature today it was controversial for the time as it challenged Victorian morality.
In 1847, Emily published her novel under the pseudonym Ellis Bell. It was to be Emily's one and only published novel as she died just a year after she wrote it.
Today, Emily Brontë's novel is regarded as one of the most popular Gothic novels of all time.
Although the Top Withens farmhouse doesn't resemble the house described in Wuthering Heights, the area surrounding it suits the dark characters in the novel and Thrushcross Grange. You can just imagine Heathcliff and Cathy wandering the moors here!
So, if you were a fan of Wuthering Heights you must make a visit to the Brontë waterfall and Top Withens to experience the locations that inspired the story.
"Wuthering Heights is the name of Mr Heathcliff's dwelling. `Wuthering' being a significant provincial adjective, descriptive of the atmospheric tumult to which its station is exposed in stormy weather. Pure, bracing ventilation they must have up there at all times, indeed; one may guess the power of the north wind blowing over the edge, by the excessive slant of a few stunted firs at the end of the house; and by a range of gaunt thorns all stretching their limbs one way, as if craving alms of the sun." – Mr. Lockwood (Emily Brontë, Wuthering Heights)
What does wuthering mean?
One thing I have never really thought of is what the word wuthering actually means. I guess I've just heard it from Wuthering Heights and never thought twice about it!
But, wuthering is an Old Norse word that loosely translates to "roaring like the wind on a stormy day".
It's quite easy to see why Emily Brontë chose this word for the title of her novel. When you're up on the Yorkshire moors there really is a constant wind on the desolate landscape!
So, that just leaves 'Heights' and it's thought that Top Withens farmhouse at the top heights of this moor was an inspiration. Hence the name, Wuthering Heights!
How to visit Bronte Waterfall
There are a few ways that you can visit Brontë waterfall but the two most popular options are near the village of Haworth.
You cannot drive to the Brontë waterfall, you do have to walk through the Yorkshire Moors in order to access it. So, it entirely depends on how long you want that walk to be;
Option 1 – Haworth to Brontë waterfall – You can easily walk from Haworth village to the Brontë waterfall via The Brontë Trail. You will be walking from the village, beyond the Brontë Parsonage Museum and up towards Penistone Hill Country Park to access the path to the waterfall.
Option 2 – Penistone Hill Country Park to Brontë waterfall – If you wanted to skip some of this walk, you can easily drive to Penistone Hill Country Park and this will cut the journey by around half. As I was on a tight itinerary that day, this is the option I decided to take.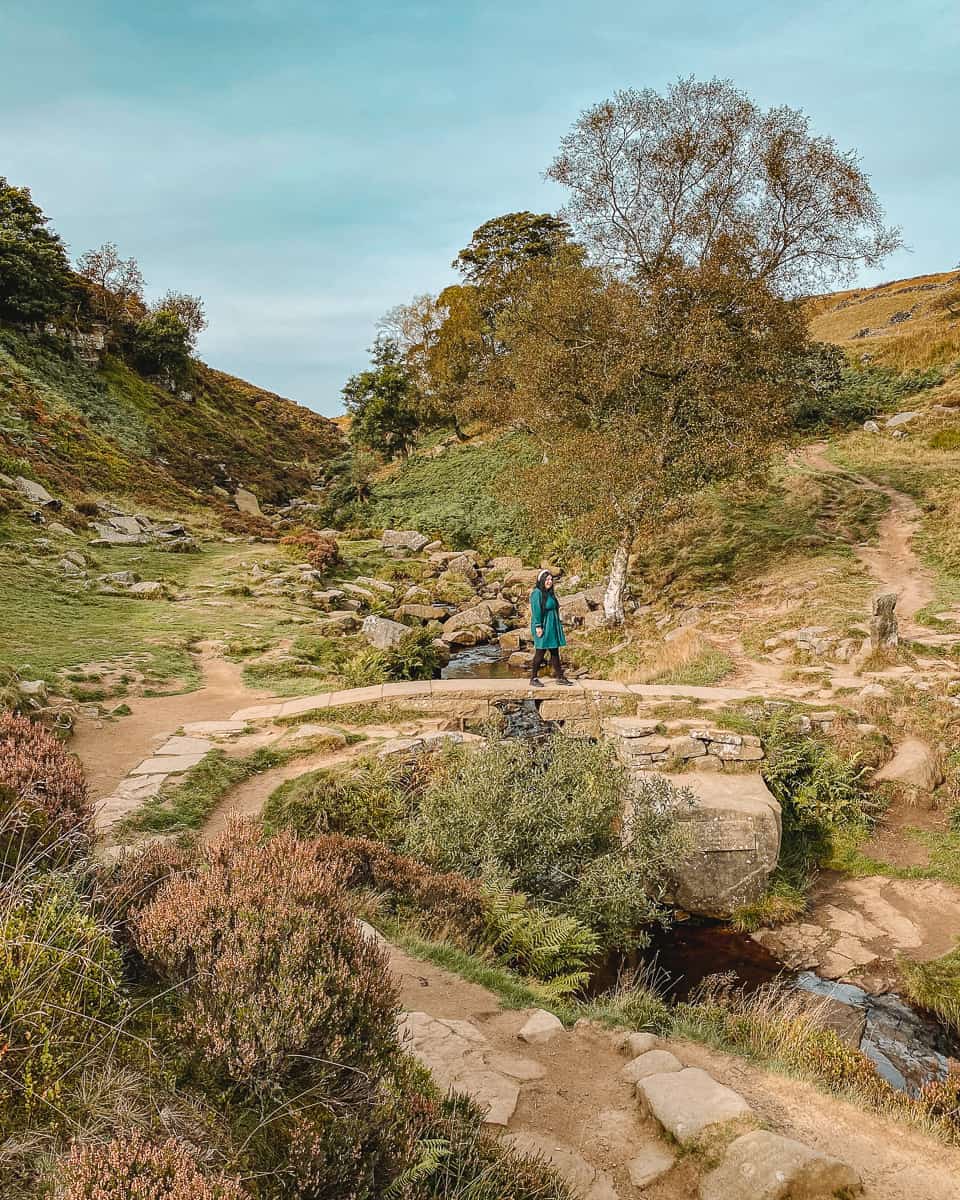 Where to park for Brontë Waterfall
Penistone Hill Country Park has two large free car parks that you can use for the Brontë waterfall walk.
There are no public toilets here though so I would recommend using some facilities before you head out to the waterfall and Top Withens on the moor.
Penistone Hill Country Park postcode is Penistone Hill, Bradford, Keighley, BD22 9RH. Click here for a Google Pin!
How long is the Brontë waterfall walk?
The walk from Haworth to the Brontë waterfall is around 2.5 miles one way and should take you around an hour to reach there from the village.
If you did decide to walk from Penistone Hill Country Park, it's 1.5 miles one way and will take you around 30-45 minutes to reach the waterfall from there.
I would leave around 1-2 hours to complete this walk as you'll probably want to stop for photos and explore the waterfall.
The walk to Top Withens is around another mile from the Brontë Waterfall. It will take around 1 – 2 hours to reach from Penistone Hill Country Park.
From the waterfall, the journey to Top Withens is mostly uphill on the moor the entire way. So, it can be a bit of a challenge!
Brontë Waterfall walk directions
So, these Brontë waterfall detections are going to be from the Penistone Hill Country Park car park as this is where I started my walk.
It's fairly easy from here but I will give you some simple directions so you know what to expect on your journey.
1. From Penistone Hill Country Park, cross over the road
So, once you've parked up at Penistone Country Hill car park, you'll need to make your way onto the Moorside Lane road where you turned off.
You'll need to make a right towards Lower Laithe Reservoir which you'll be able to see in the distance from this height.
You can either walk all the way down the road until you see a beaten track on your left. Or, you can make your way over the moor to this pathway.
2. Make your way over the moor onto the beaten road track
Personally, I took the moorland route and regretted it! It's so boggy and I found that walking over the moor hurt my ankles and feet.
So, if you wanted an easier route. I would follow the Moorside Lane road until you see a beaten walking track to your left.
You'll eventually see an access gate with a sign pointing you towards Brontë Waterfall and Top Withens.
3. Follow this pathway straight until it forks
You'll be following this pathway straight and all the way alongside the moor. Eventually, you'll find a fork in the pathway.
There will be a green public footpath sign. This will point straight ahead for Brontë Waterfall and Top Withens or left to walk up Harbour Hill.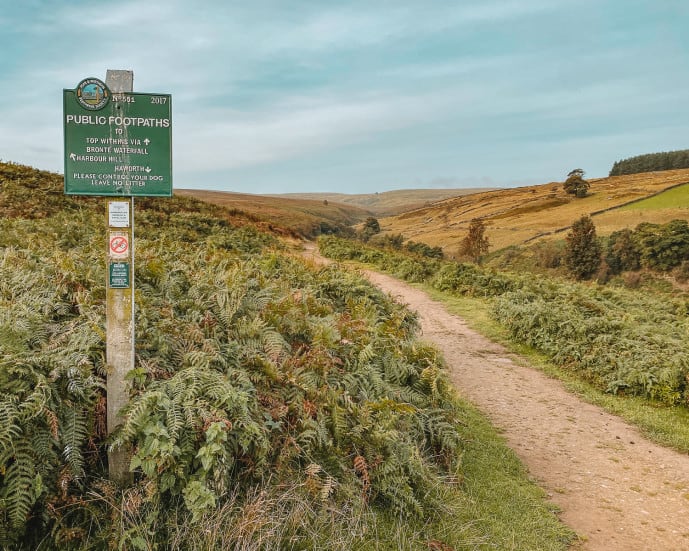 4. Head down to the Brontë Waterfall
From this point on, the pathways can get pretty boggy, especially if it's been raining heavily. So, this is where walking boots will come in handy!
Keep following the path all the way down until you reach the clearing with the Brontë Waterfall.
It is very small but you'll know you've arrived from the Brontë Bridge that allows you to cross the stream.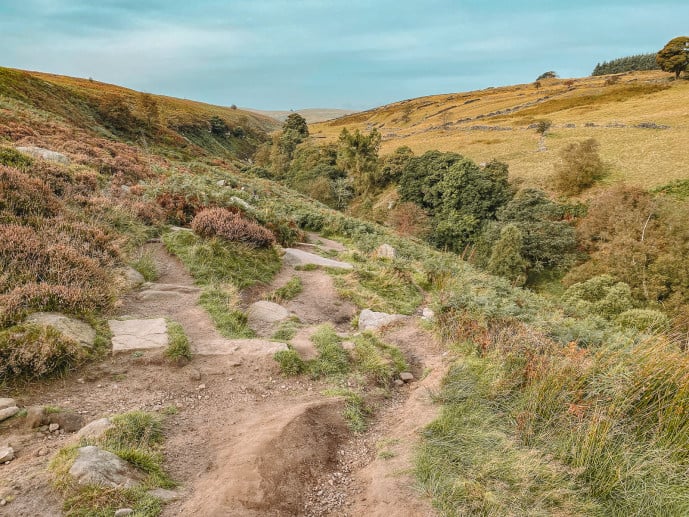 Exploring the Brontë waterfall
As before, the Brontë Waterfall isn't dramatic by any means but it is a gorgeous scenic cascade here on the Haworth Moor.
Although it's barely a trickle in sunny weather, it's still very pretty and you can explore the banks of the stream to see the water as it cascades down over the stones.
If the weather is nice, this is a great place to take a break and sit by the river for a while before you head up to Top Withens!
The best time to visit the Brontë Waterfall is after a few days of heavy rain. This is when you can see a more powerful cascade.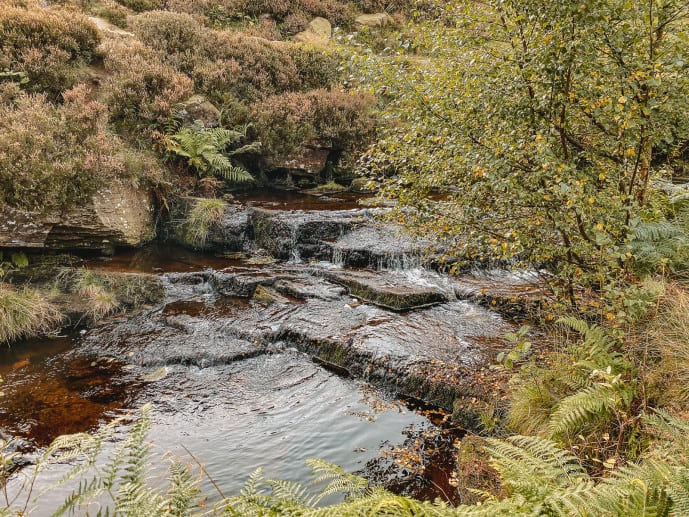 The Brontë Bridge
One of the most prominent features of the Brontë waterfall is the Brontë Bridge, which allows a crossing over the river.
The old clapper bridge was destroyed by a flash flood in 1989 and so the bridge was then rebuilt in 1990 by the Brontë Society. You can see a small plaque by the bridge that commemorates this event.
Nearby the bridge you will also see a poem that has been attached on a plaque by one of the stones there. It reads;
"O Lord

How Manifold

Are thy works!

In Wisdom Hast

Thou Made Them All:

The Earth is Full

Of Thy Riches

Father Almighty wonderful Lord

Wondrous Creature, be ever adored;

Wonders of nature

sing praises to you,

Wonders of wonders –

I may praise too"
Brontë Chair
Nearby the Brontë Bridge you can also see what is known as the Brontë Chair.
It's a curious rock that is shaped like a chair and it is said that the Brontë Sisters used to sit and tell stories here whilst on Haworth Moor.
Head up to Top Withens!
So, once you've spent some time at the Brontë waterfall, you can then make your way up to Top Withens from here.
Top Withens is the location, high up on the moor, that inspired Emily Brontë to write Wuthering Heights so it's a must-visit if you're a fan!
It's the desolate ruins of an old farmhouse that overlooks the moors and it does look like it could transport you straight to the pages with Heathcliff and Cathy!
There is a small plaque outside the ruins that reads;
"This farmhouse has been associated with "Wuthering Heights", the Earnshaw home in Emily Brontë's novel. The buildings, even when complete, bore no resemblance to the house she described, but the situation may have been in her mind when she wrote of the moorland setting of the Heights"
If you cross over the Brontë Bridge, you'll see a gate with a sign pointing upwards to Top Withens.
It's around another mile from the waterfall so should take another 30 minutes. But, I have heard it's mostly uphill and can be challenging!
On my visit I was not prepared for the weather and boggy pathways, so I gave this walk a miss. But, it's on my bucket list for next time!
Getting back to the car park
So, once you've made it to the Brontë Waterfall it's just as easy to turn back the way you came and head back to the Penistone Hill Country Park.
Or, you can head up to Top Withens and then make your way back to the waterfall and then head onto the village of Haworth.
Personally, the paths were so boggy on my visit I decided to head back to my car! But, in summer I bet exploring the moors will be amazing when it's dry with decent weather.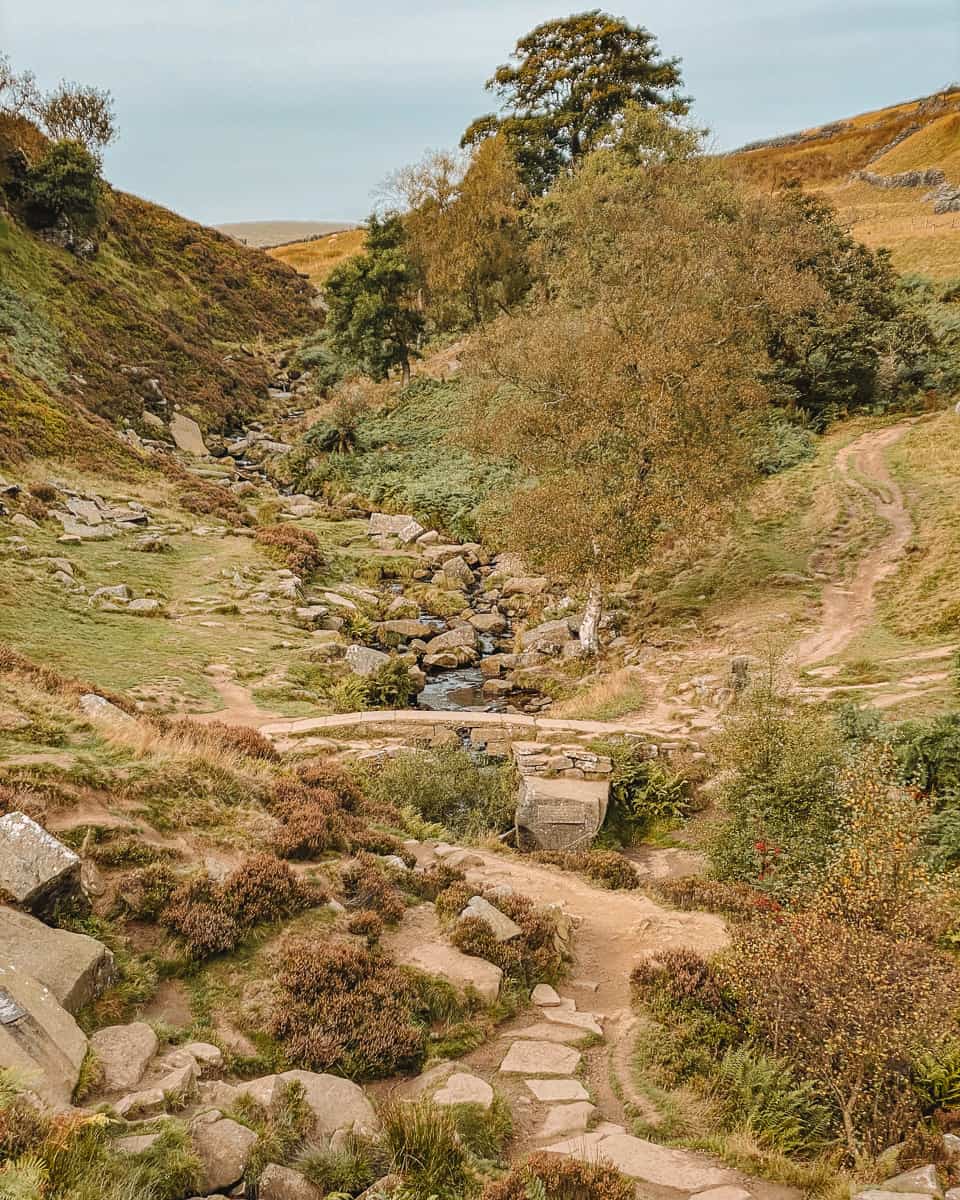 Lower Laithe Reservoir
Before you reach the Penistone Hill car park, I would highly recommend walking down to see the man-made Lower Laithe Reservoir.
You can make a left on the Moorside Lane road when you exit the public pathway from Haworth moor.
Although approval was granted for this reservoir in 1869, the work was delayed due to the First World War. It officially opened in 1925.
You cannot walk around it but you can make a stop to see its octagonal valve tower – it's incredibly scenic!
My top tips for the Brontë waterfall walk
Bring some good shoes – You'll need a good pair of ankle supporting shoes for this walk. The moor paths here get awfully boggy and the pathways are uneven.
Leave lots of daylight and plenty of time – The moorlands are notorious for getting people lost just like in Wuthering Heights. Don't explore the moor in the dark and leave enough time. You'll need 1-2 hours.
Use the beaten pathways – I took a bit of a side route through the moor initially and it was really painful on my ankles! I would suggest using the beaten tracks to find the waterfall.
Keep dogs on a lead – Although this walk is dog friendly, there is lots of wildlife that graze on the moor. So, you need to keep your furry friends on a lead.
Toilets – There are no public toilets at Penistone Hill Country Park or any on the path to Top Withens. It's best to use some facilities in Haworth before you head out on this walk.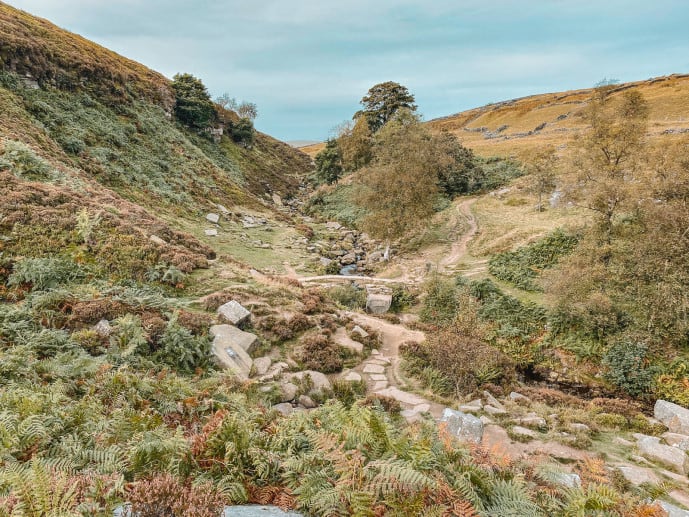 Are you looking for more things to do in Brontë country?
If you're here on the West Yorkshire Moors you're in the perfect place to explore more of Brontë Country.
After your visit to Brontë Waterfall and Top Withens, you can make your way to the quaint village of Haworth where the Brontë sisters used to live. The iconic steep and cobbled High Street is as pretty as a postcard!
In fact, their old home is now the Brontë Parsonage Museum that you can visit. You can see their old family rooms and they have an informative museum about each sister's lives, their family, and the inspirations that influenced their novels.
Their father, Patrick Brontë, was a perpetual curate or parish priest at St Michael & All Angels Church. You can pay a visit and see the marker for the Brontë tomb.
The Brontë sisters and family are connected to many of the village's buildings including The Old School Room where Charlotte Brontë used to teach.
Haworth is the perfect place to visit if you're a fan of the Brontë sisters!
Click here to read my guide on all the Brontë places to visit in Haworth village
Read more of my Yorkshire articles
Goathland Harry Potter filming locations
A complete guide for Malham Cove
Gordale Scar & Janet's Foss Walk in the Yorkshire Dales
How to visit Ribblehead Viaduct in Yorkshire Dales
Definitive Chapel of Our Lady of the Crag guide
A Dracula guide to Whitby with its 199 steps
Places to visit in Robin's Hood Bay
The top things to do in Scarborough
How to visit Uther Pendragon's Castle
Fountains Abbey Witcher filming locations
Magical Things to do at Mother Shipton's Cave
A complete guide for The Druid's Temple in Yorkshire
Save this Bronte Waterfall walk for later!