Although many people visit the rugged coastline on the Isle of Anglesey, there are a fair few attractions inland that are worth visiting.
One of those is an evocative Neolithic tomb and stone circle called Bryn Celli Ddu burial chamber! An ancient house of the dead was built around 3,000 BC.
Its name translates to 'Mound in the Dark Grove' and it really has an air of mystery about it tucked away in the remote Welsh countryside.
As one of Anglesey's most famous pre-historic attractions, it's well worth visiting. Especially around the summer solstice, when the rising sun shines directly inside the chamber!
You really cannot miss it when you're visiting Anglesey. Here's a complete guide for Bryn Celli Ddu burial chamber and how to visit it.
What is Bryn Celli Ddu?
Bryn Celli Ddu is an ancient monument that is actually two pre-historic sites in one located on the Isle of Anglesey.
Formerly known as Llwyn Llwyn, the area consist of an ancient stone circle or henge which was built here first.
The henge consisted of two stone circles. One in the outer ditch that we see today and then a smaller circle in the middle.
A little later down the line, a burial chamber with an enclosed tomb was built inside the inner circle.
Considering that this site is over 5,000 years old, the chamber is almost fully intact which makes it an incredible site to visit today.
The history of Bryn Celli Ddu Burial Chamber
It is believed that the henge was built here during the later Neolithic period around 3,000 BC. Studies suggest that it was originally built as an enclosure for ancient rituals and festivals.
Back then, the circle would have been around 21 metres in diameter. Recent excavations have discovered cremated human remains buried beneath the stones.
Just over 1000 years later, the site underwent a complete redesign by the settlers here and a burial chamber mound was built on the site.
As a consequence, many of the original stones were moved and placed at the base of the tomb.
It has a long passageway inside around 8 metres in length and it was 3 metres wide at its largest. In the centre is a free-standing pillar which is quite unusual and unique for this period.
Similar to most prehistoric sites in Britain, it is believed that those using it would bury their dead to protect them and use it as a place to pay respects to their ancestors.
Discovery & Excavations
The first records of this chamber being mentioned were by Henry Rowland in his Mona Antiqua Restaurata in 1766 which referenced archaeological antiquities in the area.
A few years later, Thomas Pennant made observations in his Tours in Wales in 1770. He mentioned the fact that human remains were found but they "crumbled at the touch".
John Skinner also mentioned the tomb in his Ten Days Tour through the Isle of Anglesea in 1802. In his book, he spoke of local legends like white spirits being spotted at the site and the fact there was gold to be found underneath the mound!
The mysteries of this chamber continued to be mentioned in various publications until Neil Baynes convinced Lord Anglesey to excavate the tomb in 1923.
Lord Anglesey then handed over the tomb to the Commissioners for the Preservation of Ancient Monuments. They meticulously examined and excavated the area as well as making sure that it was protected.
Inside, they found human remains in the passageway as well as quartz, flint arrowheads, beads, and shells.
A decorated pattern stone was also recovered in a ceremonial pit at Bryn Celli Ddu. It's thought that it was deliberately placed over remains.
Nowadays, a cast of the stone is placed here while the original is safely stored in the National Museum of Wales in Cardiff.
Today, it's still a place of significant archaeological interest. There are still ongoing studies to better understand pre-historic life and culture.
Summer Solstice at Bryn Celli Ddu
Although there are many pre-historic sites in Anglesey, this one is unique in the way that it has been perfectly aligned with the sun on the longest day of the year.
In the summer solstice in June, the sun's rays shine perfectly inside the tomb at dawn. The sun then lights up the passageway in the burial chamber.
Although there is no solid evidence as to why they did this, it's believed that the sunlight shining inside the tomb was meant to bring warmth to their ancestors.
Today, many people visit this tomb on the summer solstice. It's a tradition to stay up all night at the mound and then watch the sunrise to celebrate the longest day!
Read more about celebrating the Summer Solstice in Avebury and Stonehenge.
How to visit Bryn Celli Ddu in Angelsey
If you wanted to visit this tomb for yourself, it is very easy to access the Isle of Anglesey in Wales.
The site is located near the Menai Bridge on the North Wales Expressway, so it's easy to make a quick pitstop here on your visit.
By far the easiest way to access the site is to drive as it's located in the remote countryside of Llanfair.
There aren't any trains that run here and bus services are intermittent at best. The nearest bus stop is 1.2 miles away from the site in Llanddaniel Fab on the Arriva service 4H from Bangor to Holyhead. Or 2 miles by bus from Llanfairpwll station.
Driving over to the burial chamber on Anglesey
If you're heading into Anglesey, make sure that you're taking the North Wales Expressway or A55 road towards Holyhead and Llanfair.
You should cross over the Menai Strait on the Pont Britannia Bridge. Then, take exit 8A onto the A4080 road.
if you continue on down this road for 5 miles, you will arrive at the parking for Bryn Celli Ddu in around 10 minutes. It's well signposted so you shouldn't miss the turning!
Bryn Celli Ddu parking
There are two car parks that you can use to access the burial chamber.
One is a small lay-by which is located just outside the entrance to the walkway. This is completely free to park in and you'll see a street sign 'Llandaniel'.
It's the closest parking area to the site but it does fill up quickly as there is only room for around 4/5 cars. So, make sure to park with consideration.
If this lay-by is full, you can easily make your way around to the main car park a little further up the road which is much bigger. It's also free and there is a small information board and seating area here.
This is perfect for those with larger vehicles like camper vans or minibusses as the lay-by may be quite a squeeze.
What to expect on the walk down to the Burial Chamber
So, once you've parked up at the car park you'll need to make your way through farmland to access the burial site.
Keep in mind that there are no toilet facilities in the car park or cafés to speak of here. So, bring your own snacks, some water and use the loo before you visit.
You'll see a sign provided by Cadw to point you in the right direction and there is a narrow public pathway that you can walk down.
It's fairly boggy, even in the summer months due to it being shaded by hedges on either side. So, bring a good pair of walking shoes if it has been raining.
You'll be walking for around a quarter of a mile to the tomb from the car park which only takes around 10-15 minutes each way.
I would like to say that the walk is scenic but the hedges on either side make it almost impossible to see much of the views. However, I promise that it does get better when you reach the tomb which is open air!
It's a relatively flat gravel path to walk on with wooden walkways to cross over streams.
Although the website says there are wheelchair facilities, I wouldn't personally say that the pathway to the tomb is accessible for pushchairs or wheelchairs at all.
Dogs are also not accepted here (apart from guide dogs), not even on a lead. Which is a shame for those visiting with their furry family members.
Things to see at Bryn Celli Ddu
Once you finally reach the burial site after the walk through the countryside, you'll soon find that you're in the middle of farmland with country views all around you!
The site is fenced off and, as you walk around, you'll find a few information boards about the history of the tomb and what it was used for.
The most exciting part about this place is that it is unrestricted so you can explore all of the tomb! You can climb on top to get a better view of the area.
From the top, you can see the large ditch that the stone circle was built on. Plus, some of the stones around the chamber including the replica of the patterned stone.
It's quite a small site but it's so mysterious. Mainly because you'll be curious to see what's inside this ancient house of the dead!
What is inside Bryn Celli Ddu chamber?
If you're brave enough, you can head inside the eerie tomb to discover what lies beneath!
Although it is pretty creepy, I wouldn't worry about finding any bones or remains here. They were all damaged, eroded, or excavated many years ago…
Saying that entering the chamber was a little ominous. I couldn't help but hold my breath as I was visiting alone. It didn't help that birds make a home here and started flying around me as I walked in! I jumped out of my skin.
When you walk in, there is a long passageway that leads into the central chamber. It's quite narrow and seems to get smaller the further that you head inside.
Once you reach the end, you'll stand in a rounded chamber which is surprisingly cool in the summer months.
In the far end of the tomb, there is the free-standing pillar and you may find some offerings of flowers, stones, and shells from visitors paying their respects.
Remember to leave no trace and protect the inside of the monument. Don't leave rubbish, graffiti or light candles near the stones as this can seriously damage them.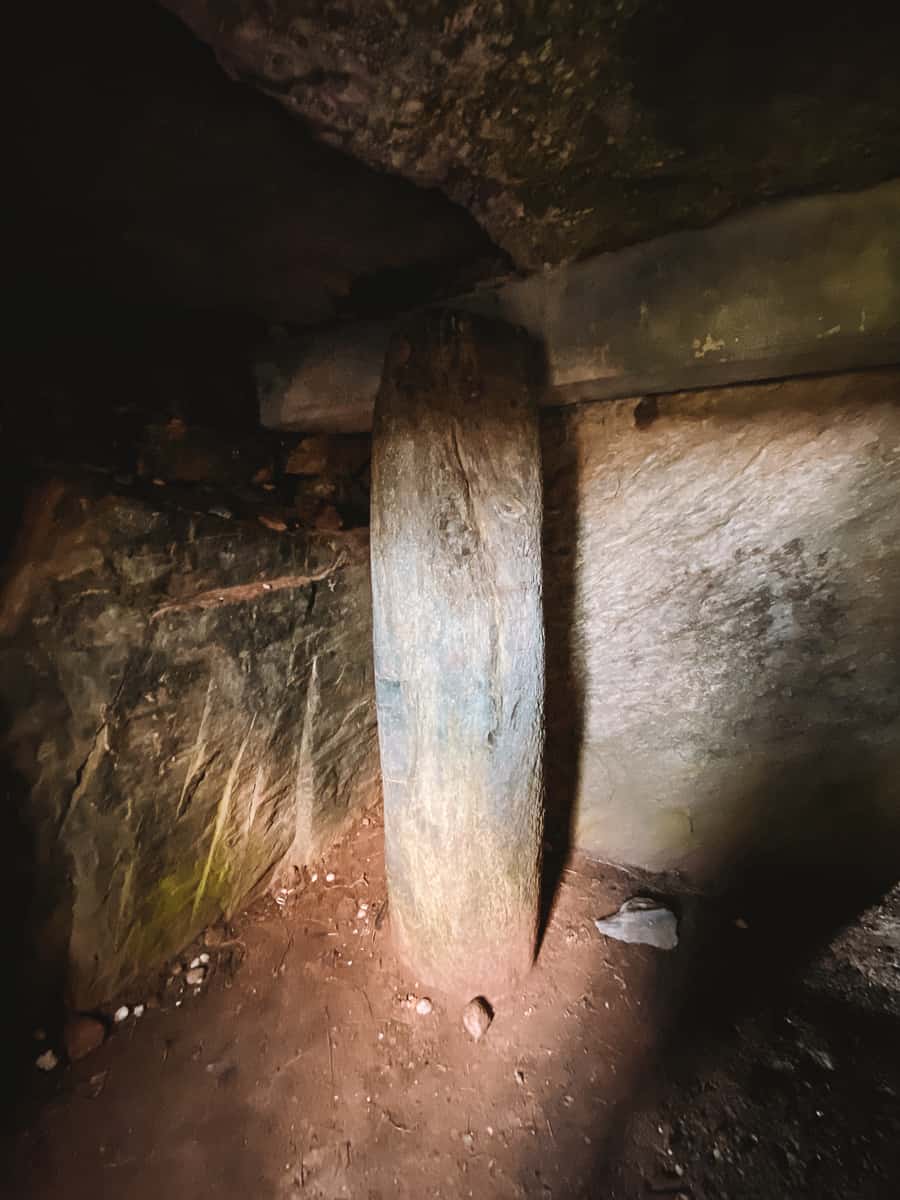 Opening times and prices
Bryn Celli Ddu burial chamber is completely FREE to visit. So, it makes a great budget activity on Anglesey.
Also, the burial chamber is open 24/ 7 so you can visit any time you like. I wouldn't recommend visiting at night time though as there is little to no lighting and you won't see anything.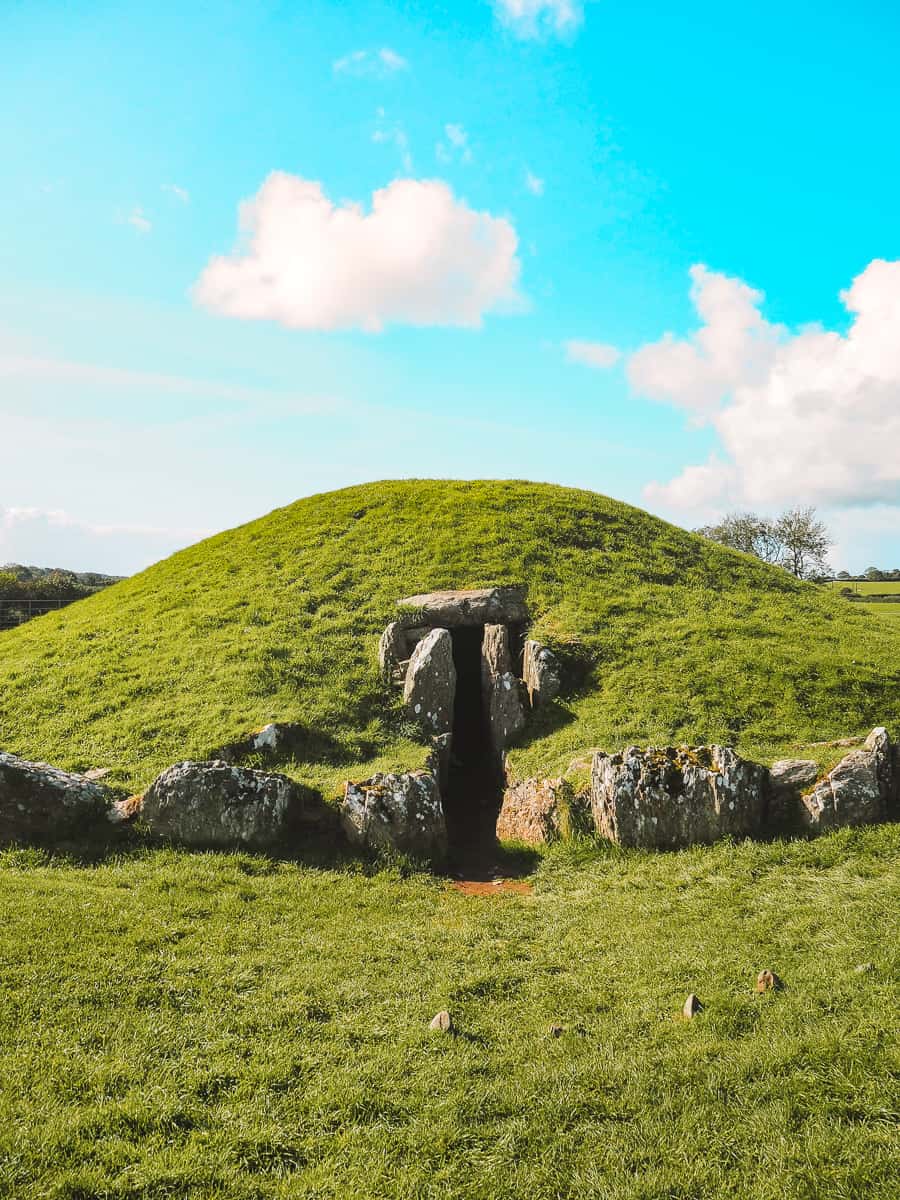 Common questions about Bryn Celli Ddu
How old is Bryn Celli Ddu? It's thought to be over 5,000 years old!
When was Bryn Celli Ddu Built? Around 3,000 BC in the late Neolithic era
How to pronounce Bryn Celli Ddu? Brin keth-ly dee (the Celli is pronounced with a Welsh double ll!)
What does Bryn Celli Ddu mean in English? It translates to 'Mound of the Dark Grove' – spooky!
Explore more of Neolithic Anglesey!
If you were interested in exploring more ancient sites, you'll be spoiled for choice on Anglesey.
There are plenty of tombs, dolmen chambers, and stone circles just like this one to be found on the island.
In 1796, over 30 burial chambers were recorded on the island. But, many of these were destroyed or damaged over time.
Despite this, there are still many ancient monuments that you can visit in the area and are protected by Cadw.
Just a few miles away from the burial chamber, you can visit Caer Lêb, Barclodiad y Gawres, Bron y Foel Isaf, Bodowyr Burial Chamber, Castell Bryn Gwyn – plus many, many more!
Looking for more things to do on the Isle of Anglesey?
The Isle of Anglesey makes an incredible day trip in North Wales. Although it's an island, it's huge and there is so much to explore.
The most famous attraction is the atmospheric tidal island of Ynys Llanddwyn. It can be accessed on foot from Newborough Beach when the tide is low.
In fact, the Anglesey coastline is home to many Blue Flag beaches which are perfect for the summer months! They all overlook the peaks of Snowdonia National Park.
You can cross the famous Menai Strait over the Menai Bridge. The coastal town of Beaumaris is also a must-visit with its colourful houses on the West End.
No visit to the island would be complete without a photo stop by the longest street name in Great Britain – Llanfairpwllgwyngyllgogerychwyrndrobwllllantysiliogogogoch.
Or, you can head over to the dramatic South Stack Lighthouse on the far end of the island! Nearby, you can head overseas to Belfast or Dublin via the Holyhead Ferry Terminal!
Read more of my North Wales blog posts
How to visit the magical Fairy Glen
Where is the Lonely Tree in Lynn Padarn?
When does Tu Hwnt I'r Bont turn red?
What is the Ugly House in Snowdonia National Park
The legend of Gelert the Dog in Beddgelert
Pont-y-Pair Bridge in Betws-y-Coed
How to visit the ancient Roman Penmachno Bridge
The history of Sappers Suspension Bridge
Save this post on Bryn Celli Ddu Burial Chamber Anglesey for later!