Bundi in India is what the Indians would call a 'Shanti, Shanti' place, which means peaceful to you and me.
A tiny city tucked away in the state of Rajasthan, it doesn't draw as many tourists as its neighbours like Jaipur.
This makes it the perfect getaway if you want to see a bit of the 'real India' while you're here. If you've been travelling around the major cities, you'll know that loud traffic, constant horns and busy streets are the norm.
But, in Bundi, there's none of that. Just colourful buildings, friendly locals and a pretty mirror lake to enjoy.
Keep reading for a guide to the Shanti city of Bundi in India.
Heading to Rajasthan? Steal my ideal two-week itinerary here!
How to reach Bundi
Bundi in India is located just 3 hours away from Jaipur in the Indian state of Rajasthan, so, you can easily grab a bus heading there for around 300 rupees.
Alternatively, you can catch the Mewar express train from New Delhi which stops in Jaipur on the way. This is a direct train to the neighbouring city of Kota and will be the most convenient as it's a sleeper train.
A little travel tip; this train books up quick, even in low season as it's popular with locals. So, I would plan your route in advance. I would highly recommend Cleartrip for booking train travel in India as they have the best functionality on their website.
You will need an IRCTC (Indian Rail Company) profile set up to use it, but it's SO worth it.
I honestly can't tell you how many times I've fallen out with the IRCTC website, we're kind of frenemies.
Click here to read more Indian train travel tips
Where to stay in Bundi
There aren't a lot of places to choose from in Bundi, especially in the 'off' seasons of May – July when I visited.
The place was like a ghost town with most restaurants closed until more tourists start popping up.
Not being able to find anything much online, we decided to 'wing it' and just find a place when we got there.
We pulled up quite late at night and were walking through the streets to find a hotel when we bumped into Shivam who offered us a room at his guest house. It turned out to be the best rated in town and featured in Lonely Planet, so it was a bit of luck!
I would highly recommend the Shivam Tourist Guest House to stay. Not only did they have the best food in town on their rooftop, but the rooms were also clean, cheap and comfortable.
The family are friendly and they have the cutest pet Tortoise which always tucked its head in when I went in for a stroke…darn maybe next time he'll warm to me!
Things to do in Bundi
There isn't an incredible amount to do in Bundi.
I guess it just adds to the peaceful nature of the place. It's actually nice sometimes not to have a lot to do and just feel it.
Get to know the people, the streets and the vibe. But, I'll lay down some of the things you can get up to here.
Walk the streets of Bundi
This was my favourite part of Bundi. Wandering through the streets, admiring the awesome shop signs and murals painted on the walls.
It actually was a little bit of a time warp. Like, if you were going to pick the typical Indian street for a movie, this would be it!
Although a Gori (white person) seemed to be a rarity judging by the stares I got, the locals would say 'Namaste' with a smile.
The chai walla would sell the most awesome street tea for 5 rupees a piece and a café on the main street with 'The best masala chai in Bundi' cooked fresh Aloo Paranthas for 15 rupees.
It was heaven on earth. I would spend some time exploring and getting to know Bundi, you never know what you'll find.
Bundi palace
I was quite unsure about going into this palace at first. At 500 rupees per foreign tourist plus 100 for a camera permit, it does eat into your daily budget.
I'd already seen the city palaces in Jaipur and Udaipur, so I wasn't sure if I'd see anything different here and the fact it was partly in decay also swung it out of favour.
But, as there was quite literally nothing to do and I was curious, we did eventually decide to go in to see what it was all about.
Aside from the potent smell of bat poop as they've made a home there, the palace was actually quite pleasant.
A lot of it is broken/abandoned now but the parts which remain to see are beautiful.
The main attractions are the amazing colourful paintings and murals. All painted in traditional Rajasthan style. There are quite a few pesky monkeys who hang around causing chaos in parts of the fort.
For one part, a Bandar walla had to help us fight the monkeys off to see the exhibition so hide your valuables!
Bundi lake
Bundi lake is a picturesque lake in the middle of the town and when there isn't a breeze it casts a perfect mirror reflection of the city from all around.
Even without the reflection, it is a nice place to visit, as you can see a great panoramic view of the palace from here.
There is also a lake view restaurant here to enjoy dinner in the evening, but put on your bug spray as the mosquitos were out in full force!
Fort View Point
Just beyond the lake, you can get a fantastic viewpoint of the whole city. It's along a dirt road, so you may find it pretty dusty and a bit crazy but the view from here is well worth it.
It's a photographer's best spot for a photo of the whole town, but be sure to protect your camera lenses from the dirt track.
Bundi stepwells
Ancient stepwells are quite common in India from the times of Indian royalty to collect water for their families.
Bundi is called the city of step wells as it has around 50 to boast!
But, there are two main step-wells that are quite impressive to explore. The main step well, Naga Saga Kund, was shut for renovation in the low season when I went to visit which was a shame.
But, an equally as interesting free stepwell was open called Dhabia Khund. It looked like a maze.
As the town is so small, you'll have the whole place to yourself; it's a great spot for picture opportunities!
Don't miss out on Bundi India
That's a Travel Guide to Bundi. There isn't a great deal to do here but you won't forget it in a hurry!
If you did want to see Kota and its 7 wonders, it's a quick hours bus trip down the road and there is supposedly a great waterfall around 40km away from Bundi.
But, it's only got a strong fall after the monsoon season is in full swing.
If you want to see a bit of the 'real' India, away from the tourist traps, I'd put this awesome dinky city on your list while you're here.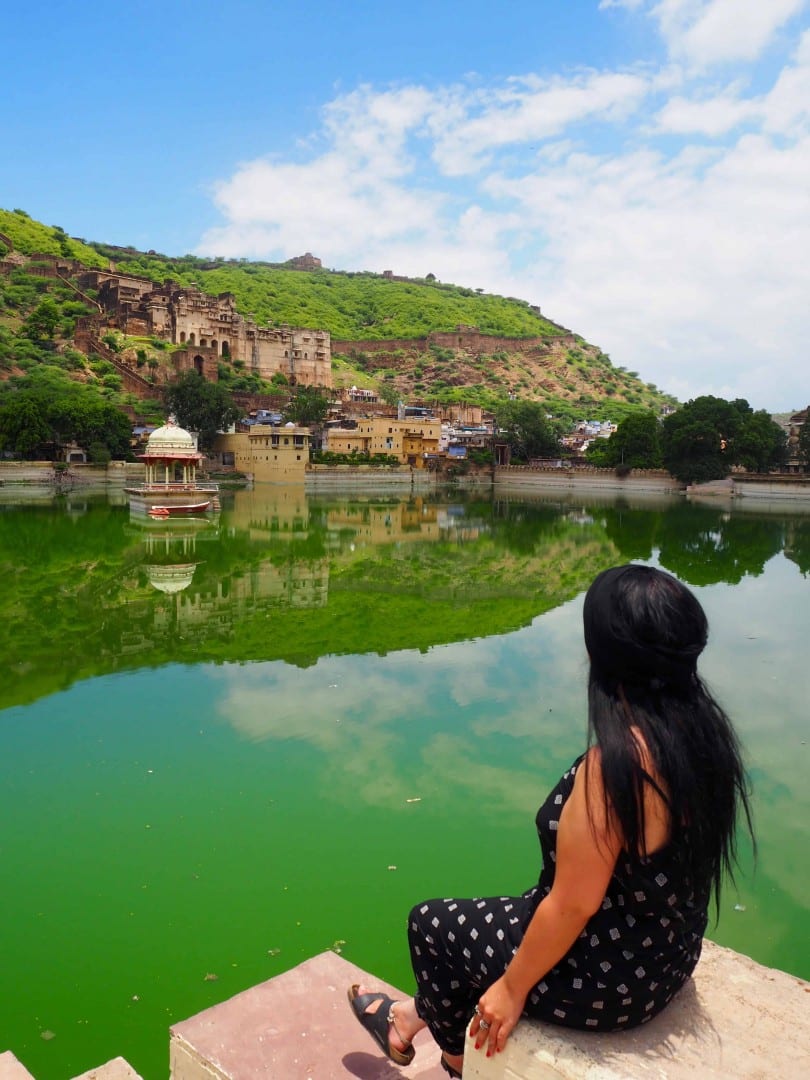 Travelling through Rajasthan? Check these travel guides out!
My complete guide to the Pink City of Jaipur
A photography guide for Jaipur
My top travel tips for Jaisalmer
A camel safari in the Thar desert
Top places to visit in Bikaner
Visiting the rat temple in India
Save this Bundi travel guide for later!