As a HUGE lifelong Agatha Christie fan, if there is something that has been on my bucket list for a while now, it's a visit to The Burgh Island Hotel.
This amazing Art Deco property perched on top of a tidal island in South Devon has welcomed many celebrities through its doors including the likes of Agatha Christie and Noel Coward.
As you enter through the gates, it's truly a step back in time to a world of fine dining, black tie, ballgowns, opulence and class. All surrounded by the sea!
On my birthday this year, I decided to treat my Mum and I to a Burgh Island Hotel afternoon tea in their wonderful Palm Court.
It was an absolute dream come true and, although we weren't residents of the hotel, we were welcomed like honourable guests.
Here's my full Burgh Island Hotel afternoon tea review and how you can experience this for yourself.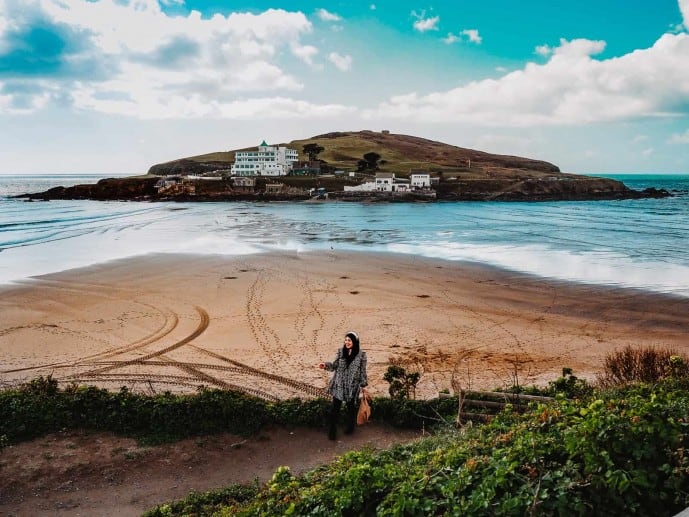 Are non-residents allowed to book an Burgh Island Hotel afternoon tea?
100% YES! Although in the past the Burgh Island Hotel has had strict rules about non-residents visiting their property.
They have now opened the up their afternoon tea experience to non-residents of the hotel too.
But, this isn't something I would recommend rocking up on the day to enquire about as;
You'll probably have no phone signal around the area!

It's popular, so it's best to book as far in advance as possible especially on weekends
You can book your afternoon tea by calling The Burgh Island Hotel directly to book or book online via their website here.
How much is a Burgh Island Hotel Afternoon tea?
Admittedly, The Burgh Island afternoon tea experience is not cheap. But, you're paying for the experience and the incredible views all around you.
The full afternoon tea experience costs £45 per person which includes a glass of champagne, your choice of tea with delectable savoury and sweet treats!
You can choose either their Burgh Island Classic Afternoon Tea or the Great Gatsby afternoon tea. Both are the same price, the only difference is your drink of choice.
With the classic tea you receive a glass of bubbly and with the Gatsby tea you can have your choice of a cocktail from the menu.
For me, I found the afternoon tea good value and comparable to London prices.
The whole experience for me and my Mum was priceless! We had been wanting to explore this hotel for an age so, no amount of money would have been too much.
Burgh Island Hotel Afternoon Tea timings
The Burgh Island Hotel welcomes anyone to experience afternoon tea in their Palm Court from 12 pm – 5 pm daily.
So, that gives you plenty of time to arrive at the island and not be too peckish by the time you eat it!
Sometimes I find if a high tea starts at 2/3 pm, I'm too hungry by the time I get there! Plus, then there's always that awkward thought of whether to eat lunch or something before.
But, these Burgh Island hotel afternoon tea timings are nice and flexible.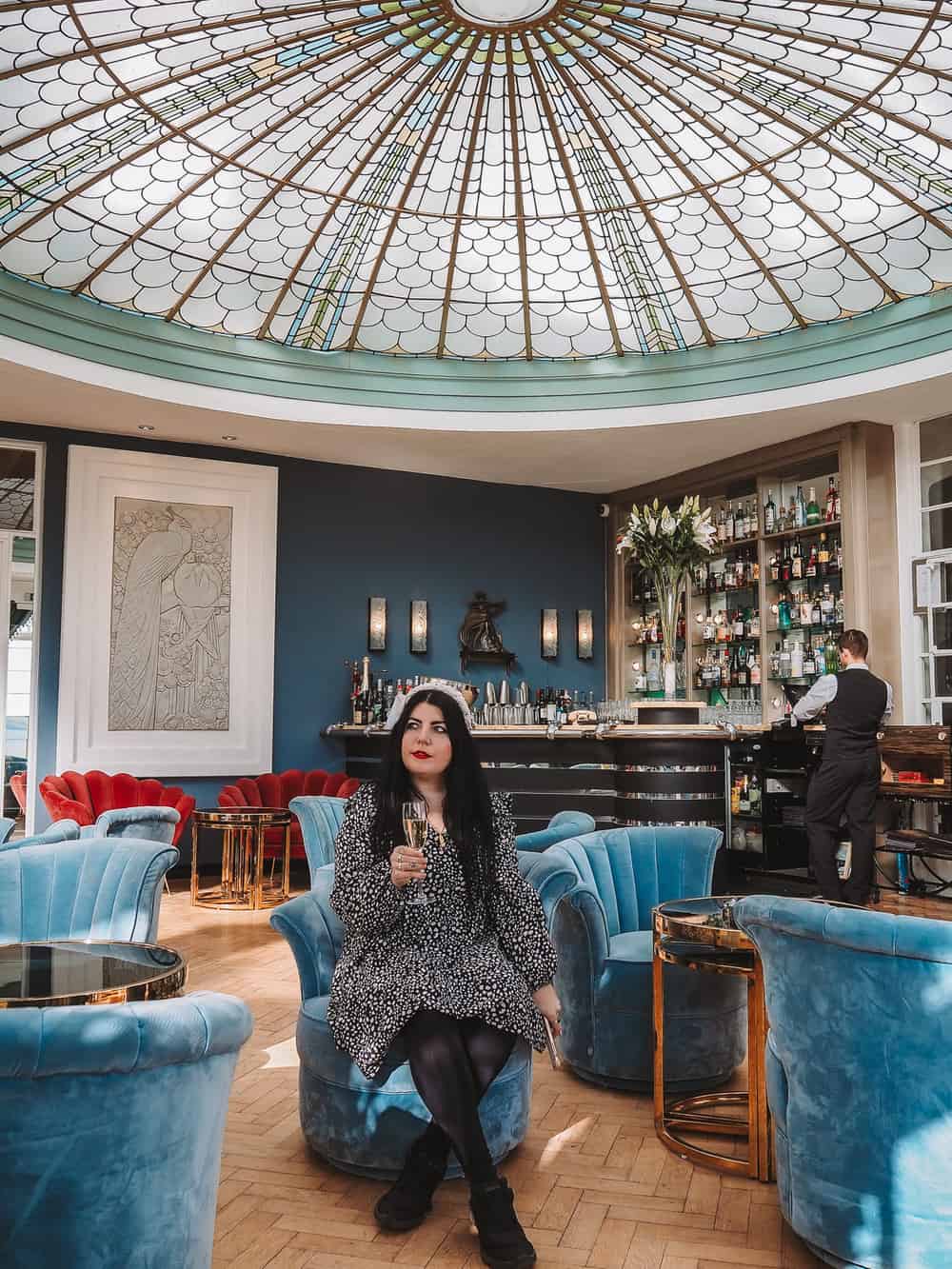 The History of Burgh Island Hotel
So, what makes the Burgh Island Hotel so famous?! Well, I guess we need to go back to the beginning.
In the 1890s George H Chirgwin, who was a music hall star, decided to build a secluded wooden house on Burgh Island. It was here he would invite guests for exclusive getaways and parties.
Once he died in 1922, the property was sold to Archibald Nettlefold in 1927. He was a filmmaker of Nettlefold Studios and he decided to build more of a substantial Art Deco Hotel open for guests.
The Art Deco movement was born out of France and took it's name from Arts Décoratifs.
This is short for the 'Exposition internationale des arts décoratifs et industriels modernes' which was held in Paris in 1925.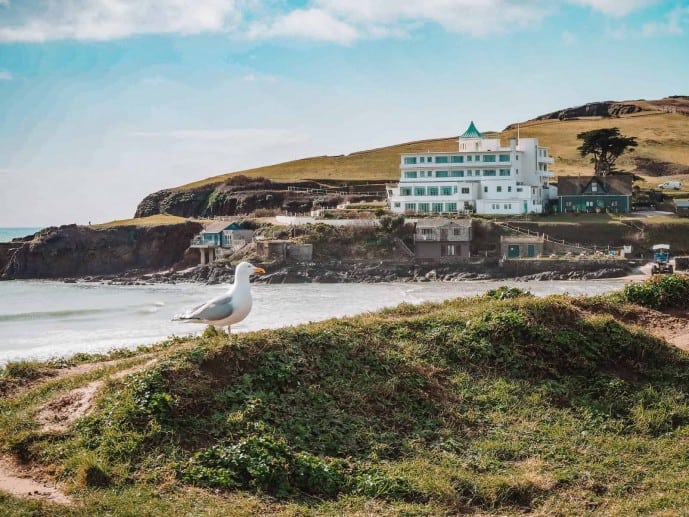 By the 1930s, the Art Deco movement had taken hold around the world and inspired endless architecture, decor, advertisements and hotels at the time.
So, the Burgh Island Hotel became extremely popular in the 1930s. Welcoming affluent guests and celebrities into its rooms. Including Winston Churchill, Lord Mountbatten, Edward VIII and Wallis Simpson.
During World War II the hotel was used as an RAF recovery centre for wounded pilots and workers. It suffered significant damage during this time and fell into decay.
The Hotel has since been lovingly restored back to its former glory and is seen as a temple to Art Deco. It's a Grade II listed building.
Burgh Island Agatha Christie connection
Burgh Island was like a second home to Agatha Christie and she used to hide away here using it as a writing retreat. She'd often sequester herself in the Beach House on the island and spend long days writing at her desk.
This little cubby overlooking the sea was where she wrote two novels 'Evil Under the Sun' and 'And Then There Were None'.
Burgh Island was a huge inspiration for both Soldier Island and the secluded Jolly Roger Hotel in Devon where Poirot stays too.
Today, Christie fans can stay in that very place called 'Agatha's Beach House' which is a modern beach retreat. With all the amenities you could wish for and even an outdoor hot tub!
What was filmed on Burgh Island?
There have been plenty of films and TV shows filmed on Burgh Island in Devon including some of the Agatha Christie novels that the island-inspired.
'Evil Under The Sun' starring David Suchet as Poirot was filmed here in 2001and there were two Miss Marple's starring Joan Hickson too. 'Nemesis' in 1987 and 'The Mirror Crack'd from Side to Side' in 1992.
Other features include, 'Sheepdog of the Hills' (1941), 'Catch Us If You Can' (1965), 'Lovejoy' (1994) and 'Nightwalk' (2013).
I always thought that the BBC adaptation of Agatha Christie's 'And Then There Were None' was shot on Burgh Island in 2015.
But, it was actually shot in and around Mullion Cove and Island, Kynance Cove and Newquay in Cornwall.
How to get to the Burgh Island Hotel from Bigbury-on-Sea
Burgh Island is a tidal island located off the shores of Bigbury-on-Sea in South Devon.
It can only be accessed at low tide on foot. But, there are some alternative ways to get over to the island if the tide is high.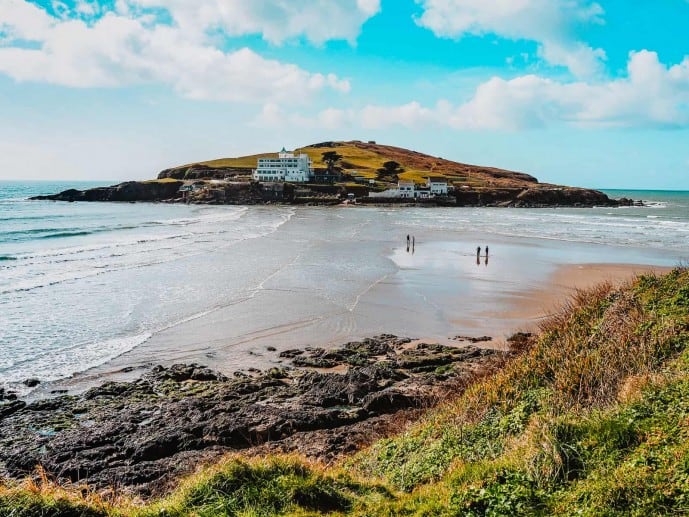 Parking charges at Bigbury-on-Sea
There is plenty of parking available at Bigbury-on-Sea in order to access Burgh Island.
Parking charges from 8am – 6pm are;
| | |
| --- | --- |
| 1 hour | £1.50 |
| 2 hours | £2.70 |
| 3 hours | £4.20 |
| 4 hours | £5.50 |
| 24 hours | £12.00 |
So, if you're heading here for afternoon tea I'd make sure you pay for 3 or 4 hours parking!
You may want to explore the island afterwards.
Burgh Island Sea Tractor
The traditional and most popular way to make your way over to Burgh Island is to take the Burgh Island Sea Tractor.
It's a third-generation hydraulic Sea Tractor and it's the only one running in the world!
According to the hotel, although you'll want to scream with delight, you're not supposed to show it! In true stiff upper lip style.
It's quite high up when you climb the steps and it will take you straight over the sea to the hotel.
The Burgh Island Sea Tractor was on limited service when we arrived. So, unfortunately, we couldn't go over in it! But, it gives me another reason to go back.
Burgh Island Sea Tractor tickets are £2 each way and are open to members of the public.
Walk over to Burgh Island
As Burgh Island is a tidal island, you can only walk over to it over the Bigbury-on-Sea at low tide. You cannot drive over to Burgh Island!
Many people arrive for the low tide here. So, in peak season, I would recommend getting here a little before it to beat the rush.
As the tide times change every day, you can check low tide each day here via the Met Office weather reports.
Once the tide clears, you can head on over the short sandy walk to explore the island. You do not need to be a resident to explore the island.
But, without a prior reservation inside the Burgh Island Hotel, it is blocked off to the public.
Burgh Island 4X4 transfer
As the sea tractor was out of service, my Mum and I were picked up in style for our afternoon tea!
The Burgh Island Hotel sent over one of their 4X4 leather Jeeps at Low Tide to come and grab us from the car park.
It really felt special heading over to the hotel this way and I would highly recommend requesting a transfer if the option is available.
The Burgh Island Hotel was also really kind to drop us off back to our car. It's a good job really as we were so full from our tea!
Entering Burgh Island Hotel's Palm Court
As soon as we arrived through the gates and walked through the doors of The Burgh Island Hotel, we were relieved of our coats and welcomed by our host Vladimir. Who was dressed in a full-on tuxedo!
We then were guided into the Palm Courtroom. I think my breath was taken away from me at this point!
On the ceiling was there peacock domed glass ceiling, there was velvet Art Deco furniture and gold tables, a fountain flowing, jazz music in the background and the most EPIC views of the blue sea all around us.
I think someone should have pinched me, as I died and went into Art Deco Heaven.
Our waiter had placed our table right by the window so we had beautiful views of the sea and the cliffs beyond.
The setting really was perfect and it transported you back in time. I was truly in my element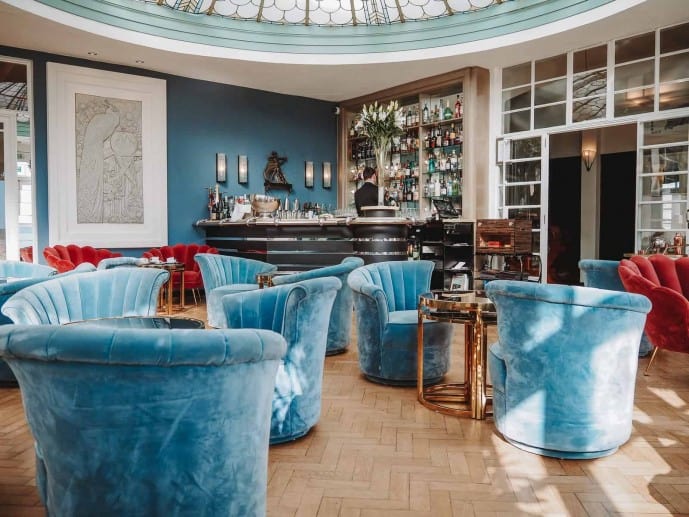 The Burgh Island Hotel afternoon tea affair
Once we had gathered ourselves, stopped squealing with delight and had taken a million pictures of this fantastic room.
We were welcomed again and handed a sparkling glass of Dom Pérignon champagne. Then, we were given the menus to browse the afternoon teas on offer.
My Mum and I both decided to choose the classic 1920s afternoon tea which is the Burgh Island Hotel signature. This came with yet another glass of pink Dom Pérignon champagne!
Whenever I have an afternoon tea, I am so predictable and ordered a pot of classic English Breakfast tea. Meanwhile, my Mum ordered some citrus and smoky Earl Grey to go with hers.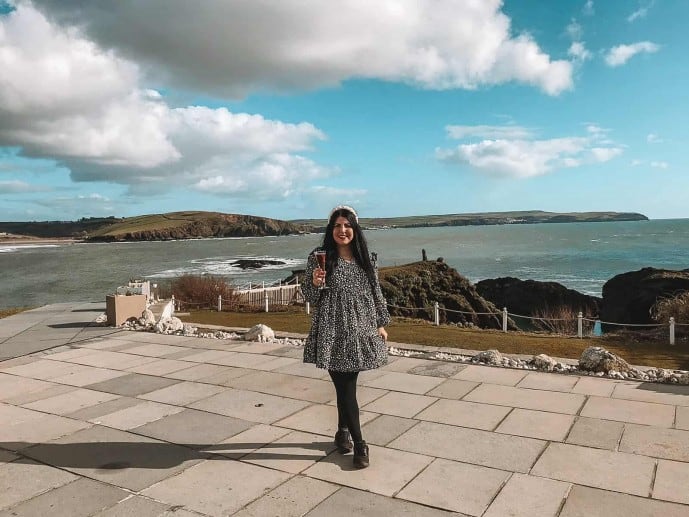 Then, our afternoon cake tier arrived with all the trimmings!
For savoury we had dainty finger sandwiches in Celeriac remoulade, Crayfish and red pepper, Jubilee Chicken and Devilled egg & cucumber.
Then my favourite part was the sweets. We had a Chocolate Orange Macaron, an Apple Crème Brûlée, A rhubarb crumble tart and Chocolate and Coffee gateau.
We also had plain and fruit scones with lashings of cream and jam.
I think I was about ready to burst at the seams. But, every last morsel was delicious and worth every penny.
Exploring the Burgh Island Hotel
Everything inside and outside of the Burgh Island Hotel is decorated in the beautiful Art Deco style.
From the reception area, the rooms and suites, the restaurant, The Grand Ballroom even the bathrooms have been decorated with Art Deco in mind.
Usually, non-residents are not allowed to explore the rooms of the hotel. But, I felt very honoured to be given an exclusive tour with Vladimir on my visit with permission from the hotel itself.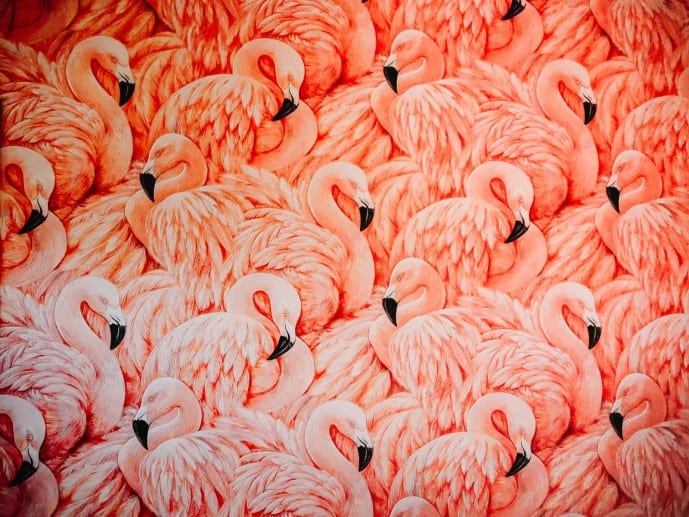 Dining at Burgh Island Hotel
The Nettlefold & The Captain's Cabin 'HMS Ganges'
The amazing monochrome floors, pastel blue walls and incredible views of the sea, all make for dining in the Nettlefold a special affair.
Famed for preparing its fresh catch of the day, you can enjoy your fruits-de-mer in their clifftop restaurant.
A great addition to this area is The Captains Cabin that even comes with its very own ship wheel. The extension was in the 1930s using a warship from 1821, the HMS Ganges!
The Nettlefold and Captains Cabin are open to non-residents every Friday and Saturday evening between 6.30pm -9pm. Booking is required.
The Grand Ballroom
Strictly a formal affair, The Grand Ballroom is an authentic Art Deco hall where you can dine and dance your socks off!
It still keeps the original rules of the day, which means black tie and formal evening dress only!
This restaurant serves up a set menu and they often have a live band that plays for the occasion. So, you can dance until the early hours.
Non-residents are allowed to attend for dinner each evening and it costs £75 a head. You will need to pre-book on Mondays, Wednesdays and Saturdays for live performances.
The Pilchard Inn
If you were just peckish for some lunch and weren't after such a formal dinner, you can pop into the original smuggler's pub, The Pilchard Inn that was built in 1336!
Located on the steep hill on the way up to Burgh Island, this quaint tavern has been serving up pints to the local fisherman and smugglers for centuries.
They also serve up a lovely menu but their speciality is their crab baguettes.
Inside there is a lovely fire burning in winter, but in the summer there is outdoor seating too.
The Pilchard Inn is open from 11am – 11pm, no need to pre-book
Checking out the Noël Coward Suite in the Hotel
Noël Coward, an English playwright, actor and singer originally planned to visit the Burgh Island Hotel for three days. But, it ended up being three weeks!
He was famous for requesting his extremely dry Martinis and saying that 'a perfect Martini should be made by filling a glass with gin, and then waving it in the general direction of Italy'.
His visit made such an impression that there is now a Grand Suite named after him. It's on the top floor, boats two gorgeous deco rooms, a bathroom and some spectacular views from the balconies.
Every hotel room in the Burgh Island Hotel is different. Out of the 25 rooms and suites, no two rooms have are the same. They are all decorated in different colour palettes and styles.
The Noel Coward Suite was decorated in beautiful wood furniture with a blue theme.
There was an old fashioned suite in the lounge with a Robert's Radio. A claw-footed bathtub and even an analogue telephone in the bedroom!
It was amazing to have a snoop around the suite and I envy the lucky things that get to stay there.
The Burgh Island Mermaid Pool & the spectacular al fresco terrace
We visited the Burgh Island Hotel on such a beautiful sunny day! So it made sense to explore the grounds of the hotel while we were here.
As part of our hotel tour, Vladimir was kind enough to show us the famous Mermaid Pool.
This is a natural seawater bathing pool that has its own sluice gate from World War II. This amazing secluded cove on the island doesn't see more than ten residents at once. So, it's like having your own private beach!
If it's not too cold you can head over to their diving platform or take their rowboat if it's too chilly.
Click here to read my ultimate Burgh Island travel guide
Enjoy a Burgh Island Hotel afternoon tea!
Visiting the Burgh Island Hotel has been a dream of mine for a long, long time.
So, to enjoy a delectable afternoon tea in their Palm Court for my birthday on such a sunny day was the cherry on top.
My mum and I couldn't stop raving about it to our friends and family and I'm sure we will remember this day for years to come.
If you're currently on the fence and considering a Burgh Island Hotel afternoon tea, I would encourage you to go for it!
Not only is it one of the most unique and classy experiences you can have in Devon, but you will walk in the footsteps of many celebrities and the most famous crime writer of all time Agatha Christie too.
Click here to reserve your afternoon tea at Burgh Island Hotel!
Read some more of my Agatha Christie inspired blog posts
As a big Agatha Christie fan, I have done some armchair sleuthing with her novels since I was a child and followed in her footsteps in the UK and worldwide.
I recently went to Egypt where Agatha Christie and her husband Max Mallowan went excavating.
I've also stayed in some of the beautiful hotels she stayed in, check out her suite and sailed on board the old steamer ships there too!
The Agatha Christie Mystery Mile in Torquay
Things to do at Greenway House
Checking into Aswan's Old Cataract, the birthplace of Death on the Nile
All aboard the S. S. Sudan, film location for Death on the Nile
Why you need to stay in the Old Winter Palace in Luxor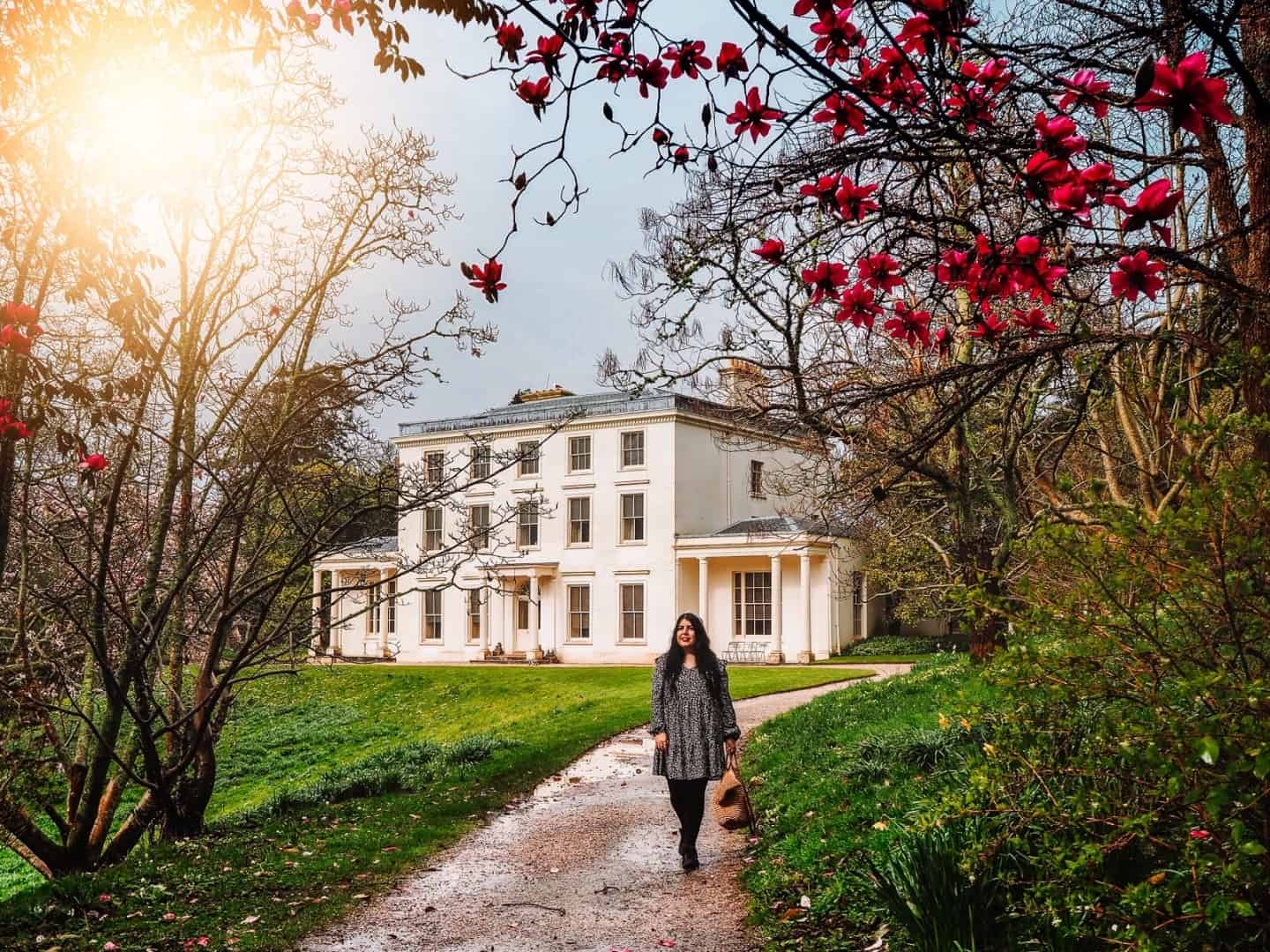 Read more of my Devon travel guides
The House That Moved in Exeter
Harry Potter locations in Exeter
Is this Exeter's Diagon Alley?
Walking down the Narrowest Street in Britain!
How to visit Wistman's Wood on Dartmoor
How to visit Lydford Gorge & White Lady Waterfall in Dartmoor
How to visit Brentor Church in Dartmoor
Woolacombe Bay Holiday Parks Review
Magical Valley of the Rocks Devon guide
Like it? Pin it!