One fine day in June 1836, a group of boys went out to hunt for rabbits in Holyrood Park in Edinburgh. It's here that they found a small cave that contained the Arthur's Seat Coffin Dolls!
Ever since they reported this baffling discovery, these miniature coffin dolls and their meaning have remained a mystery.
Were they a witch's curse? A Satanic spell? A burial ritual of some kind? Or, did they pertain to something even darker and gruesome…
Many people believe that these figures are actually Burke and Hare Dolls and one was created each time the body-snatching duo took another victim!
This guide will uncover some of the mysteries surrounding the Arthur's Seat Coffin Dolls, the theories on what they mean, and how you can see the dolls for yourself in Edinburgh.
What are the Arthur's Seat Coffin Dolls?
I don't think the boys who went rabbiting that day would have ever expected to find miniature coffins in that small cave of Arthur's Seat in 1836. Or, that the question of their meaning would remain unanswered over a century later.
Under three slabs of slate, lay 17 miniature coffins. Each coffin was 95mm long and carried a small wooden doll inside.
The dolls were intricately carved and even had custom-made outfits that were fashioned out of local materials.
Naturally, a discovery like this for the time was baffling! The boys instantly handed them in and the city was well and truly hooked on the Arthur's Seat Coffin Dolls mystery.
Local Newspapers wildly speculated on what the coffins were, who made them, and what they were doing in the historic Arthur's Seat. Many suspected witchcraft or sorcery was at play.
The Scotsman printed a newspaper article in July of 1836 with the headline 'Satanic spell-manufactory!'. It read;
"Our own opinion would be – had we not some years ago abjured witchcraft and demonology – that there are still some of the weird sisters hovering about Mushat's Cairn…or the Windy Gowl, who retain their ancient power to work the spells of death by entombing the likenesses of those they wish to destroy."
Many others compared it to the Saxon tradition of burying effigies of their loved ones who had died far away from home.
This makes a lot more sense as this time-old tradition was still in place for sailors who died at sea and couldn't receive a land burial. Arthur's Seat provides a perfect view of the Firth of Forth estuary after all.
However, out of all the theories, one of the most common was that these were actually Burke and Hare Dolls.
Each one of the 17 coffin dolls was thought to represent 17 murder victims from their killing spree in the "West Port" or "Anatomy Murders".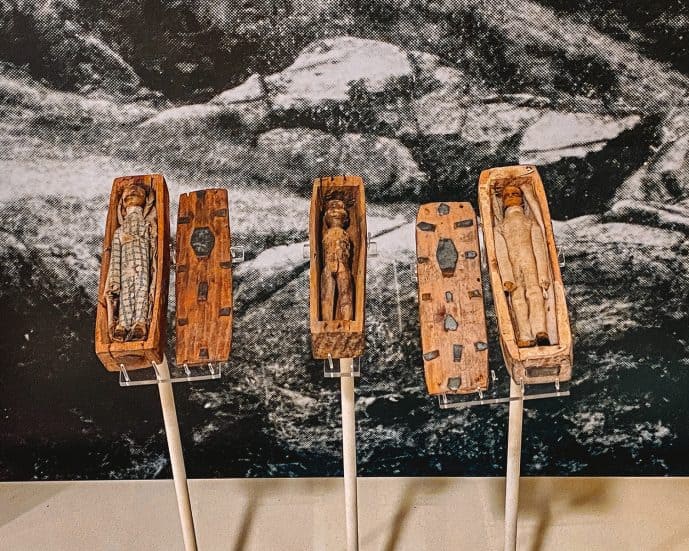 Who are Burke and Hare?
Back in the 19th-century, medical science was still developing and anatomy was largely misunderstood.
Medical professionals, students, and artists all needed to examine human anatomy and dissect bodies for their studies.
Back then, dissecting fresh corpses in the name of art and science was illegal and seen as sacrilege. So, many resorted to stealing freshly buried bodies from gravesites.
There was good money to be made for those brave enough to do the body-snatching on behalf of the medical colleges and that's where Burke and Hare come into the story. Although, they had a slightly darker strategy.
William Burke and William Hare are often referred to as body snatchers or grave robbers but the duo never actually stole any corpses from graves.
They found it much easier and quicker to just murder people instead and sell those cadavers to the anatomy lecturer Robert Knox in order to make their fortune.
The duo's gruesome get-rich-quick scheme lasted for around a year until they were both suspected of murder with their last victim Mary Docherty in 1828.
Burke and Hare's Trial & Execution
Although the police suspected Burke and Hare of killing Mary Docherty, there was no evidence against them when they examined the body.
Hare was later offered immunity from prosecution if he submitted King's Evidence against Burke on the condition that he confessed to all the murders.
He agreed and the trial began at Christmas, the long proceedings revealed the gory details of the murder rampage. It caused an international frenzy in the newspapers.
There was mass hysteria about body-snatching that prompted many families to buy Mortsafe's in order to protect their loved ones already buried. You can see some of these on display at Greyfriar's Kirkyard today.
Throughout the proceedings, it was revealed that Burke and Hare had killed 17 people in total. They would lure in their victims as lodgers in Burke's House and murder them shortly after in order to sell the corpses.
Hare got off scot-free as part of his immunity deal with the confession that well and truly threw Burke under the bus.
Burke was found guilty of one murder that they could prove. He was then sentenced to death by public hanging in January of 1829. It took place in Edinburgh's Lawnmarket and over 30,000 people showed up to watch.
After his execution, a death mask was taken that is still on display at the Surgeon's Hall Museum.
As a cruel sort of irony, Burke's body was ordered to be publicly dissected and the professor who performed the act made a pocketbook bound with Burke's skin.
Afterward, Burke's skeleton was put on display at the Anatomical Museum of Edinburgh Medical School where it still remains today.
It is unknown what became of Hare after Burke's execution. He didn't get off lightly with the public as many wanted retribution.
After threats were made to his life, the authorities had to disguise him and sneak him out of the city! After that, he made his way over the English border and was never seen or heard of again.
These events happened nearly two hundred years ago now, but Burke and Hares' grisly story is still spoken of in Edinburgh and around the world today.
Burke and Hare's legacy
Although the Burke and Hare murders were tragic, the trial was to be a catalyst in raising public awareness of needing to dissect bodies for integral medical research and progress.
A few years later, the trials of Burke and Hare contributed to the passing of the Anatomy Act of 1832.
Burke and Hare are now firmly in the history books as anti-heroes and some of Scotland's most prolific serial killers with a lasting legacy.
In 19th-century Edinburgh, a famous Burke and Hare poem emerged as a warning for children;
"Up the close and doon the stair, But and ben' wi' Burke and Hare. Burke's the butcher, Hare's the thief, Knox the boy that buys the beef."
Today, the body-snatching duo is now world-famous as you'll find that their story has been portrayed both in fictional novels and on the silver screen.
But, the question still remains. Are the Arthur's Seat Coffin Dolls really the work of Burke and Hare? And do the Burke and Hare Dolls represent 17 of their murder victims?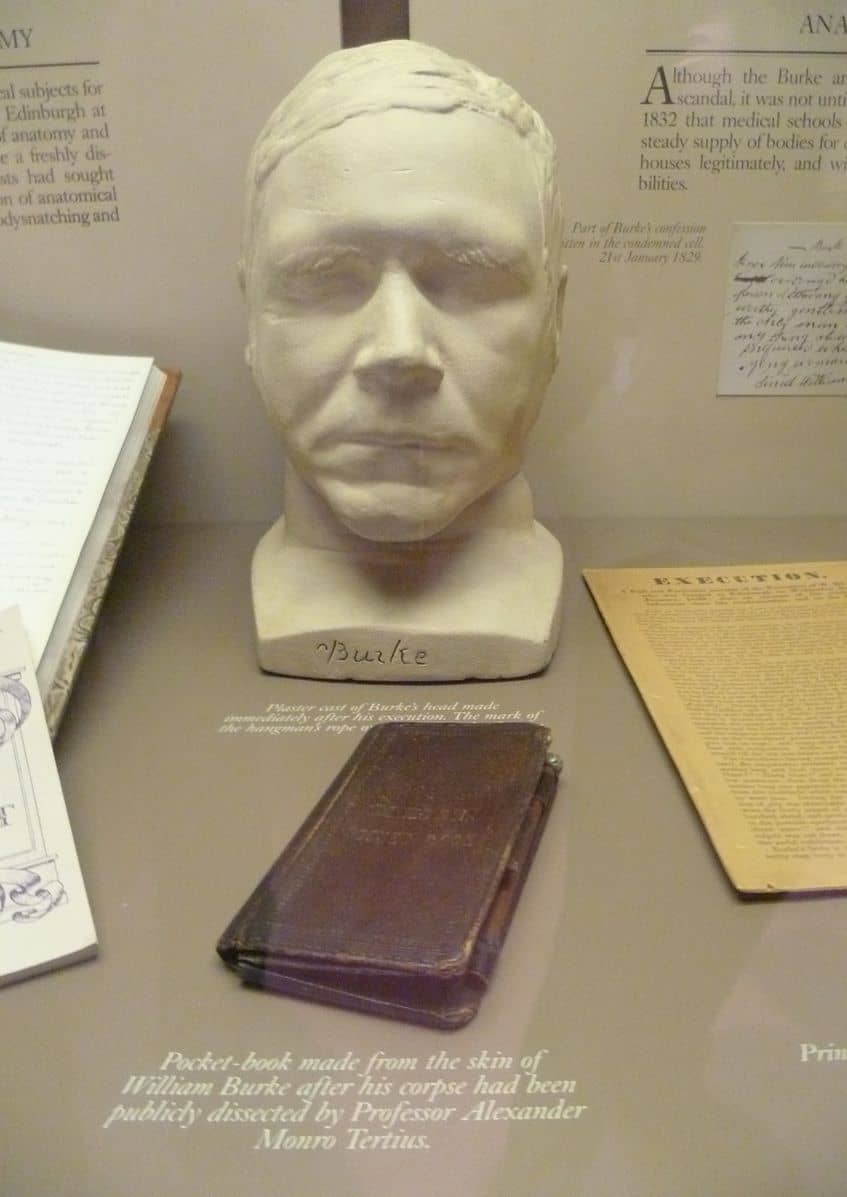 Are the Arthur's Seat Coffins really Burke and Hare Dolls?
It is generally agreed that the original collection of 17 Arthur's Seat Coffin Dolls was made by Burke and Hare during their killing spree in 1828.
However, no one can be completely certain and there is little evidence to prove it although the time period and narrative fits.
In the early 1990s, Professor Samuel Menefee and Dr. Allen Simpson decided to study the coffin dolls in detail in an attempt to uncover the truth.
They discovered that the dolls were all made by the same person but the coffins were crafted by different people. Also, it was most likely a cobbler due to the materials and tools used.
In addition, they found that they were most likely toy soldiers originally as they all had boots on and a line on their forehead that looked like a helmet imprint.
The fabric glued on them was dated to the 1830s so the dolls had not been buried on Arthur's Seat for more than six years before the boys found them.
All of this would tie in well with the Burke and Hare theory. Especially if the dolls and coffins were fashioned by two people at around the same time that the duo was selling their victim's bodies. However, it's not concrete evidence.
In 2005, DNA testing was made on the dolls using a sample from Burke's Skeleton to see if they really were the Burke and Hare murder dolls.
Unfortunately, this testing was inconclusive so we may never know their true meaning or uncover the mysteries behind these coffin dolls in the future!
Regardless of what they are, the Burke and Hare dolls are worth seeing as they are captivating, concerning, and downright baffling! You have to see them for yourself to really believe it.
How to see the Burke and Hare Dolls in Edinburgh
If you wanted to see the Arthur's Seat Coffin Dolls for yourself in Edinburgh then you'll be glad to know that they are on display at the National Museum of Scotland.
They were in a private collector's hands until 1901 when they handed over eight of the dolls for the museum to share with the public.
You'll find the Burke and Hare Dolls in the Daith Comes In Gallery on Level 4.
They are really easy to locate once you get here, just beyond the hearse carriage. You'll usually see a group of people checking them out.
The National Museum of Scotland address is Chambers St, Edinburgh EH1 1JF, or use this Google Pin!
Explore the Daith Comes In Galley at the National Museum of Scotland
As well as the Burke and Hare dolls, the National Museum of Scotland has a fantastic exhibition of traditions and beliefs about death in Scotland.
At the 'Daith Comes In' gallery, you can see authentic Victorian hearse carriages, symbols of death, funeral invitations, and even Victorian mourning jewellery.
Something that always creeped me out was the art of Victorian Death Photography. This is where they would dress up their deceased family members and have photos taken with them.
You can also learn about traditions that came with superstitions, mourning, funerals, protecting the dead with Mortsafe's, and so forth. It's a fascinating part of the museum and extremely popular too.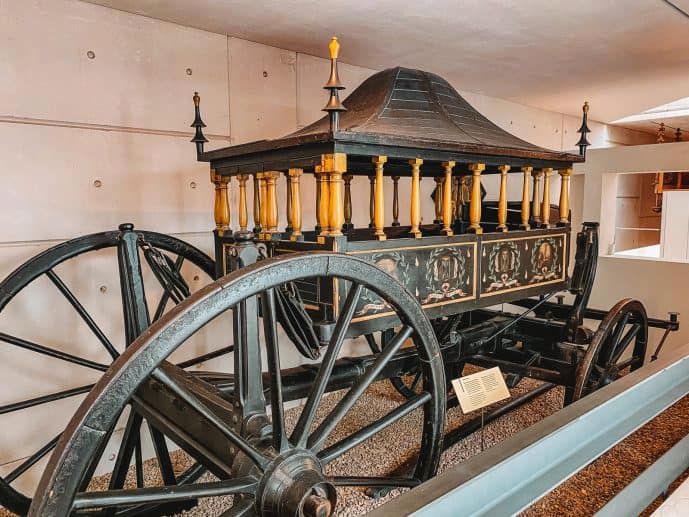 Other things to do at the National Museum of Scotland
The 'Daith Comes In' exhibition is just the tip of the iceberg of this fascinating museum. They also have many spectacular displays of historic fashion, technology, aviation, Scottish Kingdoms, etc.
There's also an amazing exhibition on Mary Queen of Scots where you can see a life-size replica of her tomb at Westminster, the Penicuik jewels, furniture of her court, and other pieces.
If you were a Harry Potter fan, you can find some of the Lewis Chessmen pieces that were the inspiration for Wizard's Chess in the Harry Potter movies.
Plus, the Victorian atrium is a light academia dream with its vaulted rooftop and a glass ceiling that allows light to stream through the windows. There's a café here where you can enjoy a coffee or lunch in this serene hall.
Click here to read my complete list of Harry Potter locations in Edinburgh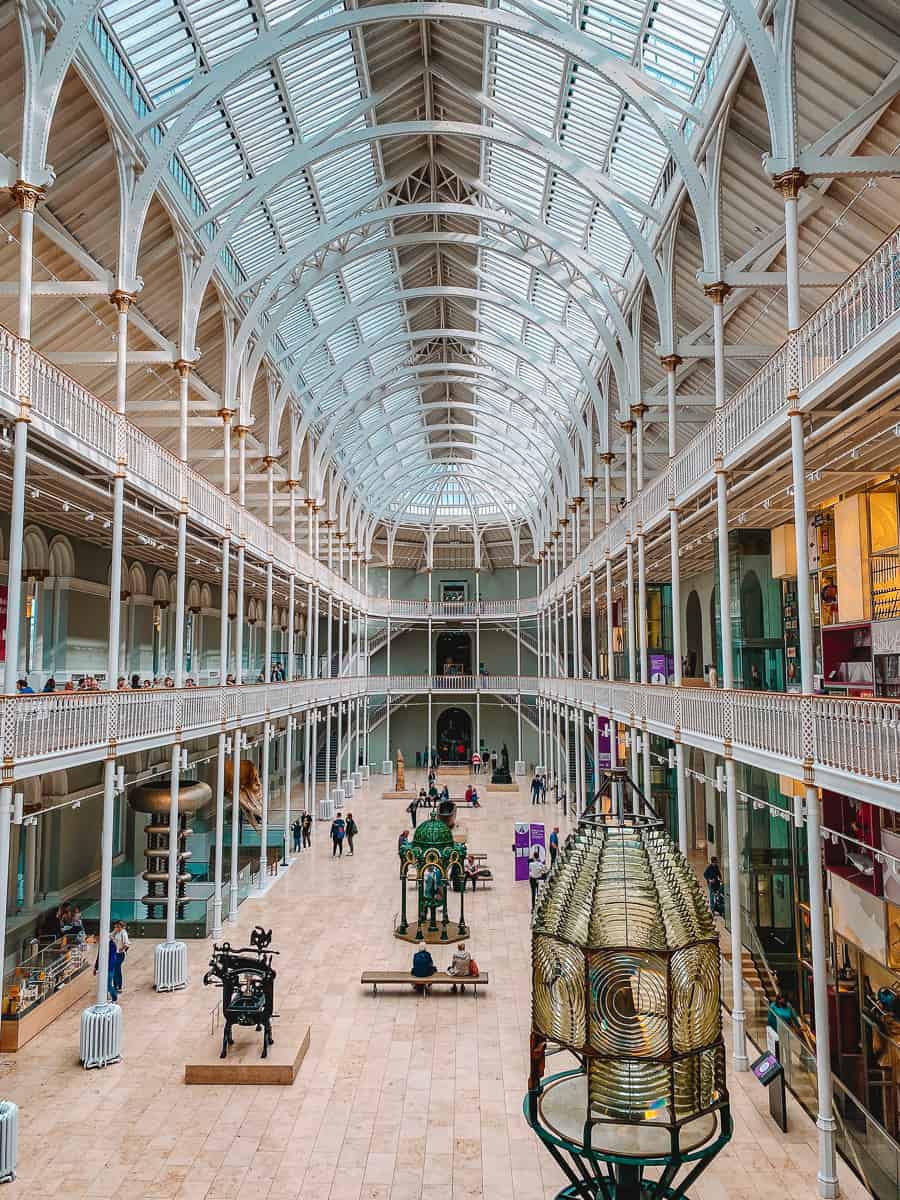 Don't forget to head up to the National Museum of Scotland rooftop!
So, if you are heading to the National Museum of Scotland, you simply cannot leave without checking out their amazing rooftop terrace.
It's a bit of a hidden gem and it's one I hadn't experienced before. I couldn't get enough. From the top of the museum, you'll be greeted with unique views over Edinburgh Castle!
It's honestly worth seeing and it's also completely FREE. Just take the lift or walk up the stairs to the 7th floor. Trust me, you won't regret it!
National Museum of Scotland opening times & prices
The National Museum of Scotland is a completely free attraction in Edinburgh and it's the perfect place to go if it's a rainy day.
It's honestly one of my favourite museums in the world and there is so much to see, do and learn. I would highly recommend adding it to your itinerary.
The National Museum of Scotland is open every day from 10 am – 5 pm. Click here to check the latest museum opening times for your visit.
Even more Burke and Hare things to do in Edinburgh
If you were looking for more Burke and Hare things to do in Edinburgh to learn more, there's actually a lot of places you can visit in addition to this.
I would 100% recommend heading to Greyfriar's Kirkyard that's nearby here. Although there isn't any Burke and Hare information, you can see Mortsafes which were placed here to protect tombs from grave robbers like the gruesome duo!
Another amazing graveyard in Edinburgh is St Cuthbert's Graveyard in Regent's Park under Edinburgh Castle. It's an atmospheric place with picture-perfect views too.
If you wanted to see Burke's Death Mask then you should head to the Surgeon's Hall Museum where it is on display along with the pocketbook bound with Burke's skin.
I will warn you though that this museum is not for the faint-hearted. There are lots of crazy exhibits on dissection, anatomy, and human organs on display. So, photography is strictly banned.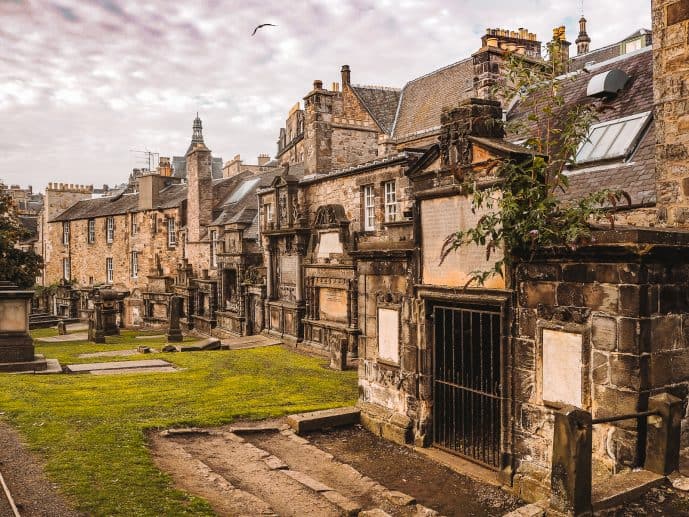 Read more of my Edinburgh guides
The ultimate list of experiences in Edinburgh
The best viewpoint in Edinburgh
A complete list of Outlander film sites in Edinburgh
Why you must visit Bakehouse Close
Lady Stair's Close & The Writers' Museum in Edinburgh
A complete guide to the Vennel
Topping & Company Booksellers Edinburgh review
The hidden gem of Tweeddale Court
Why Craigmillar Castle has to be on your list
Afternoon Tea? The Colonnades & The Balmoral are the best!
A fairytale visit to Dean Village
How to find the old Stockbridge market arch
Secrets of Queen Mary's Bath House
Scottish National Portrait Gallery review
Discover Liberton Kirk in Autumn
Save these Burke and Hare Dolls for later!