Deep within the Somerset Levels is an isolated conical hill named Burrow Mump with a mysterious ruined chapel perched on top.
Both words of 'Burrow' and 'Mump' actually mean 'Hill' in Olde English and so what you're calling it is 'Hill Hill'!
Today, these ruins can be seen for miles around the countryside on top of what used to be an island in amongst medieval boggy marshlands.
Over the centuries, it's been a favourite defensive lookout point for the likes of Romans soldiers, The Anarchy, and even King Alfred the Great.
So, when you visit Burrow Mump, not only are you experiencing one of the best secret views that Somerset has to offer. You're also stepping back in time!
Here's a complete guide for visiting this hidden gem of 'Hill Hill' including the history, legends and what to expect while you're here.
Is Burrow Mump Man-Made?
Although many people assume that the unusual shape of this hill must mean that it was man-made, similar to the Neolithic pyramid of Silbury Hill in Wiltshire, Burrow Mump is completely natural!
It's not too much of a farfetched theory to assume that it was built by humans either.
It is quite an unusual peak, with tiered layers, on the landscape of the notoriously flat Somerset Levels.
This 'Hill Hill' rises some 24 metres above the low-lying marshlands below.
The fact that it's made from Triassic Sandstone and capped by Keuper Marl means that it was formed around 250 million years ago!
Burrow Mump history
Burrow Mump stands in a position where the River Tone and the River Cary join the River Parrett. This whole area of the Somerset Levels is well known as a wetland and prone to flooding every year.
So, it's only natural that settlers over the centuries would desire an area at a height to build a fort where they could look out for enemies avoiding the boggy marshes below.
Although many Roman pieces of pottery and coins have been found here from recent excavations, it seems like they had merely visited or used it as a lookout and trade post.
The first major fortification to be built here was a Norman motte and bailey mainly used during the Anarchy Civil War in the 12th century. There is evidence of an adulterine masonry that had been left behind.
This has often been given the name King Alfred's Tower, although no evidence has ever come to light of King Alfred the Great visiting the site.
The legend of King Alfred's Tower
Did King Alfred the Great visit Burrow Mump? The legends have surrounded this area for centuries about how he climbed to the top of this very peak to scout out the Danes.
Again, it's not too farfetched to assume this happened as the River Tone connects this hill with the Royal settlement of Athelney. This is the area that Alfred the Great used as a hiding spot on the Somerset Levels.
Here, he founded Alfred's Fortress in 878, then Altheney Abbey in 893, and finally, he famously burnt the cake here!
This hill, with its strategic position, would have been the perfect lookout to spot any Danes who were approaching to attack! You can see Altheney from the hill and vice versa.
Unfortunately, there is no evidence to prove any of this. However, many fans of the Saxon king still visit Burrow Mump as part of following in his footsteps.
If you wanted to visit the ancient settlement of Athelney, there is very little left of it today.
However, you can visit the King Alfred Monument near East Lyng. This is a marker for where the 'birthplace of England' once stood. It's only a five-minute drive away!
Click here to read my guide on how to visit King Alfred's Monument!
St Michael's Church
After the Norman adulterine fort had been removed, a medieval church dedicated to St Michael was built on the hill in the mid-15th century. It belonged to the nearby Abbey of Athelney.
As well as playing a religious role for the village of Burrow Bridge, it was a sanctuary for royalist troops during the English Civil War and again in the Monmouth Rebellion.
Later, in the 18th century, the church was completely rebuilt and these are the ruins that we can see today.
Unfortunately, despite many donations from sponsors like William Pitt the Younger, it could not be finished due to a lack of funds. So, another smaller church was built at the base of the hill for the village.
In 1946, the ruin and land were gifted to the National Trust. It then served as a war memorial for Somerset soldiers who lost their lives during World War I & II. It's now a Grade II listed building and scheduled monument.
Did you know? This St Michael's Ruin also falls on a Ley-Line that connects two other St Michael's ruins in Othery and Glastonbury Tor! If you're not familiar with Ley-Lines, it's the theory that all ancient landmarks are connected by a series of energy 'lines' or fields that run below ground. Together, they emit certain vibrational frequencies that can be felt or 'tuned in' by both humans and animals alike!
Where is Burrow Mump?
The 'Hill Hill' can be found in the Somerset Levels in the village of Burrow Bridge.
This is a few miles from Glastonbury, East Lyng, Othery, Athelney, Bridgewater, and Taunton.
So, it's the perfect stop on a Somerset road trip! You can access the monument via the A361 road heading towards Taunton.
As it's owned by the National Trust, it's well signposted and easy to locate.
How to visit the 'Hill Hill' of Somerset Levels
Burrow Mump is FREE to visit and open 24 hours a day but it's best to arrive in reasonable daylight hours.
It's a great alternative to Glastonbury Tor as it sees a fraction of the crowds being a hidden gem in the countryside.
It is easiest if you can drive to the landmark but there are some public transport options if driving isn't an option.
Parking options: The is a FREE National Trust car park provided which has plenty of space. As it's quite a remote area, the car park is rarely full. Donations are encouraged via the box at the kissing gate.
Bus to Burrow Mump: There is a First Bus 29 service from Taunton to Wells that stops at both Glastonbury and Burrowbridge. Click here to plan your journey.
What to expect walking up the 'Hill Hill'
Now, I'm not going to lie to you, the walk up to Burrow Mump is incredibly steep!
There is no laid-out pathway, so you'll be climbing up a grassy knoll with a beaten-in gravel path that has been made by the footfall. Going up is the easy part!
Albeit, you will be a little breathless.
The problem comes when you're trying to walk down the hill. The makeshift pathway and gravel can get slippy even in summer. Also, in winter it can get muddy.
So, I would take your time and wear some good walking shoes to make your way up to the ruins.
If you're nervous about walking down, I would look for the grassy areas of the hill rather than walk on the gravel. I saw so many people slip on the way down using the main 'path'.
Exploring St Michael's Church ruins
The ruins are what make Burrow Mump so special and almost mysterious. They can be seen from far away and all over the Somerset Levels.
Although you're not allowed inside the ruins as they are barred off to protect them, you can still wander around the outside and find some gems.
If you stand by the old tower and look up, you can find some of the eve's droppers looking down on you. These would have been to remind people not to blaspheme!
Also, you can find where the old doors and stained glass windows would have been.
Now, you can see right through them and get some amazing framed views of the levels.
Don't forget to look at the War Memorial plaque that was established in 1946 by Major Alexander Gould Barrett. Or, find some historic medieval graffiti on the base of the tower!
What can you see from Burrow Mump?
As well as the ruins, the endless views of the countryside from the top of the hill are the main draw. From here, on a clear day, you can see for miles!
From the top, you can see the old royal settlement of Athelney where Alfred burnt the cakes.
Also, you can see Othery and plenty of Somerset villages with their church towers protruding in the distance.
Across the Ley-Line, you can see the impressive Glastonbury Tor that towers over the ancient Isle of Avalon. This is the legendary spot where King Arthur and his men found the Holy Grail.
Also, King Arthur's grave can be found in the nearby abbey.
Burrow Mump is the perfect place to bring a picnic or to sit with a good book in peace. But, as there are lots of sheep about, don't forget to check the floor first before you sit down.
You don't want to be sat on an unpleasant surprise of sheep poo!
Things to do near Burrow Bridge
So, once you've survived climbing up and down the 'Mump', where do you go from here?
Well, there are plenty of places to explore around the Somerset Levels and also the wider county. Here are some ideas for your next stop;
King Alfred Inn
If you were looking for where to eat near Burrow Mump then I would recommend the King Alfred pub which is a Freehouse in Burrow Bridge.
It's the perfect spot for a drink to cool down and, as they are free to choose where they source their beers, they have a massive range of locally brewed offerings.
Their menu also has a diverse range of meals that aim to use local farms and produce as much as possible.
You can check out their menu here.
King Alfred's Monument in Athelney
From the top of the hill, you can see the ancient royal settlement of Athelney which is just a few miles away along with the River Tone.
You could drive from here to the village of East Lyng and visit the King Alfred Monument on the nearby Athelney Farm.
Although it's a private residence, there is a permissive pathway to see the marker where the ancient Athelney Abbey would have stood.
The monument is now quite dated but you can still make out the inscription.
It's to commemorate the time where he used this spot as a hideout from the Danes!
Glastonbury Tor & Abbey
Just 10 miles away from here is the ancient and mysterious Glastonbury Tor which sits on top of another conical hill.
This is an ancient church ruin that was again dedicated to St Michael.
This hill is far higher at 158 metres (518 feet) and from the top, you can see all over the town of Glastonbury and beyond.
You could even try to see Burrow Mump (although I struggled to find it).
Click here to read my complete Glastonbury Tor guide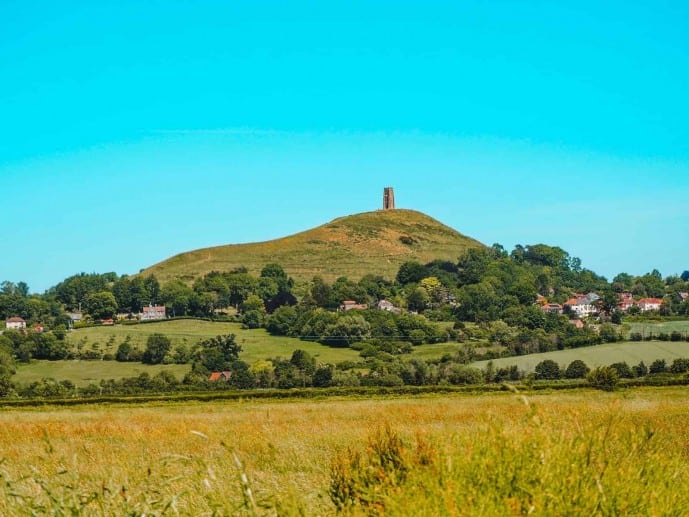 This spot has many legends attached to it. Some say it's the home of a Fairy King called Gwyn ap Nudd.
Others call it the ancient Kingdom of Avalon.
This is because it's the legendary place where King Arthur is supposed to have found the Holy Grail.
It's an icon of Somerset and one of the most spiritual places in the UK due to its Ley-Line vibrational energies! So, why not see if you can tune into them from the top?
The spiritual bohemian town of Glastonbury is also worth visiting. You can pop inside the ruined Glastonbury Abbey and see the final resting place of King Arthur.
The cathedral city of Wells
This medieval cathedral city is the smallest in all of England and it oozes so much heritage and character!
You will honestly be amazed by the Wells Cathedral and its staggering West Front. The Gothic carvings here are said to be the finest examples in all of Europe.
You can visit the Wells Cathedral Clock which is the oldest working clock in the British Isles or head inside Vicar's Close which is the oldest residential street in Europe.
The Bishop's Palace & Gardens is a beautiful home that has been used by the Bishop of Wells for the last 800 years.
Or, you can wander around the medieval Market Square. From here, you could easily drive to Wookey Hole which has an impressive series of caves and attractions, or the spectacular Cheddar Gorge, the longest cliff gorge in the country!
Click here to see everything to see and do in England's smallest city
Read more about Somerset
The incredible sugar lookout of Clevedon
The abandoned Victorian pier of Weston-super-Mare
The Swiss-like chapel of Rickford
See the oldest astronomical clock in Wells
Clifftop Cheddar Gorge walk guide
Visit the Roman Baths at Night
House of Frankenstein in Bath review
How to visit SEE MONSTER in Weston-super-Mare
Save how to visit Burrow Mump for later!