Butchery Lane Canterbury has to be one of the top photography locations in this ancient cathedral city.
It captures the essence of this UNESCO world heritage site perfectly as you'll find a historic cobbled lane, timber-framed houses, swinging shop signs, and a view of the Canterbury Cathedral tower.
Beyond just taking photos, there is also plenty more to see and do in this street like shopping, pubs, and museums.
Here is a complete guide for Butchery Lane Canterbury with some top photography tips!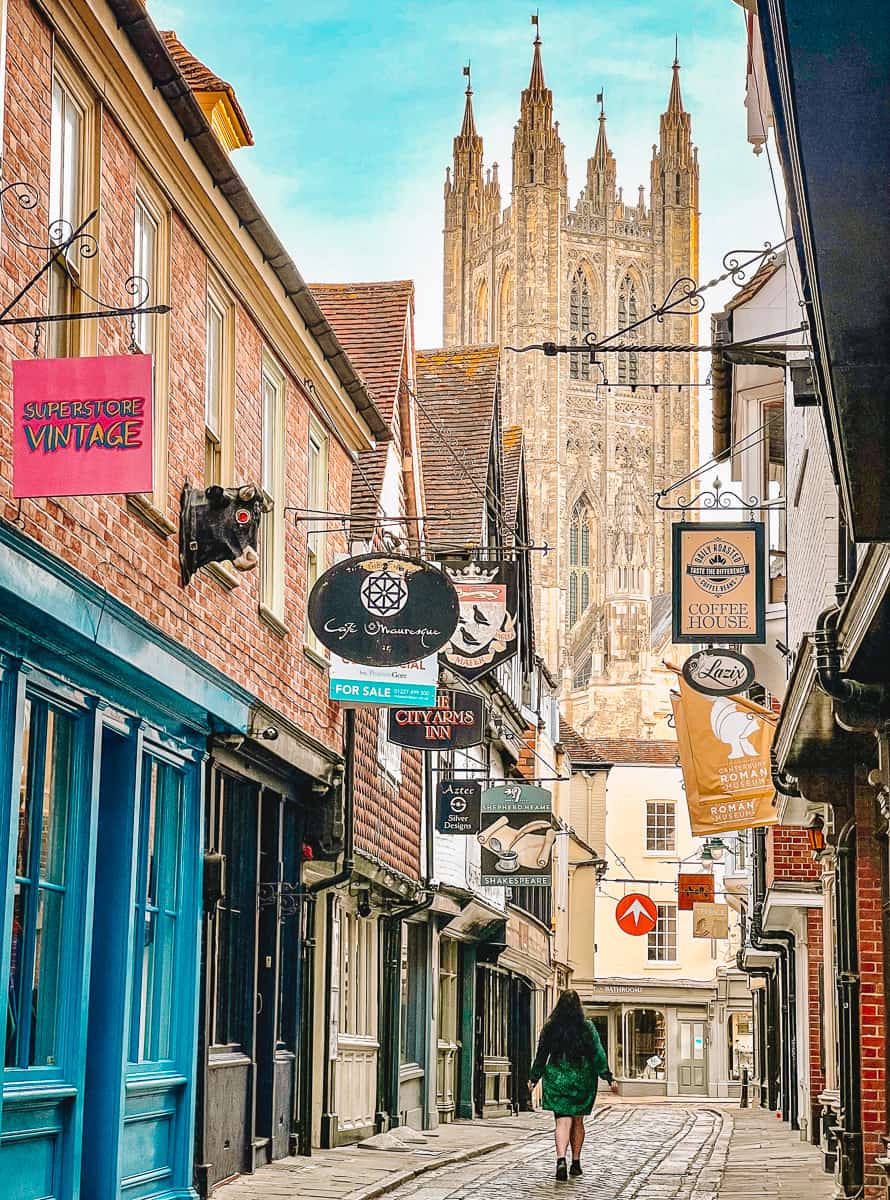 Butchery Lane history
The area surrounding Butchery Lane has a history dating back to the Roman era when this city was known as Cantiaci.
In the Canterbury Roman Museum, a piece of Roman pavement was discovered during World War II. This settlement on the River Stour housed an amphitheatre, temple, courtyard house, forum, and baths.
Did you know that Butchery Lane actually used to be known as the Golden Angel Lane…until the statue of the angel was stolen in the 18th-century?!
After that, it became known as its current moniker due to all the butcher shops found here. Look out for the Bull's Head that sticks out on the lane referencing its carnivorous past.
Today, Butchery Lane Canterbury is a bustling shopping street turned Instagram superstar and a popular photography hotspot in the city. So, you must make a stop here while you're visiting!
How to visit Butchery Lane in Canterbury
Butchery Lane is easily found in the city's heart as it's near the majestic Canterbury Cathedral. It's a pedestrian street so it's open 24 hours a day.
It's best to approach this famous lane on foot and you can find it from The Parade or Burgate from Buttermarket.
If you're coming from the cathedral side, make your way to Christ Church Gate then you'll find Butchery Lane almost opposite next to the equally gorgeous Mercery Lane.
You'll instantly recognise this shopping street as you'll see hanging shop signs and the flags of The Roman Museum.
Butchery Lane postcode is Butchery Lane, Canterbury, CT1 2JR. Click here for a Google Pin!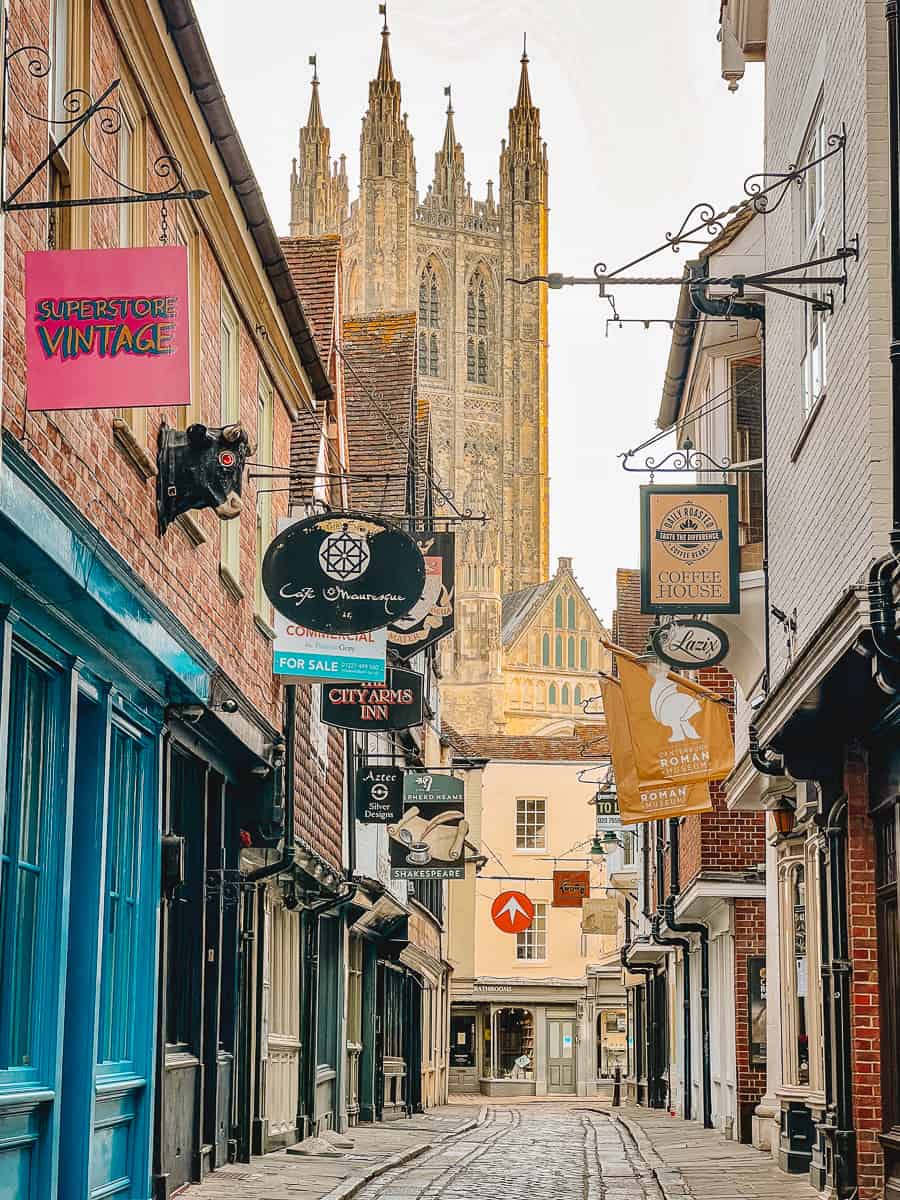 Things to see on Butchery Lane
So, what is there to see and do here besides taking a quick photo?! Well, you may be surprised.
Here are all the highlights of Butchery Lane Canterbury.
A perfect view of Canterbury Cathedral
Most people visit this side street to capture an incredible photo of the Canterbury Cathedral tower through the cobbled lane.
Although Butchery Lane isn't necessarily the busiest street in the city, I would still get here early if you'd like to capture this scene without the crowds.
The best way to take a photo of this breathtaking view would be to enter Butchery Lane from The Parade.
Independent boutiques & bars
Although people do come here for photography, Butchery Lane is a popular shopping street and you'll find plenty of boutiques, cafés, and bars here.
Why not look for thrift clothes in the Super Store Vintage or look in the various farm shops for some locally made produce.
It's not called Butchery Lane for nothing and you'll still find many butcher shops here today along with delis and cheese shops.
There are also some bars to visit when the sun goes down like The City Arms, The Shakespeare, and the popular Roman-themed Cici Terrace.
Canterbury Roman Museum
If you fancy learning about Canterbury's past, you must pop inside the Canterbury Roman Museum.
In 1AD, Canterbury was known as Cantiaci to the Romans who settled on the River Stour in Kent.
It houses a Roman pavement and the remains of a Roman Courtyard house that was discovered during World War II!
Plus, there are many more excavated items, information, and exhibits to learn more about Roman life inside.
Click here to see more information like opening times and prices
Butchery Lane photography tips
Get here early to beat the crowds, especially when the shops on this street open! It can get very busy in peak times.
The best photography location is found on The Parade end of Butchery Lane looking towards Burgate. But, all sides of this street are pretty.
During the day is very pretty, but the cathedral is lit up at night. So, capturing this in the evening makes a fabulous photo opportunity!
Don't forget to visit Mercery Lane in Canterbury (one street over) which has a view of the historic Christ Church Gate. You can enter the cathedral this way!
Looking for more things to do in Canterbury?
Canterbury is an ancient cathedral city, a UNESCO World Heritage site, and was a famous place of pilgrimage in the Middle Ages.
It's home to Geoffrey Chaucer's Canterbury Tales but the city has its own gruesome past including the story of Thomas Becket the martyr, who was murdered here in his own cathedral in 1170.
You'll find plenty to do here but the priority is to visit Canterbury Cathedral and its glorious cloisters. Or, pop over to St Augustine's Abbey to learn about religious life here in the medieval era.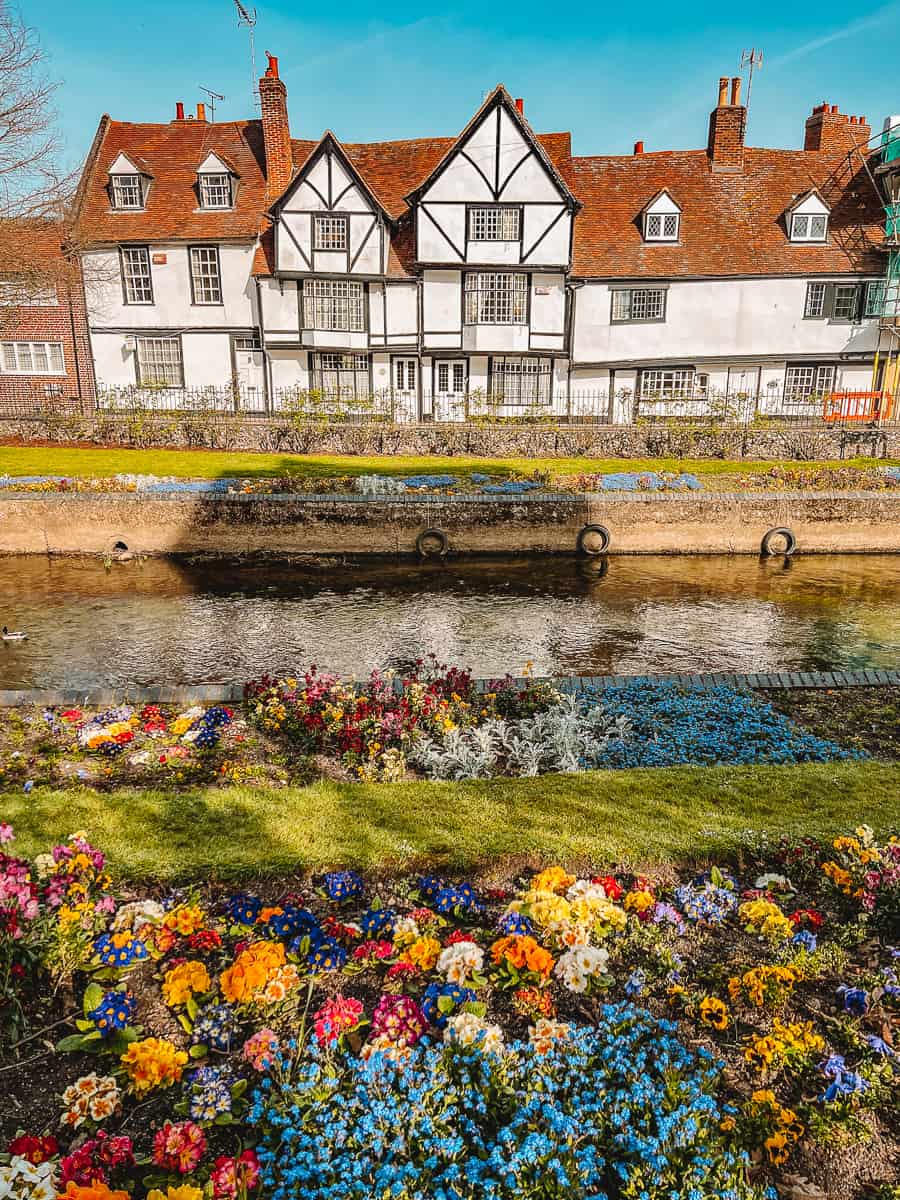 Punting on the River Stour is a must and you'll meander under bridges and past famous taverns like the Old Weaver's House.
Take a stroll in the picturesque Westgate Tower Gardens, or make a visit to the Crooked House bookshop quoted by Charles Dickens!
There are plenty more museums to pop into like The Beaney House of Art & Knowledge or visit more Instagrammable locations like Love Lane.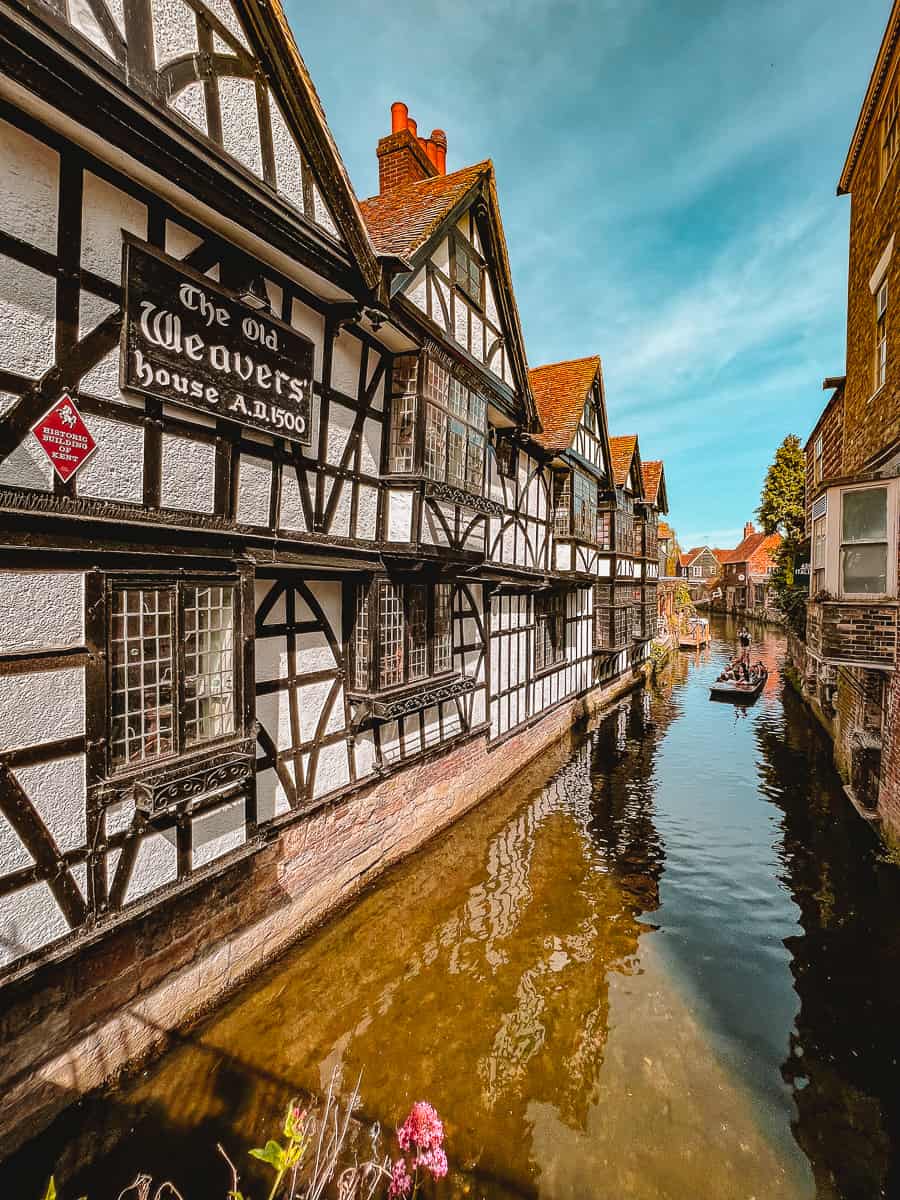 Read more of my South East England guides
A complete guide for Mermaid Street in Rye
How to visit Ouse Valley Viaduct
How to spend the perfect day in Brighton
The mysterious Margate Shell Grotto
Save Butchery Lane Canterbury for later!