One of the best free things to experience in Bristol is a hike up to Brandon Hill and Cabot Tower!
As it's the highest point in Bristol you'll get to see breathtaking, panoramic views of the whole city and beyond to the likes of Clifton and Bath. A
s well as taking in the gorgeous scenery, this area is steeped in history being Bristol's oldest park and there are lots of secrets to uncover.
I'm not going to lie to you, the walk up here is incredibly steep. But, trust me, it is SO worth the climb and you won't regret it.
Here's a complete guide on how to visit Cabot Tower on Brandon Hill, with the history, highlights and what to expect!
What is Cabot Tower?
Cabot Tower is truly an icon on the Bristol city skyline. Its imposing structure can be seen for miles, all around the city and in the likes of Clifton and Hotwells.
It stands tall at 32 metres in height, or 105 feet, and is made up of both red sandstone and Bath cream stone, purely for decorative purposes!
Inside the tower is a spiralling staircase that leads to two viewing platforms.
One is located inside the tower walls and the highest platform stands on the very top!
Here, you'll find some terrace balconies with iron railings that allow you to overlook the whole city.
It will make you feel like you're on top of the world. Don't forget to look out for the ornate carvings and the winged figure who sits on top – this symbolises commerce.
The history of Brandon Hill and Cabot Tower
Brandon Hill was granted to the council in 1174 AD by the Earl of Gloucester and it was mainly used for the grazing of animals.
Before the tower was erected, a small hermitage lay on the site dedicated to St Brendan and this is where the parkland gets its name.
It's easy to take for granted now, the amount of free, green and open spaces that we are allowed to explore at our leisure. Years ago, this wasn't the case for the poorer people.
Nobility, the church and wealthy merchants owned and controlled the majority of the land in the city and it was mainly privatised. Meanwhile, working families were living in cramped and unsanitary conditions.
Sickness spread like wildfire and, in turn, mortality rates were sky-high.
It wasn't until medical research emphasised the importance of fresh air and green spaces for longer lives, that Bristol started to realise the benefit of public parks or commons. So, the park was opened up as a public space in 1625.
Many of the cities most significant events would have been witnessed from this very hill.
From Parliamentarians and Royalists fighting it out in the Civil War, The Chartists protesting for workers rights, The Bristol Riots and the launch of the SS Great Britain. Brandon Hill has bear witness to it all.
Cabot Tower was built by William Venn Gough in 1897 to commemorate the 400th year anniversary of John Cabot's voyage to North America.
The Italian explorer sailed overseas in 1497 from Bristol to discover Newfoundland, what we know as Canada.
Being open for well over 500 years, Brandon Hill is Bristol's oldest park and some believe it's the oldest public open space in the country!
Where is Cabot Tower?
Cabot Tower is prettily perched on top of Brandon Hill in the city centre of Bristol and its sandwiched between the districts of Clifton and Hotwells on West End.
It's only a quick ten-minute walk from the city centre but as it's position is at such a great height, it may take you a lot longer than that.
It will require quite a bit of effort to get up to the top which makes it not entirely accessible.
Luckily, there are benches on the way if you need a break. Your legs will definitely appreciate it!
How to get to Brandon Hill in Bristol
The best way to access the tower would be from Park Street, which is one of my favourite streets in all of Bristol!
It's an amazing area that has a wealth of vintage shops, record stores, independent cafés and a labyrinth of historic streets with street art from the likes of Banksy as well. At the bottom of the hill is College Green and at the top you have the University of Bristol.
From College Green on Park Street, you can head up to the Florist Café and make a left onto Charlotte Street.
At the end of that street is the bottom of Brandon Hill and you can make your ascent to the top. You can also make your way up from Berkeley Square as I did, but this is harder.
Alternatively, you can take a scenic route from Queen's Parade or Jacob Wells Road if you're heading in from Bristol Harbour Docks.
It's very steep, so make sure you have a good set of walking shoes. I visited on possibly one of windiest days of the entire year and it didn't help that I was in such an exposed place. On the highest point in Bristol, no less!
My hair was blowing all over the place to get here. Let's just say my long locks would give Medusa a run for her money and I kept needing to take breaks to shelter from the wind. It was a force to be reckoned with.
I arrived at the peak a windswept, breathless mess with a nice red slap in the face from the cold breeze. But, the views were the reward and well worth the effort, even before the tower climb.
Can you go up Cabot Tower?
Yes, you can and it's here you can experience being at the highest point in all of Bristol!
It did close briefly from 2007 – 2011 for renovation works but is now open to the public on the daily.
I would definitely try to choose a good weather day to visit Brandon Hill as the tower may be closed in inclement weather. Also, you definitely don't want to get stuck up there in a storm. The best times to visit are between March and August.
Climbing up the tower is definitely another adventure with its steep, narrow winding steps (even more work for your legs). But, again, it's well worth the climb. It's a one-way system, so best to double-check no one is coming down before you head up!
Is Cabot Tower free? Yes, it is! Amazingly, both Brandon Hill and Cabot Tower viewpoint are completely free to visit. Quite frankly, I was shocked as the views are so incredible but I'm not going to complain.
Cabot Tower opening times: the tower is open from Monday to Sunday from 8.15 am to 5.15 pm. It is only closed on the 25th, 26th of December and 1st January and in particularly bad weather.
What can you see from Cabot Tower?
Where do you begin?! As you're standing at a whopping 334 feet (108 metres) above sea level in the city centre, you'll get 360-degree panoramic views of the whole of Bristol and beyond.
If you look over towards the River Avon you can see the Bristol Harbour Docks. This is where John Cabot would have set sail from and also where the SS Great Britain would have launched.
You can still visit this amazing ship today in the dry dock which has been renovated back to its former glory. It's now a spectacular museum.
Also, from here you can just see the amazing colourful houses on Clifton Road. Redcliffe nearby is where Blackbeard the pirate, or Edward Teach, was born!
Talking of Clifton, you can also look towards the Avon Gorge and see the iconic Clifton Suspension Bridge. This is another innovative creation by Isambard Kingdom Brunel.
If you look closely, you can see many church spires that poke out on the skyline. Some of these are the Norman era Bristol Cathedral, The Lord Mayor's Chapel and St Paul's Church in Clifton.
There is plenty more to see, so make sure you look for the signs pointing you in the right direction!
Don't forget to explore the ornate tower gardens
After you've finished enjoying the epic views and made your way back down to the park, I would definitely recommend exploring the beautifully planned gardens at the bottom.
You'll find a small pond with two pretty cascade waterfalls surrounding the tower that many ducks call home.
Also, in the gardens are pathways which will take you over scenic bridges, passed tiered banks with wildflowers and some topiary to enjoy. There are benches on the grounds where you can sit back and relax with the view.
Don't forget to check out the commemorative plaques that can be found on the bottom of the tower. This mentions both Queen Victoria who reigned at the time and Marquess of Dufferin & Ava who laid the foundation stone.
A top tip for avid photographers; if you cross over the pond, this is the spot where you can take the money shot of the tower and the waterfall within the park.
Other things to do on Brandon Hill
Brandon Hill is a huge park and it's almost split into different sections like it was all the way back in the 12th century!
Part of the park is now a Nature Reserve run by the Avon Wildlife Trust. It's a haven for colourful wildflowers and animals that roam here. There are also over 100 species of trees to explore.
You can spot many frogs, toads and newts in the pond by the tower. Plus foxes, wall spiders, pipistrelle bats, butterflies and migratory birds like thrushes and warblers have been spotted here.
For history lovers, you can check out the remains of the Water Fort that was used in the Civil War. Brandon Hill Park was a key line of defence.
For families, there is a huge children's play park located at the top of the hill that will keep little ones occupied for hours.
Or, you can just simply sit back and enjoy the stunning views. There are plenty of benches and open green spaces to lay out a picnic blanket or read a good book. Best paired with sunset.
What's been filmed on Brandon Hill?
One of the most famous series that has been filmed in the city was the controversial Skins which follows the lives of a group of teenagers in Bristol.
Fans will notice that Brandon Hill park featured many times in the first series. It was first featured as the spot of Cassie's suicide attempt and a rendezvous point for Sid and Cassie.
Interesting facts about Brandon Hill – Don't miss these secret spots!
Sailors would often pray at the St Brendan hermitage for protection before they set out on their voyages
Cabot Tower was completely paid for by public subscription
The St John's Conduit built by The Carmelite Friars still carries water from a spring located on the hill to a fountain outside St John the Baptist church on Quay Street!
When the land opened in the 17th century, the locals would use the area for hay-making and beating carpets, but this was only allowed between 6am – 9pm
You can still find defences and canon ball holes from the Civil War at the Water Fort by the river
Approximately 33,000 people ascended on the hill to watch the SS Great Britain launch from Bristol Harbour to New York. It was one of Isambard Kingdom Brunel's greatest achievements
There are over 500 trees located on Brandon Hill and over 100 tree species
The winged figure on top of the tower represents commerce and at night a beacon flashes the word 'Bristol' in Morse Code.
A mediterranean spider Segestria florentina was accidentally imported overseas in a fruit cargo. She made her way up from the docks and made a home in the walls here! So, be on the look out.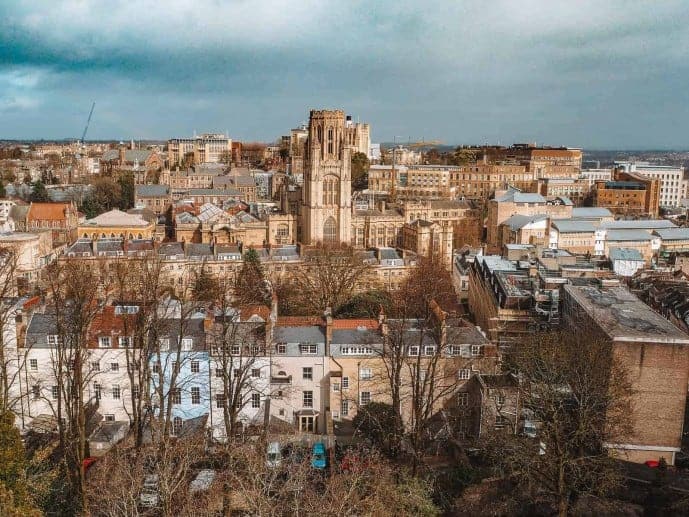 Looking for more free things to see and do in Bristol?
Maybe I'm biased about being born in the South West, but Bristol is one of my favourite cities in the UK.
It's bohemian, has an independent spirit and there are plenty of amazing free things to see and do as well!
Even if you're not religious, a visit to Bristol Cathedral will astound you with its history and architecture that dates back all the way to the Norman Era. Or, you can take a walk down the Christmas Steps that looks like Diagon Alley from Harry Potter!
You can pop into the free Bristol Art Museum to see classical pieces but the best art galleries in Bristol can be found on the streets.
There is SO much creative street art to find including world-famous Banksy's around Park Street and Stokes Croft.
Click here to see all the Instagram spots in the city of Bristol.
Head down to the Bristol Harbour for one of the most scenic walks in the city and pop into the M-Shed to learn about the culture of the people of Bristol.
Did you know that Bristol has its very own castle? It was built during the Norman era. Unfortunately, it's now in ruins but you can see the remains within Castle Park.
One of my favourite areas has to be Clifton Village with its fabulous suspension bridge. It's free to walk over and you'll get some magnificent views of the city and Avon Gorge.
Don't forget to pop into the visitor centre to learn all about how it was made!
Leigh Woods on the other side is also a popular rambling spot.
All of the above are completely free and fun things to do while you're here which makes a fabulous weekend.
Click here to see my complete Bristol weekend guide.
Where to stay in Bristol
The Berkley Suites – How does having your own luxury apartment in the centre of Bristol sound for a night or two? The Berkeley Suites are located near Cabot Tower in an old Georgian Building. Each apartment has it's own private visual art gallery and kitchen amenities! Click here to book or read my full review.
Berkeley Square Hotel – Located nearby, the Berkeley Square Hotel provide luxury rooms inside a gorgeous Georgian Square off Park Street. Although you're in the city centre, you'll find peace and quiet here. You also have the added benefit of a top rated restaurant and the exclusive 'Square' cocktail bar onsite. Click for rates.
The Full Moon Backpackers – A cool and friendly backpackers located in St Pauls and

near Stokes Croft, the street art capital of Bristol! It's a twenty minute walk to Cabot Tower from here. Click here to book.
Explore more of the South West of England
Like it? Pin it!