One of the famous castles in Slovakia is Čachtice Castle which was Elizabeth Bathory's fortress of horrors.
She is also known as the Blood Countess who was found guilty of torturing and murdering as many as 650 young women in her dungeons.
According to legend, she bathed in their blood for eternal youth and even drank from their veins making her one of the earliest recorded female vampires.
But, how much of this is actually true? Well, you can head to Čachtice Castle to uncover the nightmares!
It's just a short train journey from Bratislava and is the perfect day trip for lovers of horror, vampires, and dark tourism.
Here is a detailed guide on how to visit Elizabeth Bathory's Castle in Slovakia including the history, getting here, opening times, prices, and things to do!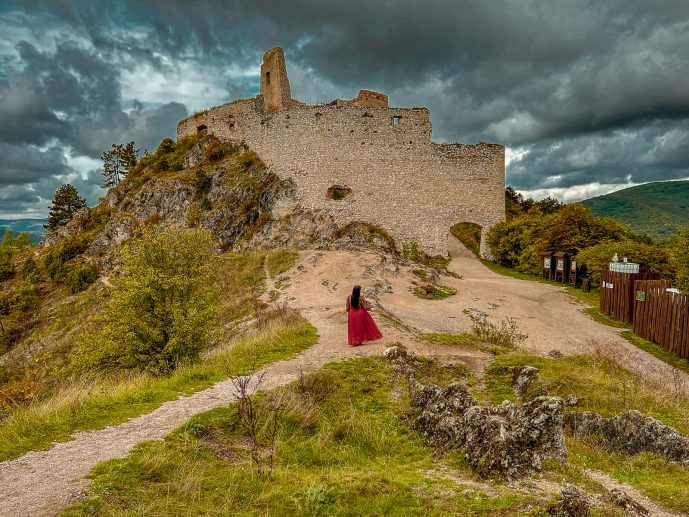 Who built Čachtice Castle?
Čachtice Castle is a medieval fortress that was originally built in the 13th century by Kazimir of the Hont-Pázmány gens, a clan of Hungary.
It then belonged to Matthew III of Csák, a Hungarian oligarch, and was later conquered by Stibor of Stiboricz.
Later, it was owned by the affluent Nadasdy family in Hungary and gifted by Ferenc II Nadasdy to Elizabeth Bathory as a wedding gift in 1575.
Who was Elizabeth Bathory aka The Blood Countess?
Elizabeth Bathory was a Hungarian noblewoman who was accused of torturing and killing as many as 650 young women.
It is rumoured that she extracted blood from her victims so she could bathe in it for eternal youth.
She was born in 1560 to the House Bathory, was raised as a Protestant, and spent her childhood at Ecsed Castle.
She had powerful relations including her uncle being the King of Poland and her nephew was a Prince of Romania.
As the daughter of a Baron, she had a high social status and was well-educated for a woman. She spoke German, Latin, Hungarian, and Greek.
At just 14 years old she was engaged to Ferenc Nadasdy II in a political match. He was a Hungarian nobleman who was one of the richest and most powerful figures of the Hungarian empire.
Marriage to Ferenc Nadasdy
Elizabeth married Ferenc at Varannó Palace and they lived in Čachtice Castle.
Elizabeth was a dutiful wife and gave Ferenc five heirs (two died young), she also managed his estates while he was away at war against the Ottoman Empire.
So say, Ferenc's experiences in battle made him bloodthirsty and he schooled Elizabeth in torture techniques. They later took out their 'bloodlust' on their servants.
It is said that while her husband was away, the countess would find ways to amuse herself by getting involved in witchcraft and abusing villagers.
Unfortunately, Ferenc died of a mysterious and sudden illness on the battlefield which meant that his land and wealth all fell to Elizabeth.
This vast estate was almost a third of Hungary which was more land than the king had.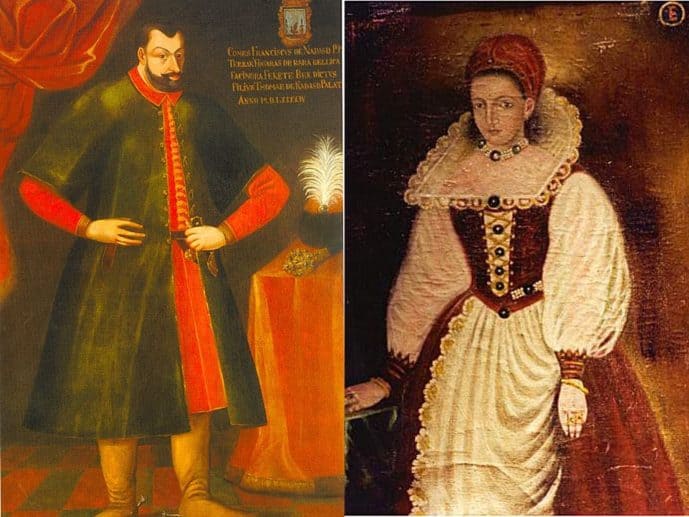 What happened in Čachtice Castle?
After Ferenc's death, rumours spread throughout the kingdom about Elizabeth Bathory and the numerous horrors that took place at Čachtice Castle.
Complaints were made about her by a Lutheran minister that eventually reached the ears of King Matthias II of Hungary.
The minister accused Ferenc and Elizabeth of brutalising their servants for fun.
The countess was accused of killing a peasant woman and taking many young women into her service who were never seen again.
At the time, crimes against peasants and servants were not important enough for the authorities to investigate. So, although rumours were rife nothing was done.
Elizabeth's downfall came when she began to torture those of nobility. Indeed, girls of the lower gentry were sent to Elizabeth's castle to be educated on etiquette.
But, when some of those noblewomen went missing, it prompted an urgent investigation from the king.
Matthias II sent Count György Thurzó to Čachtice to gather evidence and witness statements.
How many girls did Elizabeth Báthory kill?
It was during this investigation that the true nature of Elizabeth Bathory's crimes and depravity was uncovered.
In over 300 witness statements, it was found that the countess had tortured and killed as many as 650 women through a variety of torture methods.
She would torture them with pincers, red hot pokers, knives, and an Iron Maiden called the Nuremberg Virgin.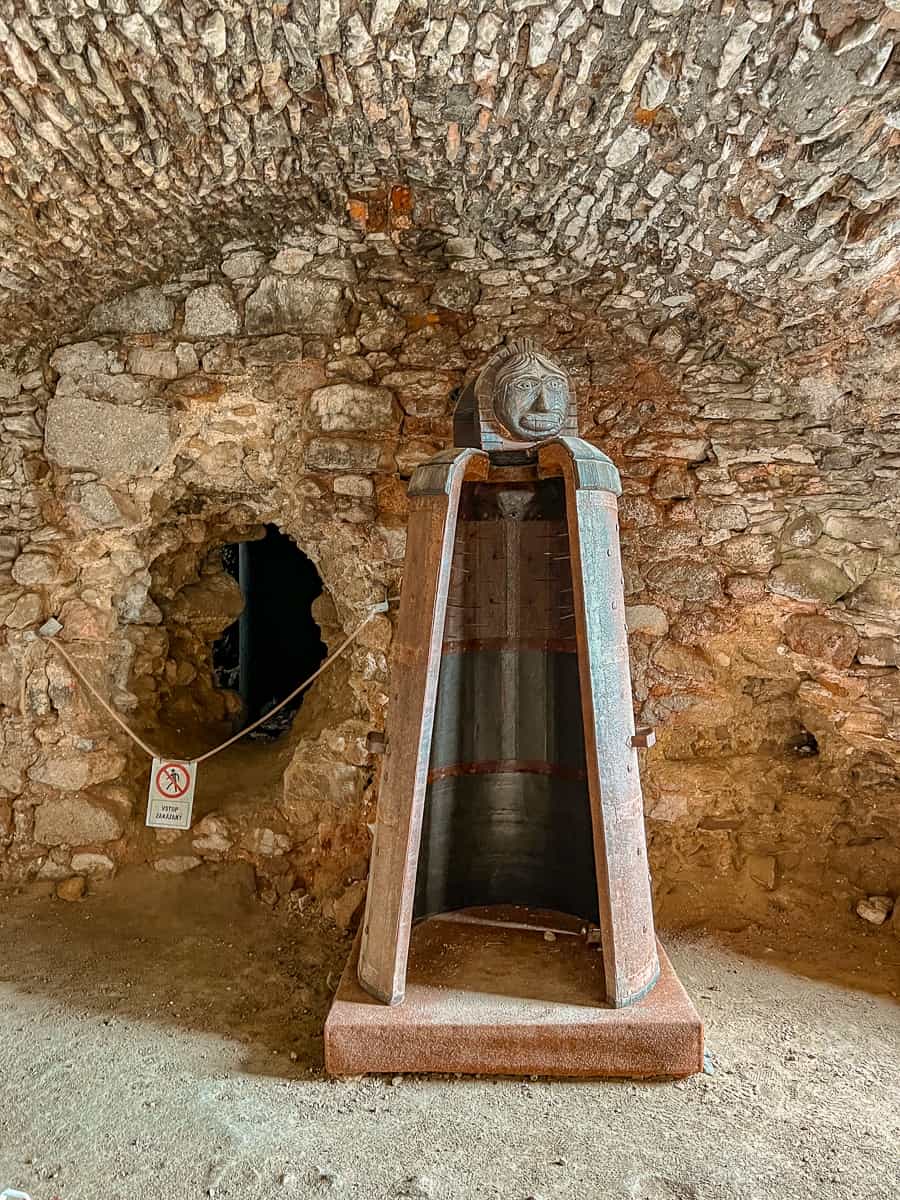 There were also accounts that she gave the girls deadly ice baths to make their heart stop and they were left outside covered in honey for insects to feed on.
Most shocking were the claims that she would eat their flesh, drink their blood, and sacrifice her victims to Pagan gods with a local witch.
The legend of her bathing in their virginal blood to retain her eternal youth wasn't mentioned until almost a century after her death. So, it's most likely a fabrication.
Elizabeth Bathory was later arrested along with four of her servants. Her assistants were tortured to admit their crimes and later burned at the stake.
How did Elizabeth Báthory die?
As Elizabeth was a noblewoman, she couldn't be arrested, tried, or executed as it would cause a public scandal (even more than her crimes).
So, she was permanently imprisoned at Čachtice Castle. According to records, she was confined to a bricked-up, windowless room with just enough room to breathe and receive meals.
She died four years later in 1614 at 54 years old. Many people say it was suicide but others cite natural causes in sleep. She was then buried in Čachtice Church.
Apparently, the villagers were so vexed that she was buried in their churchyard that she was later moved to Ecsed Castle and interred in the Bathory Crypt. But, this has never been proven.
To this day, no one really knows where her body is for certain. It definitely supports the theory of her being a female vampire.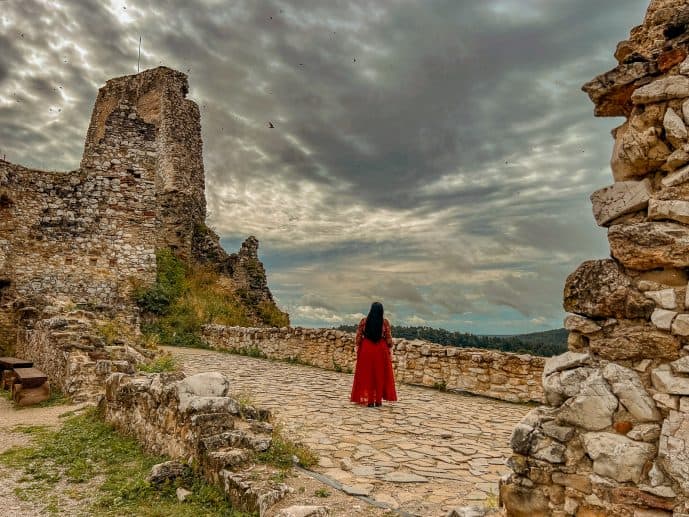 Was Elizabeth Bathory innocent?
Although it seems that all of Hungary was shouting for her blood, there are others who believe that Elizabeth Bathory was innocent and actually a victim of a witch hunt and political conspiracy.
Elizabeth was a woman of power in a patriarchal society who owned considerable lands and was extremely wealthy following her husband's death.
So, she was not only a political enemy of Hungarian nobles but also the powerful Habsburg empire.
She was involved in many law disputes over land with her sons-in-law, not to mention that she was owed considerable debts from King Matthias.
It was the king who ordered the investigation into Elizabeth and his enormous debts were dropped after her arrest.
The exact number of deaths has never been proven. The number 650 was given by a servant who saw it in Bathory's famed victim logbook. A diary which has never come to light.
It was a small village in Slovakia at the time so one has to wonder where all these victims came from.
In 1817, many of the 'eye-witness' accounts collected by Thurzo were released to the public.
It was discovered that these first-hand accounts were secondhand rumours and many were extracted by torture. The king's witnesses were also later executed.
It's eerie how much this story echoes the Salem Witch Trials of Massachusetts where accusations were made on innocent people to secure their land.
Theories on both sides of the coin have merit. But, I guess we'll never really know the full story.
Legacy in folklore and popular culture
It's this lack of evidence that caused rumours and stories to run wild over the centuries and the stuff of folklore.
Elizabeth Bathory has gained famous nicknames such as the Blood Countess and Countess Dracula.
She is known as one of the earliest female vampires, compared to Vlad the Impaler, and is the Guinness World Records most prolific female serial killer with 650 victims.
Her legacy can be found in books, movies, plays, video games, poems, comics, television, and cartoons.
She has inspired many writers like the Brothers Grimm and Bram Stoker with his classic novel Dracula.
Many films have been made about the atrocities of Čachtice Castle like Countess Dracula, The Countess and Bathory. Even a Swedish metal band called Bathory is named after her!
If you want to find out more then you have to visit her castle which is located in modern-day Slovakia.
Can you visit Elizabeth Bathory's castle today?
Yes, you can. Although her legendary fortress is mostly a ruin today, Čachtice Castle is one of the most popular attractions in Slovakia.
You can find it in the Little Carpathians in a small village of Čachtice in the Trenčín region. It's open to tourists who want to discover more about the infamous Blood Countess.
During your visit, you can visit the dungeons where she purportedly tortured and murdered her victims to bathe in their blood. They even have an authentic Iron Maiden on display.
Plus, there is an informative museum where you can learn more about Elizabeth's story and her legacy.
It's very easy to visit Elizabeth Bathory's Castle from Bratislava by train and makes a great day trip from the capital city.
Čachtice Castle opening times
The only thing to note about visiting Čachtice Castle is that it's open seasonally and at different times throughout the year.
In January and February, the castle is completely closed and in March and December, it's only open on weekends.
From April – November the castle is open during the week and on weekends but closed on Mondays with the exception of July/August. Opening times vary but this is traditionally from 10 am – 5 pm.
It's always best to plan ahead before you travel there. You can check opening times on their official website.
On my visit in September, I had just made it to the castle albeit looking like a drowned rat after an exhausting steep hike in the rain.
But, to my dismay, I found that the castle gates were chained shut and there was nobody there.
They put a last-minute announcement on their Facebook page that they decided to not open the castle due to the weather.
I was gutted and felt so defeated after my long train journey, getting soaked, and a pretty chaotic hike where I almost got lost in the woods, slipping on mud and cutting myself on branches!
After a brief panic, I made some phone calls and managed to get through to someone. They had staff security on site and opened the castle just for me. I almost cried I was so thankful.
I did feel bad as it was just me alone in the castle but it did mean I had a pretty cool VIP experience so I tipped a little extra.
But, eventually, lots of other tourists showed up including a large group. Phew.
Čachtice Castle ticket prices
Despite Čachtice Castle being one of the most popular historic attractions in Slovakia, the ticket prices are really reasonable.
Tickets are €3.50 for an adult on weekdays and €4.50 for the weekends. Child tickets are €2 euros on weekdays and €2.50 euros on weekends. Under 5's get in free.
There is a slight discount for students, the elderly, and the disabled at €2.50 on weekdays and €3 on weekends. Also, there are family tickets available.
Always make sure to have cash on hand to pay for your tickets. Signal can be quite temperamental in the mountains for card payments.
With your ticket, you get given an information leaflet in Slovak with a map of the complex and also a printed translation in English.
Things to do in Elizabeth Bathory's Castle
So, there are plenty of things to do in Čachtice Castle that make it worth visiting in Slovakia.
From exploring the castle ruins, visiting the dungeon, learning at the museum, and meeting a dragon.
Here is what you can expect from a visit to Elizabeth Bathory's Castle.
1. Explore the castle ruins
Bathory's legendary castle is mostly an ancient ruin today. After her death, it was captured by a rebel army of Francis Rákóczi II in the 18th century.
It was neglected, burned down, and was left to ruin. It has only recently been restored and turned into a tourist attraction in Slovakia.
Despite the neglect, the castle still retains many of its original foundations and towers. Plus, there are lots of rooms you can visit and underground dungeons.
As you're so high up on a hill of Čachtice, you can get some magnificent panoramic views of the Little Carpathians and settlements below. On a clear day, you can see for miles.
2. Visit the infamous dungeons
One of the creepiest things to do in Čachtice Castle is to visit the dungeons underground.
This dark tunnel room is supposedly where Elizabeth Bathory and her servants tortured her many victims.
I actually chickened out of going in here at first as it was so dark and creepy. But, I later went back when more people arrived.
If you head to the back of the room, you'll see some chilling mannequins on the rack and bundled up in the corner.
Even though I knew it wasn't real it was still really sinister. It made my skin crawl to think of the atrocities that potentially happened here!
3. Meet the legendary Bathory dragon
Learning about Elizabeth Bathory and the events surrounding her life can feel like reading a Game of Thrones novel. There are chapters of political fights for power, witches, and torture.
Another example is that her ancestors in the House of Bathory included a dragon slayer. That's why her coat of arms has three dragon fangs on it surrounded by a dragon biting its own tail.
This dragon slayer was a legendary warrior called Vitus and he killed the dragon of Ecsed castle that was terrorising the village.
As a reward he was gifted the castle and the locals were so grateful that they gave him the name Bathory meaning 'good hero' or 'brave'. Hence, the origins of the family name.
When you're exploring, make sure to look out for the red throne and a green dragon in the keep.
I'm obsessed with dragons and wyverns and so this made me so happy. It also makes a great photo opportunity to remember your visit.
4. See the Nuremberg Virgin aka Iron Maiden
They really lean into the Elizabeth Bathory theme at Čachtice Castle and you can see some of the torture equipment on display.
As you enter one of the rooms of the fortress, you'll come across a 'blood bath' and something known as the Nuremberg Virgin.
Also called an Iron Maiden, these torture devices were a narrow chamber like a coffin made for one person with several spikes inside.
The victim would be placed inside and closed in. The spikes would pierce them but they weren't meant to kill. They would inflict pain and torture with them slowly bleeding out.
Apparently, this is something Elizabeth Bathory used to collect the blood from her victims.
5. Learn some history at the museum
A pleasant surprise during my visit was the large and informative museum that Čachtice Castle had onsite.
As well as seeing portraits, weapons, and a reproduction dress of Elizabeth Bathory they had displays about the castle's history and the surrounding area.
The boards are in English and Slovak and give you a well-rounded account of the events surrounding the Blood Countess and her legacy in folklore and popular culture.
There were also lots of fun photo opportunities with cutouts and costumes.
6. Buy from the gift shop
If you want some souvenirs to remember your visit, they have a small gift shop at the back of the museum.
They had a plethora of magnets, keyrings, pens, tote bags, mugs, and t-shirts with Čachtice Castle and Elizabeth Bathory on them.
There were even photo prints and a few bottles of Elizabeth Bathory wine to take home.
I ended up buying a few magnets for my collection to remember my adventure here. They now sit proudly on my fridge.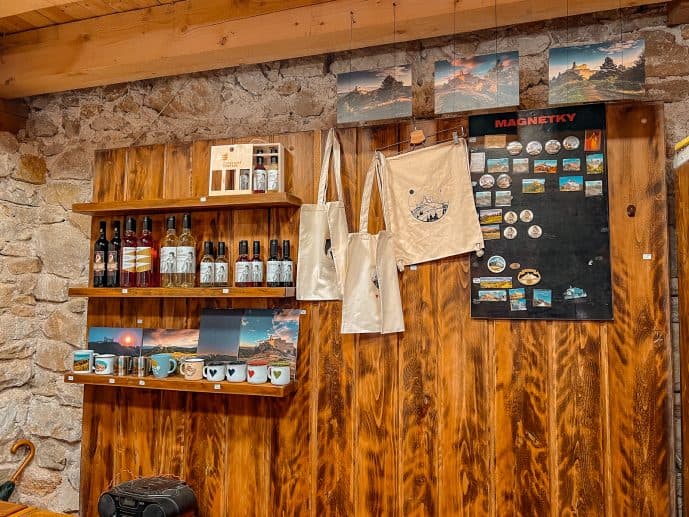 Is there a Čachtice Castle restaurant?
Yes, there is a 'Restaurant Čachtice' at the castle although this is seasonal. I did see signs for a restaurant on my visit but nothing was open for food in September.
They did have some drinks and ice creams available at the gift shop though. I had the most amazing chocolate-covered strawberry ice lolly and, weirdly enough, an Elizabeth Bathory beer!
It was a can of beer called 'Alzbetino Pivo'. It had a portrait of Elizabeth on the front. I believe it's made specifically for Čachtice Castle so I just had to have one.
Surprisingly, it was a really good beer and a much-needed reward after my chaotic journey to get here!
Is Čachtice Castle worth visiting in Slovakia?
Yes, Čachtice Castle has to be on your bucket list as it is a fortress mired in myth, folktale, and legend.
Despite it being an ancient ruin, there is a lot to see in the complex and you can uncover the horrors of the infamous female vampire Elizabeth Bathory.
It's a really easy day trip from Bratislava and is perfect for those who love dark tourism, horror, and vampires.
This castle has been on my bucket list for years and I was so glad to finally make a visit happen.
Don't skip a visit to Čachtice Castle in Slovakia, you won't regret the adventure.
Where is Elizabeth Bathory's Castle?
Čachtice Castle lies above Čachtice village in Slovakia and the small sleepy settlement of Višňové.
This is in the Little Carpathians of the Trenčín region which is around 100 kilometres from the capital city of Bratislava. It's also 33 kilometres from the city of Trenčín.
The exact address is Čachtický hradný, Čachtice, Slovakia. Click here for a Google Pin!
How to visit Čachtice Castle from Bratislava
You can easily visit Čachtice by car from Bratislava. It only takes 1 hour and 10 minutes from the city via the E75. Or, it's a 45-minute drive from Trenčin.
As I wasn't driving, I was hoping to book a guided tour of Čachtice Castle from Bratislava and was a little disappointed when I couldn't find any running.
But, when I looked up the journey on Google Maps, I found it was really easy to head here self-guided by train.
The journey takes just over an hour with one change and then it's a small (but steep) hike up to the fortress.
Čachtice Castle by train
To visit Elizabeth Bathory's Castle by train from Bratislava you will first need to take a train from Bratislava Vinohrady station to Nové Mesto nad Vrom which takes around 1 hour.
Then, from Nové Mesto you will switch trains to a regional service to either Višňové or Čachtice station which takes 20 minutes or so.
If you're staying in Trenčín, you can take a direct train from the Trenčín train station to Višňové too.
Both stations have access to the castle but different hikes which I will explain below.
You can book your train tickets via the official Slovakian train travel website ZSSK and it couldn't be simpler.
It's all in English and takes both credit and debit card payments. You get your train ticket sent to your email to show on your phone.
I booked a first-class ticket as the price difference was minimal, it was a really comfortable journey with views of the Little Carpathians. I even got a free bottle of water!
Višňové vs. Čachtice station
Although it would make sense to stop at Čachtice station for the castle, there is a place called Višňové that is actually a lot closer and has a train station.
On my journey to the castle, I booked a train from Bratislava Vinohrady to Višňové as it looked like the shortest hike.
Višňové is a sleepy village and the station is small. Although I could clearly see the castle in the distance when I arrived, there were no signs so I followed Google Maps.
The route led me on a dirt track behind a residence in the village and I really didn't account for the steep and treacherous hike up to the castle through the woods.
The paths were really muddy, and wet and turned into a trench before I reached the top of the hill.
Eventually, I followed the path on the upper ridge line to the castle. But, it was a little chaotic as it was raining so heavily.
I would say it may be easier to visit from Čachtice itself. You can take a bus from Nové Mesto to the centre of the village and then hike 30 minutes up to the castle via the parking lot entrance.
This is what I did on the way back. I walked to the village via the main road and got a local bus heading to Nové Mesto.
The bus stop is by the SPAR supermarket (with lots of drinks and snacks) and there's a timetable for the stop. A journey cost me 80 euro cents.
There is no right or wrong really. Both stations do have paths that get you up to the castle and Višňové is much quicker than the route from Čachtice.
But, I would say that heading here from Čachtice is a little more straightforward as you go through the castle parking lot that leads to the main path heading up to the castle.
Čachtice Castle parking lot
If you're driving to Čachtice Castle, there is a small parking lot that you can use to visit the castle. Parking is on a first come first served basis.
Parking prices are €3 for personal cars, €1 for motorcycles and €3 for mini-buses. You'll pay in cash to a parking attendant.
From the main parking lot, you can expect to hike 20 minutes uphill through the woodland to the castle.
How long is the walk to Elizabeth Bathory's Castle?
No matter if you drive or head here by train, no one can escape the steep climb up to Čachtice Castle!
I would come prepared by wearing some sensible shoes and bringing some water and snacks for the hike up.
From Višňové: the hike up to the castle is around 30 minutes through the village and then forest but the hike is steep and can get very muddy in wet weather. There are also no signs so have a GPS with you like Google Maps.
From Čachtice train station: the hike is around 1 hour so I would actually recommend taking a local bus from the station to the centre of the village. Or, buses run from Nové Mesto station to the village square. It's then a 40-minute walk to the castle via the parking lot.
From Čachtice Castle parking lot: the hike will be around 20 minutes uphill through the woodland. But, it's on a flat pathway with signs guiding you all the way.
There is sometimes Čachtice tourist train that runs in the summer months. This stops at the village, the parking lot, and then the castle. Adult tickets are €5.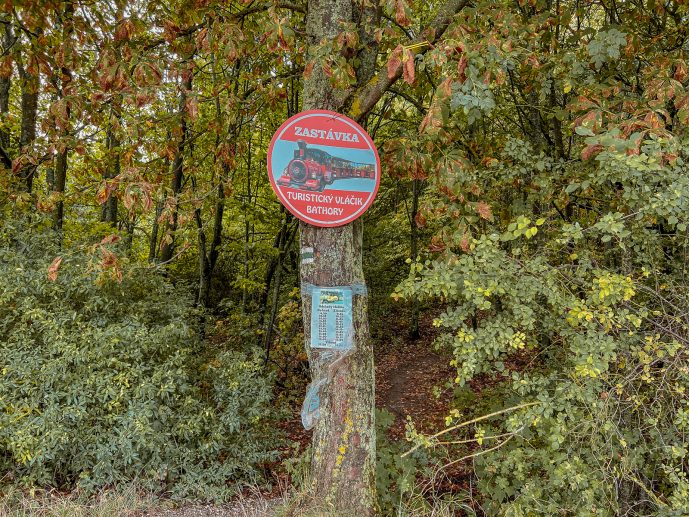 How long do you need to visit Elizabeth Bathory's Castle?
If you're visiting Čachtice Castle from Bratislava I would say you would need a minimum of half a day to a full day to visit Elizabeth Bathory's Castle.
The journey from Bratislava to Čachtice takes 1 hour and 20 minutes and then it's a 30-minute hike from either Višňové or Čachtice station.
There is a tourist train from Čachtice Square that runs in the summertime to take you up to the castle and saves the steepest parts of the hike. This also makes a stop a the parking lot.
The castle visit itself will take you around 1-2 hours. Although it is a ruin these days, there are lots of rooms and sections to explore with spectacular views of the lower Carpathian Mountains.
There's also a really informative museum with lots of information on the history of the castle.
You'll also want to grab a drink or food from the restaurant and there's a gift shop. Plus, the surrounding area of the fortress has some amazing scenery and viewpoints.
It's a great day trip from Bratislava but it does take some time so I would make sure to leave the better part of a day for your visit.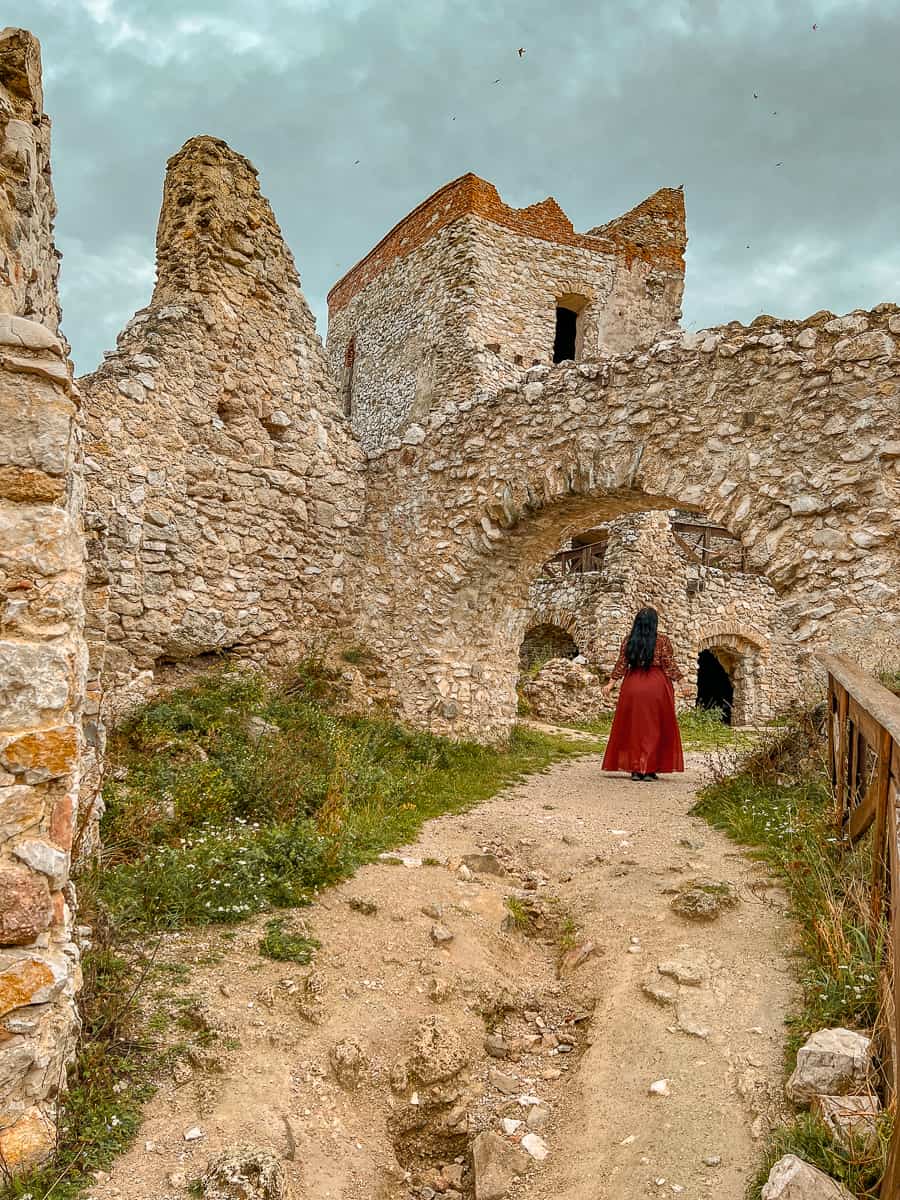 Don't forget to visit Čachtice village
After you've finished exploring the castle, I would recommend heading down to the small village of Cachtice next.
It's a small but cute place and you'll find Church of St Ladislav dominating the settlement. This is where Elizabeth's body was buried in the graveyard. However, the grave is unmarked.
Also, you can visit Čachtické podzemie (or Čachtice underground) which is a tunnel dungeon supposedly that of Elizabeth Bathory's.
Draškovič mansion is a local history museum that aims to educate on the history of Trenčín beyond the Blood Countess.
They really lean into the Bathory theme in the village and you could visit 'Bathory's Pizzeria' for a slice. Or, you can pop into the SPAR supermarket and ice cream parlour.
After, head to the bus stop to get a local bus back to Nové Mesto nad Vrom for train services to Bratislava.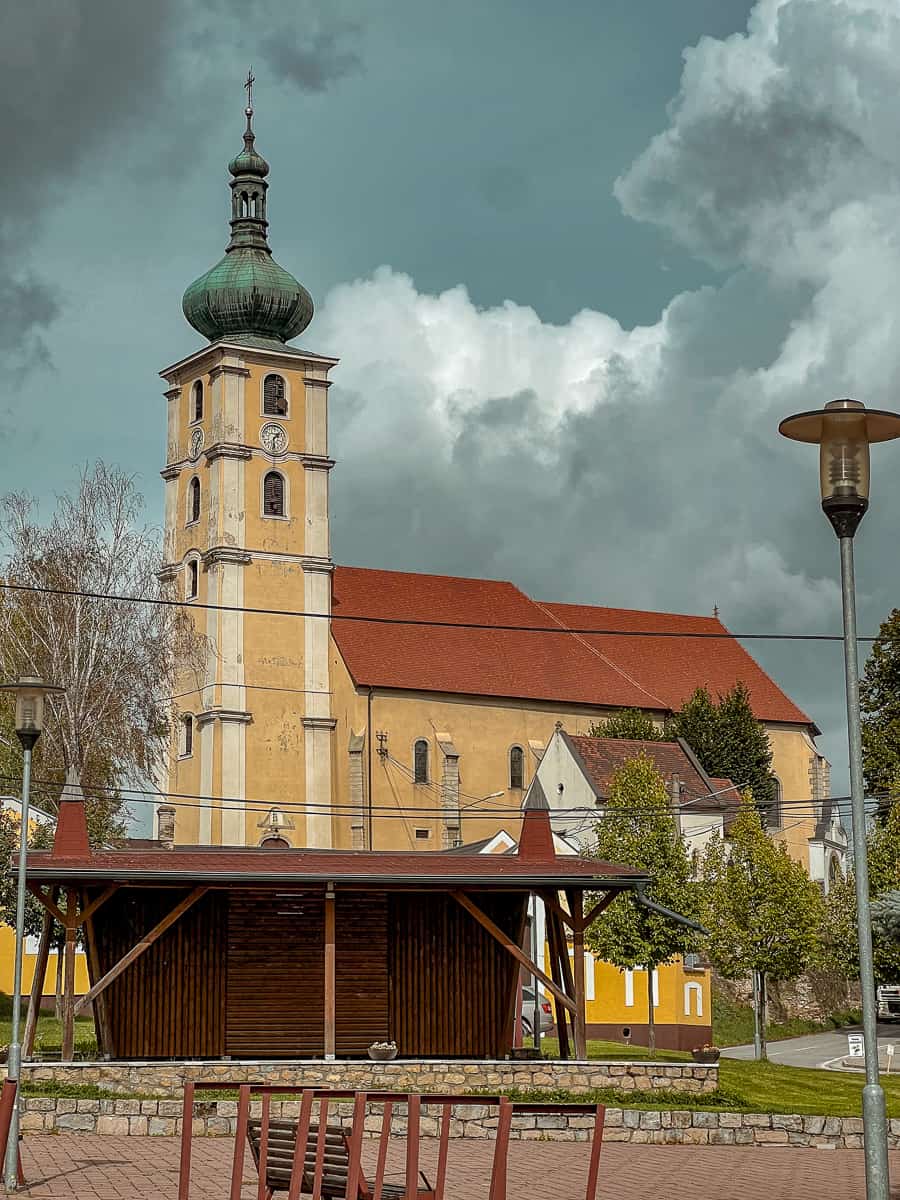 My top tips for visiting Elizabeth Bathory's Castle
Visit in season – this castle is seasonal and opening times vary throughout the year. Always check the opening times before you go.
Driving may be easier – I got the train and it was simple enough with one change. But, walking from the station to the castle took a long time and was steep. It may be easier to drive.
Bring water and food – There is a restaurant at the castle but this is often seasonal. Bring some food and water with you. There is a SPAR supermarket in the village. They had a Starbucks chilled caramel coffee which I inhaled along with some Pom-Bears and Oreos.
Use Google Translate – Slovak is a hard language to grasp. Have Google Translate on hand if you need to translate text or speak to someone. Not many people spoke English here.
Cash is king – Always have some euros spare in cash as many buses and cafés don't take card payments. They did in the castle and supermarket though.
Do you love vampires? Same!
If you love vampires then I have many travel destinations to recommend after your visit to Čactiche in Slovakia.
The home of vampire tourism has to be Romania and surrounds Vlad Tepes or the 'real' Count Dracula. You can visit his castle in Transylvania. Yes, it is a real place!
Bran Castle is just a few miles away from Brasov in the Carpathian Mountains and is supposedly the inspiration for Bram Stoker's classic novel Dracula even though Stoker never visited.
Even if the legend isn't true, it's honestly one of the best castles I've ever been to and has lots of 'fang-tastic' exhibitions (excuse the lame pun).
You can also visit Whitby in Yorkshire, England. This is where Bram Stoker lived for a while to write Dracula and he even mentions Whitby Abbey and the 99 steps in his book.
Bram Stoker was born in Dublin, Ireland, and is rumoured to have used Marsh's Library for maps of Transylvania.
There's also Highgate Cemetery in London, Salem in Massachusetts, or Portland Oregon to find Twilight filming locations (I'm a huge Twihard)!
Elizabeth Bathory FAQs
Who was the queen who bathed in blood? Elizabeth Bathory aka The Blood Countess. She's known as a female vampire and the world's most prolific female serial killer.
What country did Elizabeth Bathory live in? Hungary. She was born there and lived in Čachtice Castle. Nowadays, her former territory is in Slovakia.
Why is Elizabeth Bathory called the Blood Countess? She purportedly tortured and murdered as many as six hundred young women to bathe in their blood in order to maintain her beauty.
Where is Elizabeth Bathory buried? After her arrest, she was confined to Čachtice Castle until her death at 54 in 1614. Many say she was locked away in a bricked room with no door.
Read more of my Slovakia travel guides
Visiting the Blue Church of Bratislava
Is Konditorei Kormuth the prettiest café in Bratislava?
How to visit the pretty pink Primate Palace
Save how to visit Elizabeth Bathory's Castle for later!