If there was one café I knew I wanted to visit in Wien, it was Café Central Vienna. A beautiful Kaffeehaus set in the opulent Palais Ferstel on Herrengasse.
With a history since 1876, this coffee shop is more like a literary institution and has had many famous celebrities visit like Peter Altenberg and Sigmund Freud.
Today, it's a bustling café and they have a traditional menu of Viennese dishes, artisan coffees, and a patisserie serving delectable cakes.
As it's such a famous place, you can expect long queues to dine here throughout the day. But, is it worth waiting for a table and is this café worth the hype?
Here is a complete Café Central Vienna review and if it's worth visiting!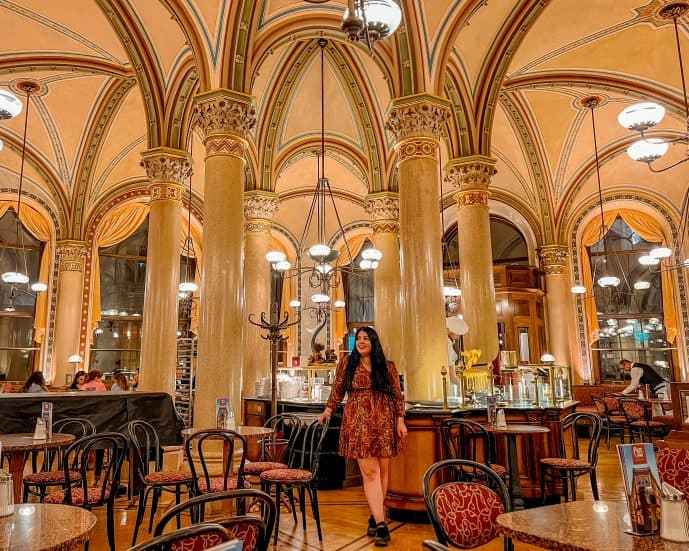 Why is Café Central in Vienna so famous?
Café Central Vienna is a city treasure that has been here since 1876 and is famous due to its literary history. Many celebrities used to visit to discuss ideas here over coffee.
Peter Altenberg, Sigmund Freud, Leon Trotsky, and Theodor Herzl were all regulars of this coffee shop on the high-end street of Herrangasse.
In fact, this coffee house was often referred to as a "chess school" as many chess players used to play here.
These days you will see queues out of the door to visit this famous café. People are eager to visit not only for its history and delectable menu but also for its beautiful architecture.
This spectacular coffee house is set in Palais Ferstel which has a stunning vaulted ceiling, sumptuous red upholstery, and imperial portraits on the walls.
Café Central Vienna history
Although this coffee shop has been here since the early 19th century, it wasn't always a coffee shop.
Palais Ferstel had its beginnings as a Vienna Stock Exchange in the 1860s. Then, it became home to the Austo-Hungarian Bank.
It was constructed by Baron Heinrich von Ferstel and this is where the Palais Ferstel gets its name. He also designed the Vienna University, Votivkirche, and the MAK.
Café Central opened its doors in 1876 and by the end of the 19th century, it became a popular meeting place for writers, poets, artists, revolutionaries, and intellectuals.
Before WWI, Stalin, Tito, Freud, and Hitler all visited this café. But, by Word War II the café closed its doors as it was badly damaged.
Palais Ferstel was eventually renovated in 1975 and the café opened again but was renamed Café Central.
Although renovated over time, it still has an old-fashioned Viennese charm that attracts people. Today, Café Central is one of the most popular and famous cafés in Vienna.
Who were the celebrities in Café Central Vienna?
It would be a feat to mention the sheer number of celebrities that have frequented Café Central since 1876. But, the most famous are;
Sigmund Freud – an Austrian neurologist and founder of psychoanalysis.
Peter Altenberg – a Viennese writer and poet, it's his statue that greets you at the entrance.
Theodor Herzl – an Austro-Hungarian Jewish journalist and political activist.
Egon Friedell – an Austrian playwright and actor as well as cultural historian.
Hugo von Hofmannsthal – Austrian novelist and poet.
Karl Kraus – Austrian writer and journalist, essayist and satirist.
Stefan Zweig – Austrian writer and novelist.
Despite the fact that ladies were able to visit Viennese coffeehouses since the 1850s, not many women celebrities make this list which is disappointing to see. I'm sure there were a few!
There were also other patrons such as Adolf Hitler, Leon Trotsky, Joseph Stalin, Vladimir Lenin, and Josip Broz Tito but they are not mentioned as much for obvious reasons.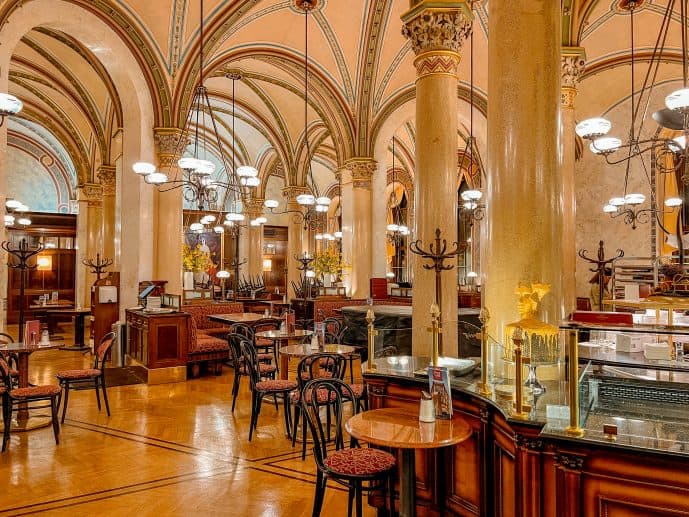 What is special about Café Central?
Despite the list of famous patrons over time, it's truly the building that makes Café Central special in my opinion.
As it's set within Palais Ferstel, you'll step into a beautiful vaulted room with vintage lamps to light the space.
Every table has stunning red upholstery, the staff are dressed to the nines and piano music fills the air.
Also, make sure to look out for the portraits of Emperor Franz Josef and Empress Elisabeth of Austria aka Sisi on the walls.
Although the Imperial couple never visited, the café did open during their reign and so the imperial portraits are a nice touch.
Why you must visit Café Central Vienna
Despite it being very popular and touristy, Café Central is loved by travellers and locals alike and so it has to be on your Vienna bucket list.
It's open all day for breakfast, lunch, and dinner or simply for a coffee break away from the bustling city streets.
Not only do they have a huge menu of local delicacies and an extraordinary coffee menu but they also have an entire patisserie filled with artisan cakes and treats.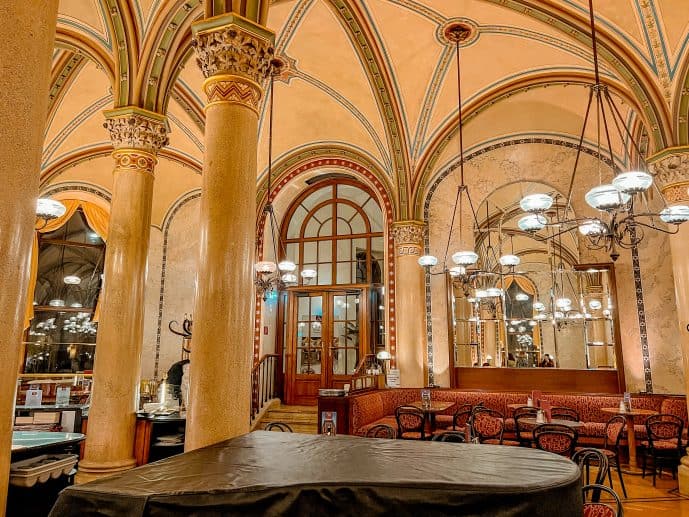 How to visit Café Central in Vienna
Café Central Vienna is aptly named as it sits right in the middle of the city in Innere Stadt (first district).
This makes it very easy to visit on foot or by using the wealth of public transport that Vienna has to offer.
It's situated just a 3-minute walk from the front of the famous Hofburg Palace on Michaelerplatz.
Head down Herrengasse and you will find Café Central right in front of you as it's perched in the middle of a fork in the road.
The nearest underground station is Herrengasse on the U3 line (orange). Or, you can alight at Stephansplatz on the U1 (red) or Schottentor on U2 (purple).
There is a bus stop right outside the café on Herrengasse (1A or 2A bus) or a tram stop at Rathausplatz which is a 7-minute walk away.
You can use the ÖBB app for public transport tickets, or pay at the many machines inside the stations.
Alternatively, consider a Vienna Pass or Vienna City Card for your time in Vienna. It will get you access to all the transport in the city plus discounts on the main attractions.
Café Central address is Herrengasse 14, 1010 Wien, Austria. Click here for a Google Pin!
Should you book a table at Café Central?
It is highly recommended to book a table at Café Central Vienna in advance. You can do so online and it only takes a few minutes.
But, if there are no reservations available don't let that put you off visiting. The café recommends that you turn up regardless as tables become free all the time.
The queues can be very long on weekends and at peak meal times but if you visit in the early morning or later in the evening you may be seated straight away.
I couldn't make a reservation and ended up visiting at 8 p.m. on a Friday night. I was seated almost immediately.
What should you order at Café Central?
After you've been shown to your table and finished gawping at the incredible decor of Café Central. It's time to check out their huge menu.
The café serves up meals throughout the day, so there will always be something enticing to order whenever you visit.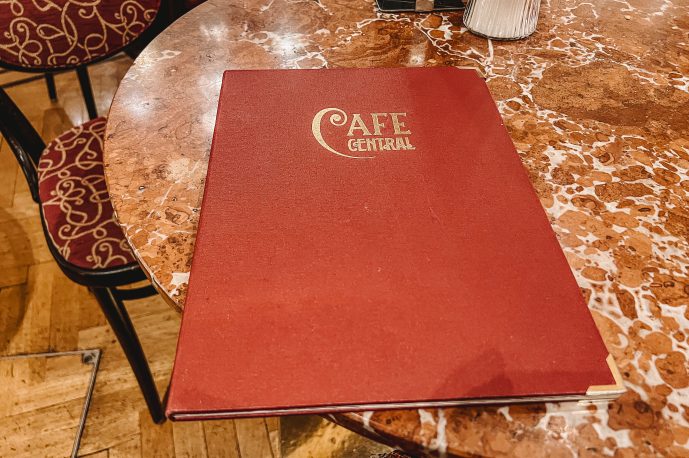 Coffee and Cake
Café Central is a famous Kaffeehaus here in Vienna, so you must try a traditional Viennese coffee.
Vienna has its very own coffee culture with some creative inventions so there will be no frappes on the menu. But, what you will find is cups of coffee with a hefty topping of whipped cream.
Café Central has some unique offerings here like their Advocaat mocha, Coffee Wrong (latte), and their Salon-Einspänner (salon one horse carriage).
Plus, there is the Maria Theresa with orange liquor, Turkish coffee, and a Viennese iced coffee too.
I had to admit, I didn't like Viennese coffee all that much. But, it didn't hurt to wash it down with some cake.
They have some amazing sweet treats on the menu from their artisan patisserie including Sisi's Favourite, a tribute to Empress Elisabeth of Austria.
It's a purple glazed rum cake with apricot jam and is topped with gold leaf!
Breakfast, lunch, or dinner
Although most people visit here for a coffee and cake fix, they do serve up a main menu of meals throughout the day.
Breakfast is served until 11.30 am during the week and 1 pm on the weekends. You can enjoy a 'rich' Viennese-style breakfast with coffee, a bread roll, eggs, cold cuts, cheese, and a croissant.
Or, you can dine like royalty with their Imperial breakfast that comes with a glass of sparkling champagne!
Personally, I visited for supper and they have an amazing menu of traditional Austrian dishes on offer.
The prize for the most basic dinner goes to me as I ordered their classic Wiener Schnitzel dish which came with parsley potatoes and cranberry sauce.
But, it was my first night in Austria and I wanted to try this popular meal. Plus, I knew I just had to try their national dish of Apple Strudel here too!
The strudel here is absolutely delicious and comes served with whipped cream and the inevitable ice cream!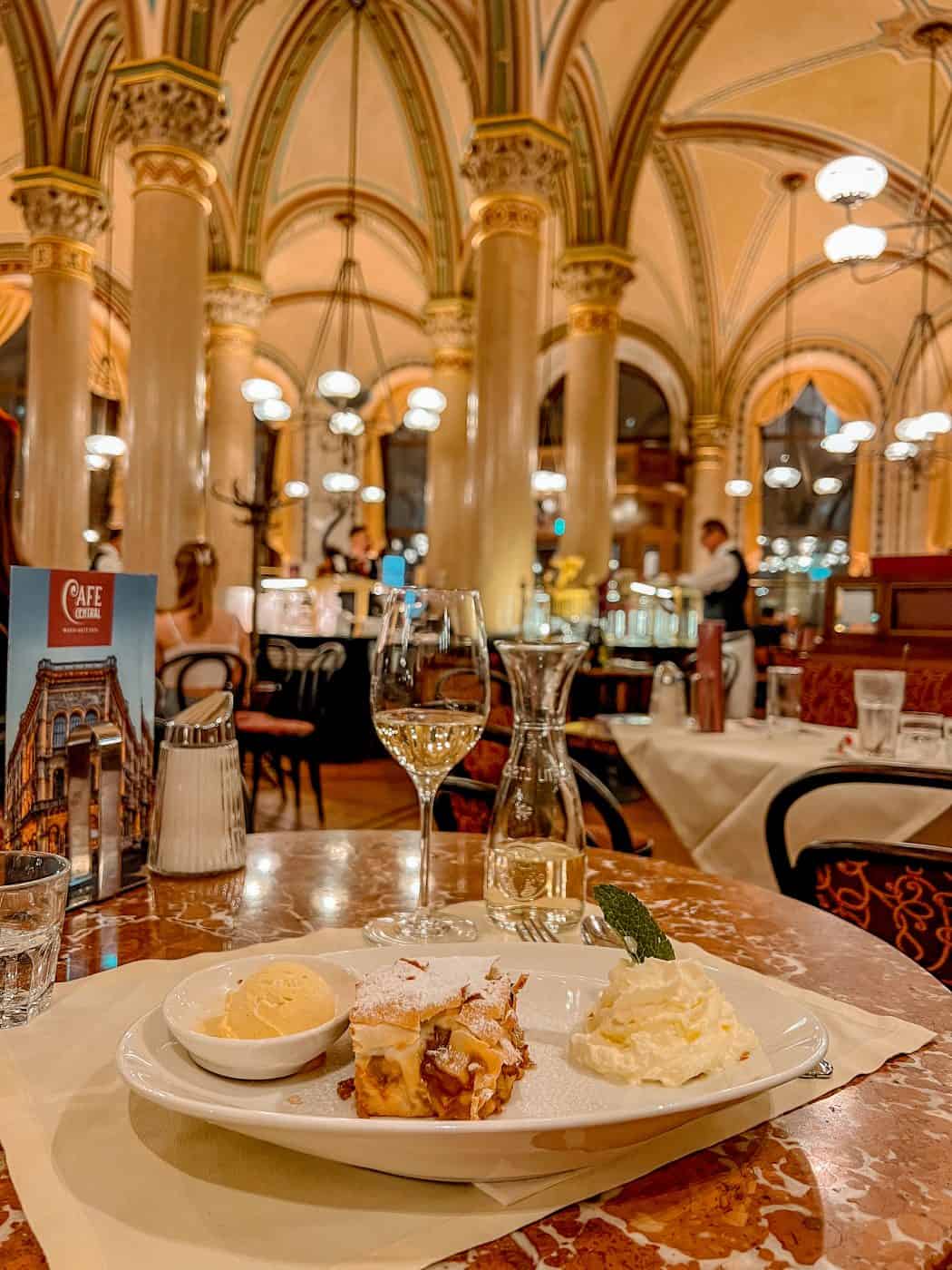 Is Café Central Vienna worth it?
Yes, Café Central Vienna has to be on your list whilst visiting the beautiful city of Wien.
Not only does it have a vast history with an endless list of famous patrons but it also serves up some delectable dishes in a luxurious venue.
As long as you're prepared to wait for a table, it will be a memorable and relaxing experience.
Don't skip Café Central as it's a feast for the senses. It may not be easy on the purse strings but your stomach won't regret visiting!
Don't forget to visit the Café Central boutique
After your meal, don't forget to check out the Café Central Boutique at the back of the restaurant.
This sells a variety of souvenir gifts like their Café Central Cake, gift vouchers, and some jars of preserves.
But, the best part is catching a glimpse of the great hall of Palais Ferstel which is now a room for events and weddings.
When the café is very full in the summer months they sometimes open up with the area as an overflow. Or, larger groups can reserve it for meals.
It was a stunning room with palm trees, tiled floors, a mirrored staircase, and a skylight that bathed the room in a gorgeous glow.
Café Central opening times
The great thing about Café Central Vienna is that it's open every day of the week and for most of the day.
On Monday to Friday they are open from 8 am – 10 pm and on Sundays they are open from 10 am – 10 pm.
I loved visiting here for a late-night dinner as the lights really made the vaulted architecture in the café look wonderful. Many people were visiting for coffee and dessert in the evening as a nightcap.
It has a lovely vibe anyway but from late afternoon they have a pianist playing classical tunes which was wonderful. Vienna is, after all, a city of music.
By the evening, the café also starts to quieten down and so it becomes a nice place to relax after a tiring day of sightseeing.
I was racking up well over 20,000 steps per day here so my feet needed a rest.
What is the best time to visit Café Central?
Café Central Vienna is one of the most popular cafés in Wien so you can expect long lines for tables throughout the day if you don't have a reservation.
Booking a table is highly recommended but not entirely necessary, as long as you're prepared to wait a little while.
Personally, I didn't book and went here for dinner around 8 pm on a Friday night and there was little to no queue.
But if you visit on a weekend or during the day, especially around mealtimes, queues can be out the door and down the street!
It may be an idea to visit Café Central for breakfast as soon as they open for the best chance of a table.
This will mean you get a better experience but will also set you up with a caffeine fix before you hit up the attractions.
Or, I would visit in the afternoon after lunchtime for a coffee and cake break. From what I saw, the queue does move pretty quickly.
My top tips for visiting Café Central Vienna
Booking isn't always necessary – you can book ahead but if there are no tables online, don't let that put you off! They always encourage you to visit anyway as tables become available all the time. I didn't reserve and was sat straight away in the evening.
Need an accessible entrance? There are steps to enter the café. But, there is a bell to ring at the entrance of Arkadenhof and the staff will provide barrier-free access for you.
Consider a meal over coffee – as much as Viennese coffee is famous, it simply wasn't my cup of tea. Consider a cake or meal instead.
Leave enough time – Café Central is a busy café so you should leave at least an hour for your visit.
Visit in the evening for live music – there is a piano player in the café every day except Tuesdays from 4.30 pm to 9.30 pm.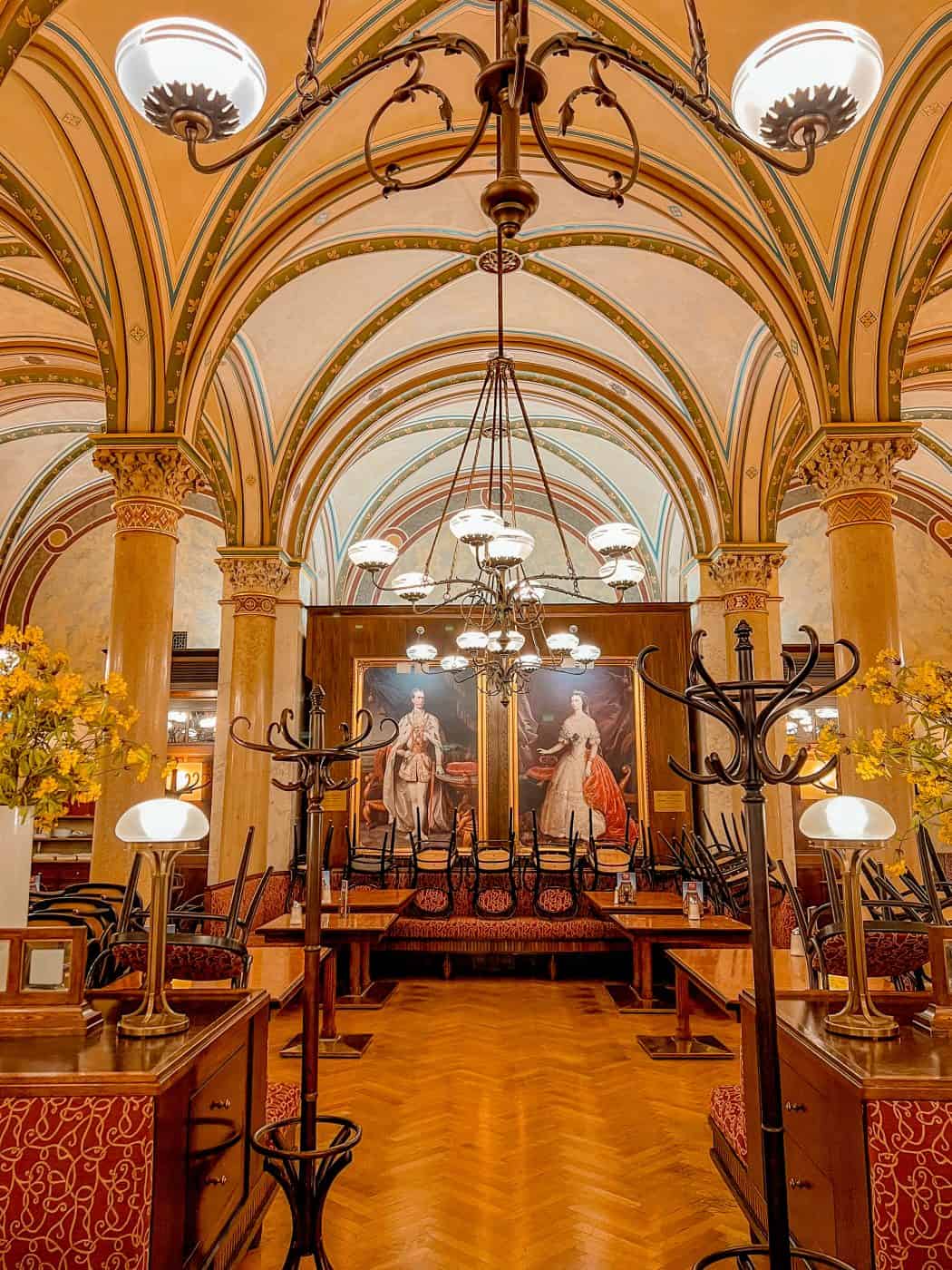 Looking for more beautiful cafés in Vienna?
There is a 'holy trinity' of classic cafés in Vienna that most people visit and they are Café Central, Demel, and Café Sacher Wien.
All of these cafés are popular, historic, incredibly famous, and have their own unique offerings.
Demel used to provide sweets to Franz Josef's court at the Hofburg Palace including the violets that Sisi loved so much. Café Sacher Wien serves up the world-renowned Original Sacher Torte cake.
Again, I would recommend booking these coffee houses a few weeks ahead to guarantee a table as lines can be very long.
Saying that it's not always necessary. I didn't have reservations for any of these cafés in Vienna and was seated within 20 minutes every time.
Aside from the famous three, there are many other beautiful coffee houses like Aida which is a pink floral dream.
Or, I would recommend the coffee house inside the Café im Kunsthistorischen Museum Wien which is absolutely stunning. They also serve up one of the best coffees I had in the city!
Where to next in Vienna?
Café Central has it's name for a reason and that's because it is bang slap in the middle of Wien. So, you're in the best place to explore more of this glamorous city!
Right next door to Café Central you will find the historic Ferstel Passage which is filled with cute boutiques, antique shops, fountains, and coffee shops.
Personally, I would make sure you visit the Hofburg Palace in Vienna. It's one of the largest palaces in Europe and used to be home to the Habsburg Dynasty.
The palace isn't one big museum, it's actually split up and contains many separate attractions.
You can visit the Sisi Museum, the Spanish Riding School, The Imperial Treasury, the National Library of Austria and many other things inside!
But, you can also visit the outer courtyards and grounds for free (open 24 hrs) and they are definitely worth checking out.
You could tour the beautiful Vienna Opera House (Wiener Staatsoper), visit the Jewish Museum, or check out some famous artwork at the Albertina, an art gallery set within a Habsburg palace.
Or, head over to the Parliament building where you can take a free tour (remember to book ahead). After, you can take a stroll around Rathausplatz and the Votivkirche.
There is a hidden gem called Justizpalast nearby. It's a courthouse with wonderful architecture and entry is free after a security check.
You will quickly find out that all this amazing Vienna history has a pretty hefty price tag. Many of the museums have a charge and it quickly adds up to a small fortune.
So, I would consider purchasing a Vienna Pass to save money on attractions and transport.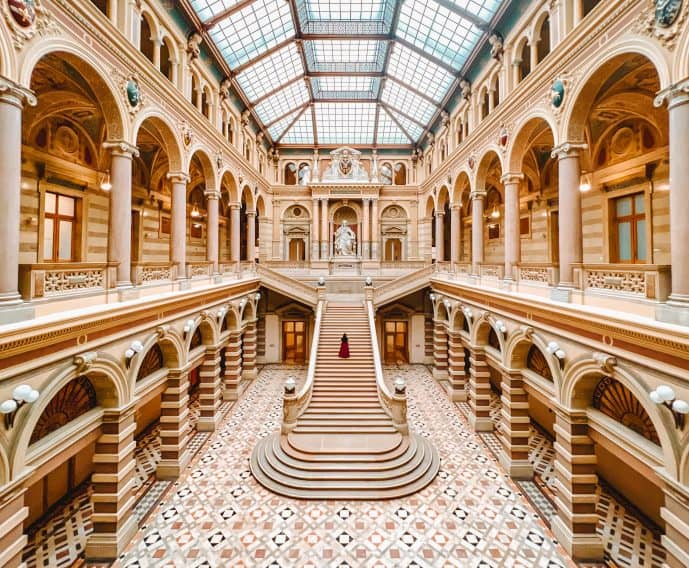 Read more of my Austria travel guides
How to visit the Palace of Justice in Vienna
Magical Austrian National Library in Vienna
How to visit Admont Abbey Library
Save this Café Central Vienna review for later!