Fes is truly the culinary capital of Morocco, so one of the best ways to experience the city is to find some amazing restaurants to sample some local cuisine.
However, it can be hard to know what places to try. Plus, finding them in the labyrinth of streets that is Fes el Bali or the Old Medina can be a challenge!
If there was one place that I kept on hearing about from other travellers and in travel guide books, it was Cafe Clock Fes!
I had heard great things, not only about their incredible food but also the amazing ambience and setting too. Plus, it was home to their famous Cafe Clock Camel Burger that is raved about.
So, I decided to check it out while in Fes and it did NOT disappoint. In fact, I went back three times I loved it so much.
Here's a complete guide for Cafe Clock Fes and why you have to visit in Morocco!
The history of Cafe Clock in Morocco
So, why is Cafe Clock so famous and how did it all start in Morocco? Well, the founder of this chain is Mike Richardson who travelled to Fes in 2006, fell in love, and never looked back.
The aim of the café is to be a diverse and culturally inclusive hangout for travellers and locals alike. It showcases Moroccan culture through culinary cuisine, art, music, and hospitality!
The name comes from the centuries-old water clock that sits on the wall facing the famous Bou Inania Madrassa.
The concept quickly became extremely popular and now they have restaurants in Fes, Marrakesh, and Chefchaouen.
As well as being an extremely successful café chain, the restaurant gives back to the community in many ways.
They set up their cafés in medieval houses needing restoration, provide work, education, and opportunities for their local staff members, and donate a lot of their income to local charities.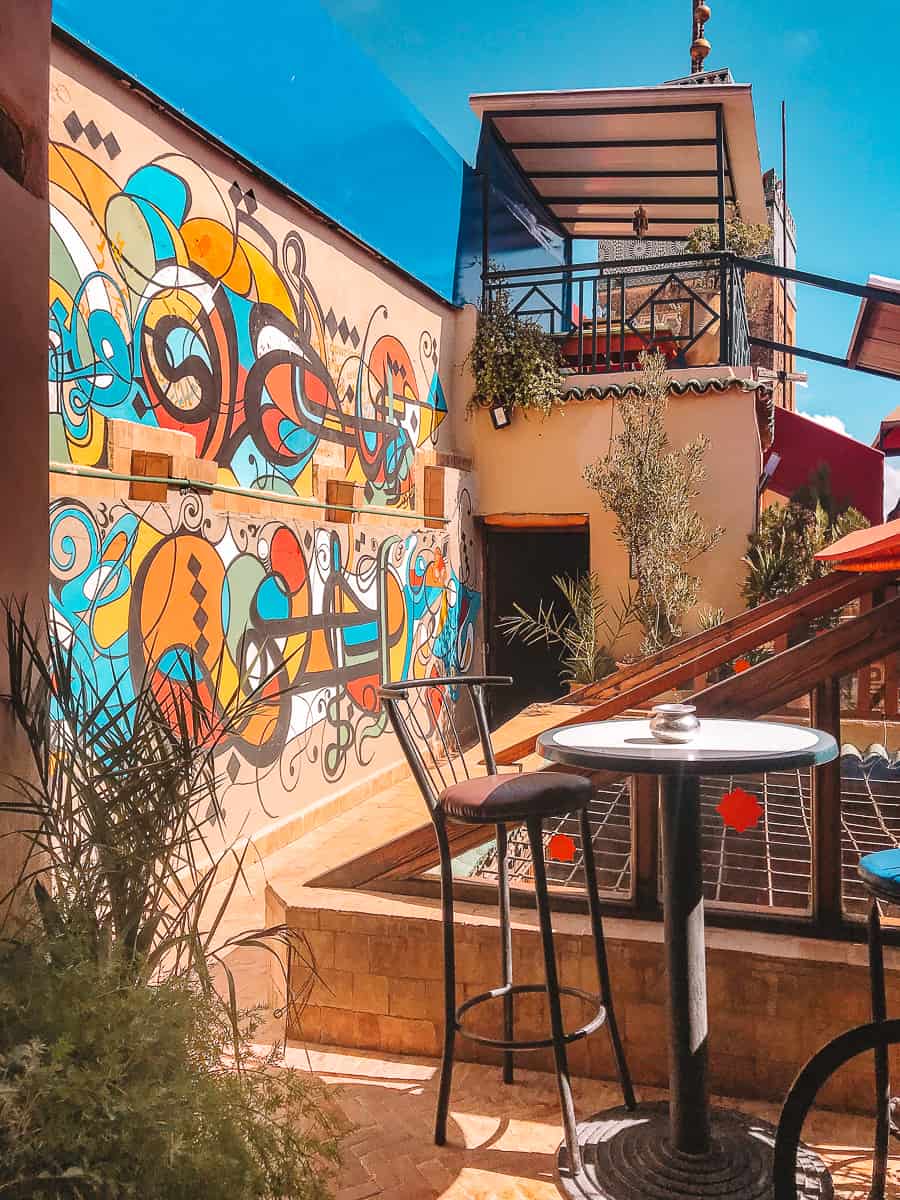 Why visit Cafe Clock Fes?
Well, the number one reason why you need to visit Cafe Clock is because of their amazing food!
They serve up some delicious cuisine throughout the day for breakfast, lunch, and dinner. This is not just Moroccan cuisine, but also some international food options too.
From Berber eggs to pancakes, couscous, tagine, all the way to their famous camel burger – more on that below.
Plus, they have the most incredible mint tea, coffee, and smoothies. This includes their refreshing Avocado smoothies which I practically lived on while I was in the city!
Beyond their culinary delights, their cafe has an incredible setting with an outdoor terrace and three floors to choose a table from. So, it's perfect rain or shine.
Their staff is also really friendly and welcoming and if you wanted to take your visit to the next level, there are plenty of awesome workshops like cooking classes.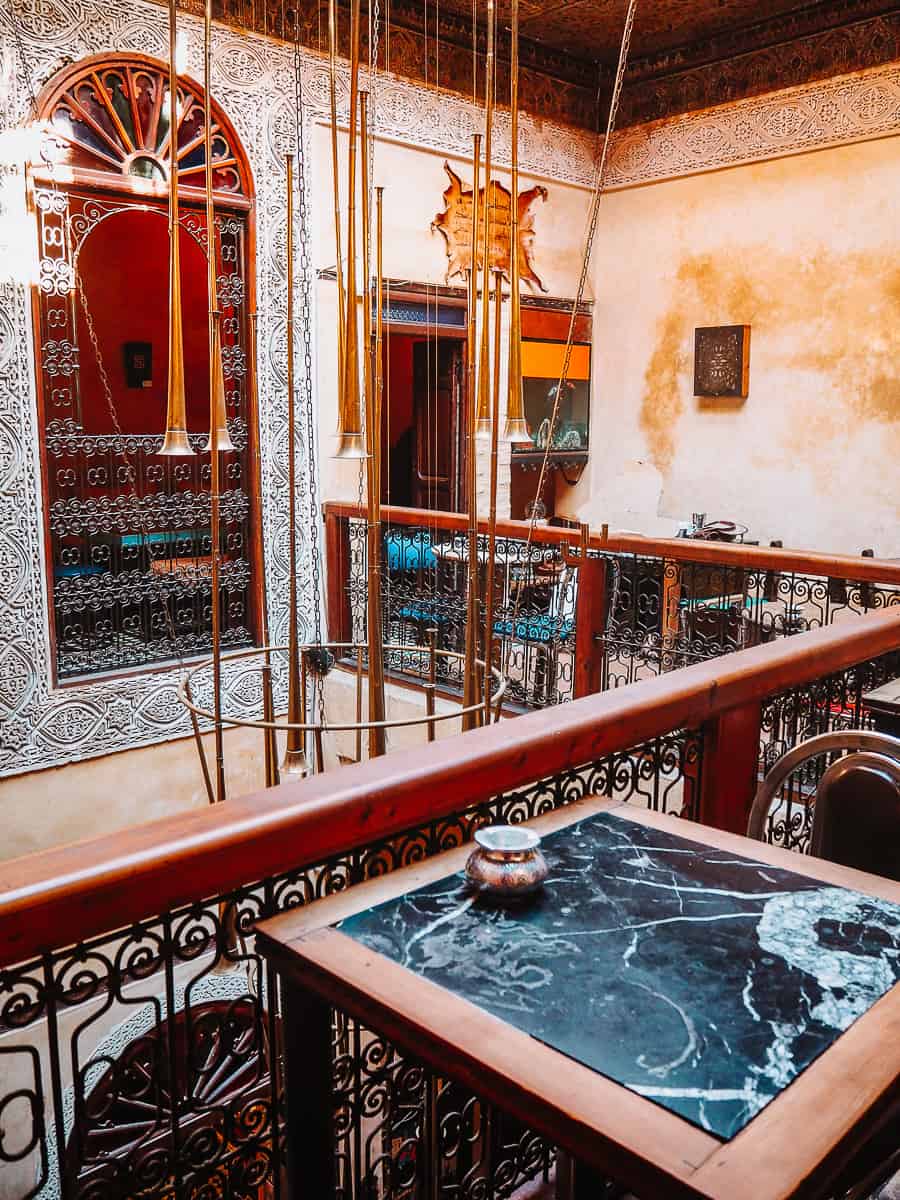 The famous Cafe Clock Camel Burger!
The reason why most travellers visit Cafe Clock is that they want to try some camel meat in Morocco.
And where better than to try it here as a tasty burger with some fries? That's right, Cafe Clock serves up a camel burger on their menu!
Depending on what type of traveller you are (and, of course, if you eat meat), this may be intriguing or it may completely put you off.
But, hey. Just like we have a cow population here in the UK for our meat supply of beef burgers. In Morocco, they have camels! It's the same in other Middle Eastern countries like Dubai that have Camel delicacies too.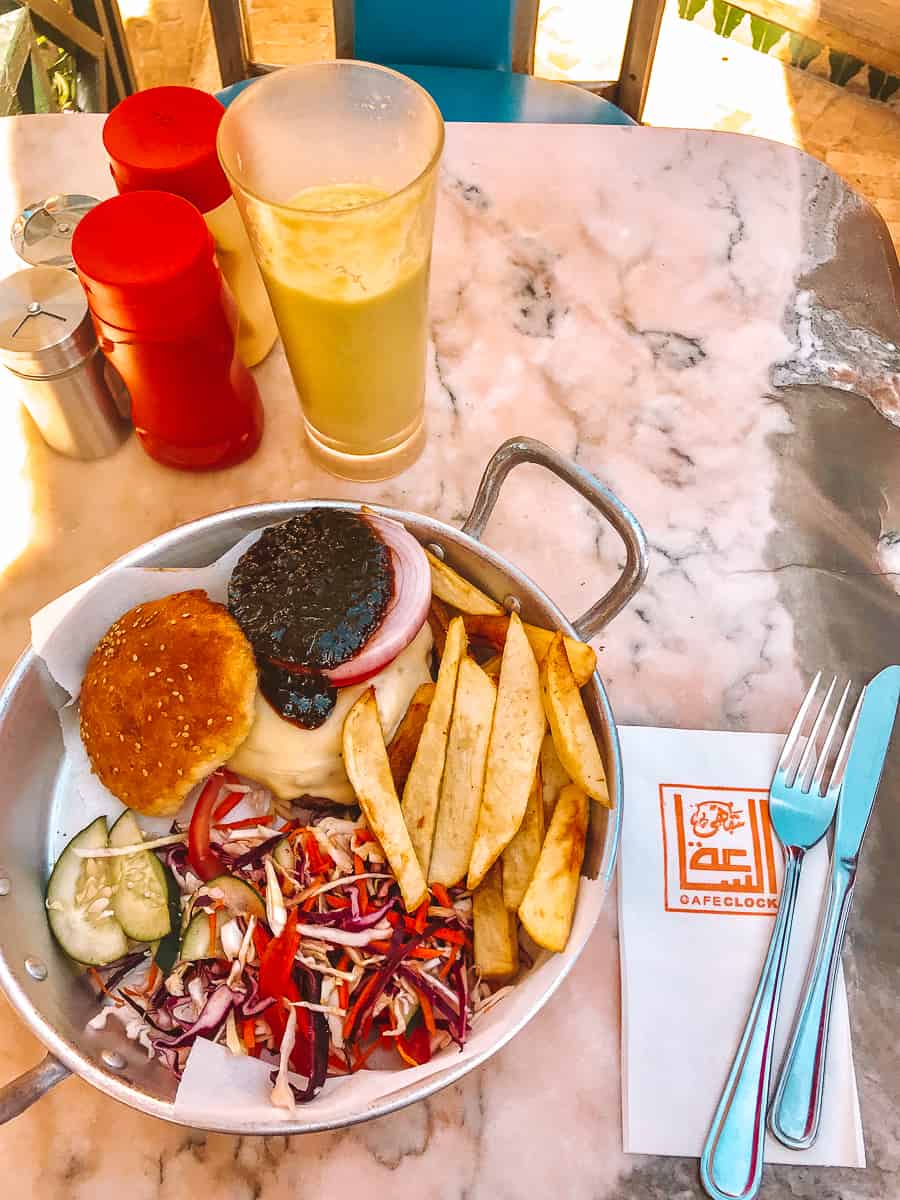 Now, it's no secret that camels are traded for here in Morocco and you've probably already come across that unpleasant sight of camel heads on spikes in the bazaar.
Well, camel is eaten in Morocco as a daily delicacy. You'll find it in curries, tagine, or served on the BBQs in cities.
I always stand by trying new foods in different countries as it is highly tied in with the local culture. Plus, everything should be tried at least once!
The Cafe Clock Camel Burger appeals for more tourist tastes. I'd definitely put this on your bucket list if you're the more adventurous type of traveller!
So, what does camel meat taste like?
I did try it for myself while I was here in Fes and I have to admit, it was utterly delicious!
It was quite rich and they did put some herbs in with the camel meat too. To me, it didn't taste too different from a normal beef burger.
The Cafe Clock camel burger came with all sorts of toppings like cheese, salad, and Taza ketchup. Plus, some fries and extra salad on the side!
I washed it down with one of my favourite Avocado smoothies.
The camel burger costs 95 MAD (£7.76/$10). Personally, I would highly recommend you go for it while you're here. It's their speciality and you'll be doing a good deed.
For every Cafe Clock camel burger that's purchased, they'll donate 10% to charity! This money goes towards Fez orphanages, children's libraries, and the Moroccan women's association too.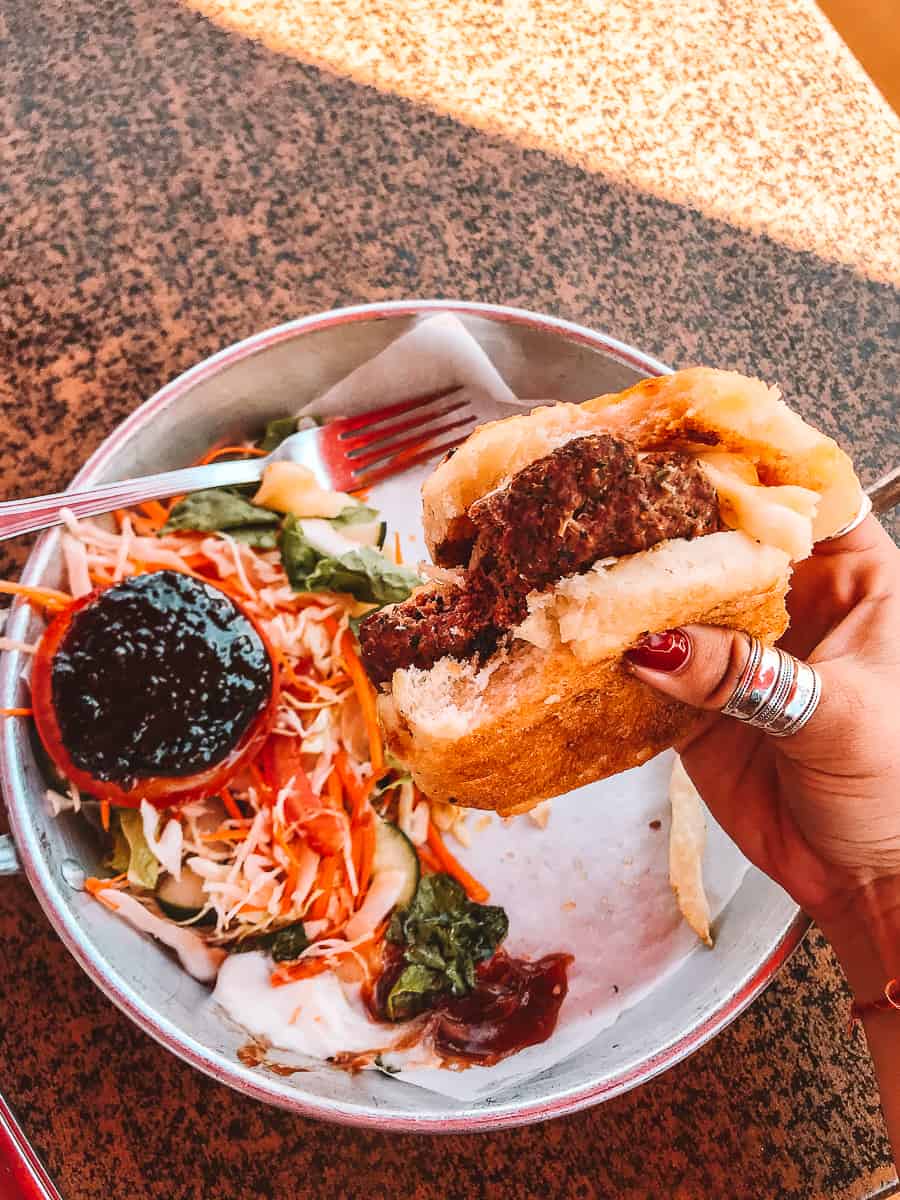 Wait, do they just sell camel burgers?!
No, of course not! If you don't want to try the Cafe Clock camel burger, you're not obligated to buy it.
In fact, their menu is full of delicious food including vegetarian dishes if you don't fancy having any meat at all.
They sell all sorts of breakfast options like pancakes, eggs, and avo on toast. To salads, couscous, tagine, felafel, and more for lunch and dinner!
Plus, they have some great cakes, coffee, and smoothies if you wanted a pick me up while exploring the Medina.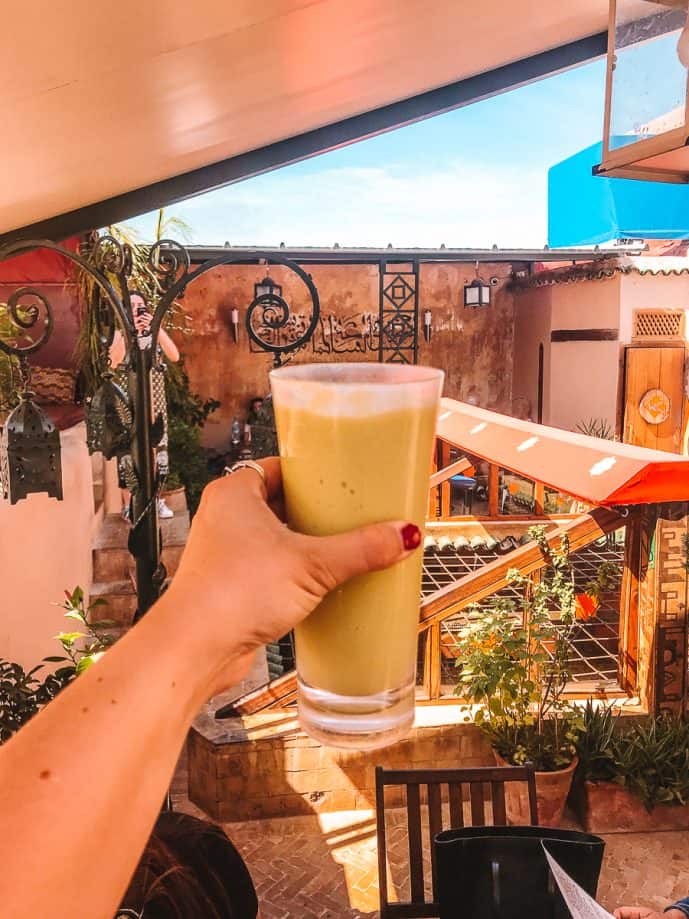 Top tips for visiting
Cafe Clock in Fes does get very busy here as one of the top restaurants in the city. But, there are usually lots of seats across 3 floors.
If you wanted to eat outside on the terrace, I would arrive here for an early lunch or off peak times. It gets quite crowded!
The same goes for eating here for dinner. Places get taken up quickly, it's also not possible to reserve a seat.
You order your food at your seat but payment is taken on the bottom floor. They prefer cash MAD but you can use cards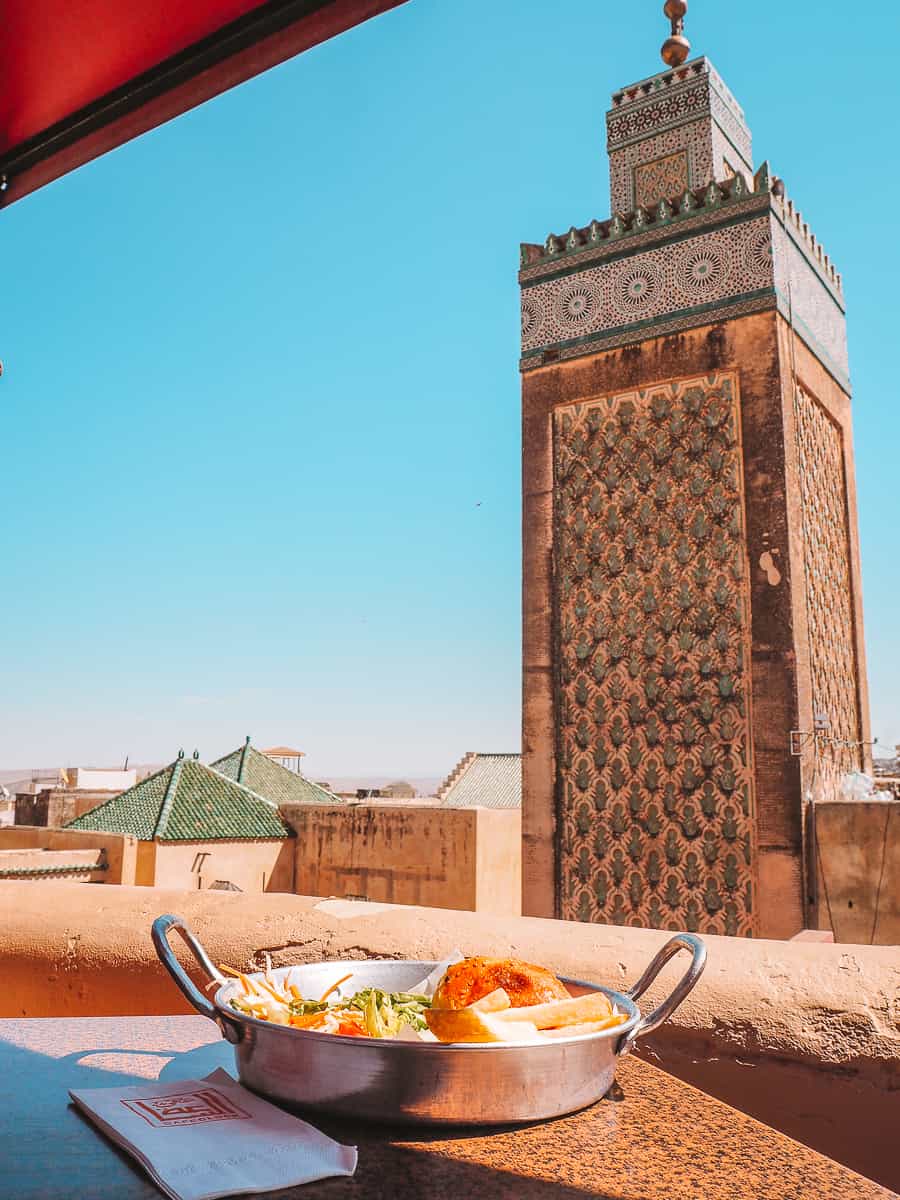 Live Music / Jam Sessions
The best way to experience Café Clock in Fes is to visit one of their Live Music nights which takes place every Wednesday.
Their Jam sessions are really popular evenings and it's great how it brings people together. These are completely FREE and start from around 7 pm.
There are a few local musicians who will be playing music and guests can also join them on the stage to perform if they wish!
Café Clock Cooking Classes & Workshops
Something I wish I had time for on my visit to Fes was one of the cooking classes that they hold.
It looked like an awesome way to learn about Moroccan cuisine and what ingredients go into that yummy food.
The courses are around 4-5 hours and you can cook up a traditional starter, main and dessert. Once, you're done cooking you all eat your food together. It must be awesome to get involved.
They also do just patisserie classes too which looked interesting considering the French influences on Moroccan baking too! Next time, I will definitely look into it.
They also have Oud lessons, Moroccan culture workshops, calligraphy classes, storytelling, festivals and cinema nights as well!
Click here for more information if you wanted to do any of this yourself!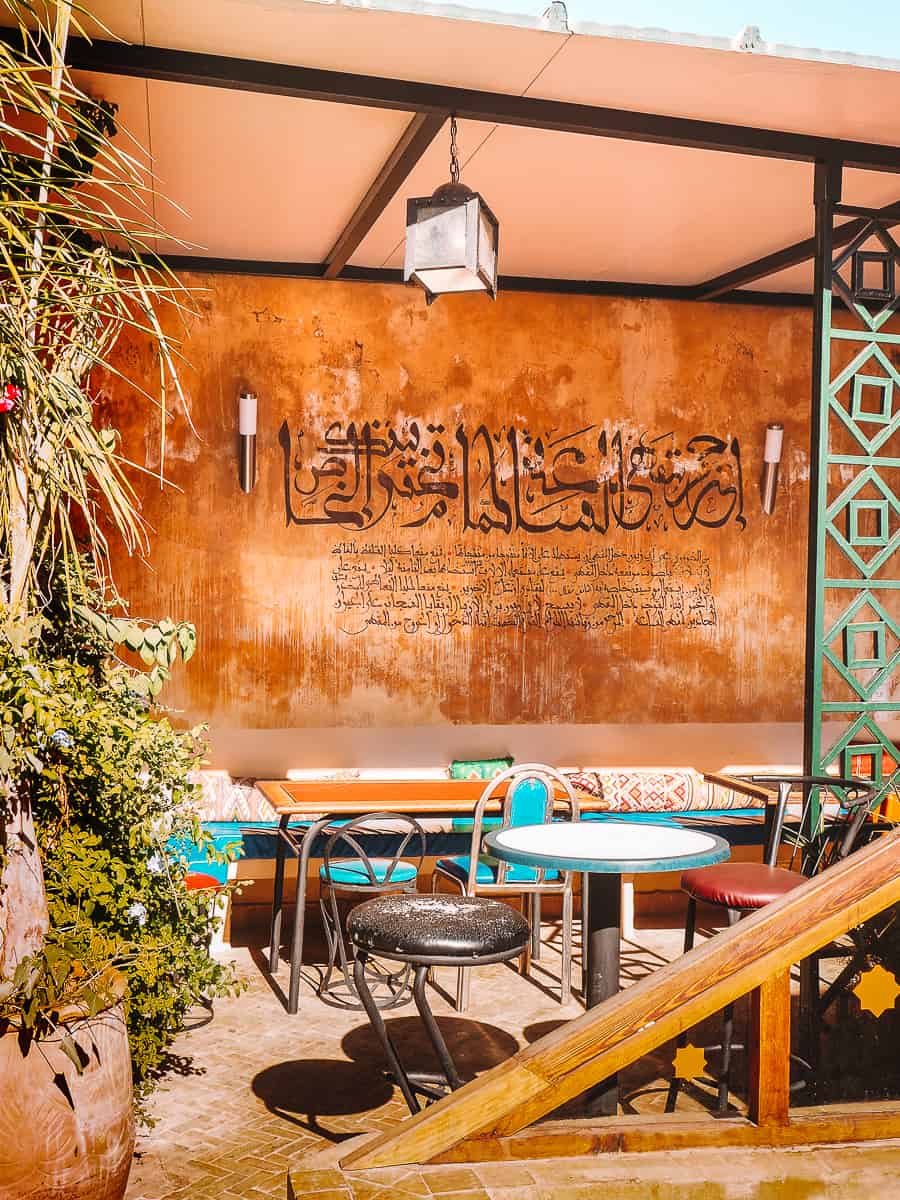 Where is Cafe Clock in Fes and how to find it?
Now, it can be quite a challenge to find anywhere in the labyrinth of Fes Medina. At first, you'll feel so lost. But, eventually, you'll start to recognise certain areas to navigate your way around!
Cafe Clock in Fes is quite an easy restaurant to locate as it's right next to the famous Bou Inania Madrassa. This makes it a great addition to your visit. It's also really close to Rainbow Street in Fez too.
However, you'll find that it's down a rather dark alleyway called Derb el Magana.
You'll see a sign at the start of the alley, then just walk inside all the way to the end!
If in doubt, I always used Google Maps or Map.Me in Fes or ask a local. This way, you can avoid getting as lost!
Cafe Clock opening times
Cafe Clock in Fes is open from 9 am – 11 pm daily.
So, there's lots of time to plan a visit while you're in the city! It makes a great stop for breakfast, lunch, afternoon coffee, or dinner.
You can't really reserve a table, so I'd arrive a little earlier than the rush hours to make sure you get a seat.
Where are the other Café Clocks in Morocco?
If you're not heading to Fes but you do want to try a Cafe Clock Camel Burger in Morocco, you're in luck.
There are two other cafes you can pop into in both Marrakesh and Chefchaouen;
Cafe Clock Marrakesh can be found at the 224 Derb Chtouka Kasbah area of Marrakesh. It's open from 9am – 11 pm daily. There is a FREE Jam session on a Wednesday and Berber music concert on Saturday nights.
Cafe Clock Chefchaouen can be found at Derb Tijani in the Hay Souk area of the blue city. It's open from 9 am – 11 pm daily.
Read more in my complete guide for Chefchaouen.
Looking for more things to do in Fes?
Fes is not as glamorous as Marrakesh but it is richer in so many ways as you can get far more cultural experiences, like this one.
There are plenty of attractions hidden away in the Medina and beyond that you could visit next.
Some of my favourite places were the Bou Inania Madrassa, The Chouara Tanneries, The Royal Palace, and the viewpoint you can find in the Marinid Tombs.
Click here to read my complete Fes travel guide with more things to do!
Where to stay in Fes
Fes is full of riads and hotels and it can be hard to know what to book as it seems there is an endless choice!
But, there are a few I would highly recommend you check out;
Dar Seffarine – This family-run property used to be a palace that went into ruin. Now, it's been restored back to its former glory! It has some incredible boutique rooms and their homemade tagines at dinner are to die for. They also have a gorgeous view from their rooftop! Click here to read my full review or click here to check dates and rates.
Riad Fes – This is one of the most high-end hotels in the city. This 5* property has jaw-dropping decor and another incredible view from the rooftop. You can enjoy cocktails overlooking the view, swim in their pool or eat at their fine dining restaurant. Click here to read my review or book your stay here.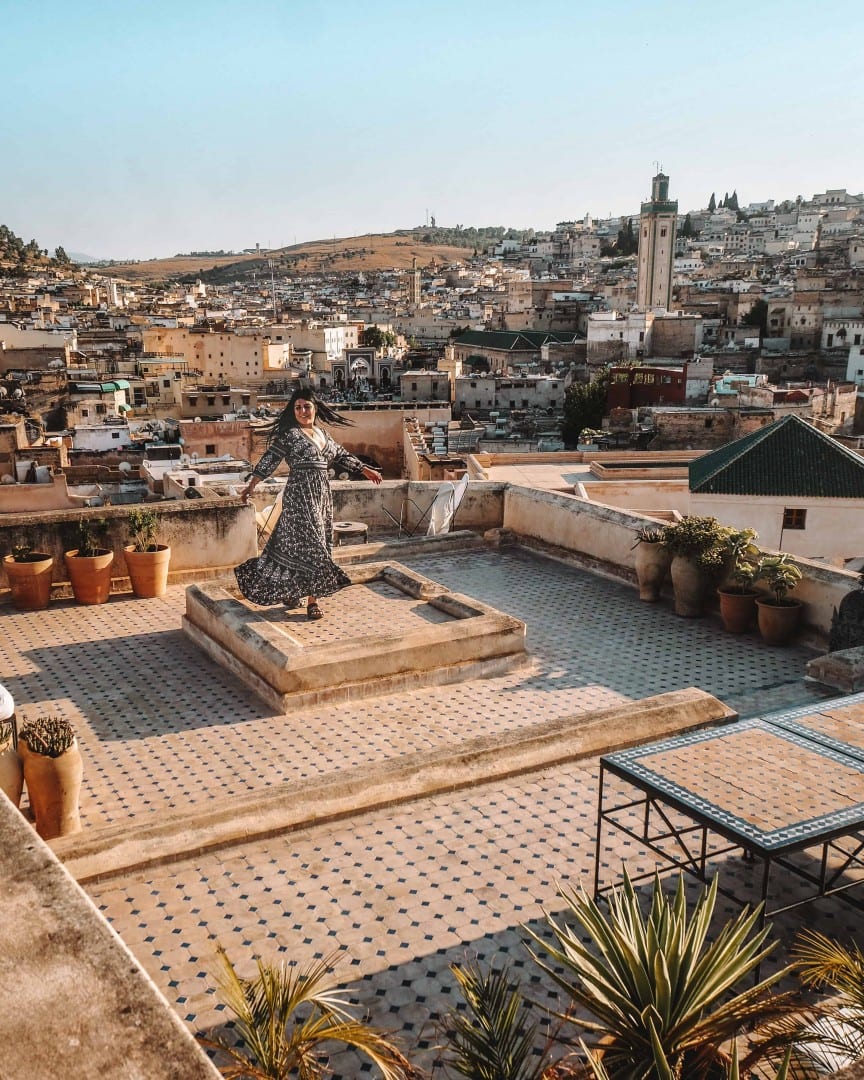 Read my other articles on Morocco!
The ultimate 2 weeks in Morocco itinerary
The top things I wish I knew before travelling to Morocco
What to wear in Morocco as a woman
Solo female travel tips for Morocco
Taking a Sahara Desert Tour from Marrakesh
Top places to visit in Chefchaouen
Save this Cafe Clock Fes post for later!