As soon as I saw Caffé Palladio Jaipur pop up on my Instagram feed, I was obsessed.
I would stalk pictures and hashtags just to get a little look inside and find out more. The wallpaper and design were so on point, I just had to visit!
When I knew I was coming back to India and starting off my adventures in Rajasthan, the first place I made way to was Caffe Palladio Jaipur.
My friends and I dropped in for a coffee and I was not disappointed. As I landed in India during monsoon season, finding funky cafés to hide from the rain is a must.
Cafe Palladio is like candy to the eyes and so this was a welcome distraction for a few hours.
Here's a peek inside the gorgeous Café Palladio Jaipur!
How to reach Caffe Palladio Jaipur
Café Palladio Jaipur is located on the new side of Jaipur, on 100 JLN Marg. My Tuk-Tuk driver had a little bit of a mission finding it.
It's best to take the number of the café down and if you're struggling ask the driver to ring them for directions.
Although you enter on a little bit of a grim bit of a side street road, when you walk inside either from the Café entrance or bar entrance you'll be greeted into a haven of perfect design.
It's a stunning location for a drink or lunch with friends. Uber works really well in Jaipur too, click here to read my complete guide on how to use the app in India.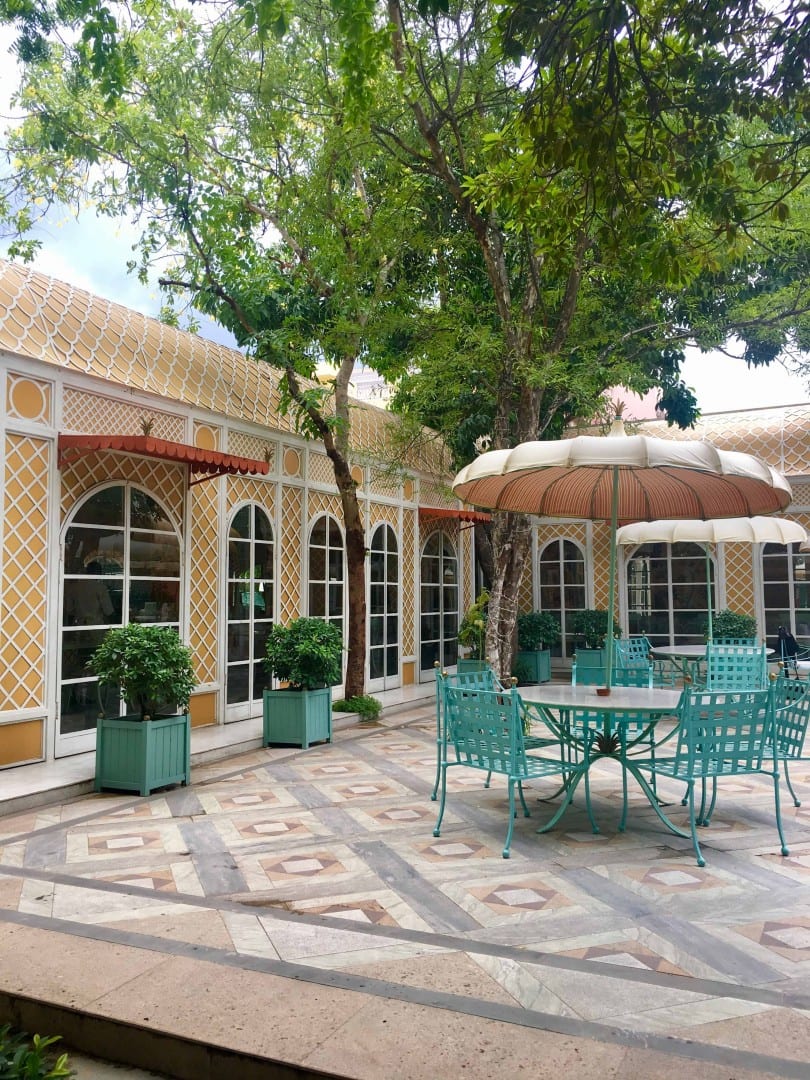 Important things to know before you visit Caffe Palladio Jaipur
The opening times for Caffe Palladio Jaipur vary throughout the week;
Tuesdays – CLOSED
Wednesday – Saturday – 12.30pm – 10.3opm
Sunday – 10.30am – 10.30pm
Photography in Caffe Palladio Jaipur
You are NOT allowed to take photos with a DSLR camera here without prior permission.
But, you are allowed to take as many photos as you like with your mobile phone – If you want to get some empty shots, my advice would be to get here as soon as it opens or even before.
Shortly after I took mine a photography tour showed up. It's really popular for photos
Read more on the most Instagrammable places in Jaipur
What do they serve on the menu at Caffe Palladio Jaipur?
The menu at Caffe Palladio Jaipur offers a lot of international dishes which was a welcome sight.
Although I hadn't been in India that long, I knew that I would have A LOT of curry in store so it was nice to see something different on the menu.
I opted for a coffee here and was so glad I did. The espresso actually tasted like real coffee which was a change from some of the 'coffee' like Bru which is offered here in India.
It's just not coffee, more like brown water. So, I was happy to feel actual caffeine in my veins!
Also at 110 rupees plus GST tax, it's pretty cheap for the setting you're in!
I wanted to try some of Caffe Palladio's Baklava here, as it's my favourite pastry, but it wasn't available as it was probably off-season.
They serve up some amazing healthy salads, authentic Italian pastas, and mezze platters to wet the whistle too. It all looked so yummy, I wanted it all.
There is indoor and outdoor seating. Indoors is nice and cool if it's really hot in Jaipur or it's monsoon rainy season – You can come here for coffee and cake, lunch, brunch, or dinner.
There's an excellent menu with a wide variety – Don't forget to visit their shop outside with some amazing home decor to purchase and bring home!
Fall in love with the decor in Caffe Palladio Jaipur
I think the pictures speak for themselves here. I just love a boutique design and it was so lovely to be in awe for a couple of hours.
The colours scheme in Caffe Palladio Jaipur was heavenly, I was in my element.
If I could decorate my room any way I wanted, this would be it. I want the wallpaper in my future home (if I wasn't living out of a suitcase of course!).
Read more – the most Instagrammable places in Delhi!
Don't forget to visit Cafe Palladio Jaipur – the most Instagrammable café in the pink city!
This café was fantastic and I fell in love with the design. The atmosphere can be a little stuffy but the funky music definitely helped to liven it up a little.
It also has some great wifi, so if you wanted a safe haven to bring your laptop to work – this would be a great office space!
It's decorated in the most amazing shade of blue, so I'm excited to have a little drink in there.
Next time you find yourself in Jaipur, head on over to Caffé Palladio Jaipur for coffee, brunch, cake, or all three!
For more information, you can find the link to their website here.
Make sure to check out Bar Palladio Jaipur
If you're looking for somewhere equally as Instagrammable to head for the evening. Why not check out Bar Palladio?
It's just around the corner from Caffe Palladio and it's got an incredible cocktail menu.
As well as fancy drinks, there is also a great menu of local and international cuisine.
Check out my post on Bar Palladio here!
Looking for Instagrammable places In Jaipur?
If you're here on a photography tour of Jaipur, I can totally understand! Jaipur is one of the most photogenic cities in Rajasthan.
From the doors of the city palace, the rainbow gate of Jaharwar Circle, Hawa Mahal and the views from Amer and Nahargarh Fort.
Make sure to check out some of my posts below to help you find the best photography spots;
The top Instagrammable places in Jaipur
A complete guide for the Patrika Gate Jaipur
Why you must visit Panna Meena Ka Kund
Pink City Rickshaw Company Review
My ULTIMATE First Timers guide for Jaipur
Heading around Rajasthan? Check out these posts!
My top travel tips for Jaisalmer
A camel safari in the Thar desert
Why Bundi has to be on your bucket list
Top places to visit in Bikaner
Visiting the rat temple in India