Many people say it isn't a visit to Vienna without trying a slice of Sachertorte and the best place to do this would be the famous Café Sacher.
If you weren't aware, Sachertorte is a chocolate cake with apricot jam served with a healthy dose of whipped cream.
It's now one of Vienna's famous specialties and has gained worldwide notoriety. The city takes this dessert so seriously, that there have been "cake wars" about the recipe!
Today, there are plenty of cafés that serve a Sachertorte in the city but there is only one original at Café Sacher.
You can enjoy a slice in their popular café on Philharmoniker Straße. But, don't expect to be alone, there are lots of people wanting to do the same.
Here is a Café Sacher Vienna review and what it's like to try a slice of their Original Sachertorte.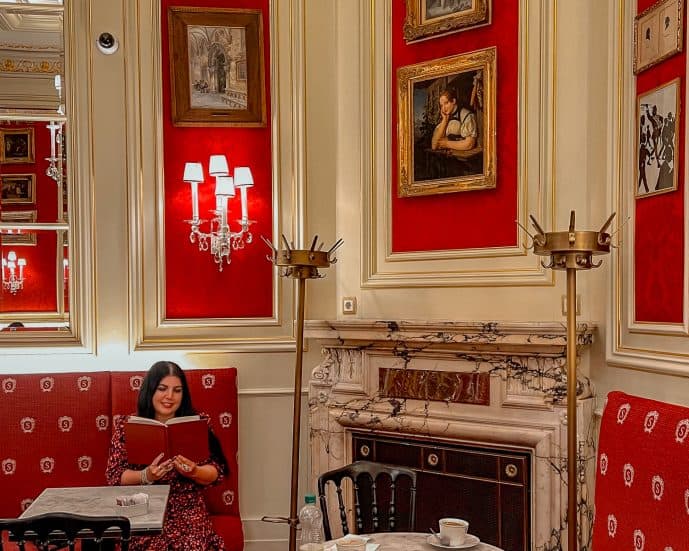 What is Café Sacher famous for?
Café Sacher is one of the famous historic coffee houses in Vienna that serves up the world-famous Original Sachertorte.
The café had its humble beginnings in 1876 when it was opened by Eduard Sacher and is now a venue known to many around the world.
The original coffee house still retains many of its historic features like portraits and chandeliers so it will feel like stepping back in time.
It's very popular with tourists who are all eager to try a slice of the famous chocolate cake.
Café Sacher history
In 1832, Prince von Metternich was planning to entertain guests but his head chef was ill. So, he asked Franz Sacher to create a winning dessert.
Franz was a 16-year-old apprentice at the time but he managed to whip up a rich and luxurious chocolate cake with apricot jam and served it with whipped cream.
The cake was a major success and eventually became known as the 'Sacher-Torte'. The recipe is still a close-guarded secret but something he passed on to his son Eduard.
Eduard Sacher worked an apprenticeship at Café Demel and then decided to open his own Hotel Sacher & restaurant in 1876.
Eduard married Anna Maria Fuchs, a butcher's daughter, in 1880 and she managed the business following Eduard's death in 1892.
Her eccentricity and cunning business skills allowed her to build Hotel Sacher into one of the finest hotels in the world which became a favourite of celebrities and the aristocracy.
Unfortunately, after WWI, Anna had to file for bankruptcy as she refused entry to those without gentrification and gave extensive loans to penniless aristocrats.
After her sudden death, the Gürtler family later took over and renovated the building in 1934. They still own the world-famous Sacher franchise today.
Notable guests have been Emperor Franz Joseph, King Edward VIII, Wallis Simpson, Queen Elizabeth II, Prince Philip, Grace Kelly, John Lennon, Sharon Stone, Justin Bieber and Naomi Campbell.
Fortunately, they opened their doors to everyone regardless of status and the business has only become more popular because of it.
Cake War – Battle of the Sachertorte!
Vienna takes its chocolate cake very seriously and there was even a famous "Cake War" that took place in the 1930s.
Eduard Sacher decided to follow his father's line of work by becoming a chef and decided on an apprenticeship at Café Demel.
Whilst he was here, he perfected his father's recipe before deciding to open up his own coffee house and serve the Sachertorte in his memory.
Unfortunately, Hotel Sacher went bankrupt in 1934 and Eduard Sacher's son (also called Eduard) was hired by Café Demel.
The new owners of Hotel Sacher still sold the Sachertorte cake whilst Demel put one on the menu as well since they had Eduard Sacher in the kitchens.
This caused a law dispute between the two bakeries or a "Cake War" that lasted for nine years between 1954 and 1963!
Eventually, Hotel Sacher won the court case and the right to call theirs the 'Original Sachertorte' whereas Demel has called theirs 'Eduard-Sacher-Torte'.
Why you must try the Original Sachertorte
I loved both Café Demel and Café Sacher in Vienna but I do still think you should try a slice of Original Sachertorte on location.
Their traditional Viennese coffeehouse on Philharmoniker Straße has a touch of elegance with its twinkling chandeliers, imperial portraits, and Sacher red furnishings.
Despite all this luxury, I'm pleased to say it doesn't have a 'hoity-toity' atmosphere.
There's no strict dress code, it's very relaxed and the entire gastronomic experience is meant to make you feel at ease.
The staff are also really friendly and are more than happy to help you with some recommendations.
Although it can be seen as very touristy, it's something you simply have to experience in Vienna at least once.
Original Sacher coffee house vs. the new café
So, something I didn't know before I visited was there are two Café Sachers in Vienna. They are both in the same building but they are completely different venues.
It was my first time and so I waited around 30 minutes to enter Café Sacher by the boutique on Kärntner Straße only to realise I had entered the newer café when I wanted to visit the original coffee house.
As the new café is on the upper floor I couldn't see what the interiors looked like before I sat down and so when I did eventually get in I was really confused.
Don't get me wrong, it is a spectacular venue but not the one I was hoping to sit in. Oops.
I waited for such a long time that I decided to finally sit down and eat my Sachertorte there.
However, I did end up going back to the original coffee house around the corner by the Hotel Sacher lobby entrance.
Lesson learned, make sure you're queuing for the right place! Thankfully, you can see the original coffee house interiors from Philharmoniker Straße before you queue to avoid the same mistake.
Do you need to reserve a table for Cafe Sacher Wien?
Yes, I would highly recommend booking a table for Café Sacher in Vienna if you can. I would try to book at least a week or two before your visit.
You can easily book tables online and then this allows you to skip the long queues outside.
If you don't manage to book a table online, don't panic. You can easily join the queue for a table.
Although the queues always look really long, they do move quite quickly. I found at both cafés I was seated in less than 30 minutes.
How much is a Sachertorte in Vienna?
A slice of the Original Sachertorte at Café Sacher will set you back €8.90 and that's around £7.70 or $9.40 USD. That's without any coffee/drinks.
They also have different variations of the cake like the Sacher Cube (€6.90) and the Original Sacher Punch dessert (€6.90).
For a coffee and Sachertorte, it will cost you anything between €15 – €20. To save money, you could always share a slice as they are huge.
If you want to buy a whole Sachertorte Cake from their gift shop, prepare to pay a minimum of €48.50 for the smallest cake box (£42 / $51).
What should you order at Café Sacher?
You should definitely pair your inevitable Sachertorte cake with a Sacher coffee.
Coffee culture is huge in Vienna and every café seems to have its own list of artisan coffees.
Café Sacher is no different and they have an entire menu of Viennese coffees to try like the Sacher Melange, Cappuccino, and Vienna Iced Coffee. Or, there are even afigato coffees with ice cream.
I actually went for the Original Anna Sacher Coffee which was a single espresso with egg liqueur. It was surprisingly good and went really well with the Sachertorte.
Of course, if you're not into coffee they do have hot chocolates, teas, wine, champagne, and cocktails too.
The verdict: how does the Original Sachertorte taste?
So, the first thing to know is they don't give you a small slice of cake at Café Sacher!
My Sachertorte helping was really generous and it came with a large dollop of whipped cream on the side. I loved the 'Sacher' medallion too.
I am a huge lover of chocolate cakes and have tried lots of varieties but Sachertorte certainly is unique.
It's really dense, rich, and covered in dark chocolate icing so it has a bitter-sweet taste. This sharpness is softened out by the apricot jam you can taste in the middle.
Despite it not being overly sweet, I still found this cake to be very rich and I couldn't finish the whole slice. That was a shocker for me as I usually adore cake.
But, I still loved the experience and thought that trying the world-famous Sachertorte here was worth every penny!
Is Café Sacher Vienna worth visiting?
Most definitely, even if you only ever go once you must try a slice of Original Sachertorte at Café Sacher Vienna.
It's a world-famous scrummy treat that you can enjoy in a luxurious setting.
Is it expensive for a slice of cake? Yes. Do you have to queue? Yes. But, is it worth it? Of course!
Don't skip a visit to Café Sacher. You, and your tummy, won't regret a single thing.
Where is Café Sacher in Vienna?
You'll find the original Café Sacher next door to the lobby entrance of Hotel Sacher on Philharmoniker Straße.
The name of this street comes from its close proximity to the Vienna State Opera. It's perfect to grab a coffee here before a guided tour or show.
You will find the Sacher boutique and newer café entrance on the pedestrianized Kärntner Straße. This is just around the corner from the original coffee house.
It's best to use a mix of walking and the U-Bahn or trams to explore Vienna. The nearest subway station would be Karlsplatz and the nearest tram stop would be Oper.
Cafe Sacher Wien address is Philharmoniker Straße, Wien, Austria. Click for a Google Pin!
Buy an Original Sachertorte to take home
After you have tried your slice of Original Sachertorte in the café, you can visit their boutique called Sacher Confiserie.
The shop sells boxes of Original Sachertorte cakes to take home. The gift boxes are so pretty as they are beautifully wrapped up with a bow.
You can buy a Sachertorte cake box alone or they have cake boxes with a bottle of Sacher Cuveé or a caddy of Sacher Coffee.
Beyond cakes, they also sell cooler bags, scented candles, umbrellas, aprons, and Sacher teddy bears. You can even buy a slice of Sachertorte as a magnet.
Why not spend the night in Hotel Sacher?
If you want the full Sacher experience, then you must book a stay at Hotel Sacher.
Famous celebrities have stayed here over the years like Queen Elizabeth II and Justin Bieber, so you know it's five-star luxury!
A benefit of staying here is you get access to the original coffee house as a hotel guest and you can even order a Sachertorte to your room.
Click here to book your stay at Hotel Sacher
Café Sacher Vienna opening times
Café Sacher Wien is open every day of the week from 8 am – 10 pm. It makes a great place for afternoon tea but it can be very crowded in the afternoons.
The best time to go would be earlier in the morning for fewer crowds. It may seem weird to eat chocolate cake for breakfast but just know that it's a very normal thing to do in Vienna.
Another alternative would be to visit in the evening. You could always visit here after dinner for dessert with a nightcap coffee.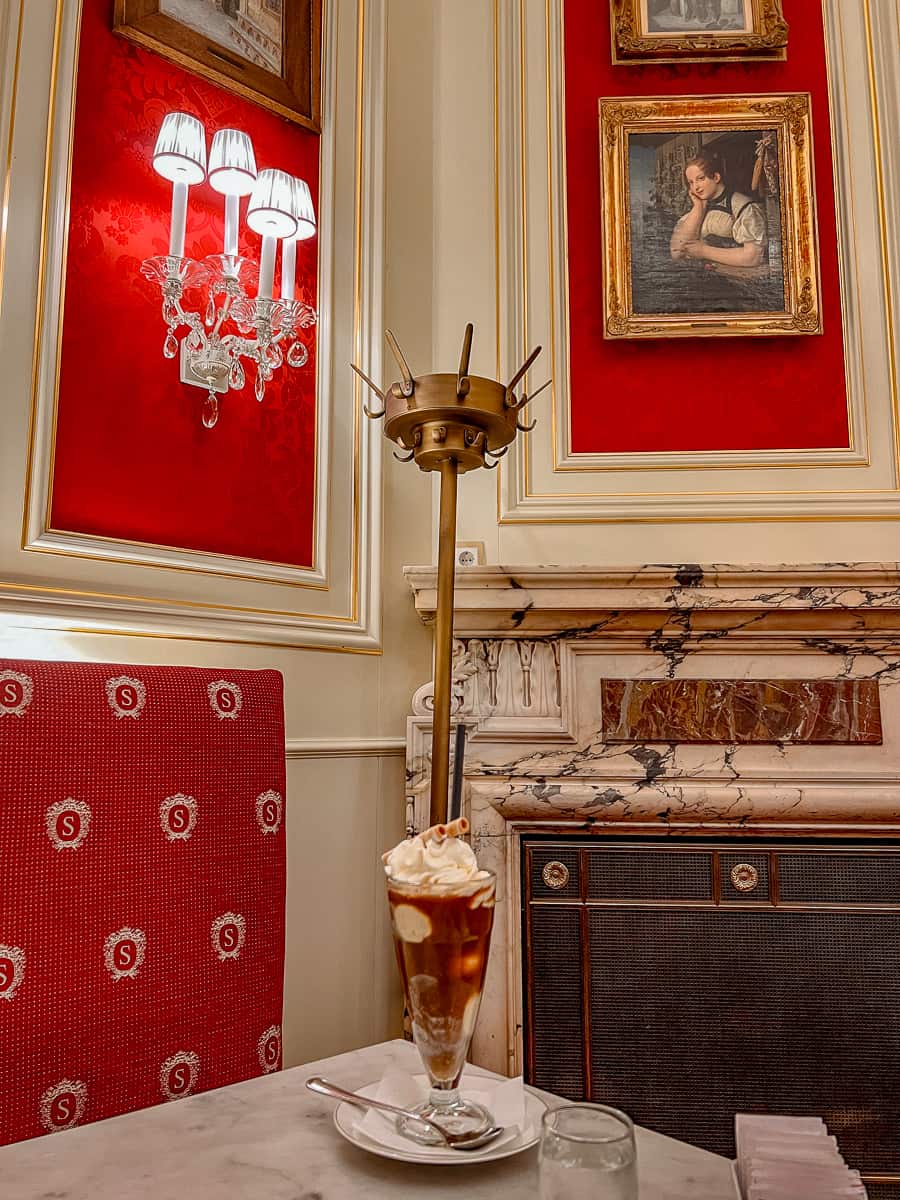 My top tips for visiting Café Sacher
Book a table – make sure to plan ahead and book a table online. Queues, especially in the summer, can be really long if you don't have a reservation.
There are two Café Sacher's in Vienna – they are in the same building but one is new and the other is the original coffee house with the portraits and chandeliers.
Try the Original Sachertorte – it just has to be done, even if you share a slice!
Café Sacher isn't only in Vienna – if the lines are too long in Vienna or you miss it, remember they also have branches in Salzburg, Graz, and Parndorf Designer Outlet Village.
Looking for more amazing cafés in Vienna?
Coffee Culture is huge in Vienna but there is a 'holy trinity' of classic cafés that most people visit and they are Café Central, Café Demel, and Café Sacher.
All of these cafés are popular, historic, incredibly famous, and have their own unique offerings.
Demel has their own Eduard-Sacher-Torte and used to provide sweets to Franz Josef's court at the Hofburg Palace including the violets that Sisi loved so much.
Café Central is famous for its coffee and the number of literary figures that have visited over the years to discuss ideas.
Again, I would recommend booking these coffee houses a few weeks ahead to guarantee a table as lines can be very long.
Saying that it's not always necessary. I didn't have reservations for any of these cafés in Vienna and was seated within 30 minutes every time.
Aside from the famous three, there are many other beautiful coffee houses like Aida which is a pink floral dream.
Or, I would recommend the coffee house inside the Café im Kunsthistorischen Museum Wien which is absolutely stunning. They also serve up one of the best coffees I had in the city!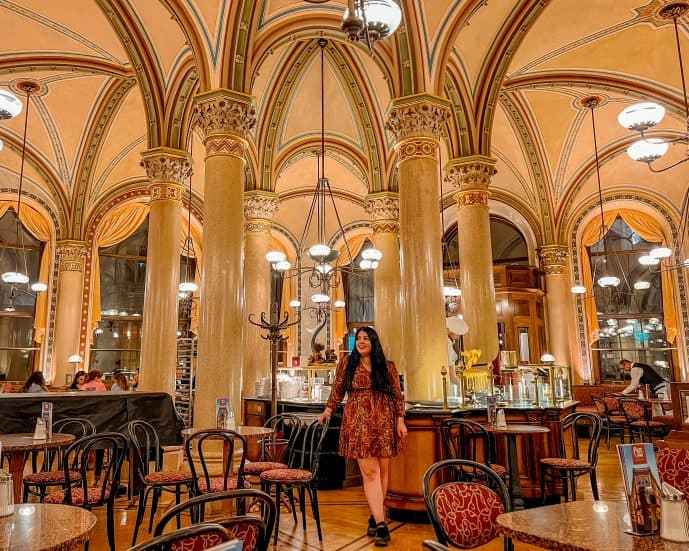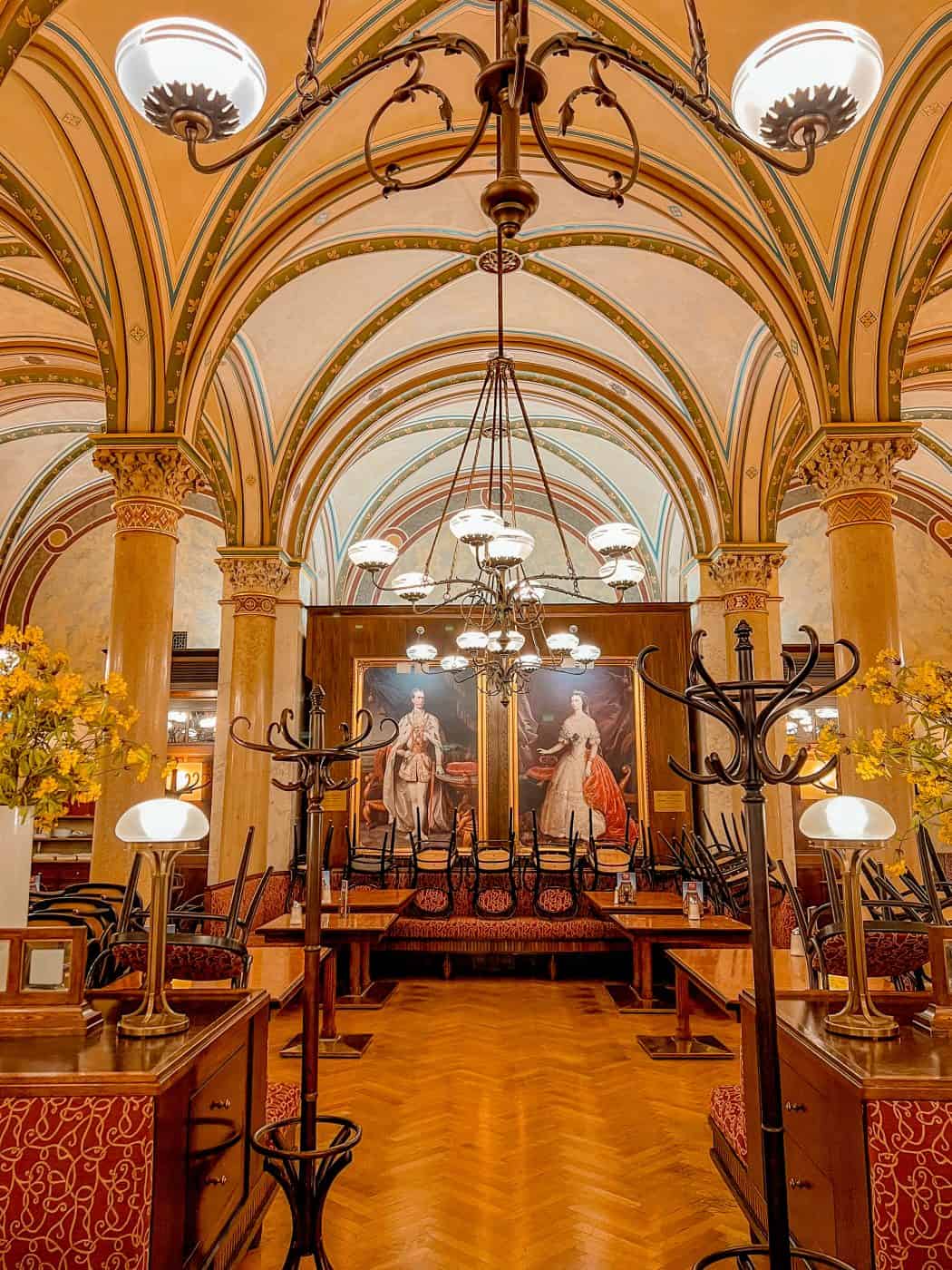 Café Sacher FAQs
What is the most famous cake in Vienna? The Sachertorte! There are many different varieties but the original is in Café Sacher. A visit to Vienna wouldn't be complete without trying a slice.
What is the dress code for Café Sacher? It's casual at Café Sacher. But, nothing is stopping you from dressing up.
What does Sachertorte mean in English? Sacher Cake. It's named after Franz Sacher who created the original recipe.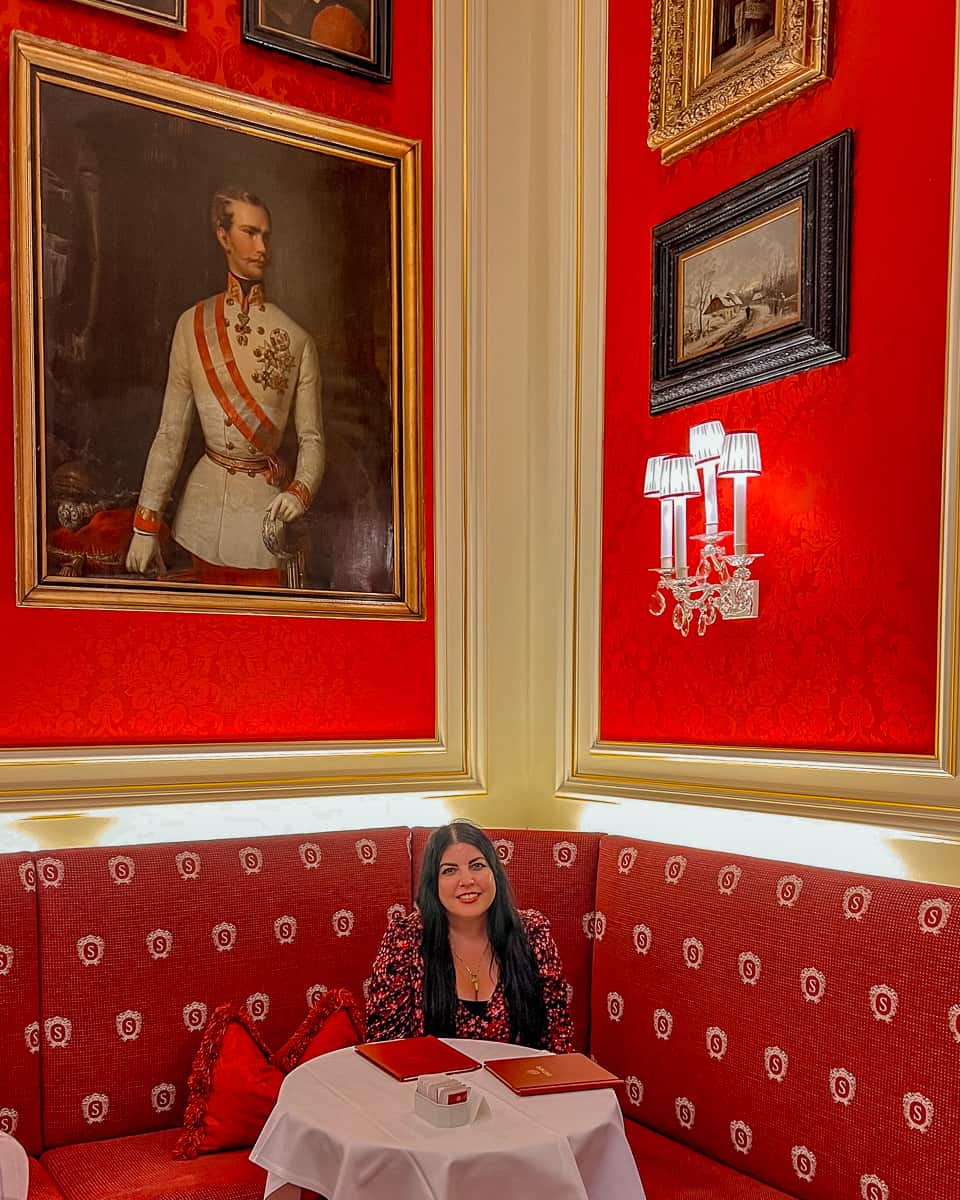 Read more of my Austria travel guides
How to visit Justizpalast in Vienna
How to visit the magical Austrian National Library
Admont Abbey Library – the most beautiful library in the world
Save this Café Sacher Vienna Review for later!