My favourite views in the whole of Edinburgh are the ones that you can find from on top of the majestic Calton Hill.
It isn't a hidden secret by any means. It's been a spot where thousands, if not millions, of people, have visited to enjoy the sights for centuries. But, I love it all the same.
Today, Calton Hill is a FREE UNESCO world heritage site. As well as the spectacular views you can get from here, there are a couple of important monuments and historic buildings too.
If you only have time to visit one viewpoint in the city, let this be it. It's a fantastic place to watch the sunset or see the breathtaking views.
Here's a complete viewpoint guide and the best things to do on Calton Hill Edinburgh.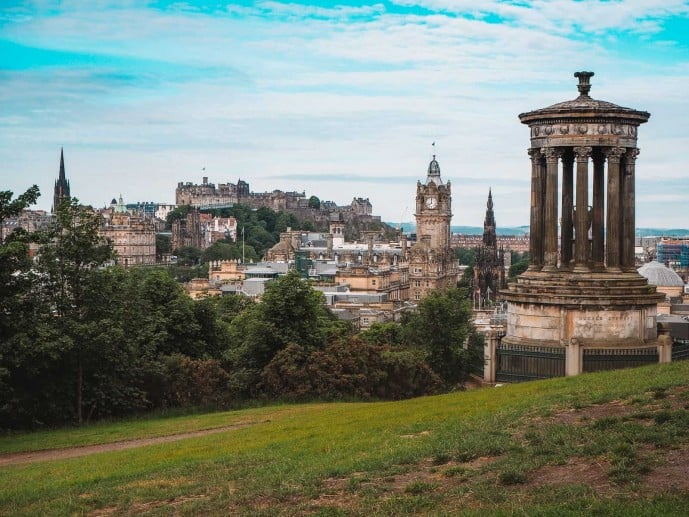 The History of Calton Hill
Calton Hill was formed over 340 million years ago. It has a huge history from the prehistoric era to today.
It was originally a hill fort in ancient times, then King James II of Scotland granted the lands to Edinburgh in 1456.
In 1518, a monastery was erected on-site owned by Carmelite Friars. But, once the Scottish Reformation took place it was abandoned and became a hospital for lepers!
The patient's diseases were so severe that it was illegal to escape or even open the doors during the day. Anyone who left faced a penalty of death.
The execution would be carried out on the gallows which stood at the end of the hill.
It was also the location of the infamous Calton Jail. Eventually, the lands crossed hands with wealthy members of society, but some were punished for treason.
It was then made officially part of Edinburgh city with the Municipality Extension Act.
The nickname of the Edinburgh acropolis started with the National Monument of Scotland. It's because it was built to resemble the Parthenon in Athens.
It was first initiated as a memorial to soldiers who died in the Napoleonic Wars.
Throughout the ages, there have been many monuments built here including the City Observatory, The Nelson Monument and the iconic Dugald Stewart Monument.
Today, it's a popular spot for tourists and locals to enjoy 360-degree views of the whole city and beyond!
Calton Hill has also been featured on the big screen in TV and movie productions. Including BBC's North and South, The romantic movie One Day with Anne Hathaway, the musical Sunshine on Leith and more recently the Railway Man starring Colin Firth.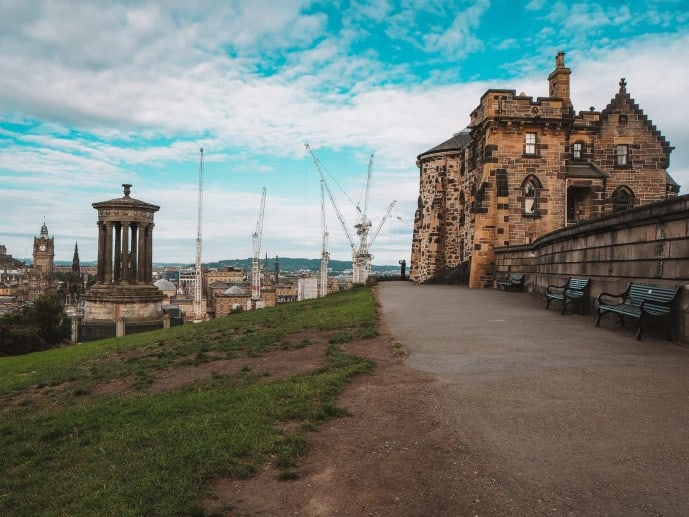 What is the best time to visit Calton Hill?
Calton Hill is completely FREE of charge and you can visit 24 hours a day. But, anyone and everyone will tell you to visit at sunset.
I agree, there is nothing quite like watching the sky change colour over the city skyline. Plus, you can see some of the cities most notable sites from here too.
But, I will warn you now, this does bring out the crowds and you'll find at sunset it's packed!
With people sat on the grass, large tour and school groups with selfie sticks, even wedding photoshoots!
If you're here for photography and wanting emptier shots, I would encourage you to visit at sunrise or earlier in the morning.
The views are still spectacular but you'll experience a fraction of the crowds.
I visited at around 7.30 am/8 am and it was a ghost town.
Or, if you're planning a picnic, Calton Hill is an amazing spot for lunch.
There are some benches and plenty of greenery to find a good spot and chow down with the backdrop.
How to find Calton Hill & getting there
Calton Hill can be found at the end of Prince's Street.
It's famous for shopping, the manicured gardens overlooking the castle and the Scott Monument.
Prince's Street is where many of the buses and trams pull up as a meeting point.
If you're travelling to Edinburgh by train, It's also located just minutes away from Edinburgh Waverley Station.
From these two points you can easily access Calton Hill on foot and you'll pass the famous Balmoral Hotel on the way.
There are plenty of signposts to lead you in the right direction. But, as the name would suggest, it's a hill and a steep one at that.
So, once you reach the bottom you'll need to start your steep climb to the top.
Luckily it is all paved and the walk is easily done, although you may be a bit out of breath!
Things to do on Calton Hill
1. Take in the many views from Calton Hill
Although many photos will just show you that one famous view from Calton Hill with the castle in the background.
Did you know you can see 360-degree panoramic views of the whole of Edinburgh from here?! That's right, you can see way beyond over to the Salisbury Crags and Arthurs' Seat.
There is also Holyrood Palace, the Firth of Forth, Leith and more. It's one of the best things to do on Calton Hill!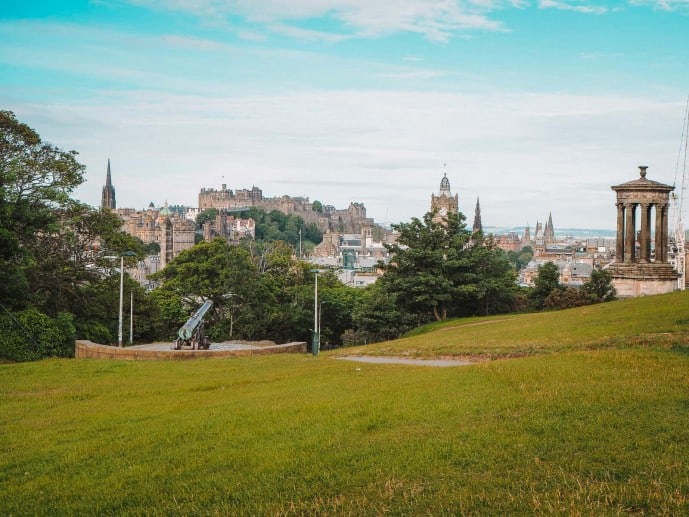 Iconic city skyline / castle views
If you want a photo spot that captures Edinburgh in one photograph, this is the spot for you.
As you climb up to the top of Calton Hill, passed the Portuguese Canon, head over to the Dugald Stewart Monument (the one that has the columns and trophy in the middle).
The top of the hill provides amazing views of the Old Town.
This is the spot where you can see the historic buildings, clocktowers, the spires of churches and Edinburgh Castle too!
It will make you feel like you're truly on top of the world.
This is a fabulous spot to watch the sunset and, if it's a sunny day, see the city skyline change colour!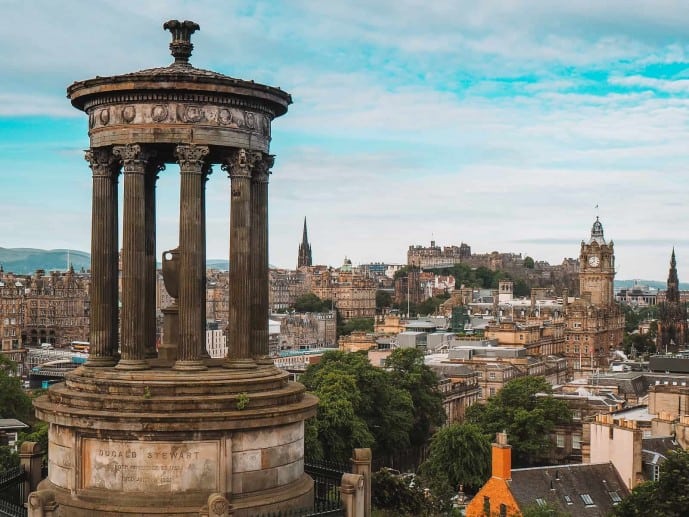 Coastline Views towards Leith
It's hard to believe when you're wandering about Edinburgh that it's a city that is on the edge of the coast. It even has beaches nearby!
From Calton Hill, you can catch a glimpse over at the new city. Watch the boats sail into port and see the waves of the sea from below.
If you're wandering what the small island is in the background, it's the isle of Inchkeith which is in the Firth of Forth.
Arthur's Seat / Holyrood Palace View
Another amazing view from Calton Hill is the view towards Holyrood Park.
You will see the huge and jagged Salisbury Crags, the lion-like appearance of Arthur's Seat (which is an extinct volcano you can climb), and even the Queen's official residence in Scotland; Holyrood Palace!
This is quite a unique view of the area. When you reach the top of Arthur's seat you can look straight back at it!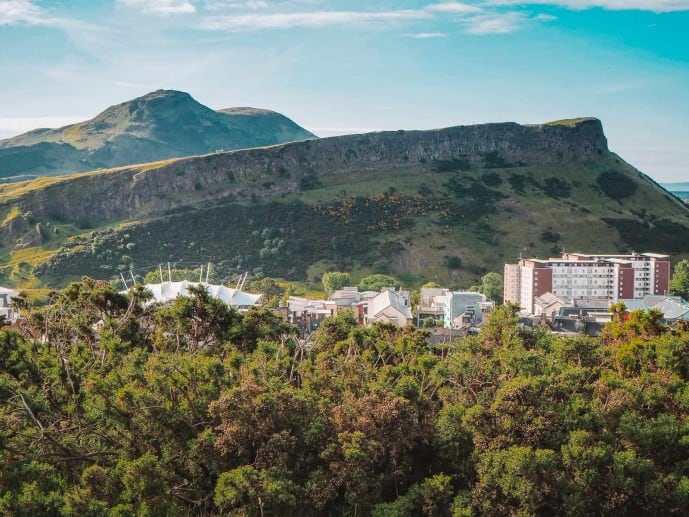 2. Explore the many attractions on Calton Hill
Did you know there are many things to do on Calton Hill beside the views?
Calton Hill has the nickname of the Acropolis and that's due to the fact that there is a replica of the Parthenon and other monuments that stand on top of the hill too.
Most of these have been closed to the public but some, like the Nelson Monument, have been restored and reopened;
3. Visit the National Monument of Scotland
This monument was originally initiated as a memorial to those Scottish soldiers that died during the Napoleonic Wars in 1816.
It was meant to be based on the Parthenon in Athens and the first stone was laid in 1822 but the funding didn't pull through and it was left unfinished in 1829. That's why you can only see columns.
Ever since then and even today, proposals have been discussed for finishing the monument but they don't take off.
It's still an iconic landmark on top of Calton Hill Edinburgh and people mostly just climb on top for a few photos.
There are no stairs so you have to climb up yourself. I've tried and it's harder than it looks!
Some more notable monuments you can find around here are the Dugald Stewart Monument which is dedicated to the famous philosopher and was built by William Henry Playfair.
Playfair eventually had his own memorial monument nearby after his death that is built in the Neoclassical style.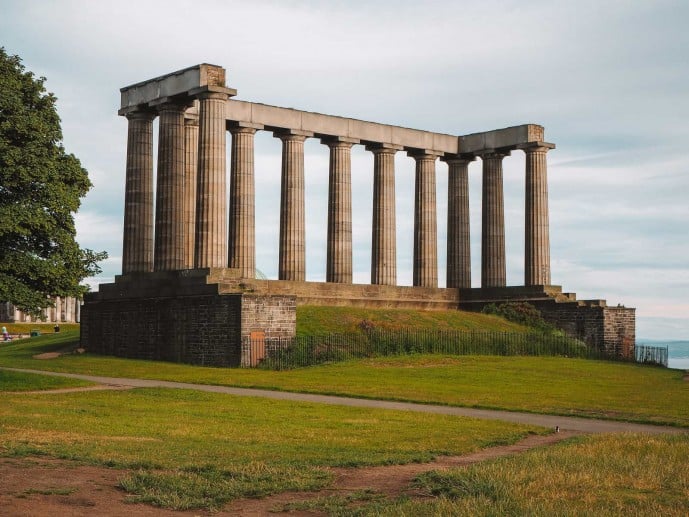 4. Spot the Portuguese Cannon
Did you even go to Calton Hill if you didn't get a picture of you sitting on top of this canon?!
But, beyond a fun photo spot, it tells quite a braw tale of its journey through the inscriptions on the label.
It has a Spanish coat of arms on it as it used to be based in Portugal. Spain used to rule Portugal during that time.
In the 17th century, it was sent out on Portuguese ships in the Indies – sailing all the way to Mozambique in Africa and even Macao in China (a Portuguese settlement in those times)!
In the 18th century, the Cannon was found by the Arakan, near Burma (Myanmar), and transported to Mandalay.
Eventually, when the British took over Burma they brought it back with them for an exhibit at the Edinburgh Fair in 1886. Look out for the Burmese inscription on it.
Today, the tables have turned a little and it has a less honourable job of being a play horse for children and big kids alike. What a journey one small cannon can make.
5. Nelson Monument
Unlike the other monuments where you just stop and stare if you will. The Nelson Monument is a tower where you can get even better views of the city. You can even see Princes Street and Calton Hill from the top.
It was first built in 1807 to honour Admiral Horatio Nelson's victory over the French and Spanish in the Battle of Trafalgar. He died himself during this mighty battle and it's a tribute to his life.
Eventually, it was restored and reopened 2009 and is now open to the public.
From the top of the tower, you can get a birds-eye view of everyone below and some of the notable sites too. It's one of the best things to do on Calton Hill.
Fun fact: a time ball is lowered inside here as the one o'clock gun is fired from Edinburgh castle each day!
Tickets cost £6 for entry, see here for opening hours. It does see large numbers and there is a maximum capacity, you will be waiting in line at peak times. But, I will warn you, if you're afraid of heights this isn't the attraction for you.
6. The City Observatory / The Collective
The Collective is the area of buildings that sit on top of Calton Hill where the City Observatory once stood.
This includes The Lookout Restaurant (more on this below), the City Observatory, The Dome, The Transit House, Playfair Monument and The Hill-Side viewpoint.
The City Observatory was built by William Henry Playfair in 1818. This was officially the birthplace of astronomy and timekeeping in the city!
Along with it came The Dome in 1895 to hold the Buckingham Telescope that was too large for the main observatory.
Today, these buildings have been repurposed into contemporary art galleries and spaces. So, you can have a look around and see what's going on.
Click here for the latest visitor information and exhibits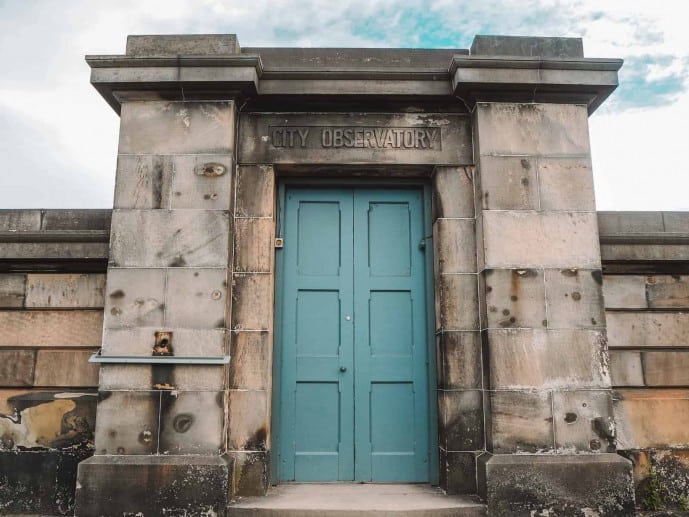 7. Bring a picnic or some drinks and enjoy the view
For me, one of the best things to do on Calton Hill is to bring a picnic or snacks up here! It brings back so many memories of enjoying the views here with friends.
We'd bring lunch and sit on the knoll, read our books, or bring a few tinnies at sunset to enjoy the views. It certainly beats any sort of expensive sky bar, especially when I was at Uni!
Lots of people bring picnics or drinks here, but just make sure to clean up your rubbish after you and be discreet if you're drinking.
It isn't illegal to drink in public in the UK, but being drunk and disorderly is something you can get done for.
8. Where to eat on Calton Hill: The Lookout by the Gardener's Cottage
If you're not into the picnic or bringing a couple of classy tinnies with you ;) .
There is the option of dining in one of Edinburgh's most panoramic restaurants, the Lookout by the Gardener's Cottage.
Although they do have a tasting menu that can set you back £85, they also have a two-course dinner for just £28 per person. But, remember, you're paying for those views.
If you're looking for a morning pick me up and brunch they have Sourdough and Cinnamon buns that start at £6.
If you want to go all out, you can treat yourself to a very fancy continental breakfast for £25 and add bubbly and oysters for £45.
Click here to see their full menu, reservations for the window views are highly recommended
Hotels near Calton Hill Edinburgh
Luxury: The Balmoral – this iconic historic hotel is located just five minutes away from Calton Hill Edinburgh and is one of the finest in the city. I had an amazing afternoon tea here at their Palm Court.
Mid-range: Cairn Hotel – located in an old Georgian Building, this cosy hotel is less than five minutes away from the base of Calton Hill. Conveniently located 800m from Edinburgh Waverley station for ease of transporting luggage.
Budget: Edinburgh Central Youth Hostel – cheap and clean dorms nearby Calton Hill and a great opportunity to meet new friends to go sightseeing if you're travelling solo!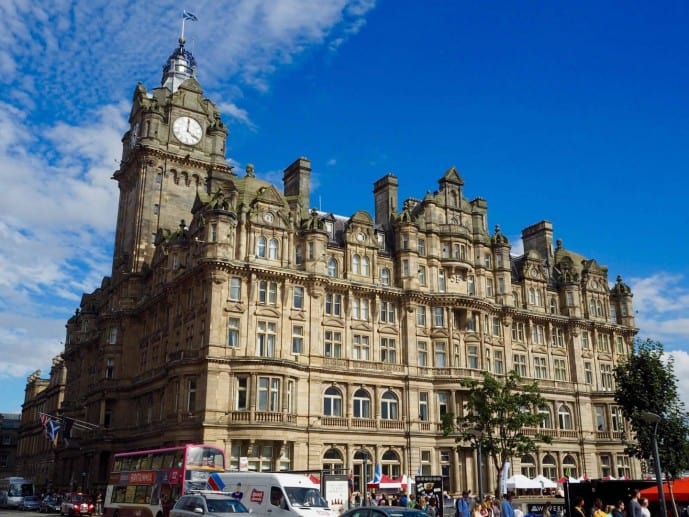 Looking for more photography points in Edinburgh?
Calton Hill Edinburgh is just the tip of the iceberg when it comes to fantastic viewpoints and photo spots in Edinburgh.
There are hidden courtyards on the Royal Mile, fairytale castles, quaint cobbled lanes, and even old villages that make you feel like you've stepped back in time!
Make sure you read my full list of Instagrammable places in Edinburgh
Oh and finally, don't forget to read my big FAT bucket list!
Edinburgh is way more than just photo spots and viewpoints.
It's the friendly people, its canal ways, delectable cuisine, the lively night scene, secret courtyards, wynds, resident ghosts, whisky experiences, and endless streets of historic buildings.
There really is just so much you can do and experience in Edinburgh, you could spend a month here and not get bored.
But, if this is your first time visiting the city, make sure you read my bucket list of essential experiences.
While you think of it, if you're travelling to Scotland remember travel insurance! I always use World Nomads for their reliable policies.
Read more of my posts on Edinburgh
The ultimate Edinburgh Bucket List
The BEST photography locations in Edinburgh
All the Outlander locations in Edinburgh
Harry Potter locations in Edinburgh
How to visit the Harry Potter graveyard
A complete guide for Armchair Books
A complete guide for the Vennel
Why you must visit Dean Village
How to find Bakehouse Close from Outlander
The hidden gem of Whitehorse Close
Signet Library Afternoon Tea review
Why you must visit the World's End
A complete guide for Circus Lane
The mystery of the Burke and Hare Coffin Dolls
Queen Mary's Bath House in Edinburgh
Discover Liberton Kirk in Autumn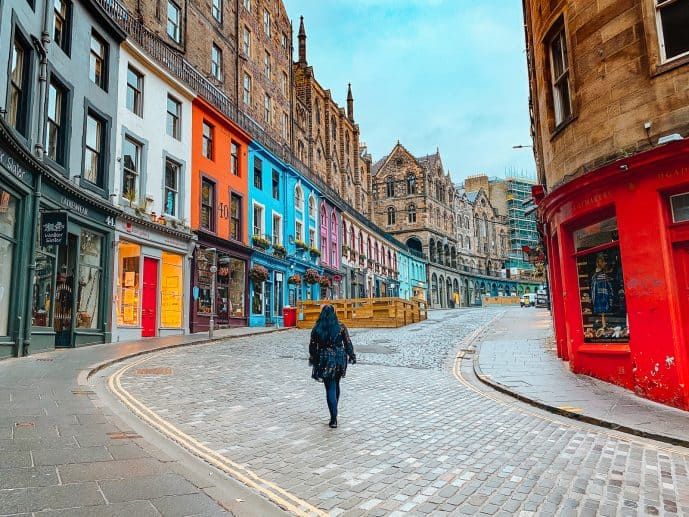 Read my posts on Scotland
All the Harry Potter filming locations in Scotland
Why you must visit the Kelpies
Where is the pink castle in Scotland?
A complete list of Outlander filming locations in Scotland
Finding the Hogwarts Express at Glenfinnan
Cove Beach in the Scottish Borders
How to find the Devil's Pulpit
Scottish National Portrait Gallery review
Save these things to do on Calton Hill for later!