The most iconic image of Scotland is the magical Eilean Donan Castle. A fairytale historic keep sitting on a tidal island where three sea lochs meet.
But, many people visit to find it packed with tourists during the day and it can be quite difficult to avoid the crowds in photos.
The Carr Brae Viewpoint is a great place to take amazing photos of the castle from above with the surrounding scenery.
It's a hidden gem view that's worthy of a postcard and it is just a short drive from the castle itself.
Here is how to visit the Carr Brae Viewpoint in Kyle of Lochalsh. The best view of Eilean Donan Castle in Scotland!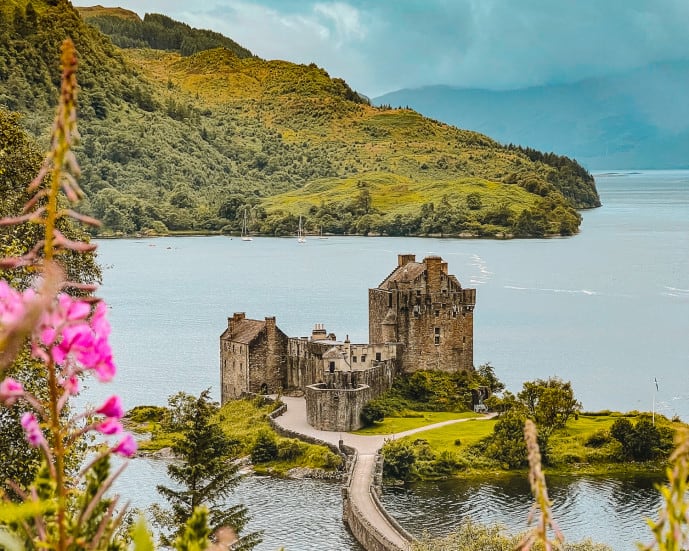 A brief overview of Eilean Donan Castle
Eilean Donan is a small tidal island in Scotland that sits where the three sea lochs of Loch Duich, Loch Long, and Loch Alsh meet.
The island has an early Christian history of a hermitage in the 6th and 7th centuries but the incredible castle we see today dates back to the 13th century.
It was built during the reign of Alexander II as a defensive keep to protect against Viking invasions. Back then, the lands of Kintail were its very own sea kingdom ruled by the 'Lord of the Isles'.
It was a harsh kingdom, controlled by the waterways, and power was determined by how many men you had to fight for you.
Naturally, this was the cause of many clan feuds and ownership of the title and castle changed regularly.
Eventually, Eilean Donan castle faced destruction due to its involvement in the Jacobite uprising. It was garrisoned by Spanish soldiers who supported the Jacobites and the English destroyed it.
It lay in ruins for almost 200 years until Lieutenant Colonel John MacRae-Gilstrap bought it in 1911. He funded a massive reconstruction and re-opened the castle in 1932.
Today, it's open to the public for visitors and it's featured in many famous movies over the years including Highlander. It is now the most iconic image of Scotland recognised all over the world!
What is Carr Brae Viewpoint?
The Carr Brae Viewpoint is a perfect view of Eilean Donan Castle from above on the hillside.
Many people visit Eilean Donan Castle to see it packed full of tourists and it can be quite hard to get good photos of it during the daytime.
Visiting the Carr Brae Viewpoint is arguably one of the best views of Eilean Donan Castle as you get a bird's-eye view, well away from the crowds.
It's also a spectacular perspective as you get to capture the most iconic view of Scotland from high up. So you get to see the castle, where three sea lochs meet and the surrounding mountains too!
It's a drone-worthy photo without a drone and you can achieve it with very limited effort. You can drive to the viewpoint in just five minutes from the Eilean Donan Castle parking area.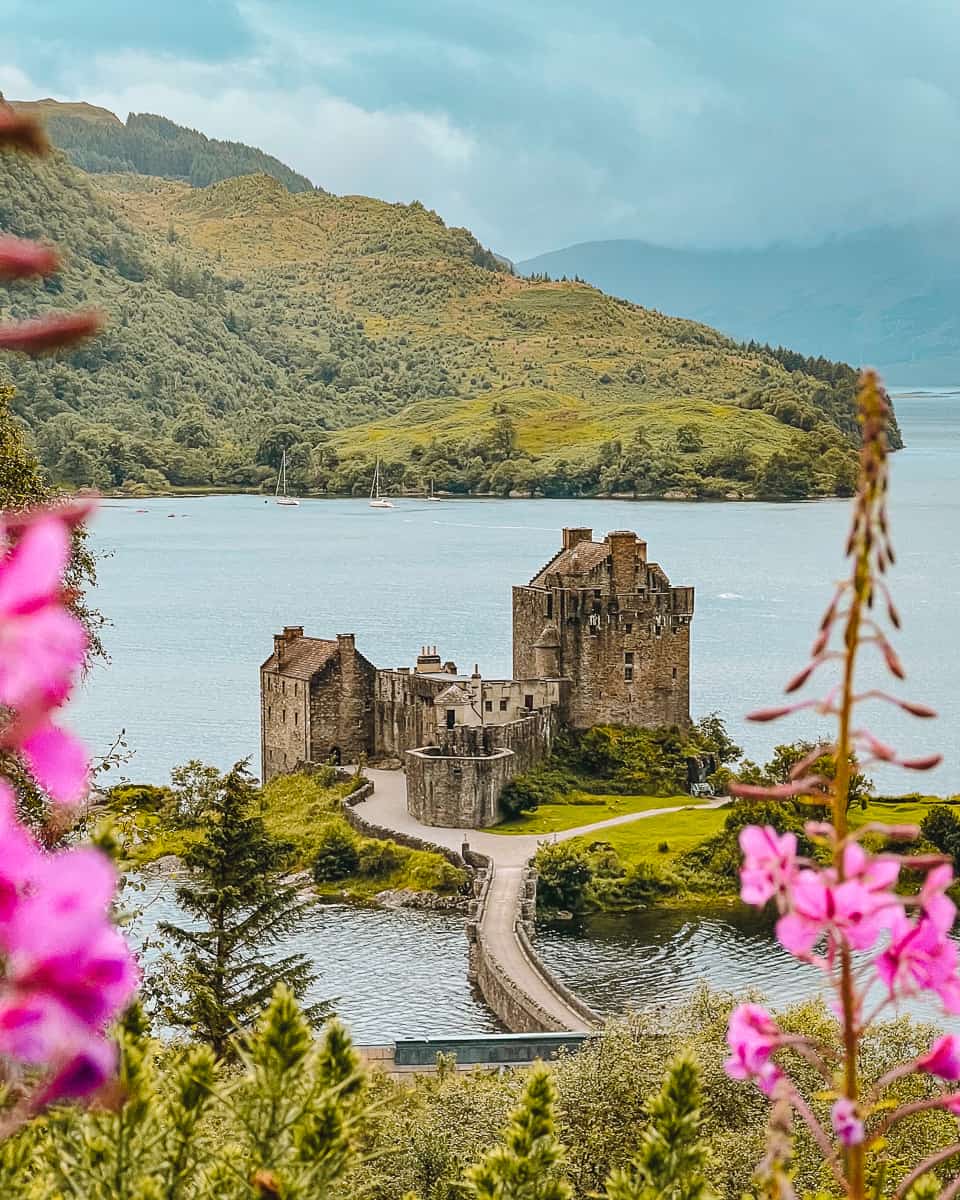 How to visit Carr Brae Viewpoint
1. From the Eilean Donan Castle parking area continue on the A87 towards Dornie and the Isle of Skye
2. You'll see a sign shortly after for the Carr Brae Viewpoint pointing right
3. Make the right turn and then follow the road around the corner until you turn right again (there will be another sign)
4. Continue up the steep single lane with passing places until you reach the Carr Brae Viewpoint parking. Remember to drive carefully.
5. You can park up in the small lay-by at Carr Brae Viewpoint and look over the fence to see the incredible views of Eilean Donan Castle!
Carr Brae Viewpoint postcode is Kyle IV40 8HA. Click here for a Google Pin!
What to expect at Carr Brae Viewpoint
Although this viewpoint is a bit of a hidden gem in Kyle of Lochalsh, it can be quite busy depending on when you decide to go.
When I got here during the middle of the day in July, there were tour groups and camper vans parked up. But, there is always enough room over the fence to capture the views!
Eilean Donan Castle visitor centre can be a bit of a hot mess with crowds and cars. But, coming up here you can escape all that and just appreciate the view and how magical this castle really is.
You can see the island sitting out on the sea lochs with the rolling hills and mountains surrounding it. It's breathtaking.
You'll probably only need around 10-15 minutes to visit this location to capture some photos. But, it's well worth the pitstop in my opinion.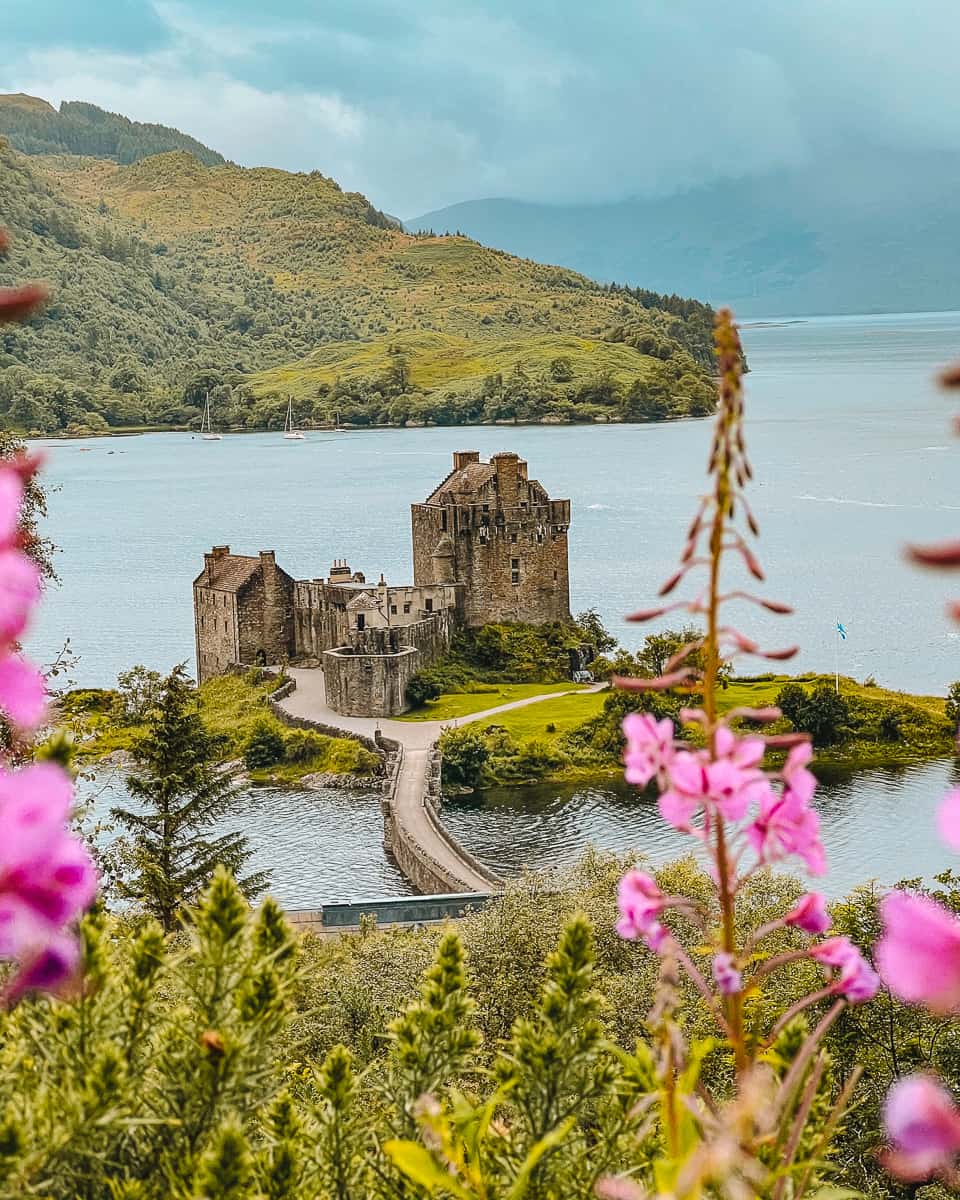 Top tips for the Carr Brae Viewpoint
Visiting early in the morning or later in the evening is best for photos without lots of people on the island. I visited at 8 pm and it was empty.
There can be a lot of foliage at this viewpoint. But, you should be able to work around it! Personally, I didn't mind in summer as I loved the pink flowers here.
In the evening it can be very busy and full of camper vans.
Drive with consideration as it's a steep single-lane road with passing places
There are free toilets at the Dornie Community Centre just a minute's drive away from the harbour. Don't use this place as a loo!
Make sure to visit Eilean Donan Castle next
Of course, capturing Eilean Donan Castle in a photograph from above is one thing but I wouldn't leave without visiting the castle itself.
There really is nothing more magical than walking over the bridge to Eilean Donan Castle in Scotland. It feels like you're walking in a fairytale.
Visiting hours are between 9 am and 6 pm in summer and 10 am – 4 pm in winter. Ticket prices are £10 for an adult and £6 for a child. Photography is not permitted inside the castle.
A little tip; if you wanted to visit Eilean Donan Castle without the crowds you can visit the island before opening times or after closing times for free.
I went around 8 pm and had the island to myself. Parking charges only apply from 9 am – 5 pm.
Simply park up and then head over to the island after hours. You can walk around in peace and just enjoy the breathtaking views.
Click here to read my guide on Eilean Donan Castle
Check out Manuela's Wee Bakery nearby
Just five minute's drive away from Eilean Donan and Dornie is another hidden gem of Manuela's Wee Bakery in Ardelve.
As you cross over the bridge to the Dornie Harbour area on the A87 towards Skye, you'll eventually reach a sign that says 'Bakery 300m' and 'Ardelve'.
Make the turning on the left and you'll eventually arrive at a fairytale bakery, gin distillery, and pizzeria. All the shops are located in these cute wee witchy huts!
Here you can treat yourself to coffee and all sorts of artisan baked goods. I would recommend their cookies, they are mouthwatering.
PizzaJo's would also be the perfect place to have a late-night dinner after an evening visit to Eilean Donan Castle.
Click here to read my complete guide for Manuela's Wee Bakery!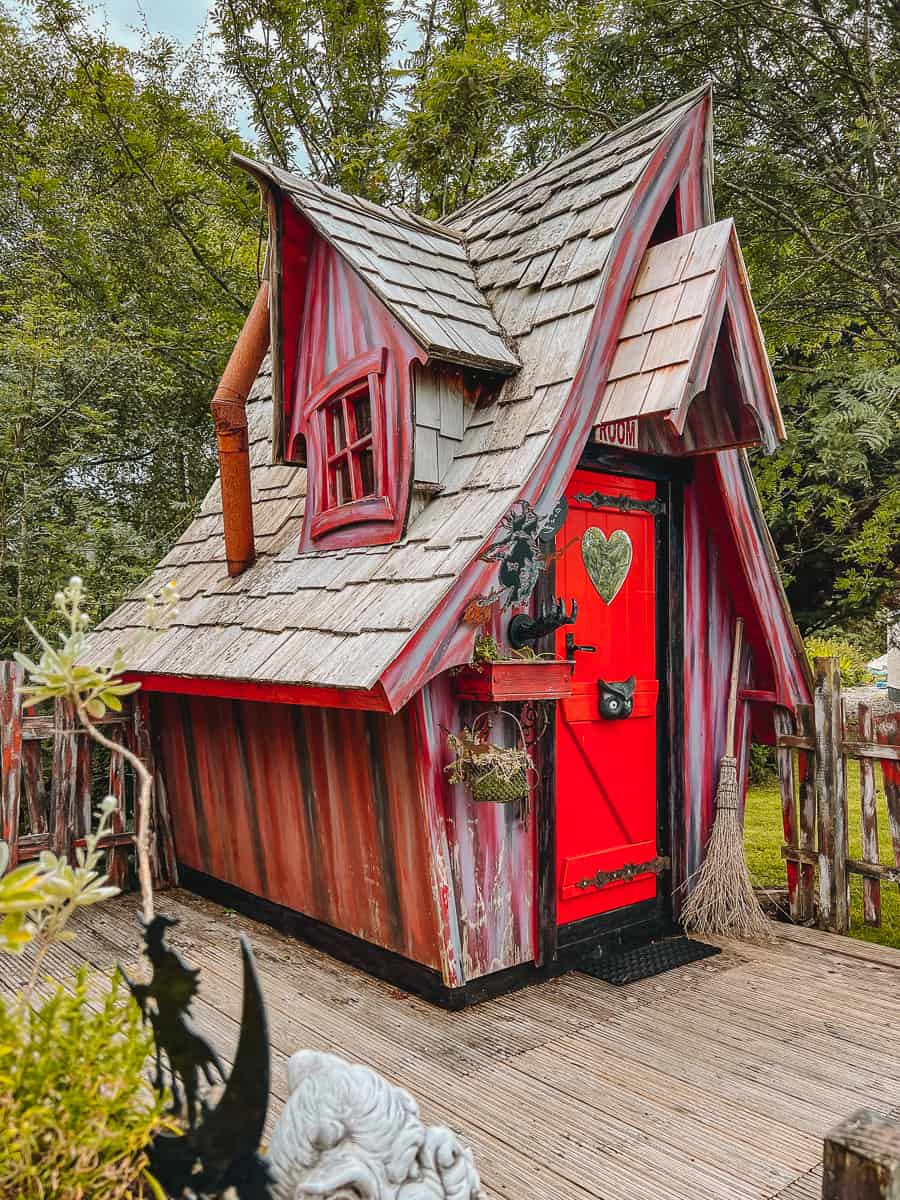 Where to next in Kyle and the Isle of Skye?
Most people make their way over to the magical Isle of Skye after Eilean Donan Castle. This is a large island off the coast of Scotland which you can drive to over the Skye Bridge!
The Isle of Skye is full of magical attractions like the Fairy Glen which is a unique and magical location where you can climb up to the ruined Castle Ewen!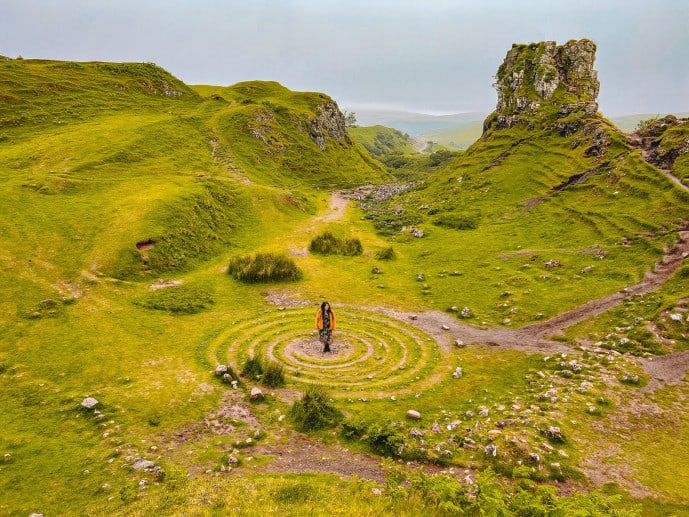 This is near the port town of Uig where you can catch a CalMac Ferry to the Isles of Lewis & Harris with the famous Callanish Standing Stones.
You can also visit the colourful houses in the harbour of Portree, explore Dunvegan Castle & Gardens (home of the Fairy Flag), or climb up to the Old Man of Storr.
The Fairy Pools is one of my all-time favourite hikes where you can visit magical crystal clear pools with a backdrop of the mountains. It's a great place for wild swimming.
Or, why not head to the uppermost edges of Skye by hiking the Quiraing or Neist Point?! There are so many mystical places to visit on this spectacular island.
Save time and book a tour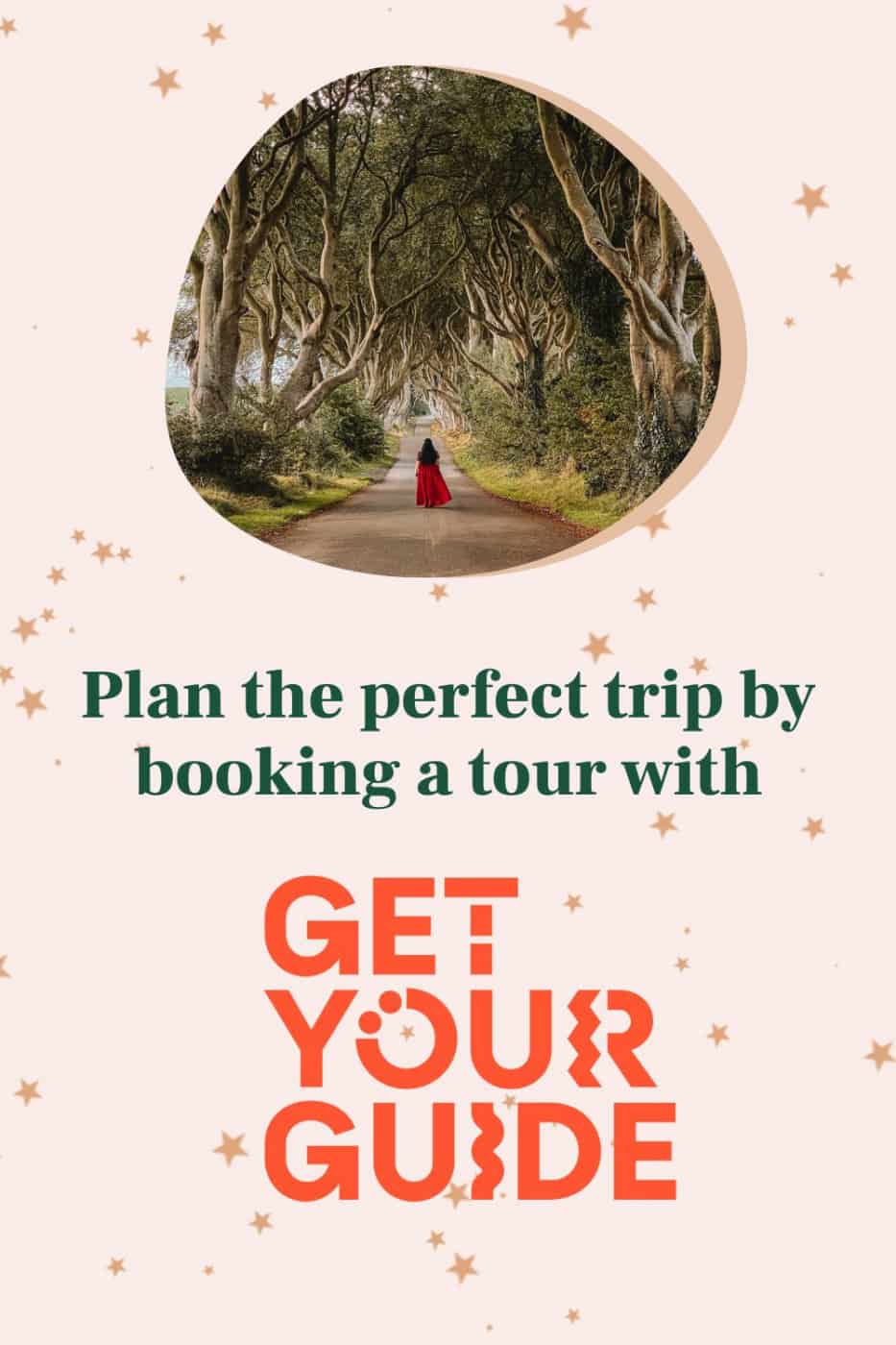 Book tours & tickets for Inverness!
Read more of my articles about Scotland
Where is the pink castle in Scotland?
How to visit the Kelpies in Falkirk
Incredible Harry Potter locations in Scotland
Edinburgh Harry Potter locations
How to visit the Wee White House in Glen Coe
A complete guide for the Glenfinnan Viaduct Viewpoint
How to visit the Corpach Shipwreck
Outlander locations you can visit in Scotland
How to visit Lallybroch from Outlander
The magical Kilchurn Castle viewpoint in Argyll
How to visit Smoo Cave & Waterfall
How to Find Balmoral Pyramid in Scotland
Things to Do in Gearrannan Blackhouse Village
How to visit Castle Stalker in Scotland
How to visit Dunrobin Castle – Scotland's fairytale chateau
Why you must visit Leakey's Bookshop Inverness
How to visit the Callanish Stones on the Isle of Lewis
Save the Carr Brae Viewpoint for later!