One of the most beautiful bookshops I've ever visited lies in the heart of Bucharest and it's called Carturesti Carusel.
It's a book lovers' paradise and, as well as being ridiculously Instagramworthy, it has six levels and over 10,000 volumes of the written word to buy in-store.
Beyond the obvious draw of books, you may be surprised to learn that this is also a cultural living space. So, you'll also find a modern art gallery, inviting bistro and multimedia rooms too.
Here is a complete guide for Carturesti Carusel in Bucharest, the most beautiful bookshop in Romania!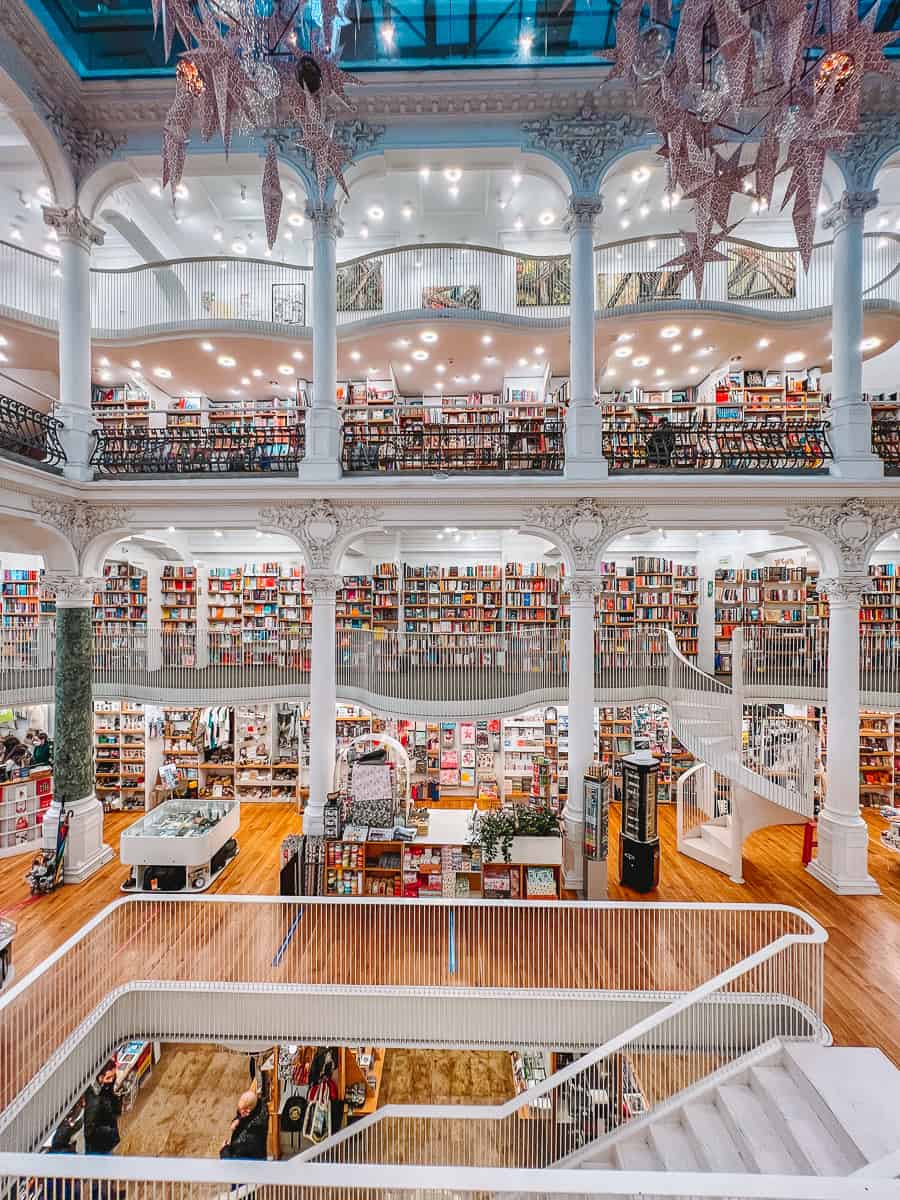 What is Caturesti Carusel bookshop?
Carturesti Carusel is a spectacularly large and beautiful bookshop in the heart of Bucharest.
Situated in an old bank, it has six levels and covers an area of over 1000 square kilometres which is filled with books. So, it's essentially a bibliophiles paradise and dream come true!
It's also incredibly pretty with elegant decor inside. The intricate archways, spiralling staircases, overflowing bookshelves, and Classic columns have made this bookstore an Instagram superstar.
As well as mountains of books and things to buy, Carturesti Carusel also has a multimedia space in their basement, a modern art gallery on the first floor, and a bistro at the very top!
It was created with more than just a bookshop in mind, it's an experiment of cultural living. An innovative place for people to visit, where they can read, socialise, be inspired, and connect.
The history of Caturesti Carusel
So, how did such an incredibly large building turn into an Instagramworthy bookshop?
Well, the building where the bookshop is now was created by the wealthy Chrissoveloni family who were bankers in the city during the early 20th century.
This acted as the Chrissoveloni Bank headquarters for a few decades until the rise of Communism in Bucharest. After that, the bank was closed and it became a Familia Store.
After the fall of Communism in 1989, the building was abandoned, and by the early 2000s, it fell into decay. It was empty and vacant for years and no one wanted to touch it.
So, a lengthy five-year project took place to bring this old building back to life by strengthening the foundations. The result is the incredible bookshop and living space we can visit today that opened in 2015!
What books do they sell in Carturesti Carusel?
Carturesti Carusel is an absolute paradise for book lovers and you can expect to find over 10,000 volumes of books to purchase in their store!
There are six floors with what seems like an inexhaustible list of books to browse. You'll find each floor is dedicated to a different genre of the written word.
You'll see fantasy sections, classics, poetry, self-help, gardening, biographies, children's books.
There are so many books you'll go cross-eyed but there are lots of reading nooks you can sneak into as well if you wanted a quick break.
Beyond the obvious draw of books, the bookshop also have an amazing range of over 5000 films for sale along with vinyl records and CD albums.
You can also find an area with stationery, travel luggage, toys, handicrafts from local artisans, chocolates, local wines, and Romanian souvenirs that you can buy to take home.
You could honestly spend hours in here and not see everything that it has to offer.
Do they sell English books?
Yes, I found in any Caturesti bookshop in Romania (there are a few dotted around the country) that they sold a variety of English books as well as Romanian.
These ranged from all sorts of Fictional and Non-Fictional books. You can expect to find English Classics, Young Adult, Fantasy, Self-help, Autobiography, Children's books, and many more genres.
Simply head into the store and have a look at the signs pointing you where to go. There are 'English Corners' and sections on each floor of the bookshop.
Carturesti Carusel photography tips!
Besides getting lost in their endless bookshelves, another reason why people flock to Carturesti Carusel is for photography.
I think that this bookshop is, by far, one of the prettiest I have visited to date. I couldn't get over the symmetrical architecture, the white columns, glass rooftop, and spiralling staircases.
Every floor provided a new breathtaking perspective of the space and I took so many photos my camera roll was crying.
It's very popular on Instagram and the bookshop is happy for you to take as many photos and videos as you like as long as you don't disturb those browsing for books and follow their rules.
Make sure to tag them when you post @carturesticarusel!
Carturesti Carusel café
If you wanted to extend your bookshop visit or you need a break from browsing, you must visit the Carturesti Carusel Café called Bistro Carusel.
It's located on the very top floor and so you'll be sitting under their glass rooftop with a view of the sky and even the stars if you visit in the evening!
They serve up loose leaf tea, espresso coffee, and cold drinks throughout the day. Plus, you can purchase sandwiches, pastries, and cakes if you're feeling peckish.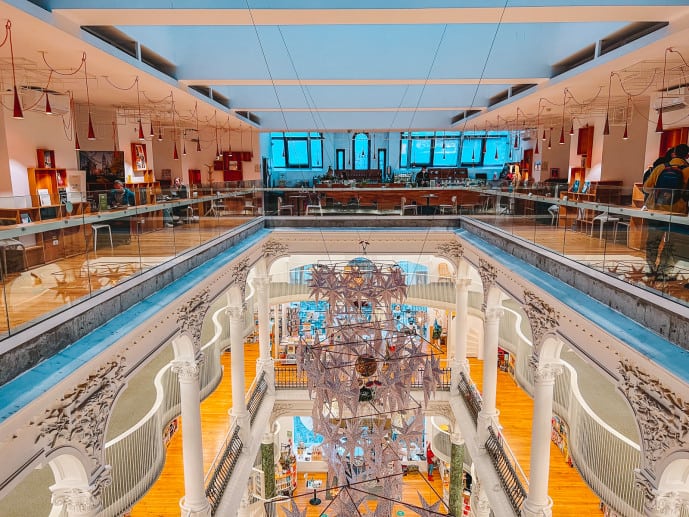 How to visit Carturesti Carusel Bookshop in Bucharest
Carturesti Carusel is easy to visit if you're spending some time in the Old Town of Bucharest. You can find the bookstore on Strada Lipscani.
I found the Old Town to be quite a labyrinth of cobbled streets but you'll find that it's only a short walk away from popular sites like Stavropoleos Monastery and Curtea Veche.
The best way to explore the old town is on foot but there are many transport options to visit the old town if your hotel is far away from there! Uber works great, or you can grab the metro, bus, or tram.
The Carturesti Carusel Bookshop can be found at 55 Strada Lipscani. Click here for a Google Pin!
Carturesti Carusel opening times
The great news is that Carturesti Carusel is open from 10 am – 10 pm every day of the week sometimes it's open until 12 am on Fridays and Saturdays!
So, you can fit a visit into even the shortest visits to Bucharest and I would definitely recommend prioritising a stop.
I visited just as the sun was setting and you can still get some great photos here in the bookshop at night. They had lots of twinkling decorations and lights that made it look magical!
Why not visit Carturesti Verona?
If you loved this bookshop, you may like to visit another in the Carturesti chain called Carturesti Verona on Strada Pictor Arthur Verona.
Although it's not as elegant or Instagrammable as this one, it's equally as large and provides a maze of rooms to get lost in.
All are filled with books, movies, vinyl records, toys, and gifts. Again, there are plenty of books that are sold in English.
Are you looking for more things to do in Bucharest?
If you were a bibliophile, you may love to head over to the National Museum of the Romanian Literature (MNLR) next on Nicolae Cretulescu Street.
It's a huge space dedicated to the history of the Romanian written word and so you'll find over 300,000 pieces in over 300 exhibits. These are from Romanian poets and authors including a large area dedicated to the Romanian National Poet, Mihai Eminescu.
As well as this museum, there are plenty of others you can visit in the city such as the History Museum and the Natural History Museum. A personal favourite of mine was the Romanian Village Museum where you can see traditional houses from all over the country!
In the old town, although relatively new, you'll find lots of historical buildings dotted around like the Stavropoleos Monastery. Or, you can visit Vlad the Impaler's original princely court of Curtea Veche before he moved over to Transylvania.
No visit to Bucharest would be complete without a guided tour of the largest parliament building in the world!
On your visit to the Bucharest Palace of Parliament, you can explore a small selection of its 1,100 rooms (!) and even see the famous balcony where Michael Jackson greeted Bucharest after the fall of Communism.
Read more of my Romania travel guides
Brilliant things to do in Brasov
How to visit Rope Street – the narrowest street in Eastern Europe
How to Visit the Brasov Hollywood Sign on Tampa Mountain!
How to visit Peles Castle from A Christmas Prince
Save Carturesti Carusel Bucharest for later!