A hidden gem tucked away in Barcelona's Parc de la Ciutadella is Cascada Monumental otherwise known as Gaudi's Fountain.
It was originally constructed by Josep Fontseré in preparation for the 1888 Barcelona World Fair and a very young Antonin Gaudi helped to design the hydraulics and water tank.
The waterfall was loosely inspired by the Trevi Fountain in Rome and so you'll see find many mythological highlights like Aurora, Venus, Eros, water nymphs and gryphons.
This was one of my favourite spots in Barcelona and what's even better is that its free entry.
Here is how to visit the Cascada Monumental Barcelona or Gaudi's Fountain in Ciutadella Park!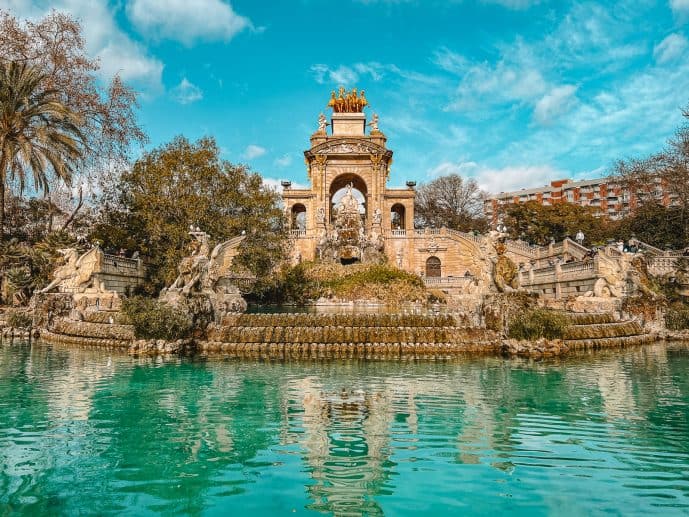 An introduction to Barcelona's Ciutadella Park
Although Ciutadella Park is one of Barcelona's most popular green spaces for locals and tourists alike, this area was originally hated by the citizens of the city.
During the War of Spanish Succession, Barcelona was under siege by King Philip V of Spain. He ordered a large military citadel to be built here in 1715 to control the city after its surrender.
At the time, this was the largest fortress constructed in Europe and the symbol that it represented to Catalonians meant that they despised it.
In 1869, General Juan Prim gave the citadel to the city of Barcelona to be used as a park to gain favour with the bourgeoisie.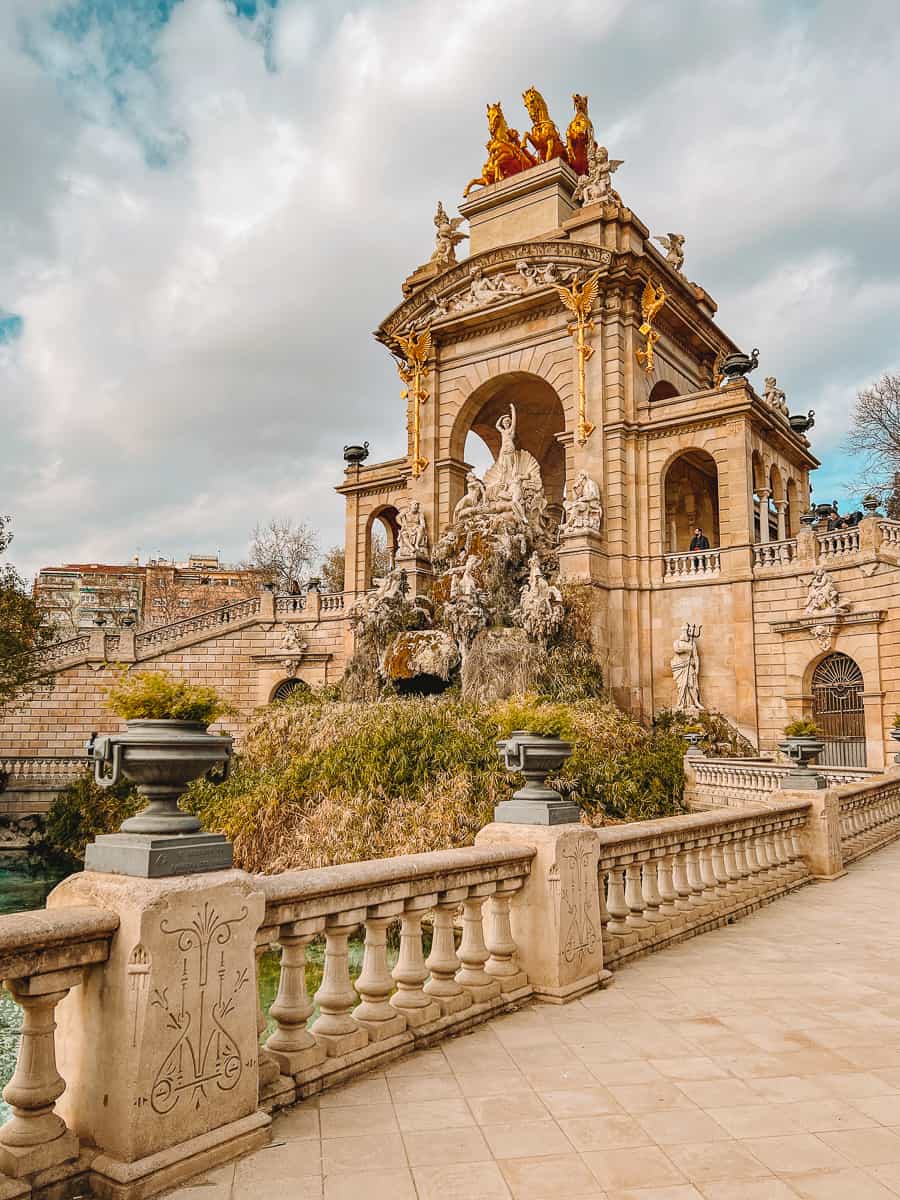 The citadel was then destroyed and the Parc de la Ciutadella was born in 1872. You can see a statue of General Prim on horseback near the entrance.
In preparation for the 1888 Universal Exhibition, Josep Fontseré was in charge of designing the park.
As part of this project, he constructed the Castell dels Tres Dragons, the Umbracle plant house and the Hivernacle glass house.
Fontseré was also in charge of redesigning the Cascada Monumental fountain and hired the help of a young student called Antonin Gaudi to design the hydraulics.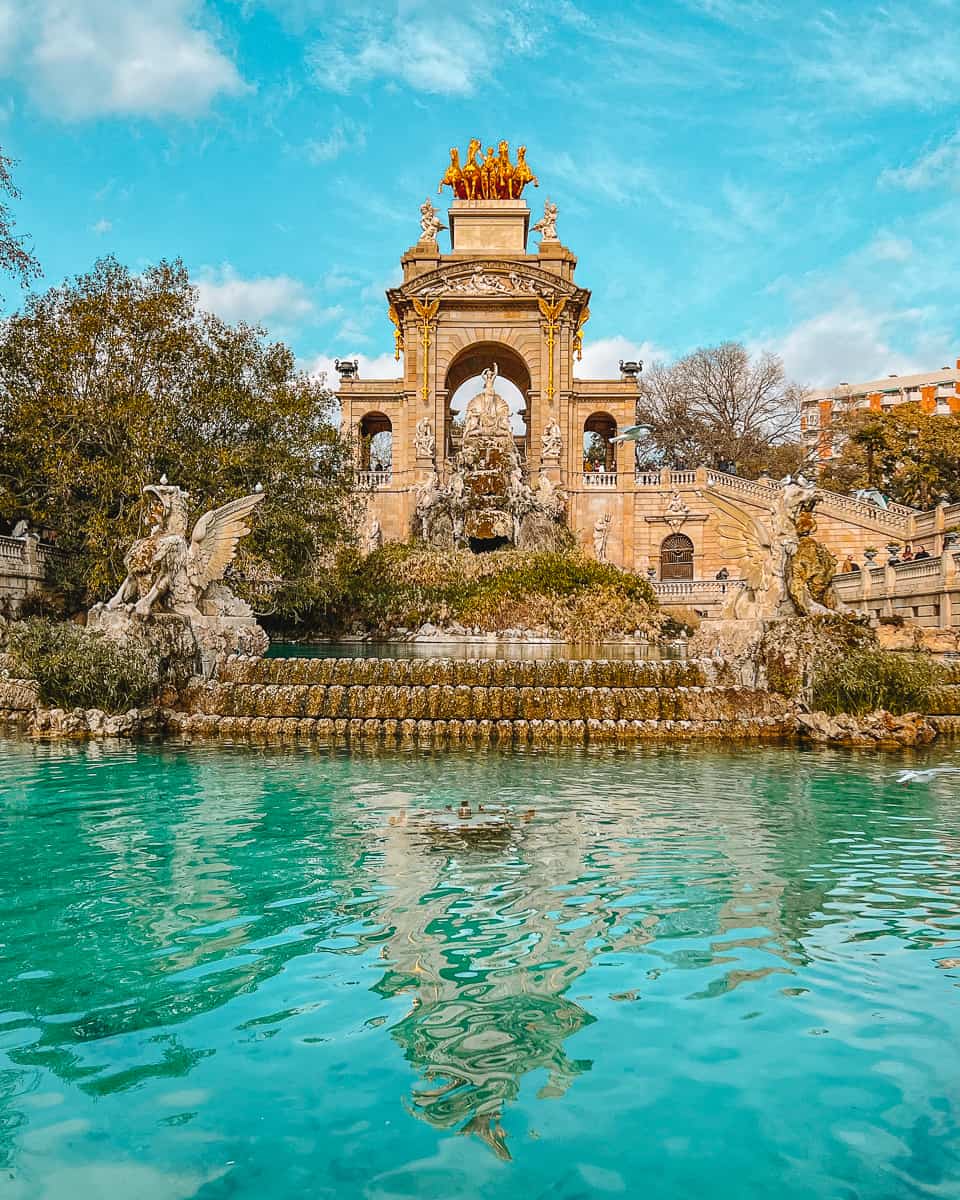 Cascada Monumental history
The Cascada Monumental was originally inaugurated in 1881 but it was highly criticised by the public. It was considered boring as it had no statues or flare to it.
Josep Fontseré was then tasked to redesign the fountain and so he worked with 10 Catalan artists to create the waterfall that was loosely inspired by the Trevi Fountain in Rome.
Antonin Gaudi, who was a top calculus student, was hired to design the water tank, and hydraulics to power the waterfall.
The project then became a highlight of the 1888 Barcelona Universal Exhibition and has remained a popular monument in the city ever since.
Although Gaudi is a world-famous artist today known for his vibrant residences and Park Güell, not many people know about the early work he did on this fountain!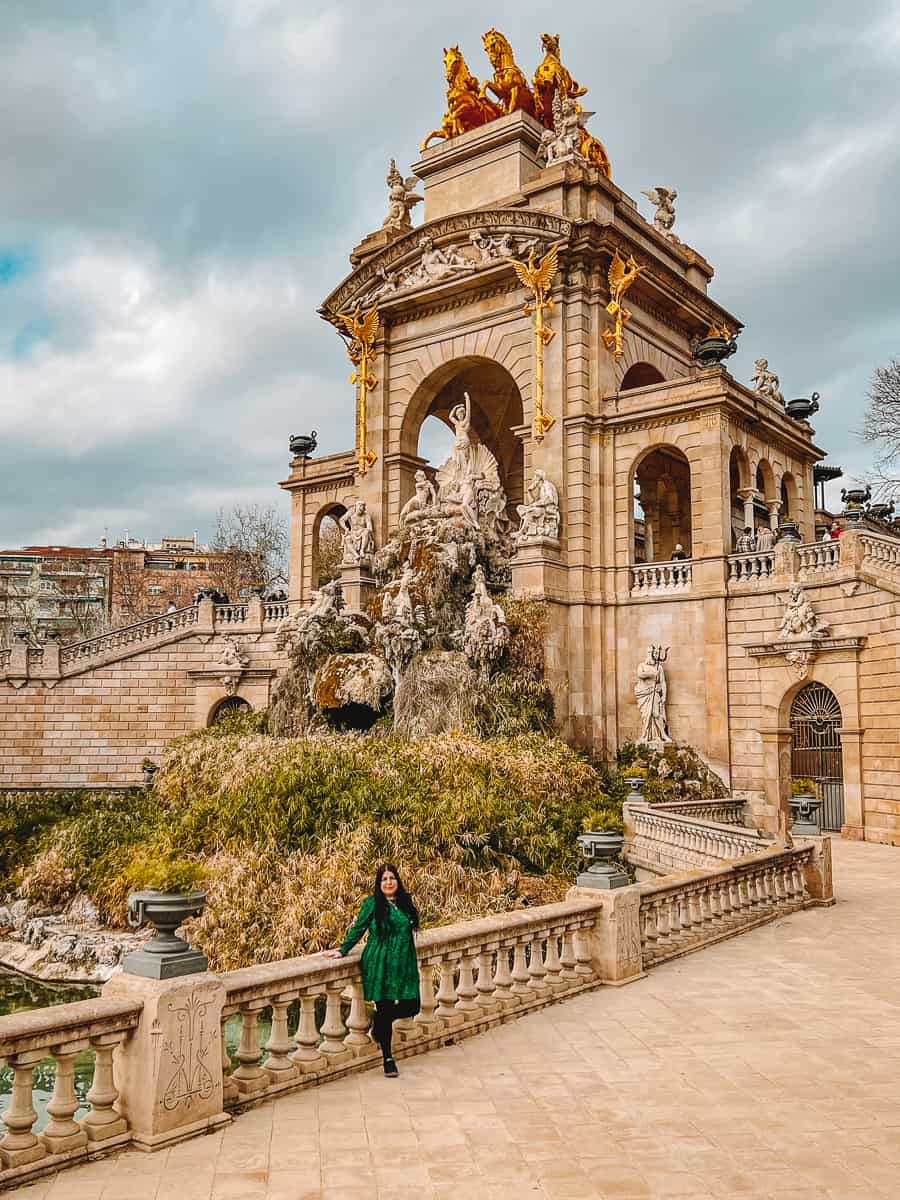 Details of Gaudi's Fountain in Barcelona
This fountain was loosely inspired by the Trevi Fountain in Rome and so you will find lots of figures and symbols from Roman mythology that decorate the monument.
There are many details to this fountain like the gold figure of Aurora on top who is the Roman goddess of the dawn in mythology. She is shown riding her chariot pulled by four horses which represent freedom and light.
At the very front of the artificial lake, you will see four winged gryphons guarding the fountain who are 'breathing fire' in the form of water. There are also four groups of djinns, two fauns and the figure of Eros.
You will notice how the fountain looks like a giant crab with the staircases looking like claws.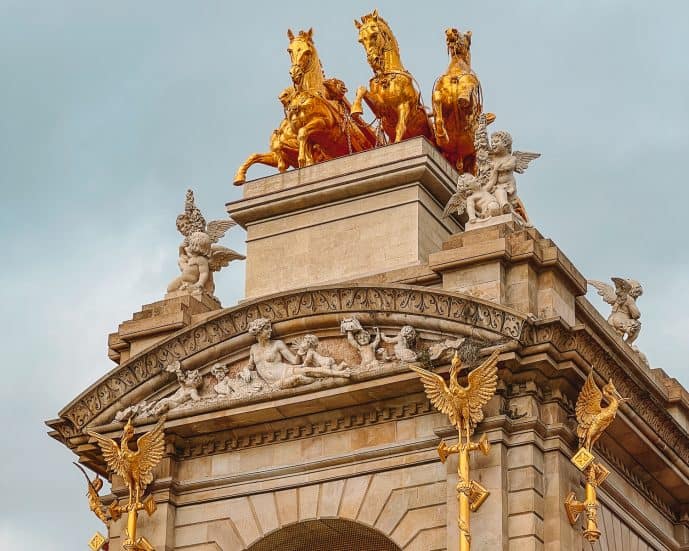 How to find Cascada Monumental in Ciutadella Park
Gaudi's Fountain can be found in the Parc de la Ciutadella in Barcelona which is not far from the Arc de Triomf and Gothic Quarter.
It's very easy to walk here from the city centre but if you're using the Barcelona metro system you can get off at Arc de Triomf station and walk 700 metres to the fountain in around 10 minutes.
Although Cascada Monumental is a huge monument, it's not immediately obvious to find in Ciutadella Park.
The fountain is a bit of a hidden gem tucked away in a far corner and so you will need to follow the signs or use a Google Map pin to find it!
Cascada Monumental opening times and prices
Ciutadella park opening times are from 10 am – 10.30 pm and I would recommend visiting the fountain early morning.
It draws in a huge crowd so it's best to get here for opening time if you wanted to get some good photos of the fountain without hoards of people.
Although many of Gaudi's attractions in Barcelona are UNESCO and can be pricey, you'll be glad to know that Ciutadella Park and Cascada Monumental are completely FREE to visit!
Things to see around Cascada Monumental
The Cascada Monumental is a popular monument in Parc de la Ciutadella for both tourists and locals alike.
You'll often find residents having salsa lessons, parties and exercise classes at the fountain and tourists snapping photos!
You're free to walk around the waterfall at your leisure and it's worth climbing up the steps to see the gorgeous views from the top.
Up here, you'll find an entrance to an artificial cave called the 'Aquarium' but it's closed off to the public. The area in front of this is where you'll find dance classes and events taking place.
Personally, I loved admiring the different statues. I'm obsessed with Greek/Roman mythology and I loved the statue of Venus rising from the clam surrounded by Naiads or water nymphs.
Underneath you'll find four water horses which looked like Kelpies to me. You'll also find lots of smaller details like vases, crawling vines, tridents, golden pelicans, sea creatures and so much more.
Why not bring a picnic?
If you're visiting in the summer, the Parc de la Ciutadella is a great place to visit with a picnic.
There are many benches and places here near the fountain where you can sit to eat lunch with this spectacular view!
You could easily spend a few hours at Ciutadella Park in Barcelona as it's a green space with so much to see.
Just watch out for the ducks who will definitely want to join you for dinner and make sure to take all your rubbish with you.
Other things to do in Parc de la Ciutadella
Ciutadella Park is a gorgeous oasis in the centre of Barcelona and there are plenty more things to see here after the Cascada Monumental.
If you're heading in from the Arc de Triomf side, the first building you will see would be the Castell dels Tres Dragons which was originally designed for the 1888 Barcelona Universal Exposition.
Next to the Castell dels Tres Dragons, you will find a winter garden called The Hivernacle and a summer garden called The Umbracle. Plus the Plaça de Joan Fiveller.
There is a bandstand situated behind the fountain. This is a now memorial to Sonia Rescalvo Zafra who was murdered here for being a trans woman.
A government building of the Catalan Parliament is near here which was formerly the military arsenal of the citadel.
Unfortunately, you can only visit on the first Friday of the month by guided tour but the outside building is still very impressive.
Right next door would be the Barcelona Zoo and there are quite a few local jokes about the fact that the zoo and parliament are so close to each other!
Lastly, you can look out for some of the many sculptures around the park. Highlights include Als Voluntaris Catalans (to the Catalan Volunteers) by Josep Clarà, a life-size woolly mammoth (Mamut) and General Joan Prim on horseback.
You could easily spend half a day in Ciutadella Park just enjoying a stroll and looking at all the different highlights.
It's very peaceful and relaxing compared to the busy shopping streets like Las Ramblas.
My top tips for visiting Ciutadella Park
Watch out for pickpockets – Barcelona is rife with pickpockets and many operate around this fountain as it draws in large crowds.
Be aware of scams – There will be people offering betting games. These are common scams so don't be bought in.
Don't visit too late at night – Although Barcelona is relatively safe as a city, I wouldn't visit this park and fountain late at night.
Looking for more places to visit near Ciutadella Park?
After you have finished exploring Ciutadella Park, there are plenty of amazing activities nearby in Barcelona.
Here are some of the top things you can see and do;
Arc de Triomf
You've most likely heard of the Arc de Triomphe in Paris but did you know that Barcelona has one of its own?
Although you can find many triumphal arches around the world, Barcelona's is one of the only ones that wasn't built to symbolise a military victory.
The Arc de Triomf was built by architect Josep Vilaseca i Casanovas as the main access gate for the 1888 Barcelona World Fair.
It crosses over the large promenade of Passeig de Lluís Companys and leads you into Ciutadella Park.
It's built in a Catalan Art-Nouveau style in red brick. Look out for the stone bats here, they are a symbol of King Jaume I of Aragon.
He was a 13th-century king and the city flourished under his rule. He also liberated many Spanish territories from the Moors.
According to an ancient legend, a bat warned King Jaume of his enemies coming to attack him by surprise and so the bat became his lucky symbol. That's why you'll see bat motifs all over the city!
It's a very popular attraction and photo spot as the passageway is lined with tropical palm trees!
Barri Gòtic / Barcelona Gothic Quarter
The Gothic Quarter in Barcelona was my favourite part of the city. You'll find ancient buildings, cathedrals, and artwork and you can follow in the footsteps of Pablo Picasso around El Born!
One of the best places to visit would be Barcelona Cathedral which is the seat of the Archbishop of Barcelona. It has a history since the 5th century!
I would recommend buying a cathedral and museum ticket that gets you access to the rooftop! You can see the entire city skyline from there.
Other highlights of the Gothic Quarter are Pont del Bisbe Bridge, Plaça Reial, Basílica de Santa Maria del Pi, Picasso Museum and The World Begins With Every Kiss mural.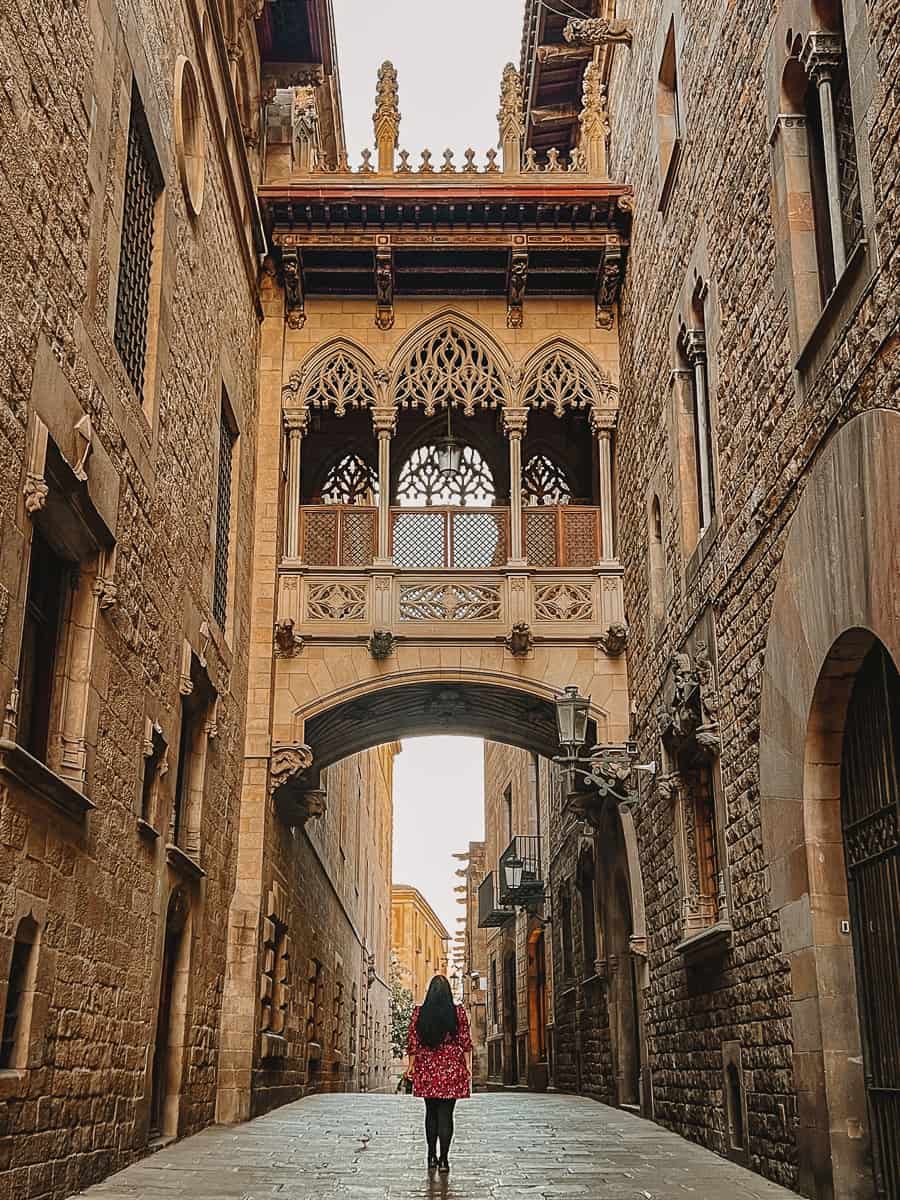 Where to stay in Barcelona
On my visit, I stayed in the magical Sercotel Rosellón which was located right beside the Sagrada Familia and had one of the best views of the city.
Not only do most of the rooms face the Sagrada but they have an incredible rooftop terrace where you can sip a drink and enjoy tapas with this breathtaking view as well.
The rooms were very clean and comfortable and it was close to most of the city centre attractions.
Also, the metro was just a minute's walk away which links you with the rest of Barcelona!
Click here to book your stay at Sercotel Rosellón
Read more of my Barcelona guides
30+ Instagrammable Places in Barcelona
How to visit the Barcelona Bunkers del Carmel
Why you must visit the secret Fairy Bar Barcelona
Magical Sant Pau Recinte Modernista guide
Palau de la Musica Catalana guide
Save the Cascada Monumental or Gaudi's Fountain for later!