Castle Combe is a jewel in the crown of The Cotswolds.
It's ever so quintessentially English and it will transport you to a world of adorable cottages with smoke from the chimneys, brooks, bridges and bunting with no TV wires or satellite dishes in sight.
It's often used as a historical film location for this reason and it's as pretty as a postcard to boot.
In my opinion this has got to be one of the prettiest villages in all of England and I think that if you're visiting The Cotswolds you should bump this to the top of your list.
I guarantee you will fall head over heels in love with it! Here's the ultimate Castle Combe travel guide.
How to reach Castle Combe: Where is The Cotswolds?
The Cotswolds is a drop dead gorgeous part of England which is quite literally a range of rolling hills pocketed with traditional English towns and villages! It covers a wide area; 800 square miles over 5 counties to be exact.
So, if you were planning a visit, make sure you leave enough time to explore! There are many hotspots around this area including Bourton-on-the-water, Bibury, Burford and Stow on the Wold to name a few.
Castle Combe is nestled in the countryside of Gloucestershire around 5 minutes from the town of Chippenham.
Aside from being tourist attraction all year round, it often sees an influx of punters for the Castle Combe Car and Bike racing circuit which is in the upper part of the village.
The Bybrook area or the lower part is where the stunning village is located. There is a paid parking area at the top of the hill which is a short walk away. But, usually along the hillside down to the village, there are some free parking spots if you can snap one up.
Getting around The Cotswolds
Public transport links can be found all over The Cotswolds, mainly buses or trains, that connect the main towns like Bath, Chippenham, Moreton-In-Marsh and so on.
You may find that buses to the smaller villages are few and far between in the countryside (especially on Sunday's) with the nearest bus stops being far from where you want to go.
The best plan of action is to find a good base like Bath, Chippenham or Cirencester and drive/hire your own a car. That way you can see and do so much more and on your own schedule!
For example, Castle Combe is lovely but as it's so small you may want to do three or four villages/towns in one day to make the most of your time. Make sure it comes with a Satnav to find your way around – the country roads can be a maze with bad data signal for Google Maps!
You may recognise Castle Combe from the movies!
When you walk around, aside from the alarming double yellow lines all over the place and a few cars dotted about, there really isn't any sign of the modern era at all.
There are no wires or satellite dishes that are visible as they are all underground. It's literally as if the town was frozen in time to a bygone era.
Because it looks so old fashioned film studios absolutely love filming period dramas and films here!
You may recognise scenes shot here in films like Dr Dolittle (the original from 1967), Agatha Christie's Poirot, Stardust and even War Horse was filmed here with Steven Spielberg.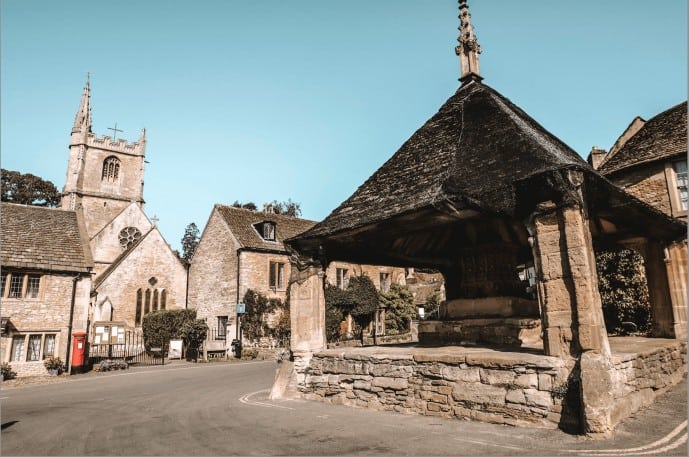 Walks around Castle Combe: Exploring the village
Although she be but little, she is mighty! This little place really packs a punch.
You can follow the quaint street down towards the Bybrook bridge and get one of the most beautiful views of The Cotswolds.
This is one of the most photographed locations and a popular spots for artists that visit to paint a landscape.
It does get packed out with tourists and tour groups so if your visit was to take pretty photos I would come as early as possible to avoid the crowds.
It will be like you're walking through a Dickensian novel; there's an old fashioned post office, a church with bells to ring, the ancient market square and the cutest doors and door knockers!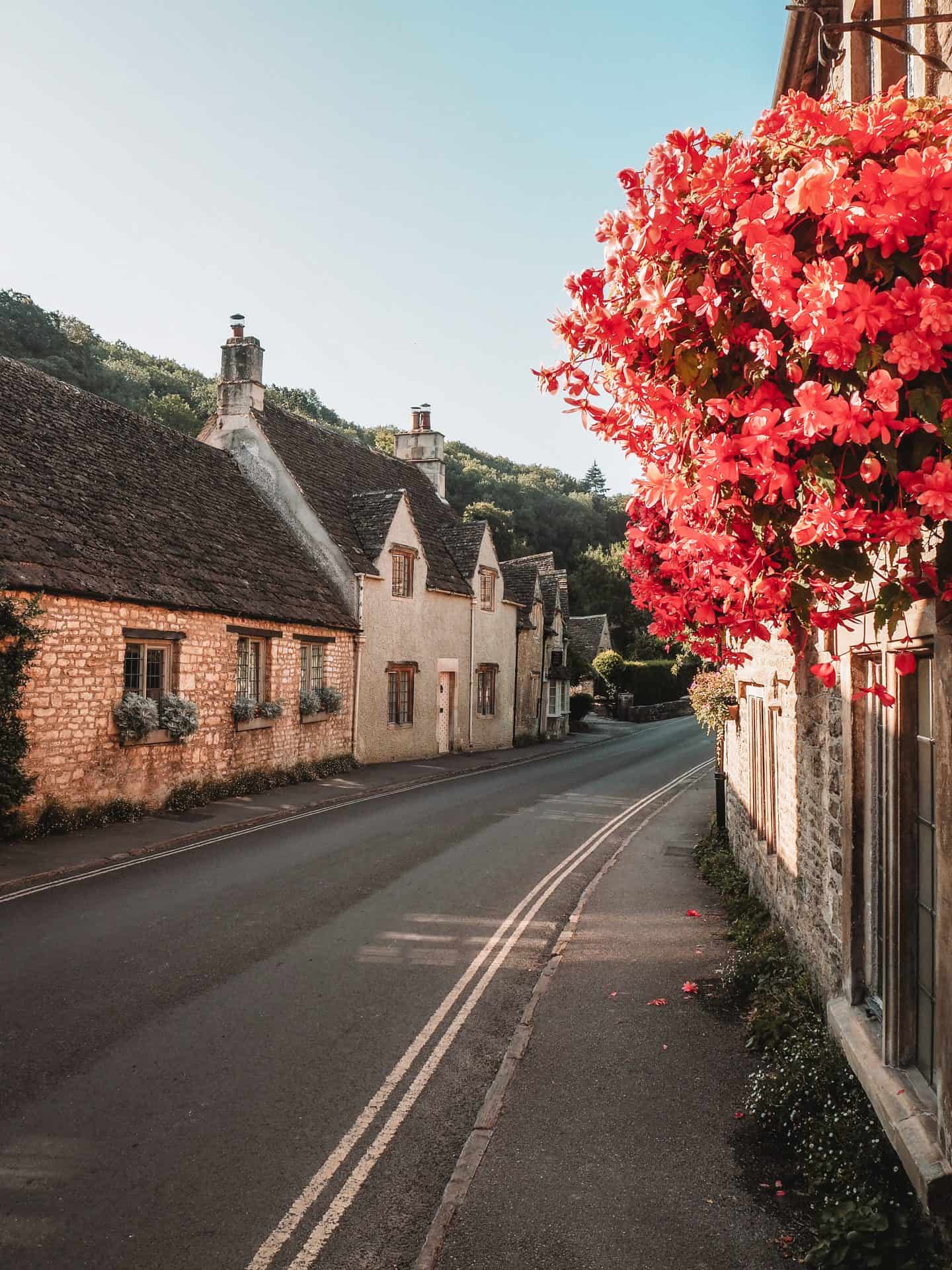 Visit Castle Combe Manor
If you were looking for a touch of luxury on your visit, you can pop into the grandeur Castle Combe Manor.
Built in the 14th Century, it famously used to be the residence of Sir John Oldcastle. Nowadays, it's the boutique 'Manor House Hotel' which will make you feel like royalty for your stay.
It will set you back a pretty penny for one of their suites or signature cottages but it's worth the splurge for a special occasion.
If you didn't want to splash your cash, you can just visit here for afternoon tea, coffee, lunch or dinner in their cosy restaurant.
They have a large outdoor garden for when the weather is fine or if the weather is feeling typically British (i.e. cold and rainy) you can sit indoors with the wood fire!
You are allowed to visit the grounds and gardens free of charge to have a nose but be prepared to be thrown out if there is a wedding taking place – they're very strict about that! I mean, I would be too if I paid to get married there.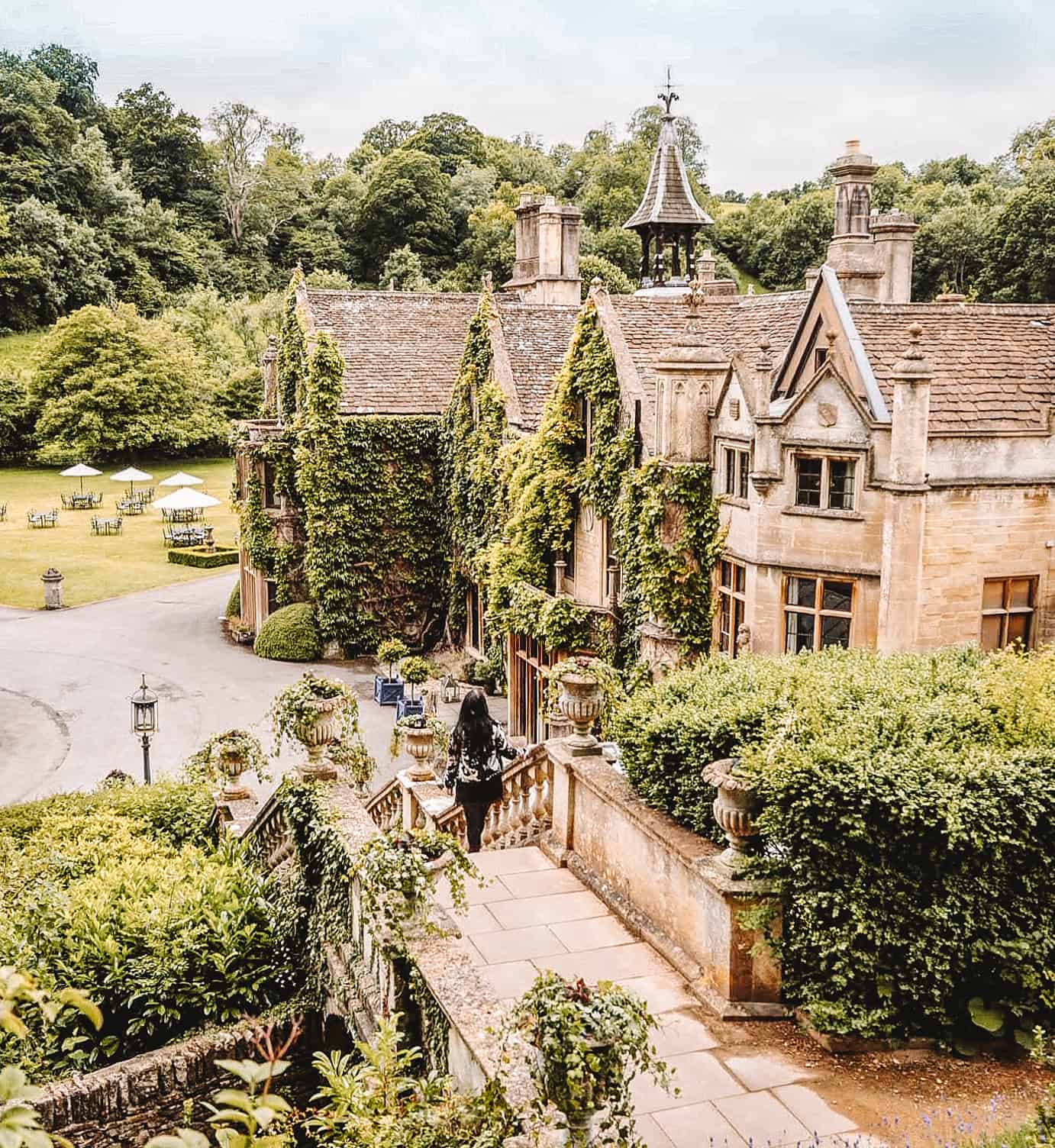 Where to eat in Castle Combe
Did you even visit England if you didn't go to a pub in the country?
If you haven't yet, we best change that! For such a small village it actually has three places you can eat.
The first is the Castle Combe Manor itself that provides a fine selection of sandwiches, light bites and afternoon teas. Then there is the 'Castle Inn' which is your place for fine a pub meal. You can check out their mouth watering menu here.
Then there's the White Hart a 14th-century pub which is owned by Wadsworth. 
If you're not familiar with Wadsworth, they have quite a long history in these parts and were founded in 1875. It's the only brewery in the UK that still delivers there ales by Shire Horses and cart! You can visit their brewery in Devizes if you were interested in the process.
Hotels and B&B's in Castle Combe
If you fancied spending longer than a day here, you should definitely consider a stop overnight.
Some places I would personally recommend are: The Manor House and The Castle Inn.
Pop your money in the box
One part I absolutely adore about The Cotswolds is the honesty stalls that are set up.
Cakes, preserves, seeds, potted plants, eggs, books and so much more can be found outside the locals houses.
The whole transaction is based on trust and to buy, you simply pick up the item you want and slot your money through the letterbox! It's just so quaint.
I mean, where else would this happen nowadays in the 21st century?
Around Castle Combe and The Cotswolds
So that's my ultimate Castle Combe travel guide. But this pretty village is just the tip of the iceberg when it comes to The Cotswolds.
You only need an hour or two here and then you'll have pretty much seen there is all to see.
From here you can explore Lacock which was used to film Harry Potter and Pride and Prejudice.
Bibury with the 14th century Arlington Row, Corsham with it's impressive Court, Bourton-on-the-Water stands as cute as a button on the river.
Lower Slaughter (although it sounds horrific) is a beautiful escape for walks in the country. Upper Slaughter is also a hidden gem.
Tetbury is also a beautiful town in the Cotswolds with its ancient Chipping Steps.
Cirencester acts as the Capital with Roman roots and the bigger city of Bath which is on the southern edge is a must see.
There is so much of The Cotswolds to explore, I've lived here all my life and I haven't yet seen it all.
It's the perfect trip outside of London if you want to get out into the countryside and see some of the rich heritage England has to offer. Don't miss out next time you find yourself in the UK!
Like it? Pin it!