Are you looking for all the best things to do in Castle Combe in the Cotswolds? Well, I have a whole list of the right here.
Castle Combe is the most magical village and many say that it's the prettiest village in England. I would have to agree with that statement!
It's a place that looks like it's been trapped in time and everywhere you turn you'll see a plethora of quaint ancient buildings.
In fact, it may surprise you to know that there have been no new buildings built here since the 17th-century!
Although it's a small place there is plenty to see and do. You'll instantly fall in love with it. Here is a complete guide for the best things to do in Castle Combe Cotswolds!
Is Castle Combe worth visiting?
100% YES! Castle Combe is definitely worth visiting. It's like a fairytale medieval village that's cut off from the rest of the world.
There are no TV wires or dishes, barely any cars in sight, and every house was built a few centuries ago. So, you must experience it for yourself.
There always seems to be a Castle Combe or Bibury debate but I would definitely recommend visiting both. They are both gorgeous villages in their own right!
Plus, they are completely different sides of the Cotswolds. Castle Combe is in the south whereas Bibury would be considered 'north' Cotswolds.
So, it's completely up to you. But, if you do only have time to visit one village, I would recommend Castle Combe as it's incredibly quaint.
It's like being able to walk through a postcard as there is no sign of modern life here!
The history of Castle Combe
A lot of people ask, how did Castle Combe get its name, and is there a castle in Castle Combe?
Well, there isn't today but at one point in time, there was! It was built a few centuries after a Roman Villa stood near to this area.
In the 12th-century, there was a castle located around 500 metres north of the village. It was first constructed by Baron, Reginald de Dunstanville in 1140.
It was called "Castell of Cumbe" and was built on an ancient site that was used by the Celtic Britons. It was abandoned in the 1300s and now only the earthworks remain.
Later, the market cross was constructed in the 14th-century as Castle Combe was granted a weekly market that took place around this spot.
Unfortunately, at this time, the Castell of Combe had fallen into decline and the Castle Combe Manor replaced it. It's still here and functions as a luxury hotel today!
During the 15th-century, the village thrived on the wool and cloth trade. This was when most of the buildings you see here were built. There was a fulling mill placed by the Bybrook River.
The Red and White Cloth of Castle Combe became famous in the markets of Bristol, Cirencester, and London – even abroad!
Unfortunately, the River Bybrook began to diminish in the 16th-century and the slower flow of water meant that the wool could no longer be produced there. Eventually, the trade moved to nearby Gloucester.
That's why there haven't been any new buildings built here since the 1600s and it's what makes it so remarkable! It's a quintessential village trapped in time.
Today, you'll often find that there are more tourists visiting here than there are residents, and Hollywood and TV production companies are never too far away.
Did you know? There are no wires present here in this village. They are all underground to keep the traditional nature of the place alive. Hence why film companies love it!
Top things to do in Castle Combe
So, what is there to do in this magical village? Well, although it is pint-sized, there is actually a lot to see and do here.
From breathtaking views, olde world pubs, tea rooms, a delightful church, and beautiful walks in the area.
Here's a complete guide to the very best things to do in Castle Combe Cotswolds.
1. Take a walk through the gorgeous village
Once you enter the village, it will really take your breath away and you'll instantly agree that it lives up to its name as the prettiest village in England!
It is a small place tucked away in a valley and a walk around it will take you less than 20 minutes. But, with every step you take here you'll discover something beautiful.
Imagine thatched cottages in a row perched by a pretty rolling brook! It's honestly hard not to fall in love with it.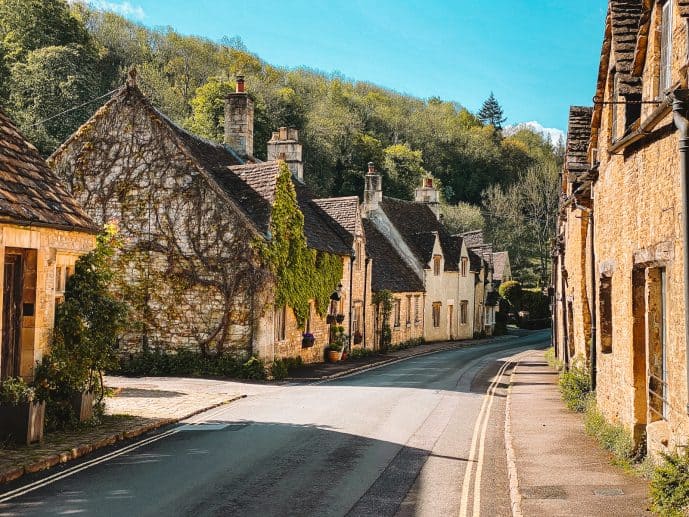 2. Get a photo of the bridge over the River ByBrook
If you only do one thing in Castle Combe it has to be a walk down to the old bridge that crosses the River Bybrook.
This is the most beautiful part of the village and where you can get those famous Instagrammable photos! It's one of the best things to do in Castle Combe.
I would go as far as to say, this is one of the best photo locations of The Cotswolds. You'll often find this composition on postcards and portraits.
If you did want to get some photos without a lot of people in them, I would always recommend visiting this village early morning and on a weekday rather than a weekend!
In summer, this tiny village gets really busy and you'll usually find big tour groups visiting here in droves all day.
Note: cars do cross over this bridge so be mindful of that if you're walking over it and when taking photos.
3. Pop your money through the letter box
One part I absolutely adore about The Cotswolds is the honesty stalls that are set up on people's doorsteps. There will be offerings of cakes, preserves, seeds, potted plants, eggs, books and so much more.
The whole transaction is based on trust and to buy something, you simply pick up the item you want and slot your money through the letterbox! It's just so quaint.
I mean, where else would this happen nowadays in the 21st century?
On my recent visit, an elderly lady was selling homemade ice cream in tubs! There were also little pouches of lavender you could buy. It's one of the best things to do in Castle Combe.
4. Visit the Little Picnic Shop in Castle Combe
As you meander down 'The Street', towards the By Brook Bridge, you may have noticed that some of the cottages have their doors open and function as little shops and cafés.
One of those has a teapot as a sign and is a tearooms! It's now called the Little Picnic Shop and serves up some gorgeous lunch hampers to munch on.
You can get a ciabatta sandwich, or munch on some quintessentially English scones with clotted cream and jam!
They don't do a general takeaway and these delicious picnics cost anything from £18 – £22 but it looks so worth it.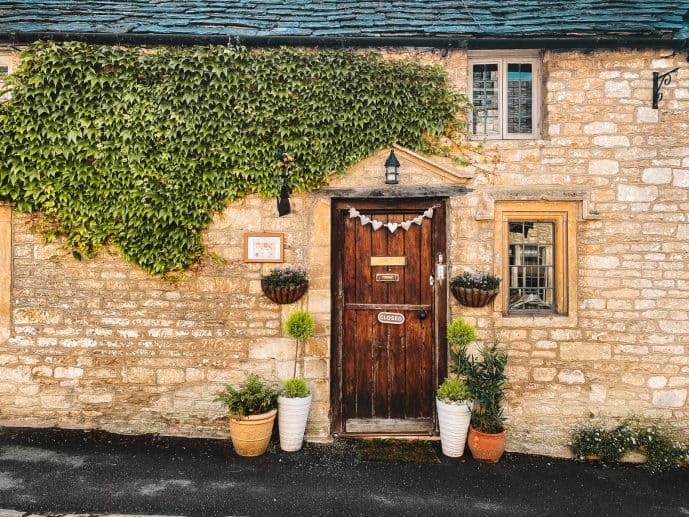 5. Pop inside St Andrew's Church
At the main market square in the village, you may spot a church spire towering above all of those historic cottages and buildings.
This stunning church is called St Andrew's and it was founded in the 13th-century but it has been extended over the centuries. Unfortunately, by the 1850's it fell into disrepair and so needed to be rebuilt.
It's well worth popping inside if you have the time as visitors are welcome in daylight hours!
Look out for the statue of Sir Walter de Dunstanville, Baron of Castle Combe. He died in 1270. You'll notice that on his tomb he is crossed-legged, which means that he went on two crusades!
The church welcomes donations and there are some cute postcards and magnets to buy of the village inside.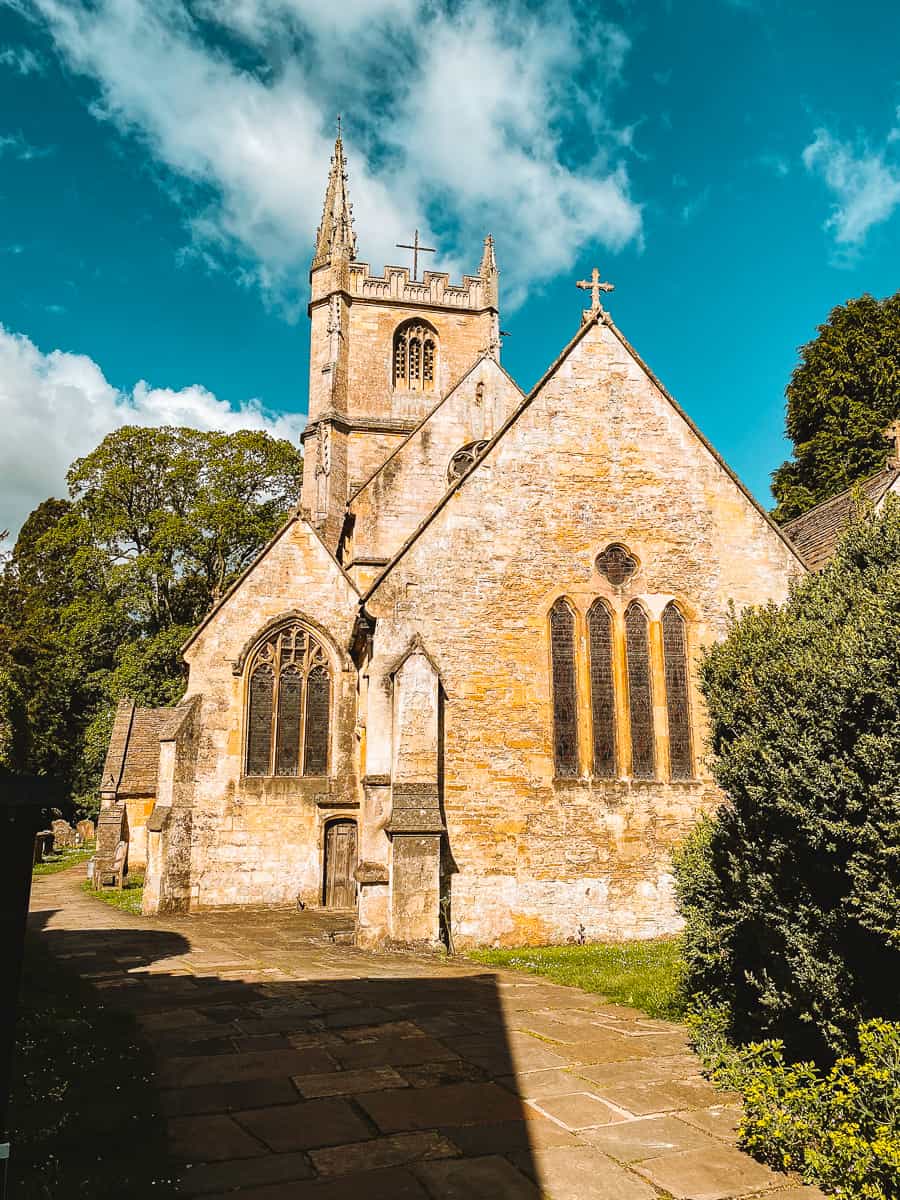 6. Have afternoon tea in Castle Combe Manor
If you were looking for a touch of luxury on your visit, you can pop into the grand Castle Combe Manor.
It was built in the 14th-century and it famously used to be the residence of Sir John Oldcastle. Nowadays, it's the boutique 'Manor House Hotel' which will make you feel like royalty for your stay.
It will set you back a pretty penny for one of their suites or signature cottages but it's worth the splurge for a special occasion.
If you didn't want to splash your cash, you can just visit here for afternoon tea, coffee, lunch, or dinner in their cosy restaurant. It's one of the best things to do in Castle Combe.
They have a large outdoor garden for when the weather is fine or if the weather is feeling typically British (i.e. cold and rainy) you can sit indoors with the wood fire!
You are allowed to visit the grounds and gardens free of charge to have a nose but be prepared to be thrown out if there is a wedding taking place – they're very strict about that! I mean, I would be too if I paid to get married there.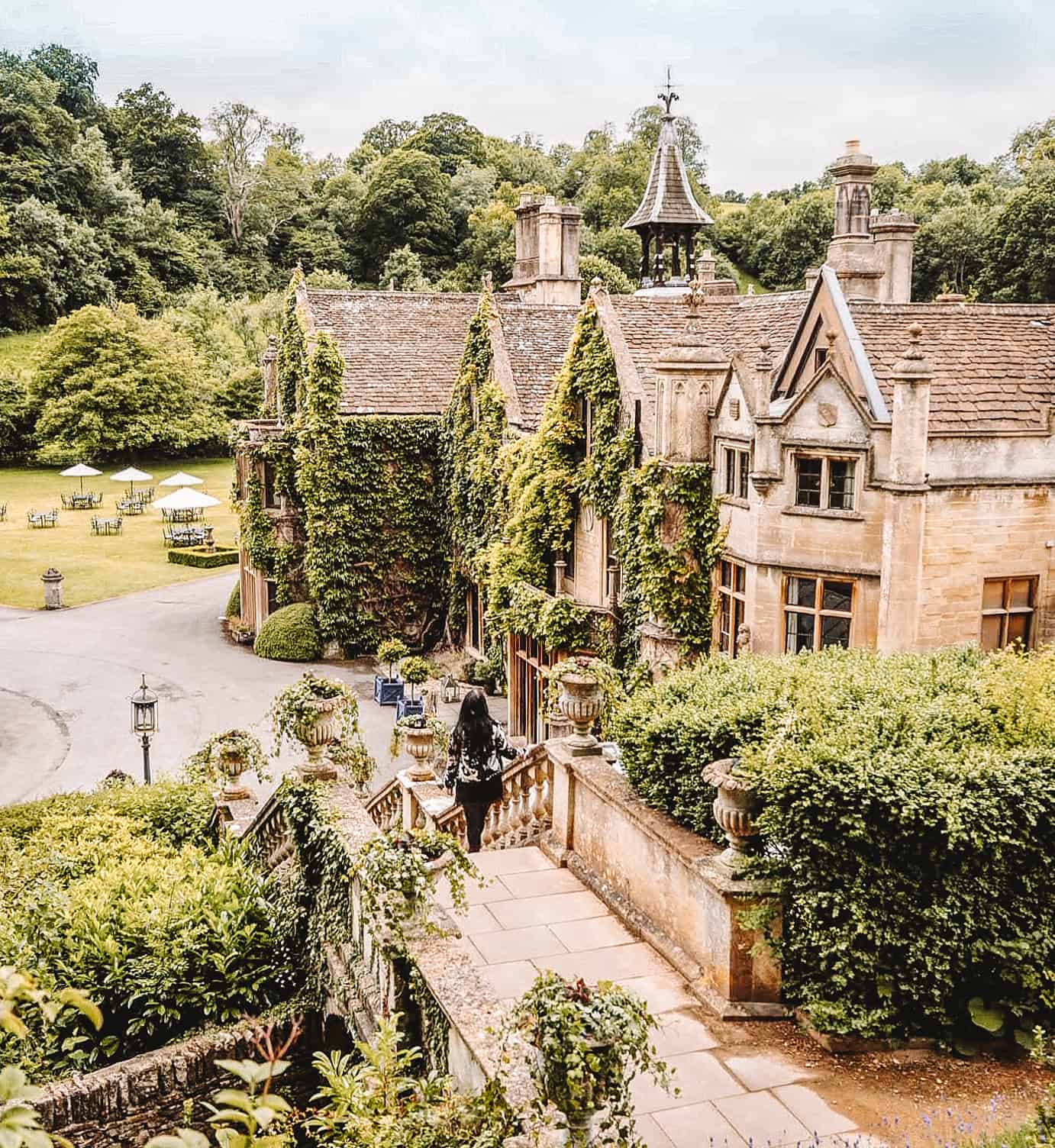 7. Stop by the Market Cross
One of the most recognisable parts of this village is the quirky market cross that's in the centre. It's quite unique as it has a roof over its head.
It was built here to mark the place where the weekly market took place in the 14th-century. At that time, villages and towns needed permission from the King in order to hold a market, and luckily Castle Combe was granted that order to sell their famous cloth.
Castle Combe cloth was renowned in the South West and abroad in medieval times. People would travel from all over to get their hands on some.
Unfortunately, the cloth industry was disbanded in the 16th-century but the market cross is still here today.
Nowadays, it's more of a leaning post for people to stand or sit and have a pint! But, it's beautiful all the same and is a testament to Castle Combe's heritage.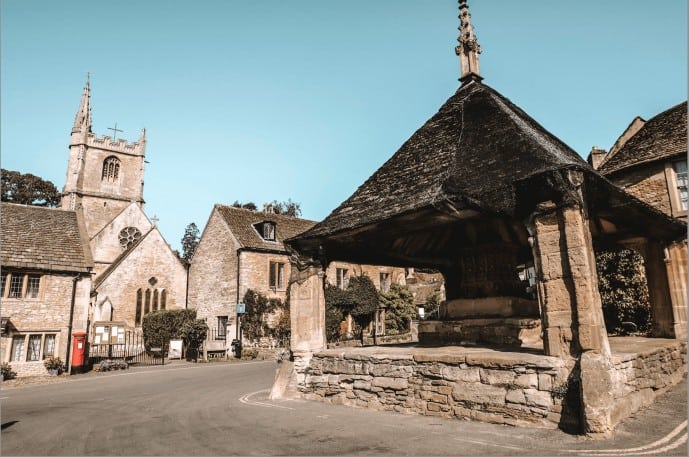 8. Visit Dower House, The Dr Dolittle House
Castle Combe has seen many movies filmed here including Spielberg's War Horse but one of the most recognisable residences is The Dower House from Dr Dolittle!
This is the original movie from 1967 starring Rex Harrison, not the one starring Eddie Murphy. It's a delightful lemon residence that sits near the hill leading up towards the car park.
The village of Castle Combe was transformed into the port of Puddleby-on-the-Marsh! You'll also recognise the seafront and the jail scenes that were filmed here.
It was a musical version of the tale and won an Oscar nomination for The Best Film.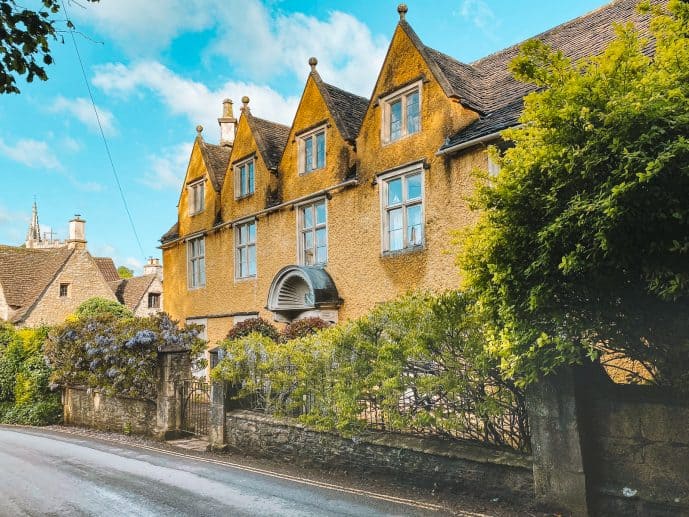 9. Have a lunch in The Castle Inn
For such a small village, there are actually two pubs located here! One of those is The Castle Inn located nearby the Market Cross.
Its origins can be traced all the way back to the 12th-century and it still retains some of the original features… you'll be dining with exposed stone walls and timber-framed beams!
It's now a cosy inn that is open for a pint or a warm meal in the village. It does get busy so make sure you book a table in advance.
10. Take a walk from Castle Combe to Ford village
Although the village is small, there are a fair few walks that you can take from here in the Wiltshire countryside.
One of those is the walk from Castle Combe to the old hamlet of Ford! It's around 2 miles one way or a 4 mile circuit.
Starting off at the Market Cross, you'll head down to ByBrook Bridge and then carry on beyond that to the open meadow of Danks Down. Here, you'll spot lots of wildlife as it's a Site of Special Scientific Interest.
Follow the path upstream to the Hamlet of Ford. It's another cute little village full of Cotswolds stone buildings and has a White Heart Pub too!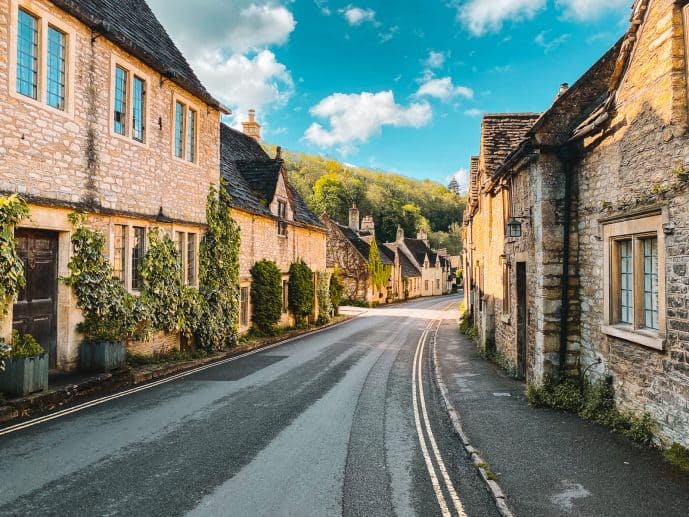 11. Have some homemade cake at the Old Stable Tea Rooms
If you'd prefer to visit a tearoom rather than a pub for some lunch, then look no further than the Old Stable Tea Rooms in Castle Combe.
It's decorated beautifully with bunting and it's full of colourful tables and chairs. You'll find homemade cakes, sandwiches, scones, and lots of English tea on the menu!
But, they have started to stock up on Rave coffee, so it's the perfect place for a pick-me-up. It's wheelchair and dog-friendly. So, your furry pals don't have to miss out.
Click here for more details and opening times for the Old Stable Tearooms
12. Gawp at all the incredible historical buildings
As there have been no new buildings constructed here since the 1600s, you'll find that almost all of them are protected and graded!
So, you'll find a wealth of amazing historical buildings around every corner. I absolutely loved seeing all the interesting doors and door knockers here.
All of the houses here are either thatched or made of caramel Cotswolds stone and they look like you're walking through a painting.
One of my favourite buildings is the Unicorn Lodge which has a unicorn plaque outside! Despite the name, you can't stay there. But, it's lovely to imagine…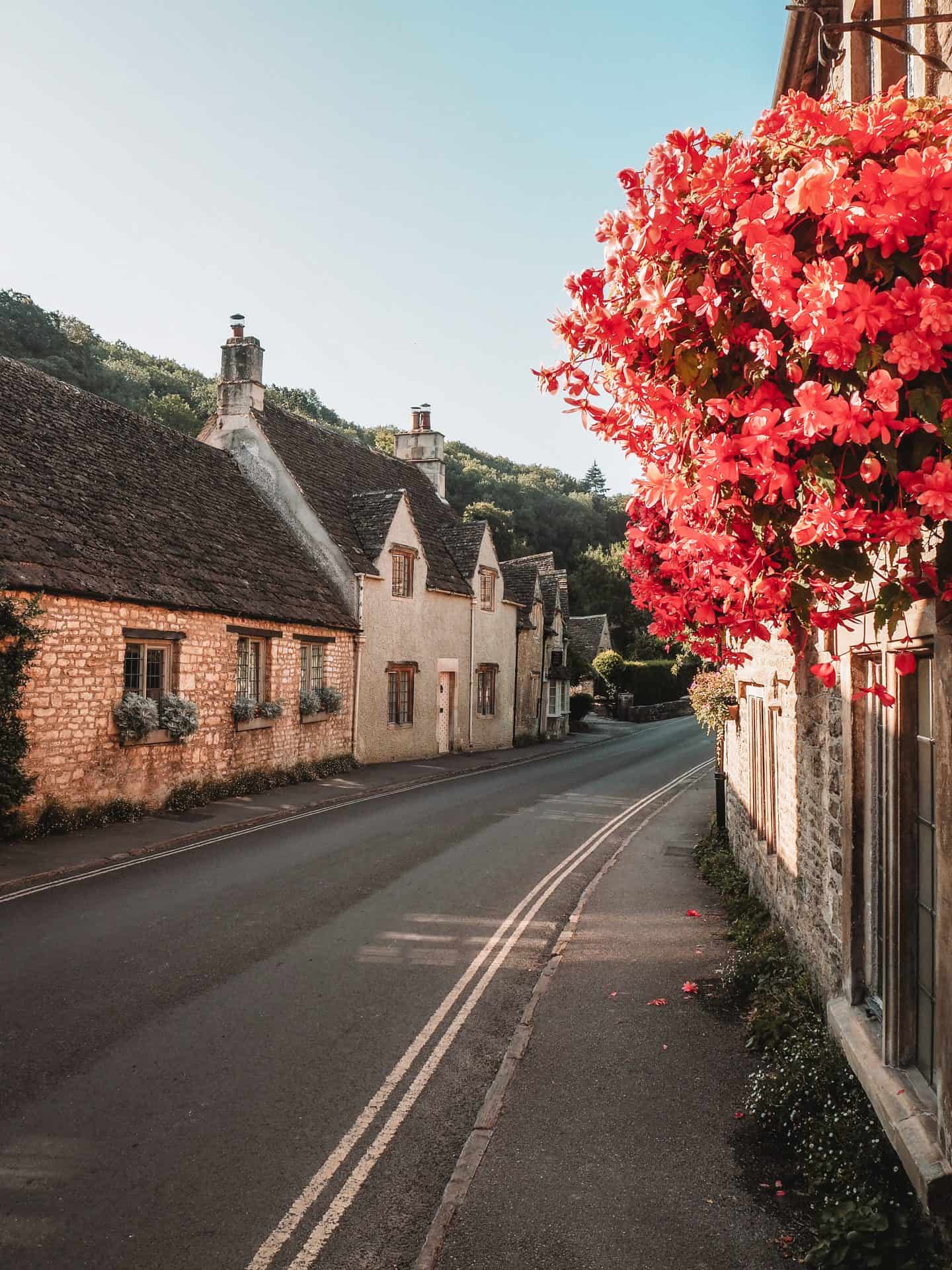 13. Spot all the Castle Combe filming locations
When you walk around, you may recognise this village and its scenes from a movie or TV show. Because it looks so old-fashioned film studios absolutely love filming period dramas and films here!
There are no wires or satellite dishes that are visible as they are all underground. It's literally as if the town was frozen in time to a bygone era.
So, what has been filmed in Castle Combe? You may recognise scenes from movies like Dr Dolittle (the original from 1967), Agatha Christie's Poirot, Stardust, and even War Horse by Steven Spielberg.
In fact, when I was visiting there were film location scouts looking to film a new Apple TV series here so watch this space!
Looking for famous filming locations is one of the best things to do in Castle Combe.
14. Have dinner or a pint in the White Heart Pub
Another amazing pub in the village is the White Heart. This is also near to the Market Cross, hidden away in a delightful thatched cottage.
The building dates back to the 14th-century and you can either sit inside or relax in their courtyard.
It's another cosy inn that's open for lunch, dinner, or a cold Wadworth pint. If you're not familiar with Wadworth, they have quite a long history in these parts and were founded in 1875.
It's the only brewery in the UK that still delivers their ales by Shire Horses and cart! You can visit their brewery in Devizes if you were interested in the process.
15. Visit in time for the Castle Combe Race Circuit
As well as Castle Combe being a gorgeous village all year round, it's actually famous for its race circuit in the upper part of the village.
It's a motorbike and car racing track, where you can watch all sorts of events throughout the year like the Buoyant Club championships and the Hot Hatch Challenge!
But, if you'd rather take part than be on the sidelines, they also hold regular experience days here where you can take part in a race car driving experience.
Click here for more details on the Castle Combe Race Circuit
Where to eat in Castle Combe?
Did you even visit England if you didn't go to a pub in the country? If you haven't yet, we best change that! For such a small village it actually has three places you can eat.
The first is the Castle Combe Manor itself that provides a fine selection of sandwiches, light bites, and afternoon teas.
Then there is the 'Castle Inn' which is your place for fine a pub meal. You can check out their mouth-watering menu here.
Then there's the White Hart a 14th-century pub which is owned by Wadsworth.
Where to stay in Castle Combe
If you fancy spending longer than a day here, you should definitely consider a stop overnight.
Some places I would personally recommend are: The Manor House and The Castle Inn.
Where is Castle Combe in the Cotswolds?
The Cotswolds is a drop-dead gorgeous part of England which is quite literally a range of rolling hills pocketed with traditional English towns and villages!
It covers a wide area; 800 square miles over 5 counties to be exact. So, if you were planning a visit, make sure you leave enough time to explore.
Castle Combe is nestled in the county of Wiltshire and is located around 5 minutes from the town of Chippenham and 10 miles from Lacock.
It's also near Bath so it makes a great stop if you're on a Cotswolds road trip.
How to get to Castle Combe
The easiest way to get to Castle Combe is to drive towards Chippenham on the M4 motorway. This motorway connects London, Bath and Bristol so it's a good road to approach the village on.
Once you reach junction 17 for Chippenham, take the exit and follow signs leading you towards the Castle Combe Race Circuit. There will be a brown sign for it as soon as you come off the motorway.
It will take you through a wealth of country roads and through very cute hamlets with names like Tiddlywink! But, you'll eventually reach the village and see signs for visitor parking.
There is an upper Castle Combe and lower. The village is located in the lower part of the valley.
Castle Combe parking
Castle Combe is mainly car-free and the only people that can park in the village itself are residents that live nearby.
There are double yellow lines the whole way through the village to stop cars parking on the roads (which is perfect for getting nice photos!).
There is a large visitor car park that is located in the upper part of the village that is free of charge near to the sign for the Castle Combe circuit.
You can park up here and then walk down the hill to the lower village and explore!
You'll often find some roadside parking along this hill which is also free. So, if there is a space available you can park nearer.
But, remember to park with consideration as it is still a through route for residents and delivery vans etc.
FAQs about Castle Combe
How old is Castle Combe? The village has been here since the Roman era! But, it first became a settlement in 1140 when the "Castell of Cumbe" was built.
How far is Castle Combe from London and Bath? Castle Combe is a 2 hour drive from London and 30 minutes from Bath!
How to pronounce Castle Combe? Car – sell – Coo – m
What is Castle Combe famous for? Although you could say it's famous for its racing Circuit. It's actually more famous for being the prettiest village in England!
Is there a Castle in Castle Combe? No, but there used to be in 1140! It was called "Castell of Cumbe" but was abandoned in the 1300s. The Castle Combe Manor now stands in its place!
Toilets at Castle Combe – if you walk beyond ByBrook Bridge down the street, there are some public toilets there.
Would you recommend Castle Combe or Bibury? I would personally visit both! But, if you only have time for one Castle Combe is a lovely place to choose!
How to get around the Cotswolds
Public transport links can be found all over The Cotswolds, mainly buses or trains, that connect the main towns like Bath, Chippenham, Moreton-In-Marsh and so on.
You may find that buses to the smaller villages are few and far between in the countryside (especially on Sunday's) with the nearest bus stops being far from where you want to go.
The best plan of action is to find a good base like Bath, Chippenham or Cirencester and drive/hire your own a car. That way you can see and do so much more and on your own schedule!
For example, Castle Combe is lovely but as it's so small you may want to do three or four villages/towns in one day to make the most of your time.
Make sure it comes with a SatNav to find your way around – the country roads can be a maze with bad data signal for Google Maps!
Where to next in the Cotswolds?
So all the lovely things to do in Castle Combe. But this pretty village is just the tip of the iceberg when it comes to The Cotswolds.
You only need an hour or two here and then you'll have pretty much seen there is all to see.
From here you can explore Lacock which was used to film Harry Potter and Pride and Prejudice.
Bibury with the 14th century Arlington Row, Corsham with its impressive Court, Bourton-on-the-Water stands as cute as a button on the river with its model village.
Lower Slaughter (although it sounds horrific) is a beautiful escape for walks in the country. Upper Slaughter is also a hidden gem.
Tetbury is also a beautiful town in the Cotswolds with its ancient Chipping Steps.
Cirencester acts as the Capital with Roman roots and the bigger city of Bath which is on the southern edge is a must-see.
There is so much of The Cotswolds to explore, I've lived here all my life and I haven't yet seen it all.
It's the perfect trip outside of London if you want to get out into the countryside and see some of the rich heritage England has to offer. Don't miss out next time you find yourself in the UK!
Read even more of my Cotswolds travel guides
A quintessential afternoon tea in Bradford-on-Avon
How to see the wild Snakes-head Fritillary in Cricklade
Visiting the Great Chalfield Manor Poldark location
The legend of Painswick and its 99 yew trees and the best things to do there
Did this pub inspire Tolkien in the Cotswolds?
The best things to do in Stow on the Wold
Why you will fall in love with this fairytale door in Stow-on-the-Wold
How to visit Cotswold Lavender Fields and Snowshill Village
Why you must visit the hidden gem of Minster Lovell Ruins
Why you must visit the Perry and Dawes Almshouses
A complete visitor guide for Broadway Tower
Top things to do in Tetbury and the Chipping Steps
Save these things to do in Castle Combe for later!