Castlerigg Stone Circle is a mysterious Neolithic monument that was built by early farming communities over 5,000 years ago.
It's a set of 38 stones that are placed within a cirque of mountains but no one really knows why it was built. It has a whole host of myths and legends that surround it.
It's been attracting those visiting the Lake District since the 1700s and to this day it's still a popular location that intrigues anyone who happens to stumble on it.
Here is a complete guide for the magical Castlerigg Stone Circle and how to visit in the Lake District!
What is Castlerigg Stone Circle?
Castlerigg Stone Circle is a ring of 38 stones that are surrounded by the mountains of High Seat and Helvellyn in the Lake District.
There are over 300 stone circles that survive in Britain but there are few stone circles that have such a dramatic backdrop as this.
From this ancient site, you can see the fells of Skiddaw, Blencathra, Grasmoor, Castlerigg, High Rigg, and Clough Head.
It's thought to have been constructed during the Neolithic Period in 3000BC which makes this stone circle one of the earliest in the country and just as old as the Pyramids of Giza in Egypt.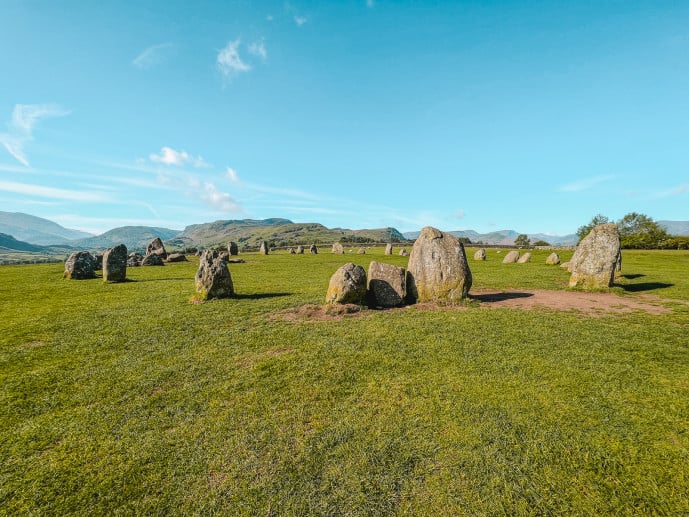 Who built Castlerigg Stone Circle & why?
It is thought that Castlerigg Stone Circle was built over 5,000 years ago by early humans that were engaged in 'transhumance' farming.
They moved settlements seasonally throughout the year and would travel to different parts of Cumbria.
In the winter, they would travel lower to the coast to fertile lands and in the summer they would seek out higher plains.
Although no one really knows why Castlerigg Stone Circle was built, it is thought that this may have been a meeting place for communities. Whether it was to trade, worship, or celebrate is unknown.
After many excavations, no formal burials have been found here or evidence of a cairn or tomb. But, like with most stone circles, it has been perfectly aligned with the sun and stars so many celebrate the solstice here today.
Modern Castlerigg Stone Circle history
It's hard to imagine today but the Lake District hasn't always been popular with tourists. Before the 1700s, Cumbria was seen as a barren, uncivilised wilderness that nobody wanted to visit.
So, the stone circle remained relatively untouched and undiscovered until antiquarians took an interest in the 17th century.
John Aubrey and William Camden visited to study Cumbria's megalithic monuments and made several early accounts.
Once tourism started in the 1700s, this stone circle became very popular with visitors. With the introduction of the railway bringing the Victorian tourism boom, people started to chip pieces off as a souvenir!
There were concerns about the preservation of the site and so Castlerigg became one of the first protected monuments in Britain. It is owned and protected by both the National Trust and English Heritage.
Today, Castlerigg still intrigues and inspires visitors every year. But, it is still very much a mystery and provokes more questions than it does answers!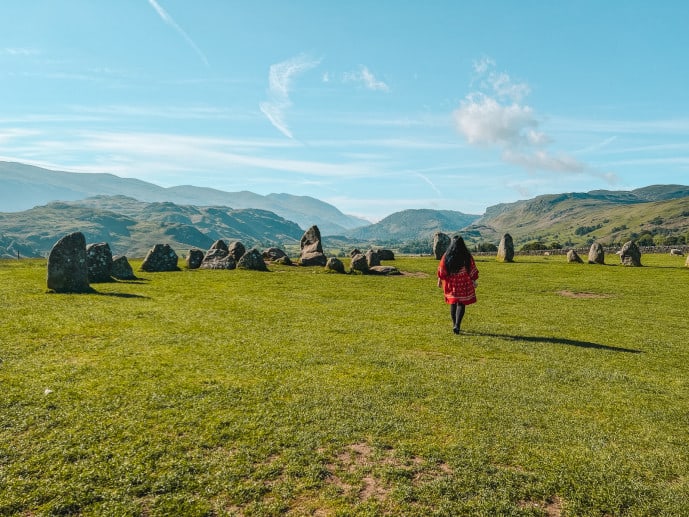 Is Castlerigg Stone Circle free?
Yes, the amazing thing about this spectacular attraction in the Lake District is that it is completely FREE to visit.
It makes an amazing pitstop on a road trip or you can pair this location up with a walk around Borrowdale & Derwent Water.
How to visit Castlerigg Stone Circle in the Lake District
It is easiest to drive to Castlerigg Stone Circle as the area is quite remote. The ring is just over a mile from the centre of Keswick between Ullswater and Derwent Water.
As you exit Keswick heading towards Penrith on the A66, you'll find a brown tourist sign directing you to the stone circle on Castle Lane.
Alternatively, you can walk to the stone circle from Keswick and it will take around 30 minutes.
Keswick is a popular market town in the Lake District that you can easily visit by bus. The nearest train station is Penrith 16 miles away.
Castlerigg Stone Circle postcode is Castle Lane, Keswick, CA12 4RN. Click here for a Google Pin!
Is there parking at Castlerigg Stone Circle?
Yes, there is some limited off-road parking next to Castlerigg Stone Circle and it's completely free.
You only have to cross the road and enter the gate to visit from there and it's less than a minute walk through the field!
It can get quite busy on weekends and in summer so I would try to plan your visit for early morning or later in the afternoon to guarantee a space.
Also, lots of campervans park here overnight so this area can get quite busy.
Castlerigg Stone Circle opening times
Although the stone circle is protected by English Heritage, it is open 24 hours a day, all year. So, you can visit any time.
If you'd like a quieter visit, I would always suggest going earlier in the day as this site is popular with visitors.
It's open from dawn until dusk as there is no artificial lighting but I think the stone circle would look so incredible at night under the stars!
Exploring Castlerigg Stone Circle
From the car park, enter the gate and you'll find an information board that tells you a little bit about the site.
Then, walk across the field to the stone circle. It can be quite wet and mucky in the winter so have some good shoes on!
When you get here, you'll see a 'gateway' between two stones to enter the circle and you can walk around the ring of stones.
Beyond it being a magical site full of legend and history, I couldn't believe the views you can see from here with mountains all around you.
This is one of the most spectacular views in the Lake District so I would recommend having your camera out ready! The views on a clear day are breathtaking.
Castlerigg Stone Circle FAQs
How many stones are in Castlerigg Stone Circle? There are 38 stones in the circle
Is Castlerigg Stone Circle dog friendly? Yes, just keep them on a lead dude to sheep grazing in the field
How long do I need to visit Castlerigg Stone Circle? You could spend 10 minutes here or an hour it's up to you!
Is Castlerigg Stone Circle older than Stonehenge? Yes, it is thought that this stone circle was built in 3000BC making it older than Stonehenge built in 2500BC.
Where to next in the Lake District?
Castlerigg is just a mile away from Keswick and is near Derwent Water and Ullswater with many attractions you can visit next.
I would recommend heading to Ashness Bridge and the Surprise View if you wanted to see some more incredible viewpoints.
Another incredible walk is the Aira Force Waterfall on Ullswater which is a dramatic cascade. Or, why not head to the village of Pooley Bridge by the lakeside?
Further afield, you can head to the gorgeous crystal clear Buttermere via the Honister and Newlands Pass.
If you're after more ancient sites, you could head to King Arthur's Round Table in Penrith or check out the Lowther Castle & Gardens on the border of Eden Valley.
Read more of my Lake District guides
Amazing places to visit in Grasmere
Why you must visit Grasmere Gingerbread
A complete guide for the Allan Bank
Places to visit on a Windermere Lake Cruise
How to find Rydal Hall Waterfall
Best things to do in Ambleside
How to visit Hodge Close Quarry
Witcher filming locations in the Lake District
Save Castlerigg Stone Circle for later!