Cathedral Cave Lake District is a hidden gem that can be found in the quaint Langdale Valley. An old quarry that was used to extract slate for housing and was later owned by Beatrix Potter.
It's a spectacular forty-foot chamber in the Little Langdale Quarries that has the nickname 'The Cathedral'. It's the perfect place to explore on a rainy day.
Although popular with visitors, it's quite hard to locate as it's in the countryside. But, by far the easiest walk is from Little Langdale village via the Slater's Bridge over the River Brathay.
Here is a complete guide for Cathedral Cave Lake District and the easiest way to visit from Little Langdale!
Cathedral Cave Lake District history
Cathedral Cave lies in the quaint Langdale Valley. A name that comes from the Old Norse term for 'Long Valley' and lies in the heart of the Lake District.
Cathedral Quarries are a number of interlinked caves and are best known for their main chamber which has the nickname 'The Cathedral'.
It is forty feet high, seemingly balanced on a tall rock pillar, and is lit by two 'windows'.
The landscape around Langdale Valley was shaped by industry and quarrying since the 16th century. But, it reached its peak in the 19th century when there was a demand for housing.
Holes were drilled into the rock face and blasted to allow the extraction of slate. Hence, why there is such a huge chamber here!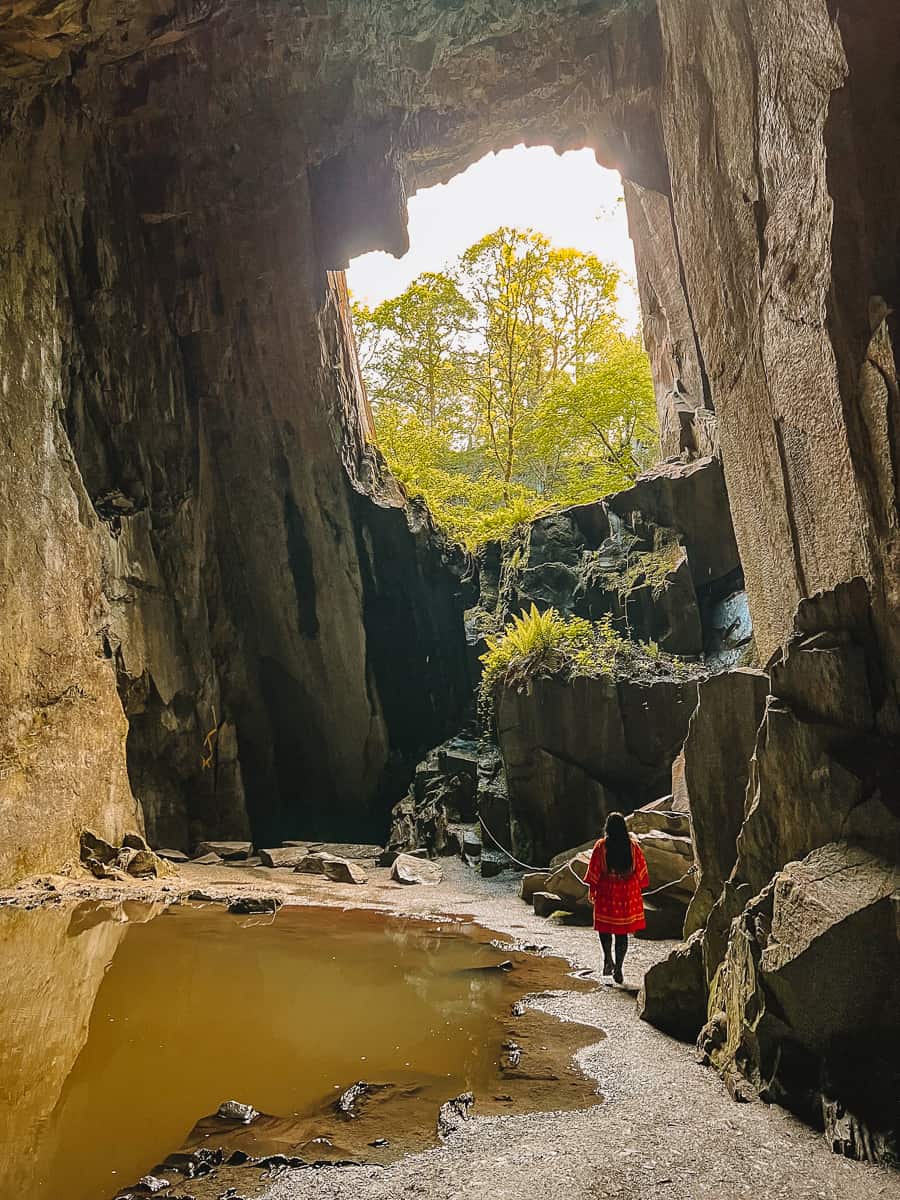 The quarries would then export the slate to Coniston by horse and cart and it would be shipped further away by railway.
There was a famous smuggler called Lanty Slee who used to distill moonshine whisky in these parts. It's believed he used many of the caves and quarries around this area to hide it!
Beatrix Potter bought this quarry in 1929 and gifted it to the National Trust. Quarrying continued under lease here until the 1950s.
Today, Little Langdale Quarries are a popular tourist attraction and climbing spot in Cumbria!
Where is the Cathedral Cave Lake District?
Cathedral Cave is located in the Langdale Valley and is nearest to the quaint village of Little Langdale.
This is a short drive away from the popular villages of Coniston, Grasmere, and the town of Ambleside in the centre of the Lake District.
You'll find the entrance to the caves on a short walk from Little Langdale village near the Slater's Bridge that allows a crossing over the River Brathay.
How to visit the Cathedral Cave from Little Langdale
You cannot drive directly to Cathedral Cave and there is no dedicated car park, you will have to walk to it from one of the below locations;
There are a few options for doing this;
From Side Gates in Little Langdale – The easiest way to visit the cave is from Little Langdale. I would park up on the road on Side Gates. Plug in LA22 9NY to find the free roadside parking. The walk is less than a mile.
From Tilberthwaite Ghyll – You can park up at the free car park at Tilberthwaite. This is a slightly longer walk at around 1 mile. Plug in LA21 8DG for the parking area just beyond Tiberwaithe Farm.
From Hodge Close – You can walk to Cathedral Cave from Hodge Close Quarry which has a dedicated car park. This is again around 1 mile. Plug in LA21 8DJ for the free car park.
From Blea Tarn – You can walk from the National Trust Blea Tarn car park to Cathedral Cave. This will be around 2 miles. Car parking is chargeable but free for NT members. Plug in LA22 9PG for the car park.
Cathedral Cave postcode is Stang End, Little Langdale, LA22 9NT. Click here for a Google Pin!
Cathedral Cave Lake District parking
There are a couple of places that you can park to find the Cathedral Caves in the Lake District.
The easiest is to park in Little Langdale itself. This is a tiny hamlet with limited parking places and narrow roads.
But, there is a place to park on Side Gates which is a short walk away from The Three Shire's Inn pub. Plug in LA22 9NY for the off-road parking area.
Cathedral Cave opening times and prices
Cathedral Cave is open 24 hours a day and so you can visit any time. But, I would make sure you visit with enough daylight to spare.
There is limited lighting around Little Langdale and absolutely no lighting around the countryside of Slater's Bridge or Langdale Valley.
I would suggest visiting either early morning or later in the afternoon for a quieter visit. You'd be surprised how busy these caves get!
It's completely FREE to visit the Cathedral Caves Lake District or Little Langdale Quarries
Cathedral Cave Lake District map
Here is a map view for the walk to find Little Langdale Quarries from Side Gates Little Langdale
Cathedral Cave walk from Little Langdale directions
There are many ways that you can visit the Cathedral Cave Lake District. These directions are going to be from Little Langdale.
The Little Langdale Walk to Cathedral Cave should only take around 20-30 minutes or so to find.
I would personally leave around 1-2 hours for this adventure as you'll want to explore the caves and Slater's Bridge too!
1. Firstly park up on 'Side Gates' in Little Langdale
When you arrive in Little Langdale, take care as the village has very narrow roads with passing places to get through.
Follow the postcodeLA21 8DG to Side Gates and you'll find some free off-road parking here. But, always remember to park where there are no double yellows and with consideration.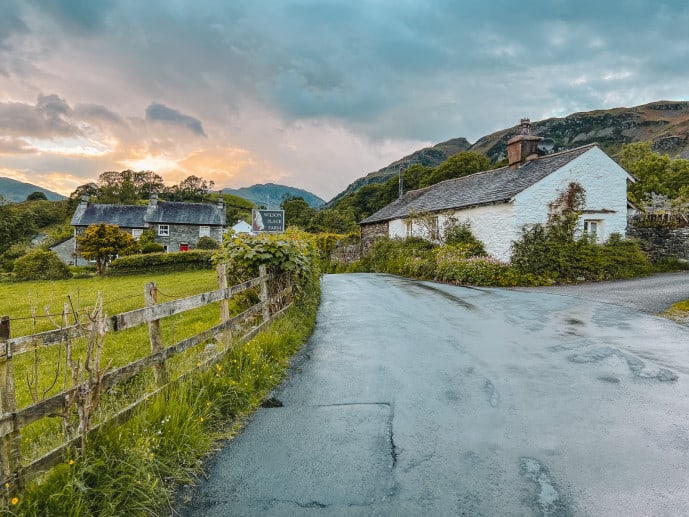 2. Head past the Three Shire's Inn pub and turn left at Fitz Steps
When you've parked up, hop out of your car and walk over to the Three Shires' Inn pub. This is a great stop for lunch or dinner on your way in our out of Cathedral Cave Lake District.
Once you've walked by the pub, you'll find a road that leads you to the left that is called 'Fitz Steps'.
You'll see a sign at this intersection and it says that Fitz's Steps via Tilberwaithe is unsuitable for vehicles as it's flooded at the end.
But, I would definitely keep an eye out and stick to the side of the road just to be sure in case any cars are driving down the road to holiday accommodation.
3. Take a right at the Slater's Bridge sign
Once you're on the Fitz Steps road, you'll need to keep walking past the first set of cottages.
Eventually, you'll find a sign that points you towards the Slater's Bridge. Walk through this gate and down towards the River Brathay.
This river flows from Little Langdale Tarn all the way to Elterwater!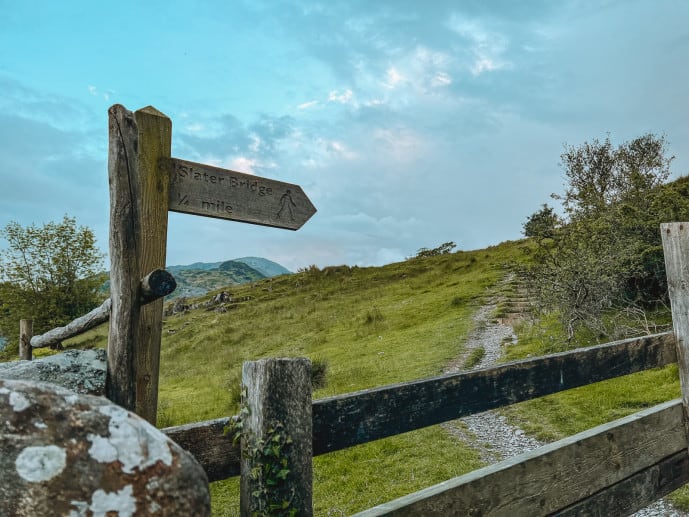 4. Walk over the Slater's Bridge
You'll climb down a small hillside and find a historic Slater's Bridge that you can cross over the River Brathay.
It's an ancient pedestrian footbridge that allowed a crossing from the hamlet of Little Langdale with the slate quarries of Tilberwaithe and Hodge Close.
At the end of the Slater's Bridge is a rather awkward wall stile that has a slate step ladder. So, mind out for that on your way through and keep dogs on a lead as sheep are grazing in this area.
Remember to look back for a picturesque view with the peaks of Langdale Valley in the backdrop!
Read my complete guide for the Slater's Bridge here
5. Head left towards the Little Langdale Quarries
Once you're over the Slater's Bridge you'll see a kissing gate directly in front of you. Walk through this and turn left.
You'll be on a gravel path until you find a wooden vehicle gate. Open this and then carry on until you see another stile on your right.
Here, there will be a red National Trust sign about Little Langdale Quarries.
6. Climb over the stile to find the entrance to Cathedral Cave!
You'll need to climb over the wooden stile over a fence and then continue up the steep hill.
At the top, you'll find a National Trust information board about Little Langdale Quarries with the history.
Here, is where you can enter the cave! There is a long tunnel entrance and can be quite wet and dark inside.
It's not completely necessary, but you may want to turn on your phone torch in here if it's low lighting.
This tunnel will lead you to the main central chamber otherwise known as Cathedral Cave Lake District!
Explore Cathedral Cave Lake District
When you enter the main cavern from the tunnel, prepare for your breath to be taken away. I was expecting it to be large but I really wasn't prepared for how amazing this cave was!
The central chamber is over forty feet and you'll see it lit up by a huge window at the top. You can then head through the cave and walk through the interlinking tunnels and chambers.
If you head outside and around the back, you can walk up to take a peek in the window down into the cavern below.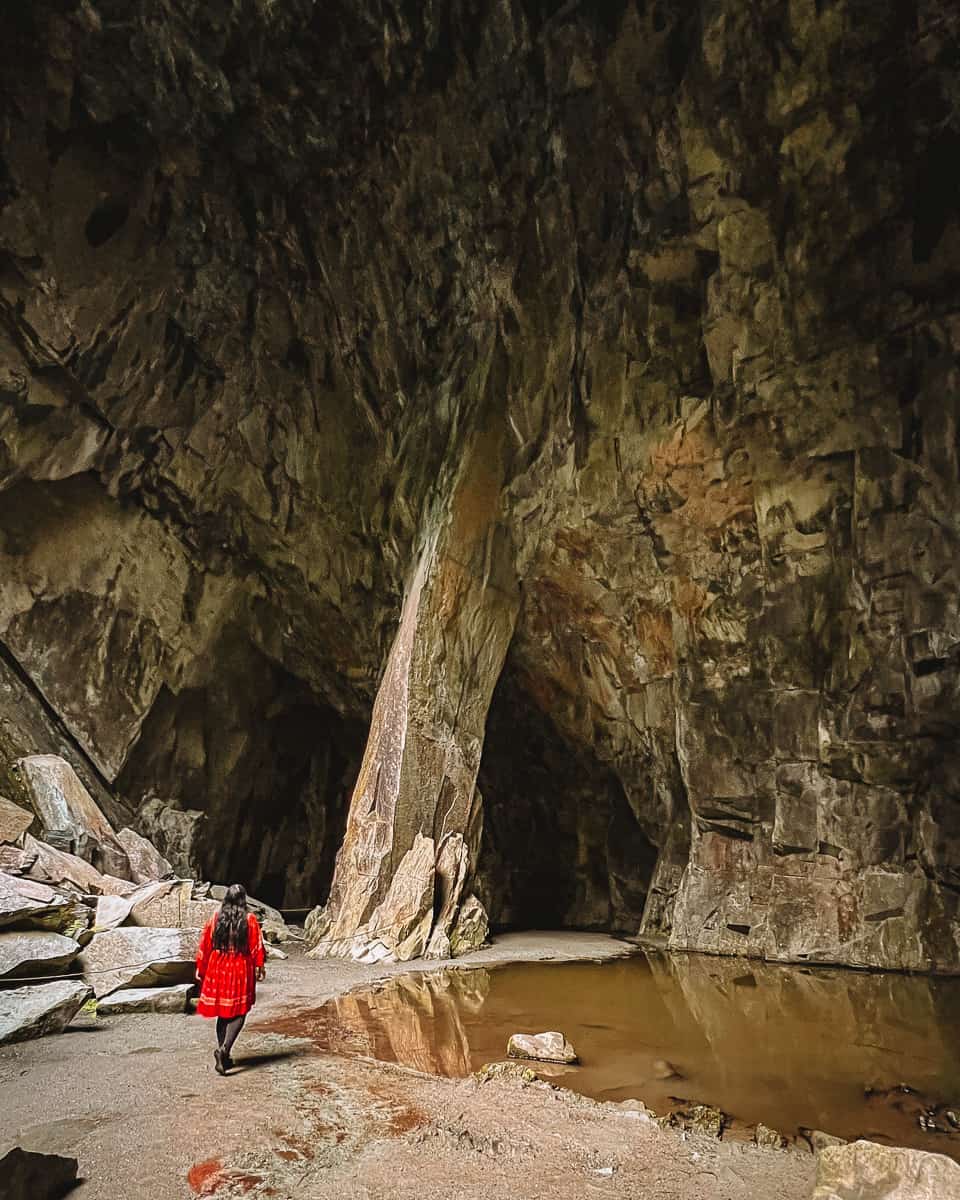 It can be quite dark inside and wet but it's a great place to shelter from the rain if it's a wet day in the Lake District.
I got here in the early evening around 7 pm and was surprised to find so many people! But, eventually, I had it to myself for a little while.
Cathedral Cave Lake District was one of my favourite locations that I visited on my trip to Cumbria and I would highly recommend it!
Heading back to Little Langdale
When you've finished exploring the Cathedral Cave, you can either head back the way you came over the Slater's Bridge to Little Langdale.
Or, you can head back down to the main path and take a right in the opposite direction. This will take you to the River Brathay and you cross over the modern wooden pedestrian bridge.
This route will take you along a country wall and back up Fitz Steps road past many of the cottages to Little Langdale.
I found this route to be a great option if it's raining or if you'd like to cut the time down (and the number of stiles). It's a lot shorter walk and avoids lots of the muddy tracks in the rainy seasons.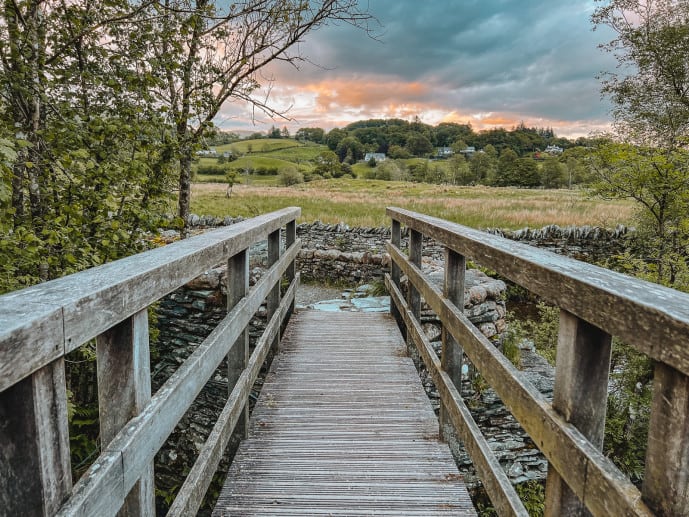 Optional – Walk from Cathedral Cave to Blea Tarn or Hodge Close Quarry!
If you want more of an adventure, you can extend your walk to visit another cave which is Hodge Close Quarry.
This is another disused slate quarry that has a lagoon and a skull cave! It's nicknamed Britain's scariest cave as there is a reflection of a skull in the water and the cave entrance. The inside also looks like you're inside a giant skull.
You can also head over to Blea Tarn which is a gorgeous lake surrounded by the Langdale Pikes. It's owned by the National Trust and it has an easy circular walk there.
As the walks to either Blea Tarn or Hodge Close Quarry are not clearly signposted from Cathedral Cave. It's best to take an OS Map and compass and/or download maps.me before you go.
Even if you don't want to walk, I would highly recommend visiting both places as they are only a short drive away from Little Langdale.
Click here to read my complete guide for the Blea Tarn walk or my post on how to find Hodge Close Quarry
Tips for the Lake District Cathedral Caves walk
Bring some good shoes – The walk to Cathedral Cave from Little Langdale can be boggy and the caves themselves are pretty wet inside
Prepare for the weather – The Lake District can have four seasons in one day. So, make sure to be prepared with layers and a raincoat. Although the caves are a great place to escape the rains!
Bring water and snacks – Although this is a relatively short walk, it's always a good idea to have some water and snacks with you
Signal – Pretty much non-existent in Little Langdale. I'd have maps.me downloaded for offline maps, an OS map and compass, and/or SatNav for driving here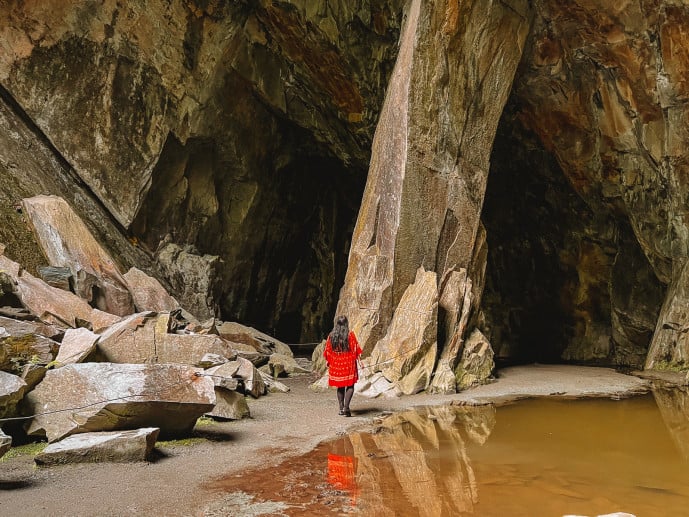 Cathedral Cave FAQs
Is Cathedral Cave Lake District dog friendly? Yes, but you must keep them on a lead near the Slater's Bridge as there is wildlife grazing
Is Cathedral Cave safe? There are warning signs everywhere for entering so you do go in at your own risk. But, I found it very safe. I wouldn't visit at night though.
How long is the Little Langdale to Cathedral Cave walk? It should take you around 20 – 30 minutes to locate the cave from Side Gates in Little Langdale. I'd leave around 1-2 hours for this walk to allow time to explore the caves as well.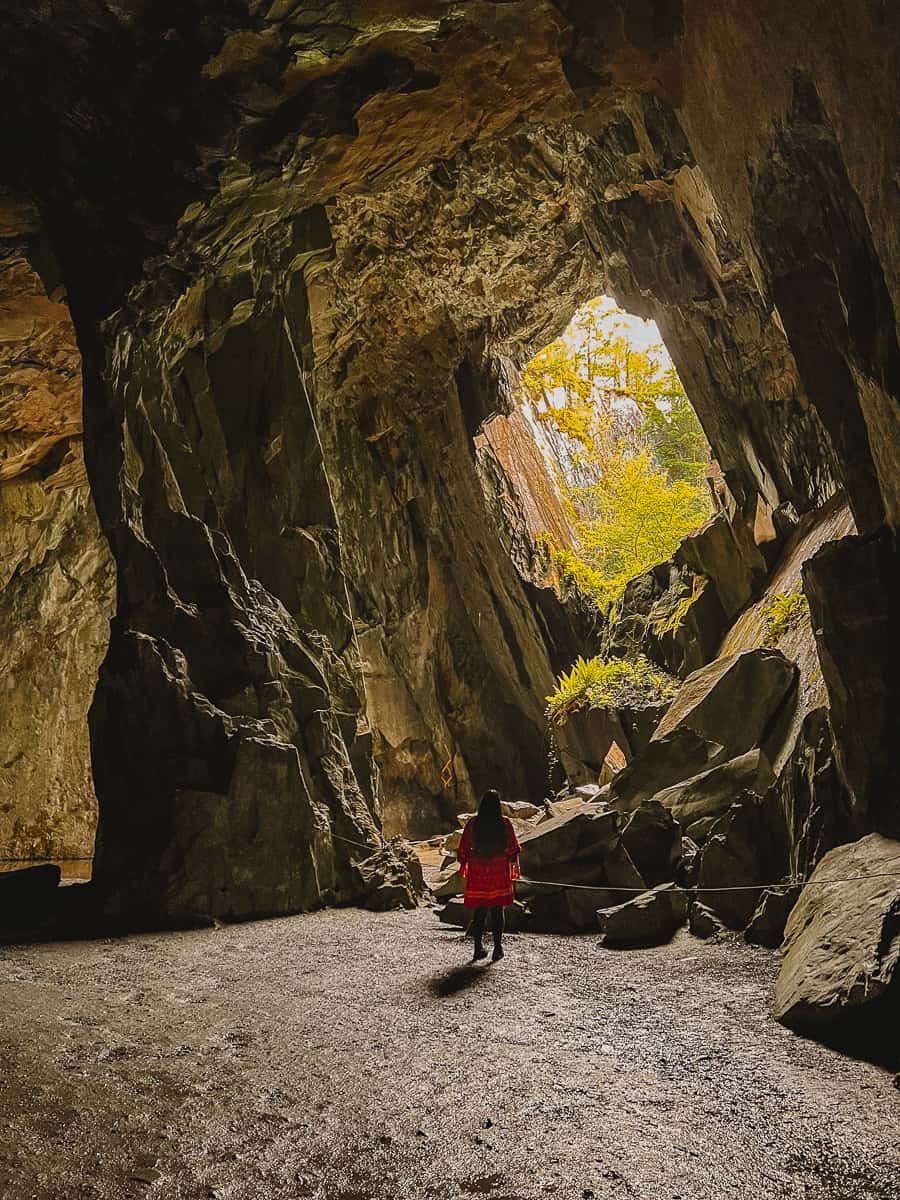 Looking for more things to do in Little Langdale?
Little Langdale is a picturesque hamlet in the Lake District. It's tucked away in the remote Langdale Valley and there is countryside and peaks all around you.
On your drive over to Little Langdale, you'll probably come across one of the most picturesque views in the Lake District from Damson View!
On your way back from the Cathedral Cave, I would highly recommend stopping inside the Three Shire's Inn for some lunch or dinner.
You can head over to Little Langdale Tarn, Hodge Close, Blea Tarn, or Great Langdale while you're here which is home to the Stickle Ghyll.
You can park up at National Trust's Stickbarn and the Langdales pub to explore more of this area just down the road.
There is also Yew Tree Cottage, Ambleside, Coniston Village, Grasmere, and Rydal to explore a little further afield.
Read more of my Lake District guides
Best things to do in Ambleside
Amazing places to visit in Grasmere
Why you must visit Grasmere Gingerbread
A complete guide for the Allan Bank
Places to visit on a Windermere Lake Cruise
How to find Rydal Hall Waterfall
How to visit Claife Viewing Station
Save the Little Langdale to Cathedral Cave walk for later!