Did you know that there is a stained-glass cathedral window that has been suspended 15 feet in the air in the Forest of Dean?
Neither did I until I made a visit recently! It was quite a surreal experience to walk under it, that's for sure.
This amazing stained glass window work of art is part of the famous Forest of Dean Sculpture Trail and you have to see it for yourself to believe it.
Of course, the Forest of Dean Sculpture Trail walk is quite a lengthy one and will take you miles through the woodland.
But, if you were just interested in seeing this suspended cathedral window I have some detailed instructions on how to find it in this post.
Here is how to find the spectacular stained-glass cathedral window on the Forest of Dean Sculpture Trail.
What is the Forest of Dean Sculpture Trail and its history?
The Forest of Dean Sculpture Trail is a walk through nature that makes art accessible to everyone. It was first installed here in 1986 and is currently celebrating its 35th birthday!
As a registered charity it provides artists with opportunities and professional development along with an audience of walkers to enjoy their work.
All of the sculptures here are specially developed onsite and are inspired by the setting and atmosphere of the Forest of Dean.
Its ethos has always been for the artwork to uncover unique perspectives and tell stories of the forest.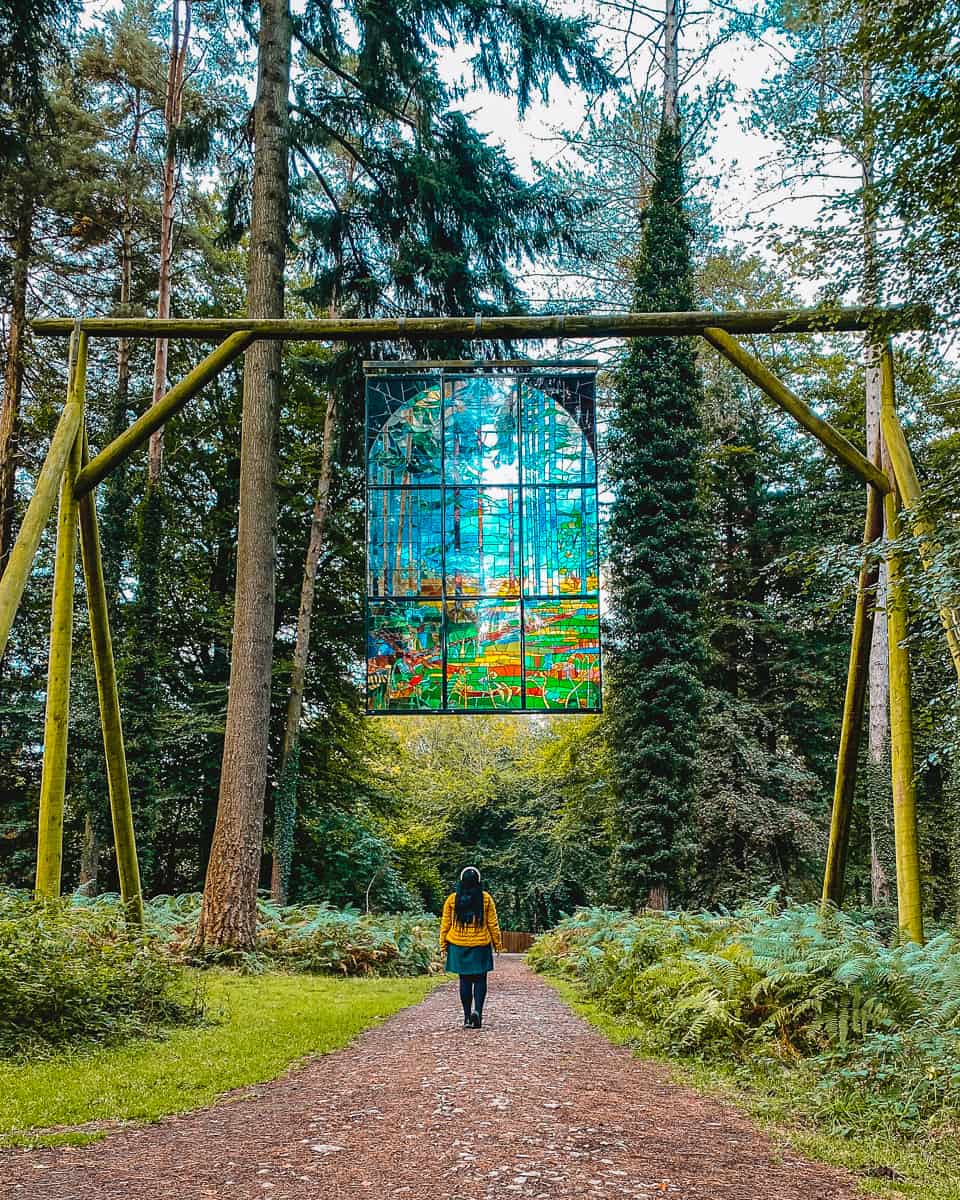 What is the suspended stained glass window in the Forest of Dean?
One of the most popular pieces on the Forest of Dean Sculpture Trail is a work of art called 'Cathedral' by Kevin Atherton.
'Cathedral' is a huge stained glass window that has been suspended 15 feet into the air and hangs amongst the treetops.
The cathedral window is supported by a huge wooden structure that's 15 feet high by 10 feet wide and is shaped like a skeleton steeple. The window hangs over a pathway and allows hikers on the trail to walk directly beneath it.
The concept of this window came from the analogy of the cathedral to the forest;
"It always has been here in people's heads, the analogy of the cathedral to the forest. The imagery in the window has just made that thought visible and it draws on the tradition of stained glass that goes back to medieval stained glass, and I like that. But it is also interesting to take this material which is very fragile and to make public art with it." – Kevin Atherton.
It was installed as part of the original sculpture trail that launched in 1986 but there has been restoration work made to it recently.
This extraordinary piece of art is unique as it's not every day you get to see such beautiful stained glass suspended in nature.
When the natural sunlight shines through the glass, the pattern provides a gorgeous rainbow of colour that is reflected on the trees of the forest!
What it's like walking under a suspended stained glass window!
I only really found out about 'Cathedral' as part of my recent visit to the Forest of Dean and this wonderful stained glass window caught me by surprise.
As soon as I saw the photos, I just had to visit for myself! It looked like something from Lord Of The Rings and it is said that this magical forest with attractions like Puzzlewood inspired J. R. R. Tolkien's Legendarium after all.
Of course, seeing it online and then seeing it with your own eyes are two completely different things. As soon as I approached it, I couldn't believe the sheer size of it and I was in awe of the beautiful colours in the glass.
It felt really surreal to walk underneath this window as it does sway with the wind a little. Although you know it's secured well on hooks, there is that little thought in the back of your mind that it could fall on you at any moment! I guess that's what makes it so exciting.
I could have sat here for hours admiring it as the whole sculpture just felt peaceful. Although it's called 'Cathedral' it's not entirely religious, the artwork reflects wildlife and scenes of the forest.
I would 100% recommend visiting this piece of art in the Forest of Dean as it's truly a marvel to behold!
How to find the 'Cathedral' by Kevin Atherton on the Forest of Dean Sculpture Trail
'Cathedral' can be found as part of the Forest of Dean Sculpture Trail if you were after a long walk on your visit.
But, if you just wanted to see the suspended cathedral window on its own it's really easy to do as there is a car park nearby.
The nearest parking for the Cathedral Sculpture in the Forest of Dean is a small car park called Speech House Woodland Car Park in Coleford.
The full address is Speech House Woodland Car Park, B4226 Speech House Road, Coleford GL16 7EL.
It's completely free to park and is run by the Forestry Commission. Spaces are limited, so you may find it gets pretty busy during the day. I visited around sunset and it was pretty much empty.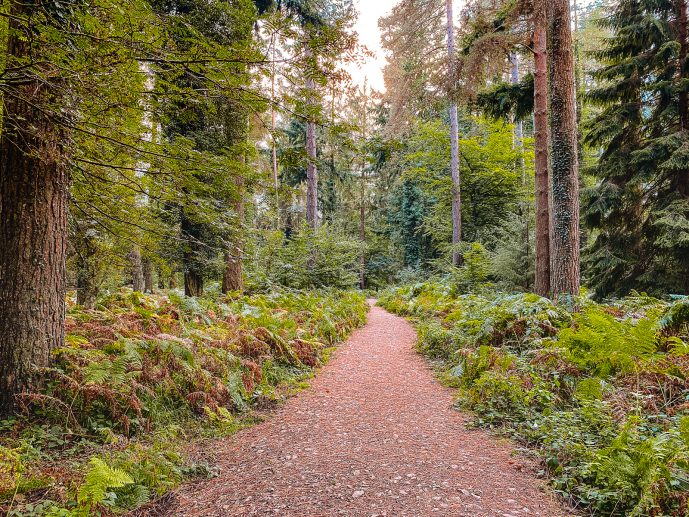 Once you've parked up, simply meet the Forest of Dean Sculpture trail path behind the car park and turn right. You'll then head straight towards the tree aisle which has the cathedral window in the middle. You can then walk straight under it!
The easiest way to get around the Forest of Dean is to drive as the area is quite remote. But, there is public transport available into the area from Gloucester or Chepstow via Stagecoach. Click here to plan your journey to Beechenhurst/Coleford.
Click here to find a Google Pin for the Cathedral Window in the Forest of Dean
Carry on the Forest of Dean sculpture trail walk
After your visit to the stained glass window, there are plenty more sculptures to find on the Forest of Dean Sculpture Trail.
This walk is filled with unique and contemporary artwork in the wild inspired by current events, wildlife, landscapes, human nature, and more.
Some of the sculptures have stood the test of time and have been here since 1986 like 'Cathedral'. But, others are relatively new pieces.
The best place to start this walk if you wanted to do the whole thing is Beechenhurst car park. You can pick up a map for £1 in the visitor centre if you wanted to. But, I've linked an online copy below.
If you wanted to see a trail and choose your walk, click here to see a Forest of Dean Sculpture Trail map!
How long is the Forest of Dean Sculpture Trail?
The whole trail from Beechenhurst Visitor Centre will be around 4.5 miles and will take you around 3 hours to complete.
However, I would take that with a pinch of salt as it doesn't include time to enjoy the pieces of art and you'll definitely want to stop and check them out on your way.
There are also some shorter loops which are only 2 – 3 miles and take around an hour and a half to two hours if you wanted to reduce it.
Beechenhurst also runs a Gruffalo augmented reality trail for children. It's now on an app you can download but they also have activity packs in the visitor centre to buy.
Tips for the Forest of Dean Sculpture Trail walk
Wear good shoes, the trail takes you through the woodlands which can be muddy with uneven pathways
Beechenhurst have a café you can visit before this trail to pick up some food and water before your walk. But, you can bring your own and stop along the way. Just remember to take rubbish with you.
It goes without saying but don't climb on or damage any of the sculptures in this forest!
There are plenty of wild boar found here, it's one of the only places in England where you'll see them running free! Please don't feed them or approach them.
Are you looking for more things to do in the Forest of Dean / Wye Valley?
The Forest of Dean / Wye Valley area is one of the most beautiful places to explore on the English Welsh Border.
If you wanted to see some Merlin locations, you can visit the incredible Puzzlewood in Coleford that features in every series of the show.
Also, Speech House Lake was a filming location for the Lake of Avalon along with Cannop Ponds and Clearwell Caves.
There's also the incredible Symonds Yat and viewpoint is a must-visit which also doubles up as a Harry Potter filming location. Sex Education was also filmed here at the Swiss Cottage.
A hidden gem nearby in Biblins is the incredible King Arthur's Cave which is meant to be the legendary burial location of Uther Pendragon.
There's also Hopewell Colliery where you can head underground to see what it's like to be a freeminer. Or, drive over to Lydney Harbour which is a historic dockland! The Forest of Dean railway is a fun trip for all the family, plus there are plenty of cycling and walking trails.
The city of Gloucester and its incredible cathedral cloisters were also used for Hogwarts in the movies. I have a complete post of all the Harry Potter filming locations In Gloucester Cathedral here.
Also, have a look at this guide on Gloucester Docks and Gloucester photography locations!
In the Wye Valley, you have the incredible town of Monmouth with its Monnow Bridge and the Kymin viewpoint. Or, head over to Tintern Abbey to see nearly 1,000 years of history!
Read even more travel guides for inspiration
Visit the gorgeous town of Bibury and Arlington Row
The best places to visit in Painswick
Things to do in Tetbury and the Chipping Steps
The best bookshops in Hay-on-Wye
Why you must visit Llnathony Priory
Save the Cathedral Window Forest of Dean Sculpture Trail for later!