If you're planning a road trip from Sela Pass to Tawang or you're looking for a day trip out of Tawang for some sightseeing. Then, I would recommend planning a trip to the Chakzam Bridge in the Tawang District.
This ancient iron bridge was built in the 15th century and is one of the last surviving Tibetan bridges in the area. It allows you to cross over the Tawang Chu River.
I've had the pleasure of visiting (and crossing!) this bridge twice now on both of my visits to Arunachal Pradesh. Its beauty never ceases to amaze me.
As you cross over, you'll be surrounded by the peaks of the Himalayas, the roaring river will be flowing beneath your feet and prayer flags flow in the wind.
You'll have to pinch yourself and ask; is this real?!
Here's a complete guide for the Chakzam Bridge in the Tawang District with the history, how to get there, and my top tips!
What does 'Chakzam' mean?
The word Chakzam, Chaksam, or Jagsam is widely used in the Himalayas and stems from the 'standard' Tibetan word meaning 'Iron Bridge'.
Iron Suspension Bridges such as the one in Tawang can be commonly found in Bhutan and Tibet.
Many people credit the invention of the Chakzam iron bridges around the Himalayas to Tangton Gyalpo.
Who was Tangton Gyalpo?
Tangton Gyalpo, or Lama Chag-Zam Wangpo, was a philosopher, engineer, poet, and disciple of the 1st Dalai Lama in Tibet, Gedun Drupa.
He is revered in the Himalayas as an advocate of Mahāyāna Buddhism and one of the masters of Tibetan Drubchen Nyönpa.
He was born in the 14th century in a village called Rinchen Ding around 100 kilometres from Lhasa. Throughout his life, he dedicated his time to spreading philosophies on Buddhist teachings.
He has many nicknames include 'The King of Empty Plains' and 'Iron Bridge Yogi'.
Tangton Gyalpo is thought to have built over 100 iron bridges in the region and they were an architectural marvel.
In the 15th century, he was building 100 metre chain bridges over mountain passes and rivers across the Himalayas. Whereas in the West, 20 metres was seen as a great achievement at the time!
There are lots of mysteries and legends surrounding how Tangton Gyalpo constructed these bridges. Tales of evil demonesses and magic spells come into play.
But, it is commonly believed that he built the iron bridges to spread the word of the Dalai Lama.
If you were curious and want to read more on Tangton Gyalpo, read this amazing document by Manfred Gerner here
The history of Chakzam Bridge in Tawang District
Continuing with his work in the Himalayas, Tangton Gyalpo built the Chakzam Bridge in the Tawang District from the 1420s to the 1430s.
In the 15th century, the name 'Arunachal Pradesh' didn't exist back then! In fact, this area wasn't even part of India! This area of the Tawang District was part of South Tibet.
Tangton Gyalpo built the 100 metre iron bridge over the Tawang Chu River to allow for a crossing between the areas of Kitpi and Mukto.
It is now over 600 years old and one of only two that still exist in Arunachal Pradesh today. It's incredible that it has survived this long.
Of course, there have been many modern improvements made to the bridge to strengthen it over time including a safety net underneath. Plus, there is now a modern suspension bridge that sits beside it as well.
What to expect on your visit
When you arrive at the bridge, you'll probably want to take in the stunning views first! You'll be surrounded by the mountains and it will be amazing.
Then you'll need to make your way down the steep steps to the iron bridge. Here, you'll see a stupa at either end of the bridge that crosses over the Tawang Chu River!
If you take a closer look at the first stupa, you'll notice the year it was built and on the floor are two iron chains at either side. These are what suspend the bridge in the air. It's pretty amazing that only two chains seem to hold the whole bridge together!
Along the way, you'll notice that on top of the two chains there are woven wooden panels that allow you to cross over the bridge.
There are lots of pretty and colourful prayer flags on either side that just add to the beauty of the area as well.
The Tawang Chu River is underneath and, depending on what season you visit, it will be flowing quite heavily.
I've always visited Arunachal Pradesh in the winter season, but I've heard in Monsoon season the river can seriously overflow! Always take caution.
Is it safe to cross the Chaksam bridge?
The bridge does look quite rickety with some of the woven wooden panels being broken. Plus, when you start walking over the bridge you'll notice that it 'bounces' up and down a lot!
But, not to worry. The bridge has had reinforcements made over the years to ensure that it's stable and safe to walk over. There is also a safety net underneath to ensure that you don't fall into the river if something should ever happen.
You'll be walking for around 100 metres. So, once you've committed to crossing, you'll have to go the whole way.
When I crossed over the bridge, I jumped up and down on it. There is no way the bridge is going to fall any time soon. It's been here for over 600 years!
If you don't like the thought of being suspended over a river, then I would recommend not looking down as you'll see it beneath your feet!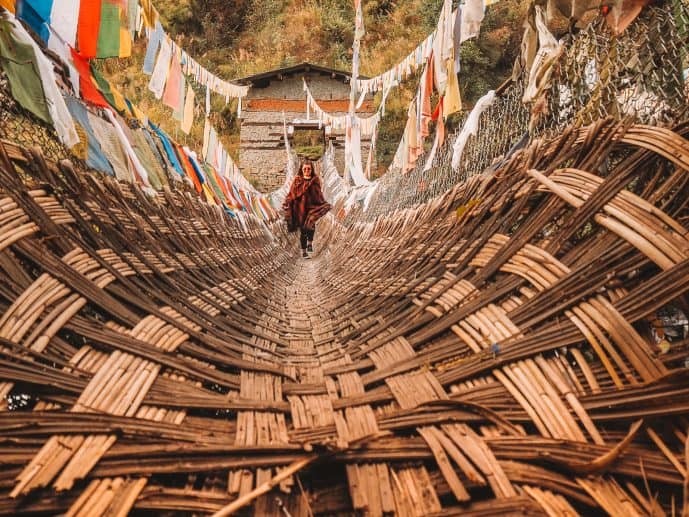 However, if you're afraid of heights or the thought of crossing them. There is another modern bridge that you can cross over instead. This one doesn't bounce at all and is much more stable.
It's good to note that the Tawang Tourism Board does shut this bridge from time to time to protect it. It may, or may not, be open for crossing on your visit.
On my second visit during Tawang Festival, they opened this bridge as a 'special occasion' type of deal.
However, even if you don't get to cross the bridge, it's still beautiful and worth a stop for photos!
Top tips to avoid mistakes!
Arunachal Pradesh doesn't see many tourists. But, in the unlikely event that you find a lot of people there, make sure to not overload the bridge with too much weight. There should only be around 1 or 2 people on the bridge at any one time.
Make sure to walk slowly over the bridge and take care. The bridge is extremely old and you don't want to damage it. Plus, you don't want to fall.
If you see someone coming the opposite way to you, I'd wait it out. Crossing over each other would be pretty awkward!
There are no facilities at this bridge at all. No chai shops, stalls, taxis – nothing! It's very remote. So, I would recommend visiting Chaksam bridge as part of a road trip or a tour where you have transportation available to you.
Where is Chakzam Bridge Tawang and how to get there?
Chaksam Bridge is located in the wider Tawang District in Arunachal Pradesh.
It sits around 25 kilometres away from the city of Tawang along the mountain roads. It's way too long to walk to in one day and there is no infrastructure here like hotels or homestays.
You will need to organise transport from Tawang for a day trip, or I'd recommend stopping at this bridge on your road trip from Sela Pass to Tawang.
Due to the nature of the mountain roads here in Arunachal Pradesh, you'll find car hire is a lot more expensive than the usual rates of mainland India. I'd say for a day trip around the Tawang District you'll be paying at least 3,000 rupees per car.
If you're heading to Tawang via Guwahati, Bomdila, or Dirang with your own transport or you've hired a driver, you could request a stop at the bridge on your way.
I travelled to Arunachal Pradesh with Holiday Scout who was amazing and made a stop here as part of our trip. You can read my complete review of their services here or click here to request a tour quote!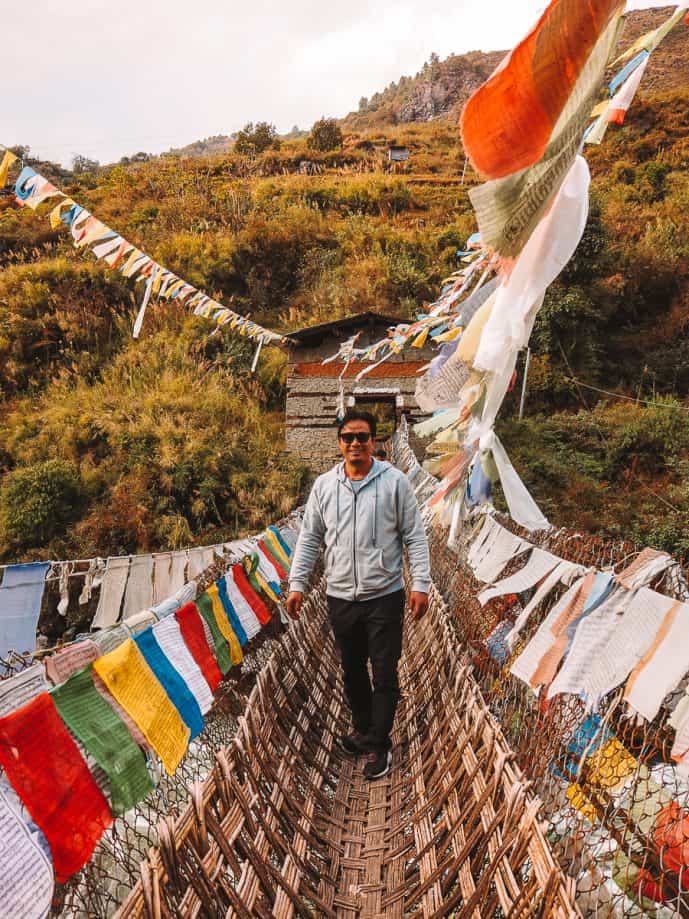 Opening times and prices
There are no opening times for Chaksam bridge as it is not really a tourist attraction. It's open 24 hours a day but I'd recommend planning a visit in reasonable daylight.
It is also completely FREE to visit and to cross the bridge too.
Are you looking for more places to stop on your road trip to Tawang?
The road to Tawang can be pretty risky. On my first visit to Arunachal Pradesh, we needed two attempts to reach Tawang over the Sela Pass.
On my first visit, our jeep got caught in heavy snow! So, I've had quite a lot of experience in trying to make this journey.
Despite the challenges, this ended up being one of my favourite road trips on my visit to Arunachal Pradesh!
We stopped at waterfalls like the magical Jang Falls. Ancient bridges, chai stalls, the Tawang Memorial in the mountains and the might Sela Pass welcome gate as well.
Click here for my complete guide and other amazing places to visit on the road from Sela Pass to Tawang
Do I need a permit to enter Arunachal Pradesh?
Yes, all tourists (both domestic and foreign) will need a permit to enter Arunachal Pradesh.
For Domestic Indian tourists, you will need to purchase an ILP (inner line permit). This is valid for 15 days and costs 100 rupees.
This permit will allow you to travel across Arunachal Pradesh in the 12 tourism circuits. You have a lot more freedom here than foreign tourists with this permit (i.e. Bumla Pass). You can purchase this online here or offline at the border or in a travel agency in Guwahati. You will need a passport photo and identity proof.
Foreign tourists will need to purchase a PAP (Protected Area Permit) to enter the state.
This permit is a little more restricted than the domestic permit and will allow you to travel on certain tourist routes. It costs around $50USD and will allow you to enter Arunachal Pradesh for one month only.
You can only purchase this at a tour operator of Arunachal Pradesh (like Holiday Scout) or at the Visa office in Guwahati and you will need a passport photo, visa, flight ticket, and passport ID. It will take around 2-5 days to process.
You CANNOT enter the state without one. Get caught and you'll be deported. Always have plenty of printed copies of your permit as there are multiple security borders along the roads here.
Read more of my articles on Arunachal Pradesh!
I've travelled extensively in the West Kameng region of Arunachal Pradesh and beyond. Make sure to check out my detailed travel guides;
Top places to visit in Arunachal Pradesh
A complete guide for 108 Mane / Mandala Top
Sangti Valley – a hidden gem in Arunachal Pradesh
Why you need to stay in Dirang Boutique Cottages
Even more North East India inspiration
If you're heading around North East India, I've now been to every North Eastern state!
So, I have lots of travel inspiration and informative guides to help plan your trip;
Top things to do in North East India
A complete travel guide for Guwahati
A complete guide for Hornbill Festival
How to find the double decker root bridges in Meghalaya
A complete Kaziranga Safari guide
My top North East India travel tips
Save this Chakzam Bridge Tawang guide for later!