One of the French castles I have been wanting to visit for years is the fairytale Chateau de Pierrefonds.
If you didn't know, Chateau de Pierrefonds played Camelot Castle in every series of BBC's Merlin.
I've been obsessed with the magical Merlin series since the very first episode which was filmed over a decade ago. I still watch the show today and have chased down many Merlin filming locations in the UK.
So, it was honestly a dream come true and quite surreal for me to finally be able to visit Camelot Castle!
It's not the easiest or cheapest place to visit from Paris as it's on the far edges of the Forest of Compiegne and there are no trains and limited bus services. But, it's so worth it if you're a fan.
Here is how to visit the fairytale Chateau de Pierrefonds Merlin filming location from Paris aka Camelot Castle!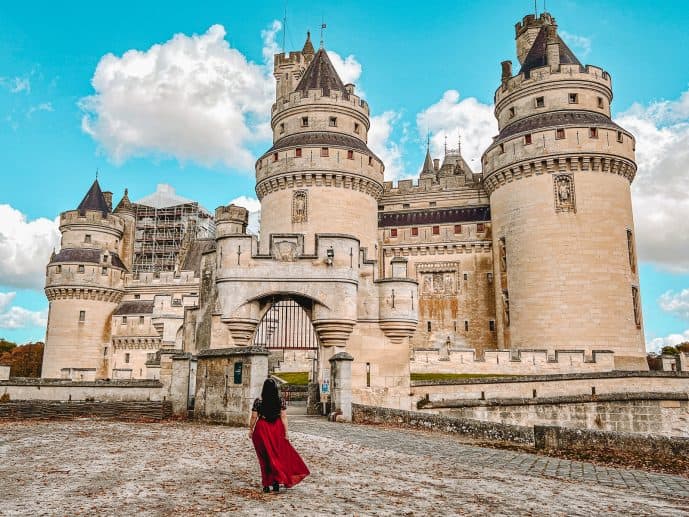 Chateau de Pierrefonds history
Chateau de Pierrefonds is a castle that looks straight out of a storybook in the commune of Pierrefonds. This is in the Oise region of Picardy in France.
The castle we see today is a 19th-century reconstruction but a fortress was originally built here in the 12th century.
In 1392, King Charles VI gifted Pierrefonds and the County of Valois to his brother Louis, the 1st Duke de Orleans. Louis then worked on Pierrefonds until his death with the architect Jean le Noir.
During the reign of Louis XIII, the castle was besieged by troops sent from Cardinal Richelieu (yes, that's the guy from The Three Musketeers).
At the time, it was owned by Francois-Annibal d'Estrées and who joined the "parti des mécontents" (Party of Discontent). So, Louis XIII wanted the castle destroyed but it was only partly ruined after the troops left.
Napoleon later bought Chateau de Pierrefonds in 1810 for less than 3000 Francs and it became a Romantic ruin. At the time, there was a fondness for rediscovering architectural heritage.
Napoleon III then visited in 1850 and asked the architect Viollet-le-Duc to completely restore the castle.
It was to become a grand Imperial residence and was completely rebuilt costing over 5 million Francs.
Unfortunately, Viollet-le-Duc died mid-way through the project and so the interiors were never fully finished. What we have left is an impressive structure with partly finished rooms.
Today, Chateau de Pierrefonds is a fairytale castle and filming location. Hollywood movies like The Man in the Iron Mask were filmed here and it's popular with BBC Merlin fans as this was Camelot Castle in the show.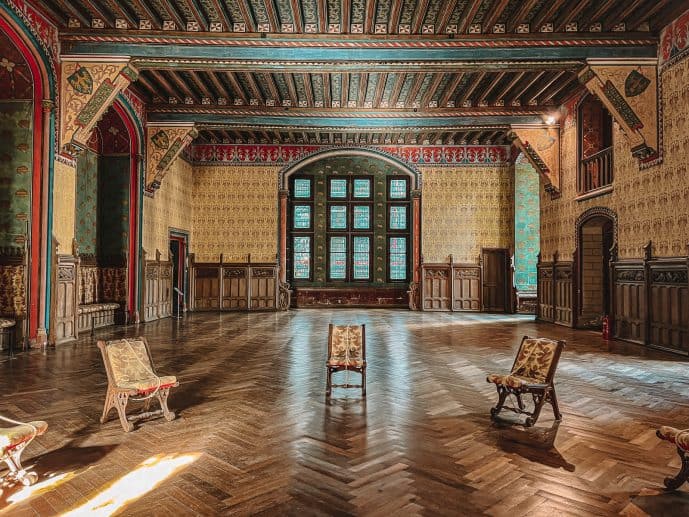 Chateau de Pierrefonds Merlin filming location
Many fans of the TV show Merlin often wonder which castle is used in Merlin and if the castle in Merlin is real.
It does look like a fantasy castle that is almost too good to be true. You could easily accept that the castle was created using some fancy CGI for the screen!
But, Merlin fans will be happy to know that Camelot Castle is completely real and you can visit for yourself at Chateau de Pierrefonds in France.
The production team filmed every series of Merlin here from 2008 – 2012. Scenes with Merlin, Arthur, Uther, Gwen, Gaius, and Morgana were all filmed inside the castle and in the castle courtyard.
What's even cooler is that they didn't alter any of the castle for filming either. They only added furnishings to the rooms and built a small medieval street with The Rising Sun tavern (wink, wink).
Although the Merlin props and sets won't be here on your visit, Camelot Castle will look exactly as it did in the TV series and you'll feel like you've stepped into Merlin's world.
Click here to book your ticket to Chateau de Pierrefonds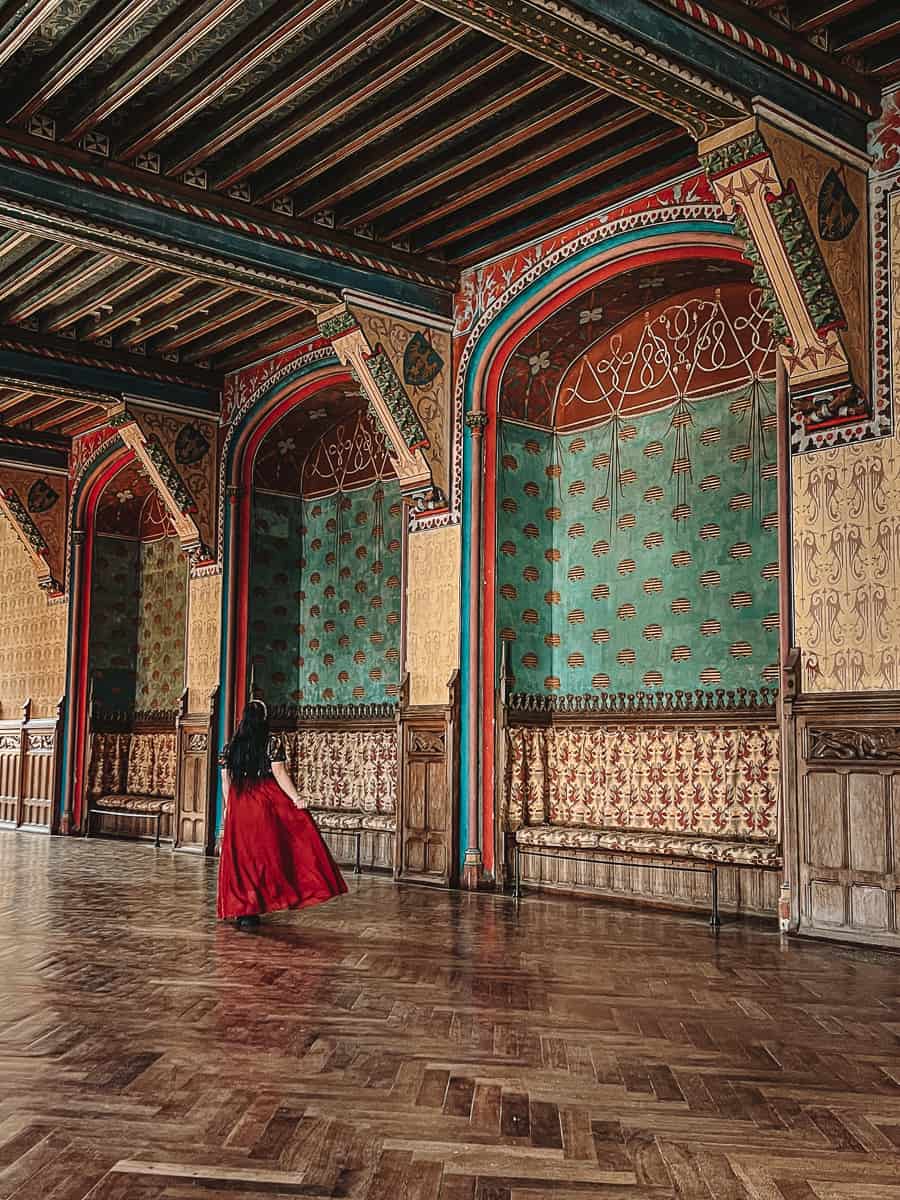 How to visit Chateau de Pierrefonds from Paris
The only annoying thing about trying to visit Chateau de Pierrefonds from Paris is that it's not very cheap or easy to do as Pierrefonds doesn't have a train station or regular public transport.
The nearest city to Pierrefonds that has a train station would be Compiegne and you can take an SNCF overland train there from Gare du Nord. Regular services run throughout the day.
Tickets are around 15 Euro one way and the journey will take you just over an hour to reach there.
Once you get to Compiegne, Chateau de Pierrefonds is only around a 20-minute drive away through Compiegne Forest.
There is no train station and the Pierrefonds bus service doesn't run regularly. Ligne 27 Compiègne- Pierrefond only runs occasionally in peak season. You could walk but it would take around 3 hours.
So, unless you drive, you'll be looking at an expensive taxi service to reach Camelot Castle.
If you manage to book a Bolt or Uber in Compiegne (drivers are limited) it will cost you around 20 Euro.
But, the standard price for a private taxi from Compiegne to Chateau de Pierrefonds one way is around 30-35 Euro. So, you're looking at 50-70 Euro for the return journey.
There may be taxi drivers outside Compiegne train station but, if not, there is a Tourist Information centre at Place de l'Hôtel de Ville.
Also, make sure to book your return taxi journey back to Compiegne as Pierrefonds is a remote village. Most taxis will be travelling from Compiegne to pick you up.
If you've forgotten to book your return journey, the tourist Information centre in Pierrefonds should be able to help you.
If you are lucky enough to have a car, you can drive to Pierrefonds from Paris in around 90 minutes via the A1 or N2.
Even if you're not driving through France, it may be cheaper to rent a car from Paris than take the train and taxi route if there are a couple of you!
Chateau de Pierrefonds address is Rue Viollet le Duc, 60350 Pierrefonds, France. Click here for a Google Pin!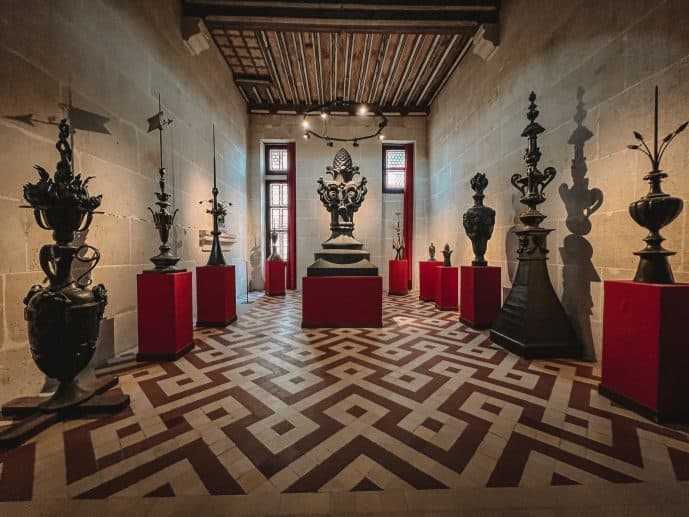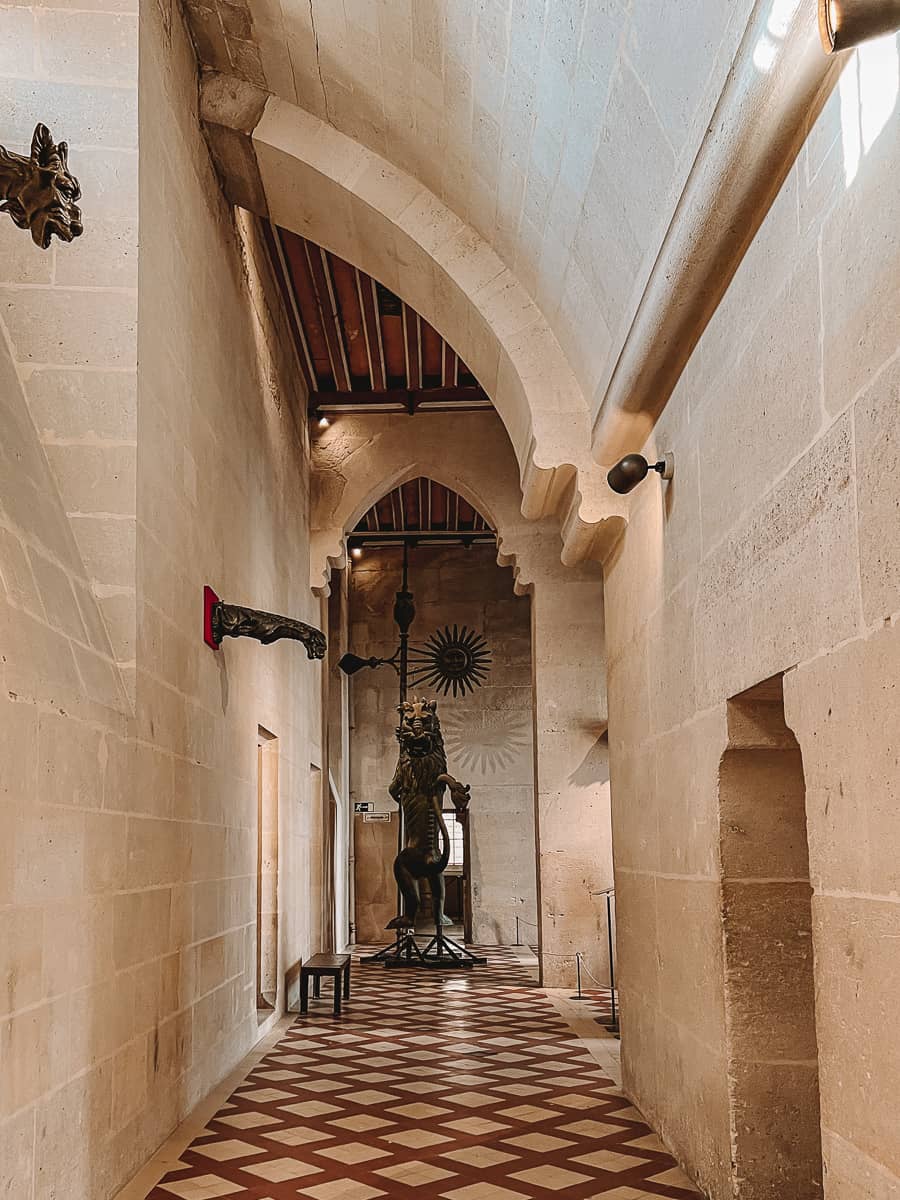 Things to do at Chateau de Pierrefonds
1. Chateau de Pierrefonds Merlin filming locations
So, if you're a Merlin fan you will be made up wandering around Chateau de Pierrefonds.
Although none of the Merlin props or sets will be there on your visit, every inch of this castle was used for filming the series.
So, you'll recognise areas like the outer courtyard that was used for the tournaments or Arthur's training sessions.
We saw the central courtyard from the very first episode when a witch was being burned at the stake for using magic and the Great Hall was used as Uther's throne room.
Plus, nearly all the staircases and corridors saw Merlin running around after Arthur or Gaius at some point. It was surreal walking around 'Camelot Castle'.
2. Admire the Central Courtyard
As you make your way through to the central courtyard, make sure to look above the drawbridge for a statue of St George slaying the Dragon.
When I got inside, this is when I really started to feel like I'd stepped into Camelot Castle. Especially with all the dragon and salamander gargoyles I recognised from the series.
How many times do we see Merlin and King Arthur mount their horses to go off on an adventure from here?! Or, the Knights of the Round table fight off enemies in the castle.
The Chateau de Pierrefonds courtyard with its grand staircase will truly take your breath away!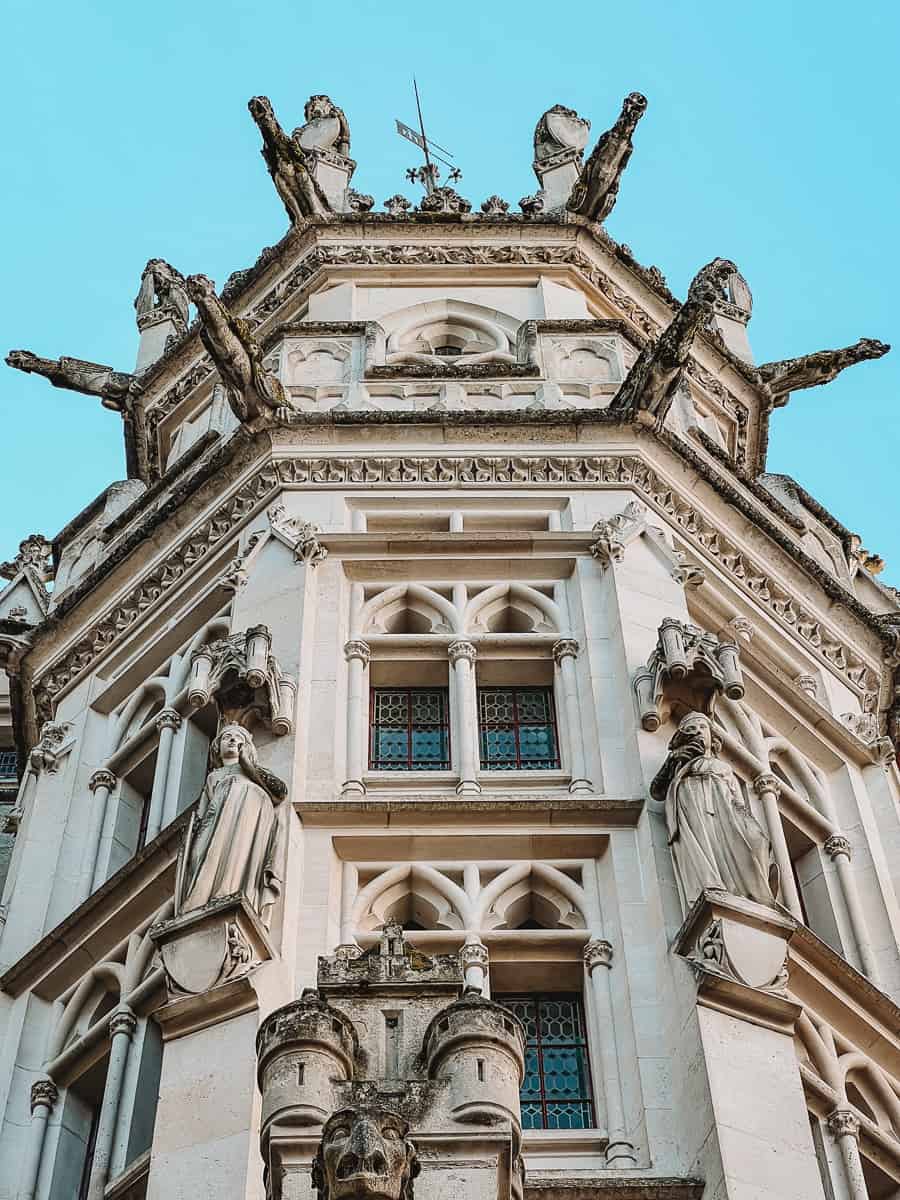 3. Visit the Guest Wing & Staterooms
There are many rooms that you can visit within Chateau de Pierrefonds as part of your tour.
You'll enter the chateau through the Guest Wing staircase to start your journey. Look out for the gargoyles of winged mythological creatures on your way up.
The first room has a great history section of the castle and then you'll make your way up the stairs to the rest of the Guest Wing.
You'll instantly recognise the statue of a Gryffin that greets you at the top of the stairs. This is featured many times in Merlin.
When you head through the Guest Wing, many of the rooms are empty save for some flags and statues. But, then you'll enter the Staterooms which are far more colourful and impressive.
The State Room and the Arms Room are where Napoleon would meet guests visiting the castle.
Inside, you'll find colourful murals with fantastical creatures painted on the walls and fireplaces. There are even paintings on the wooden ceilings!
4. Explore the Royal Bedrooms
You'll find that many of the royal bedrooms here will not have any furniture inside like beds, wardrobes, or chaise long.
This is due to the fact that the project to restore Chateau de Pierrefonds into an Imperial Residence for Napoleon III was never finished.
But, you'll still find that the rooms themselves have been decorated beautifully with hand-stenciled paintings, coats of arms, and huge fireplaces.
You'll also find friezes, shields, and statues of Charlemagne. These bedrooms were meant to be for the emperor and the empress so no attention to detail was missed.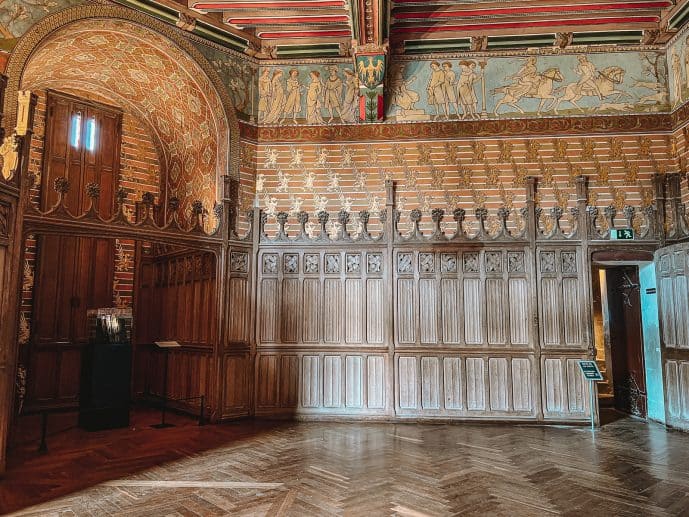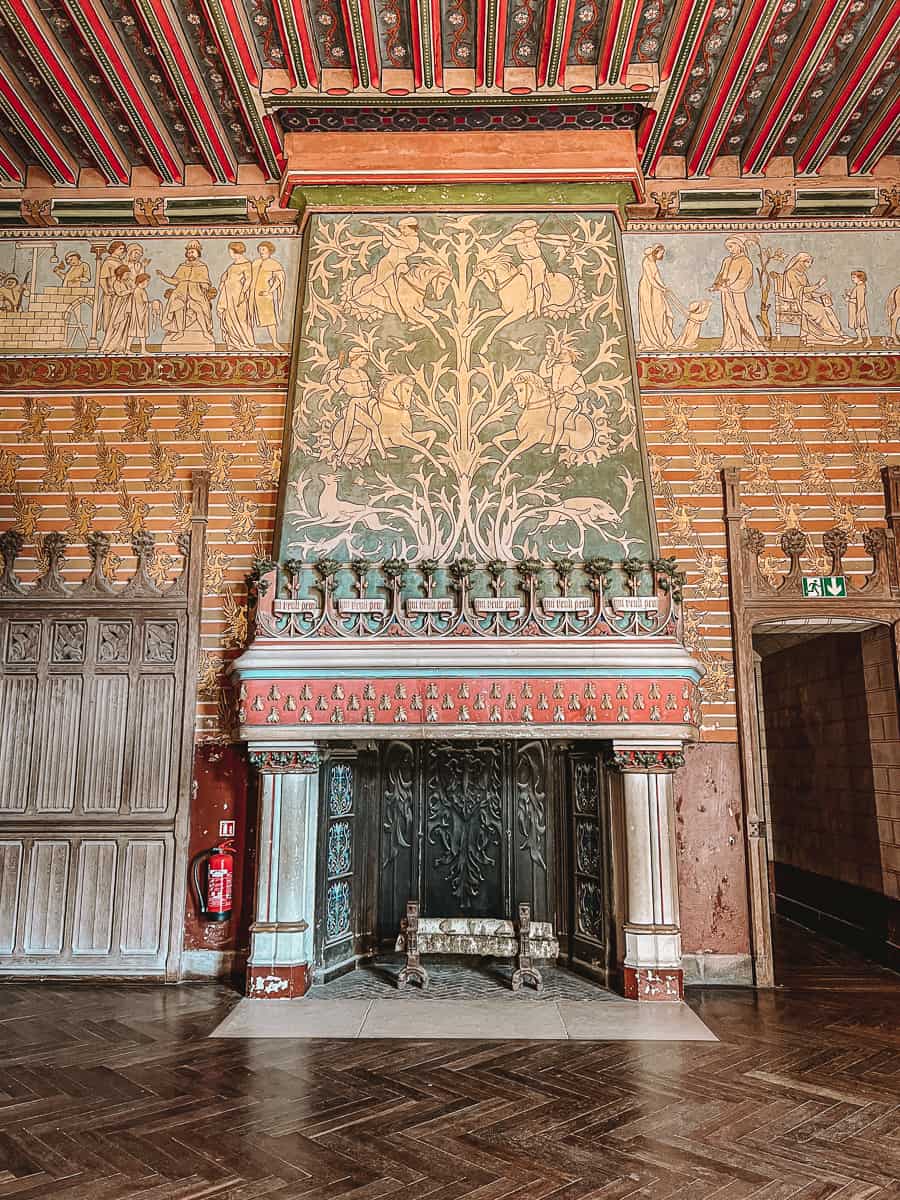 5. Visit the Great Hall or Salle de Peruses
The best room in the entire castle is The Great Hall or the Salle de Peruses.
It's a giant formal ballroom with colourful paintings and in Merlin it was used as Camelot's throne room.
You'll find lots of colourful paint on the vaulted ceiling and walls, windows that let in warm lighting, and statues of men and women on opposite ends above a huge fireplace.
You'll find 9 statues of Valiant Women which is where the room gets its name. They are all based on mythological characters like the Babylonian Queen of Semiramis.
I was so disappointed that this room wasn't open on my visit. Apparently, they are fixing the roof and it will be closed for a couple of years now.
The Great Hall or Salle de Peruses is closed for reconstruction at this time. Check the website for details.
6. Royal Chapel
Before you leave the central courtyard, don't forget to visit the reconstructed Royal Chapel.
Although there was an original chapel in Louis I d'Orleans fortress made by Jean le Noir that chapel is a reconstruction by Viollet-le-Duc.
You'll find a statue of him above the door as soon as you walk in below the rose-stained glass window.
It has two levels and it's the only chapel in the world that has a gallery above the choir itself. It makes it vertically very tall, especially with the vaulted ceiling.
In the centre you'll find another large statue of St George slaying the Dragon. Very apt for Merlin!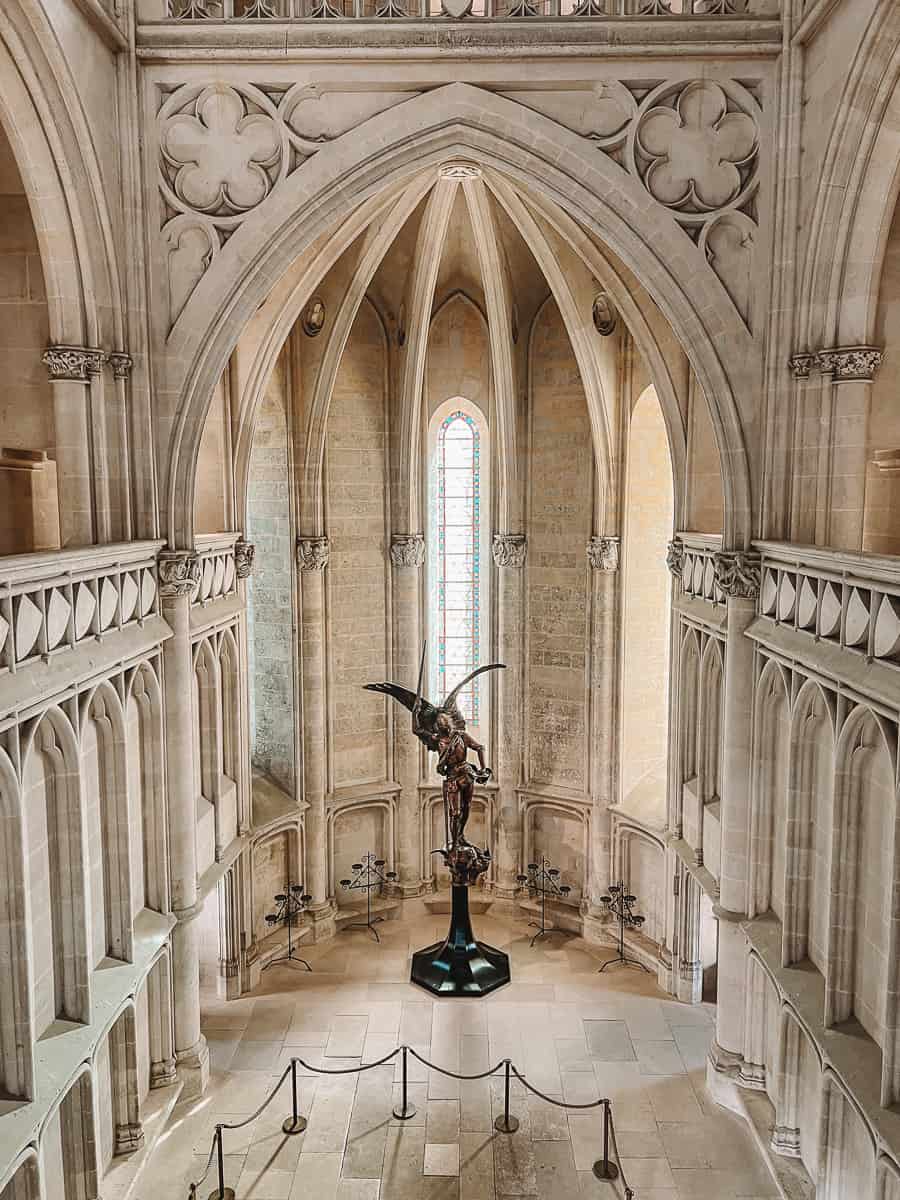 7. Chateau de Pierrefonds crypt
Weirdly enough, one of my favourite parts of the Chateau de Pierrefonds tour was the crypt. It's one of the only remaining features of Louis I d'Orleans' medieval fortress.
In 1837, King Louis-Philippe I founded the 'Historical Galleries of Versailles' in the hope of turning the chateau into a museum.
He commissioned a collection of sculptures to be made of notable French characters. But, as it wasn't very popular and out of date for the 21st century they were moved to Pierrefonds crypt in 1953.
As weird as it sounds, I love visiting crypts. Especially Gothic ones like these with the vaulted ceiling.
It's really dark but they add all this pretty lighting to the tombstones and sculptures and it looked so magical!
Although it's entirely in French, you can hear tales about the people that are buried down here and the models in the crypt. It almost sounds like they are all having a heated conversation.
I didn't understand much at all but I enjoyed the music and voices all the same. It really created an atmosphere.
Chateau de Pierrefonds opening times and ticket prices
Chateau de Pierrefonds is open all year as a tourist attraction in France. In fact, entry is included with The Paris Pass (4-6 days) and the Paris Museums Pass if you've invested in one.
The castle is open every day from September – April from 10 am – 5.30 pm and from May – September 4th from 9.30 am – 6 pm. The last entry is one hour before closing.
So, a Monday would be a great day to visit from Paris as most of the city museums and the Palace of Versailles are closed that day.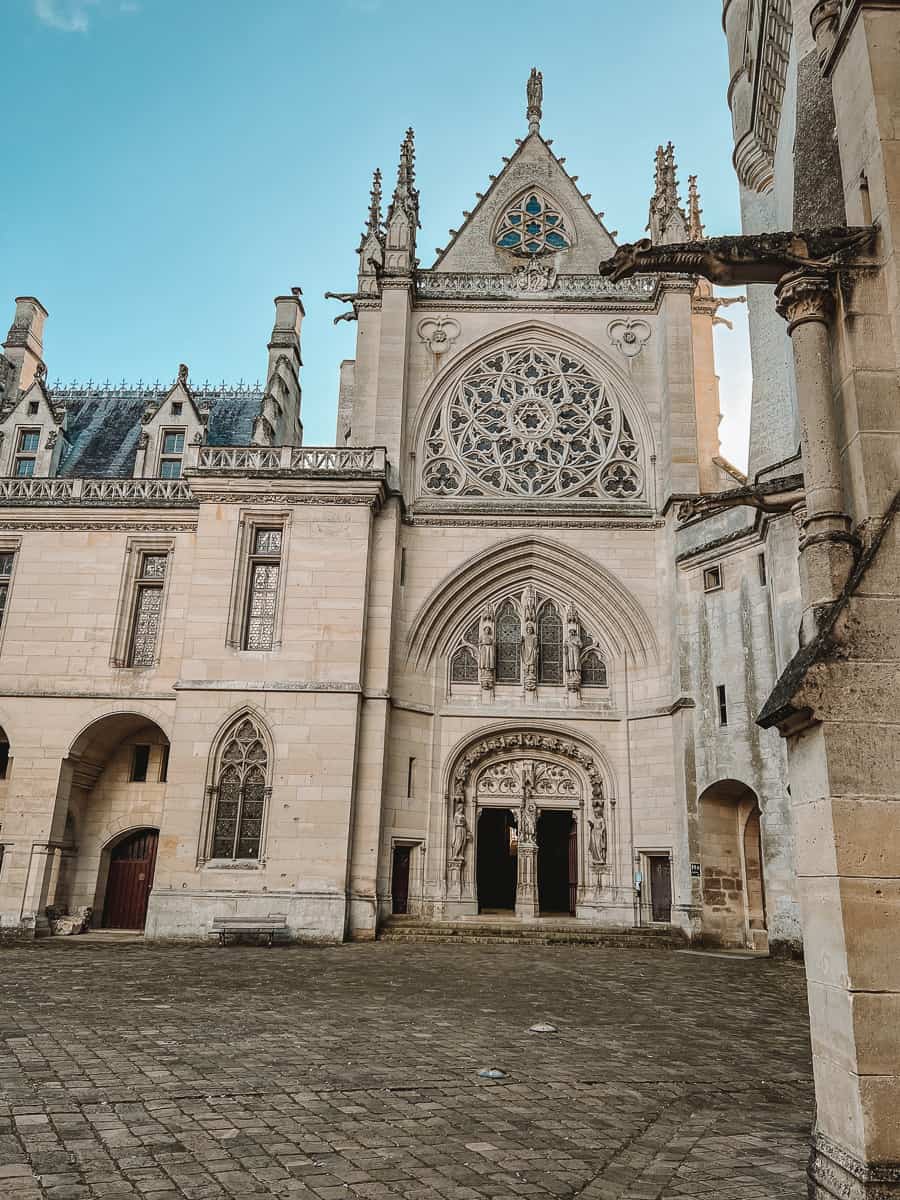 January 1st (New Year's Day), May 1st (Labour Day), and December 25th (Christmas Day) are the only days of the year when the castle is closed.
If you don't have a Paris Pass or Paris Museums Pass, adult ticket prices are 8 euros. Audio guides are available for an additional 3 euros.
Under 18s get in for free and if you're 18 – 25 residing in the EU you get in for free as well.
Click here to book your tickets to Chateau de Pierrefonds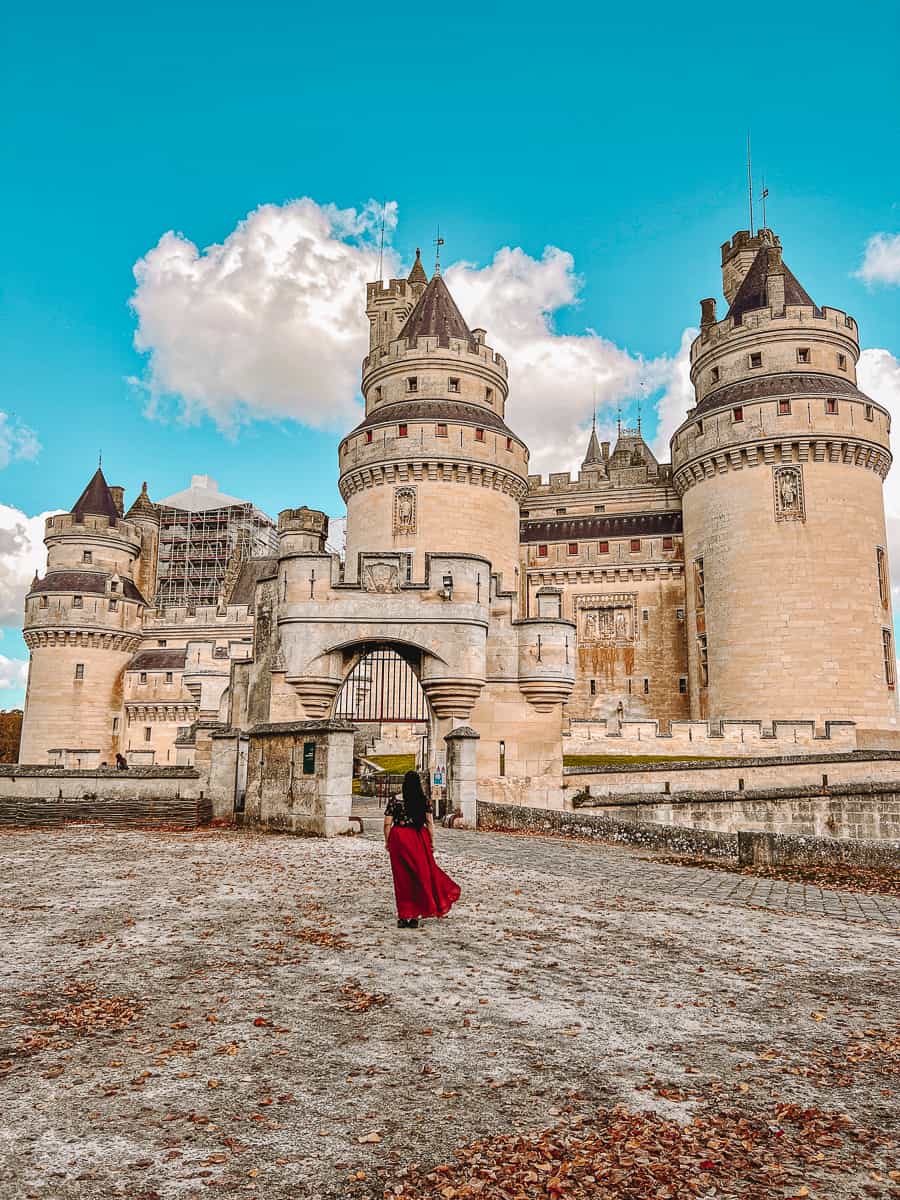 What was filmed at Château de Pierrefonds?
Beyond BBC's Merlin, there are plenty of TV shows and movies that have used the magical Chateau de Pierrefonds as a filming location.
It's easy to see why as it looks straight out of a fairytale. Here are all the media appearances of Chateau de Pierrefonds;
Sword of the Valiant (1984)
Highlander: The Series (1992 – 1998)
The Visitors II: The Corridors of Time (1998)
The Man in the Iron Mask (1998)
The Messenger: The Story of Joan of Arc (1999)
Wizards of Waverly Place (2007 – 2012)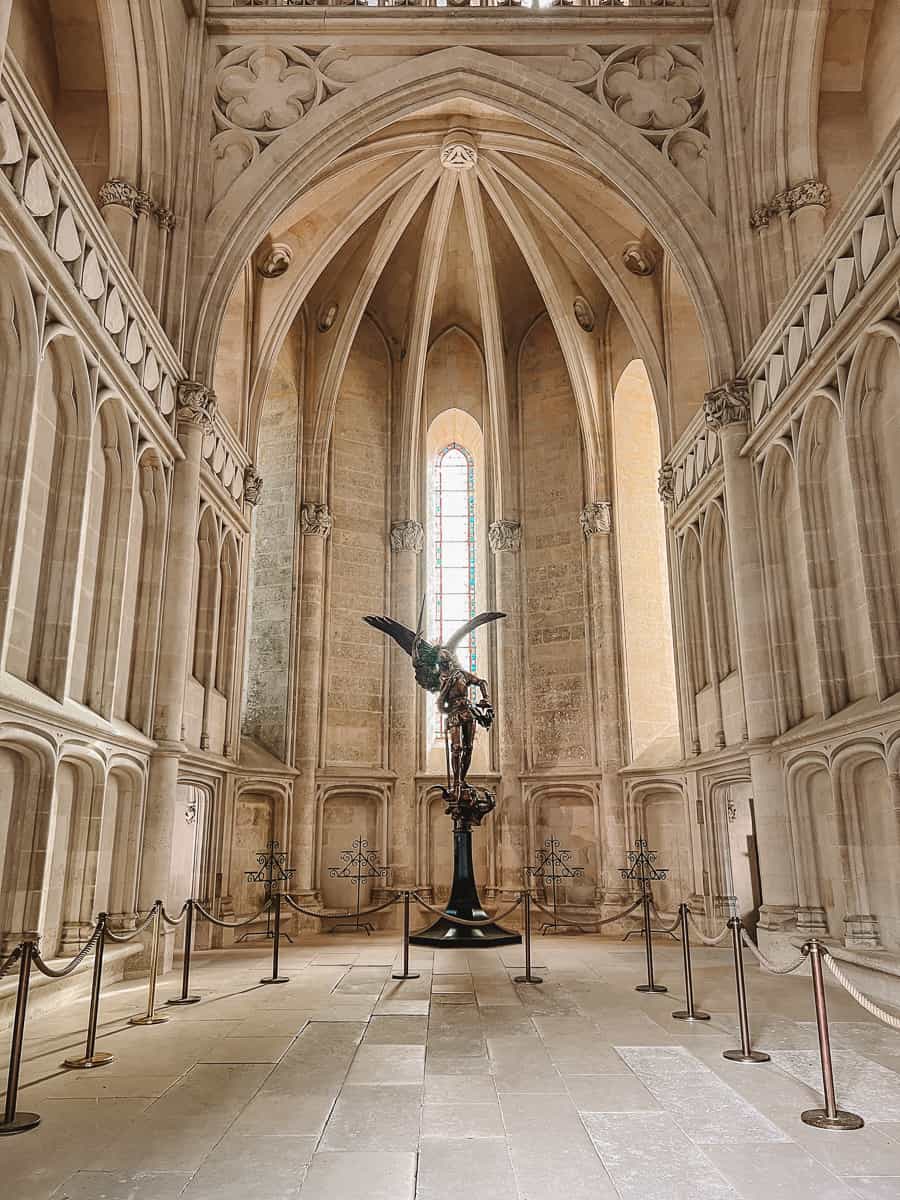 Chateau de Pierrefonds FAQs
Can you go inside Château de Pierrefonds? Yes, you can visit Chateau de Pierrefonds in France. It's even included in the Paris Pass.
Who owns the Chateau de Pierrefonds? Centre des Monuments Nationaux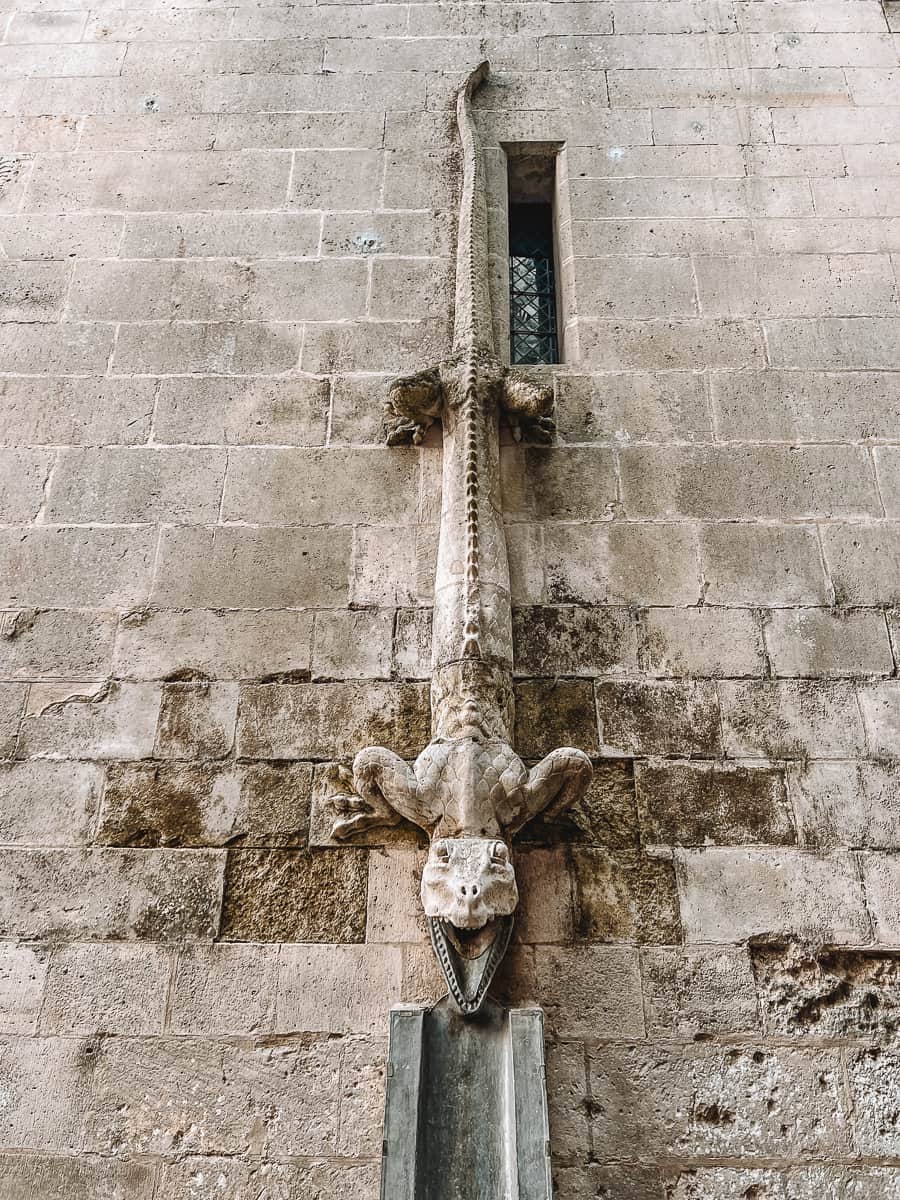 Is the castle in the series Merlin real? YES, although it looks fake it's totally real. Camelot Castle in the Merlin TV series is Chateau de Pierrefonds in France.
Which castle is used in Merlin and where was Merlin filmed in France? Chateau de Pierrefonds
Can you visit the Castle from Merlin? Yes! It's called Chateau de Pierrefonds and you can visit from Paris.
Looking for more things to do in Pierrefonds?
Although it's a small commune there are a few things to do in Pierrefonds on your day trip to the chateau.
A great way to be introduced to the area is to take the Pierrefonds Petit Train around the town.
It has an English commentary and you can learn all about Pierrefonds history. It even takes you up to the castle entrance to save an uphill walk.
Lac de Pierrefonds (Pierrefonds Lake) is a popular spot that provides boating in summer and there are plenty of walks you can take around the lake as well.
The main square has a few shops and galleries that you can browse and you can make a stop at the Eglise Saint-Sulpice Pierrefonds church.
But, that's your lot when it comes to this sleepy place in France! The castle is really the main attraction.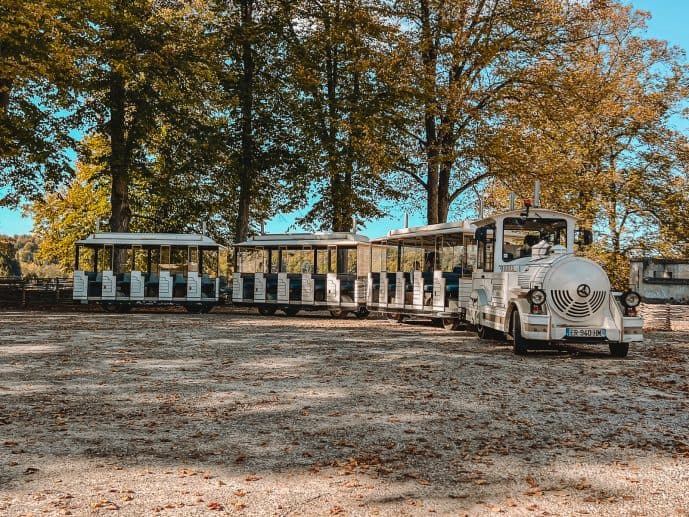 Where to eat in Pierrefonds
There is no café or restaurant at Chateau de Pierrefonds itself but there are a few places that you can eat in the town on your visit.
Le Triskell comes highly recommended, there is L'embarcadere by the lake and there is also Le Commerce in the main square that does a lunch menu.
As I was quite late for lunch and most restaurants had stopped serving, I ended up eating at one of the local boulangeries that served up some cheap baguettes, quiche, and pastries!
Where to stay in Pierrefonds
As the trip from Paris can be quite expensive and requires taxis, it may be worth staying over in Pierrefonds for the night to visit the castle.
Pierrefonds is a small commune but there are some hotels and guesthouses in the area.
One hotel that always comes highly recommended and has friendly staff is the Logis Hotel Beaudon which sits beside the boating lake at Pierrefonds.
From there, it's a 10-minute walk to the castle through the town, forest, and up the hill to the entrance!
If there is nowhere in Pierrefonds, I would try to find accommodation in the nearby city of Compiegne.
It's a far larger settlement with better infrastructure and is easily accessible by train from Paris. I stayed at the Ibis Budget by the train station and it was very cheap, clean, and convenient.
Click here to find your perfect hotel in Compiegne
Read more of my Merlin guides
Merlin filming locations at Puzzlewood
Speech House Lake Merlin filming location
A guide to Castell Coch in Wales
How to find Three Bears Cave near Cardiff
Dunraven Bay – Merlin & Doctor Who filming location
How to find King Arthur's Cave in Wales
How to visit Pendragon Castle in the Yorkshire Dales
A complete guide for Tintagel Castle
How to visit Merlin's Cave in Cornwall
Read more of my Paris guides
Avenue de Comoens – the best Eiffel Tower view
Why you must visit Saint-Chapelle – the Jewel Box church
Visit the Medici Fountain in Jardin de Luxembourg
Starbucks Opera – Is this the prettiest Starbucks?
How to visit Marie Antoinette's Queen's Hamlet in Versailles
A complete Pink Mamma Paris review – is it worth it?
50+ Instagrammable places at Disneyland Paris
25+ Things to do in Disney Village Paris
Don't miss the Disneyland Paris Dragon
Captain Jack's Restaurant Review
How to eat at Bistrot Chez Remy Ratatouille Restaurant
How to find Jim Morrison's Grave at Pere Lachaise Cemetery
Save the Chateau de Pierrefonds Merlin Filming Location for later!