Are you looking for all the free things to do in Zurich? I get it! As one of the most expensive cities in the world, it can be hard to plan an itinerary if you're on a budget.
So, I've created this list of cheap & free activities that will ensure you have an incredible time but won't burn a hole in your wallet!
Zurich is a large city filled with expensive retailers, high-end restaurants, and some of the world's most affluent banks.
But, it also has quaint cobbled streets, a historic old town, cultural museums plus a few hidden gems you can enjoy without spending a single penny.
Here are all the magical, cheap, and free things to do in Zurich Switzerland in 2023.
Cheap & free things to do in Zurich Switzerland
1. Explore Zurich Altstadt (Zurich Old Town)
If you only have time for one free activity in Zurich, I would recommend exploring the Altstadt or the old town of the city built on both sides of the Limmat River.
It's filled with historic buildings, medieval lanes, public squares, and green gardens. There's so much to explore.
You can explore attractions like ancient churches, Cabaret Voltaire, and the Kunsthaus Zurich art museum.
Stroll down the colourful streets of Niederdorf, Augustinerstrasse, Schipfe, and Renwegg. Or take in the majestic views from Rechberg, Burkliterrasse, or Polyterrase.
A great way to explore would be to take a Zurich Old Town Walking Tour!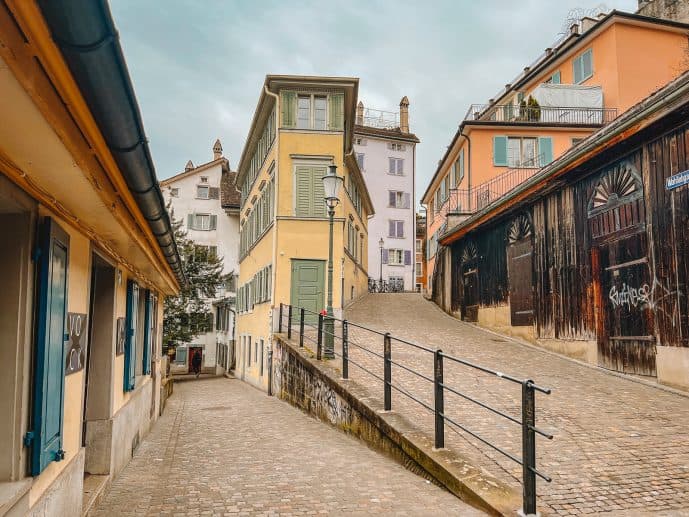 2. Stroll down Limmat River
One of the best free things to do in Zurich would be to wander down the Limmat River that snakes through the heart of the city.
From here, you can see many of Zurich's main highlights like the Fraumünster and Grossmünster as well as historic bridges and colourful buildings.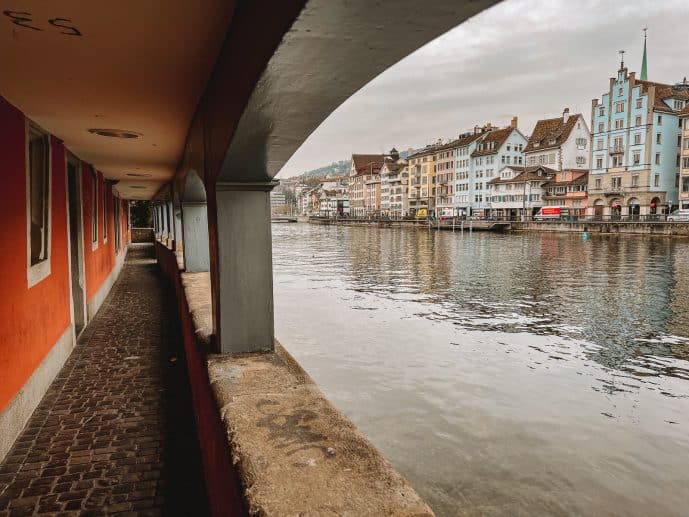 There are many cafés and restaurants that you can enjoy along here as well as shops.
I loved taking a stroll on the Limmat at night time when you can see the street lamps and warm glow of the house lights reflected in the water!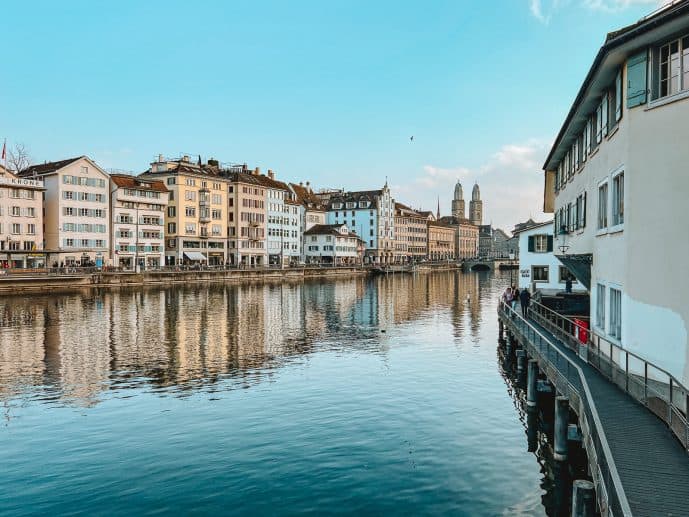 3. Visit the Grossmünster
The twin towers of the Grossmünster are the most recognisable sights in Zurich and the name in English means 'Great Minster' (very much not disgusting)!
It's a Romanesque protestant church and the structure we see today started in 1100. It was eventually inaugurated in 1220.
According to an ancient legend, this church was founded by Charlemagne, or Charles the Great, king of the Franks.
In the story, his horse fell to its knees over the graves of Zurich's trio of patron saints; Felix, Regula, and Exuperantius.
It's worth going inside to see their cloisters, crypt, reformation museum plus stained glass by Augusto Giacometti.
Entry into the church is completely free (donations are always appreciated) but if you wanted to climb up their church towers you pay 10 CHF.
4. Take in the views from Grossmünsterplatz
If you were looking for an incredible sunset location in Zurich then look no further than the Grossmunsterplatz located in front of the Grossmünster.
This balcony overlooks the Limmat River and the Fraumünster Church and so you can take in these iconic views once the sun goes down.
Although it was a cloudy day on my visit, I loved how the sky went purple and the lights started to switch on. It's a free thing to do in Zurich.
5. Visit St Peter's Church
You'll likely spot St Peter's Church by its huge clock tower that dominates the Zurich city skyline.
This is the largest church clock tower in Europe and it's so big you can see it all over the city. So, you'll never be stuck telling the time.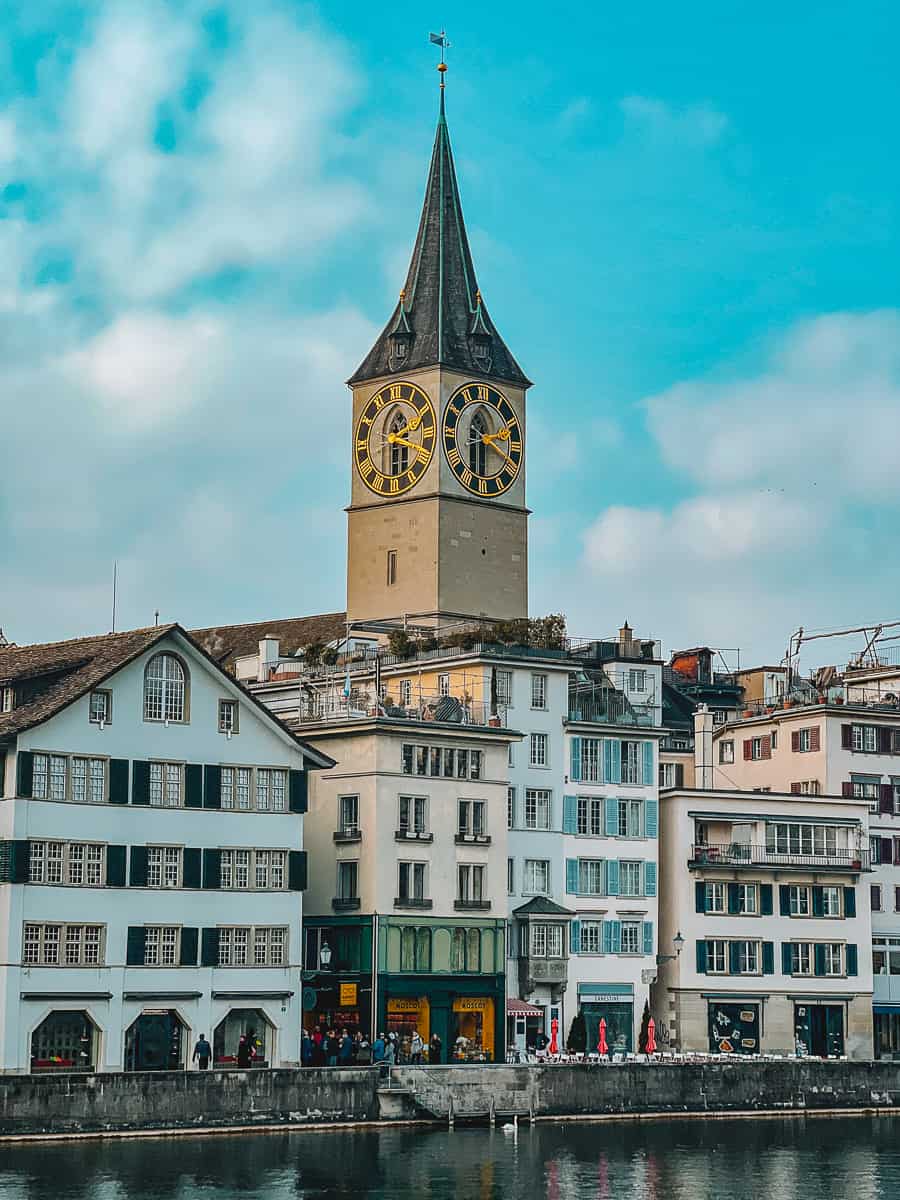 St Peter's Church is located next to Lindenhof Hill, a former Roman castle, and can be accessed via St. Peterhofstatt plaza.
Although it was founded as early as the 8th century, making it the oldest parish church in Zurich. The Romanesque structure we see today dates back to 1000 AD.
Parts of the church were reconstructed much later and so it's a patchwork blanket of architectural styles. Until 1911 the church tower was used as a fire watch post!
It's one of the best free things to do in Zurich.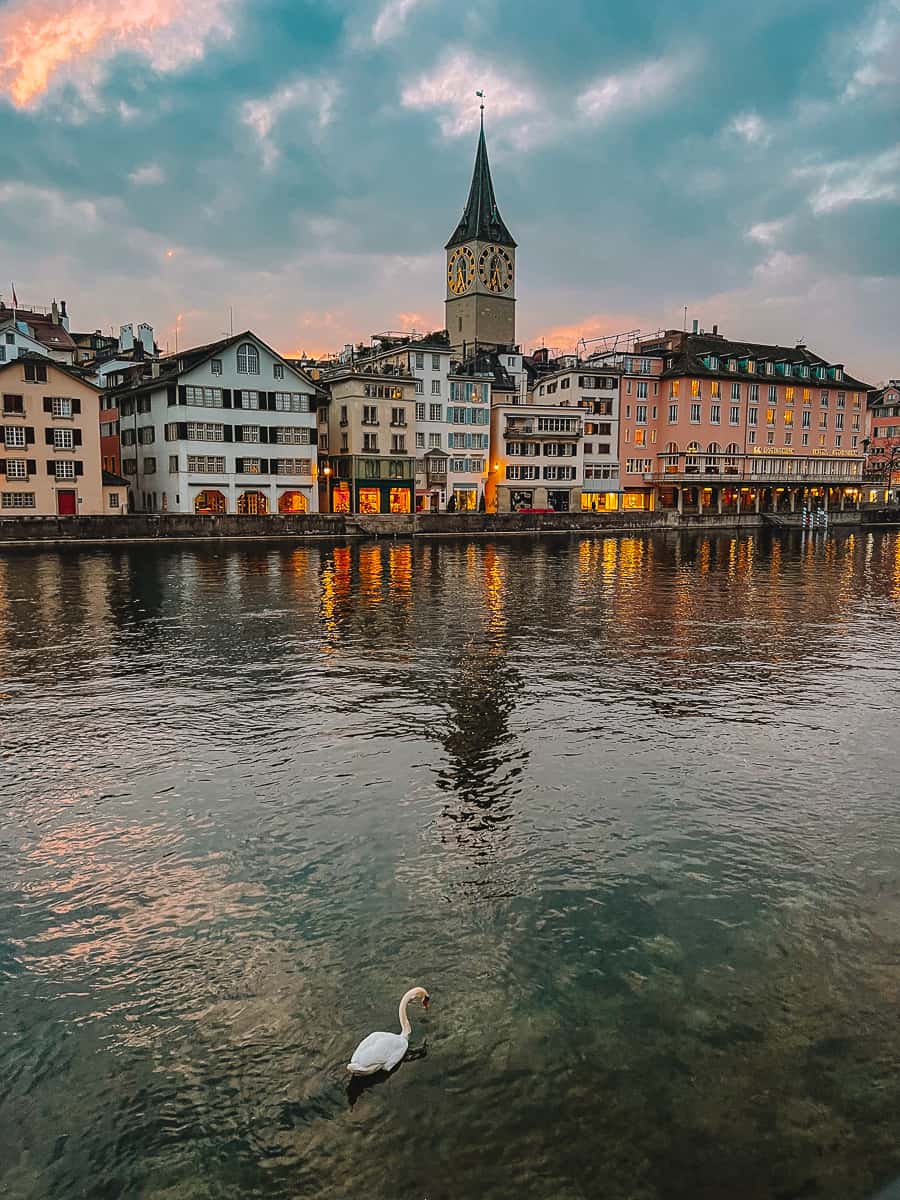 6. People watch from Storchen Terrasse
Okay, so this activity is by no means free but one of my favourite spots in Zurich for a coffee or cocktail has to be the Hotel Storchen Terrasse.
You can sit alfresco on their high seating by the Limmat River, cosy up in their fur blankets, and sip your drinks while you enjoy spectacular panoramic views!
Hotel Storchen is one of Zurich's oldest hotels established in 1357 and is a premium accommodation in the heart of the city.
Guests can board their very own Alex boat to get dropped off at their hotel pier and have a view of the Limmat from their windows.
But, even if you're not a guest, everyone is welcome to visit their café and restaurants. Their hot chocolate is meant to be divine.
It's not the cheapest place but most cafés in Switzerland will be expensive for coffee wherever you visit.
So, why not spend a bit more and enjoy amazing views of the Grossmünster over Limmatquai?!
7. Visit the Fraumünster Church
I know you're probably bored of seeing churches by now but the Fraumünster is the last church on this list, I promise.
It's one of the most famous sights in Zurich and its tall church tower sits right beside the Limmat River over the historic Münsterbrucke bridge.
Even if you don't plan to go inside, it's worth stopping at this bridge alone to take some photographs.
Fraumünster means 'Women's Minster' and it was a former abbey built for aristocratic women in the 9th century. It was founded by Louis the German in 853 for his daughter Hildegard.
The abbey dissolved in 1524 and eventually, the Fraümunster Church replaced it.
You can see cloisters and many stained glass windows inside by the famous Swiss painter Augusto Giacometti. Entry is 5 CHF.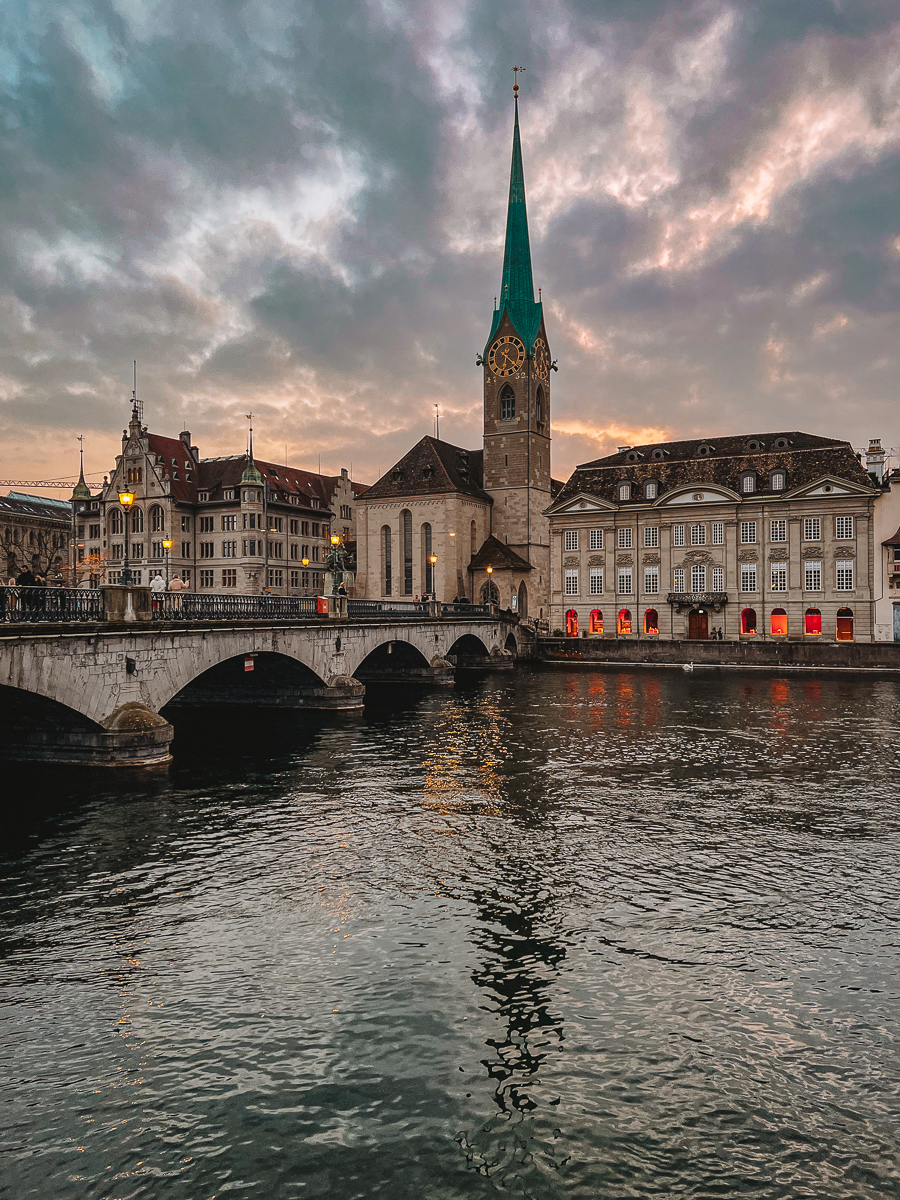 8. Swans at Limmatquai
There are so many swans and birds that swim around the waters of the Limmat River! It's not hard to spot them especially if one of the locals has brought food.
My favourite place for swan spotting has to be the steps that lead down to the river on Limmatquai near the Town Hall (Rathaus)
These stairways and platforms are great photo spots and are best paired with sunset if you can snatch up a spot on the steps.
9. Lake Zurich
The banana-shaped Lake Zurich can easily be accessed from the centre of the city but don't be deceived, as it's over 18 miles long.
There are many ways that you can enjoy scenic views from the many walking trails, train journeys, and swimming spots.
But, most people like to book a Zurich river cruise that will take them from the Limmat over to Lake Zurich.
Cruises run from April – October and last for around 50 minutes with a commentary. Click here for more details.
Tickets are only 4.40 CHF and 3.10 CHF for kids. You get a free ride with the Zurich card.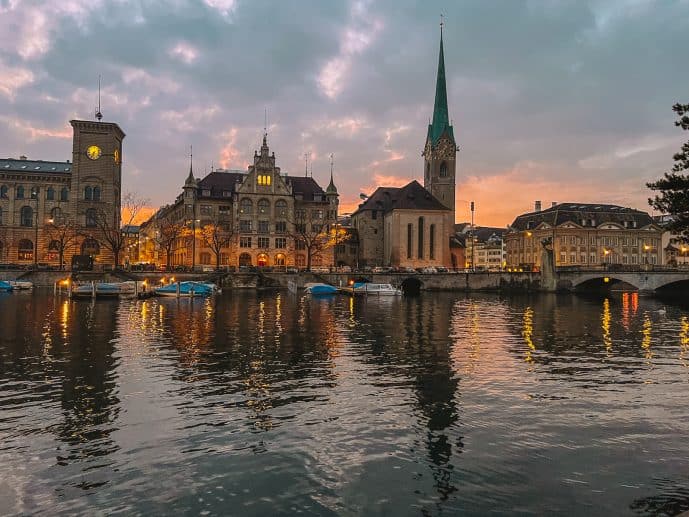 10. Visit Lindenhof Hill at sunset
One of the best free things to do in Zurich is the viewpoint from Lindenhof Hill which was the site of a former Roman Castle.
The Roman Fort was built here in the 4th century and later the grandson of Charlemagne built a palace up here in the 9th century in the very same spot.
Today, it's a modern oasis with lots of historic buildings, a fountain, and greenery. It's a public square and meeting spot for locals.
The highlight has to be the unobstructed panoramic views of Zurich where you can see highlights like the Limmat, Fraumünster, Grossmünster, City Hall, and the colourful buildings of the old town.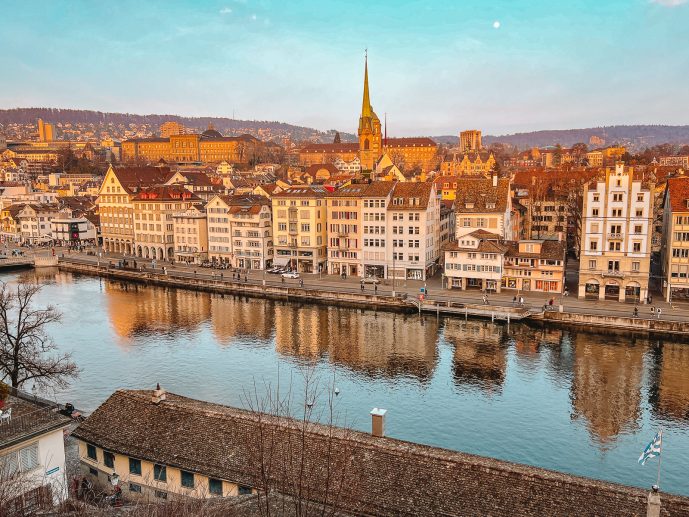 Although the views are perfect at any time of day the best time to visit would be for sunset when you can see the sky change colour.
It's completely FREE to visit and I would make sure to arrive here a little bit before sunset time to get a good spot in summer.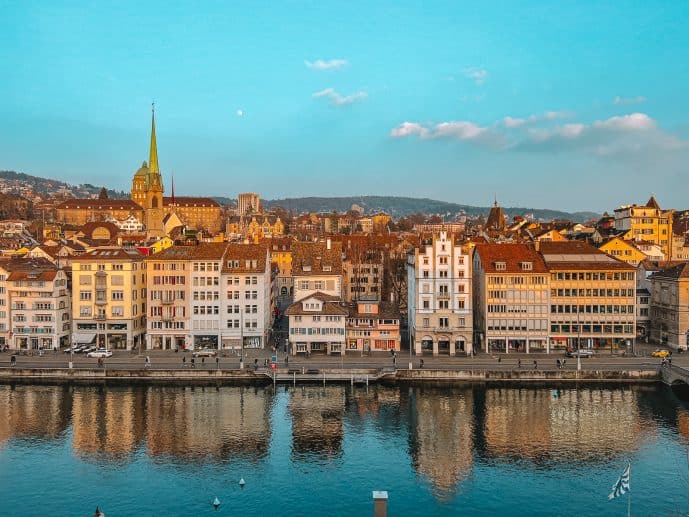 11. Pfalzgasse street
Just beside Lindenhof Hill is one of the most underrated viewpoints in the city. It's also one of the best free things to do in Zurich.
Pfalzgasse is a steep, cobbled, and colourful street that has one of the best views of St Peter's Church Tower in the backdrop.
It will lead you down to the Old Town and the colourful shopping streets like Augustinergasse.
But, it's definitely worth stopping here to take a quick photo first so have your camera or phone ready!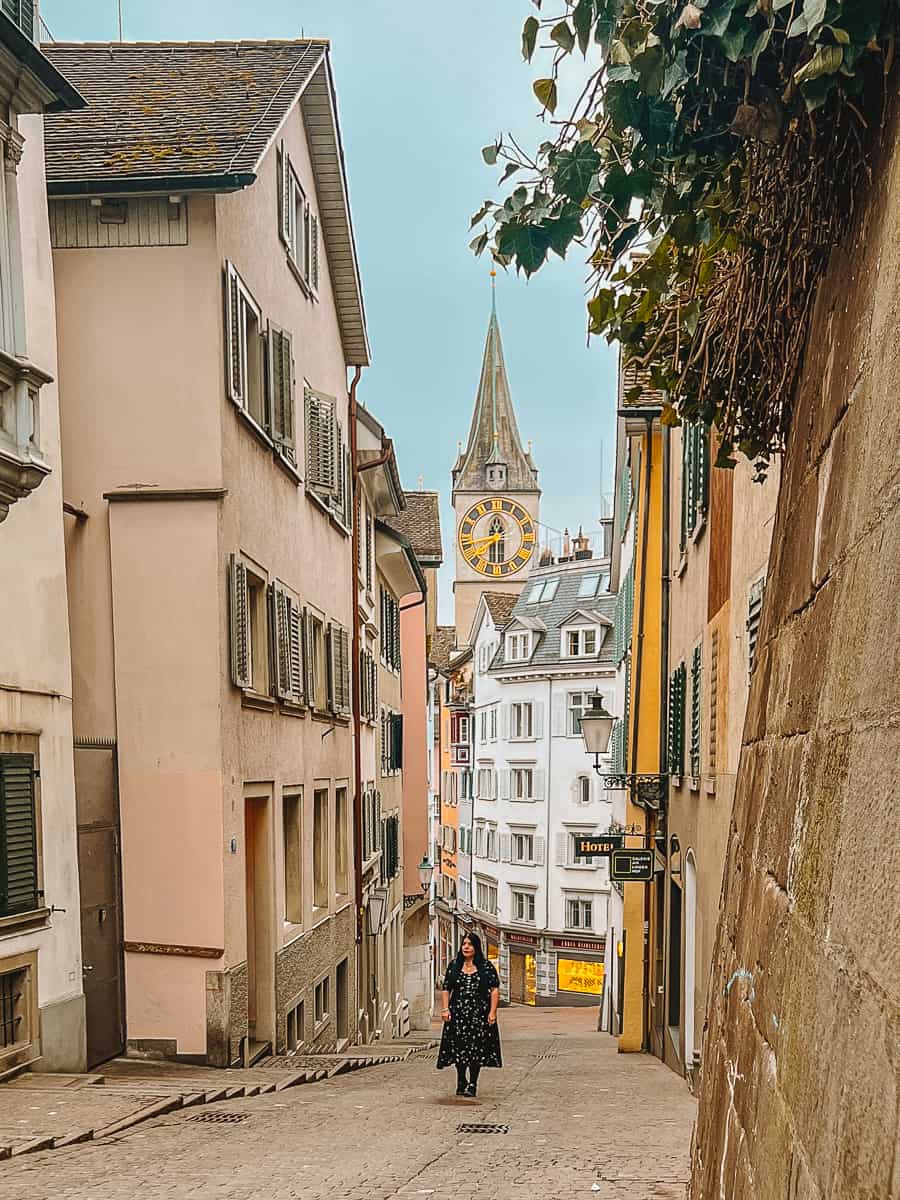 12. Zurich Rathaus
Although you'll find town halls (Rathaus) in many Swiss cities, I loved the fact that the Zurich Town Hall sits on the River Limmat. It looks like a royal mansion rather than a government building!
It's a gorgeous historic hall designed in a Baroque style that was built between 1694-1698 and replaced two former wooden buildings.
Since the 19th century, the town hall has been the official seat of the Zurich cantonal parliament.
Today, the building is open to the public and so you can explore the inside and see the exhibitions without spending a penny. It's one of the best free things to do in Zurich.
13. Visit the colourful Augustinergasse
Zurich is filled with quaint streets but none so colourful and vibrant as Augustinergasse. It's a historic cobbled lane with vibrant houses and bay windows.
This narrow medieval street takes its name from the former Augustinian Abbey that used to be here.
Most of the buildings here date back to the 1880s and the bay windows were created over the doorways so that the owners could spy on who was knocking!
Today, you'll find this bustling street filled with Swiss flags, boutiques, cafés, and restaurants. As one of the prettiest streets in Zurich, it's an incredible photo spot.
A stroll here is one of the best free things to do in Zurich. Early morning is best to catch it without the crowds.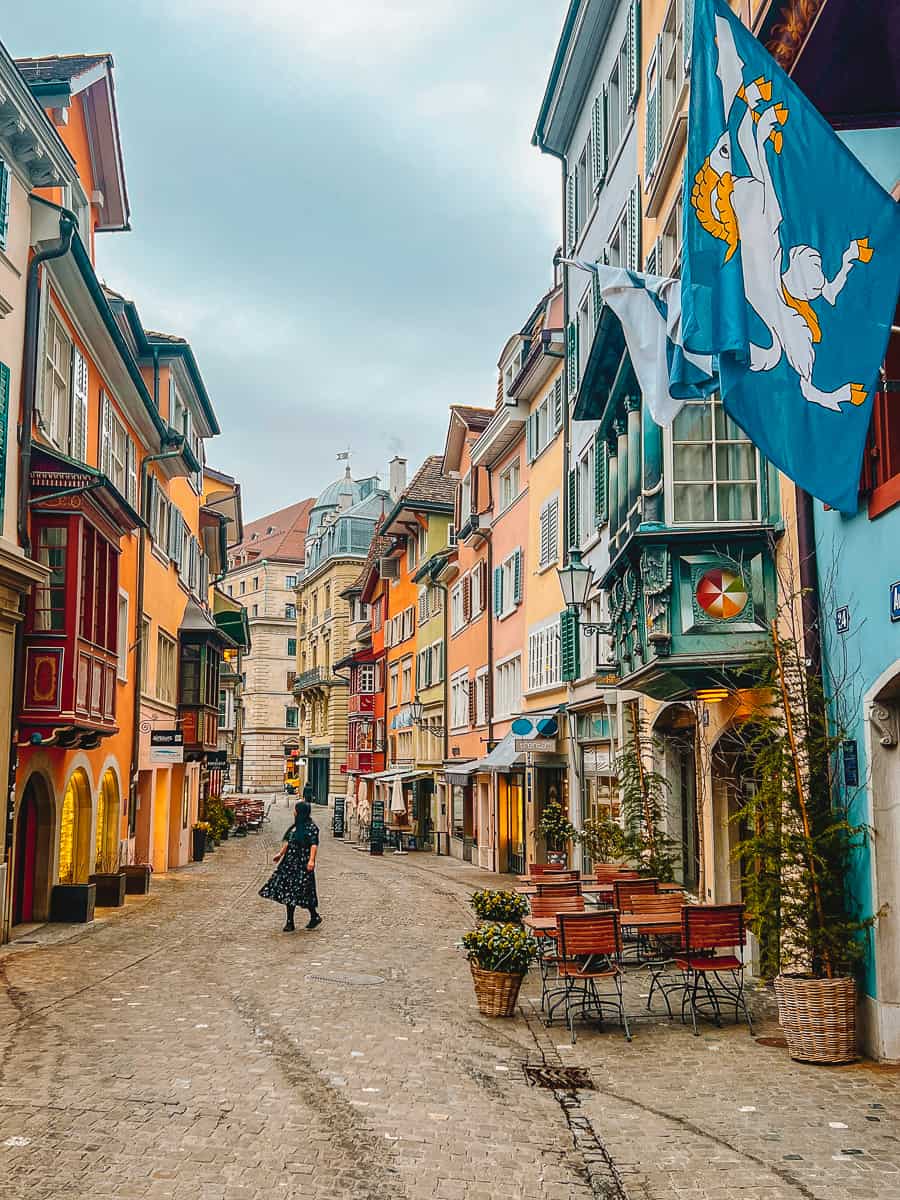 14. Window shop on Bahnhofstrasse
If you were looking to browse some of the shops in Zurich then you could head down Bahnhofstrasse.
This is one of the world's most expensive and exclusive shopping avenues and you can expect to find Chanel, Louis Vuitton, Dior, Mont Blanc, and Victorinox amongst others.
So, you may want to do some window shopping here instead of flashing your credit card.
If you were looking for something to do, you could visit the Beyer Clock and Watch Museum here.
Switzerland is world-famous for its clock and watchmaking so you can learn about the art form inside. Entry is just 10 CHF.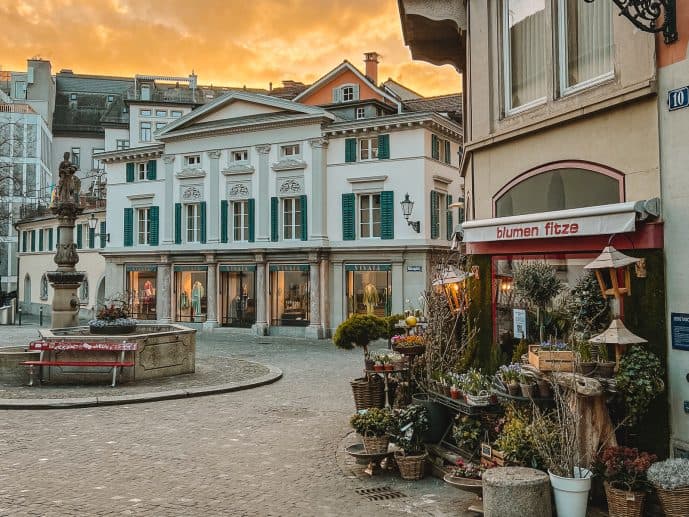 15. Wander around the Swiss National Museum
Just outside of Zurich central station, you'll find the incredible Swiss National Museum set in a building shaped like a fairytale castle!
It's one of the largest museums in the city and houses a huge collection of items relating to Swiss cultural history.
You'll find everyday objects like cowbells and clothes, artwork, sculptures, and literary texts.
There is also a FREE permanent exhibition called "Simply Zurich" to learn more about the city as well.
If you wanted to see the entire collection then the entry price is 10 CHF for adults and 8 CHF for concessions. It's open every day of the week except on Mondays.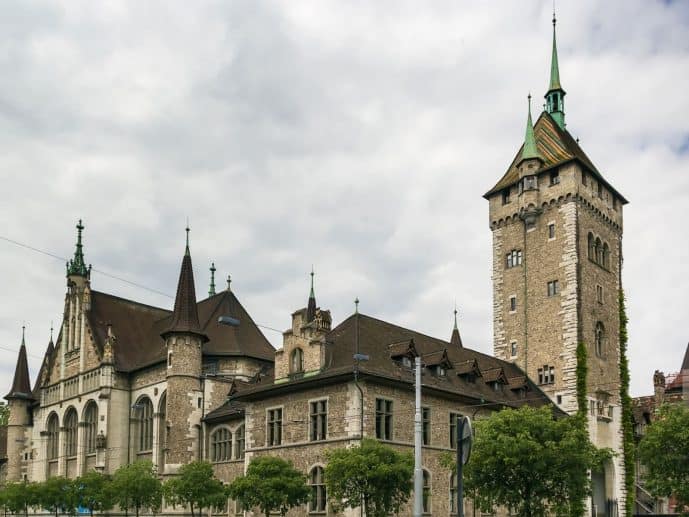 16. Giacometti Murals in Zurich Police Station
One of the best hidden gems and free things to do in Zurich is actually located within the Zurich Police Station.
The Giacometti Murals were painted by Augusto Giacometti in 1923 and were commissioned by the city to brighten up their dark police station halls.
The vaulted ceiling is painted in vibrant warm tones with flowers and geometric shapes along with portraits of crafters and scientists gazing at the stars!
Locals call this "Blüemlihalle" or the hall of little flowers. It's completely free to go inside, you just need to deposit a form of ID when you enter.
Click here to read my complete guide on how to visit the Giacometti Murals!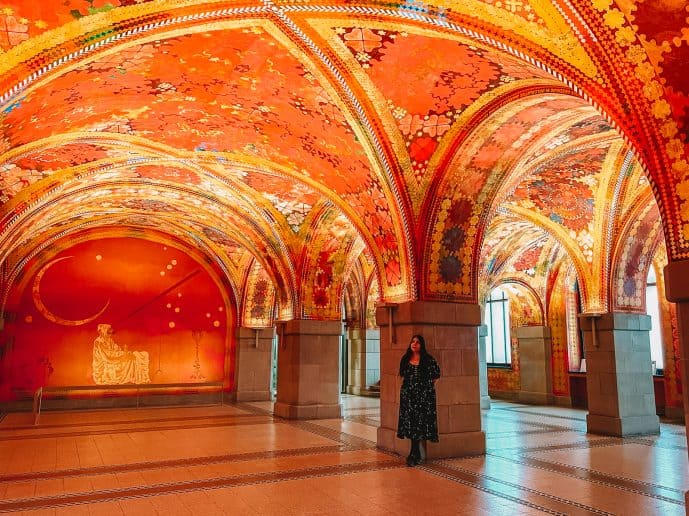 17. Lindt Chocolate Factory
Swiss Chocolate is renowned for being the best in the world and you've most likely heard of Lindt Chocolate established in 1899.
They sell those adorable chocolate bunnies with the bells on every Easter and boxes of mouthwatering truffles.
The Lindt chocolate factory, also known as Switzerland's chocolate museum, is located right here in Zurich and you can book to visit on a guided tour for just 10 CHF.
It's an interactive self-guided tour and you can learn of the chocolate journey from a cocoa bean to the shop shelves.
As soon as you enter, you will see their mouthwatering 9-metre tall chocolate fountain. Once you go inside you'll learn the story of Swiss chocolate pioneers, and receive some all-important free samples.
They also have chocolate courses where you can make your own chocolate, a huge Lindt chocolate shop, and a café.
Tickets must be booked in advance. Click here to book your tickets to the Lindt Chocolate Factory.
18. B2 Hotel Wine Library
Another incredible hidden gem in Zurich has to be the B2 Hotel Wine Library which is the ideal hangout for book lovers.
Located in the B2 Boutique Hotel this open-plan library is home to over 33,000 books! It acts as a working space, café, and restaurant and is open to non-hotel guests.
You can dine throughout the day in their towers of tomes or enjoy some of the rare wines that they keep onsite.
The B2 Hotel used to be the Hürlimann Brewery, one of the largest in Switzerland, and you can still see some of the original beer bottles made into chandeliers.
It's somewhere I would highly recommend visiting. It's a little out of the city centre but only a short tram ride away from the central station in the Enge district.
Click here to read my complete guide for the B2 Hotel Wine Library!
19. Zurich Hürlimannbad Spa
So, this is going to be one of the most expensive things I recommend on this list and I have to admit it's not even cheap (oops).
But, I really couldn't leave the Hürlimannbad Spa off this list simply as it's home to an incredible heated infinity pool that looks over the city.
On my visit, it was a very sunny and clear day and so I could even see the mountain range in the backdrop whilst I was swimming there. It was epic. No phones or cameras are allowed though, unfortunately.
Entry to the infinity pool and thermal baths is 35 CHF and if you wanted to enjoy their Irish-Roman Spa Ritual it's 65 CHF. But, it's worth every penny.
As I say, it's not free or cheap but it's definitely somewhere you could treat yourself to if it's the last day of your holiday.
20. Take a Zurich day trip from the city!
If you've already spent a few days here and would like to try something new you can easily take a Zurich day trip.
Zurich has a huge train station that can connect you will almost any part of Switzerland and I would take advantage of it.
One of my favourite places in Switzerland has to be Lucerne which is home to the ancient Kapellbrücke bridge.
But, you could also take a trip to Interlaken that can connect you to gorgeous areas like Lauterbrunnen and Murren too.
There are many ways to save money on train travel in Switzerland and one of those is purchasing a Swiss Travel Pass. It gets you unlimited train, bus, and boat travel plus entry to many attractions.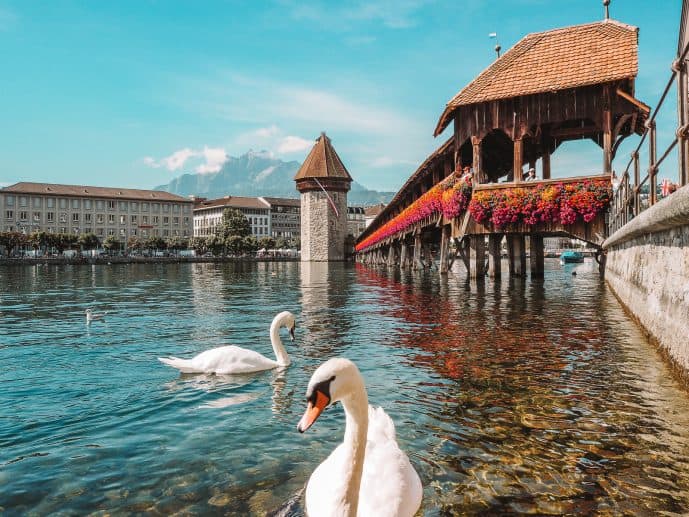 How to get around Zurich
If you're staying in the heart of the city then Zurich is very easy to travel around on foot as most of the free things to do in Zurich are centered around the River Limmat.
But, if you did want to travel around the city to Lake Zurich, the Lindt Chocolate Factory, or other districts I would make use of the Zurich tram, boat and bus systems.
If you're a tourist, you can buy 24-hour passes that grant you unlimited use of public transport in the city across all six zones.
Or, you could purchase the Zurich Card which provides the same transport access. But, you also get a ferry ride, walking tour, and free entry to many of the city attractions too.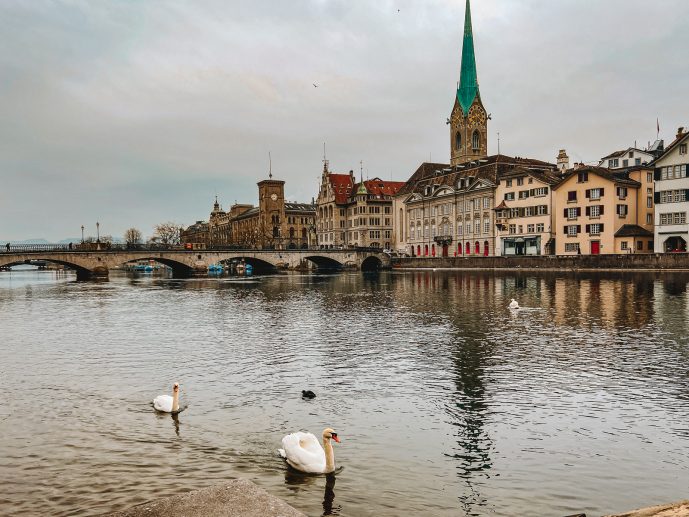 Save time and book a tour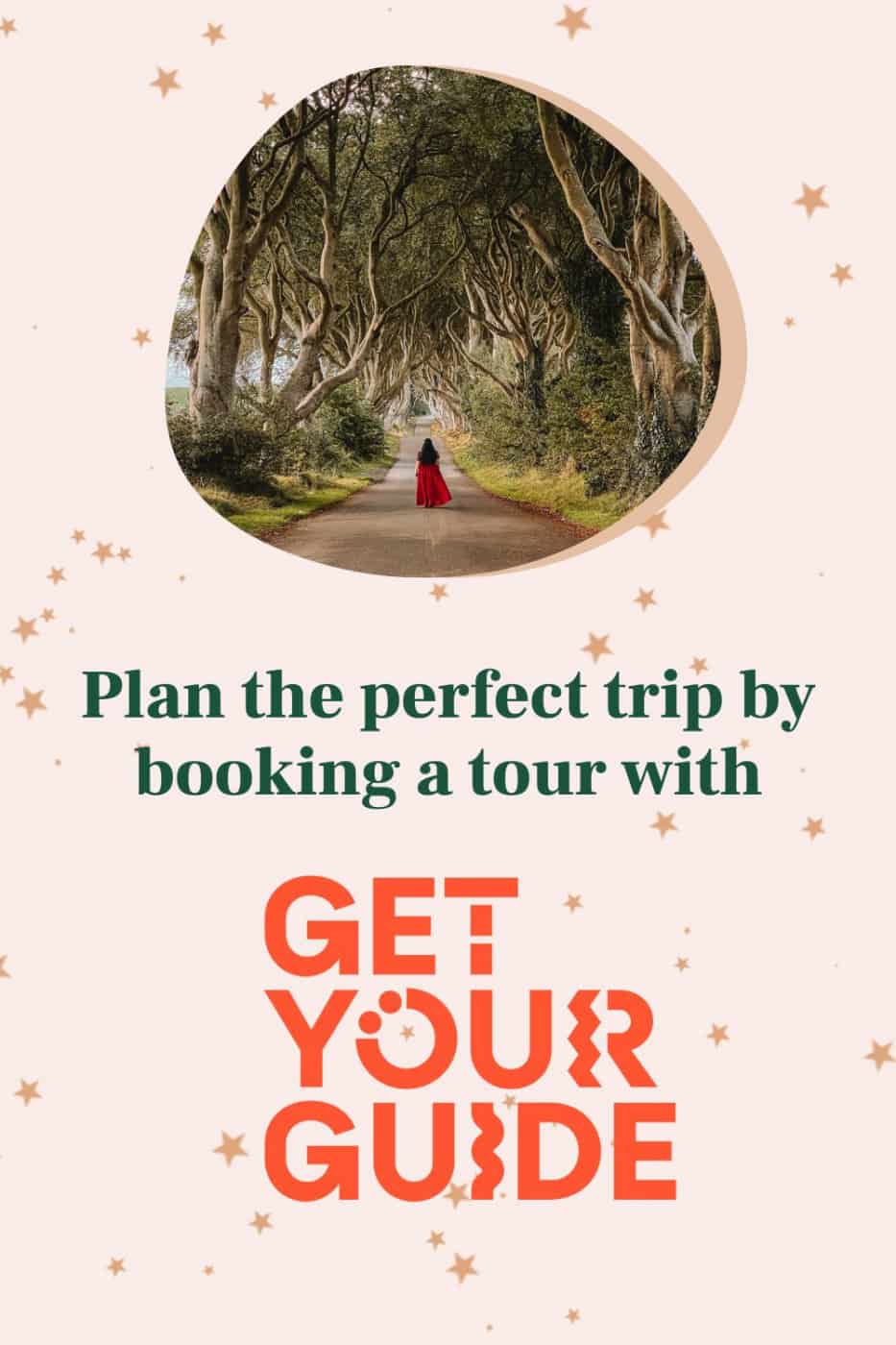 Book tours & tickets for Zurich!
Read more of my Switzerland travel guides
20+ best things to do in Zermatt
How to find the best Zermatt Matterhorn viewpoint
Glacier Express Excellence Class Review – is it worth it?
Is Zermatt a real life Velaris from ACOTAR?
Heading up to Jungfraujoch – Top of Europe
How to see the Matterhorn in Zermatt
Männlichen to Kleine Scheidegg walking guide
The famous Kapellbrücke Bridge
A Sherlock Holmes guide for Meiringen
The best afternoon tea in Interlaken
A 007 guide for Schilthorn Piz Gloria!
Save these free things to do in Zurich for later!