So, you want to go on a cheap tiger safari in Rajasthan on your trip to India?
Well, if you've done any research so far, you'll probably find see that these don't come cheap.
Ranthambore in Rajasthan, the most popular due to its dense tiger population, could cost you hundreds of pounds for a safari package. But please, don't despair!
You don't need all that money. Don't cross it off your list just yet. I'm here to tell you that it is possible to do a tiger safari on the cheap in India!
Where do I hear you cry? Well, there's a little-known secret in off the beaten track Rajasthan; Sariska.
This is the ULTIMATE guide for taking a Sariska Tiger Reserve Safari in Alwar, Rajasthan.
How to reach the Sariska Tiger Reserve in India
Sariska is based in the Indian state of Rajasthan in the Alwar region.
Unfortunately, Sariska is not easily accessible by plane or train so you'll have to go in a car.
The nearest train station to Sariska is Alwar Junction. This is around a three-hour train ride from Delhi or two hours from Jaipur.
If you alight here, you can catch a cab directly from the station and it will take you around an hour. A great website for booking Indian train tickets is cleartrip.com.
They provide easy functionality and, unlike the IRCTC (Indian Railway Central booking system), they allow you to book train tickets on the same day!
They do charge a small premium, but if anything saves me from wanting to rip my hair out when booking an Indian rail ticket – I'll happily pay it.
If you didn't fancy the train, you can also hire a private taxi directly from New Delhi which will take you around four hours. From Jaipur, it's around two and a half hours.
For more Indian train travel tips and how to book tickets, see here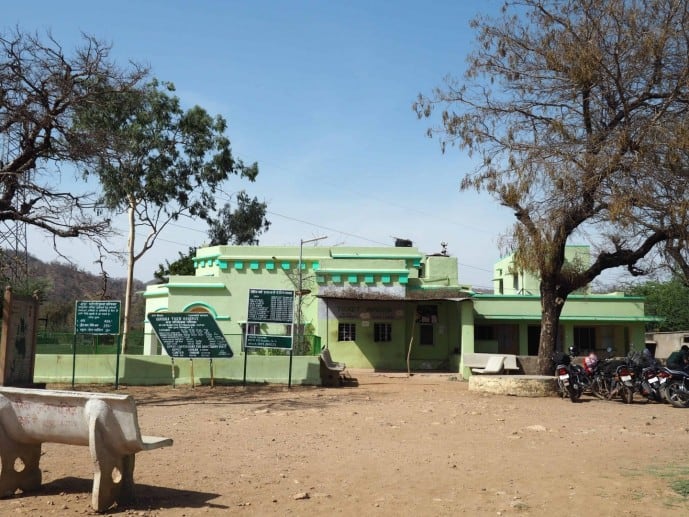 Sariska Tiger Reserve Safari times
The Sariska Tiger Safari times are three times per day from May to October.
The safaris run once in the morning at around 6 am and then again around 3.30 pm in the afternoon.
Safaris run for around three hours at a time! So make sure you plan enough time in your day.
As this was a last-minute decision for us, my friend and I headed to the reserve without really checking the timings. I know, rookie traveller error!
We ended up making a fatal mistake and arrived at the tiger reserve around midday. The midday heat in India summer is tough and the heat was intense.
We had two choices, we either came back in the morning and wasted a taxi ride or wait it out. They didn't start selling tickets until 2pm on the dot.
How to book a Sariska Tiger Reserve Safari
To get tickets for a Sariska Tiger Reserve Safari, it's quite a task to book in advance.
There is an option to book online but I wouldn't necessarily say that's the safest option.
So, it's better to turn up on the day and book your safari directly at the ticket office in Sariska.
You'll need to pay a park permit fee, a jeep fee, and a photography fee if you want to take a safari.
Sariska Tiger Reserve Safari ticket prices
Tickets for a Sariska Safari are 470 rupees per foreigner and 80 rupees for Indian nationals. This is just for the National Park entry fee.
You will then have to pay extra for your jeep and some fees for your videography permits if you need one.
Here's a list of prices;
Entry Fee Foreign Nationals – 470 rupees
Entry Fee Indian Nationals – 800 rupees
Cost for the Canter (sharing with 20 people) – 400 rupees
Cost for the Gypsy Jeep (sharing with 6 people) – 600 rupees
Videography – 400 rupees
Make sure to keep some extra cash spare to tip your guide and driver too!
Sariska Jeep types
There were two choices of vehicle for the Sariska Tiger Reserve Safari, the Gypsy or the Canter.
The Gypsy is an open-air 4×4 and can take up to 6 people at a time. This is the more expensive option at around 600 rupees per person.
If you want to hire the whole jeep for yourself, the cost will be 6500 rupees. So, most of the time you share with others to keep the costs low!
You initially pay this to the ticket counter, then you pay some fees directly to the guide after the tour. The total comes to around 1200 rupees. Cheap as chips!
The canter is an even cheaper option at 400 rupees and a massive open-air vehicle which is higher and takes around 20ish people at a time. So, you're total would be around 1000 rupees if you chose this option.
They also have introduced some photography/videography fees to the safari now. Videography is 400 rupees per foreigner.
Gypsy vs. the Canter
Personally, for your best chances of spotting a tiger, I would recommend the Gypsy.
It may be more expensive, but the Gypsy can weave in and out of the jungle and reach the off-the-beaten-track places the tiger may be hiding in. It's pictured below (yes, I did get the cheesy hat!).
The canter is more like a huge bus that can only stick to larger roads. It can't weave in and out of the brush if you happen to spot a tiger and chase it. So, you have a lesser chance of spotting one this way.
Spend a little extra and get the Gypsy, you won't regret it!
Can private vehicles enter Sariska National Park?
YES! Private vehicles are allowed to enter the park on a Saturday at the cost of 250 rupees.
But, you're only allowed on 20 kilometre strip to head to a temple inside the park. The road is quite bumpy, so make sure your car can handle it!
If you get stuck waiting for tickets…
We made the decision to look in their information centre but that lasted around 10 minutes, so we headed to their cafe.
Unfortunately, the cafe was out in the open and almost resembled a cage with a few slow fans unsuccessfully stopping the heat. It was just too hot to wait around that long in the sun.
Hopefully, after reading this, you won't make the same mistake. But, if you do find yourself in Sariska with nowhere to go before your safari I would highly recommend a visit to the Sariska Palace opposite.
Although its 'Fusion' restaurant is something which looks like it belongs in the '70s, it has air conditioning and a beer! Sweet salvation.
They say you need to pay some money to go in, but if you're going to dine in the restaurant they don't charge you.
We were first in line for the safari tickets, which was great as we had heard they were limited. So, make sure you get into the queue around 10 minutes before the ticket booth officially opens.
I could tell that the ticket sellers were thrilled with their jobs as they got ready to sell to the crowd forming. I, myself, didn't help by pushing my face into the window but it was hot and I just wanted a ticket after that long wait.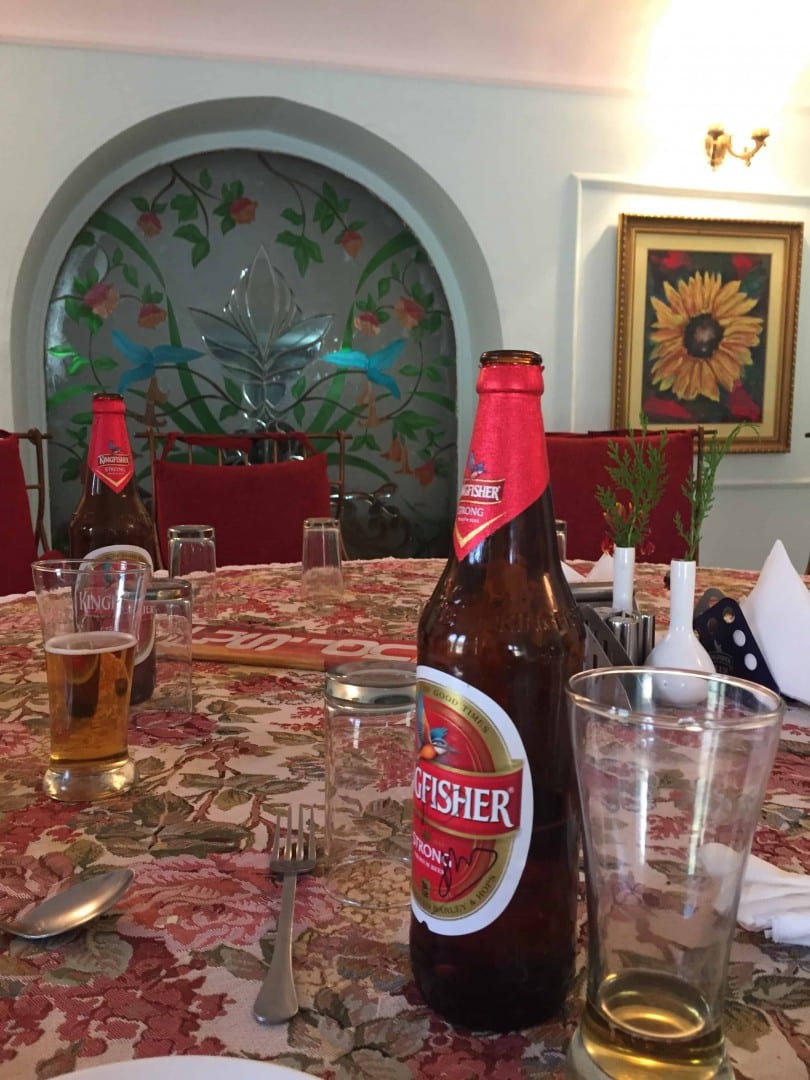 What to expect on a Sariska Tiger Reserve Safari
On your ticket, you should see your guide name at the top. The tour guides usually gather by the ticket office before it's time to take off.
Make sure you know what car you'll be sitting in before you're due to leave.
Don't worry, if you need assistance just ask anyone who's around, they will be able to help you out You'll be joined with 5 others if you're taking the gypsy and once you're all loaded in, you'll start your journey to the reserve.
Warning: it is an open-top vehicle and you will be in the direct sunlight for a good three hours. Make sure you wear good sun protection, keep hydrated, and keep your head covered to avoid sunstroke.
What animals can you see in Sariska National Park?
There will be many vehicles on your Sariska Tiger Reserve Safari that will set off at the same time to take tourists around the reserve.
To avoid disturbing the wildlife, they all spread out to explore the different areas and so you still feel like you have an exclusive safari experience.
The great thing about this is that the guides all radio into each other, so if they spot a tiger – your driver can navigate to the same spot!
The Sariska Jungle is incredibly beautiful and boasts some vibrant wildlife who roam free amongst the reserve.
During our journey, we saw wild boars, deer, monkeys, and even a peacock dance!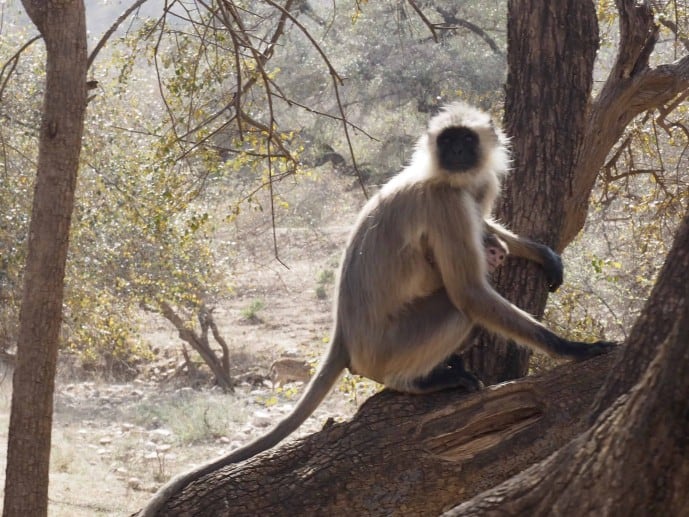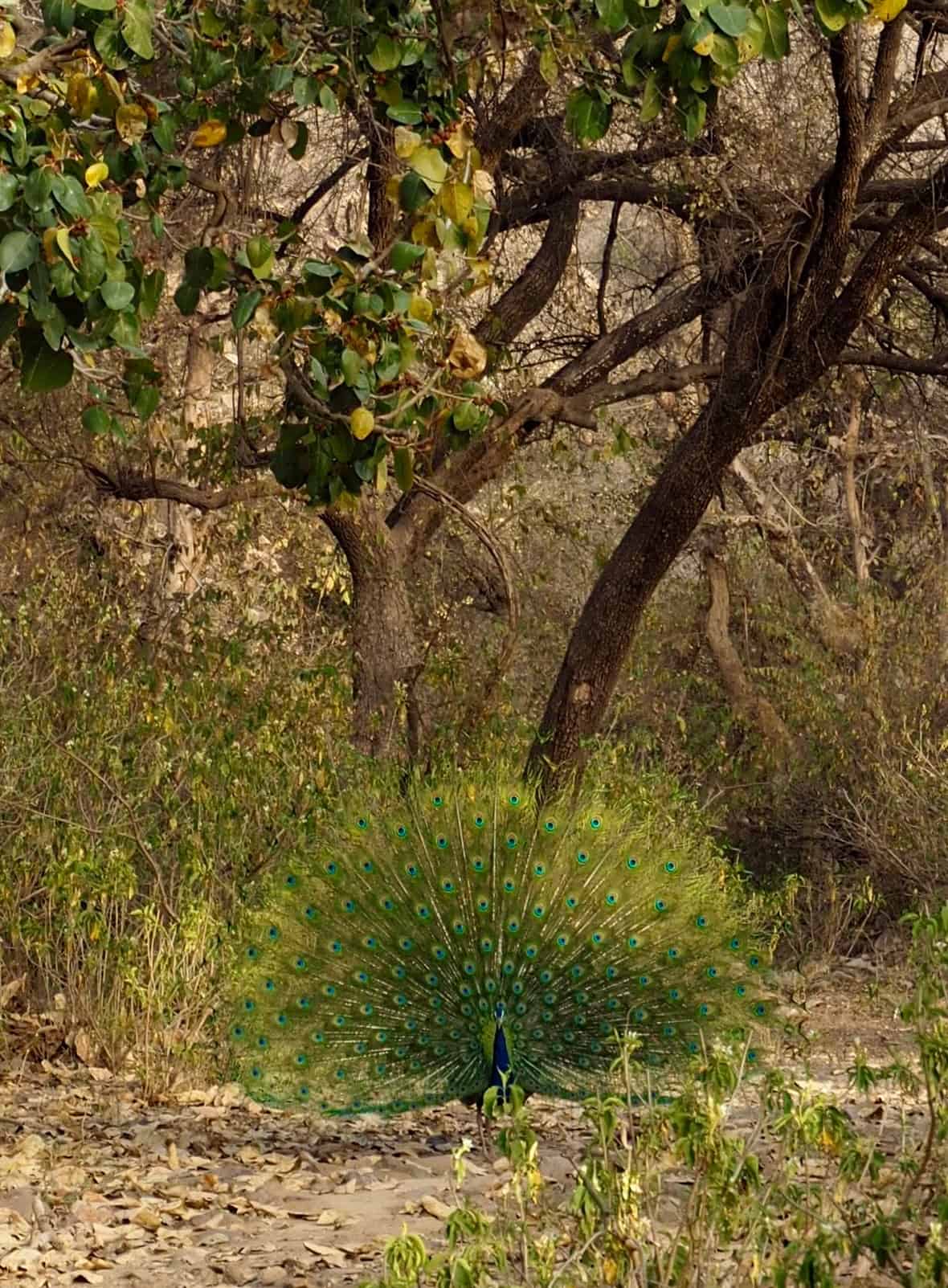 Spotting a tiger on a Sariska Tiger Reserve Safari
Time was running out, it was nearing sunset at 6 pm when we were due to head back to the ticket desk. I had all but given up any hope of seeing a tiger.
Then, our driver stopped the gypsy and told us to keep silent so he could listen out for tiger noises.
My friend and I looked at each other trying not to laugh, surely he was just putting this on for effect? But then, the birds started making a warning call.
The next minute, we heard a tiger roar! Our driver didn't waste any time, he slammed his foot on the pedal and we zoomed off in the hope of seeing it.
It was one of the scariest yet thrilling rides I had experienced in my life.
I was holding onto the frame of the gypsy so tight. The driver certainly had skill!
It created some serious adrenalin as we quickened the chase. Then, behind the bushes in the jungle we finally saw what we were looking for; a beautiful orange and black striped Bengal tigress!
The jeep pulled up only around 10 metres away from it. Yes, we were that close.
We were told to be quiet. I remember gasping when I got my first glimpse and the tigress looked right at me.
She had what she caught for dinner in her mouth with the tail hanging out, probably the poor bird that made the warning call.
It was so awesome looking into her eyes. Such a powerful force. Before she had a chance to get any closer, I quickly took a snap.
She started moving toward the jeeps so we backed up and made our way around for a different view. But, by that time she had disappeared off into the jungle.
It was an incredible experience to see a tiger in the wild and it just goes to show that the guides at Sariska are passionate about what they do.
They could have headed back when time ran out, but they carried on to let us experience it.
What are the chances of seeing a tiger on a Sariska Tiger Reserve Safari?
Now, I'm not going to lie to you. The odds are against you.
When I was googling Lonely Planet to find out more about it, it pretty much told me that my chances of seeing a tiger here were next to none.
In fact, my chances of seeing a unicorn were more likely than spotting a tiger in Sariska Tiger Reserve.
It's a massive reserve at 866km squared and a tiger population of 13.
But, as you can see, it is completely possible to see a tiger in India on the cheap! So, what have you got to lose?
Where to stay near Sariska Tiger Reserve
As I was visiting Alwar nearby, we decided to stay in the incredible Hill Fort Kesroli which was around 30 kilometres away.
This is a Neemrana Hotels property and they transform old palaces and heritage buildings into fully functioning hotels!
Hill Fort Kesroli dates back to the 14th century which makes it one of the oldest heritage sites in India!
It was originally built by Yaduvanshi Rajputs, who claim they are direct descendants of Lord Krishna! But, later converted to Islam in the mid-14th century to be called Khanzadas.
It was honestly an incredible feeling to wake up in the fort each day and look over the Rajasthan countryside.
Click here to book your stay at Kesroli Fort!
Save this Sariska Tiger Reserve Safari guide for later
If you would like to take your chances at seeing a tiger in India but don't want to part with the cash, Sariska is definitely your ticket.
Spotting a tiger in the wild is always a game of chance, whether you spend the big bucks or not. It really is down to the luck on the day and whether the tigers want to come out to play!
Although we got lucky, I would still recommend visiting the reserve for the fantastic wildlife that resides there.
The tour guides at Sariska are truly passionate about what they do and will ensure you have a fantastic experience. Give it a shot!
Travelling around Alwar and Rajasthan?
If you're heading around Alwar or Rajasthan after this, make sure you check out my detailed travel guides;
My complete guide to the Pink City of Jaipur
A photography guide for Jaipur
My top travel tips for Jaisalmer
A camel safari in the Thar desert
Why Bundi has to be on your bucket list
Top places to visit in Bikaner
Visiting the rat temple in India